© 2016 David Eyre
Airlines Using This Terminal:

Some Qantas, QantasLink and Jetstar domestic flights operate from this terminal.

Other domestic, regional and GA aircraft taxy near the terminal, including Qantas, QantasLink, Jetstar, Maroomba Airlines, Skippers Aviation, Network Aviation, Cobham Aviation.

Opening Times:

Open daily between the hours of 3.30am and 1.00am each day (i.e. closed between 1am and 3.30am).

Location:

Terminal 3 (Multi-User Domestic) is on the west side of the airport, at the northern end of Brearley Avenue. It can also be reached from Fauntleroy Avenue.

HOW TO GET TO TERMINAL 3 (Multi-User Domestic):

Terminal and Car Park Location Map

Driving:

Terminal 3 is located at the northern end of Brearley Avenue, but can also be reached from Fauntleroy Avenue.

Both roads are accessed from Great Eastern Highway. Tonkin Highway also has Domestic Airport exits for Great Eastern Highway.

There is also the Airport Link Road which runs between the domestic and international terminals.

Be mindful of speed limits – speed traps are sometimes set up on Brearley Avenue, Dunreath Road and the Airport Link Road.

Free shuttle buses run from the long-term parking areas to the terminal. .

Public Transport:

Transperth operates a bus service (route 935) between Perth Airport's Domestic Terminals and the city of Perth.

If you need to travel from the International Terminal (Terminal 1) to/from the Domestic Terminals (T3 & T4), there is a FREE Terminal Transfer bus service. The trip takes about 8 minutes. To catch the Terminal Transfer bus, the bus stop is located at the front of the in front of Qantas Terminal 4 at the Domestic Terminals and the International Terminal Stop is near the Arrivals area.

The Perth Airport Connect shuttle bus service is also available for travel between the International Terminal (T1) and Perth City or Fremantle, but is expensive (almost the same as a taxi fare)  – see Perth Airport Connect website for prices and schedules

Taxi:

The taxi stand is directly in front of Terminal 3, close to Terminal 4. Taxi cost calculator

HOW TO GET TO THE ARRIVALS/DEPARTURES VIEWING AREA:

Terminal 3 Map

The Departures Lounge viewing areas can be accessed by entering the terminal, then walking to the left side. You will be required to undergo security checks (just like passengers) and can then proceed to the escalator or lift to the first floor.

You can also walk through a hallway to Terminal 4, which is used for domestic flights by Qantas, QantasLink and Jetstar.
NOTES:
Photographs should not be taken of any staff or other members of the public without their express permission.
Some windows are better than others for photography due to differing levels of window tinting, cleanliness and obstructions (e.g. aerobridges).
Advantages:

Suitable for late morning and afternoon photography
Lift and escalator available
Under cover – sheltered from weather
Air conditioned
Seating available
Arrivals and Departures TV monitors
Toilets
Snack and drink vending machines
Restaurants (Sumo Salad and Red Rooster) and cafes.
Some views of traffic landing on runway 21 and taking off runway 03, but need a telephoto lens of 300mm or above.
Can get photos of aircraft taking off runway 21, but only during the initial part of take-off run.
Reasonable views of *some* aircraft parked at Terminal 3 or taxying to/from or past the terminal.

Disadvantages:

Early morning photography will be facing the sun.
Double-layer glass windows, so reflections can be an issue for photography.
Windows have differing levels of cleanliness, tinting and transparency – some windows are tinted, others are not.
Aircraft parked at some bays will be partly obscured by terminal structures, aerobridges and ground equipment, such as aircraft stairs.
Lighting poles and terminal structure may cause shadows on aircraft in the late daylight hours.
International terminal is on opposite side of airport, too far away for decent photos.
Photographing aircraft on runways requires a telephoto lens of at least 300mm.
Aircraft taking off runway 21 or 24 will usually be obscured by terrain, trees or structures at rotation – the same applies to aircraft touchdown point for landings on runway 03 and 06. Heat haze is another problem.
Need to be mindful of parking costs
Photographic Equipment: Canon EOS 80D digital SLR with a Canon EF 100-400 mm F4.5-5.6L IS USM (telephoto zoom lens) with UV filter, Canon EF 18-55 mm 1:3.5-5.6 IS STM USM (wide-angle zoom lens) with UV filter.
Terminal 3 Check-in Area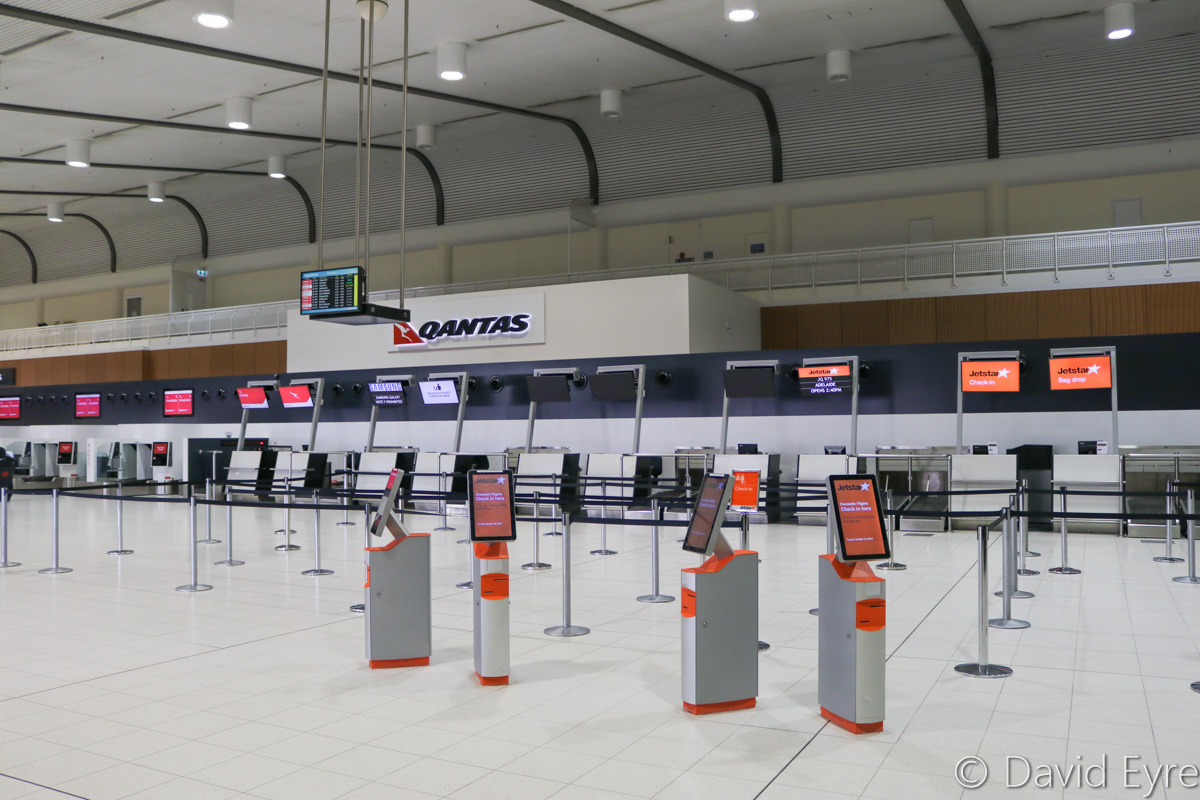 Walkway between Terminals 3 and 4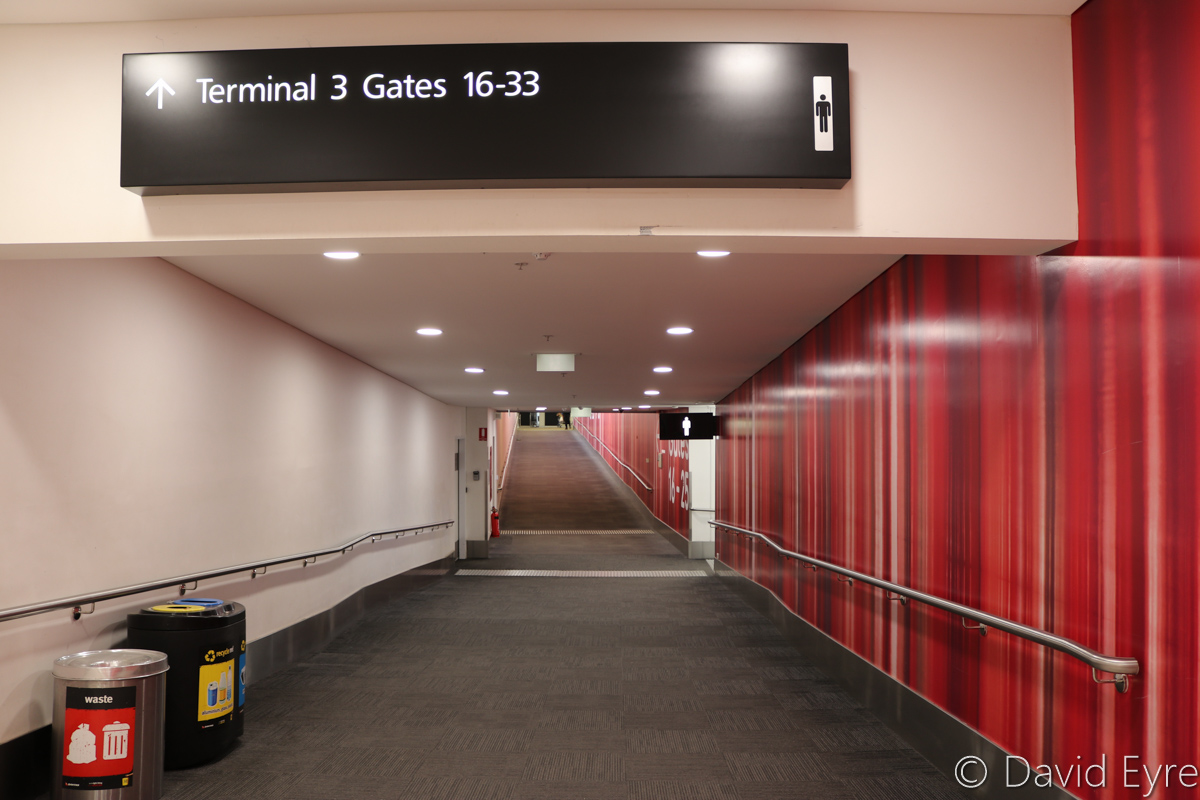 Gates 16 and 17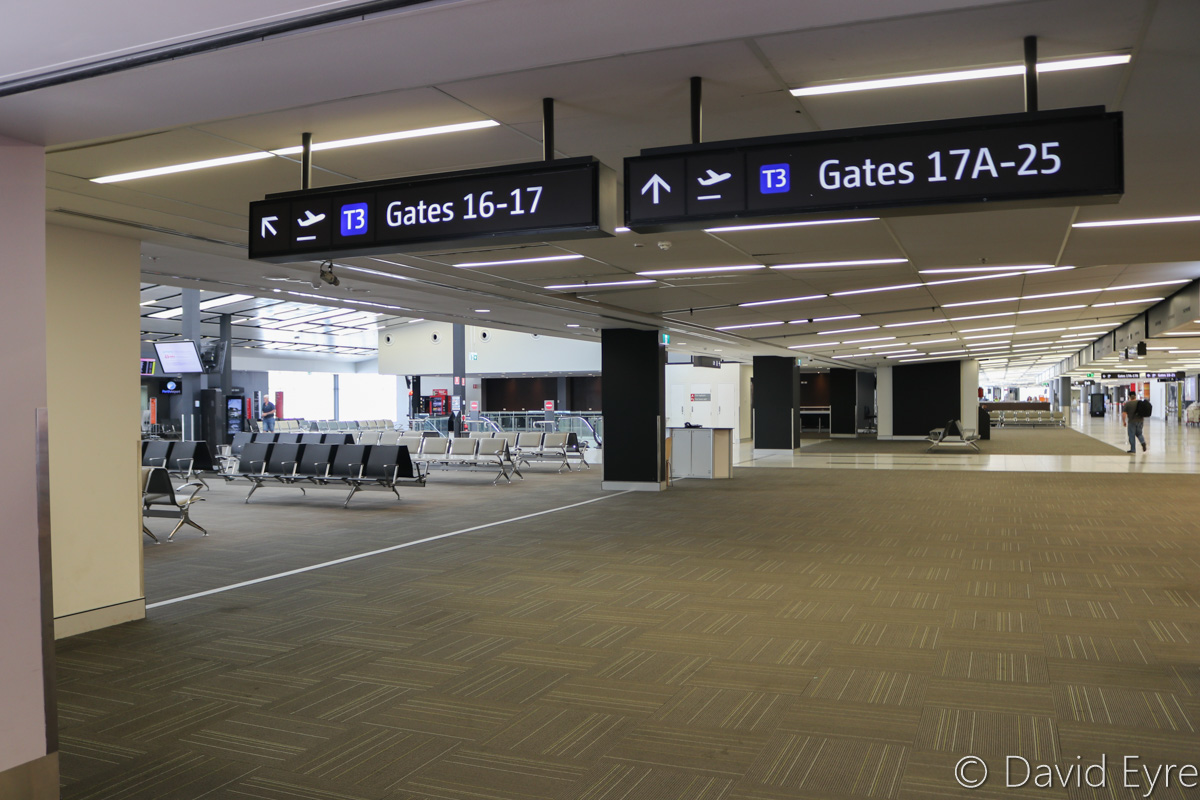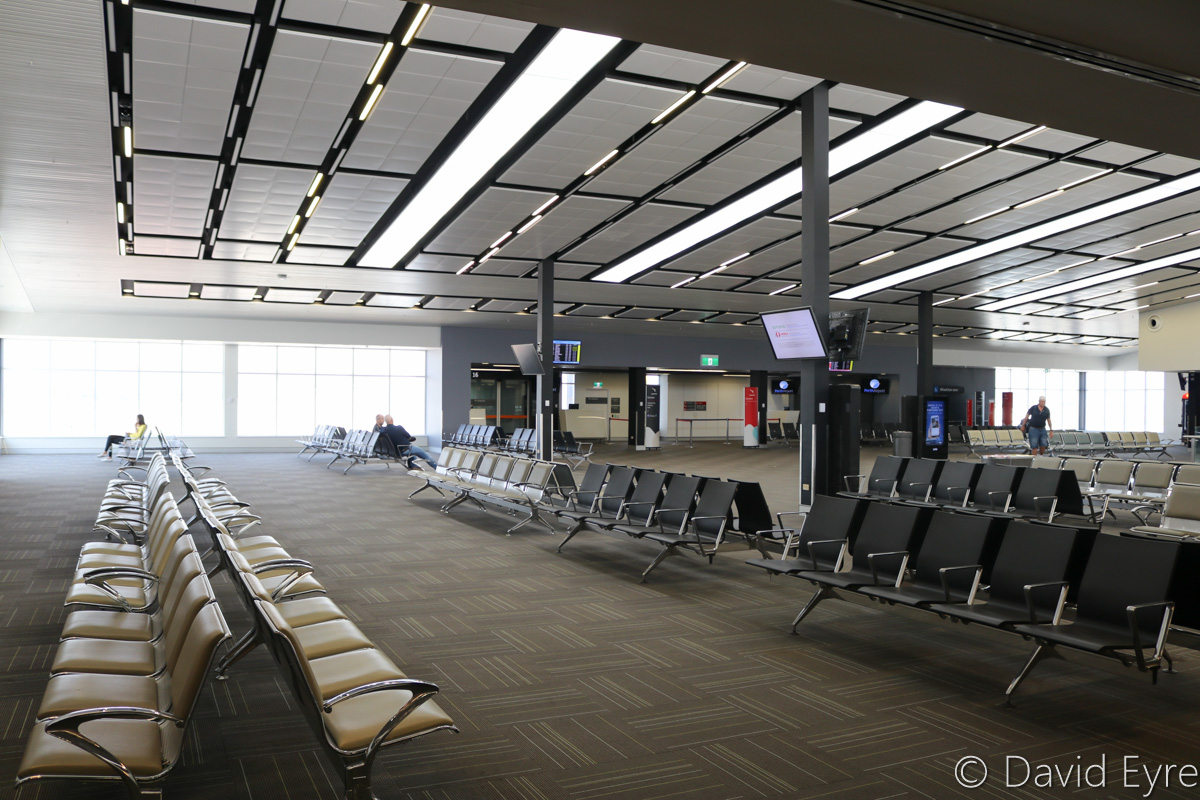 Gate 16 (Bay 16)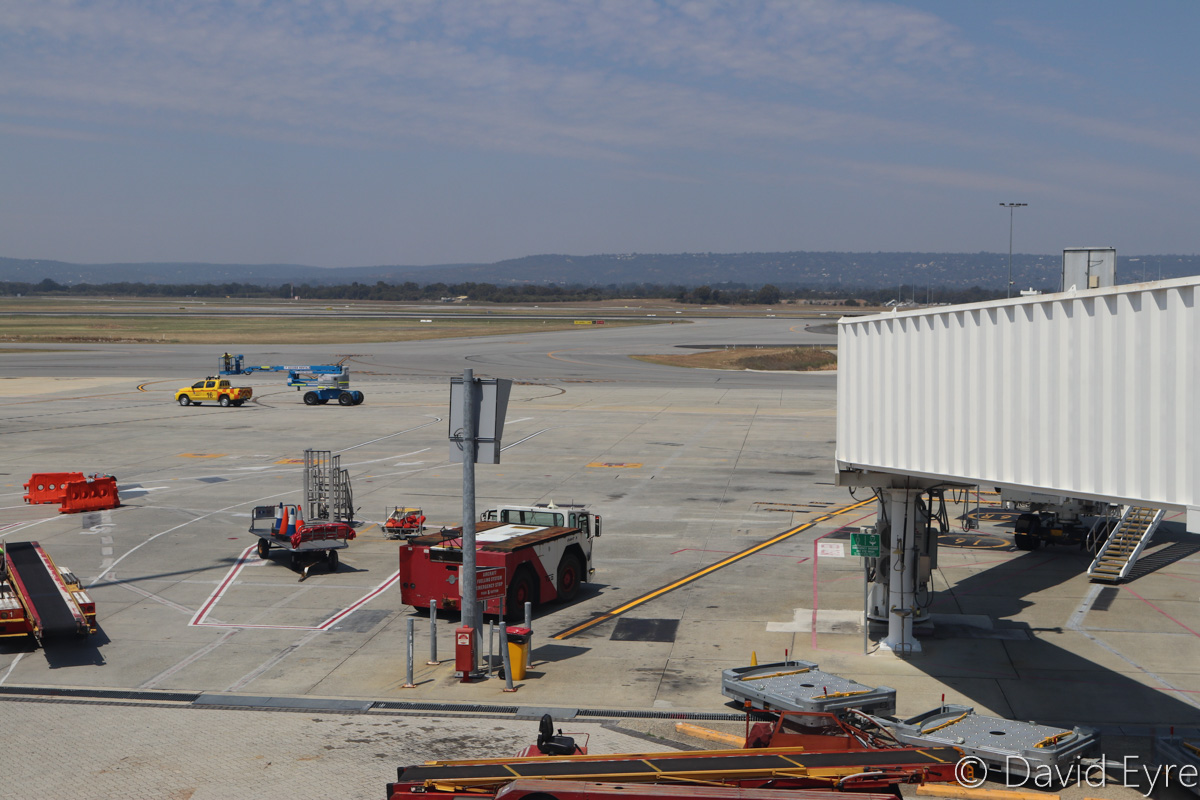 Gate 17 (Bay 17 / 17A)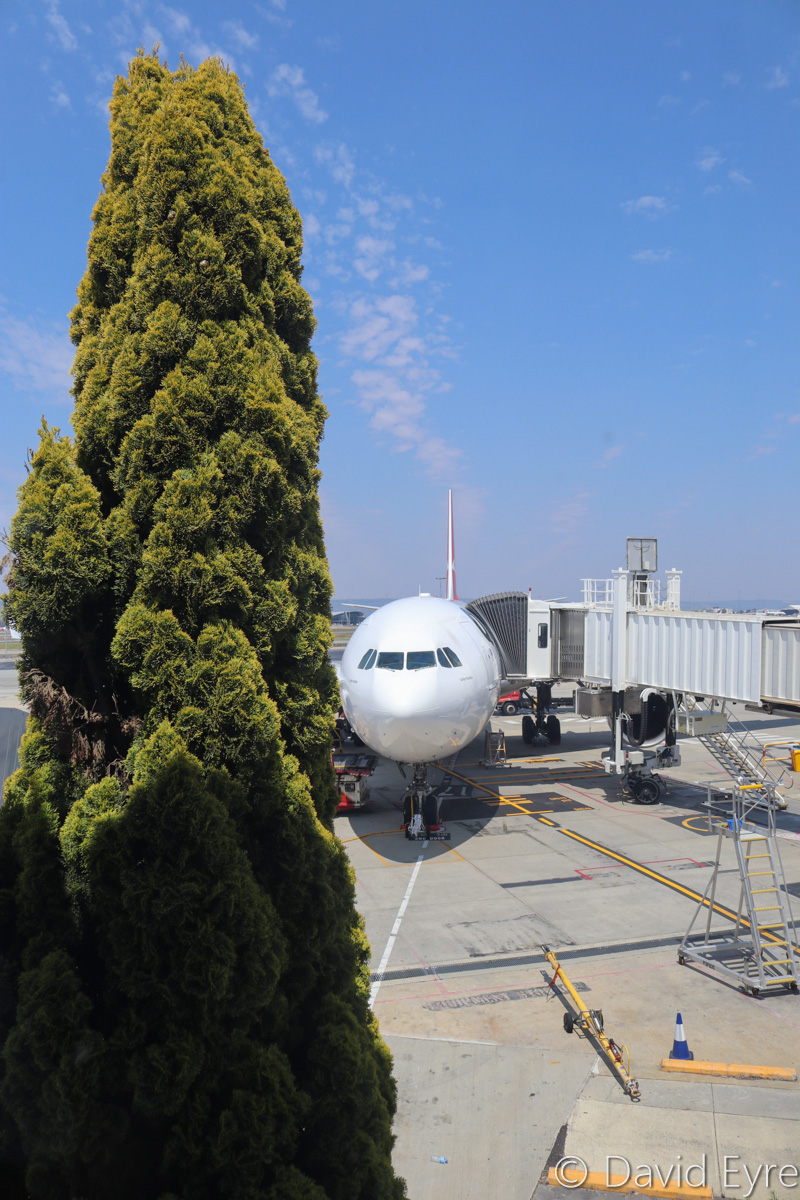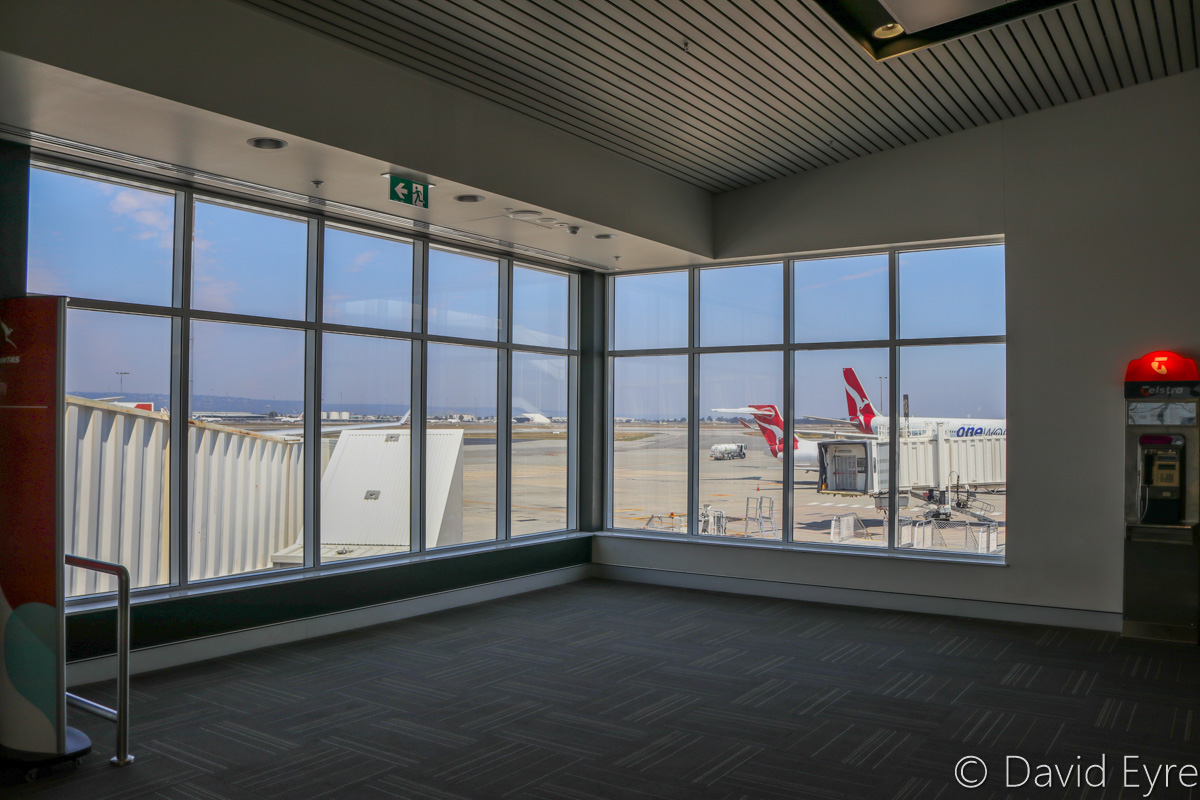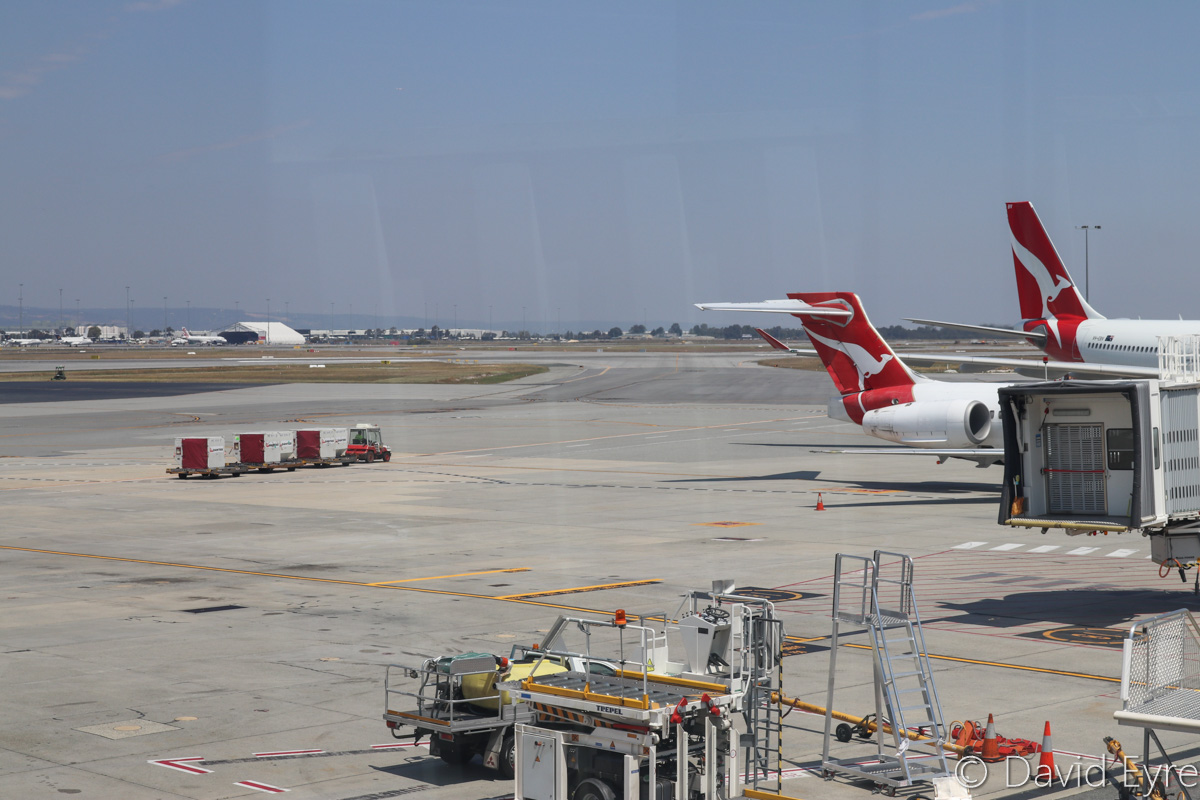 Gate 18 (Bay 18)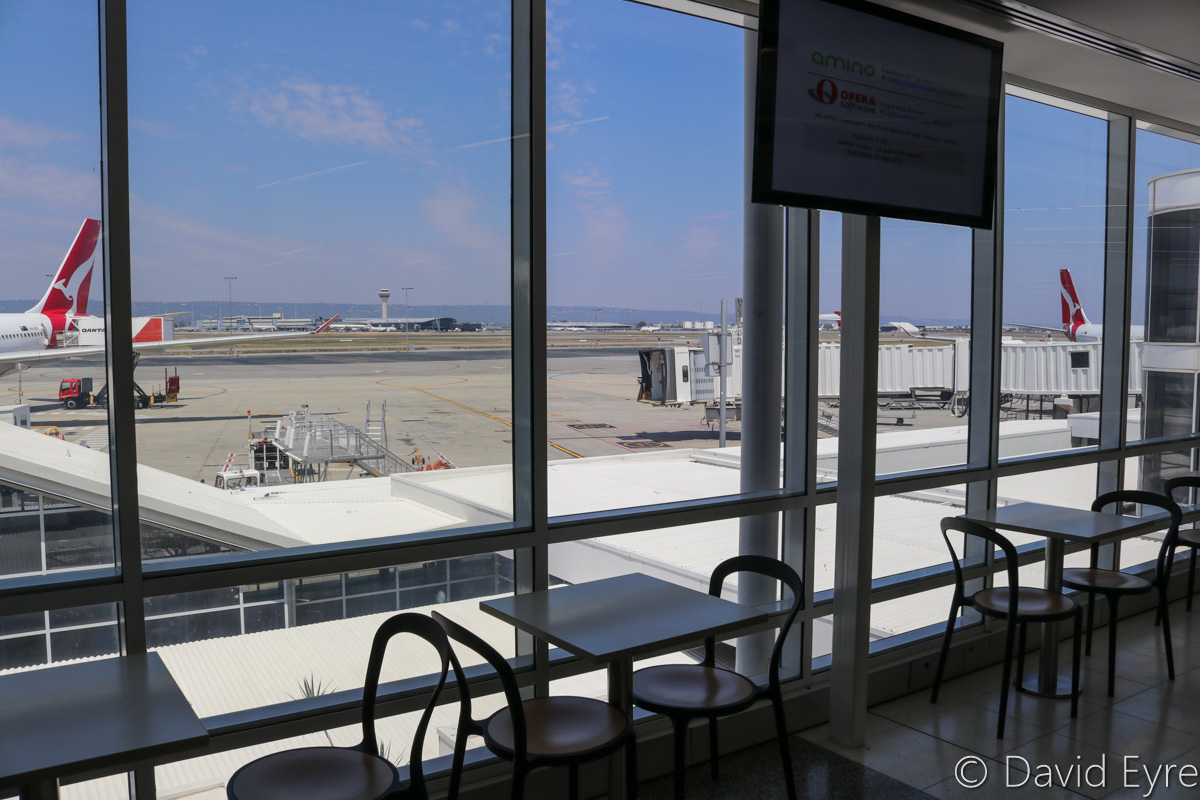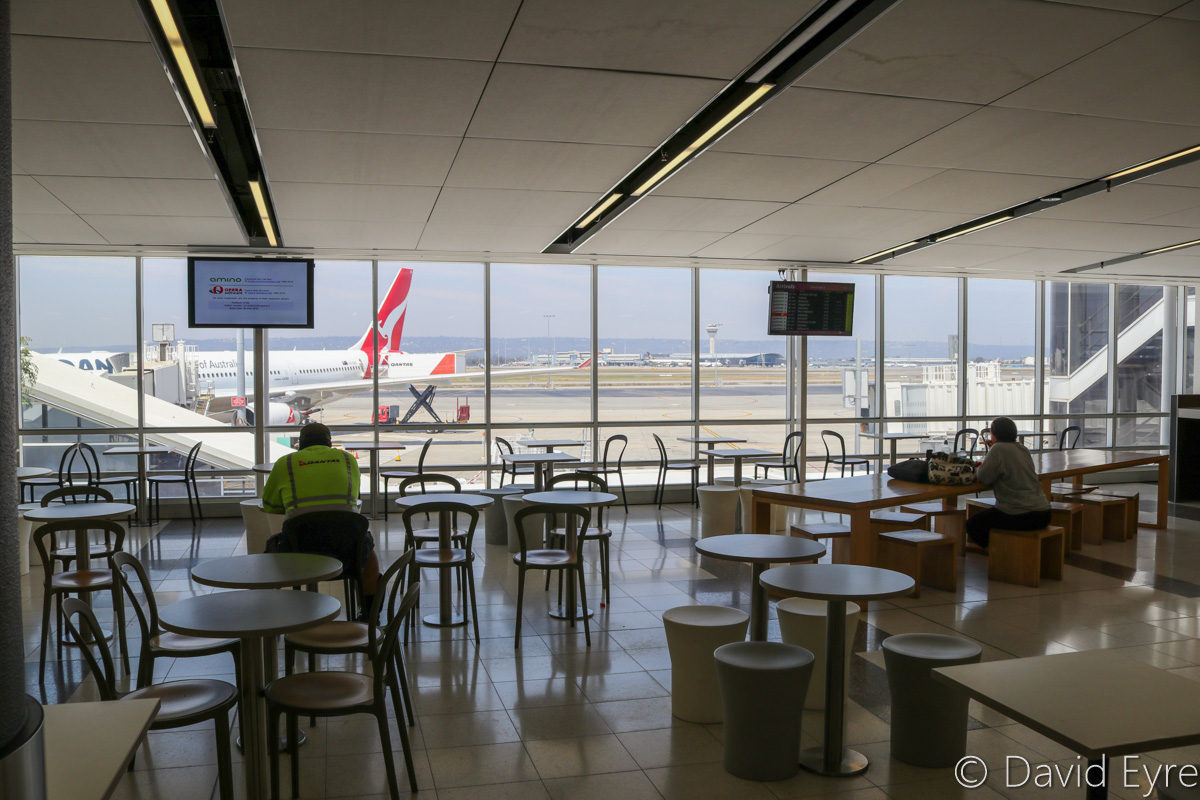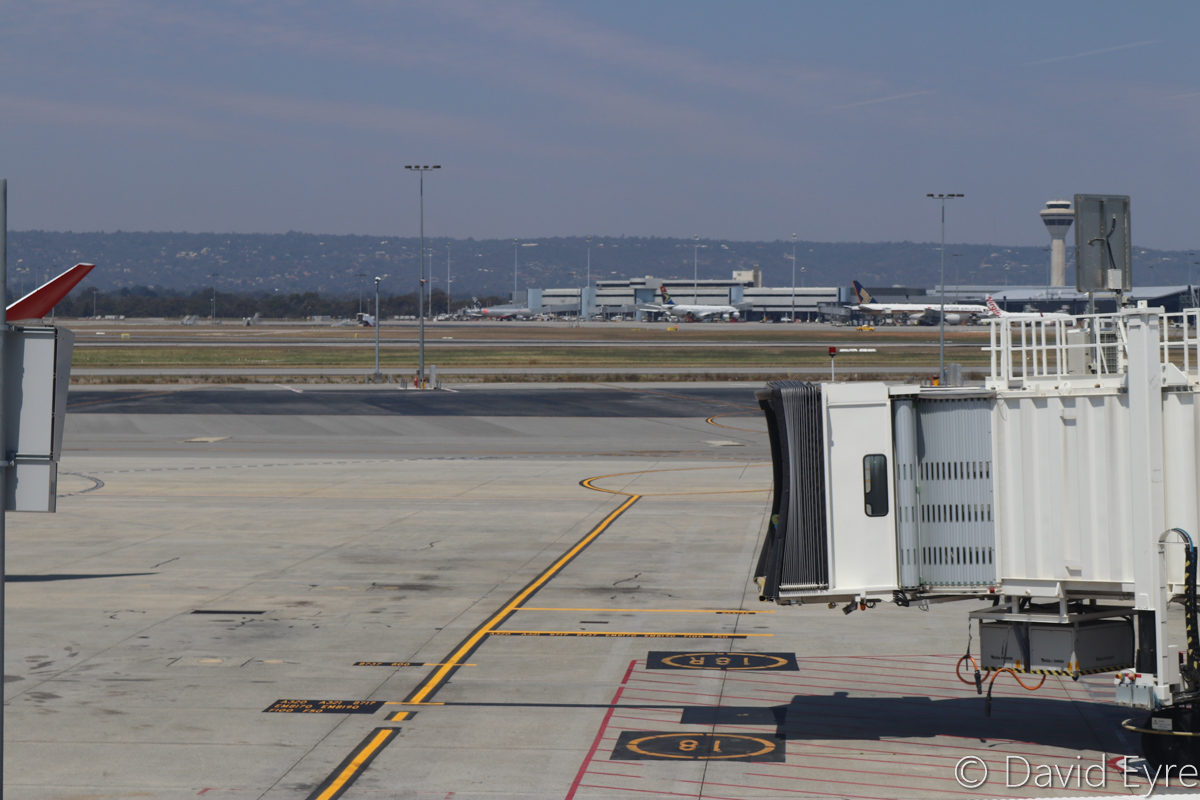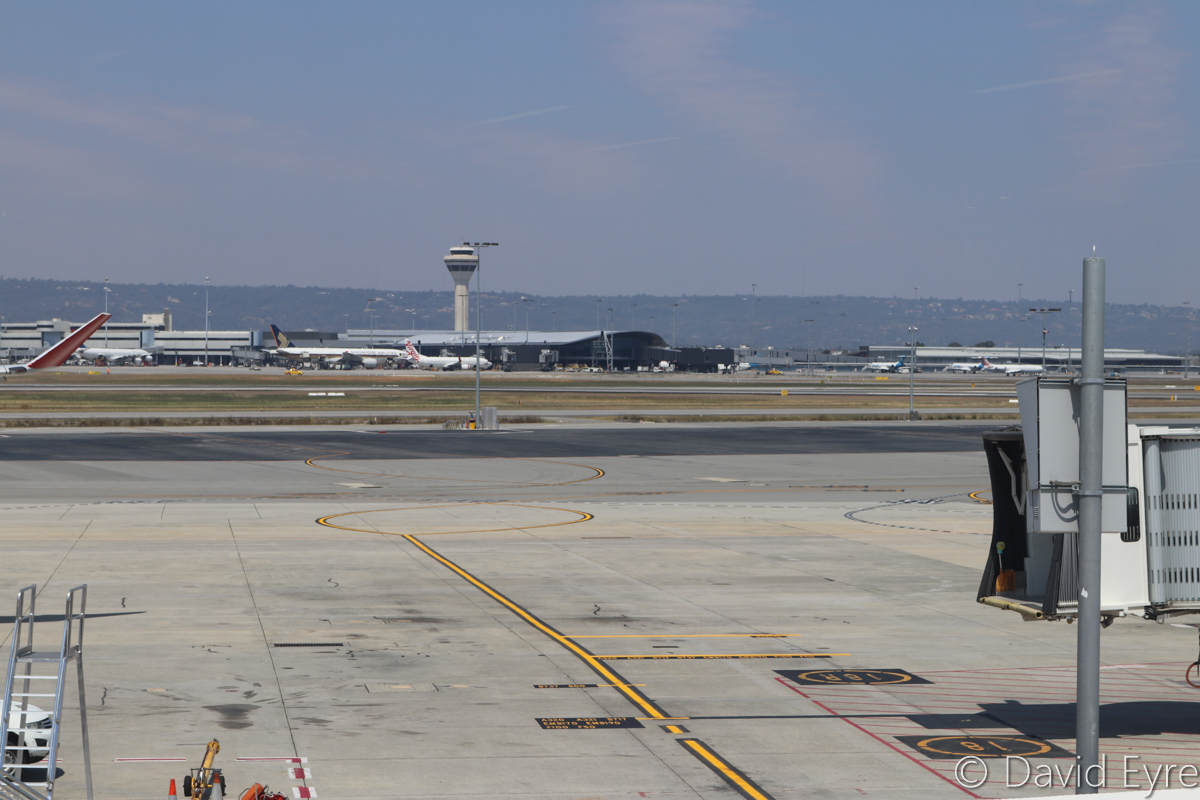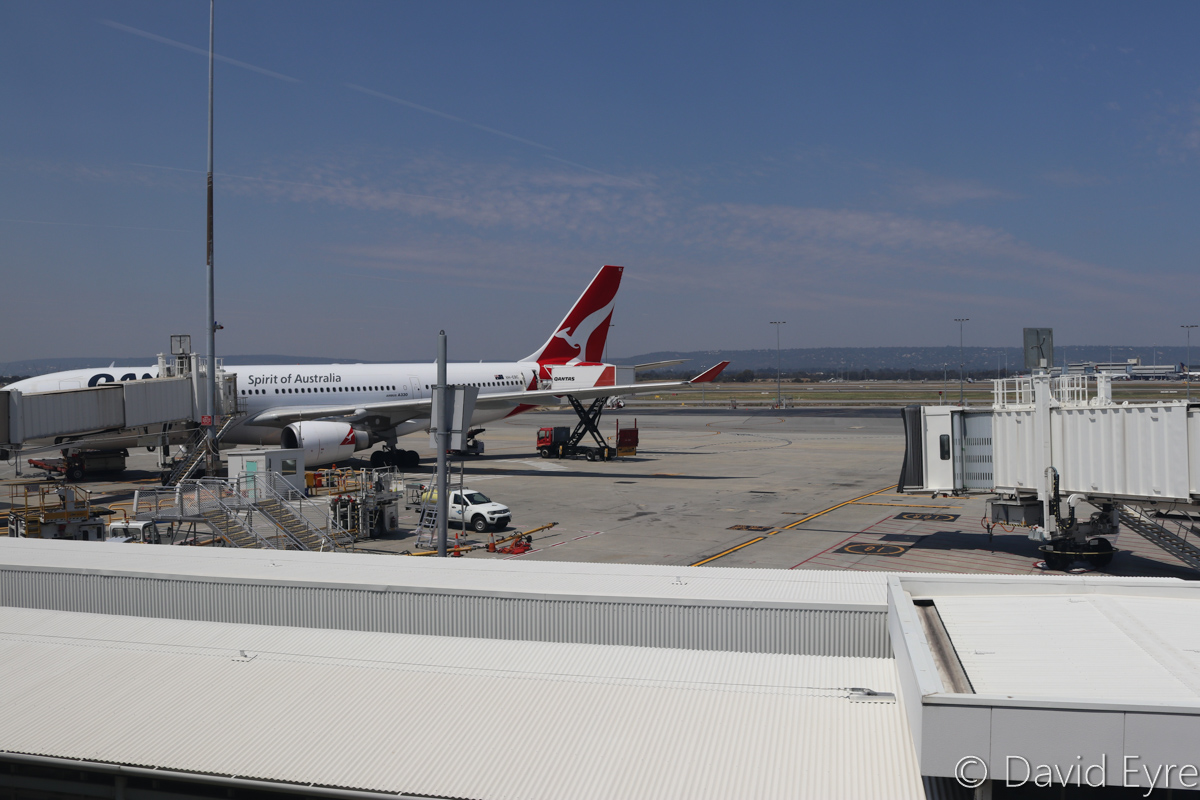 Gate 19 (Bay 19)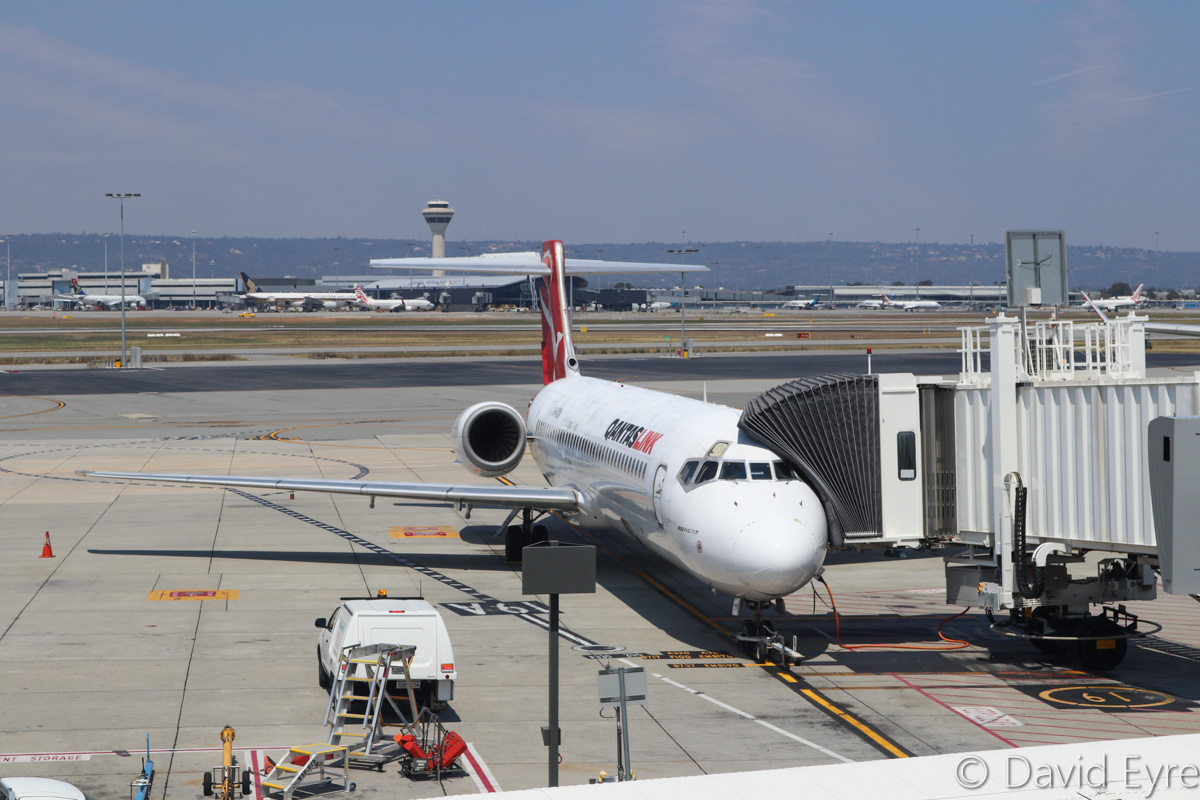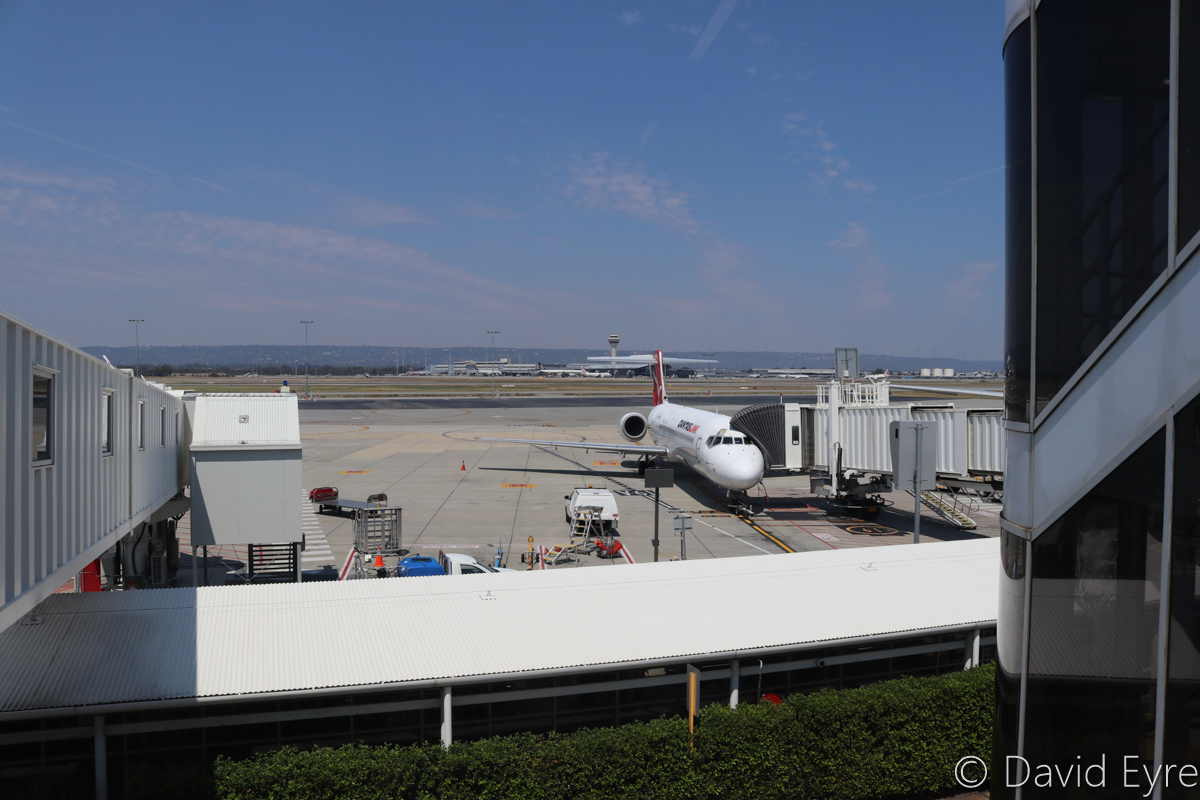 Between Gates 19 and 20 (Bays 19 and 20)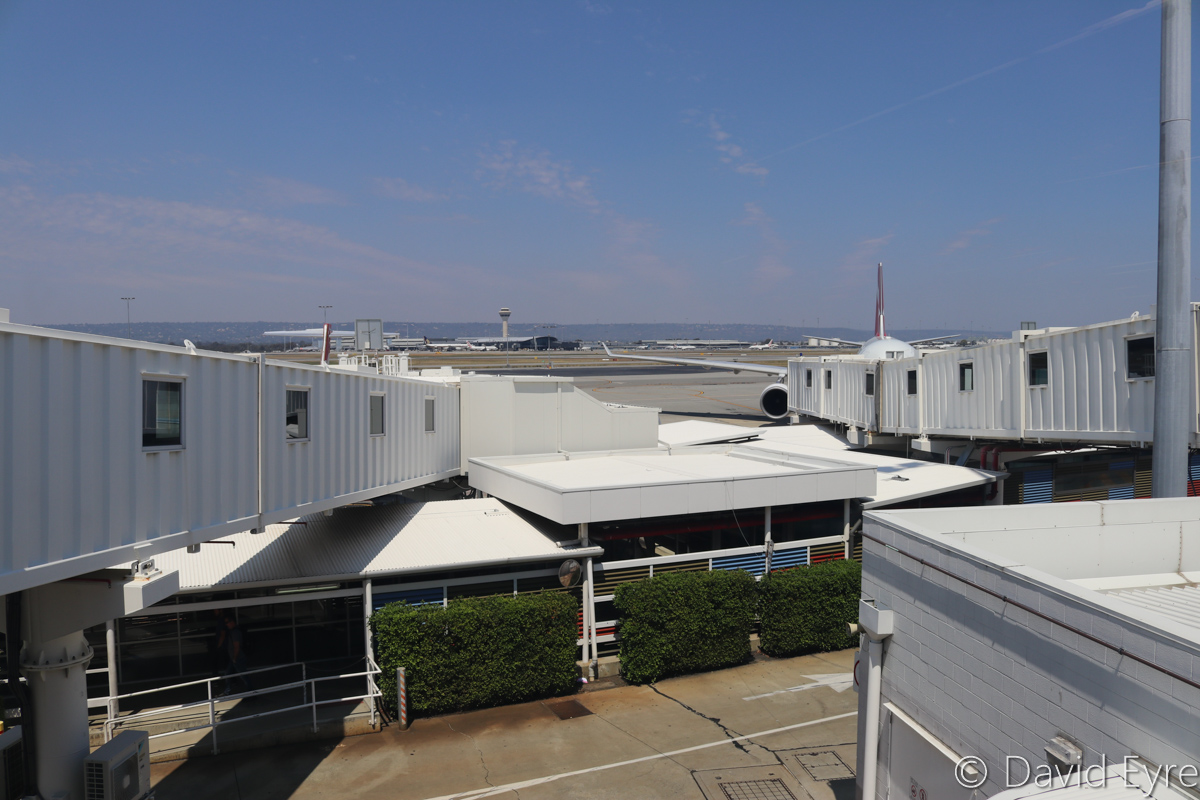 Terminal 3 amenities