Perth Airport Terminal 1 Domestic commences operations: 22 November 2015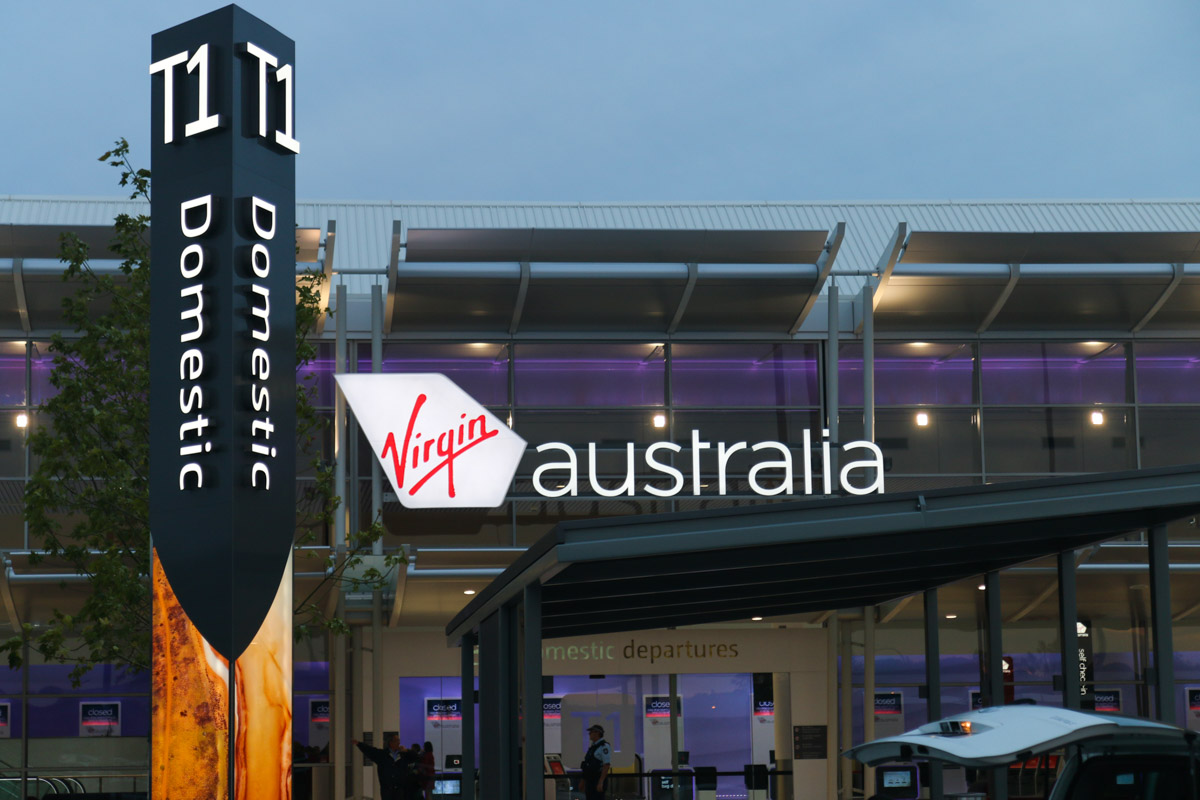 22 November 2015 – copyright © David Eyre
Virgin Australia and Perth Airport today celebrated the start of operations at the new Terminal 1 Domestic, located between T1 International and T2.
The previous night, twelve Virgin Australia aircraft were towed across from Terminal 3 on the west side of the airport, to T1 Domestic on the east side. Terminal 3 will be used by Qantas from 29 November, in addition to Terminal 4.
The front doors opened at 5:46am and first departing passengers entered.
The first flight arrival at the new terminal was Virgin Australia flight VA713 from Adelaide which was operated by Embraer E190 VH-ZPN. It was greeted by a water cannon salute from the Airport Rescue and Fire Fighting crews as it taxied in, and parked at Bay 148A at 7:26am, a few minutes earlier than scheduled. The first passengers from the arriving flight were given the honour of cutting a ribbon to enter the terminal.
The first departing flight was the same aircraft departing back to Adelaide as VA714, which pushed back at 8:27am, a few minutes early.
The long-awaited new terminal pier was built specifically for Virgin Australia. T1 Domestic is the most significant project in Perth Airport's $1 billion redevelopment, and a key milestone in the transition to collocating all airline operations around T1 and T2.
Until today, Virgin Australia had operated from three terminals on opposite sides of the airport, and the new T1 Domestic enables the consolidation of Virgin's regional/FIFO, mainline intrastate/interstate and international services together on the east side for the first time, making it easier for passengers to transfer between flights.
The terminal was designed by Australian-based international architects, Woods Bagot. It was constructed by Built Environs over three years at a cost of $190 million, but was completed 17 months later than planned. Over 4200 contractors and suppliers worked an estimated 1.8 million man hours to build the 250-metre long terminal. Construction used over 15,000 cubic metres of concrete, 2,000 tonnes of steel, and 35,000 square metres of glazing and cladding to the exterior of the building.
Features:
28 domestic check-in kiosks and bag-drop technology;
12 aerobridge-serviced departure gates, including three A330-capable aircraft gates;
a central retail and dining area; and
a state-of-the-art Virgin Australia lounge featuring the airline's signature Espresso and Wine Bar.
innovative sustainable design features to reduce energy consumption, including the use of natural light and a façade providing shade during summer.