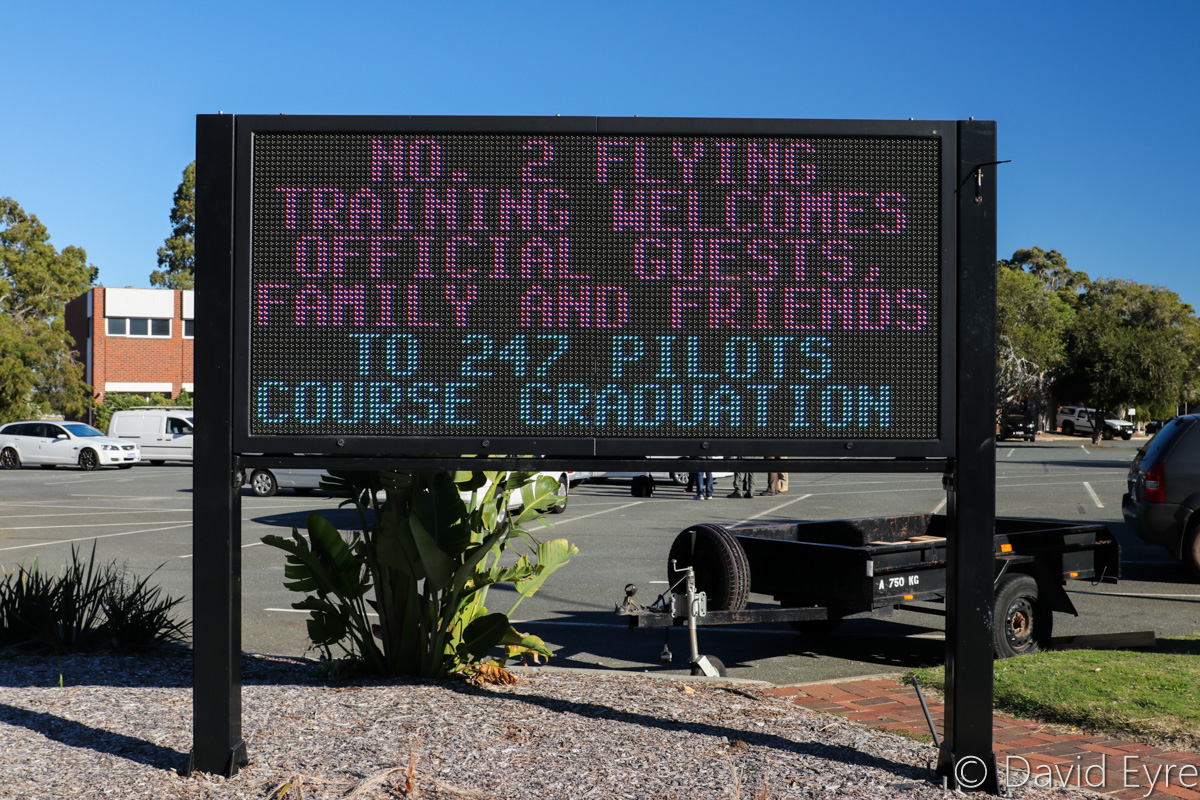 9 June 2017 © David Eyre
The author was invited to visit RAAF Base Pearce to see the graduation ceremony for No 247 Advanced Pilots Course and see some Pilatus PC-9/A aircraft close-up.
**More photos below**
Advanced Pilots Course
The aim of the Advanced Pilots Course is to produce a pilot capable of flying training aircraft with the skill and confidence needed to transition to operational aircraft.
Currently, the military flying training is conducted in two phases, and take 88 weeks.
Basic Military Flying Training (25 weeks) is operated by British Aerospace Flight Training Australia at Basic Flying Training School (BFTS), in Tamworth, NSW on the CT4B piston-engined trainer.
Advanced Flying Training (37 weeks) is conducted at RAAF Base Pearce, Western Australia. During this training, student pilots fly 130 hours in the Pilatus PC-9/A turboprop trainer.
A batch of pilots graduate every three months and each course can include pilots for the RAAF and Royal Australian Navy.
As a reward for completing training, graduates are allowed to perform a mass 'Thunderbird' formation flypast, on the afternoon before their graduation day. This formation can include about 15 to 25 PC-9s and is also used as a training activity, as formation flying is important in their development as military aviators.
Initially the aircraft form-up west of Gin Gin, and head west to the coast, before heading south-west to Rottnest Island, before turning east to pass over Fremantle and then heading up the Swan River to fly over South Perth and Perth city by around 4pm. The formation will usually return to Pearce via Upper Swan and conduct a flypast over the base for visiting family and friends.
The following morning, there is a graduation ceremony at Pearce, where pilots are awarded their wings (brevets), before they are posted to an operational squadron.
No. 247 Pilots Course Graduation Parade and Ceremony
No. 247 Advanced Pilots Course saw 14 pilots graduate; 13 pilots for the RAAF (including one female pilot) and one pilot for the Royal Australian Navy.
Each Pilots Course designs its own logo and name, and 247 Pilots Course chose the name 'All Star Aviators'.
Although there were 14 graduating pilots, the Thunderbird formation the previous afternoon (8 June 2017) was a 20-ship formation.
The graduation ceremony takes place at the parade ground and is steeped in tradition. Family and friends of the graduating pilots, as well as distinguished guests, are invited and many of them make a long trip to Pearce from all over Australia to see the graduation.
When everyone was seated, the ceremony began just after 10.30AM with a solo aerobatic PC-9 display by one of the 2 FTS instructors. As the parade ground is surrounded by trees, this display operated within a fairly tight 'display box' and at fairly low level.
The pilot graduates and No. 7 Wing Australian Air Force Cadets Drum Band then marched onto the parade ground, supported by members of 249 Pilots Course as the Colour Party.
The 2 FTS Unit Colours flag was uncased and marched in front of everyone, before Wing Commander David Strong, the Commanding Officer of 2 FTS, arrived at the podium for the General Salute.
A nine-ship formation of PC-9s in Diamond Nine formation then flew over the parade ground at 10:59AM.
Arriving in a staff car, the Reviewing Officer was Air Vice-Marshal Steven Roberton, DSC, AM, Air Commander Australia, a highly experienced fighter pilot with over 3,000 flying hours, mostly in the F/A-18A Hornet through F models. This included an exchange tour flying F/A-18s with the US Marine Corps, a deployment to the Middle East and leading the RAAF's transition to the F/A-18F Super Hornet.
A four-ship Diamond Four formation of BAE Hawk jets of 79 Squadron performed a flypast at 11:01AM, then AVM Roberton and Wg Cdr Strong inspected the pilots on parade.
The graduating pilots advanced closer to the visitors for a general salute and then there was a 9-ship PC-9 'Concorde' formation flypast at 11:08AM.
An RAAF Chaplain conducted a Service of Dedication, which were traditionally held prior to battle, but are now used as a link to the origins of the Air Force and as a reminder of their loyalty to God, Queen and Country.
Each of the gradating pilots marched forward in alphabetical order of surname, saluted the Reviewing Officer. AVM Roberton pinned their brevets (wings) onto their shirt, shook their hand and posed for a quick photo before the pilots marched back to their ranks. Following this, a number of pilots received awards, for navigation, aerobatics, most improved, and Dux of the Course. AVM Roberton said a few words of thanks to the pilots and visitors – many of whom had flown across the country for the graduation ceremony.
The pilots, flag bearer and band then marched past the visitors and officers and off the parade ground, accompanied by another 9-ship PC-9 Diamond Nine formation at 11:39AM and another four-ship Diamond Four formation of BAE Hawk jets of 79 Squadron. A couple of minutes later, the Diamond Nine formation performed a Bomb Burst break towards the crowd, concluding the ceremony.
These 14 pilots were assigned to to fly the following types:
Airbus KC-30A (A330-200MRTT) – tanker/transport
Airbus Helicopters EC135 – training helicopter (later to move on to fly the Navy's MH-60R Seahawk or MRH90 helicopter)
BAE Systems Hawk 127 – Lead-In-Fighter (possibly to later move on to fly frontline fighters such as the F/A-18 Hornet and Super Hornet, EA-18 Growler, or F-35A Lightning II)
Beech King Air B300 – liaison
Boeing E-7A Wedgetail – airborne early earning and control
Lockheed-Martin C-130J Hercules – transport
Lockheed AP-3C Orion – maritime patrol and surveillance
Visitors also had a closer look at Macchi MB-326H A7-027, which is preserved on display near the old entrance gate to the base. At 11:50AM, a 7-ship Vic formation of PC-9s flew over and landed.
COPYRIGHT NOTICE: All photographs and videos displayed on this website are copyright protected and may not be used, sold, copied or reproduced without express written permission of the photographer. If you wish to obtain or use a photo, please email AviationWA@gmail.com.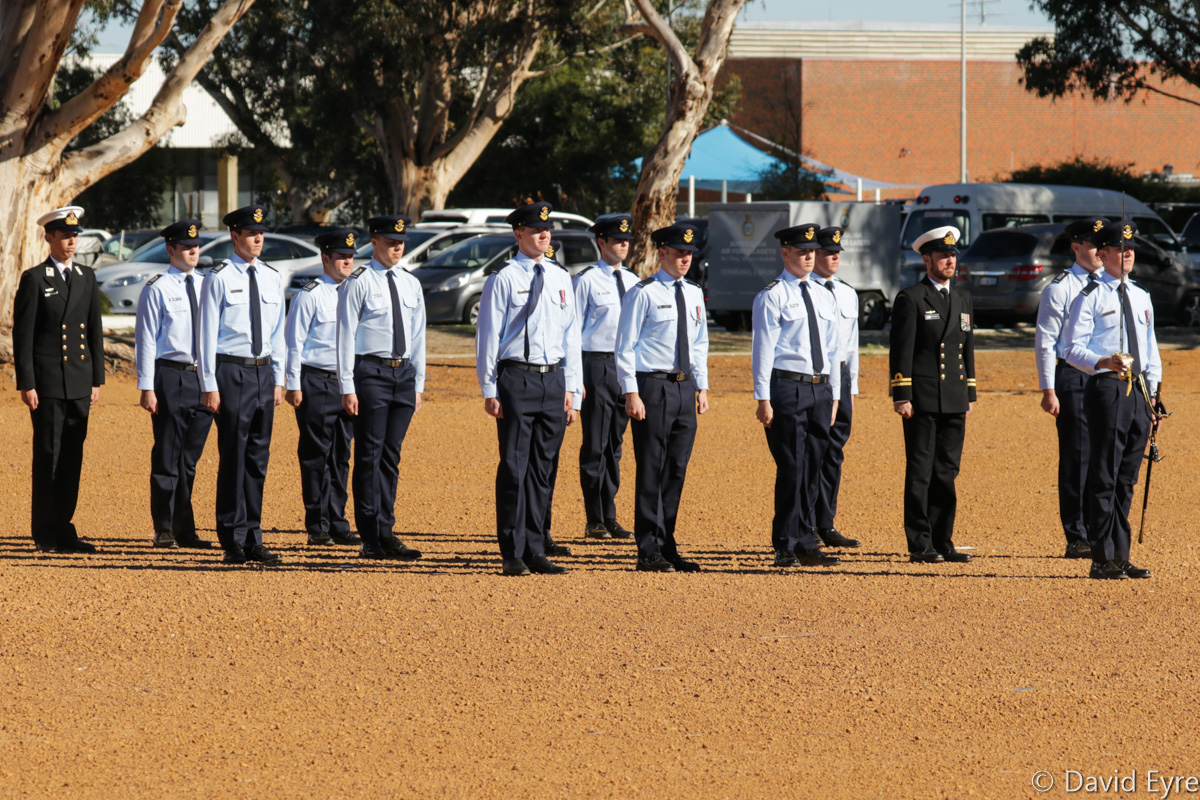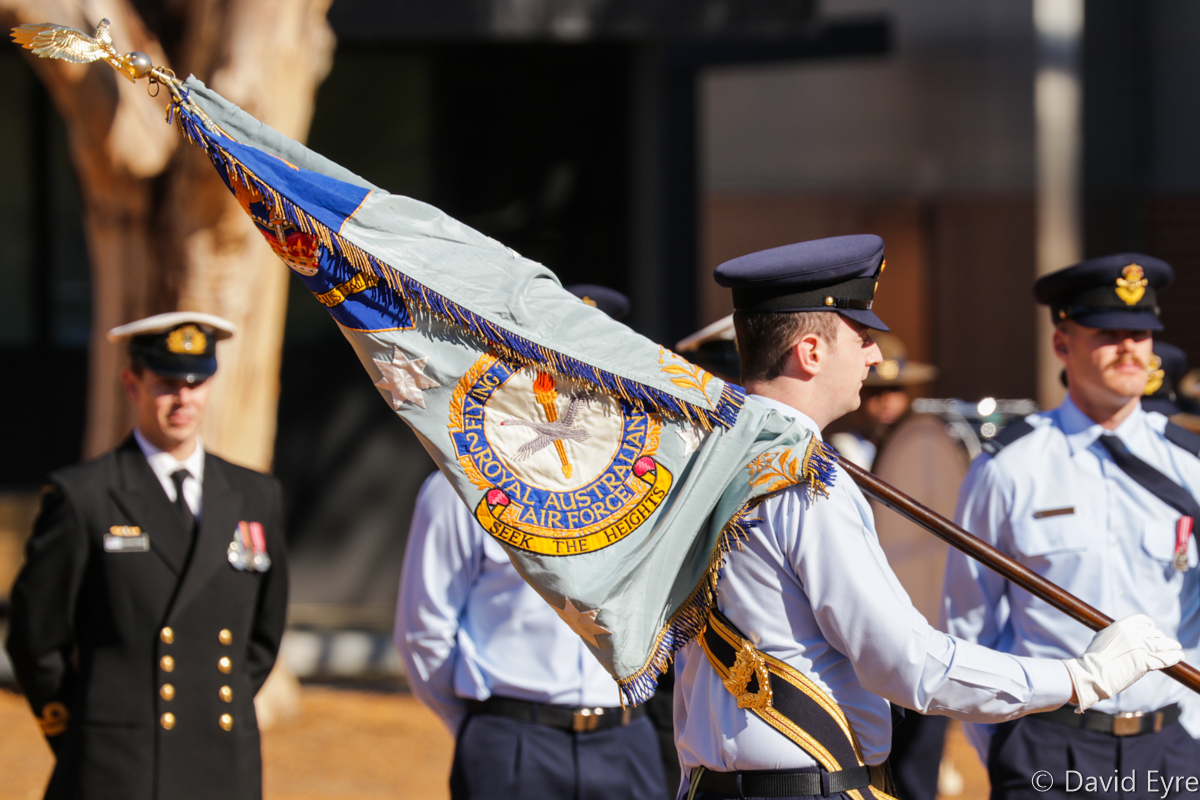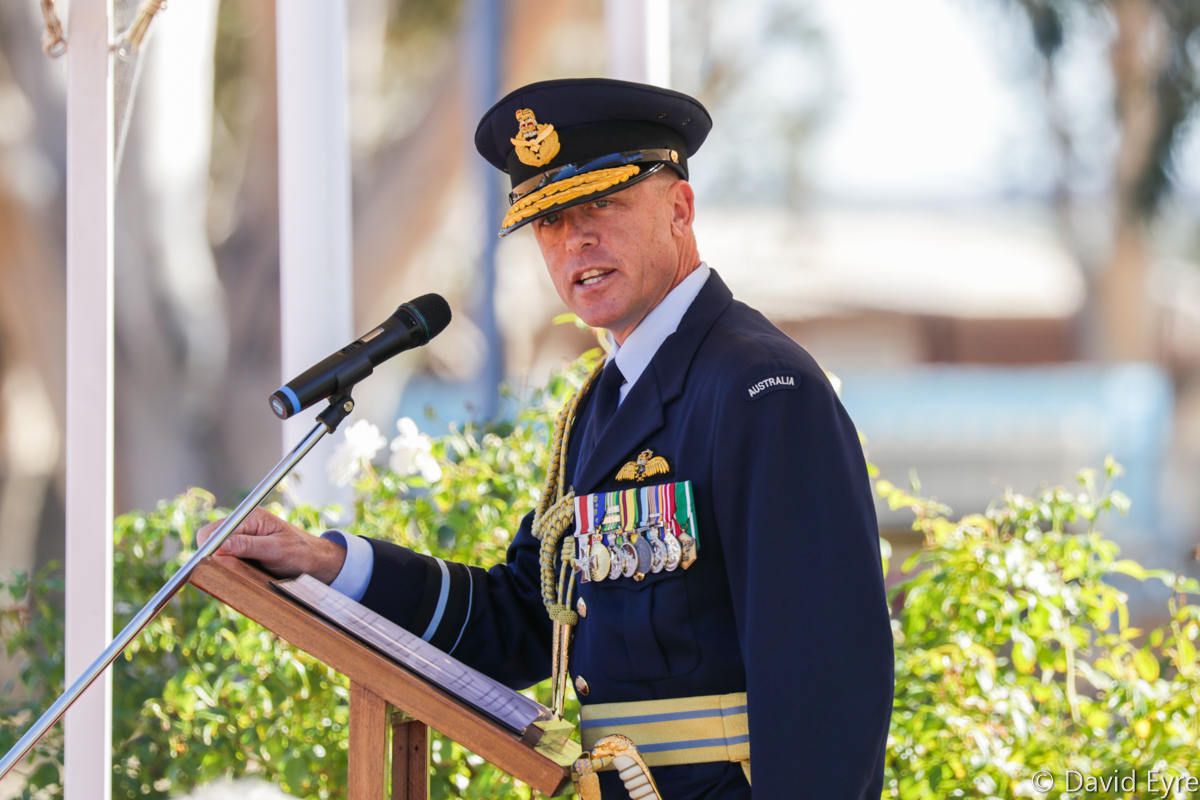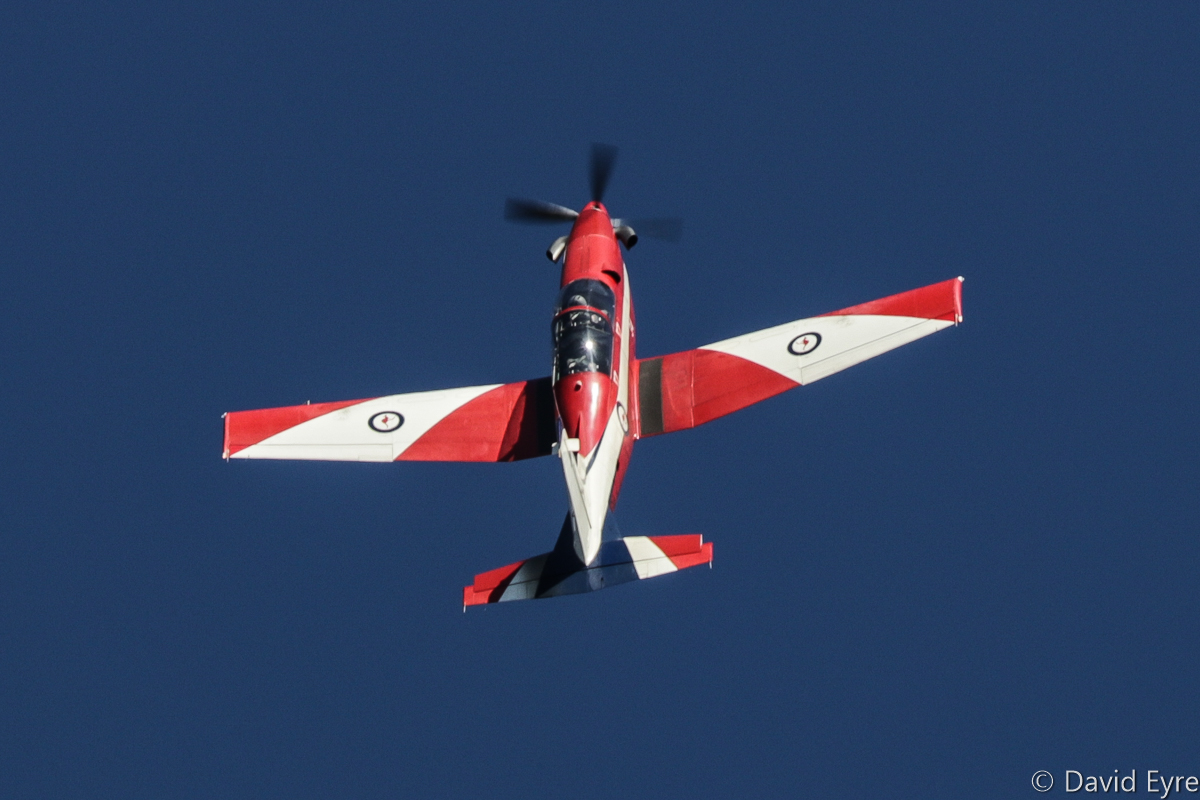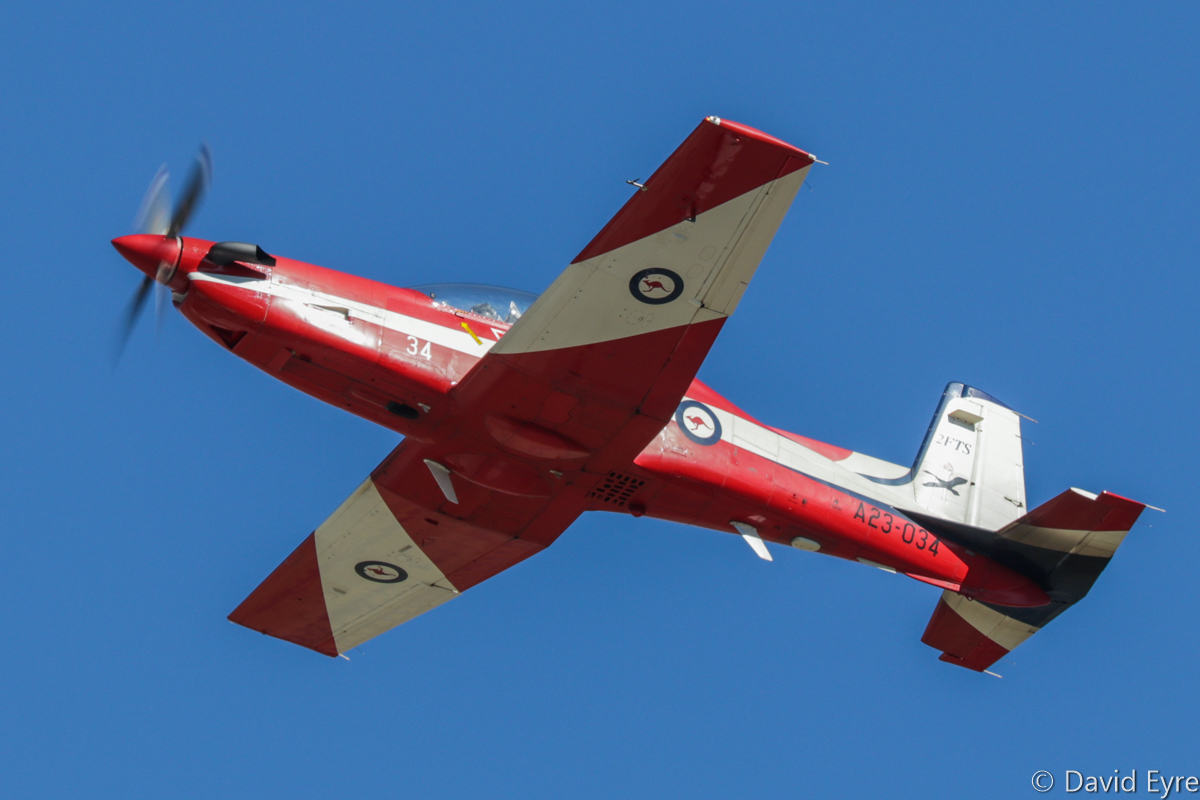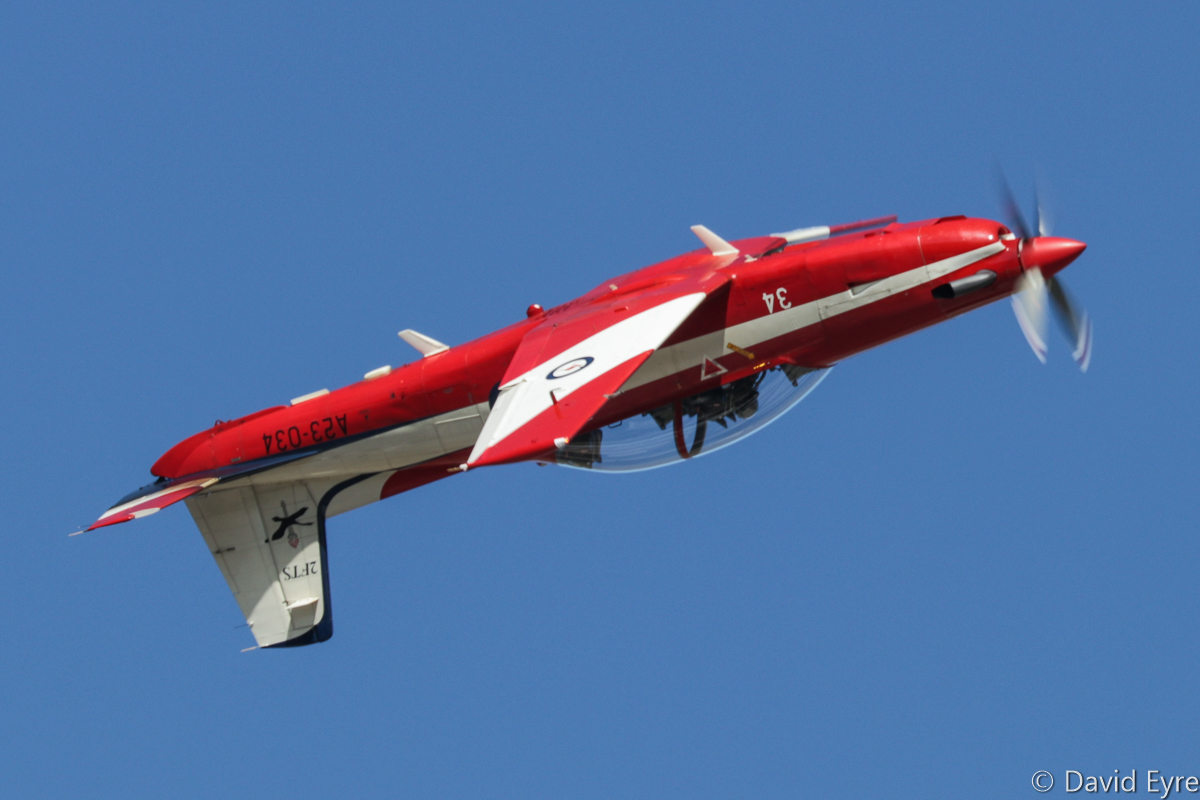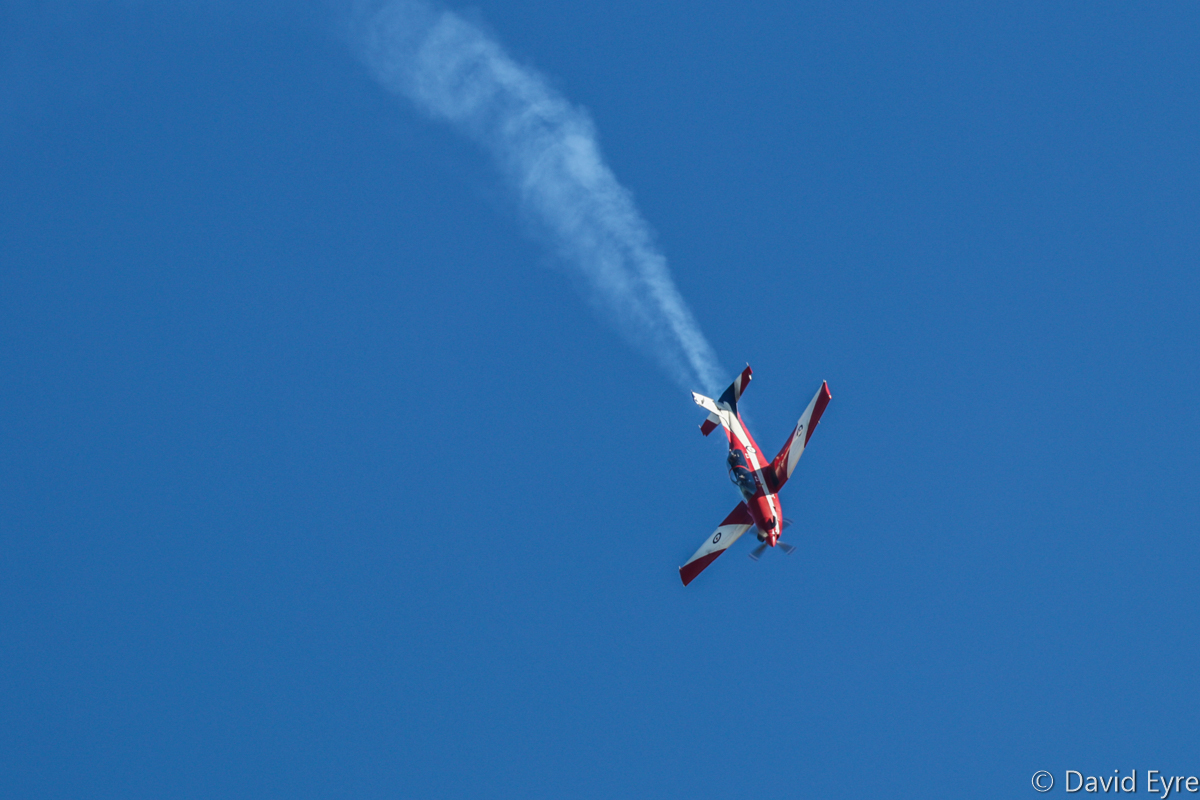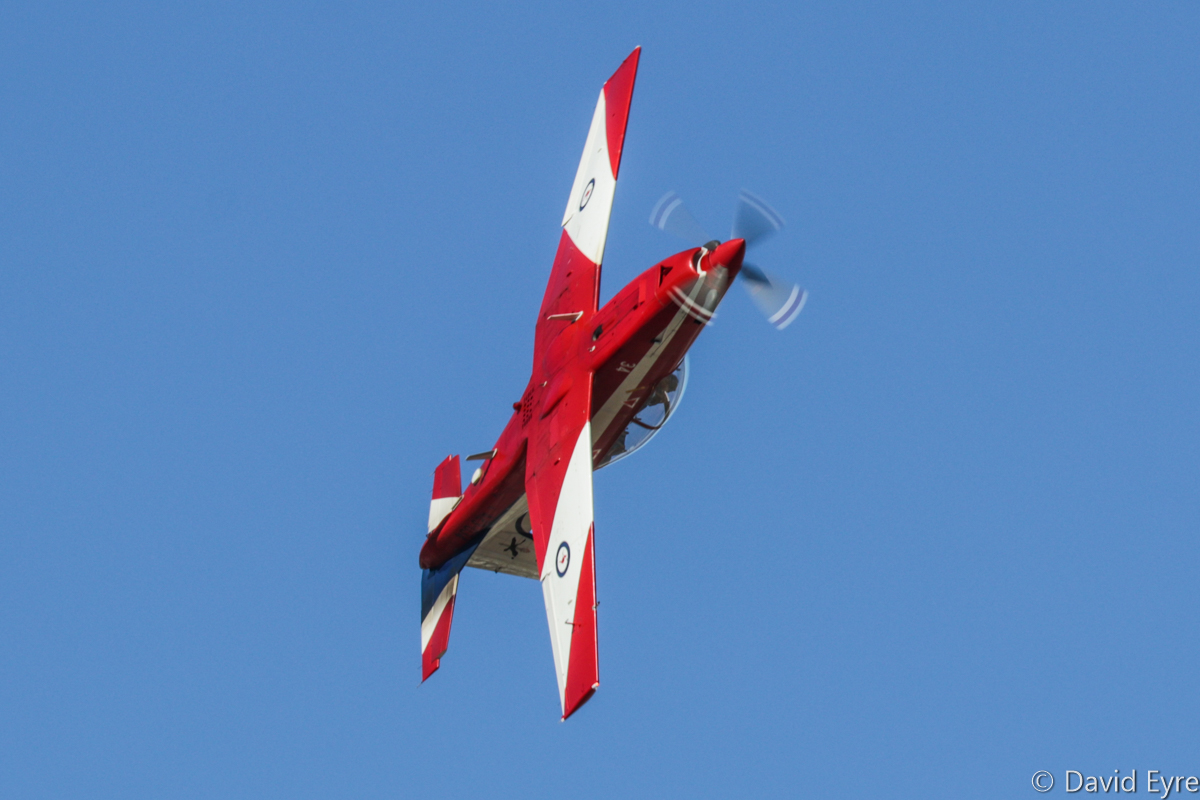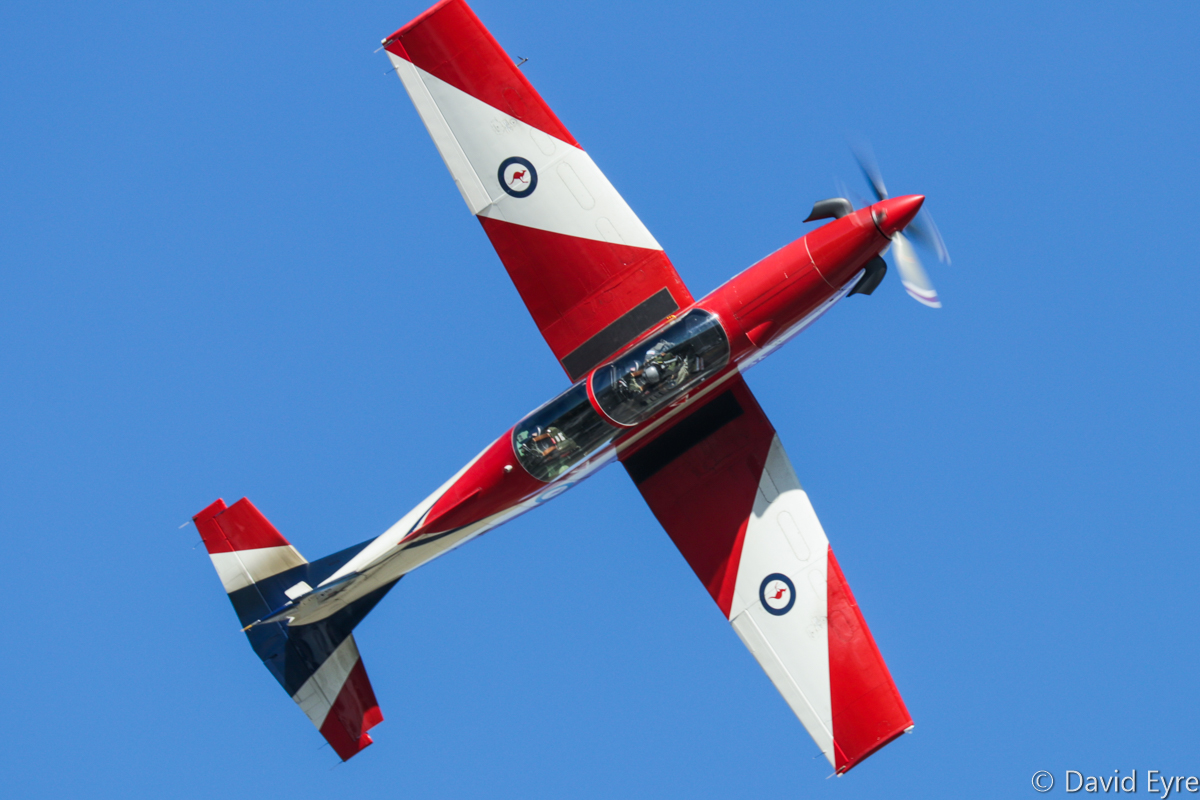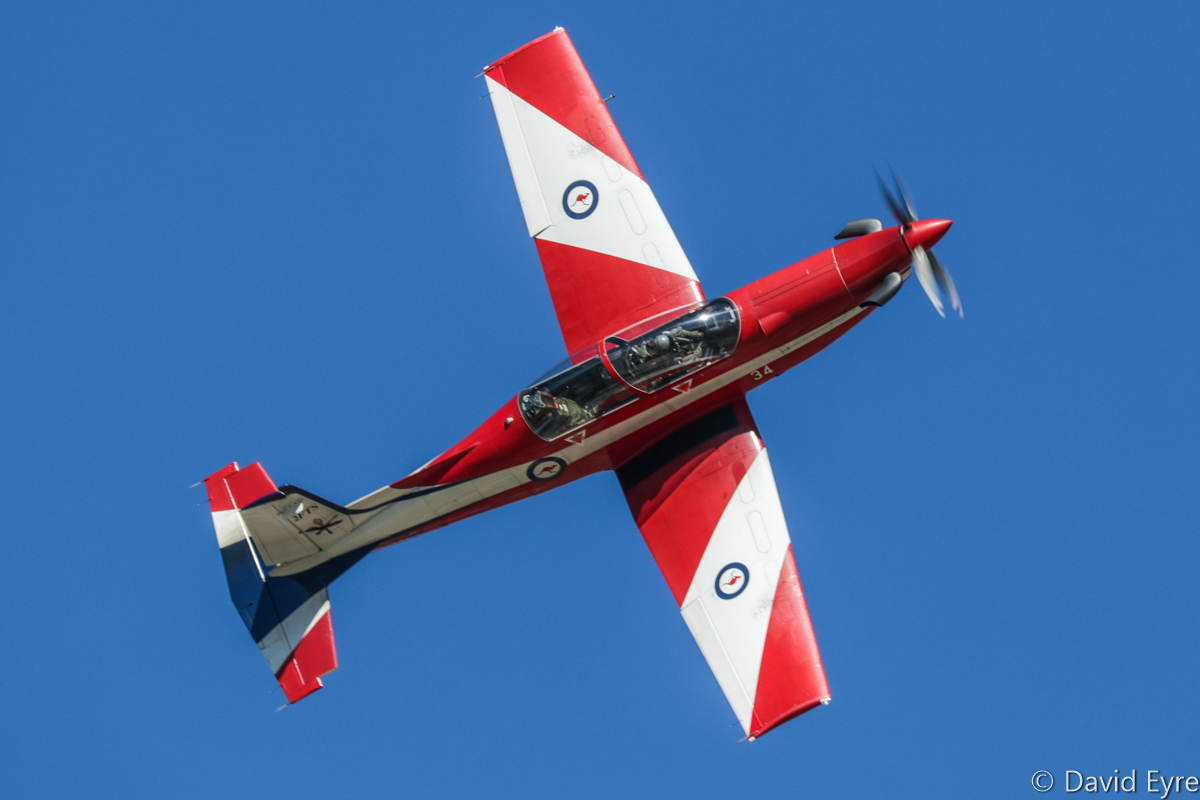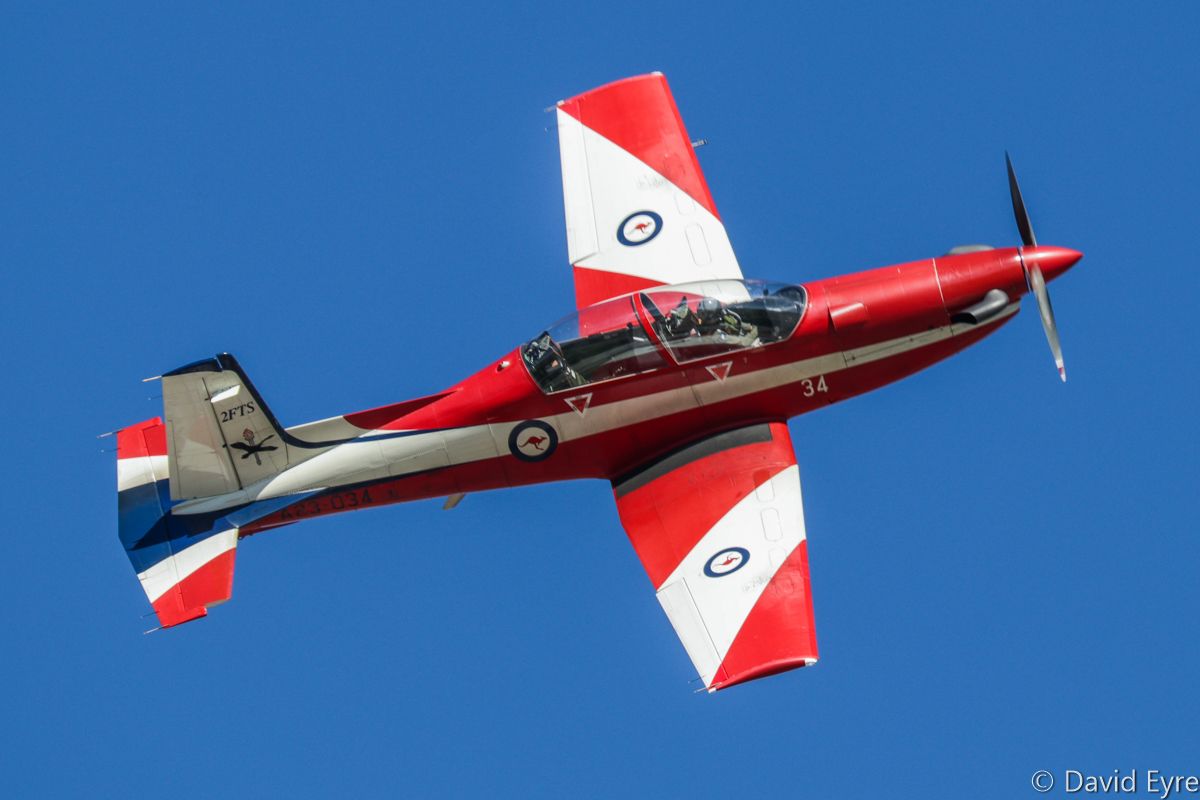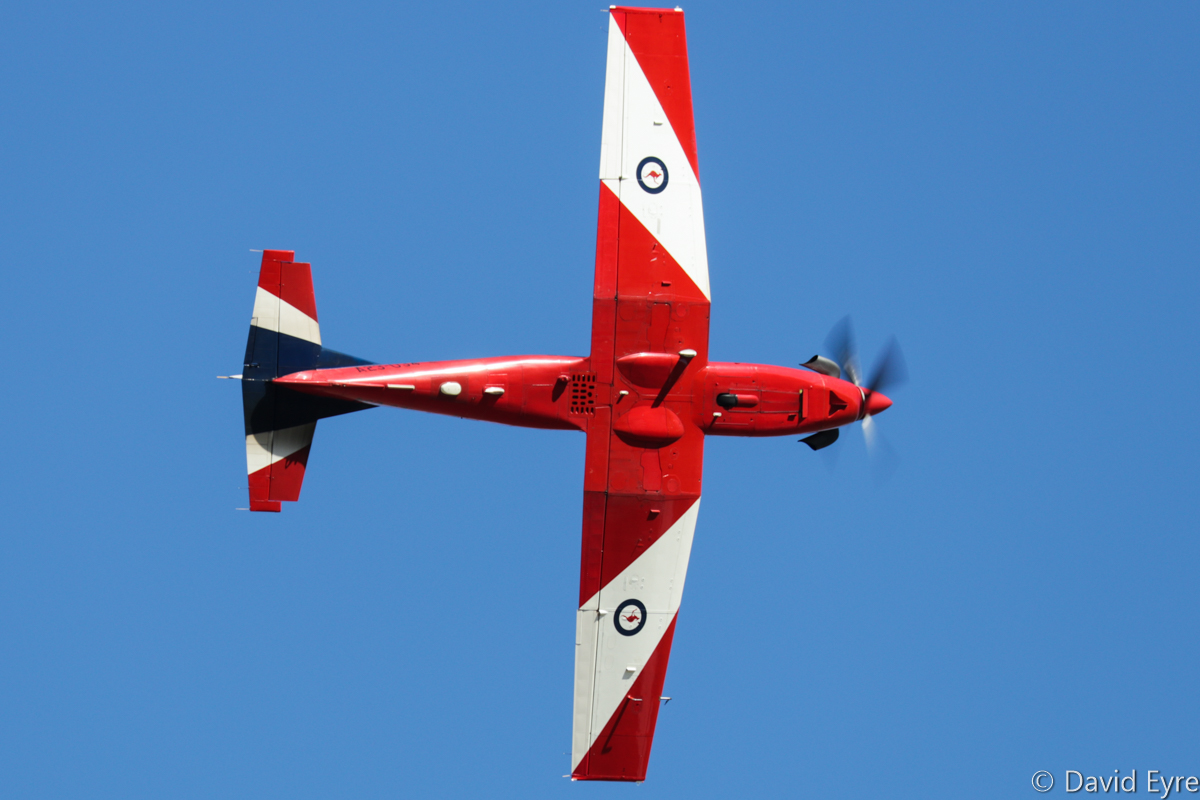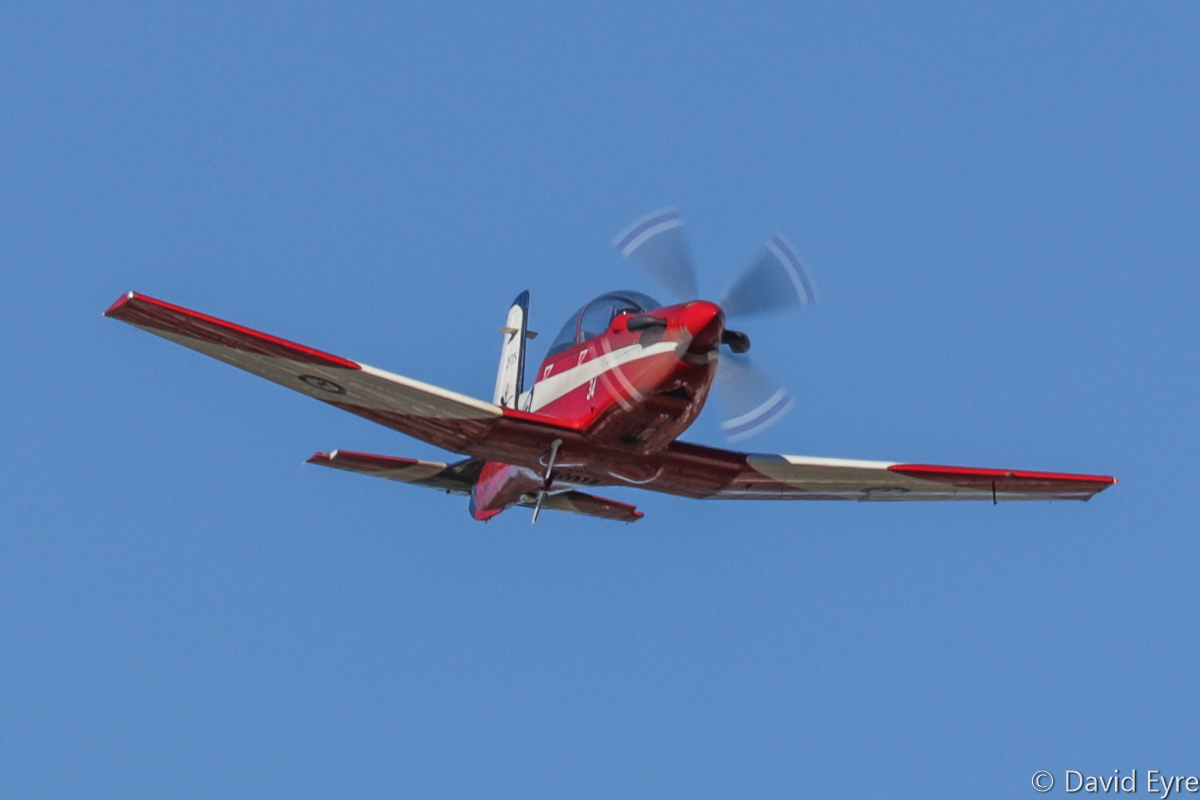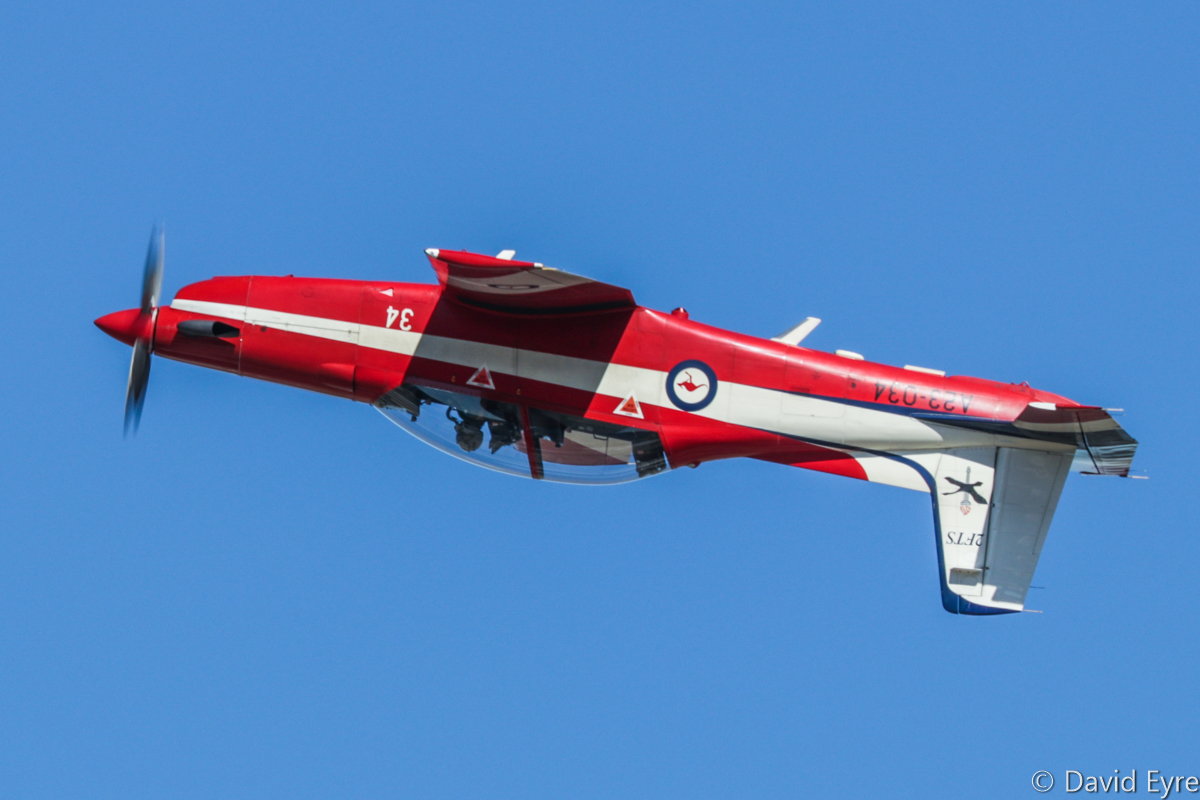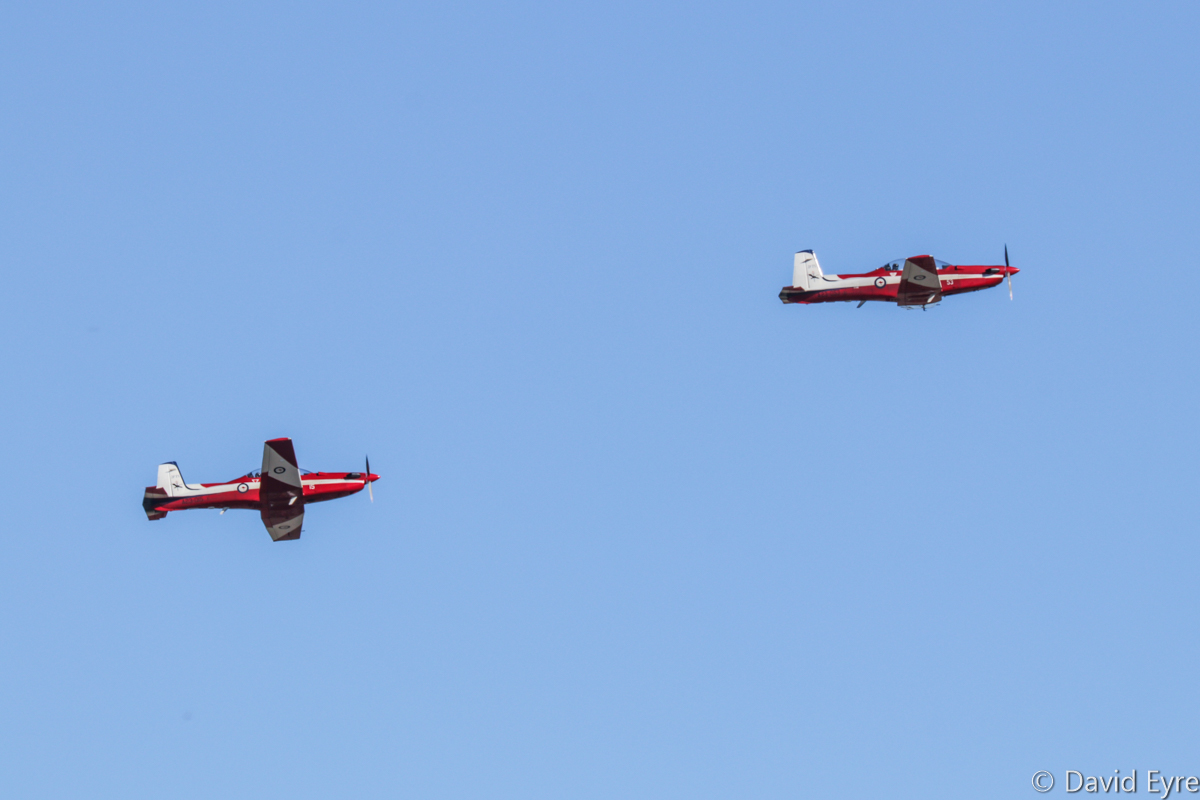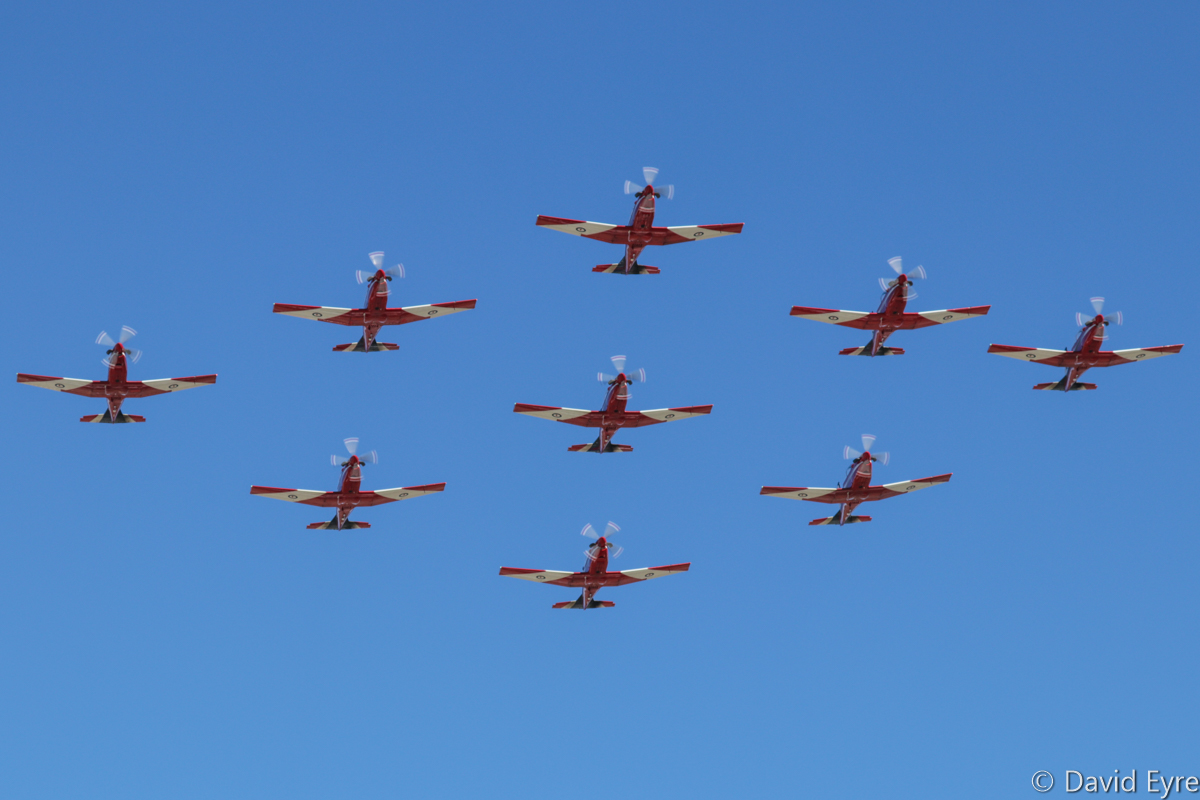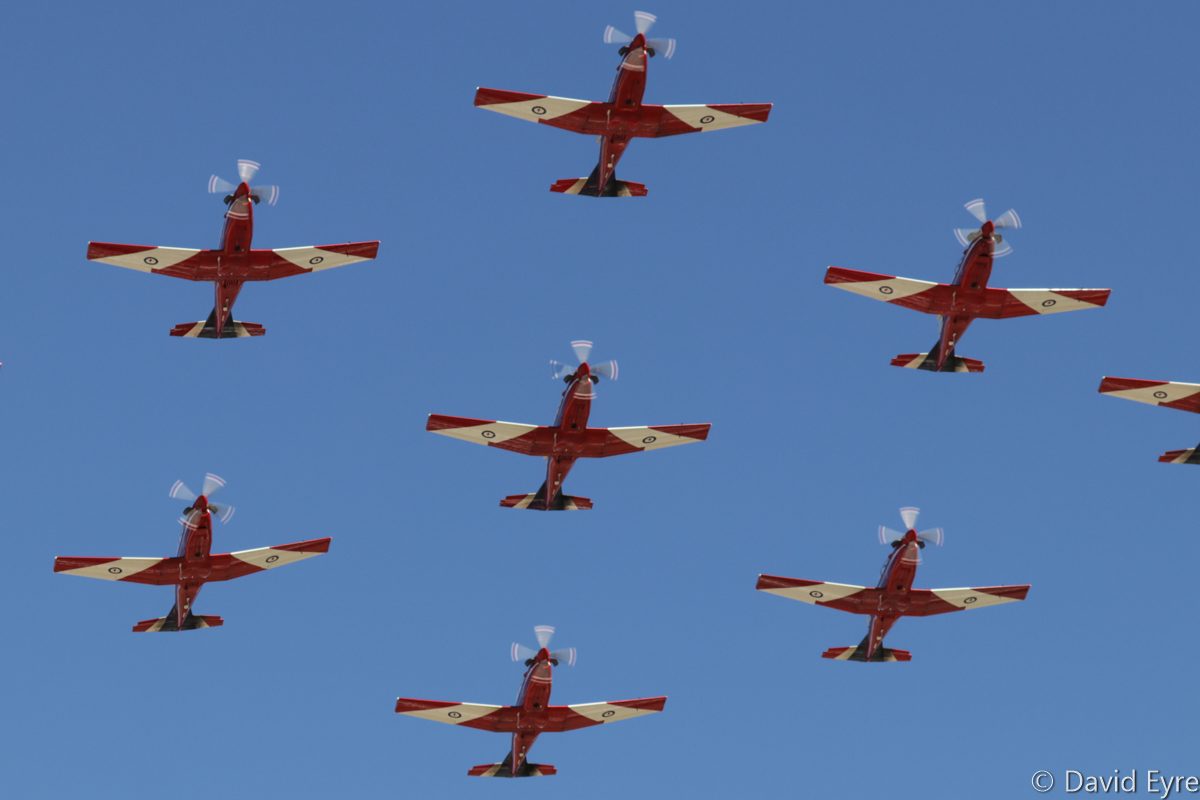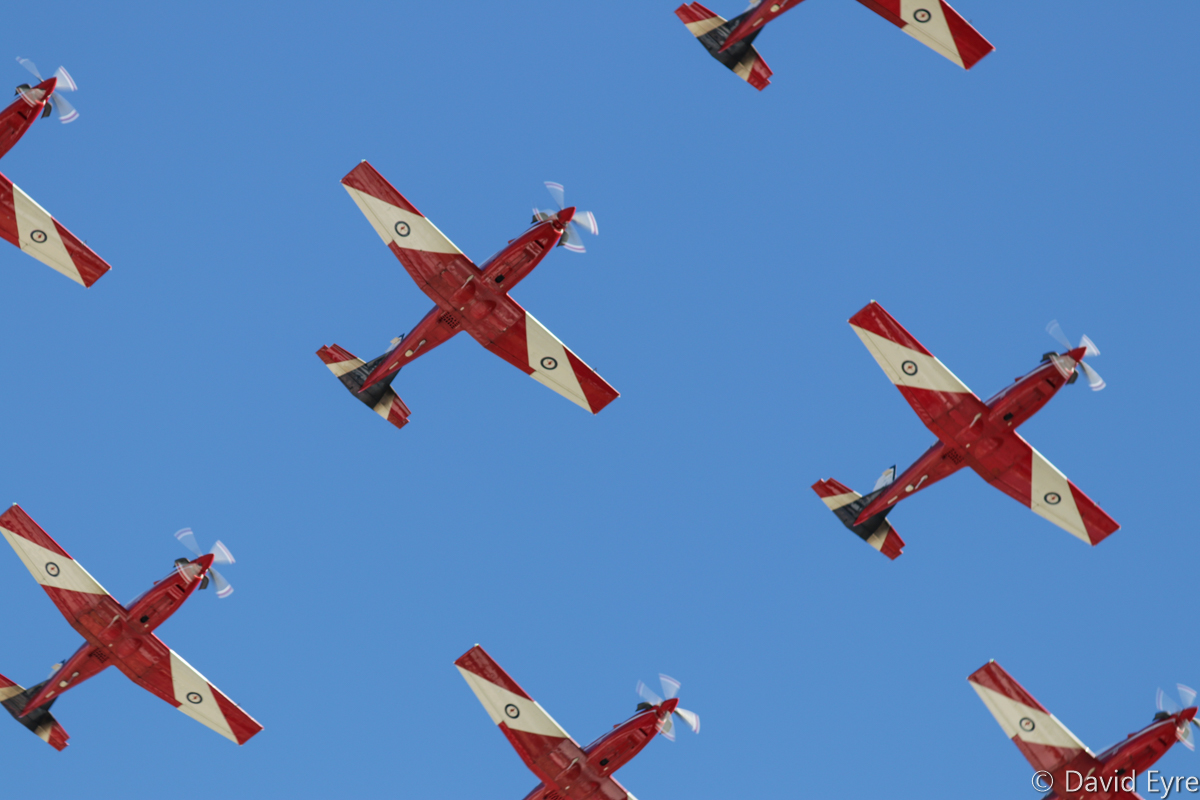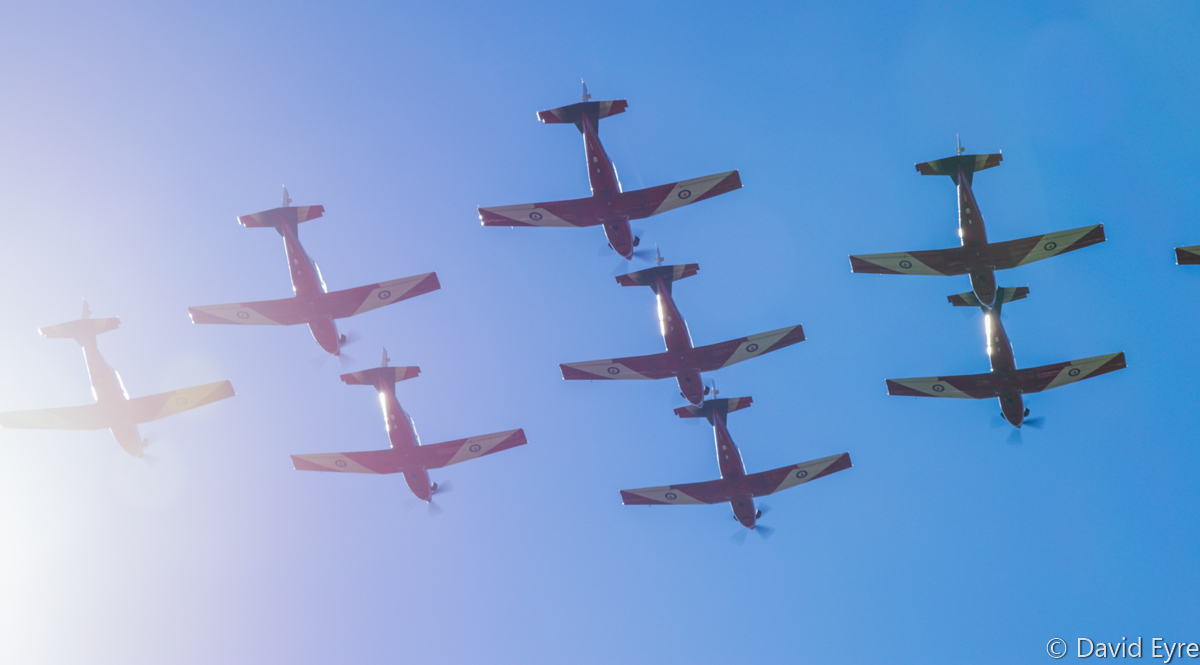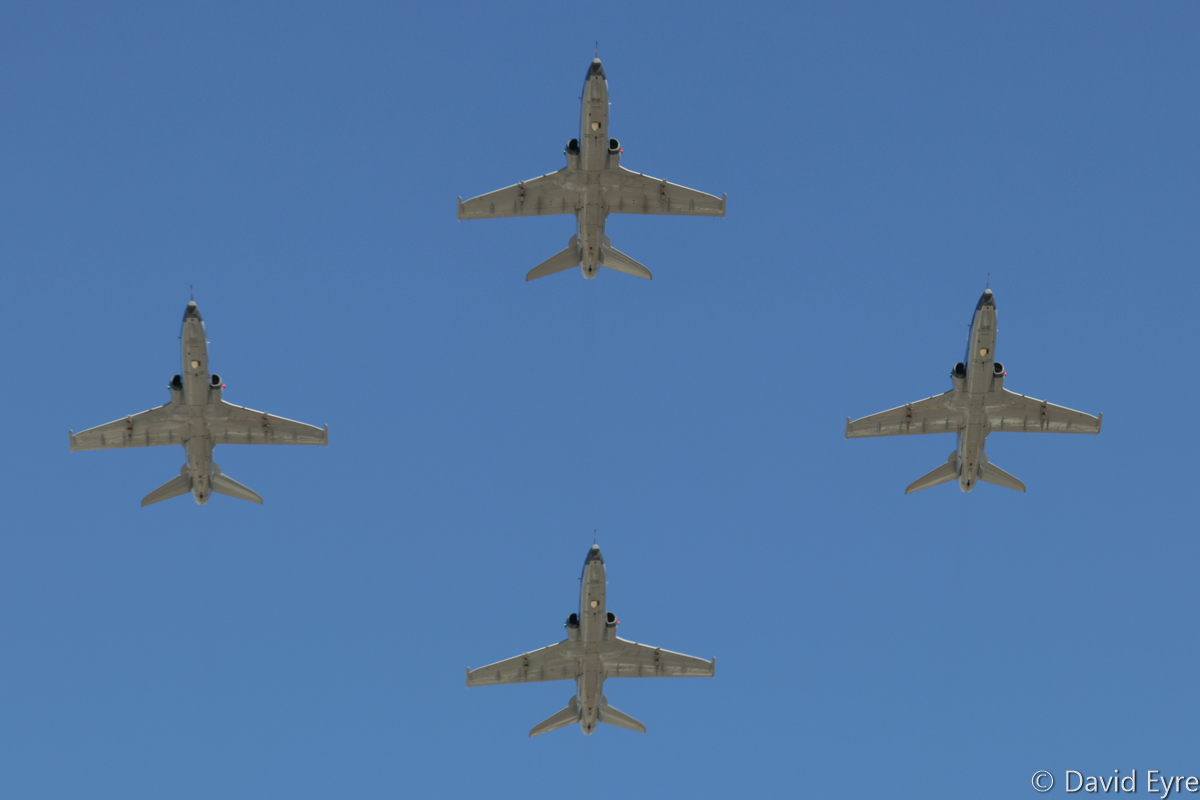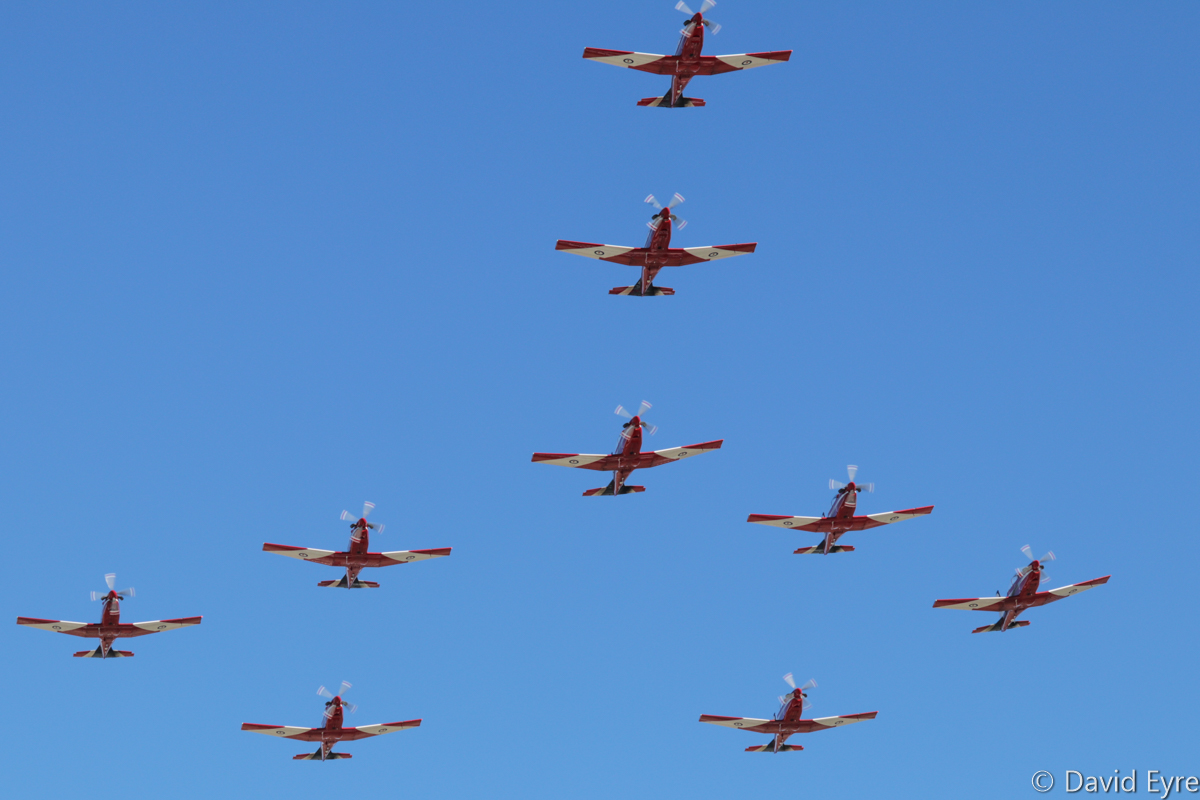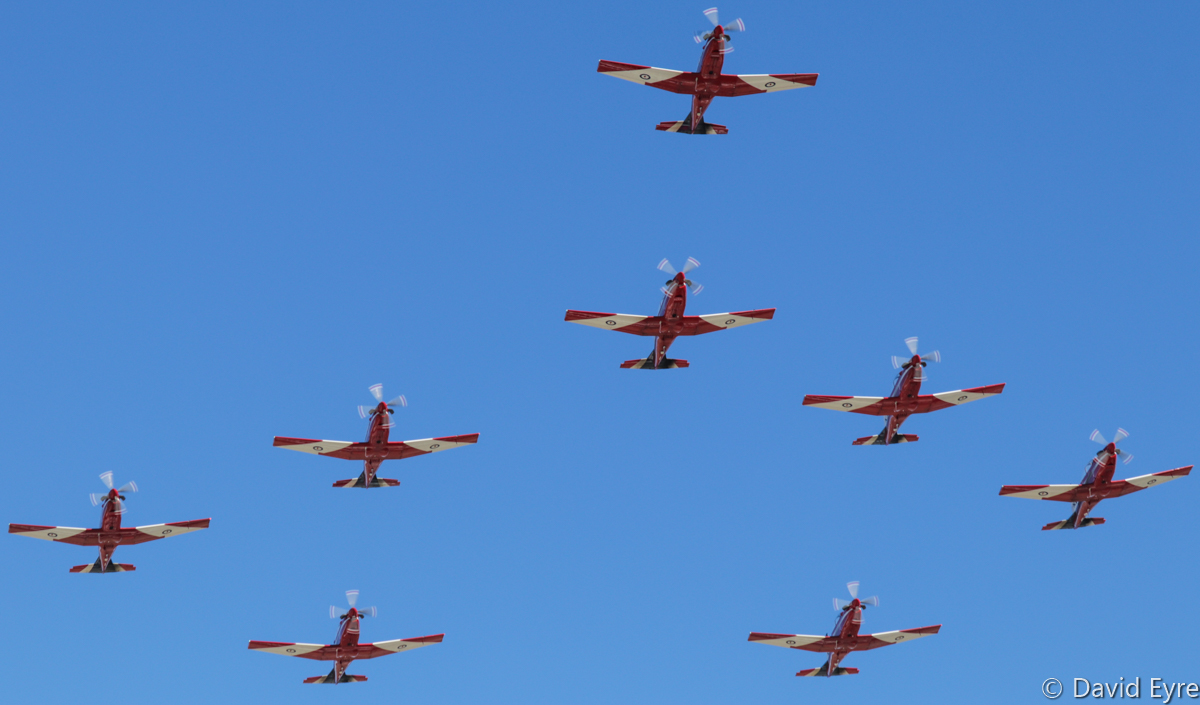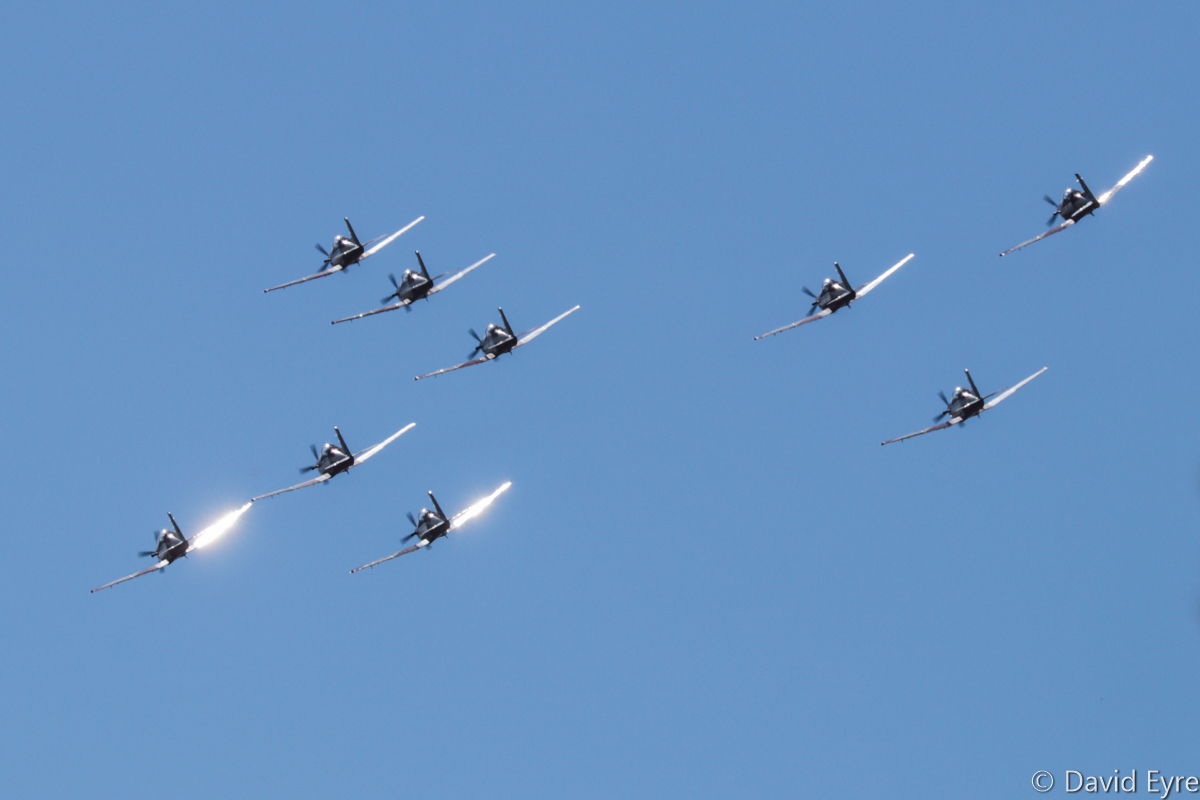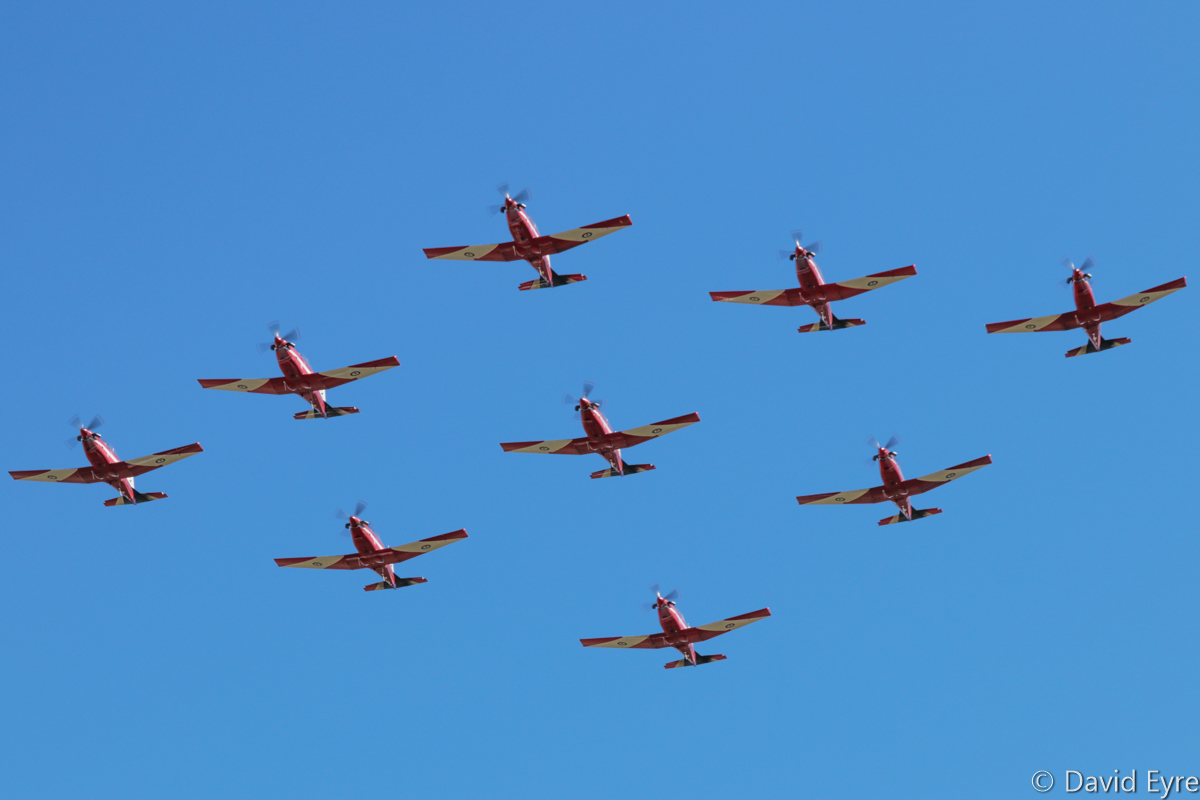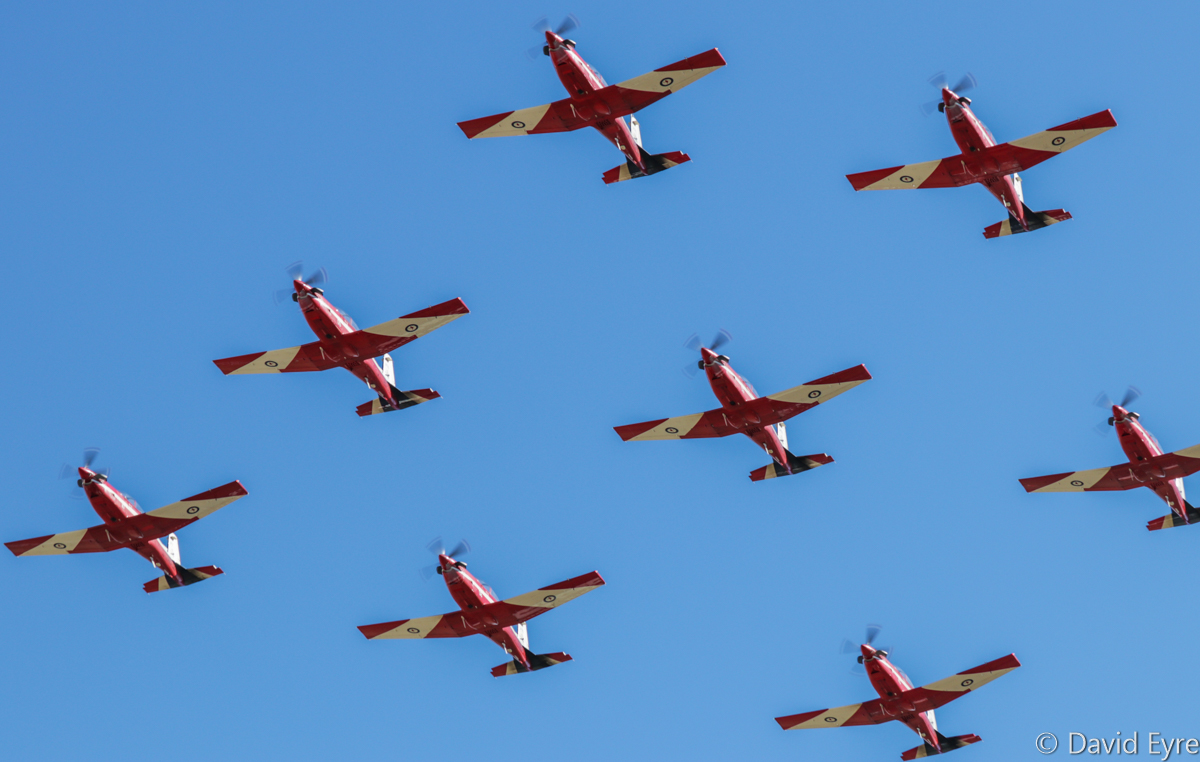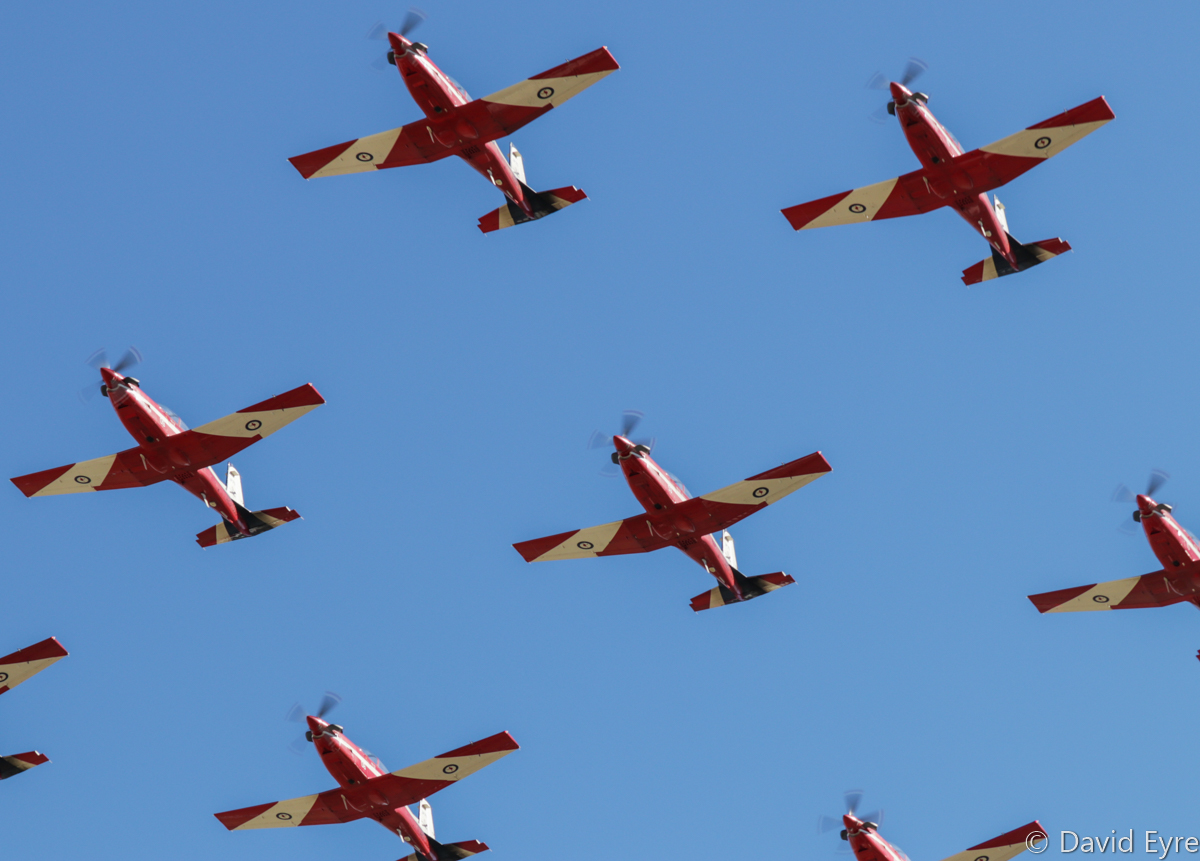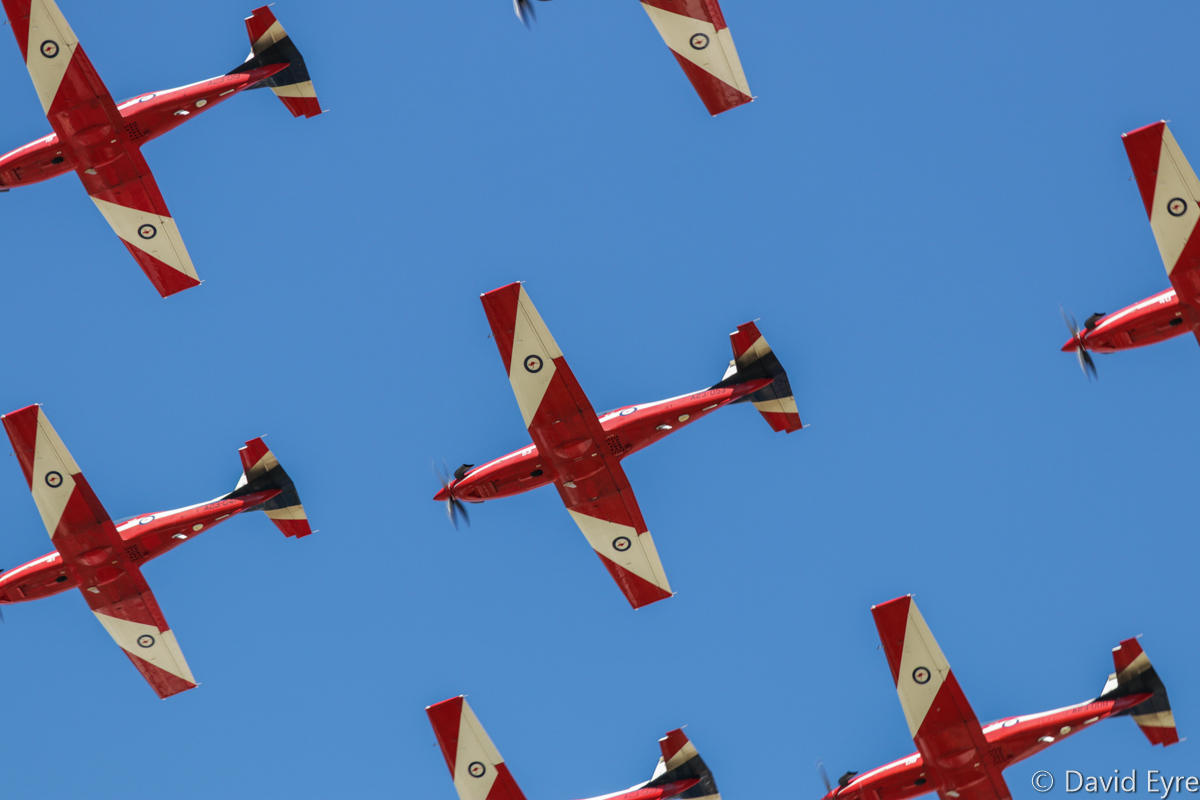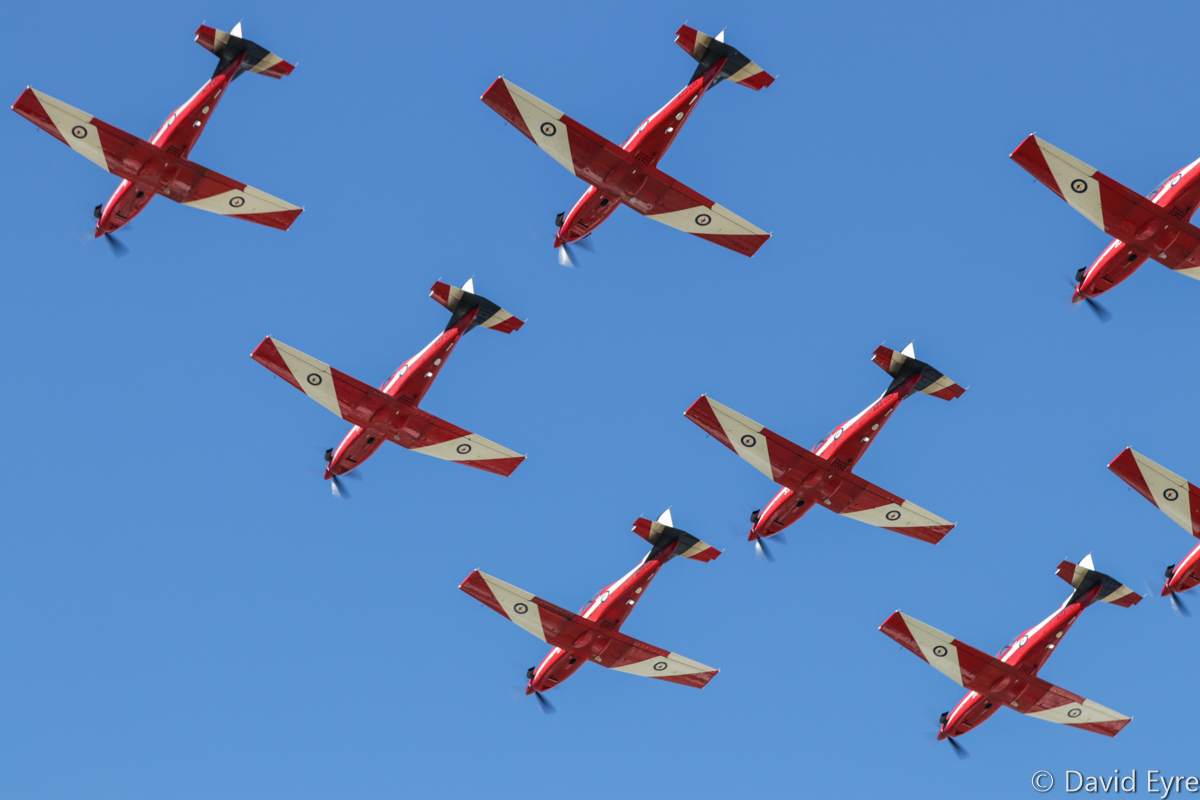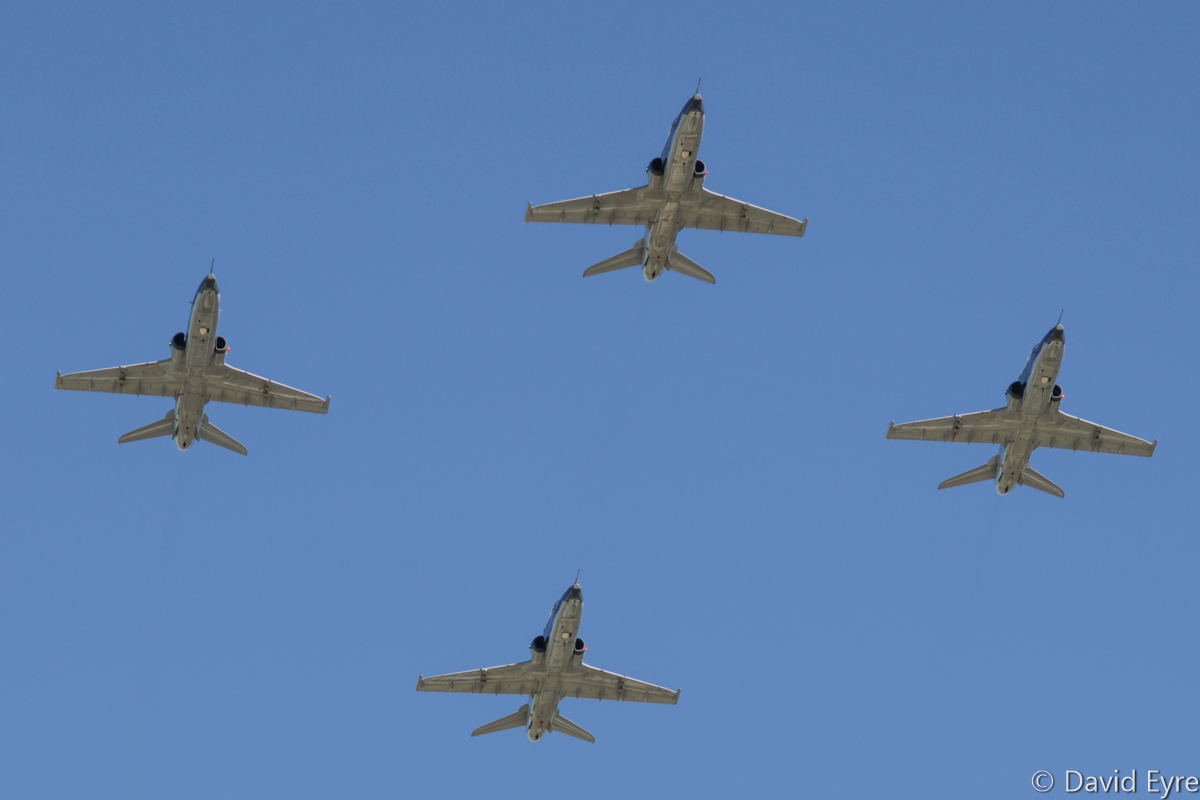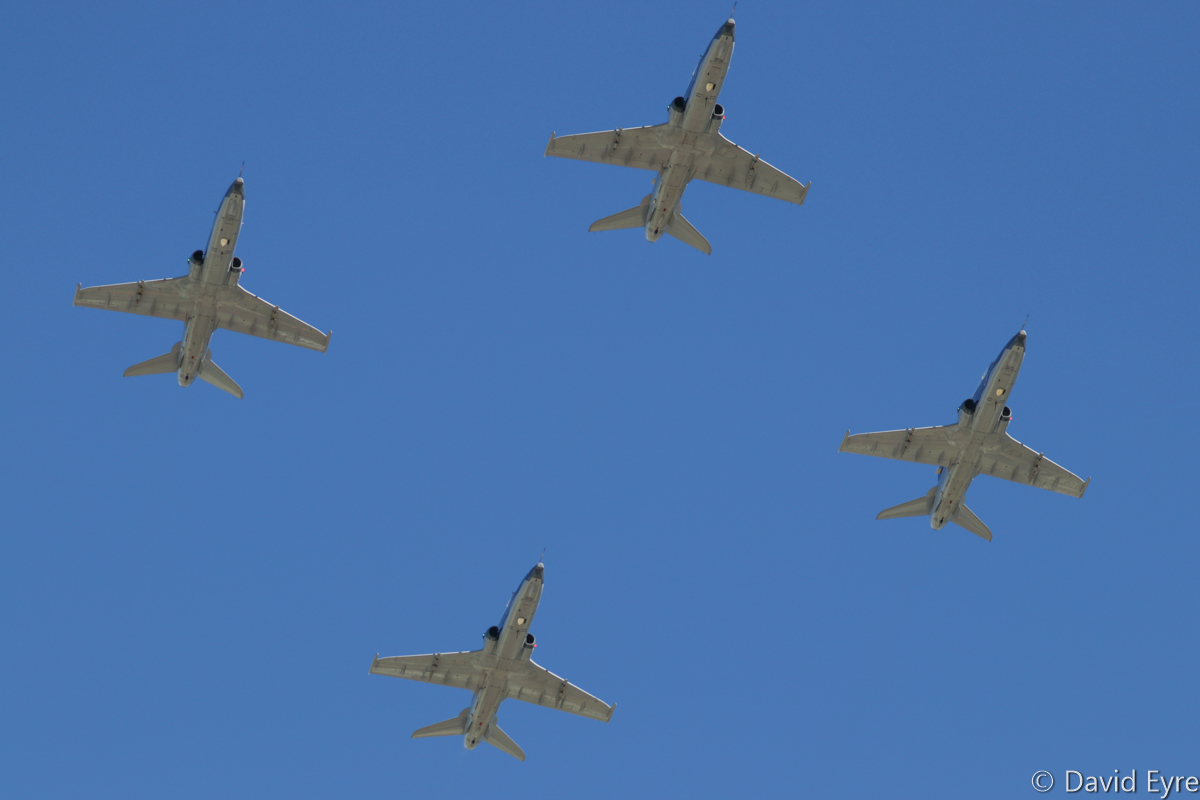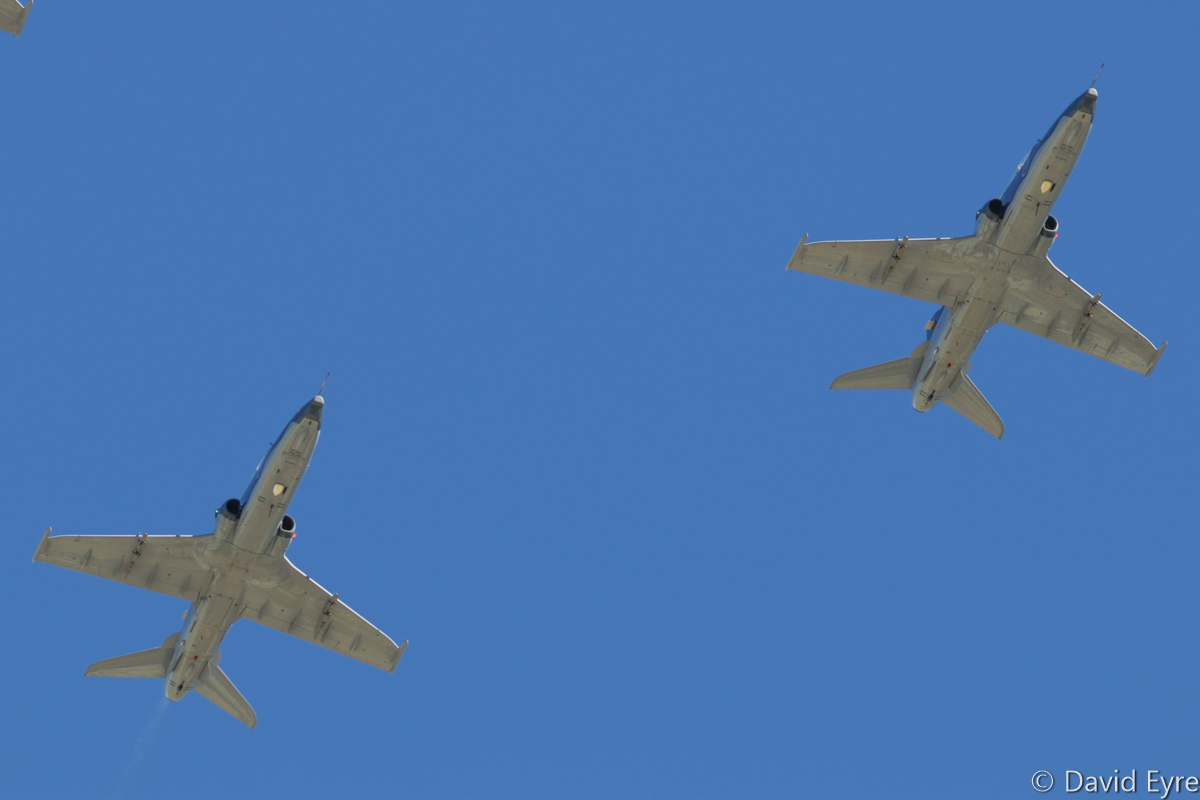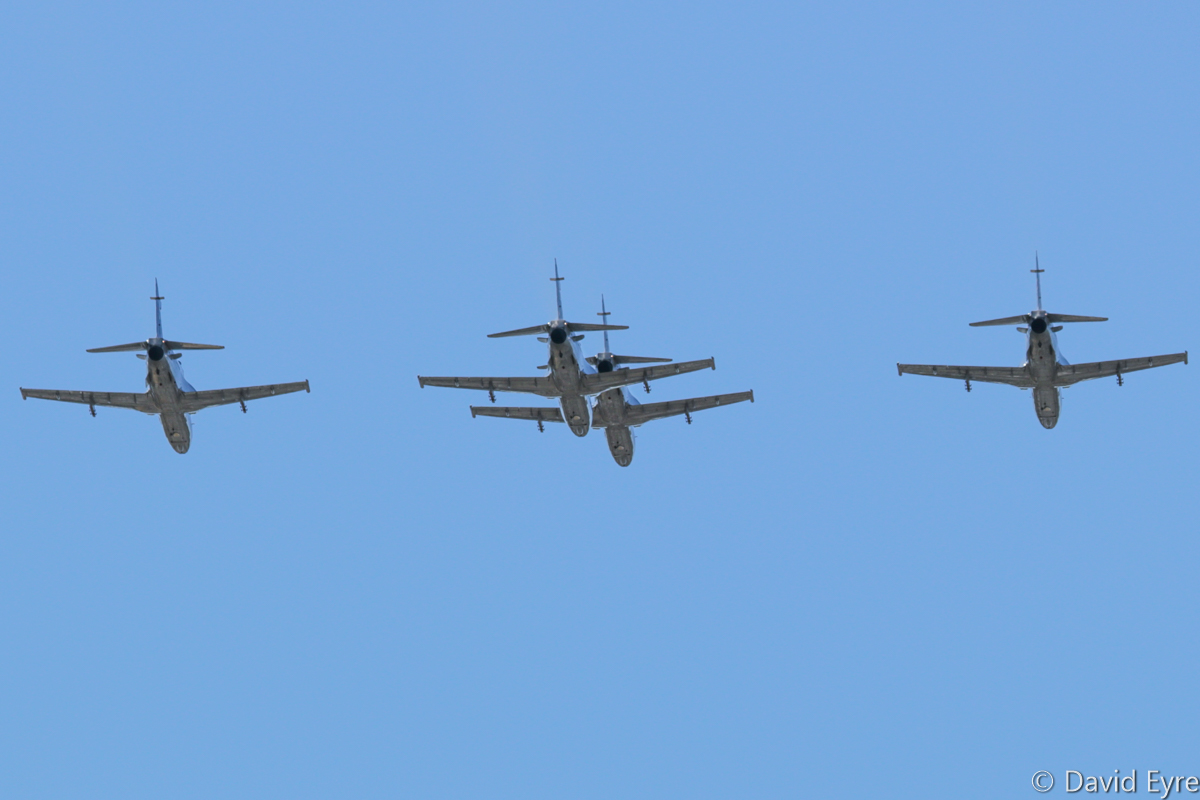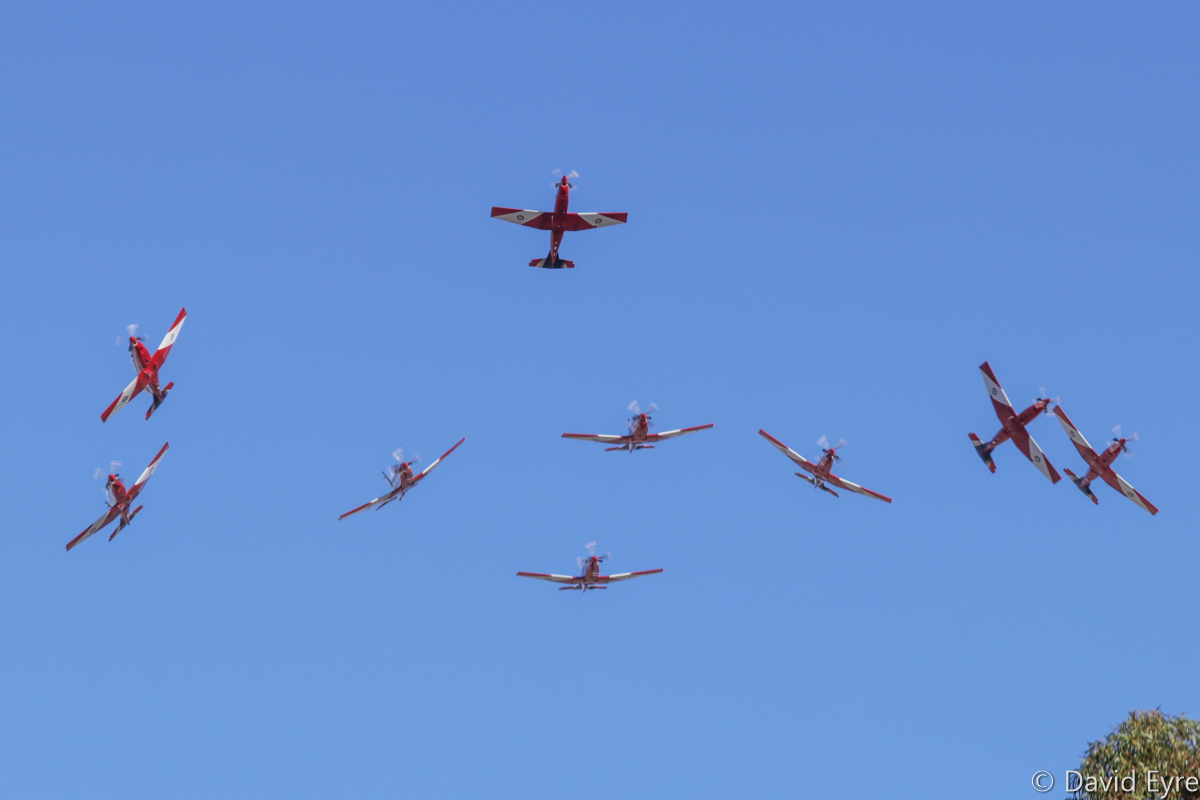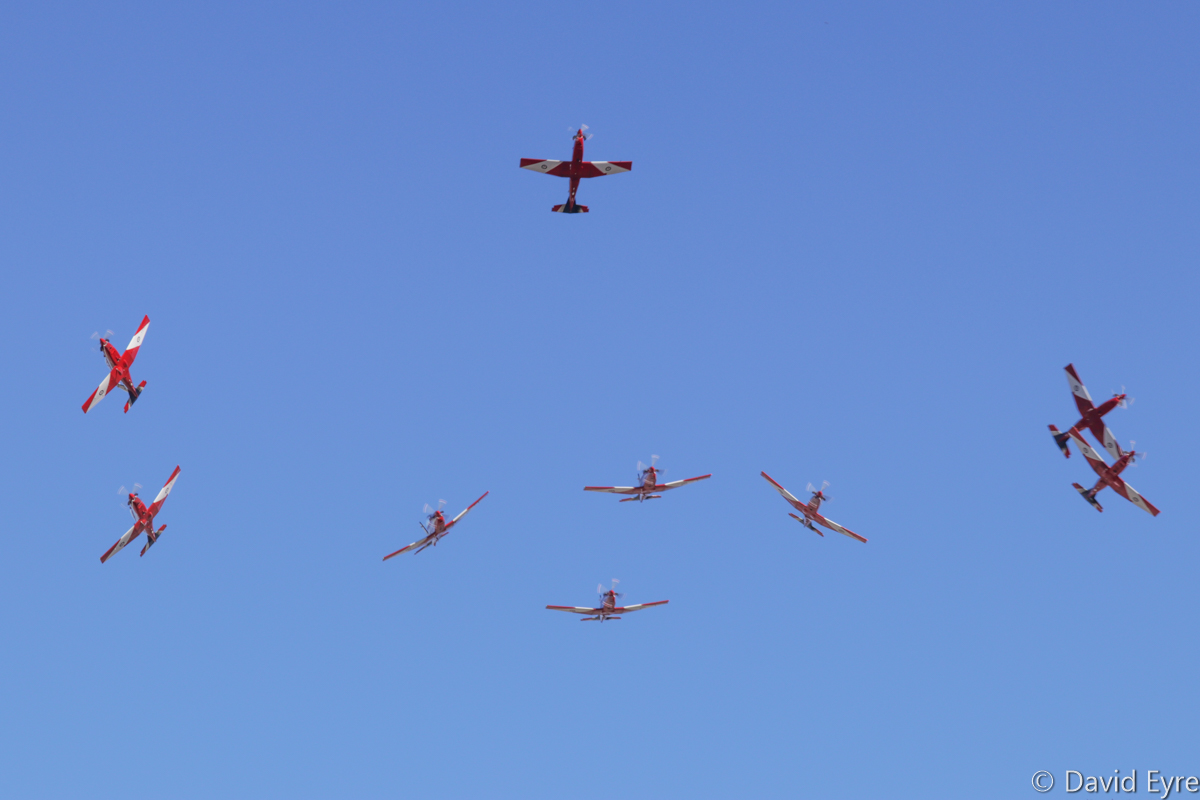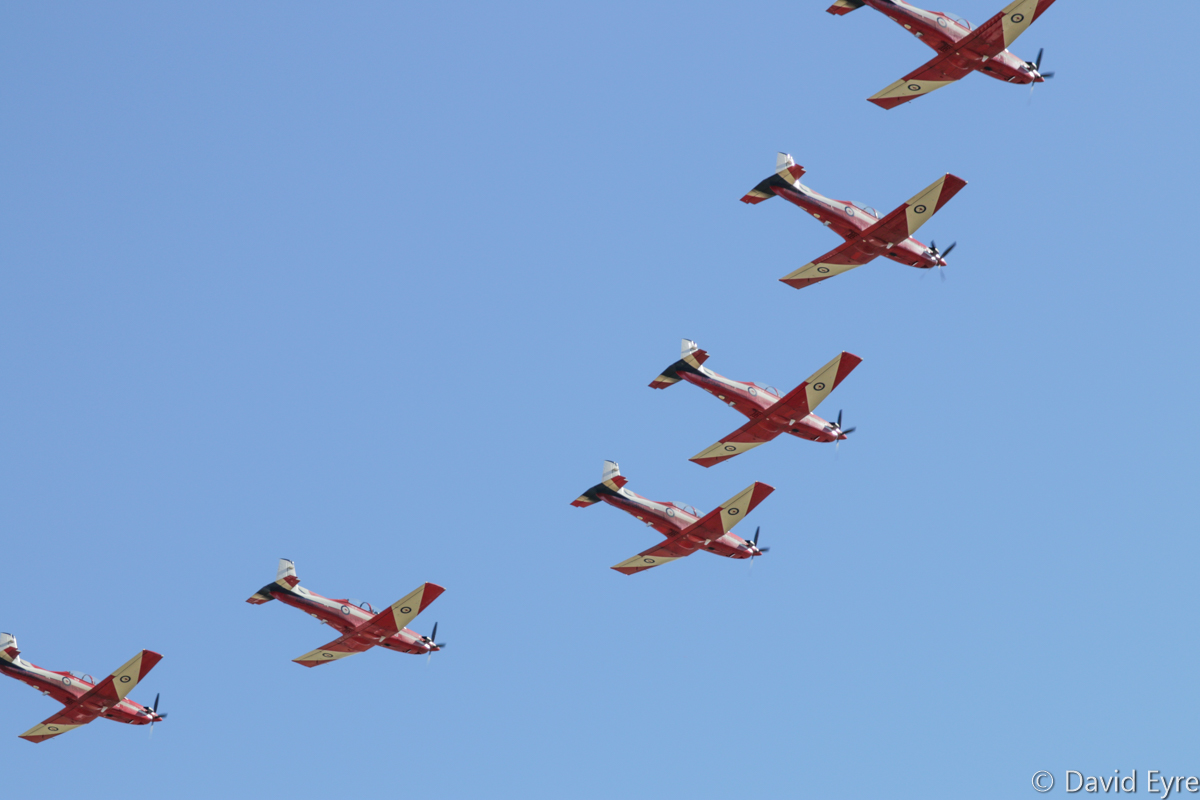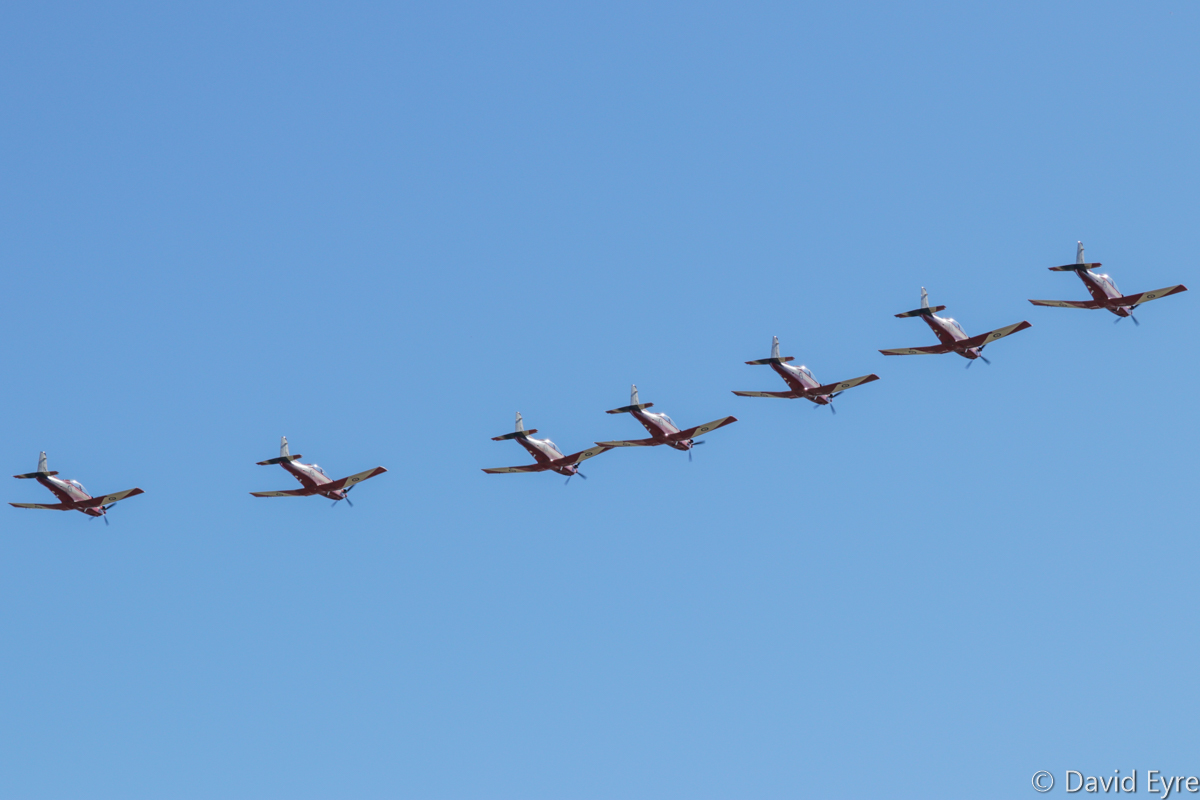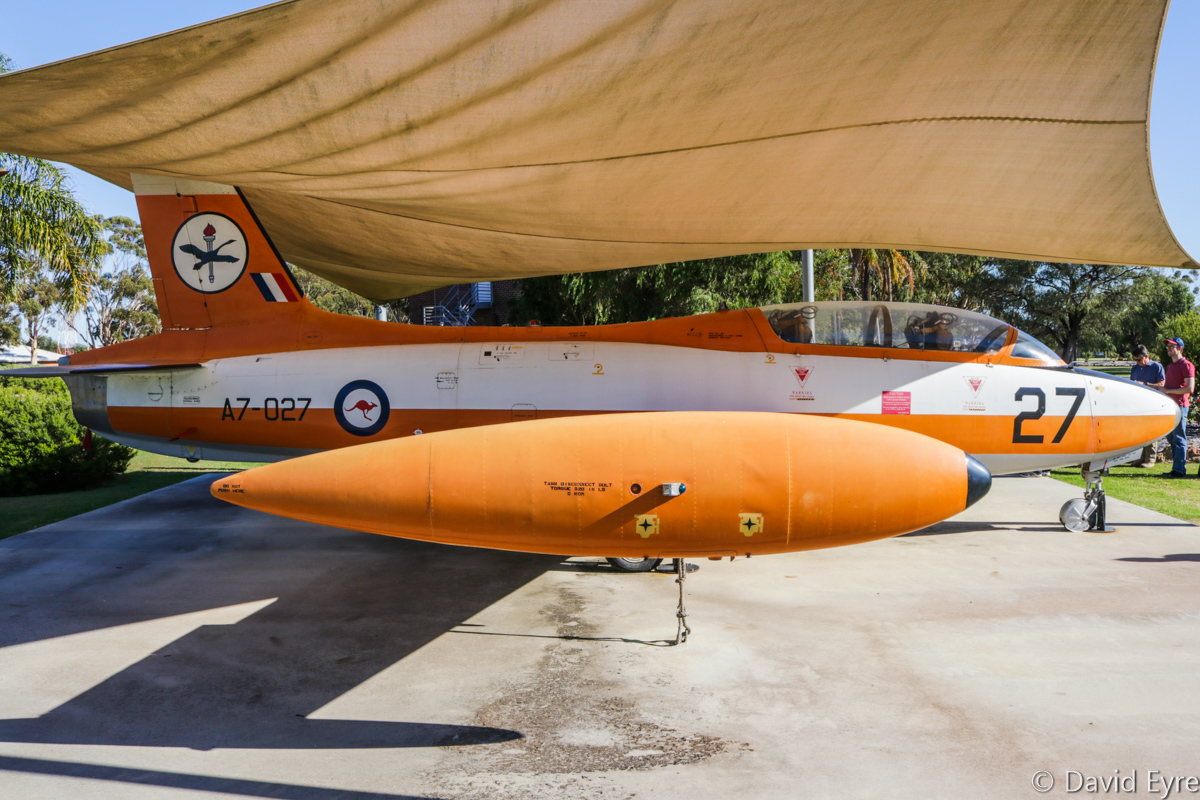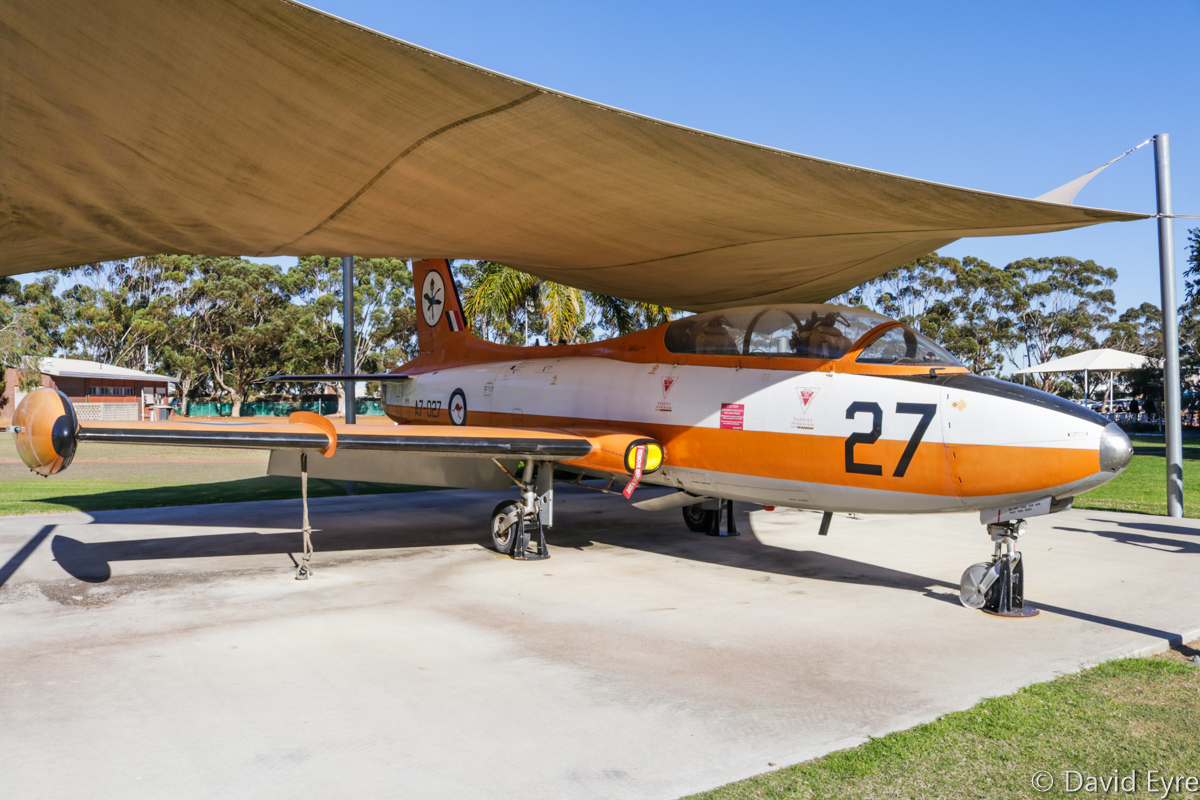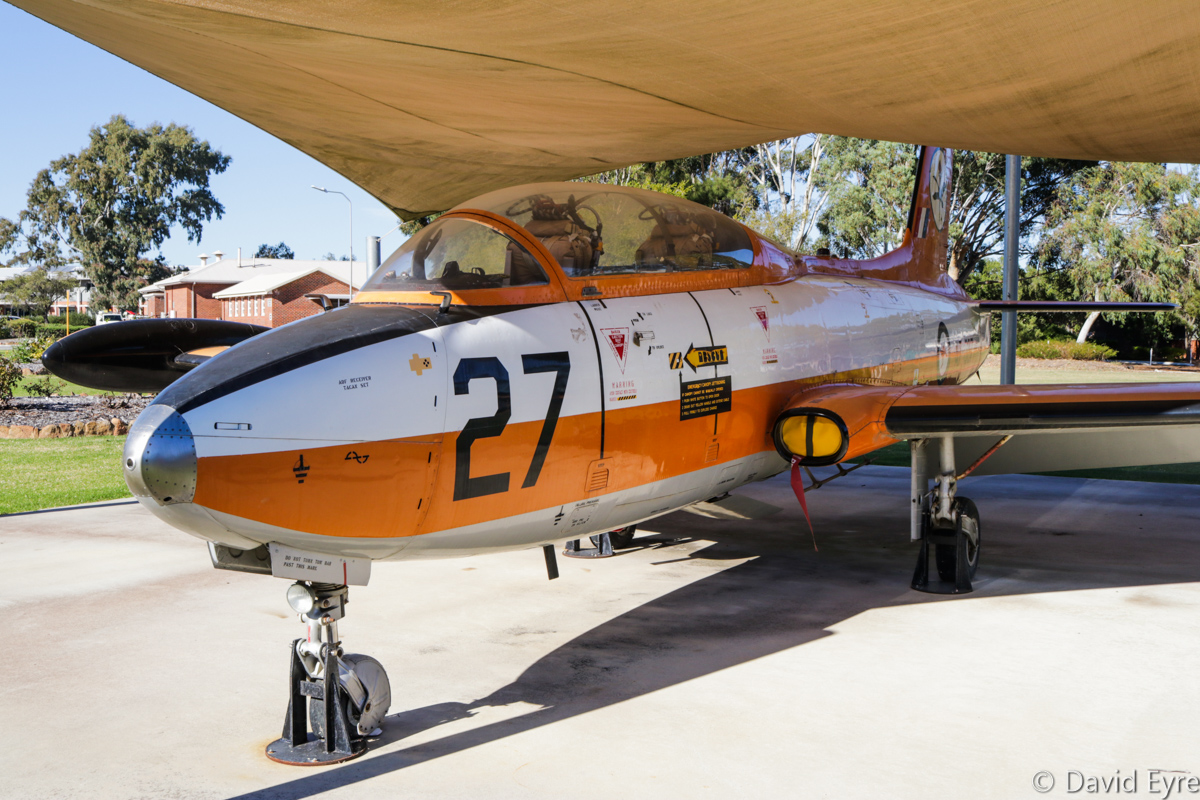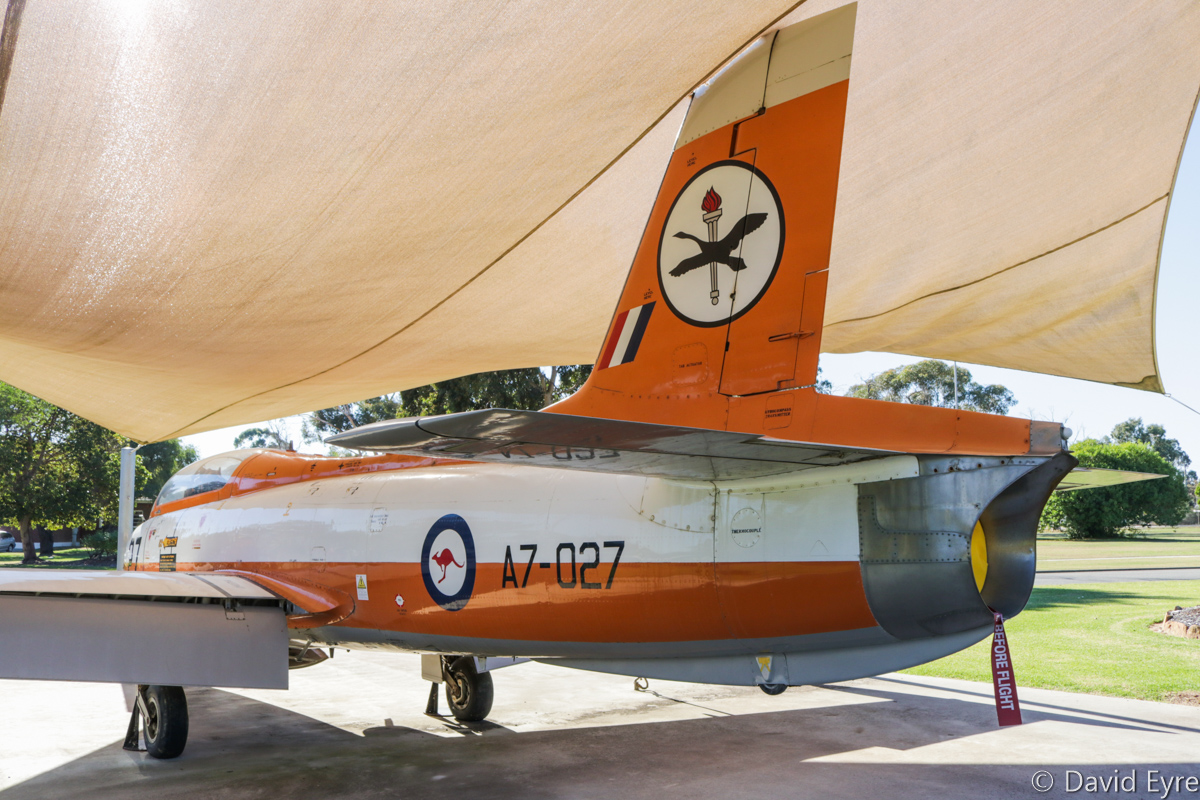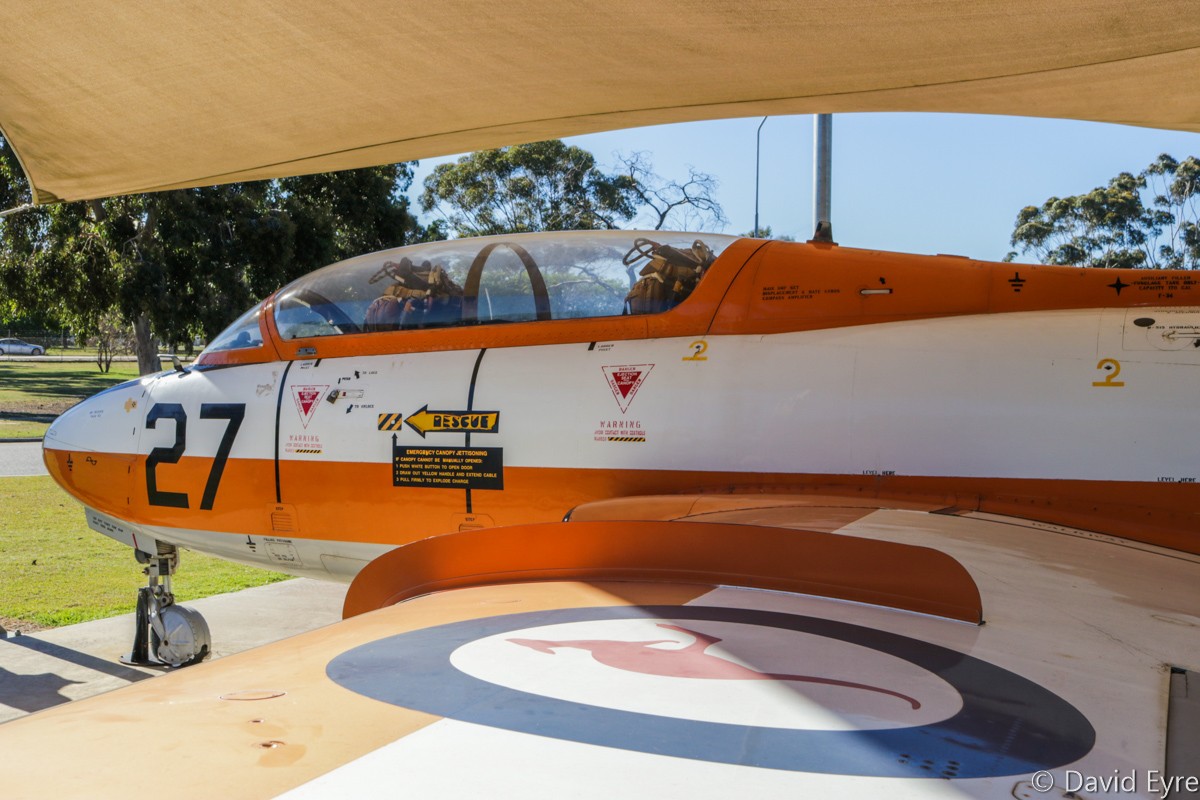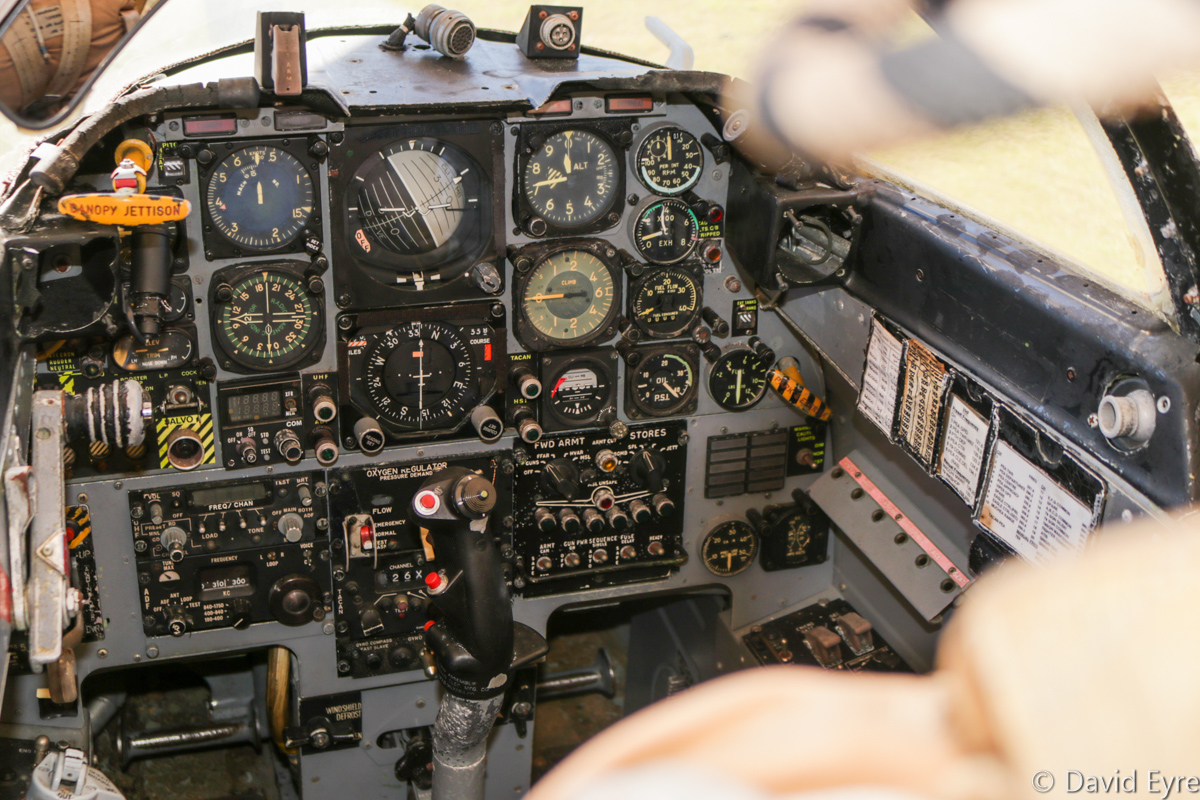 No. 2 Flying Training School (2 FTS), RAAF
The 2 FTS crest includes a flame torch to symbolise learning and a black swan to represent Western Australia, where the unit is based, as well as the transition of a student pilot from an ungainly cygnet to a graceful swan. Their motto is "Seek the heights".
The unit has its origins in No 1 Advanced Flying Training School (1 AFTS), which was originally based at RAAF Point Cook in Victoria.
When jet fighters were introduced into RAAF service, pilot training could no longer be conducted on the CAC Wirraway piston-engined training aircraft. The De Havilland DH-115 Vampire T35 jet trainer was introduced.
Point Cook was not suitable for jet trainer operations, so No 1 AFTS relocated to RAAF Base Pearce in May 1958.
Ten years later, the Vampires were replaced by the Italian-designed Macchi MB-326H jet trainers and on 1 January 1969, 1 AFTS was reformed as No.2 Flying Training School (2 FTS).
In June 1989, the Swiss-designed Pilatus PC-9/A turboprop trainer was introduced to replace the MB-326H, which was phased out of 2 FTS service from 1989-1991 (the Macchis were transferred to 25 Squadron and later 79 Squadron at Pearce until replaced by BAE Systems Hawk 127 jets from 2000).
The PC-9s are becoming more difficult to maintain, with cockpit avionics and other systems dating back to the 1980s. The type was intended to be withdrawn in 2008, but  its life was extended to 2019 following a wing re-spar program which began in late 2004.
The RAAF took delivery of their first Pilatus PC-21 trainers during 2017 and these will replace the PC-9s over the next couple of years. New hangars are being built at Pearce for the PC-21s. Since 2008, the Republic of Singapore Air Force has also operated their own PC-21s at Pearce.