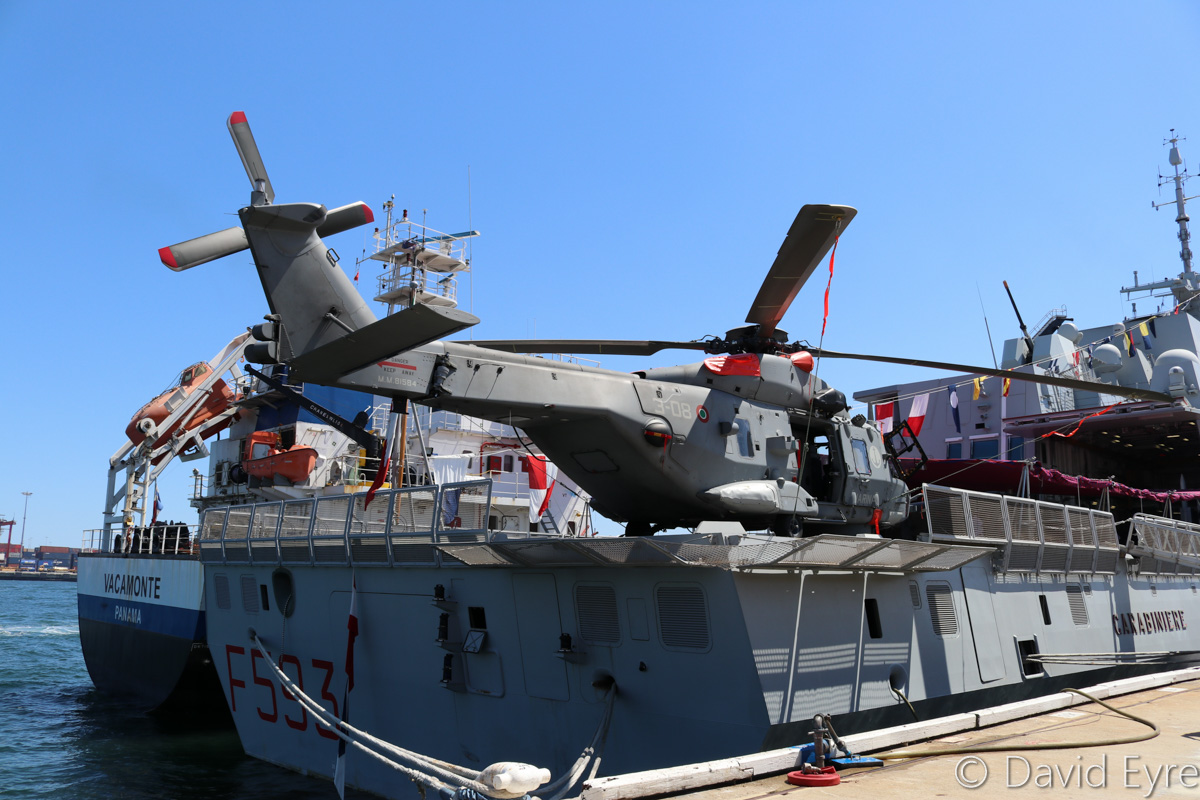 26 January 2017 © David Eyre
The Italian Navy anti-submarine warfare frigate ITS Carabiniere (F593) docked in Fremantle Port on the morning of 25 January 2017, as part of a world promotional and cooperation tour.
The warship carried a single NH Industries SH-90A (NH90 NFH) helicopter on the flight deck and was opened to the public on Australia Day – 26 January 2017.
Italian ship builder Fincatieri is one of three companies shortlisted for a chance to win a $30 billion contract to replace the Royal Australian Navy's Anzac-class frigates with nine new frigates under the SEA 5000 programme.
The ship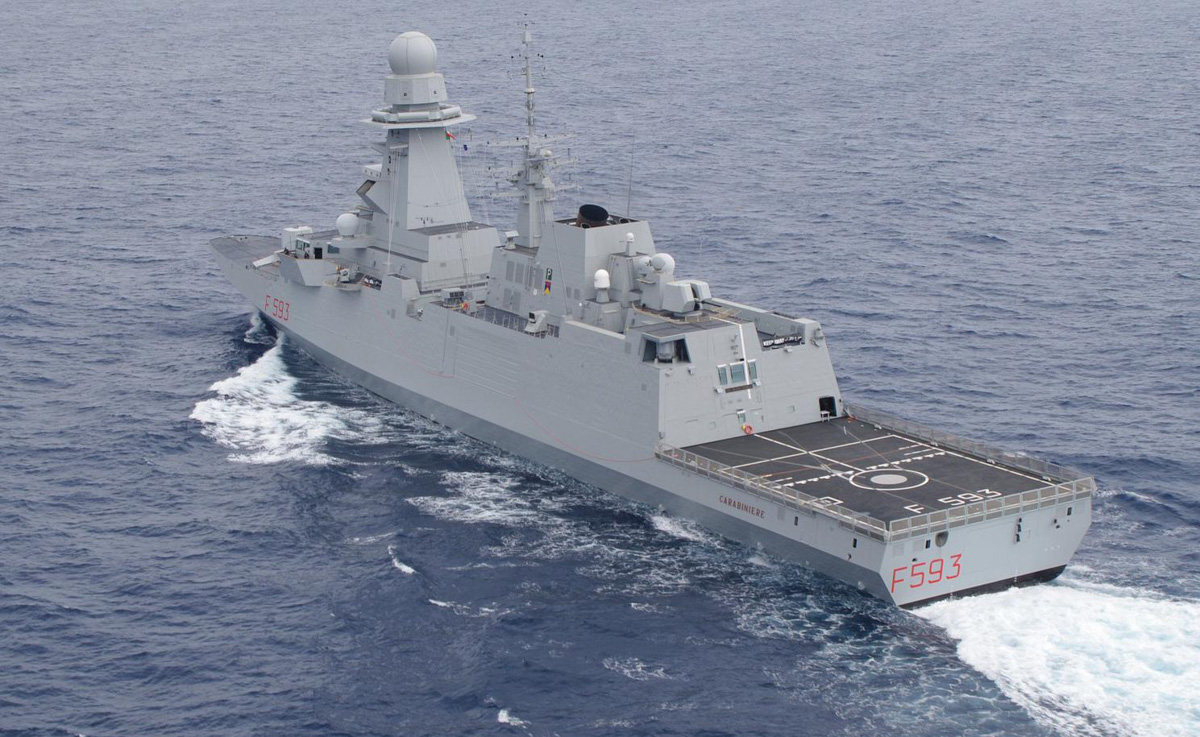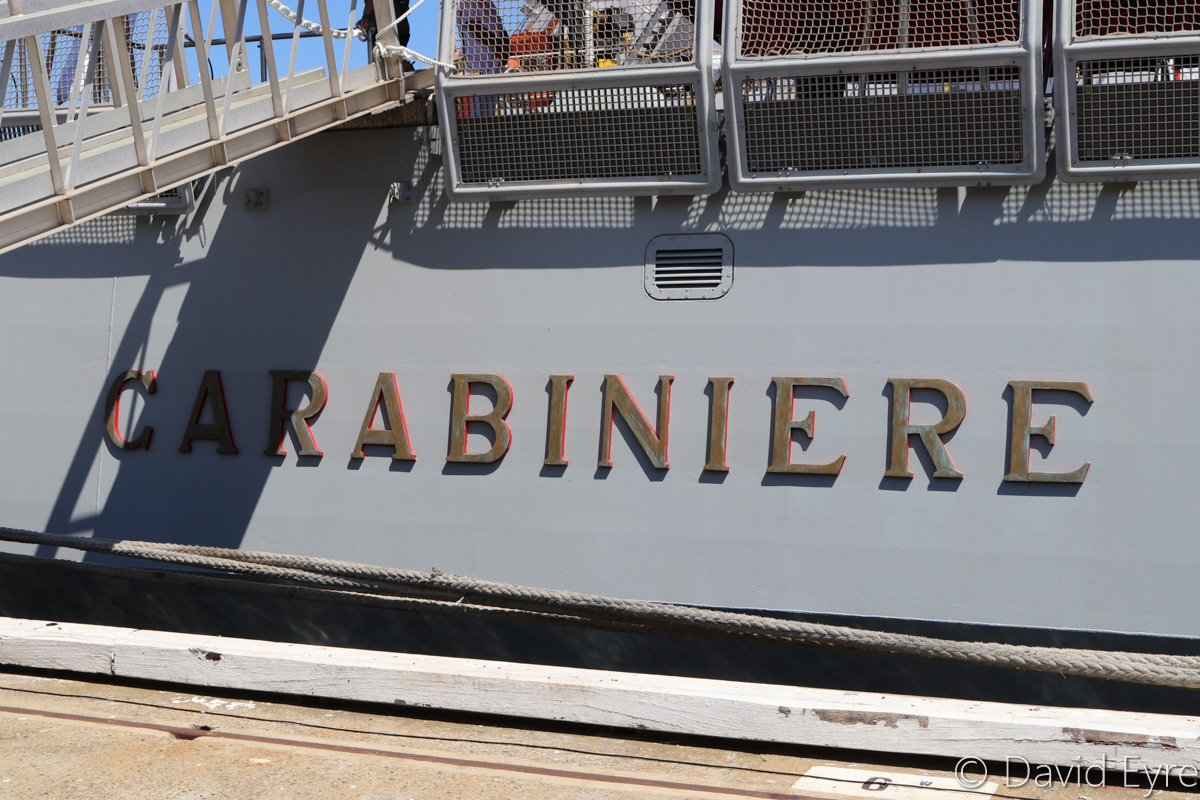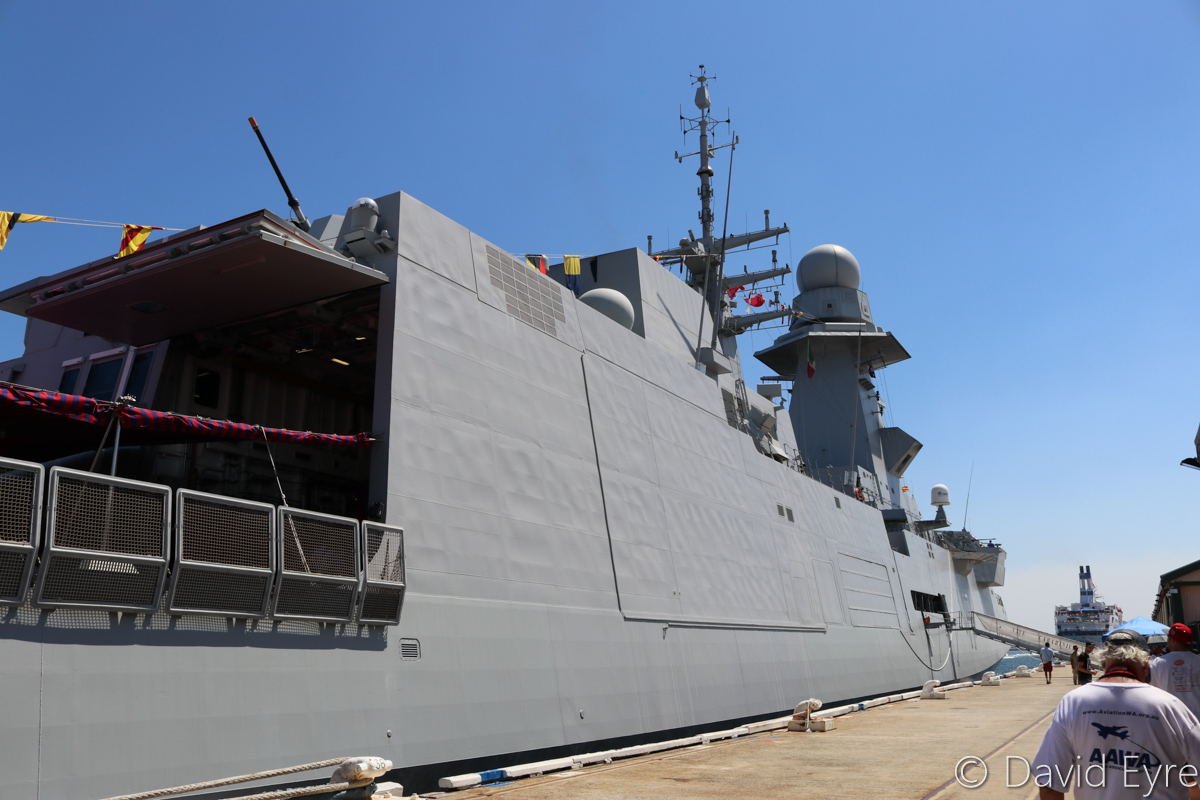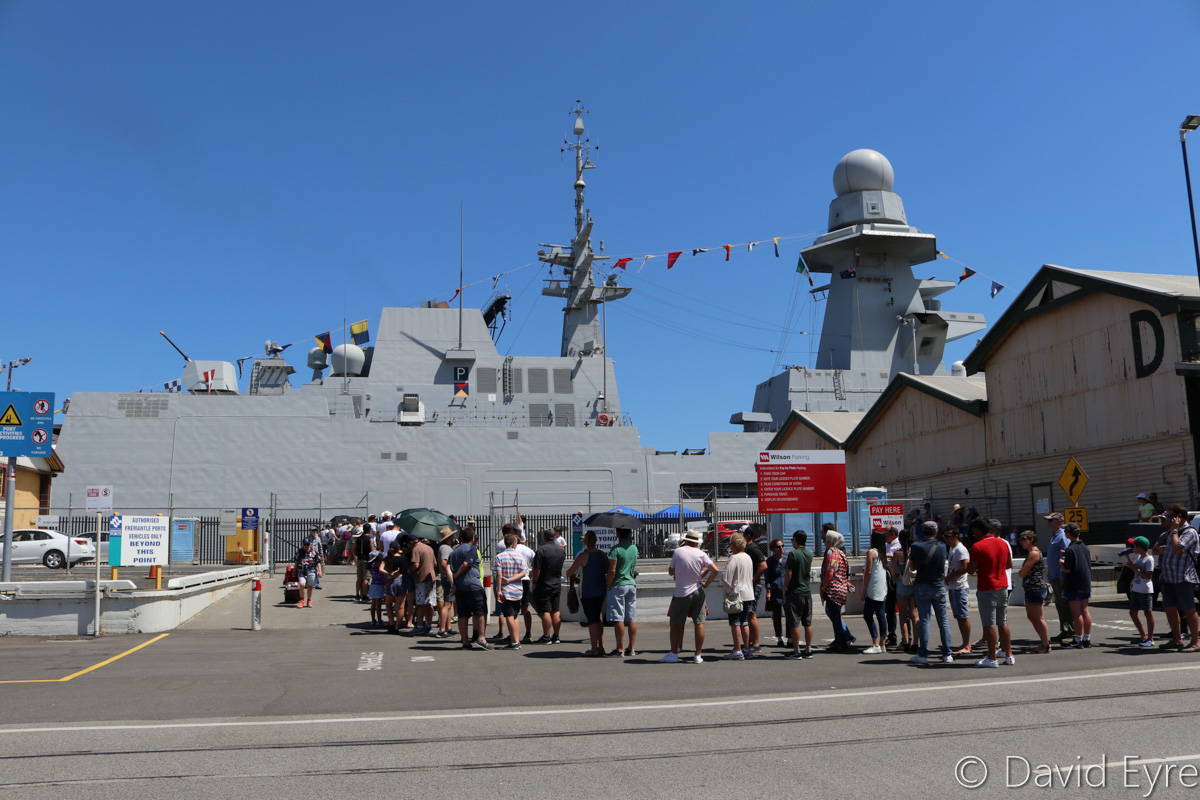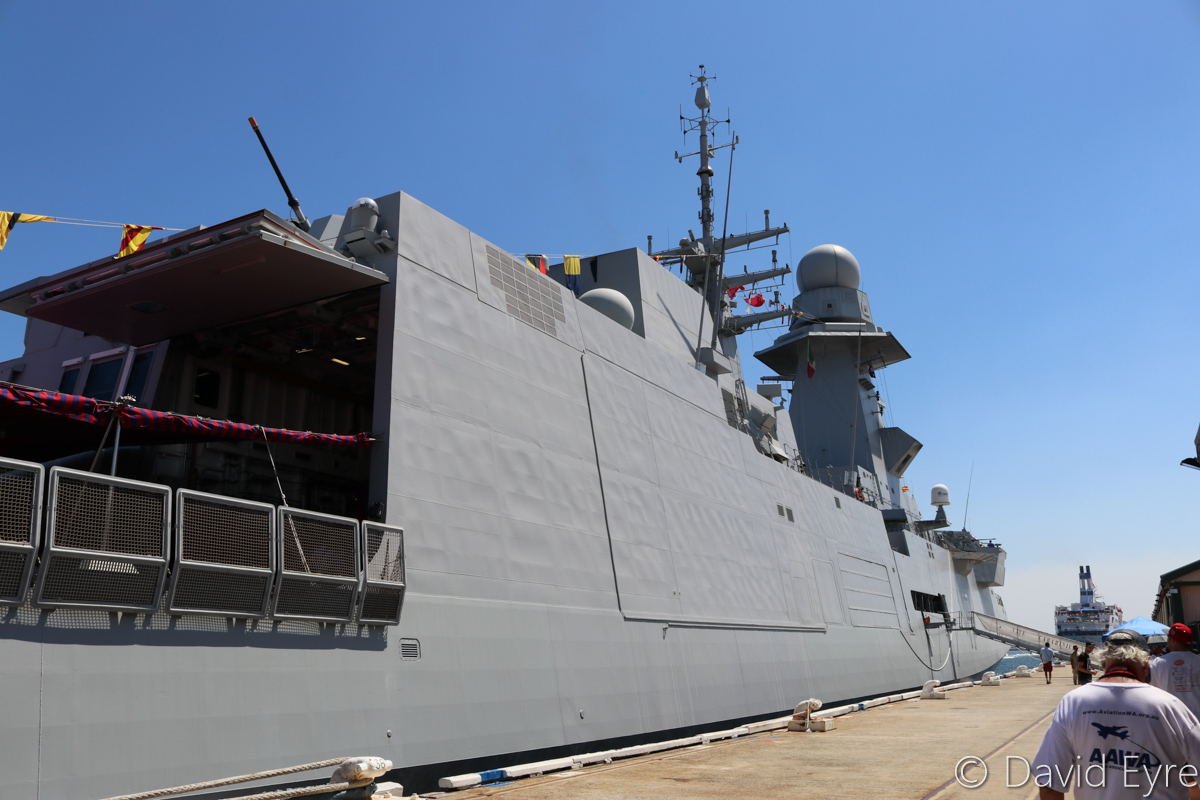 The FREMM (FRegata Europea Multi-Missione – 'European multi-purpose frigate') was designed by DCNS/Armaris (France) and Italy's Fincantieri for the navies of France and Italy.
ITS Carabiniere is the fifth of ten Bergamini-class frigates ordered by Italy. Launched on 29 March 2014, it was commissioned into service on 28 April 2015.
Weapons include a Vertical Launch System for 16 Aster 15/30 surface to air missiles, eight Teseo-Otomat Mk-2/A anti-ship and land attack missiles, two triple launchers for MU 90 torpedoes and four Milas missiles, two OTO Melara 76mm Davide/Strales Close In Weapons System guns, and two OTO Melara/Oerlikon KBA 25mm remote weapon systems guns. For this deployment, the ship carried mock-ups of MBDA's Aster 30, Marte ER and CAMM ER missiles.
The Carabiniere is 144 meters long and displaces 6,700 tonnes at full load. Maximum speed is 29 knots (55 kmh) and range is 6,700 nm (12,300 km). It is powered by a General Electric LM2500+G4 marine gas turbine engine, derived from the CF6 turbofan aircraft engine which powers the Airbus A300, A310 and A330, Boeing 747 and 767, McDonnell Douglas DC-10 and MD-11 and Lockheed-Martin C-5M Galaxy. The ship can accommodate 200 personnel, but has 180 for this deployment, of which around 10% are women.
Deployment
ITS Carabiniere is commanded by CMDR Francesco Pagnotta and sailed from La Spezia naval base in northern Italy on 20 December 2016 for its four-month, 20,000 nautical mile deployment.
En route to Australia, the ship conducted port visits in Jeddah (Saudi Arabia) and Colombo (Sri Lanka).
The port visit to Fremantle is the first of four stops in Australia on its promotional and military cooperation tour of Australia and South East Asia and the first visit by this ship to Australia. The Australian scheduled stops are  Fremantle (25-31 January 2017), Adelaide (5-10 February 2017), Sydney (14-19 February 2017) and Melbourne (21-24 February 2017).
Italian shipbuilding company Fincantieri is shortlisted to replace the existing Anzac Class frigate fleet with nine anti-submarine frigates, competing against BAE Systems (UK), and Navantia (Spain). Fincantieri is assessing whether WA companies can participate in the program, as construction work will be offered to Australia if their bid is successful. They are proposing a modified version of Carabiniere.
Whilst in Australia, ITS Carabiniere is undertaking exercises and activities with the Royal Australian Navy. RAN personnel embarked on Carabiniere in Fremantle to learn Italian navy procedures and conduct training. RAN personnel will also embark on Italian FREMM frigates operating in the Mediterranean Sea under an exchange program.
Departing Australia, Carabiniere will make port visits at Jakarta (Indonesia); Singapore; the LIMA 2017 exhibition in Langkawi (Malaysia); Karachi (Pakistan), and Muscat (Oman), before returning home to Italy.
NH Industries SH-90A helicopter
The Carabiniere carried a single NHIndustries SH-90A (NH90 NFH) helicopter on the flight deck, serial MM81584/3-08, which was built in 2014 and belongs to 5 Gruppo Elicotteri (Helicopter Group 5).
The ship can carry up to two SH-90s, or one SH-90 and one AW101 helicopters.
The SH-90A was developed by NHIndustries, a European joint venture, owned by Airbus Helicopters, Leonardo-Finmeccanica (formerly AgustaWestland) and Fokker Aerostructures.
The prototype NH90 first flew in 1995 and entered service in 2007. It was the first production helicopter to have full fly by wire flight controls.
Italy ordered 46 NFH (NATO Frigate Helicopter) versions for the Navy, which were designated SH-90A in Italian service. The SH-90 is used for anti-submarine and anti-surface warfare as well as search and rescue missions.
It is powered by two Rolls-Royce/Turbomeca RTM 322-01/9 turboshaft engines, providing a top speed of 155 knots (287 kmh) and maximum range of 926 km. Empty weight is 6,400kg and maximum weight 11,000kg.
The SH-90 carries a variety of sensors and electronic warfare systems, including infrared and surveillance cameras, Missile Approach Warning System, Radar Warning Receiver, surface search radar, dipping sonar, sonobuoys, and a Magnetic Anomaly Detector. Weapons include the MBDA Marte Mk2/S anti-ship missile, MU-90 lightweight torpedo, and up to two 7.62 mm pintle-mounted Gatling guns.
The crew consists of two pilots and two systems operators working on mission consoles in the rear. The modular mission equipment enables the SH-90 to be rapidly reconfigured to suit a mission. For example, the cabin can be stripped and the sonar removed to create a transport configuration with space for up to 14 personnel.