Brearley Avenue closure at Perth Airport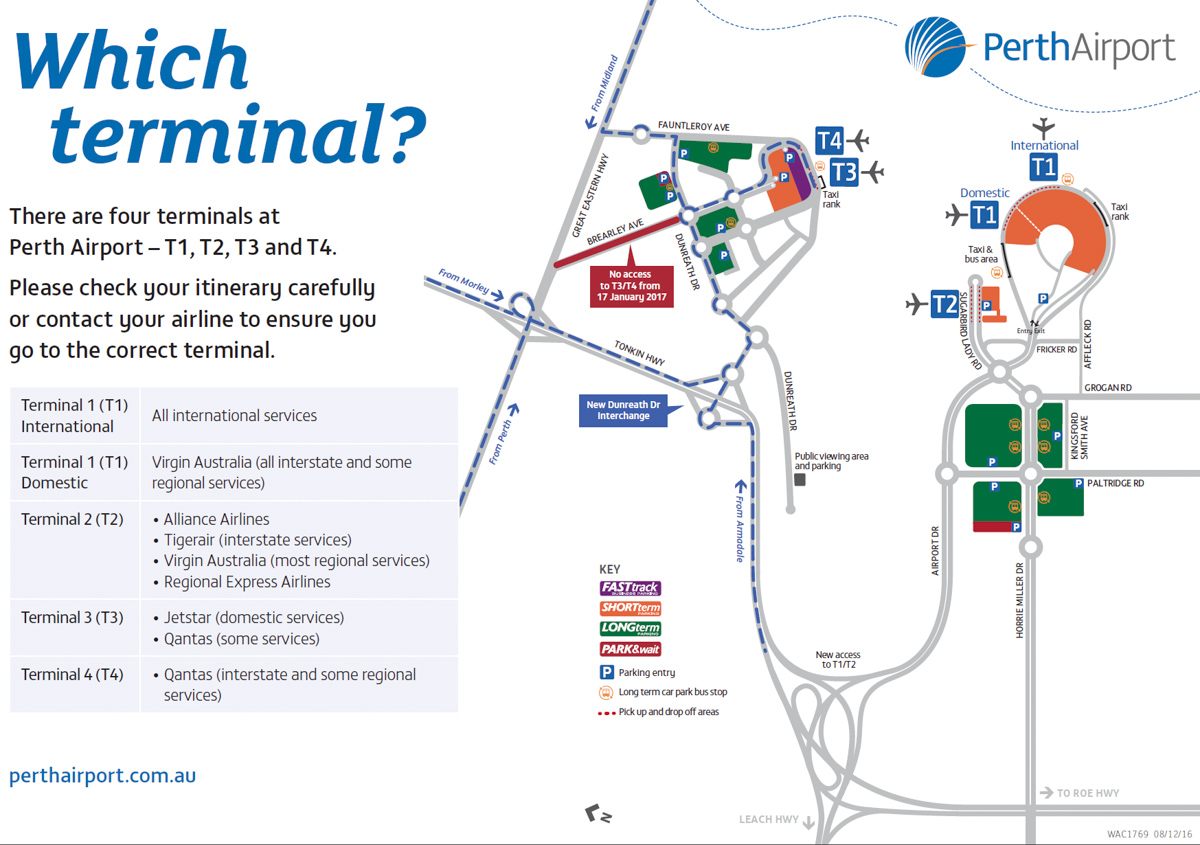 14 January 2017 © David Eyre
As part of the Forrestfield-Airport Link project, most of Brearley Avenue will be closed between Great Eastern Highway and Dunreath Drive from 17 January 2017, to enable construction of the new Belmont Railway Station (formerly known as Airport West Station).
The $1.96 billion rail project will connect with the existing Midland line near Bayswater Station and run to Forrestfield via twin-bored tunnels, with stations at Belmont (near Terminals T3 & T4) and Airport Central (Terminals T1 & T2).
Construction of the Belmont rail station will commence in 2017 and be finalised by 2020. It will be located just northwest of the current junction of Brearley Avenue and Dunreath Drive.
As a result:
Brearley Avenue from Great Eastern Highway to Dunreath Drive will be closed.
Traffic on Tonkin Highway and Great Eastern Highway (eastbound from Perth city) will access T3 and T4 via the Dunreath Drive interchange from Tonkin Highway.
Westbound traffic on Great Eastern Highway will be directed to T3 and T4 via the recently upgraded intersection at Fauntleroy Avenue on Great Eastern Highway.
First Street will remain open for local traffic movements in both directions.
Main Roads WA has long wanted Brearley Avenue closed. Construction of the Dunreath Drive/Tonkin Highway interchange and upgrades to the Fauntleroy Avenue/Great Eastern Highway intersection have made Brearley Avenue unnecessary. Additionally, Qantas will eventually relocate from T3 and T4 to Airport Central (near T1) from around 2025. Brearley Avenue/Great Eastern Highway junction is considered a safety hazard and and causes traffic congestion.
The local community will benefit by removal of the road, as it will improve the movement of vehicles, cyclists and pedestrians through the area. It also provides the opportunity to redevelop Brearley Avenue road reserve into linear parkland, public open space and other developments.
The main road into Perth Airport (now T3 and T4) was named Brearley Avenue in 1962, after Australian aviation pioneer Norman Brearley, who started the first regular airline services in Australia, in 1921 (before Qantas).