Network Aviation to operate as QantasLink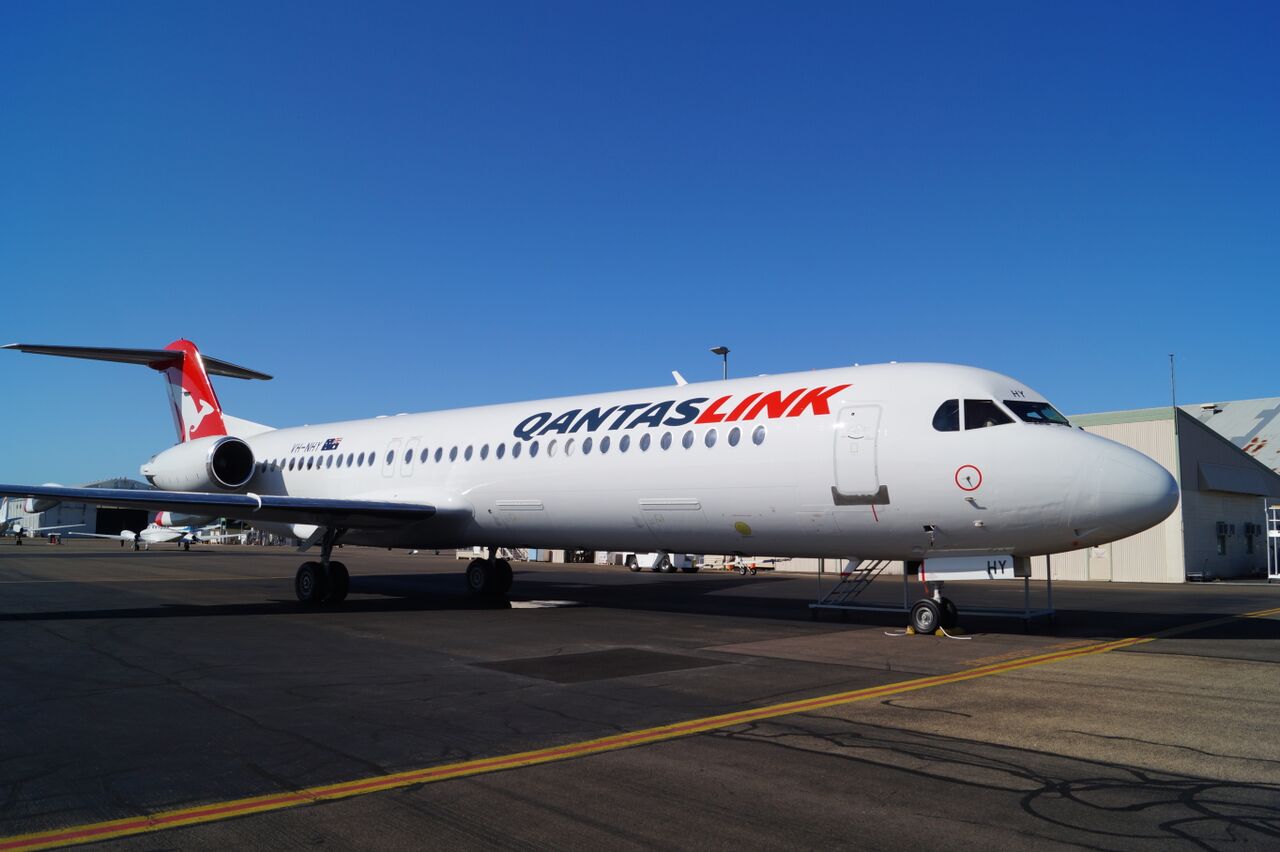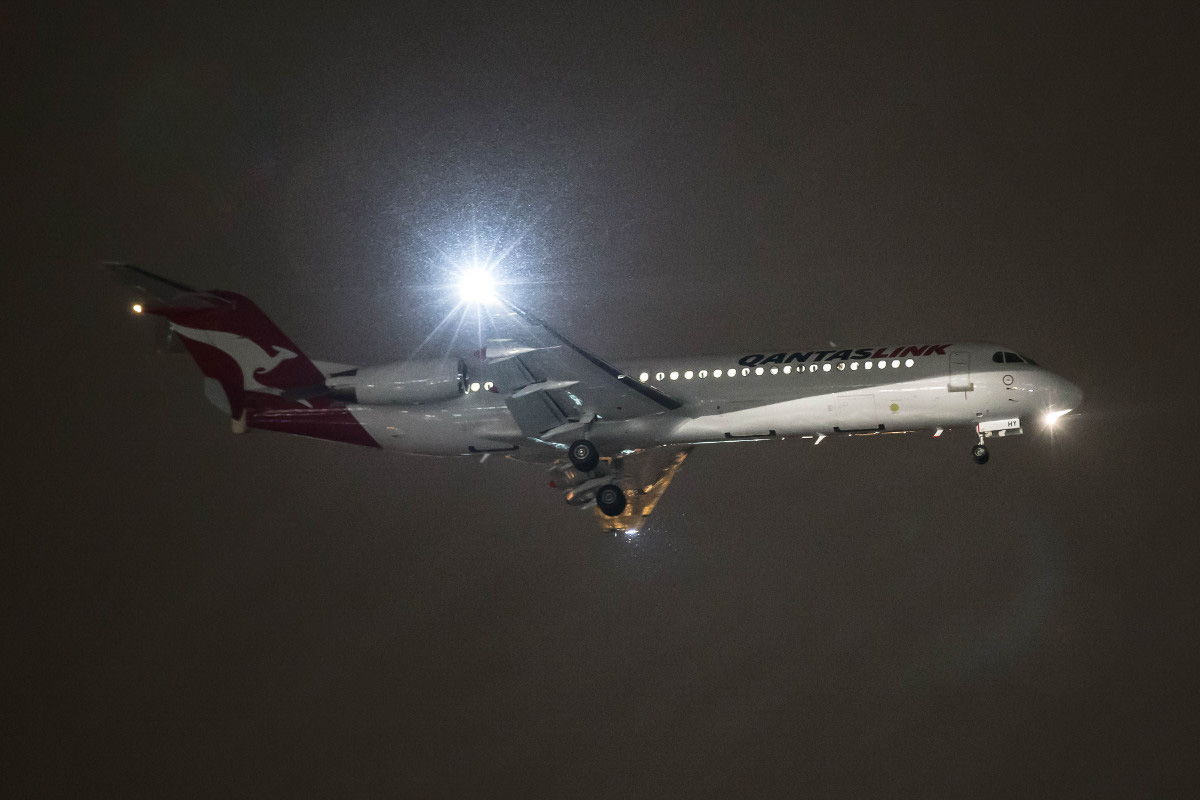 31 July 2015 © David Eyre
Qantas Group today announced that Network Aviation would now operate under the QantasLink brand, and revealed the first Fokker 100 to carry the QantasLink livery, VH-NHY, which was just delivered to the airline the previous day.
Network's fleet of 14 Fokker 100s will be repainted in the QantasLink livery and aircrew will wear Qantas uniforms, but they will continue to operate under Network Aviation's Air Operator Certificate (AOC). The rebranding is intended to provide a consistent brand across WA.
For most of its life, Network operated charter operations only. With a downturn in the resources industry and less demand for both RPT and FIFO flights, Qantas also saw an opportunity to use the smaller Fokker 100s to replace other QantasLink aircraft on RPT routes.
Cobham Aviation will continue to operate Boeing 717s under the QantasLink branding.
In late May 2014, the Network Fokker 100s replaced some QantasLink Boeing 717 services on the Perth-Learmonth route, and later replaced Dash 8Q-400 services on the Perth-Geraldton route.
Network Aviation history
1998: Network Aviation formed by Lindsay Evans (formerly General Manager at Skippers Aviation), with two aircraft – a Cessna 310, VH-TFP, and a Cessna 441 Conquest, VH-NAX.
18 March 1999: Network acquired its first Beech Super King Air 200, VH-XDB. In 2003, acquired another King Air 200, VH-SGT.
10 February 2000: Network Aviation took delivery of their first Embraer 120ER Brasilia, VH-NIF (later reregistered VH-NHY). It later acquired six more.
19 February 2008: Network Aviation took delivery of their first Fokker 100 jet, VH-NHO. Another two were purchased, one of which was broken up for spare parts.
13 December 2010: Qantas announced that it had acquired Network Aviation, in order to capitalise on  the significant growth in the resources industry FIFO (Fly In Fly Out) charter market in Western Australia and elsewhere in Australia. At the time, Network had two Fokker 100 and six Embraer Brasilia aircraft in service, and 150 staff.
17 February 2011: Qantas confirmed a major expansion of Network Aviation, announcing that they would purchase ten additional Fokker 100 aircraft.
July 2011: Qantas hired Hugh Davin away from Skywest to join Network Aviation. Davin had over 40-years aviation industry experience and is highly-regarded within the mining industry. He significantly boosted  resources industry charter work when he worked at National Jet (later Cobham) and later at Skywest.
24 December 2011: Network Aviation took delivery of VH-NHG, the first of a batch of ten used Fokker 100 aircraft to be acquired by the airline.
Late 2013: Network Aviation began withdrawing the Embraer 120 Brasilia from its fleet.
Late May 2014: Qantas announced that Network Aviation was to operate RPT (Regular Public Transport) services on behalf of Qantas, following Civil Aviation Safety Authority (CASA) approval. Network operated three flights per week with its 100-seat Fokker 100s on the Perth-Learmonth route, formerly operated by QantasLink with 125-seat Boeing 717s. Qantas was reducing routes and capacity in Western Australia due to reducing passenger demand, brought on by a slowdown in the resources industry. Network F100s have "A Qantas Group airline" titles added.
31 July 2014: Last Embraer 120 Brasilia service for Network Aviation, by VH-NHC from Degrussa to Perth.
March 2015: Network Aviation took over Perth-Geraldton and some Perth-Learmonth services, replacing QantasLink's Bombardier Dash 8Q-400s, which were withdrawn from WA.
17 April 2015: Qantas announce the acquisition of two additional Fokker 100s for Network Aviation: VH-NHY and VH-NHC.
30 July 2015: Fokker 100 VH-NHY delivered to Perth, in QantasLink livery.
31 July 2015: Qantas Group announce that Network Aviation is to operate under QantasLink brand. The company has 340 staff.
VH-NHY history:
Fokker 100 VH-NHY (MSN 11467) was formerly operated by American Airlines as N1455K from 1993 to 2004 and later by Avianca Brasil as PR-OAQ from 2007 to May 2015.
On 18 May 2015, still registered as PR-OAQ, it departed Rio de Janeiro, Brazil, arriving at Seletar, Singapore on 22 May 2015 for maintenance by Fokker Services Asia (FSA).
It was registered on 23 June 2015 as VH-NHY to Qantas (owner) and Network Aviation (operator).
On 15 July 2015, it flew Seletar – Juanda (Indonesia) – Darwin – Townsville, where it was repainted by Flying Colours Aviation into the QantasLink livery.
On 30 July 2015, it was rolled out of the paintshop and delivered the same day Townsville – Alice Springs -Perth, arriving on a stormy night.