Firefighting Helicopters 2013/14: HNZ Australia DFES contract not renewed; Stoneville helipad proposed as S-64 Skycrane base
26 August 2013 © David Eyre
HNZ Australia loses DFES firefighting contract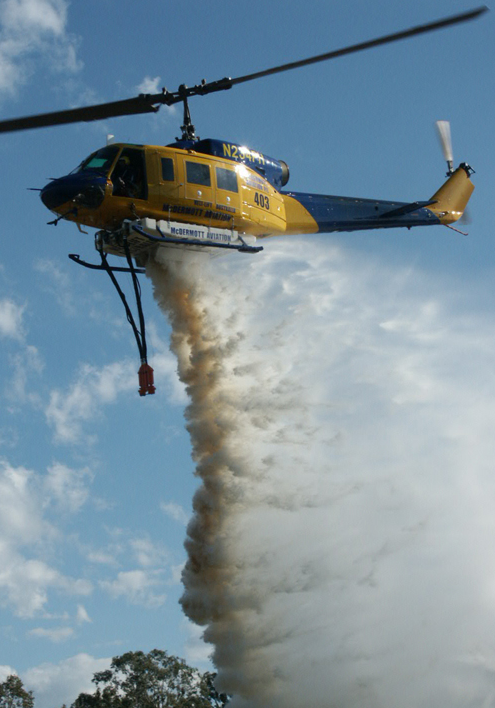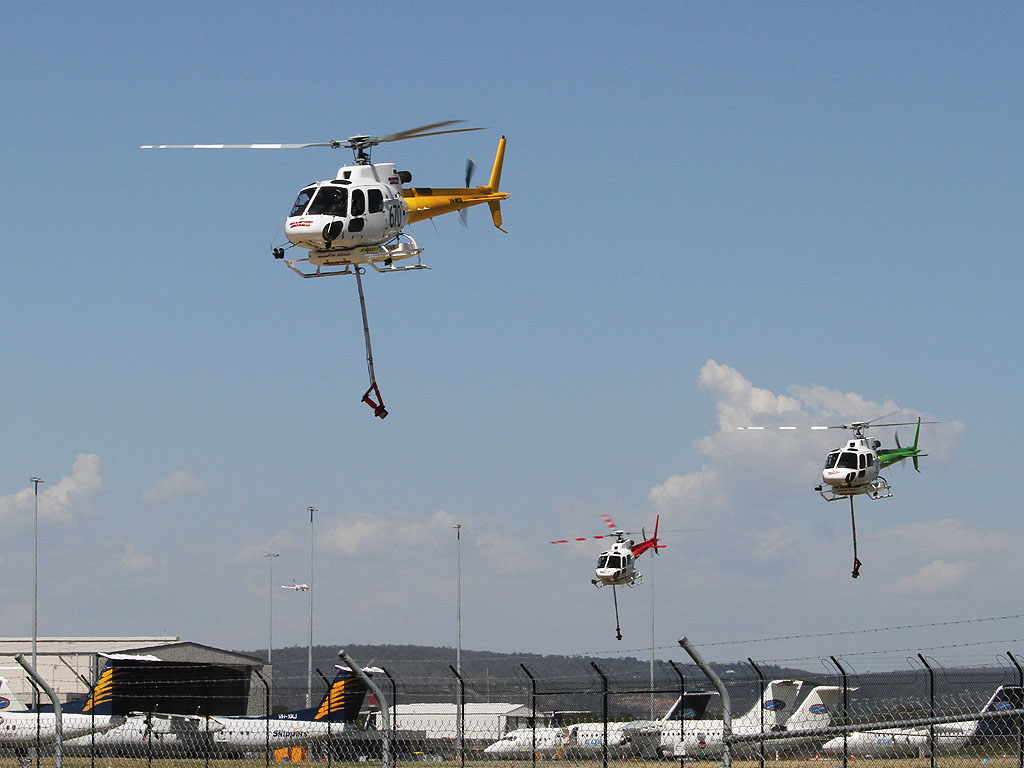 HNZ Australia's firefighting contract for the use of Eurocopter AS350B3 Squirrels has not been renewed by the Department of Fire and Emergency Services (DFES), so HNZ's Squirrels will not be used during the 2013/14 bushfire season.
It is rumoured that Bell 214B helicopters of McDermott Aviation will be used instead of the Squirrels. The Bell 214B can be fitted with either a 'Tsunami' belly tank or a 3000-litre under-slung bucket, which is a similar load to that provided by the two leased Sikorsky S-61s, which each carried 3785 litres in a belly tank.
McDermott Aviation is based at Cooroy (Queensland), with remote bases at Chinchilla and Maroochydore in Queensland, Bankstown in New South Wales, Papua New Guinea, and New Caledonia. The company claims to be the largest privately owned and operated helicopter company in Australia.
During the 2012/13 fire season, four Eurocopter AS350B2 Squirrels of HNZ Australia were used for firefighting, being modified with a Fire Attack under-fuselage water tank (1,100 Litres) and pump pack:
HELITAC 668 / VH-WCN – Blue colours
HELITAC 669 / VH-WCD – Red/Orange colours
HELITAC 670 / VH-WCQ – Yellow colours
HELITAC 671 / VH-WCX – Green colours
In addition, two Eurocopter AS350B2 Squirrels of HNZ Australia were used for aerial command and control, to coordinate firefighting operations:
FIREBIRD 610 / VH-WDI – Bunbury-based?
FIREBIRD 620 / VH-WCO – Perth Airport
DFES proposal to base Sikorsky S-64 Skycrane at Stoneville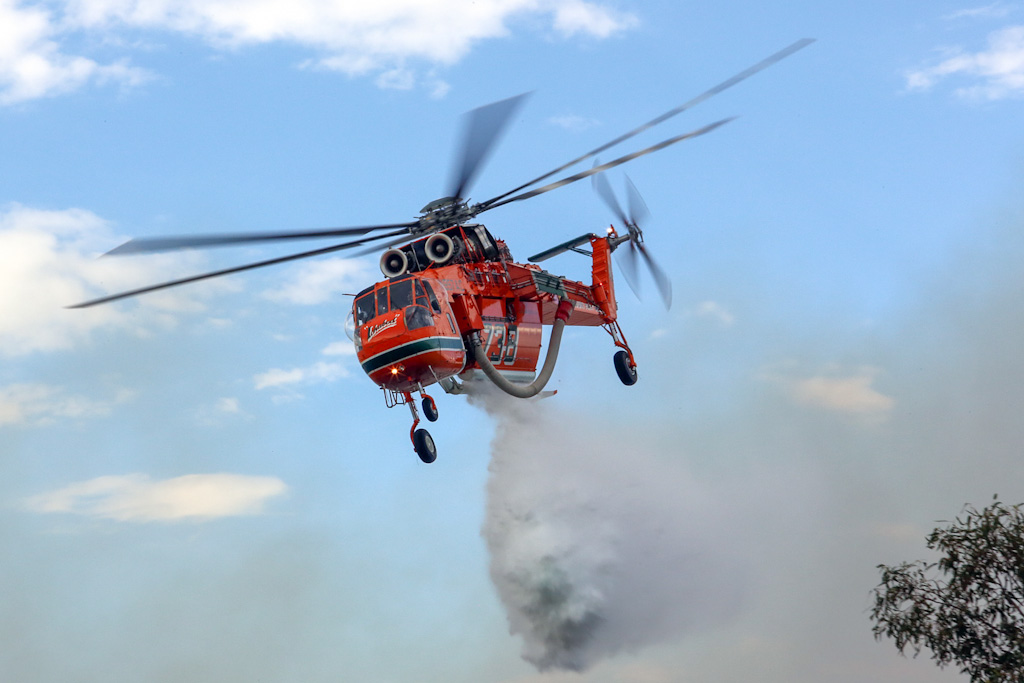 The Department of Fire and Emergency Services is seeking approval from the Shire of Mundaring for a proposal to build a helipad at 900 Woodlands Road, Stoneville.
The helipad would be used as a base for the leased Sikorsky S-64 Skycrane of Erickson Helicopters during the bushfire season (November to April). The proposal includes a site hut, generator, portable ablution block, and water tank. The Skycrane will use a former bitumen carpark, but some trees will need to be removed from the site.
DFES wants to base the S-64 at Stoneville to improve fire response times, compared to its usual base at Jandakot Airport. With Jandakot being located close to the flightpath for Perth Airport's runway 03/21, operations from Jandakot sometimes require flights to head westwards, off the coast, before heading back inland, and this delays fire response times.
DFES reported that the S-64 operation usage in the past has been as follows:
| | | |
| --- | --- | --- |
| Fire season | Number of deployments | Flight hours |
| 2012/13 | 20 | 42 |
| 2011/12 | 30 | 56 |