Tribute to the late Neil Armstrong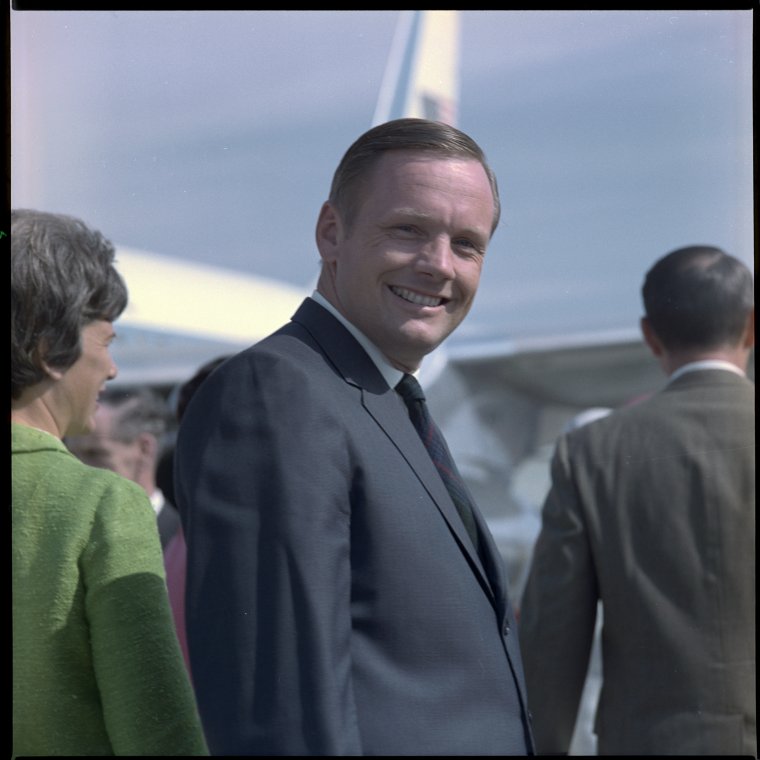 25 August 2012 © David Eyre
Neil Armstrong, the first person to walk on the Moon and a former US Navy fighter pilot and NACA/NASA test pilot,  died at the age of 82, from complications following heart surgery.
Neil Armstrong was interested in aviation from an early age, making his first flight as a passenger at six years of age aboard a classic Ford Trimotor airliner. He began to focus more on aviation when he was eight or nine years old, and filled his bedroom with many model aircraft.
He initially wanted to become an aircraft designer, and later became a pilot because he considered it important that an aircraft designer should fully understand aircraft operations. At 15 years of age, he began taking flying lessons in an Aeronca Champ, working over 22.5 hours for each  lesson. He soloed as soon as he was legally able to, at age 16, and got his pilot licence soon after.
In 1949 he joined the US Navy, and upon completing his training, joined US fighter squadron VF-51, flying the radial piston-engined Grumman F8F Bearcat from aircraft carriers. The squadron later transitioned the to the jet-powered Grumman F9F-2 Panther, which was famous for its appearance in the 1954 film "The Bridges at Toko-Ri". He flew numerous combat missions during the Korean War.
After the Korean War, Armstrong  became a test pilot with the National Advisory Committee for Aeronautics (NACA), which later became the National Aeronautics and Space Administration (NASA). He test flew many types of aircraft, including the experimental Bell X-1B and the hypersonic North American X-15.
In 1960, Armstrong was one of the pilots consulted during design of the Boeing X-20 Dyna-Soar,   a military space plane which later led to the Space Shuttle. In 1962 he was selected as  one of   six pilot-engineers who would fly the X-20, but the project was later cancelled in favour of the quicker, cheaper option of a space capsule.
In 1966, he commanded the Gemini 8 two-man space capsule on one of its most complicated missions, to rendezvous and dock with an Agena target vehicle. The mission suffered a serious  emergency when one of the capsule's thrusters jammed open, causing a roll of 1 revolution per second. They had to undock from the Agena and abort the mission.
Perth visit
Following their historic lunar mission aboard Apollo 11 in July 1969, the three astronauts Neil Armstrong, Buzz Aldrin and Michael Collins visited Perth, Western Australia on 31 October 1969. They flew in to Perth Airport aboard a US Air Force Presidential Aircraft – a Boeing VC-137B (707-120B) with miltary serial number 58-6970, which is now preserved at the Museum of Flight in Seattle.
The astronauts, Neil Armstrong, Buzz Aldrin and Michael Collins and their wives were greeted by the Governor, Sir Douglas Kendrew, and a large crowd of spectators at the airport. They were driven in an open limousine with a Police motorcycle escort from the airport into the city of Perth, with crowds of well-wishers lining the streets. An official reception was held at the Esplanade by WA Premier David Brand. The astronauts' vehicle convoy then paraded  through crowded Perth city streets, before driving  back to the airport for departure. The photos in this article were all taken during that brief one-day visit.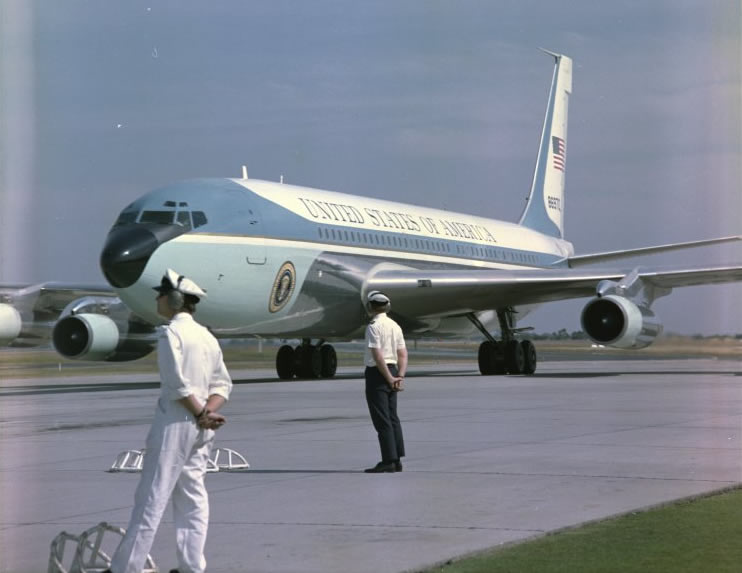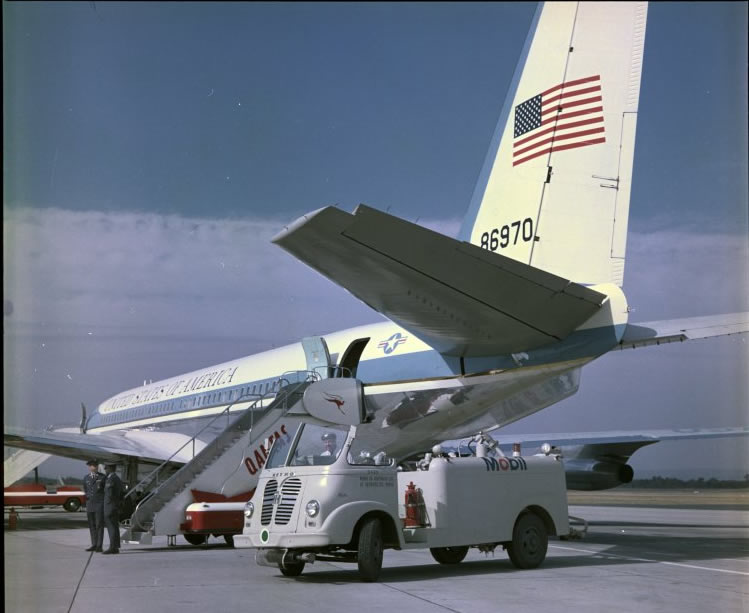 ABOVE: The Apollo Astronauts arrived aboard 58-6970 Boeing VC-137B (707-120B) Presidential Aircraft of the US Air Force.
Photos © State Library of Western Australia 326334PD & 326335PD
BELOW: Neil Armstrong and his wife Janet descend the steps at Perth Airport on 31 October 1969, three months after the Apollo 11 moon landing.
Photo © State Library of Western Australia 326334PD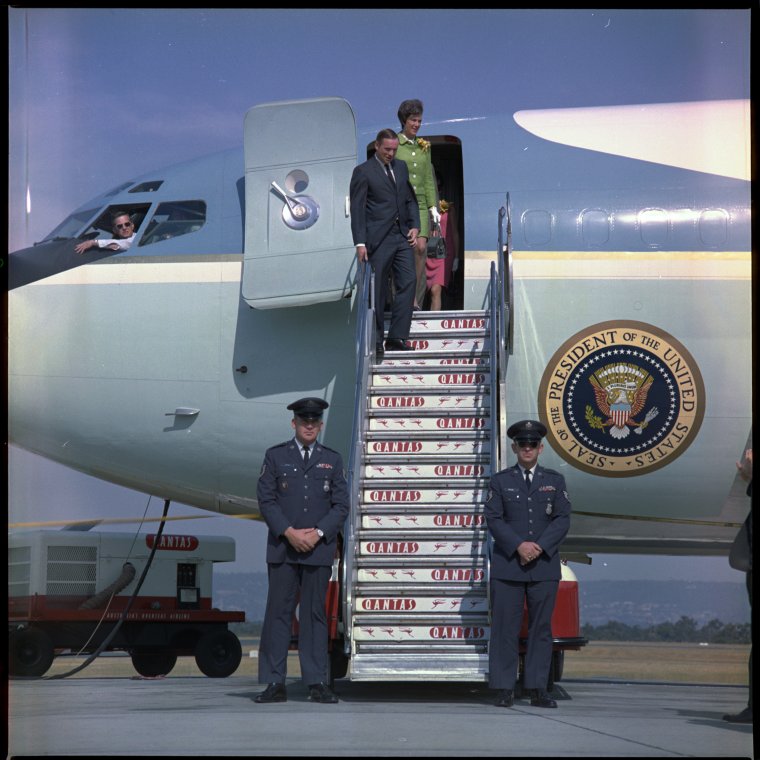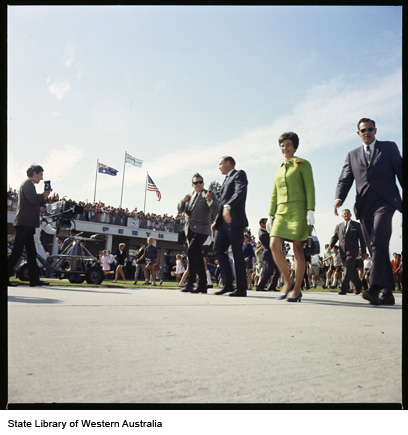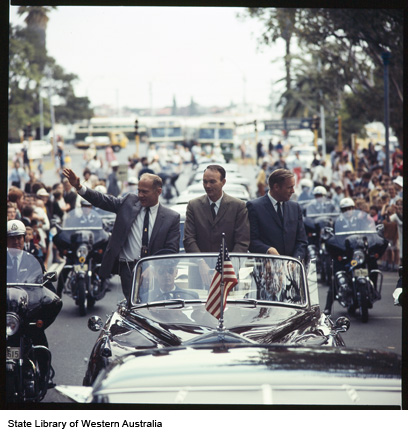 ABOVE: Huge crowds of well-wishers greeted the astronauts at Perth Airport (left) and in the city of Perth.
Photos © State Library of Western Australia 281410PD & 281436PD