Qatar Airways first service to Perth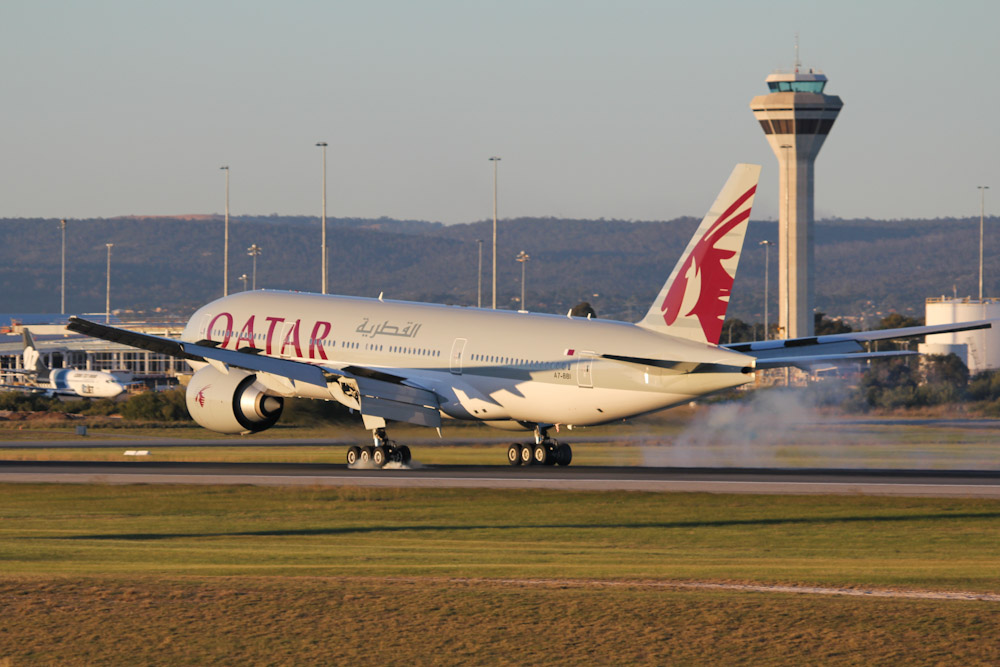 3 July 2012 © David Eyre
Qatar Airways' first flight to Perth arrived this afternoon.
The first service was operated by A7-BBI, a Boeing 777-2DZ LR, which is also the airline's 100th aircraft.
It landed on runway 03 at 16:55 as flight QR900 from Doha, with the airline's CEO Akbar Al Baker aboard. The aircraft had departed Doha at 01:05 Doha local time (06:05 Perth time) and landed after a flight of 10 hours 50 minutes. It parked at Bay 53 at the International Terminal at around 17:00, ten minutes earlier than its scheduled arrival time.
Traditionally, the first service by a new airline is greeted by fire trucks performing a  water cannon salute, but for some reason this did not happen today.
However, there was a large welcoming ceremony in the International Terminal, that included a traditional 'Welcome to Country' performance by local Dance Troupe, Wadumbah. Qatar Airlines CEO Akbar Al Baker was greeted by WA Deputy Premier and Minister for Tourism Kim Hames and Perth Airport CEO Brad Geatches. Also aboard was Pablo Kang, Australia's Ambassador for Qatar, based in the UAE.
The service will initially operate three times per week on Tuesday, Thursday and Saturday, with flight QR900 from Doha arriving at 17:10 and departing as QR901 back to Doha at 22:55. From 2 December 2012, the service will operate daily.
The only other Australian city which Qatar Airways  flies to is Melbourne. The WA Tourism Council believes that the new service could result in an extra $30 million  being spent in Western Australia each year through leisure tourism from the Middle East or other regions such as Europe and the USA. Qatar is also  the wealthiest country in the world per capita.
LEFT:
A7-BBI Boeing 777-2DZ LR (cn 41061/962) of Qatar Airways, landing on runway 03 at Perth at 16:55, on the inaugural service by Qatar Airways from Doha.

Photos 1 & 2 © David Eyre

Photo 3 © Keith Anderson

Photos 4 & 5 © David Eyre

Photo 6 © Keith Anderson

Photos 7 – 9 © David Eyre

LEFT:
A7-BBI Boeing 777-2DZ LR (cn 41061/962) of Qatar Airways, parking at Bay 53 at Perth's International Terminal at 17:00, on the inaugural service by Qatar Airways from Doha, flight QR900.

Photos © Ian Moy

LEFT:
Media and dignitaries waiting in the International Terminal prior to the welcoming ceremony

Photo © Ian Moy

LEFT:
Qatar Airlines CEO Akbar Al Baker (left) receives a gift from Perth Airport CEO Brad Geatches, with WA Deputy Premier and Minister for Tourism Kim Hames on the right.

Photo © Ian Moy

LEFT:
Qatar Airlines CEO Akbar Al Baker making a speech at the welcoming ceremony.

Photo © Ian Moy