Aircraft Carrier USS Carl Vinson (CVN-70) visits Fremantle 24 – 29 April 2012; C-2A Greyhounds visit Perth Airport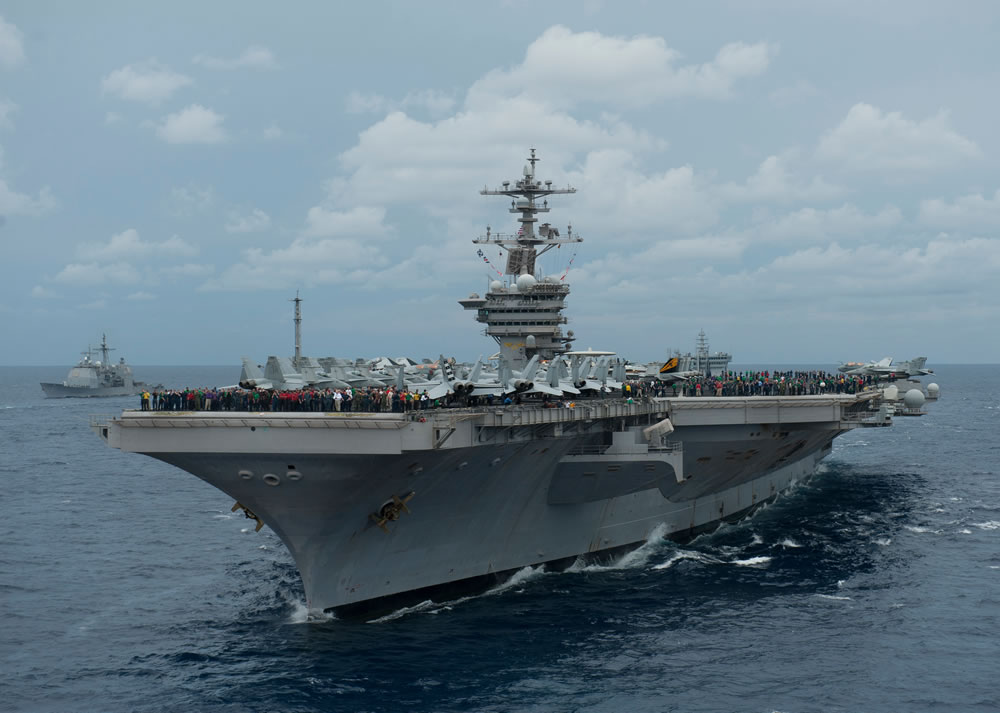 23 April 2012:
The Nimitz-class aircraft carrier USS Carl Vinson (CVN-70) and Ticonderoga-class guided missile cruiser USS Bunker Hill (CG-52)  arrive off Fremantle, spending  five days anchored offshore at Gage Roads anchorage (between Fremantle and Rottnest Island).
The US Consulate  advised that members of the public will not be allowed aboard to visit the ship.
The ship has previously visited Fremantle  in 1990, 1999 and 2003.
USS Carl Vinson gained fame as the first ship to launch air strikes in support of Operation Enduring Freedom (the war in Afghanistan) on 7 October 2001. It also launched missions during Operation Iraqi Freedom in 2003, and was the ship that received Osama Bin Laden's body  for burial at sea in May 2011. The ship recently participated in Exercise Malabar 2012 with the Indian Navy, in the Bay of Bengal.
USS Carl Vinson appeared in the  movie "Behind Enemy Lines", starring Owen Wilson and Gene Hackman. The film "Stealth" starring Jamie Foxx was partly filmed on the ship. USS Carl Vinson  was also featured in the 1995 Discovery Channel TV documentary "Carrier: Fortress At Sea".
USS Carl Vinson has Carrier Air Wing 17 (CVW-17) aboard, consisting of aircraft and squadrons as follows (source http://www.gonavy.jp) :
                  Modex               

Squadron
Aircraft

                  100               

VFA-22
Fighting Redcocks
FA-18F

                  200               

VFA-81
Sunliners
FA-18E

                  300               

VFA-113
Stingers
FA-18C(N)

                  400               

VFA-25
Fist of the Fleet
FA-18C(N)

                  500               

VAQ-134
Garudas
EA-6B

                  600               

VAW-125
Tigertails
E-2C Hawkeye 2000 NP

                  610               

HS-15
Red Lions
SH-60F/HH-60H

                  42, 45               

VRC-40 DET.5
Rawhides
C-2A NP
Approximately 4,700 US sailors (nearly 4,400 from USS Carl Vinson alone) will visit Perth and Fremantle during the stay. They will attend  Anzac Day ceremonies and conduct a number of community service activities during their visit.
The USS Carl Vinson is named after former US congressman and chairman of the House Naval Affairs and Armed Services Committee, Carl Vinson. The ship's motto is the Latin phrase "Vis Per Mare" meaning strength from the sea.
The USS Carl Vinson's Grumman C-2A Greyhound aircraft have been visiting Perth Airport a number of times, to deliver and collect mail, personnel and supplies for the ship.