Network Aviation takes delivery of first of ten ex-Avianca Fokker 100 aircraft, VH-NHG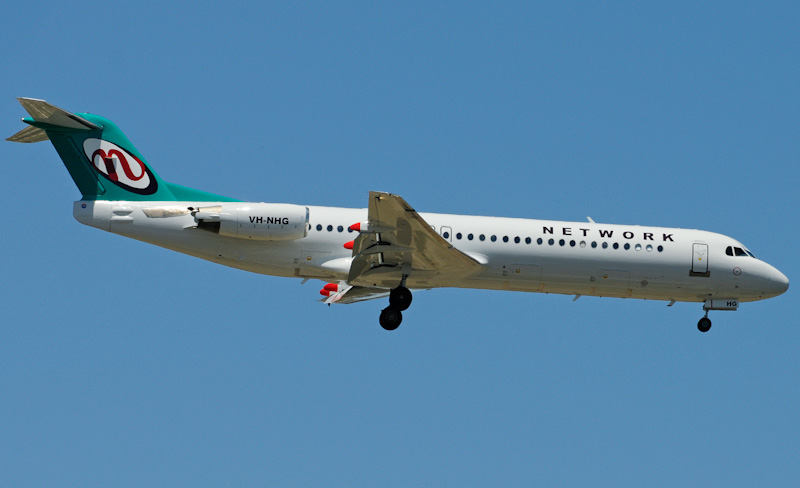 24 December 2011 (UPDATED: 19 February 2012):
Network Aviation took delivery of VH-NHG on 24 December 2011, the first of a batch of ten used Fokker 100 aircraft to be acquired by the airline.
Network already has two ex-US Airways Fokker 100s in service (VH-NHO   & VH-NHP), and a third (VH-NHF) was used as a source of spare parts   and broken up earlier this month.
VH-NHG departed from Woensdrecht Airport in the   Netherlands, at around 10:00 local time on  Friday 23 December 2011, with the delivery   route flown being: Woensdrecht – Trabazon (Turkey) – Al Ain (UAE) –   Nagpur (India) – Penang (Malaysia) – Jakarta Halim (Indonesia) – Perth.
On 13 December 2010, Qantas issued a media release announcing that Network Aviation had been acquired by Qantas, in order to capitalise on  the significant growth in the resources industry FIFO (Fly In Fly Out) charter market in Western Australia and elsewhere in Australia. QantasLink also does FIFO contract work.
On 17 February 2011, Qantas confirmed a major expansion of Network Aviation, announcing that they would purchase ten Fokker 100 aircraft. In July 2011, Qantas hired Hugh Davin away from Skywest to join Network Aviation. Davin has over 40-years aviation industry experience and is highly-regarded within the mining industry. He significantly boosted  resources industry charter work when he worked at National Jet (later Cobham) and later at Skywest.
VH-NHG is first of the ten Fokker 100 aircraft to be   purchased, all of which were originally delivered to American Airlines, and more recently owned by  Avianca of Colombia, which  replaced   the F100s with Airbus A318s. The next four F100s  have already been   ferried from Bogota (Colombia) – Nassau (Bahamas) – Halifax (Canada) –   Keflavik (Iceland) – Woensdrecht in preparation for delivery to Network Aviation. Two of these four are due to arrive in   Perth from mid-January 2012.
Delivery was delayed, as Qantas wanted to upgrade cabins and navigation systems (to include ADS-B), and bring them to full compliance with  air service bulletins and airworthiness directives. The airline is expecting to operate the aircraft for the next ten years.
The aircraft purchased by Network from Avianca are listed below:
| Colombian  registration | Construction number | Previous registrations | Status |
| --- | --- | --- | --- |
| HK-4438 | 11514 | ex PH-EZZ, N1472B, HK-4438-X, HK-4438, PH-ZFU | 5-7 Oct 2011: ferried Bogota-Nassau-Halifax-Keflavik-Woensdrecht.                   23-24 Dec 2011: Woensdrecht – Trabazon (Turkey) – Al Ain (UAE) – Nagpur (India) – Penang (Malaysia) – Jakarta Halim (Indonesia) – Perth Delivered to Network in Perth as VH-NHG. |
| HK-4431 | 11506 | ex PH-EZF, N1470K, HK-4431-X, HK-4431, PH-ZFV | 15-17 Oct 2011: ferried Bogota-Nassau-Halifax-Keflavik-Woensdrecht. Delivered to Perth 20 January 2012 as PH-ZFV, to be registered as VH-NHQ. |
| HK-4420 | 11482 | ex PH-EZE ntu, PH-JCC, N1462C, HK-4420-X, HK-4420, PH-ZFW | 26-28 Oct 2011: ferried Cali-Nassau-Halifax-Goose Bay-Keflavik-Woensdrecht.                   Undergoing refit with Fokker Services as PH-ZFW. To be registered as VH-NHV – delivery due February 2012 |
| HK-4437 | 11469 | ex PH-EZN, N1457B, HK-4437-X, HK-4437 | 1-3 Nov 2011: ferried Cali-Nassau-Halifax-Keflavik-Woensdrecht.                   Undergoing refit with Fokker Services. To be registered as VH-NHN – delivery by  April 2012. |
| HK-4451 | 11464 | ex PH-EZI, N1452B, HK-4451-X, HK-4451, PH-ZFY | 5-7 Nov 2011: ferried Cali-Nassau-Halifax-Keflavik-Woensdrecht.                   Undergoing refit with Fokker Services as PH-ZFY. To be registered as VH-NHJ – delivery by  April 2012. |
| HK-4443 | 11479 | ex PH-EZB, N1459A, HK-4443-X, HK-4443 | Deposit paid – to be fully purchased by April 2012. |
| HK-4430 | 11465 | ex PH-EZJ, N1453D, HK-4430-X, HK-4430 | Deposit paid – to be fully purchased by April 2012. |
| HK-4444 | 11458 | ex PH-EZC, N1449D, HK-4444-X, HK-4444 | Deposit paid – to be fully purchased by April 2012. |
| HK-4419 | 11457 | ex PH-EZB, N1448A, HK-4419-X, HK-4419 | Deposit paid – to be fully purchased by April 2012. |
| HK-4445 | 11449 | ex PH-EZS, N1446A, HK-4445-X, HK-4445 | Deposit paid – to be fully purchased by April 2012. |
© David Eyre