Air Australia ceases operations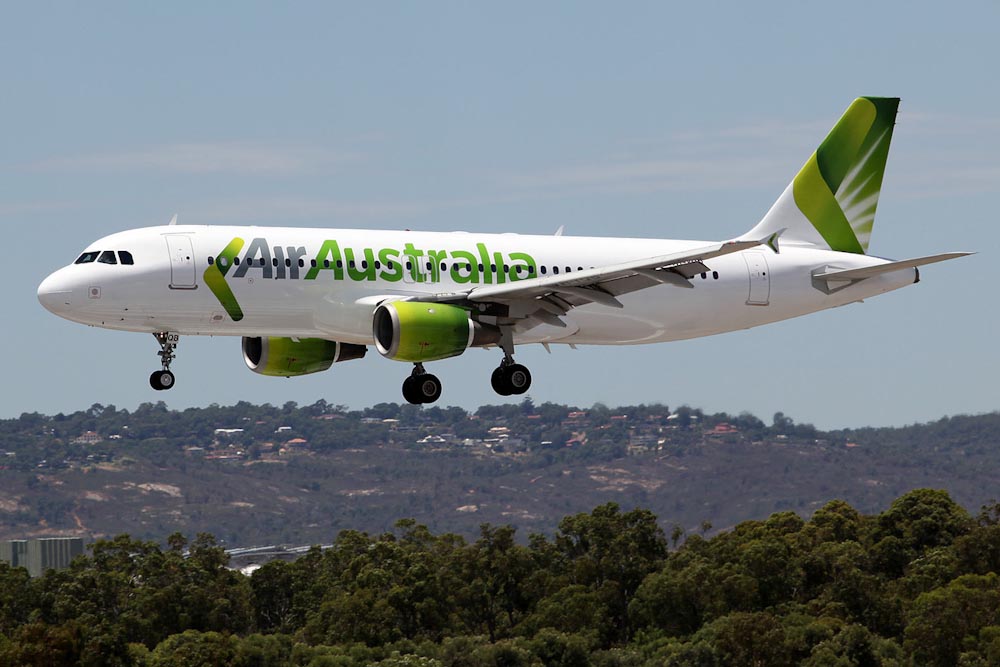 17 February 2012 (UPDATED 22 Feb 2012) © David Eyre
Air Australia, previously called Strategic Airlines, went into voluntary  administration in the early hours of Friday 17 February 2012 and ceased operations.
The airline had only a few days earlier denied that it was entering into  administration and was still taking bookings until 16 February. Thousands of  passengers are affected by the shutdown, with many stranded overseas.
Flights were grounded after fuel  suppliers refused to extend any more credit and aircraft were refused fuel. The  company directors called a meeting at 1.30am and appointed KordaMentha as  administrators. KordaMentha handled the administration of Ansett Airlines when  it shut down in 2001/2 – this was the largest company administration in Australian  history.
KordaMentha stated on AirAustralia's website that "It currently appears that  there are no funds available to meet operational expenses so flights will be  suspended immediately. For clarity, it also appears highly unlikely there will  be any flights in the short to medium term. The  Administrators will decide on the strategy for the group during the following  days and weeks."
Most of Air Australia's 300 staff  have been stood down, effective immediately.
The airline's fleet was leased, and all are expected to be returned to the lessors. Air Australia A320 VH-YQB  operated their final WA service between Perth and Derby (Curtin) on Wednesday, and the aircraft is currently parked at Perth Airport's Terminal WA apron.
Qantas and Jetstar have offered  to help passengers affected by the shutdown of Air Australia by putting on  additional services – something which Air Australia did for Qantas passengers  stranded during their October 2011 temporary grounding. Hawaiian Airlines has  offered discounted fares to Air Australia passengers on the Honolulu route.
The airline's troubles began much earlier.  In 2010, when the airline was named Strategic Airlines, it lost a $30million  contract with the Australian Defence Force to transport troops to the Middle  East. It then restructured as a full-service carrier operating scheduled  flights, but found the competition too great. In early 2011, one of the two key  shareholders pulled out. In November 2011, Strategic Airlines restructured  again as a lower-cost airline under the new brand name of Air Australia. CASA  reportedly expressed concerns in December 2011 as to whether the airline could  meet its safety requirements. On 21 December 2011, insolvency insurance  coverage for Air Australia was withdrawn. Also in December, Air Australia  claimed that it would make a profit in 2011/12, but said it was looking for  "cornerstone" investors. It was rumoured that the airline had debts  of $30 million, and that creditors had begun closing in. Earlier in the week,  reports began circulating that administrators KordaMentha were being consulted.
In WA, Air Australia operated Airbus A320 aircraft between Perth –  Derby (Curtin) three times per week, and a Port Hedland – Brisbane service.  Strategic Airlines had previously operated services between Perth and Bali, but  these ceased in June 2011 due to strong competition from other operators on the  route. Air Australia also operated domestic services in the eastern states, and  international services from the eastern states to Bali, Honolulu and Phuket.
UPDATE:
Skywest was awarded the regular public transport (RPT) route Perth-Derby (Curtin) for an initial term of three months from Monday 20 February, operating each weekday for the provision of five return services per week. Flight XR23 departs Perth at 06:00, and arrives at Derby (Curtin) at 08:45. The return flight XR24 departs Derby (Curtin) at 09:30, and arrives in Perth 12:15.
Qantas will operate the Brisbane – Port Hedland route from mid-March 2012.