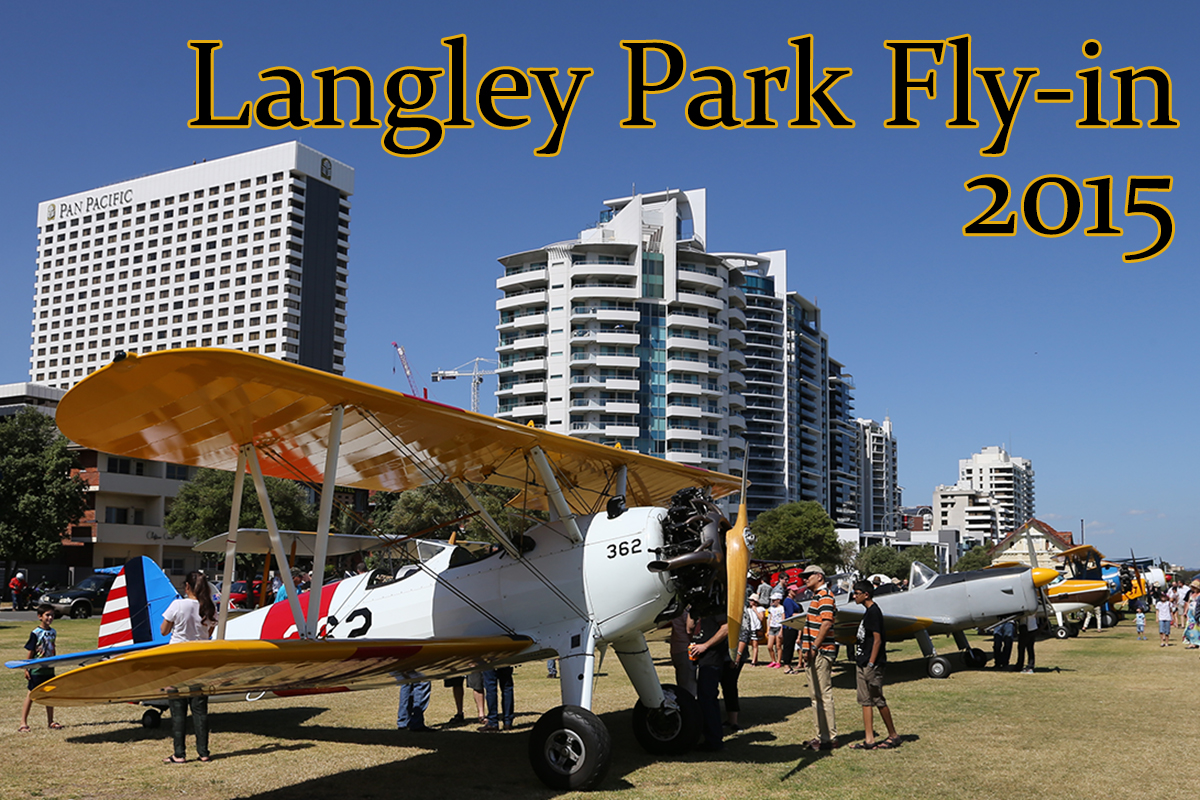 17 October 2015 – article copyright © David Eyre
To celebrate Western Australia's aviation pioneer, Sir Norman Brearley, a vintage aircraft fly-in was held at Langley Park, in the city of Perth.
Norman Brearley's airline, Western Australian Airways (WAA), began the first airline  operations in Australia in 1921 (a year before Qantas), initially based at Langley Park.
With the construction of Elizabeth Quay and its proposed high-rise buildings, today's fly-in could well be the last time Langley Park is used as an airstrip.
The event was organised by the Royal Aero Club of Western Australia as part of the Perth Heritage Days. Norman Brearley was the founder of the Aero Club of WA in 1929, later renamed the Royal Aero Club of Western Australia.
The event was kept to a small number of aircraft, to minimise complexity and risk, with a total of 13 vintage aircraft participating:
Boeing A75N1 Stearman (PT-17 Kaydet):

VH-URC

Boeing B75N1 (N2S-3) Stearman

: VH-YDF/4269 / 591
Boeing E75 (N2S-5) Stearman: VH-YND / "42-755362 / 362"
Cessna 170: VH-LIN
De Havilland DH-82A Tiger Moth: VH-CKF/A17-421
De Havilland DH-82A Tiger Moth: VH-FAS/A17-37
De Havilland DH-82A Tiger Moth: VH-NOV
De Havilland DH-83 Fox Moth: VH-USJ
De Havilland DHC-1 Chipmunk: VH-RHW/WB677

Great Lakes 2T-1A-2 Sport Trainer

: VH-WQW

North American AT-6D Texan: VH-WWA/106

WACO Classic Aircraft YMF-5C: VH-MLX


WACO Classic Aircraft YMF-5C:

VH-YRB
The aircraft arrived between 1:10PM and 1:45PM, landing from east to west over Plain Street.
After landing, the aircraft taxied to the west end of Langley Park and parked along Terrace Road, between Victoria Avenue and Hill Street, which was the original length of the airstrip in the 1920s. Brearley had his first hangar built at the corner of Victoria Avenue and Terrace Road, and his later hangar for the air service was built near the corner of Hill Street and Terrace Road.
The public were allowed to walk around the aircraft and even sit in the cockpit.
They took off from east to west over Victoria Avenue, some of the in pairs, between 3:40PM and 4:26PM.
COPYRIGHT NOTICE: All photographs and videos displayed on this website are copyright protected and may not be used, sold, copied or reproduced without express written permission of the individual photographers. If you wish to obtain or use a photo, please email AviationWA@gmail.com.