COPYRIGHT NOTICE: All photographs and videos displayed on this website are copyright protected and may not be used, sold, copied or reproduced without express written permission of the individual photographers. If you wish to obtain or use a photo, please email AviationWA@gmail.com.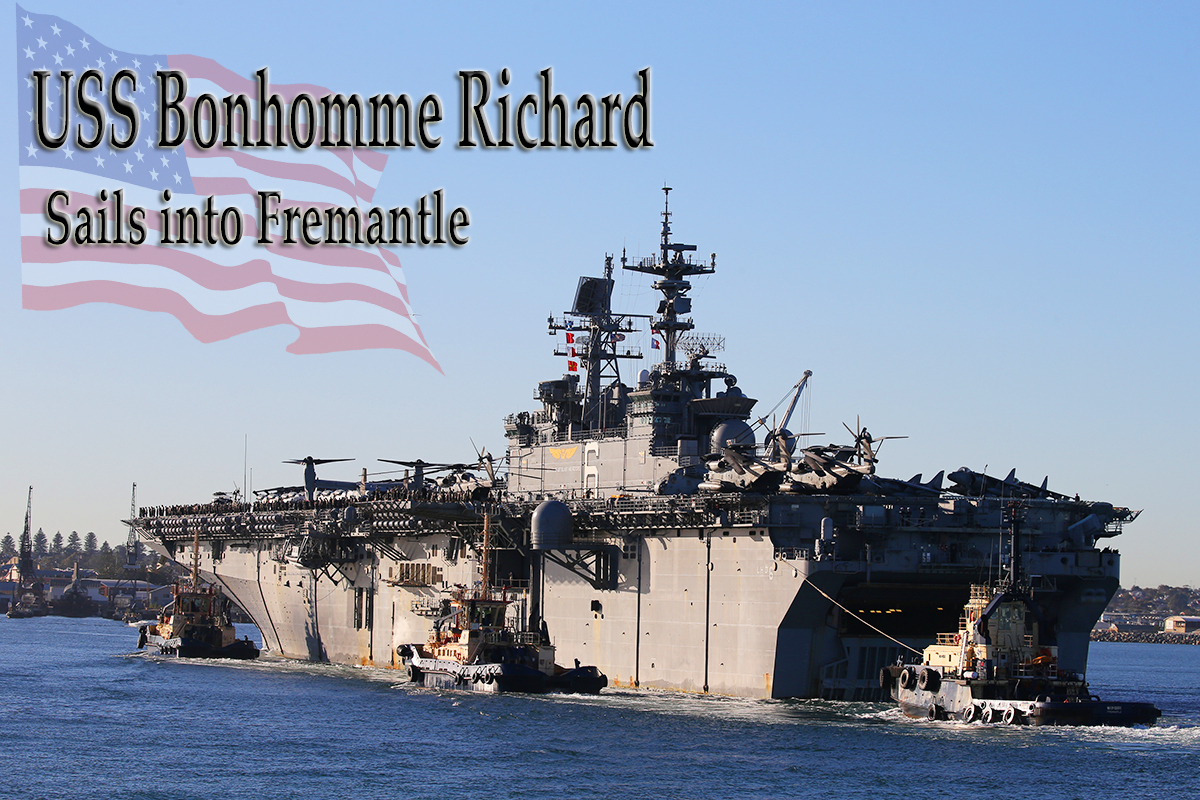 NOTE: MORE PHOTOS BELOW
30 June 2015 – copyright © David Eyre
The USS Bonhomme Richard Expeditionary Strike Group (BHRESG) visited Western Australia from 25 to 30 June 2015 for a scheduled port visit, before taking part in the biennial Australia/US training Exercise, Talisman Sabre 2015.
USS Bonhomme Richard is forward deployed to Sasebo, Japan and operates as part of the US Navy's 7th Fleet, operating in an area extending from the western Indian Ocean to the Pacific Ocean as far east as the International Date Line.
Around 4,000 US Navy sailors and Marines visited Perth, Fremantle and Bunbury, with some crew members taking part in local community projects. Australia is a popular port of call amongst the Americans, who will spend millions of dollars during their visit, providing a boost to the local economy.
Visiting vessels
USS Bonhomme Richard (LHD-6), a Wasp-class amphibious assault ship – docked at Fremantle;
USS Green Bay (LPD-20), a San Antonio-class amphibious transport dock – docked at Fremantle;
USS Preble (DDG-88) an Arleigh Burke-class guided missile destroyer – docked at Fremantle;
USS Ashland (LSD-48), a Whidbey Island-class dock landing ship – docked at Bunbury;
USS Jacksonville (SSN-669), a Los Angeles-class attack submarine – docked at HMAS Stirling, Garden Island.
Aircraft aboard
US Marine Corps aircraft were assigned to the 31st Marine Expeditionary Unit (31st MEU), and some aircraft wore 31st MEU titles instead of their usual squadron tailcodes.
USS Bonhomme Richard (LHD-6) – 22 US Marine Corps and 3 US Navy aircraft:
12 Bell-Boeing MV-22B Osprey tilt-rotor aircraft of VMM-265 'Dragons', USMC (tailcode EP)
6 McDonnell-Douglas (now Boeing) AV-8B Harrier II (4 Harrier II Plus, 2 Harrier Night Attack) attack jets of VMA-311 'Tomcats', USMC (some wore tailcode WL)
4 Sikorsky CH-53E Super Stallion helicopters of HMH-462 'Heavy Haulers', USMC (tailcode '31st MEU', one wore tailcode YJ)
3 Sikorsky MH-60S Seahawk helicopters of HSC-25 Detachment 6 'Island Knights', USN (tailcode RB)
USS Green Bay (LPD-20) – 7 US Marine Corps helicopters:
4 Bell AH-1W Super Cobra helicopters of HMLA-269 'The Gunrunners', USMC (tailcode 31st MEU)
3 Bell UH-1Y Venom helicopters of HMLA-269 'The Gunrunners', USMC (tailcode 31st MEU).
USS Preble (DDG-88) – 2 US Navy helicopters:

2 Sikorsky MH-60R Seahawk helicopters of HSM-37 Detachment 5 'Easyriders', USN (tailcode TH)
During this time, a US Air Force Beech C-12F and C-12J also visited Perth Airport.
USS Bonhomme Richard (LHD-6)
AviationWA was taken on a tour of the USS Bonhomme Richard, also known as BHR, Bonnie Dick and Revolutionary Gator.
The ship is 256 metres long and weighs 40,500 tonnes. For this deployment, it is carrying 25 aircraft, Jeeps, Humvees, trucks, cranes, amphibious assault vehicles and three hovercraft (LCACs) to take vehicles, supplies and personnel across the water and right up onto the beach.
Commanding Officer Jeffrey Ward said "Anything that you can think of that you want in a city, we've got it here."
The ship has an extremely well-equipped hospital facility – second only to dedicated hospital ships, including operating theatres and a dentist. It also has a barber, gym, movie theatre, and a dining hall which includes Starbucks coffee. At the aft end it has a Well Deck and rear ramp door to load or unload hovercraft, landing craft, amphibious assault vehicles or boats.
The ship was launched in 1997 and has conducted a number of combat and humanitarian missions, including:
Operation Southern Watch, Iraq (24 January 2000 to 24 July 2000)
Operation Enduring Freedom (1 December 2001 to 18 June 2002)
Operation Iraqi Freedom (17 January 2003 to 26 July 2003)
Sri Lanka (6 December 2004 to January 2005) Detached to Sri Lanka to airlift relief, following the 2004 Indian Ocean earthquake and tsunamis.
Sumatra, Indonesia (4 January 2005): Helping airlift relief supplies to the coast, following the 2004 Indian Ocean earthquake and tsunamis.
Operation Unified Assistance (5 January 2005 to February 2005): relief efforts, following the 2004 Indian Ocean earthquake and tsunamis. Her helicopters flew supplies and medical personnel into various areas of Indonesia, as well as evacuating the wounded.
Deployment for Exercise TALISMAN SABRE 2015
The strike group departed Sasebo, Japan on 1 June 2015 to begin their deployment.
The ships arrived in Fremantle Port from around 9am on Thursday 25 June 2015, and departed on Tuesday 30 June 2015, to train in Exercise TALISMAN SABRE 2015.
The exercise is held every two years and involves around 30,000 Australian and US defence personnel. It lasts over 20 days, with preparation and demobilisation activities carried out in the weeks before and after the Exercise. This year, it is being run simultaneously within the Shoalwater Bay Training Area, near Rockhampton in Central Queensland and at Fog Bay, south west of Darwin.
MORE PHOTOS TO BE ADDED IN THE NEXT FEW DAYS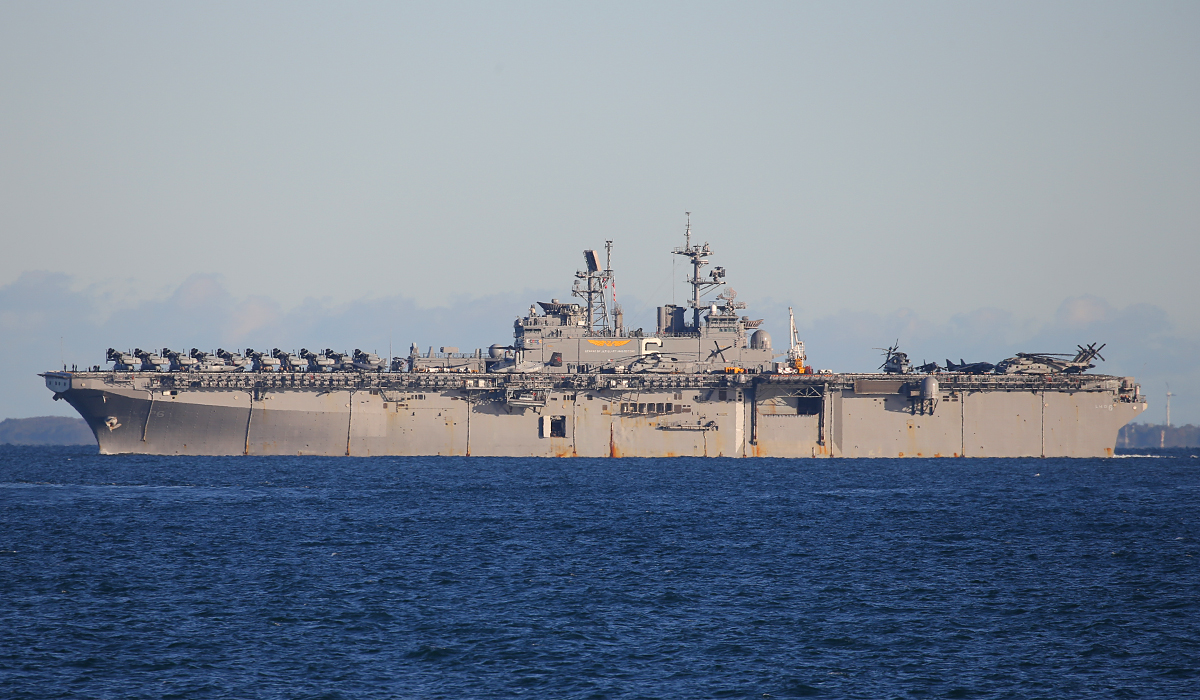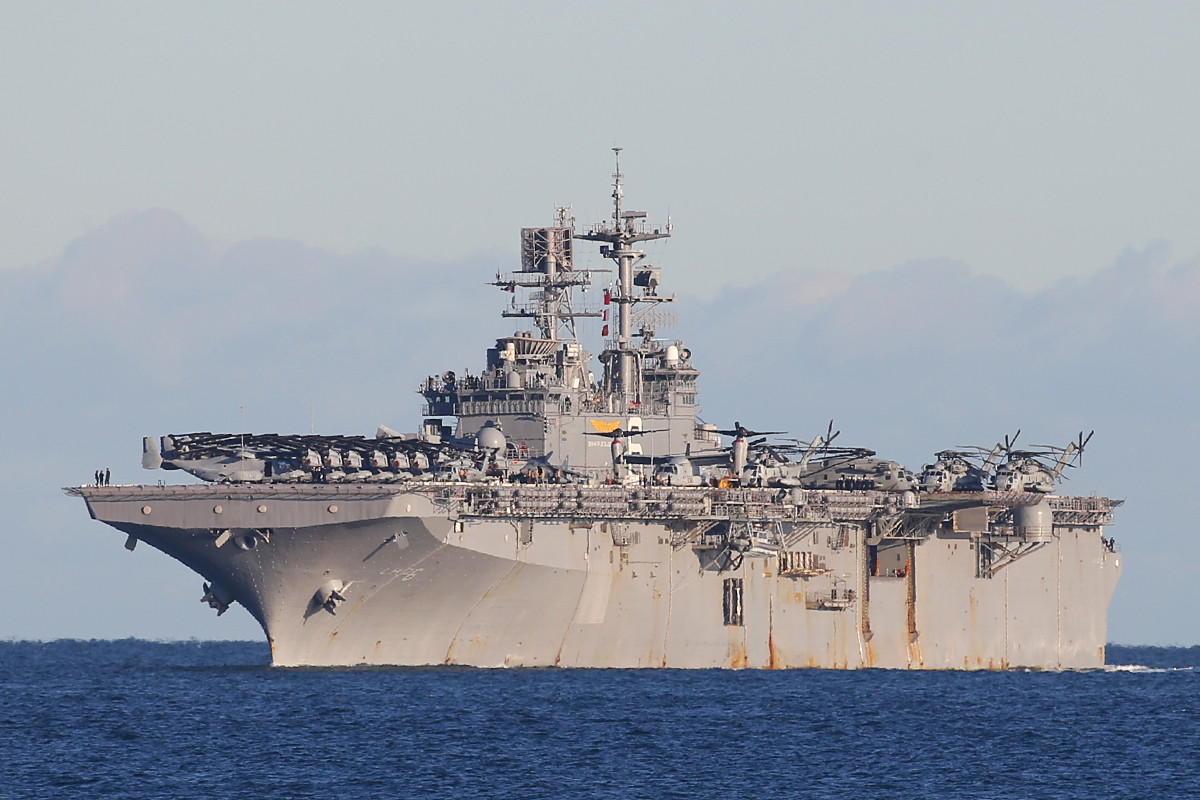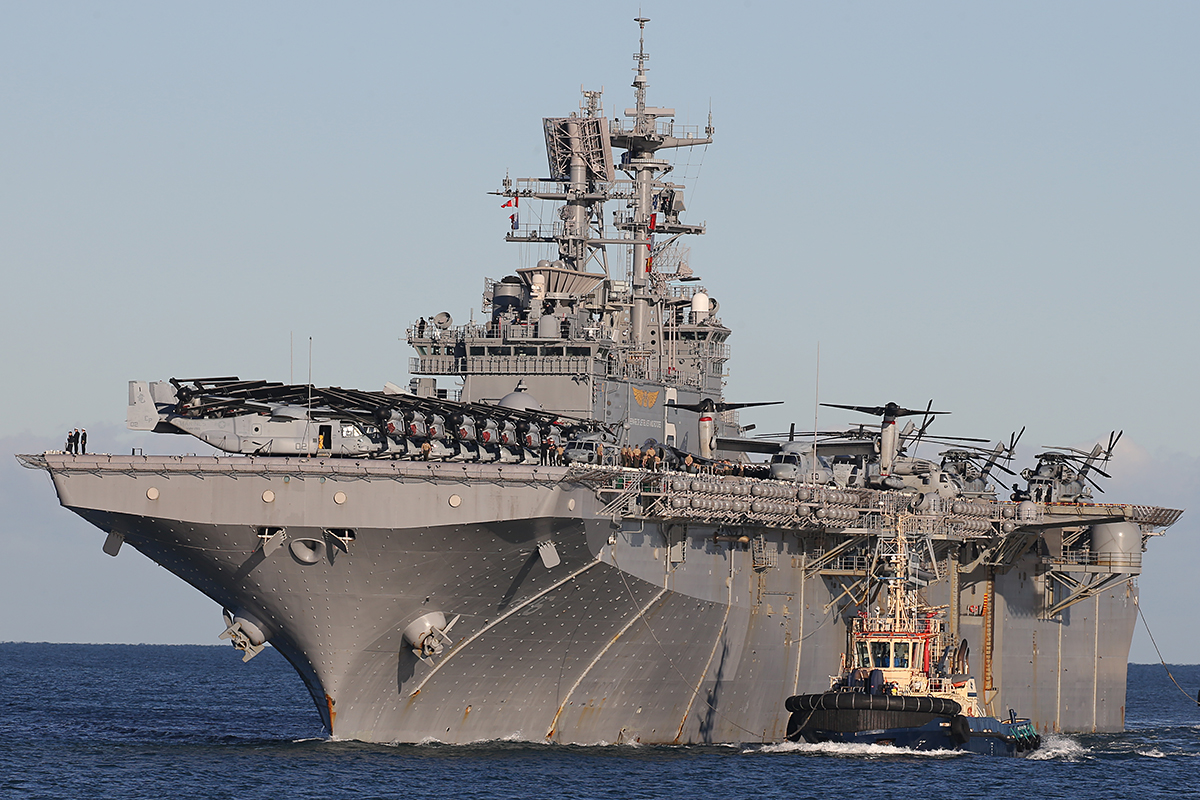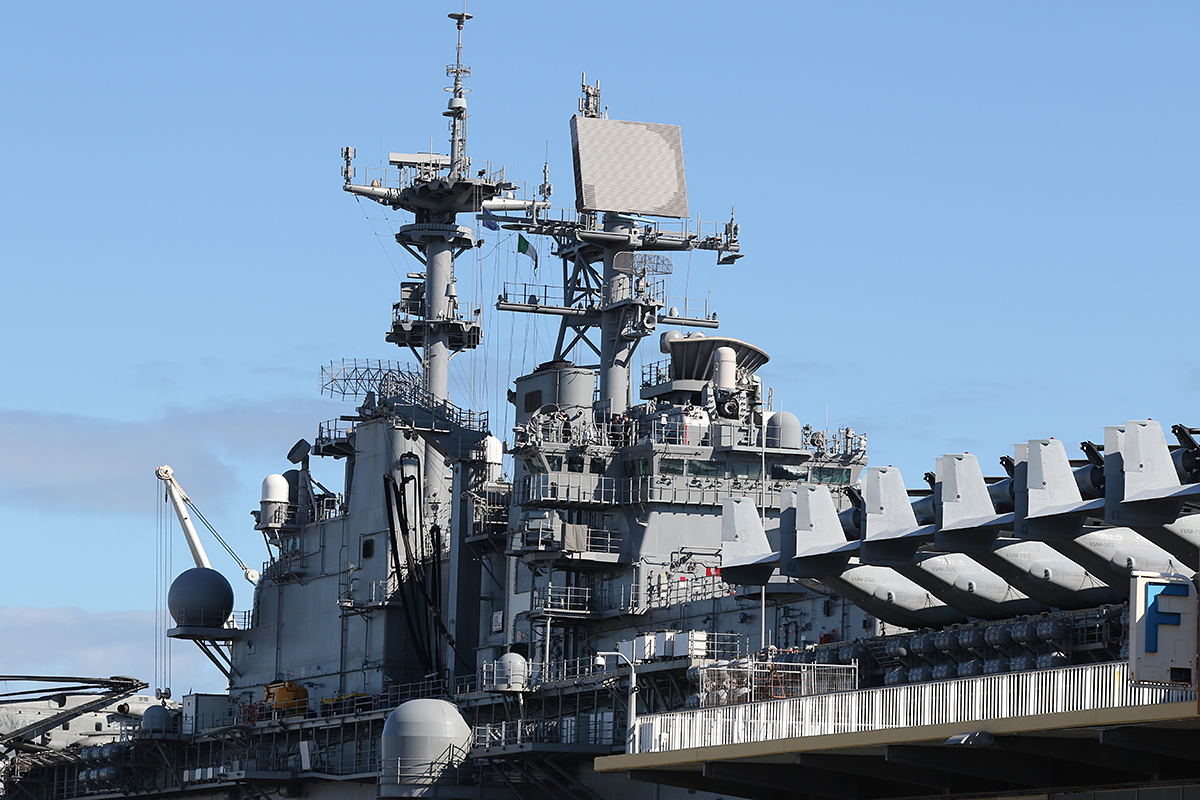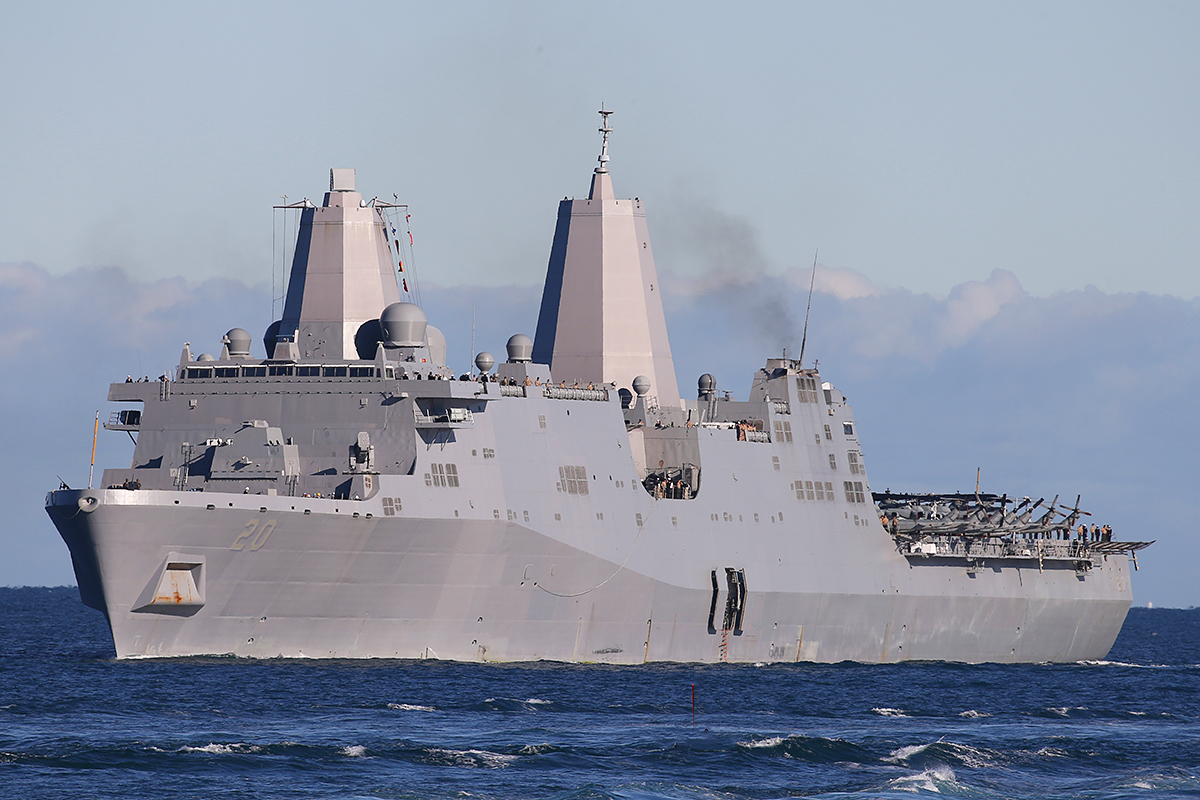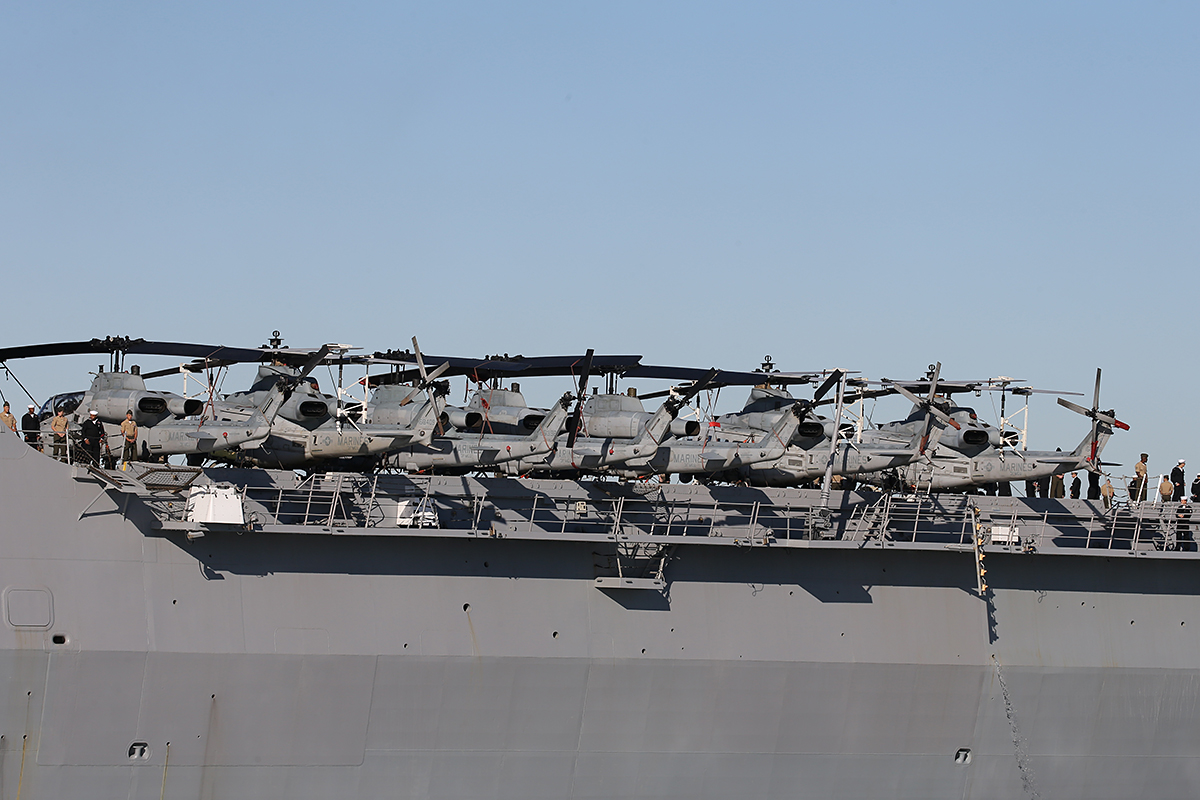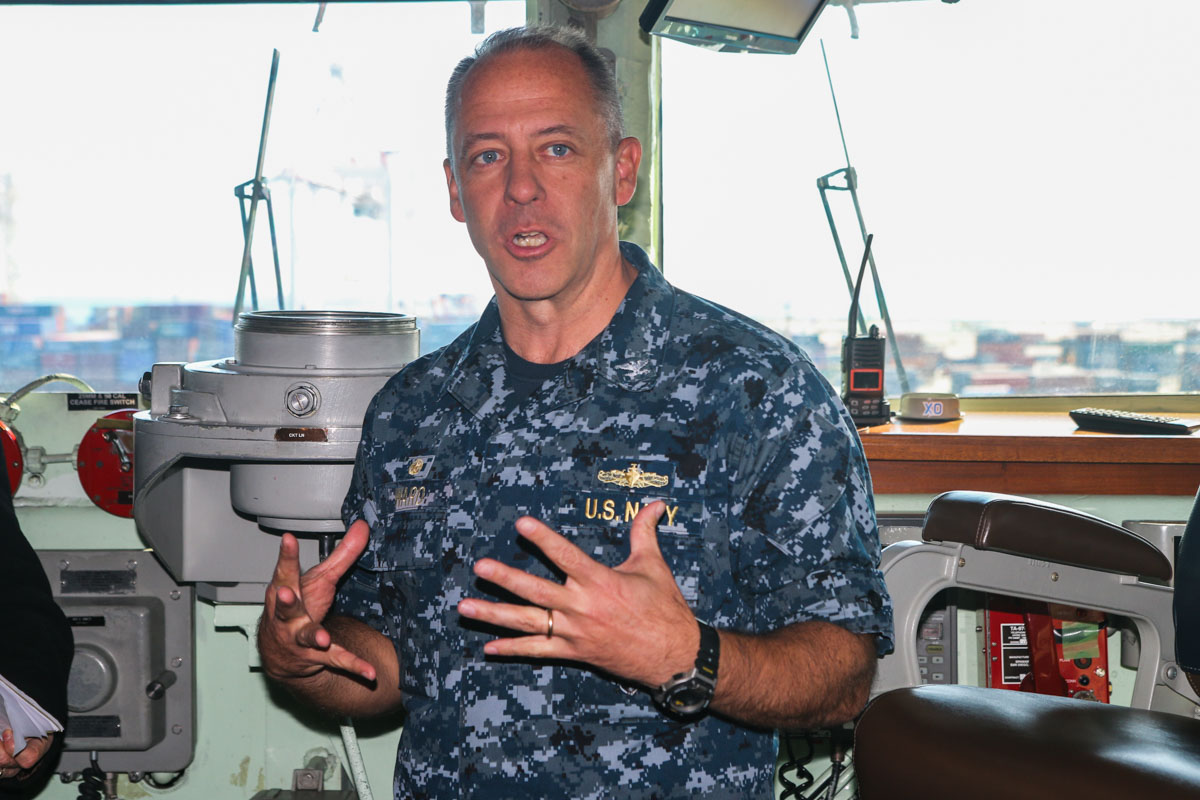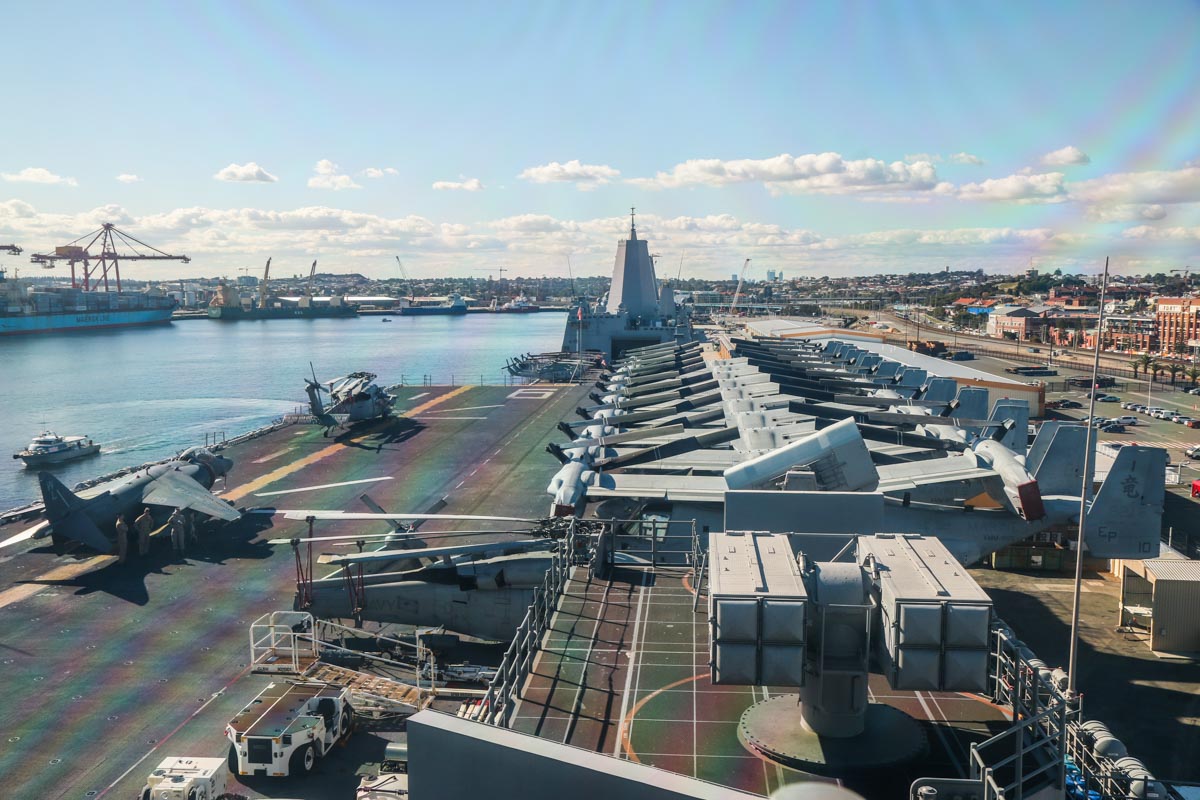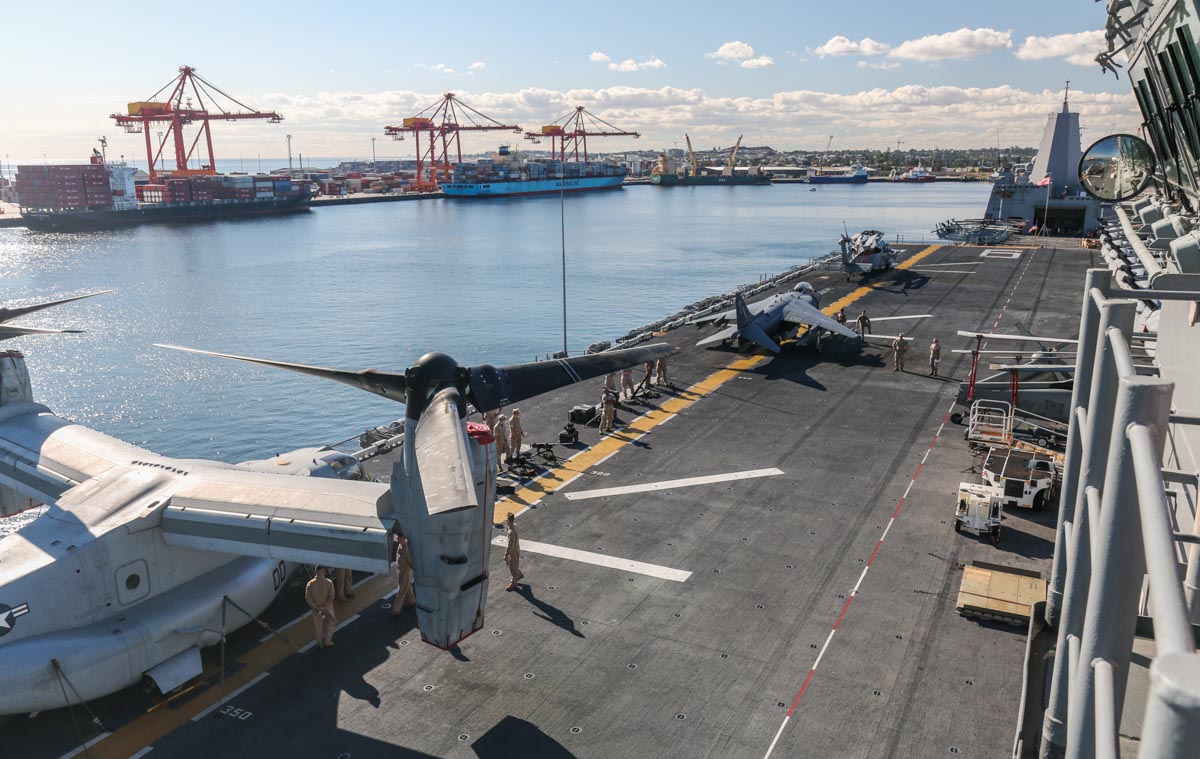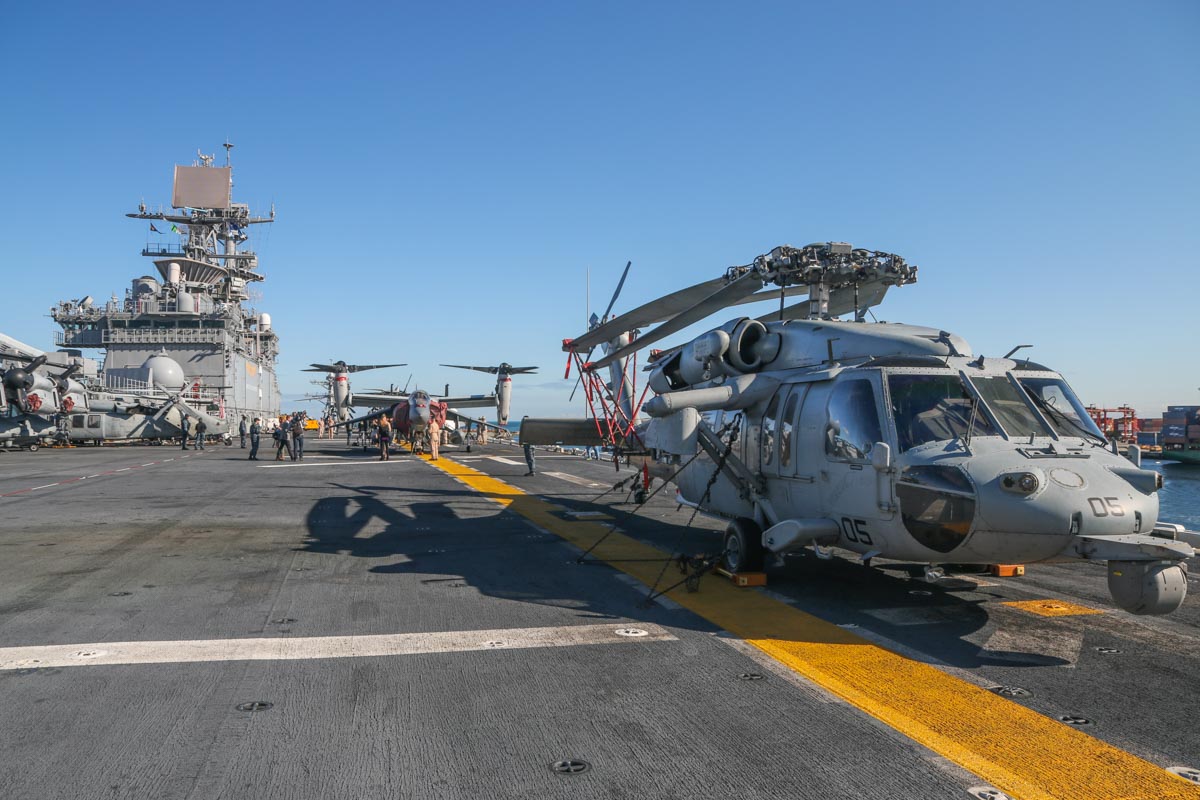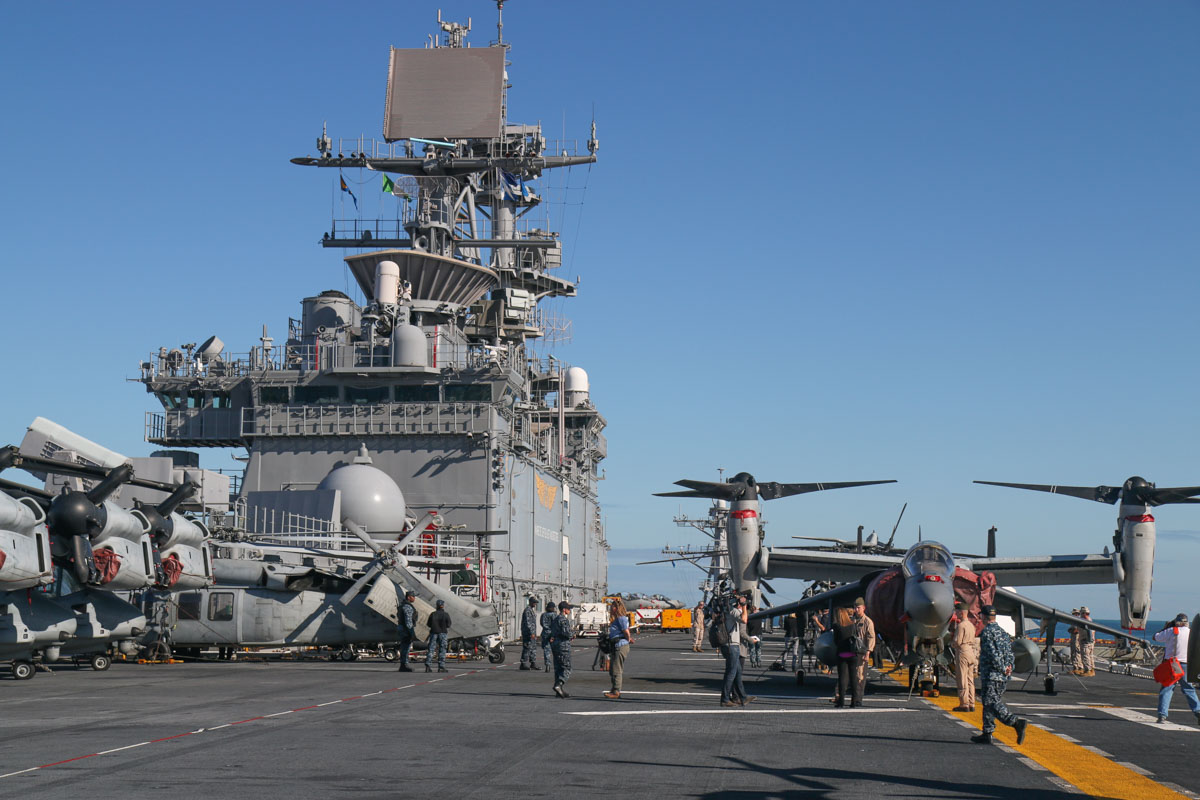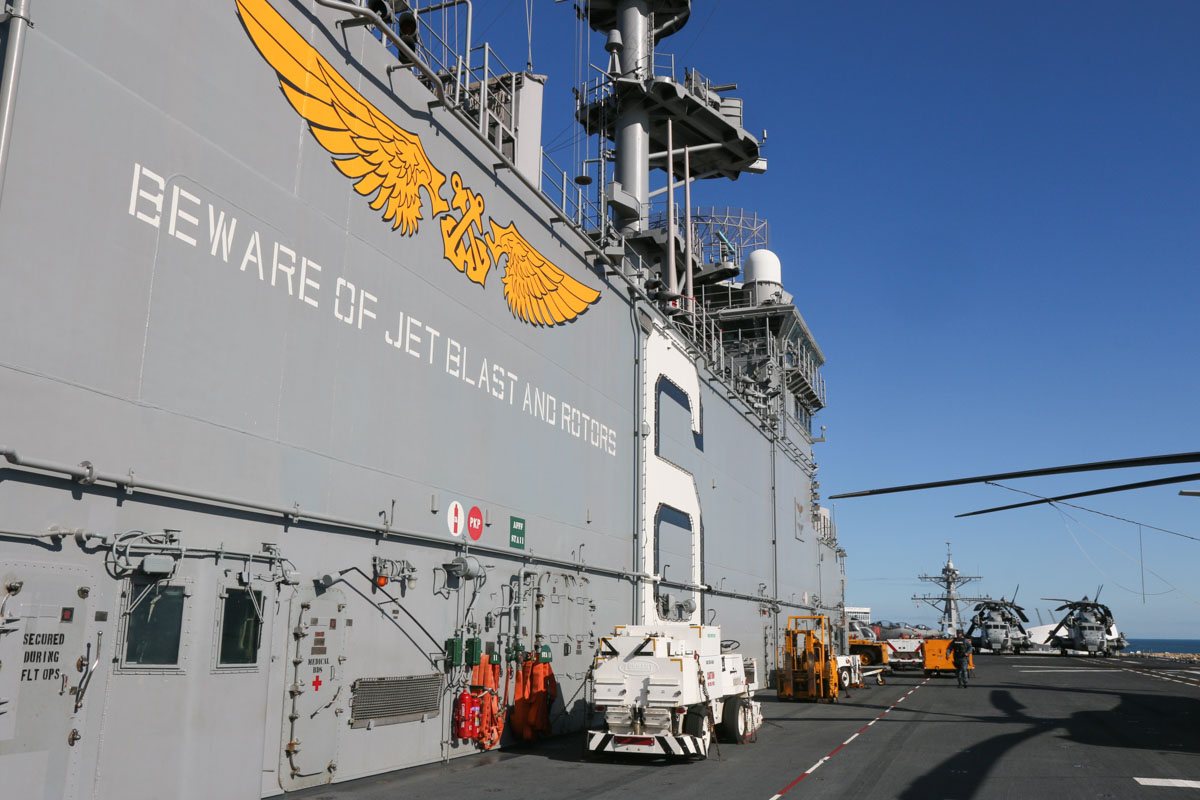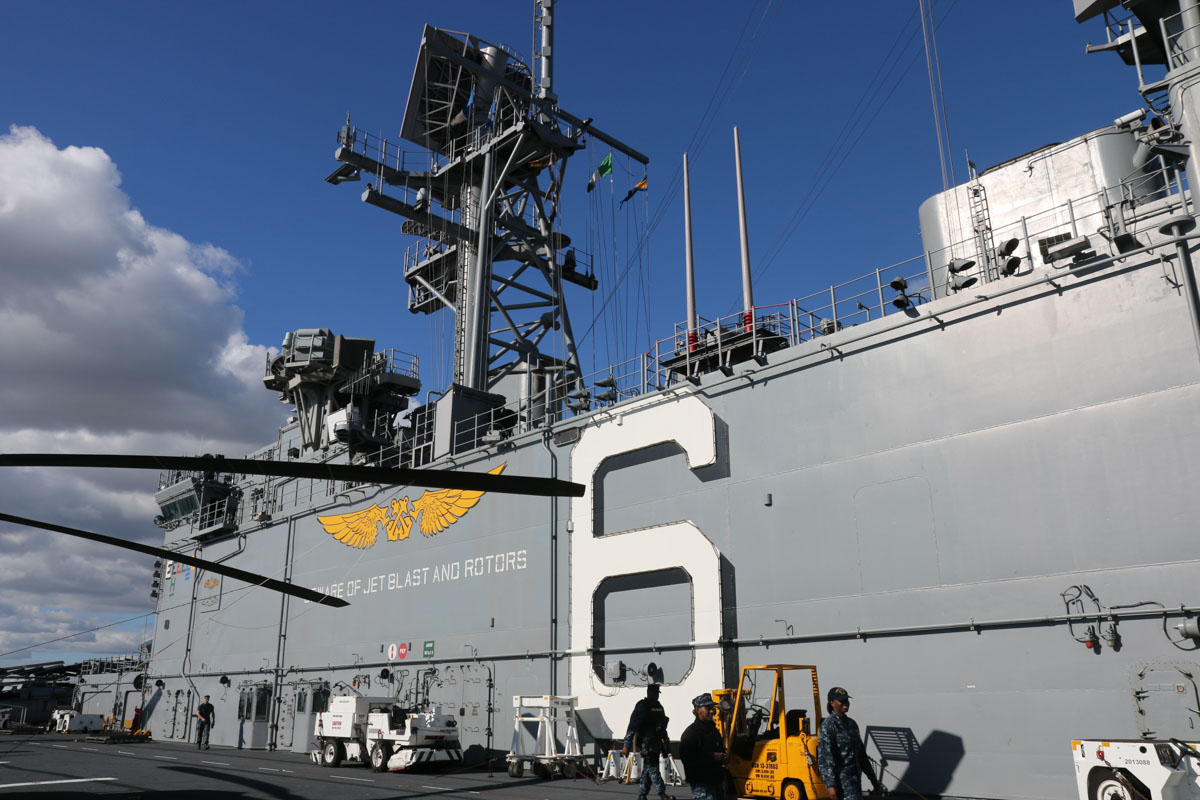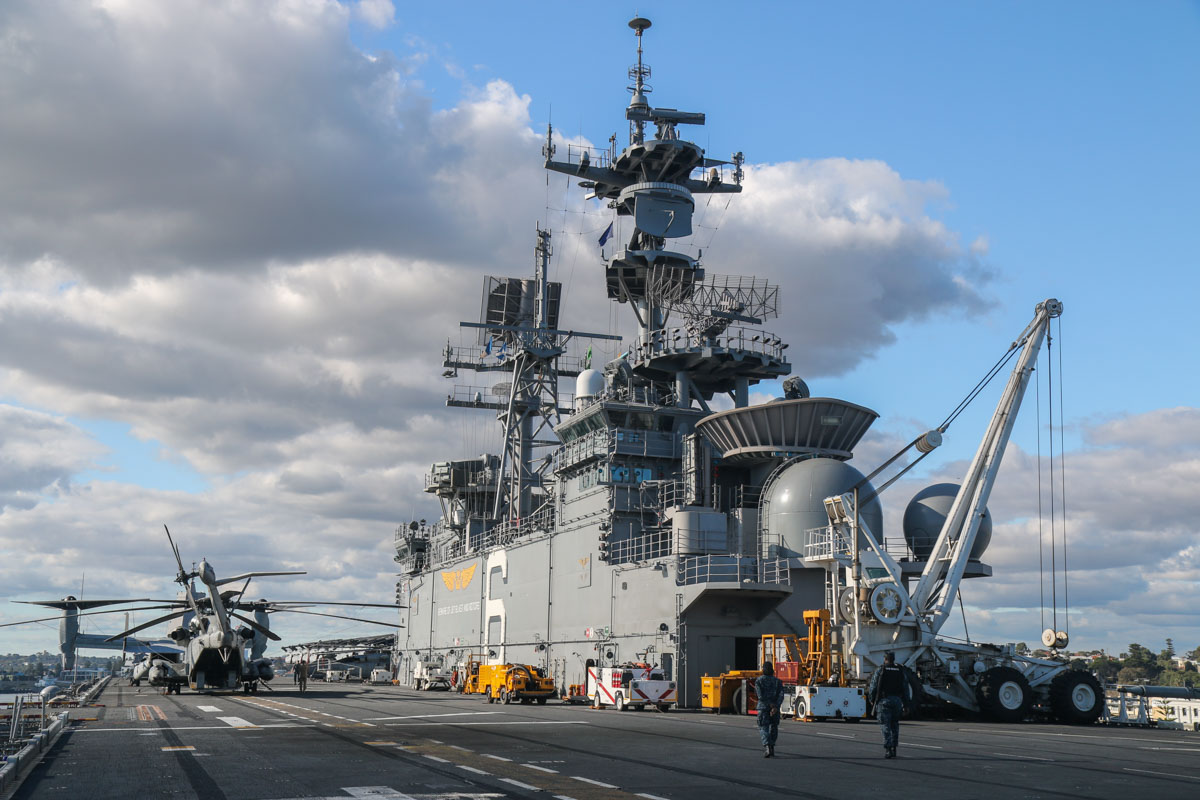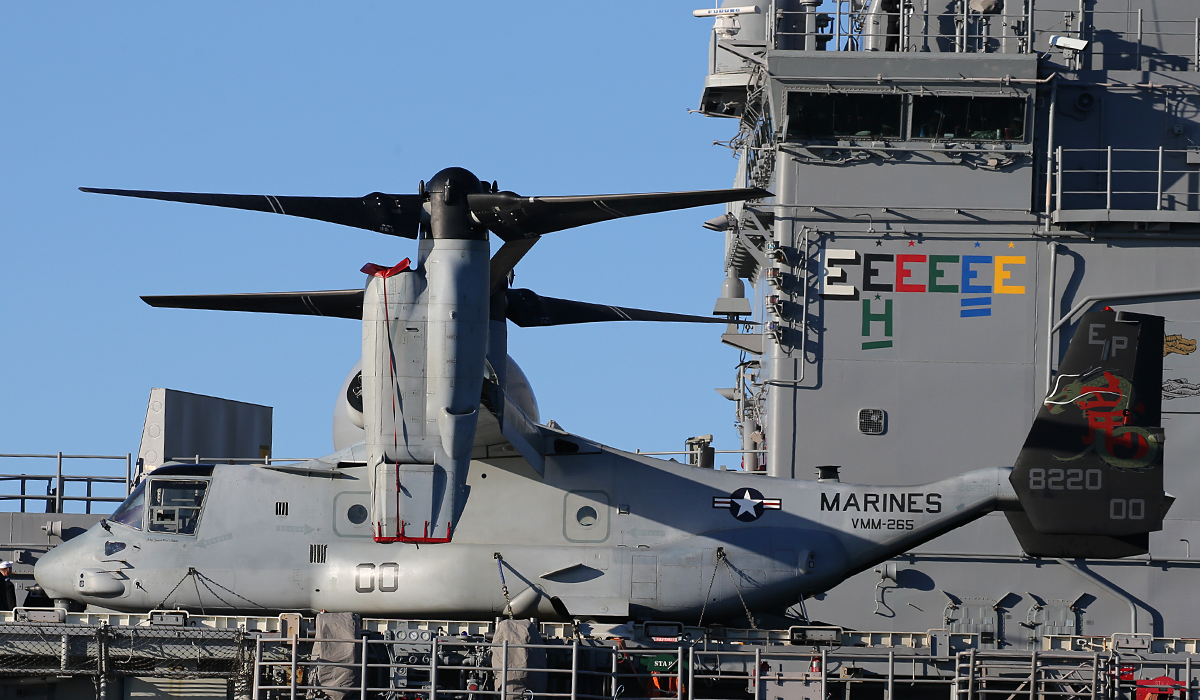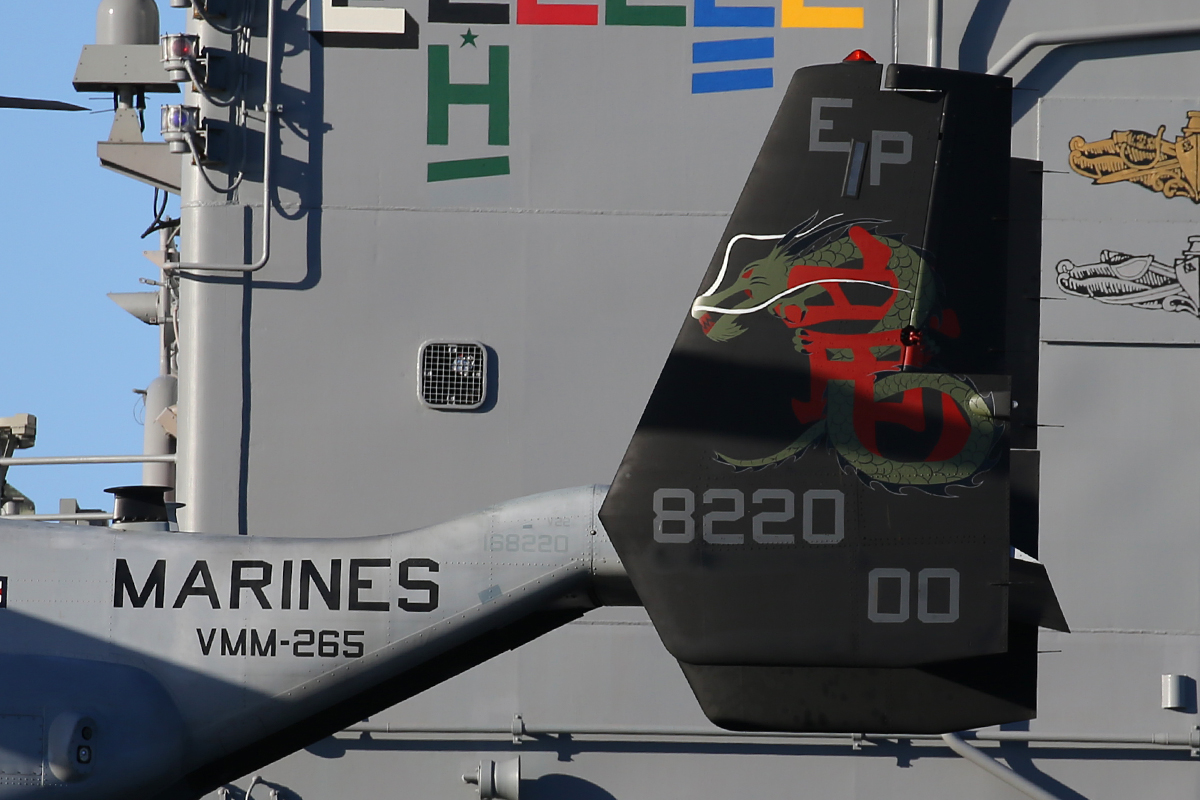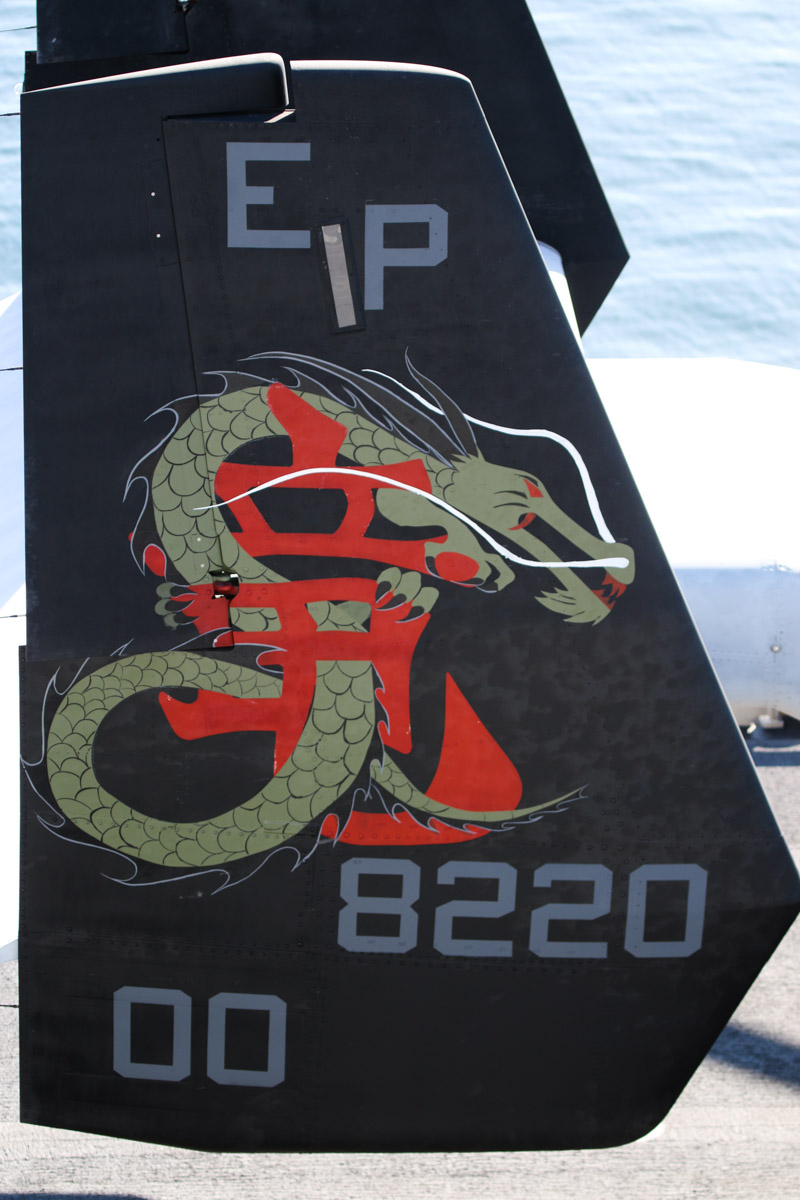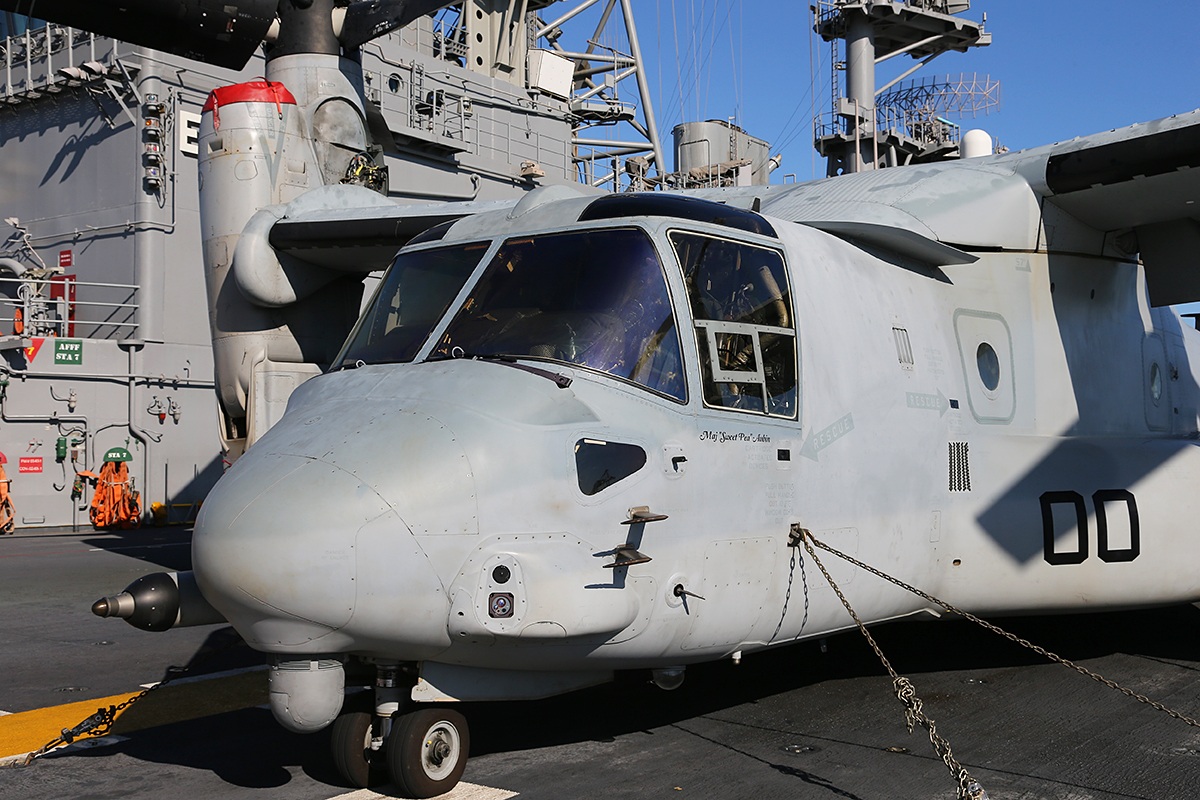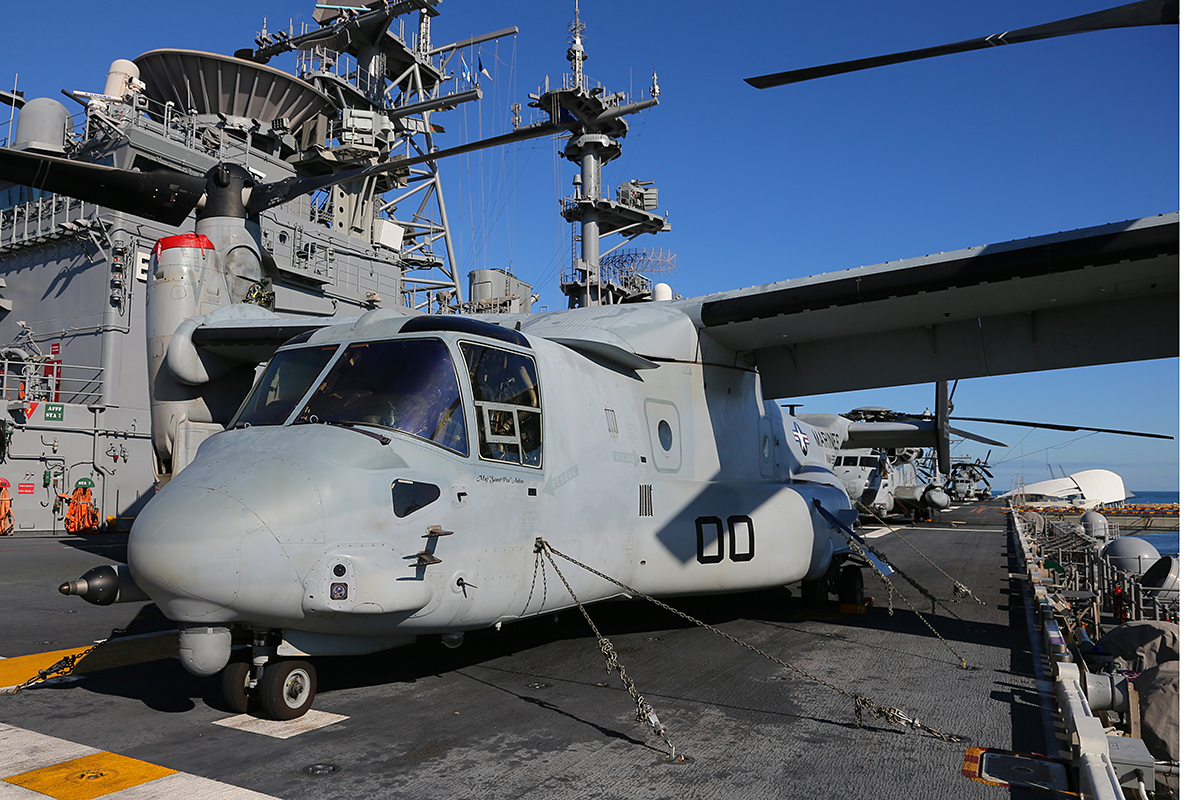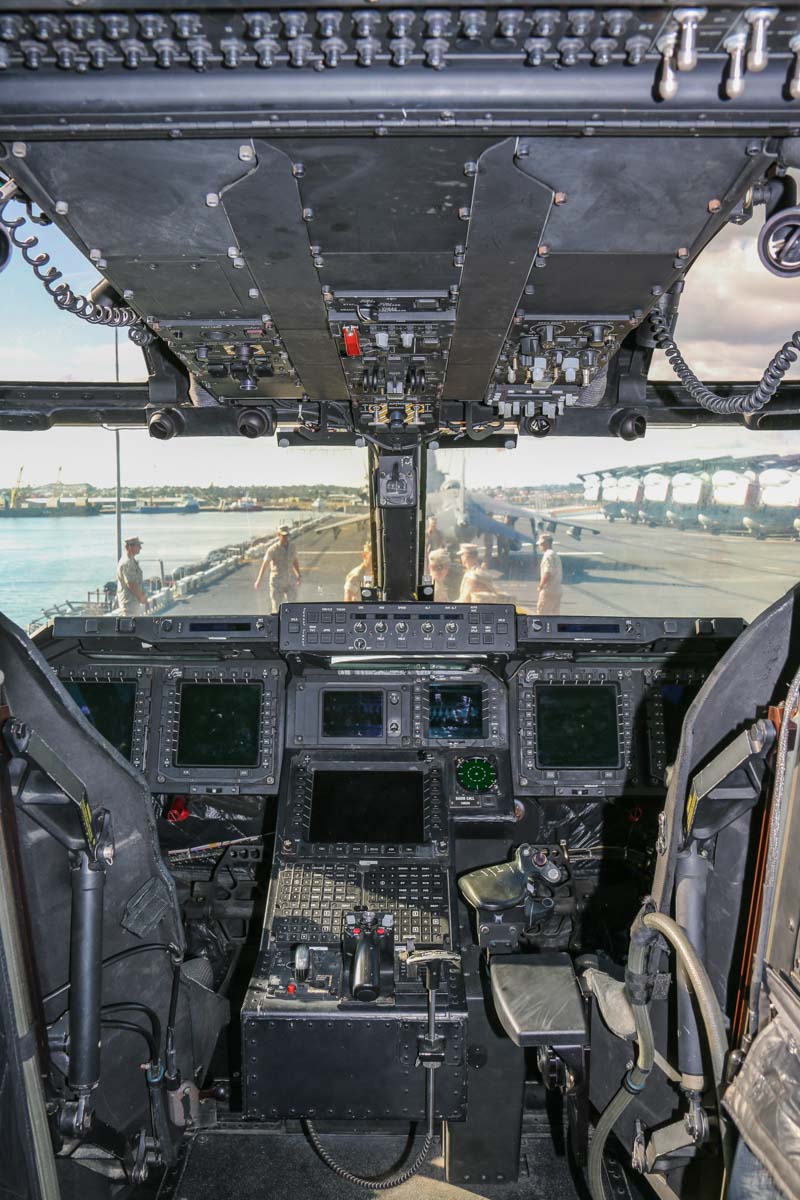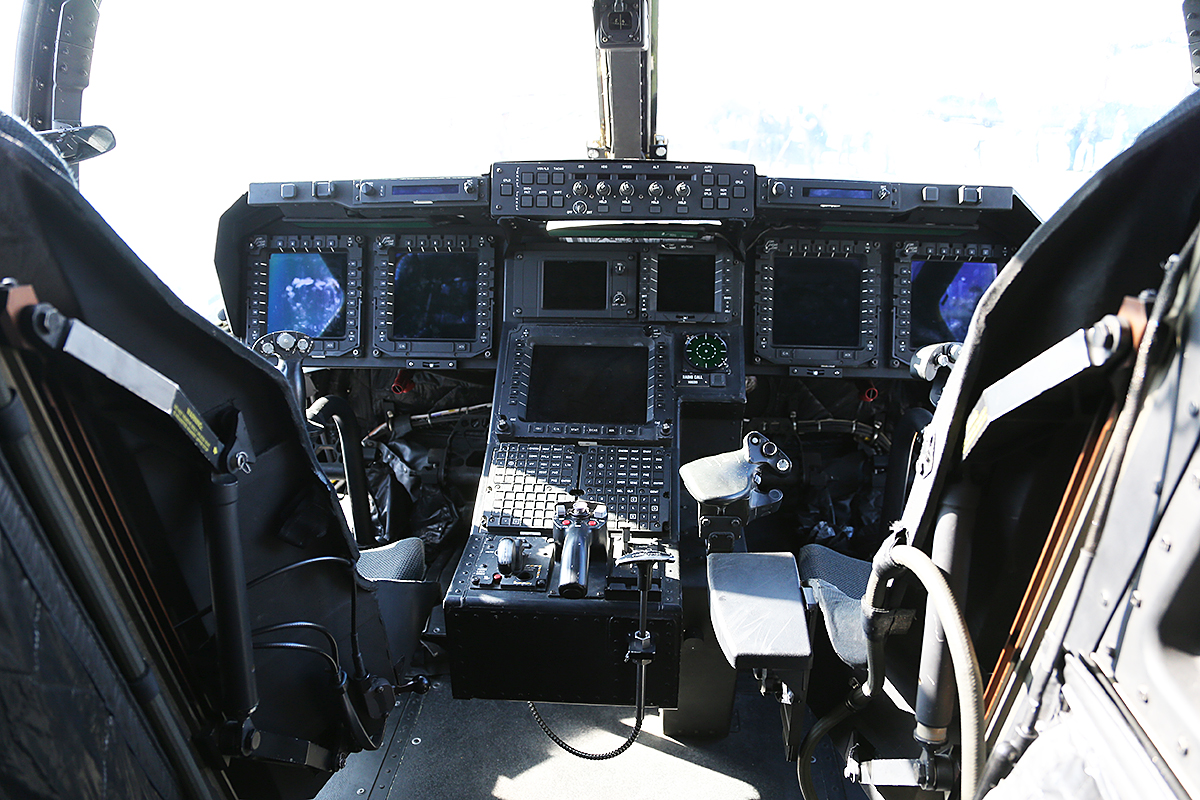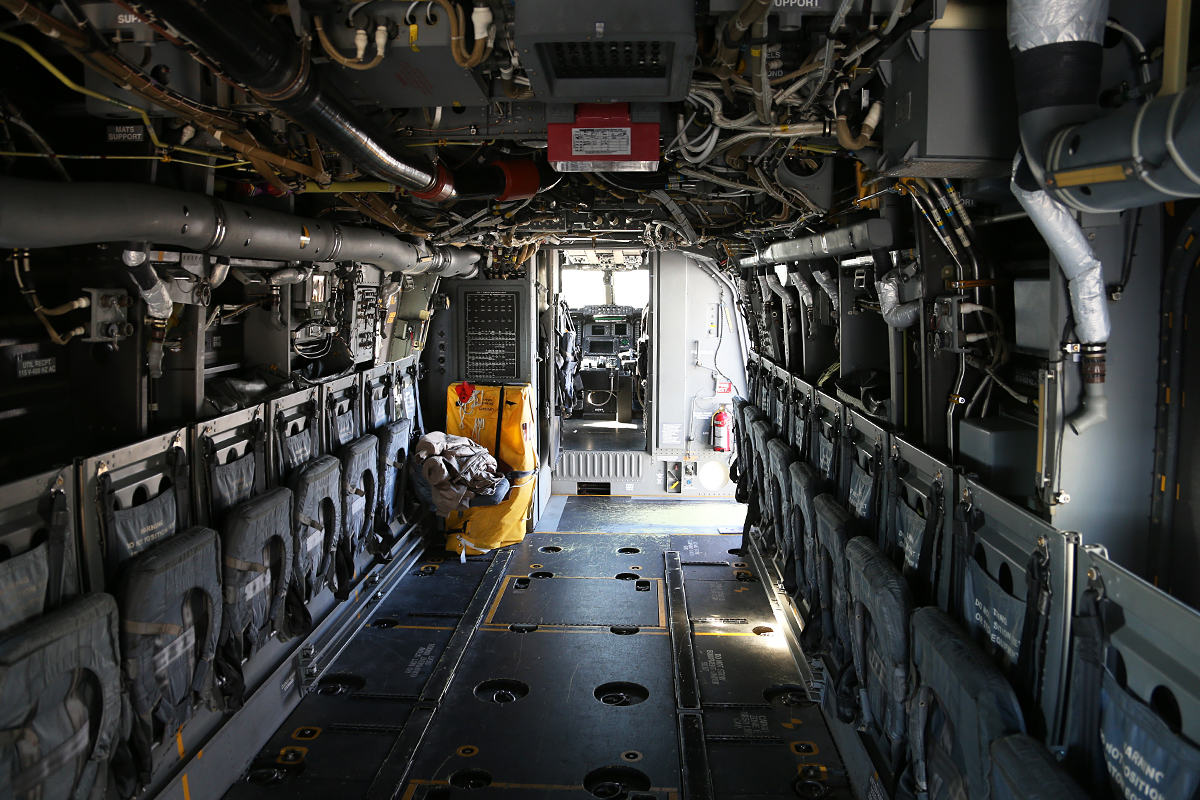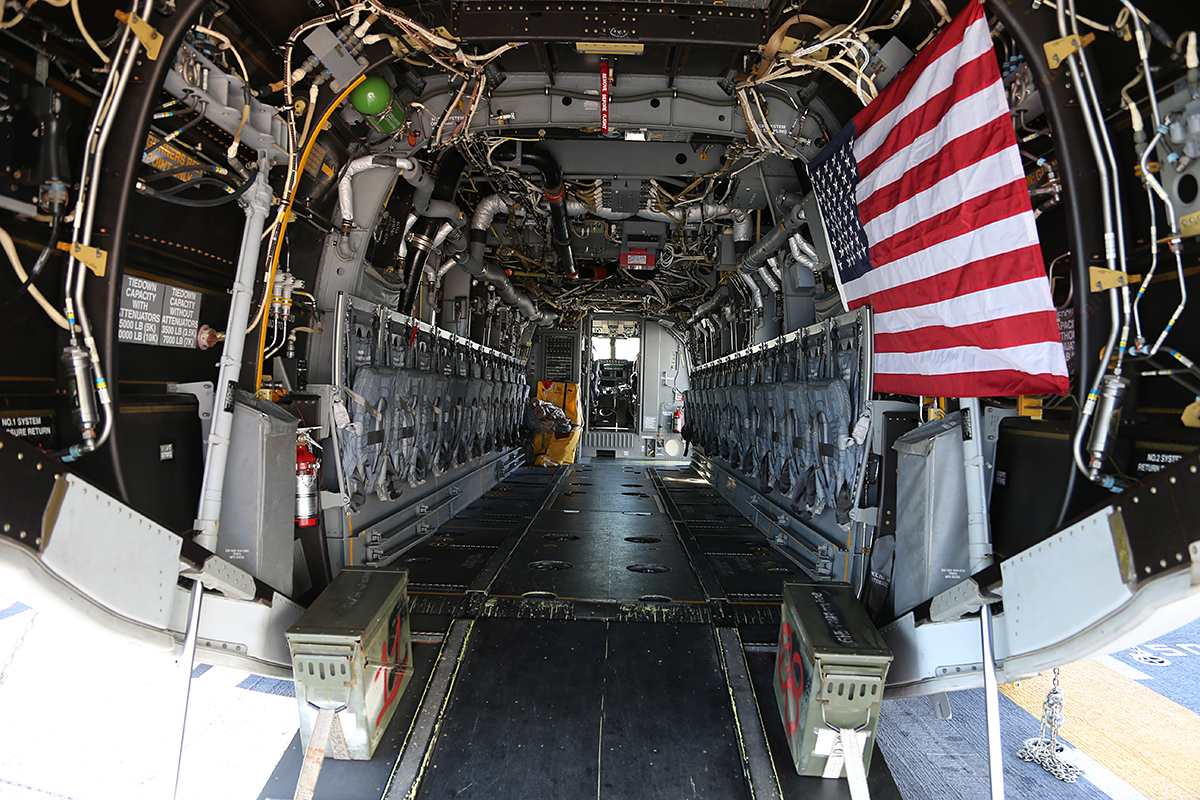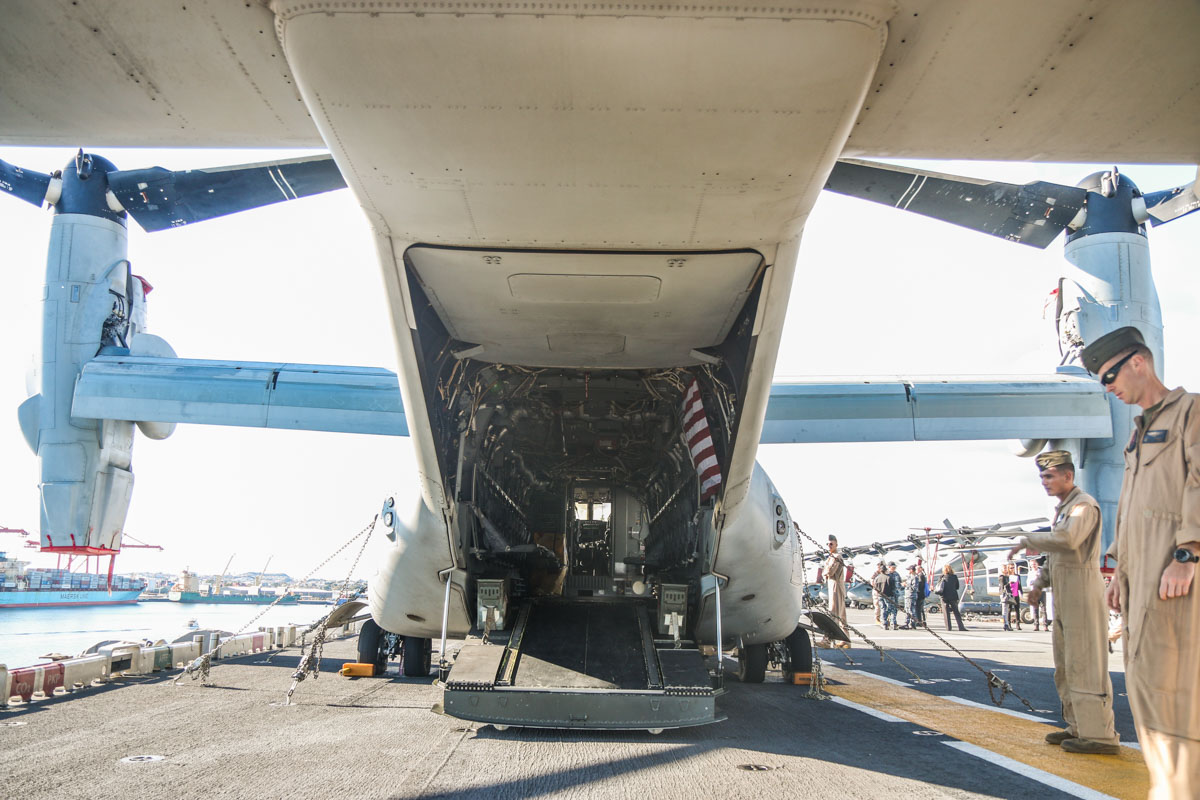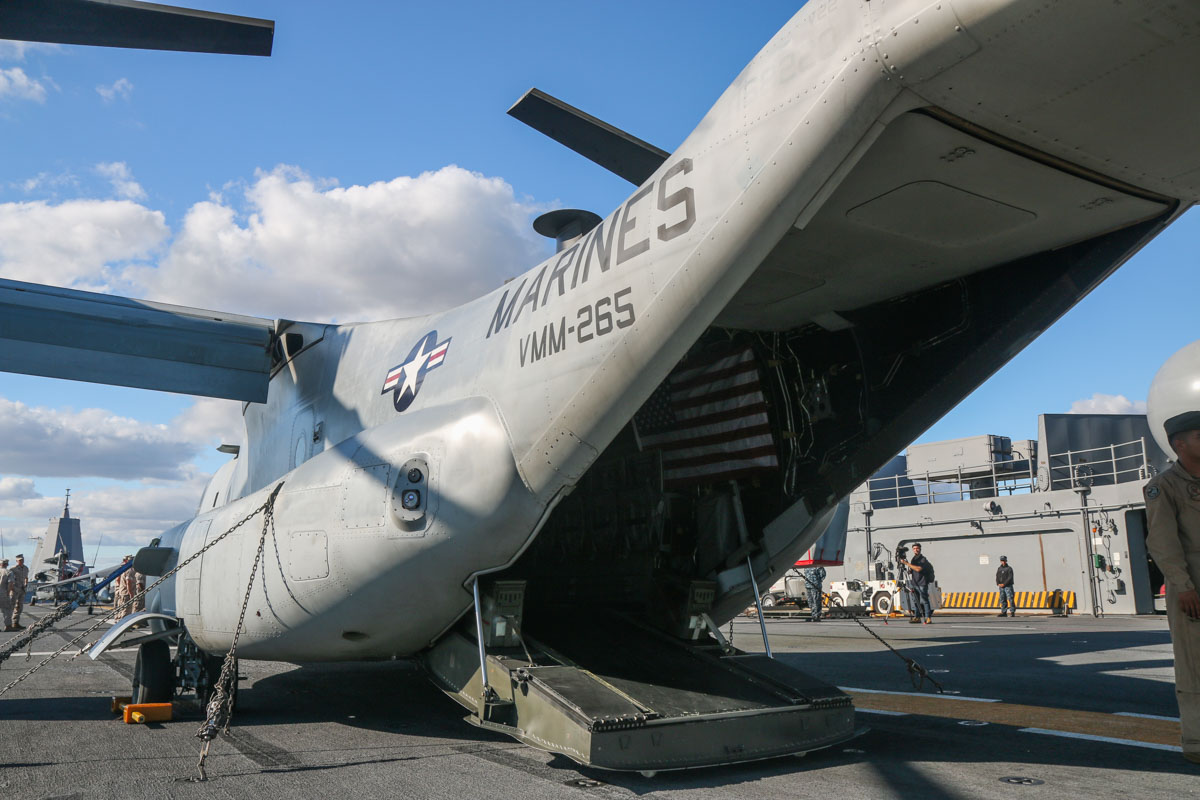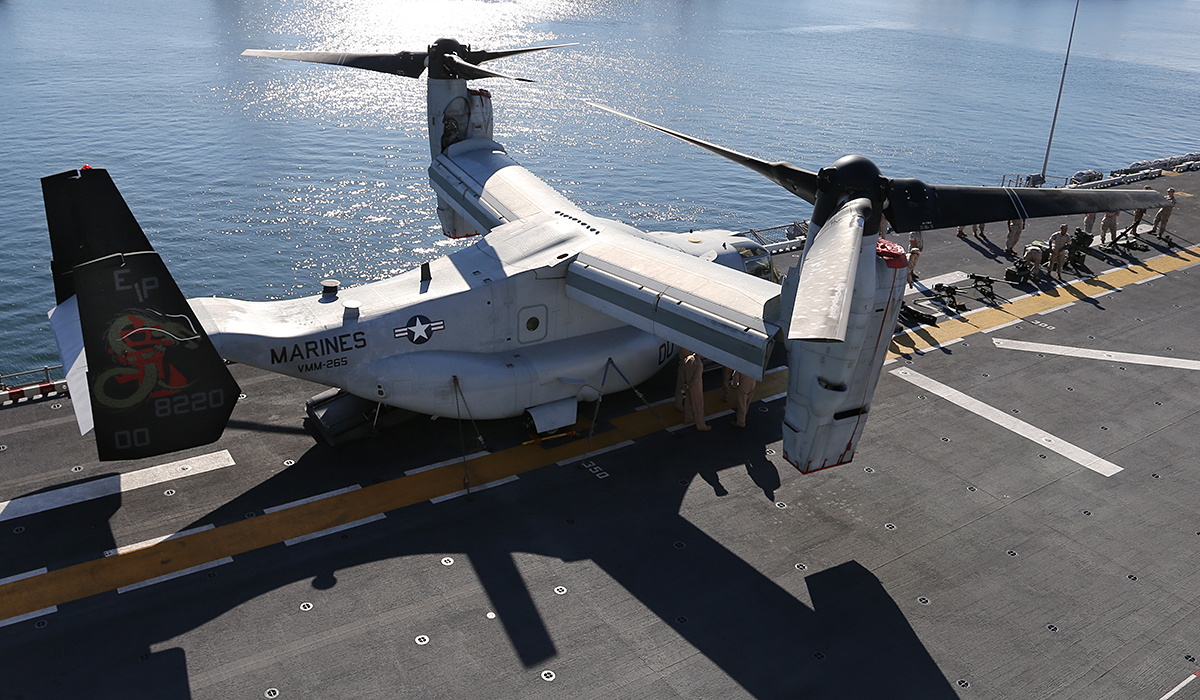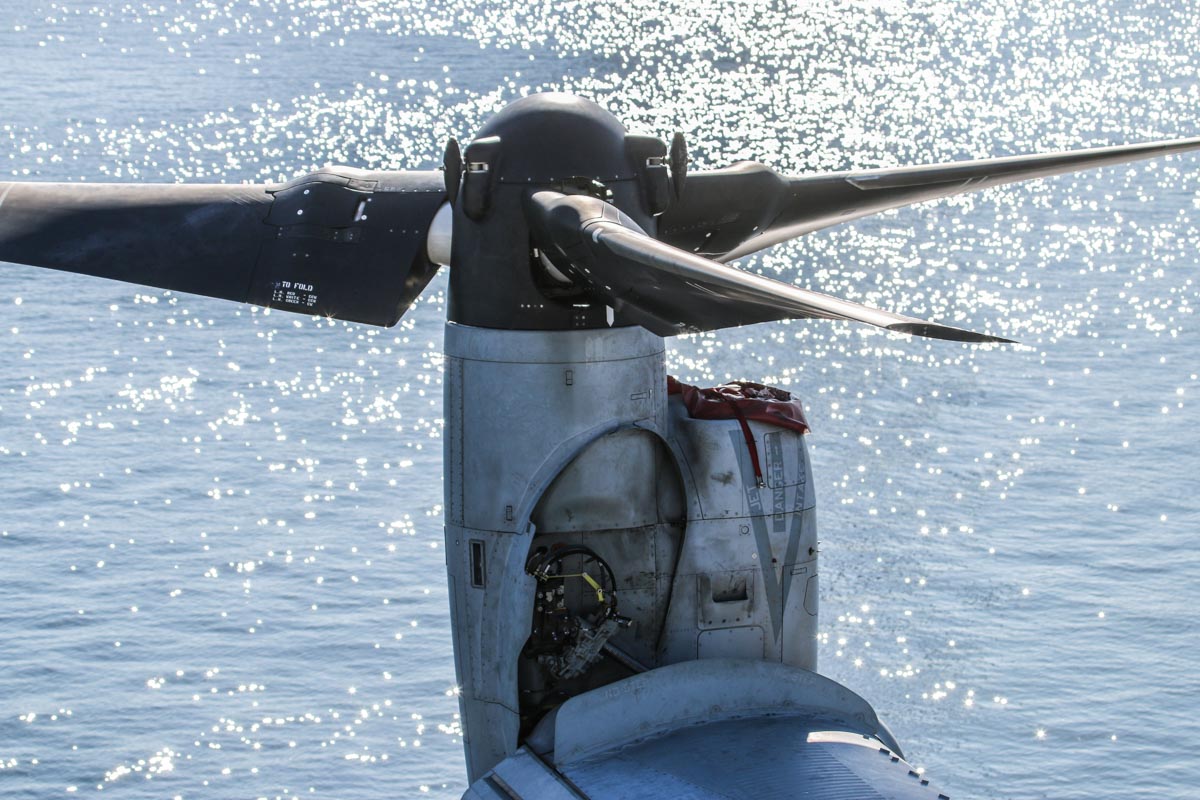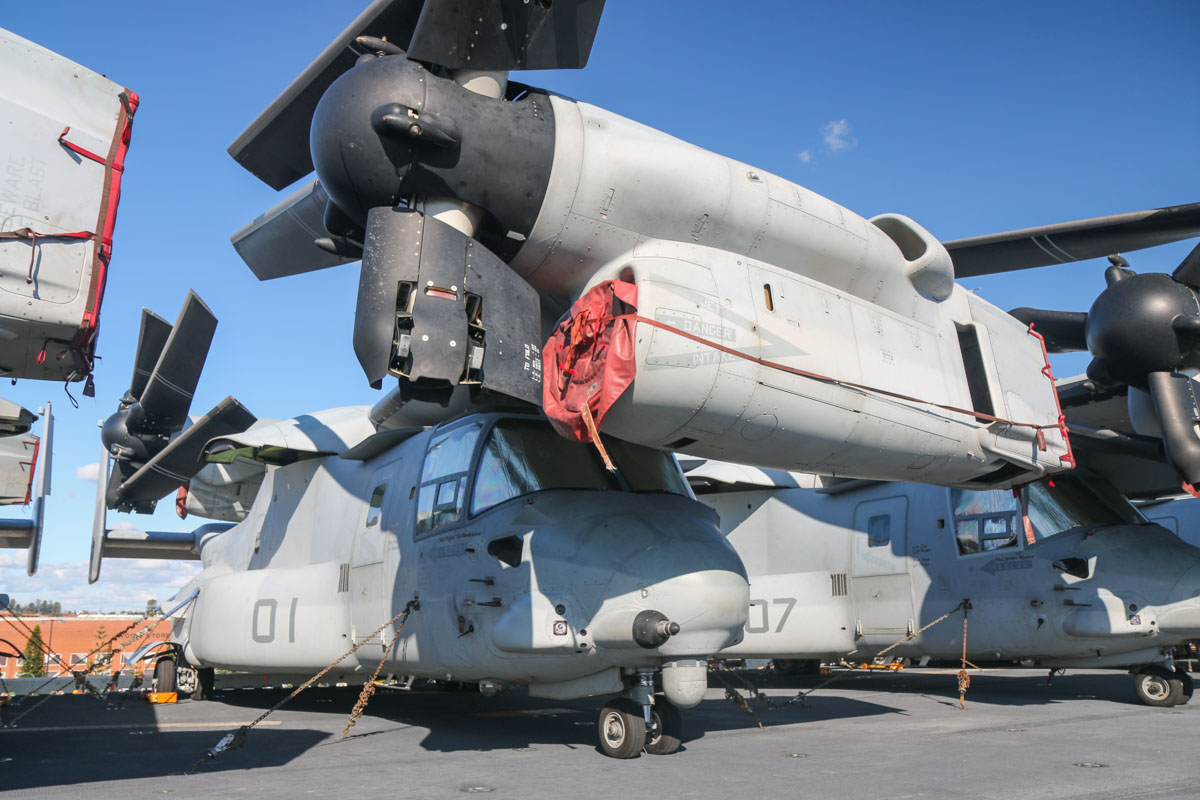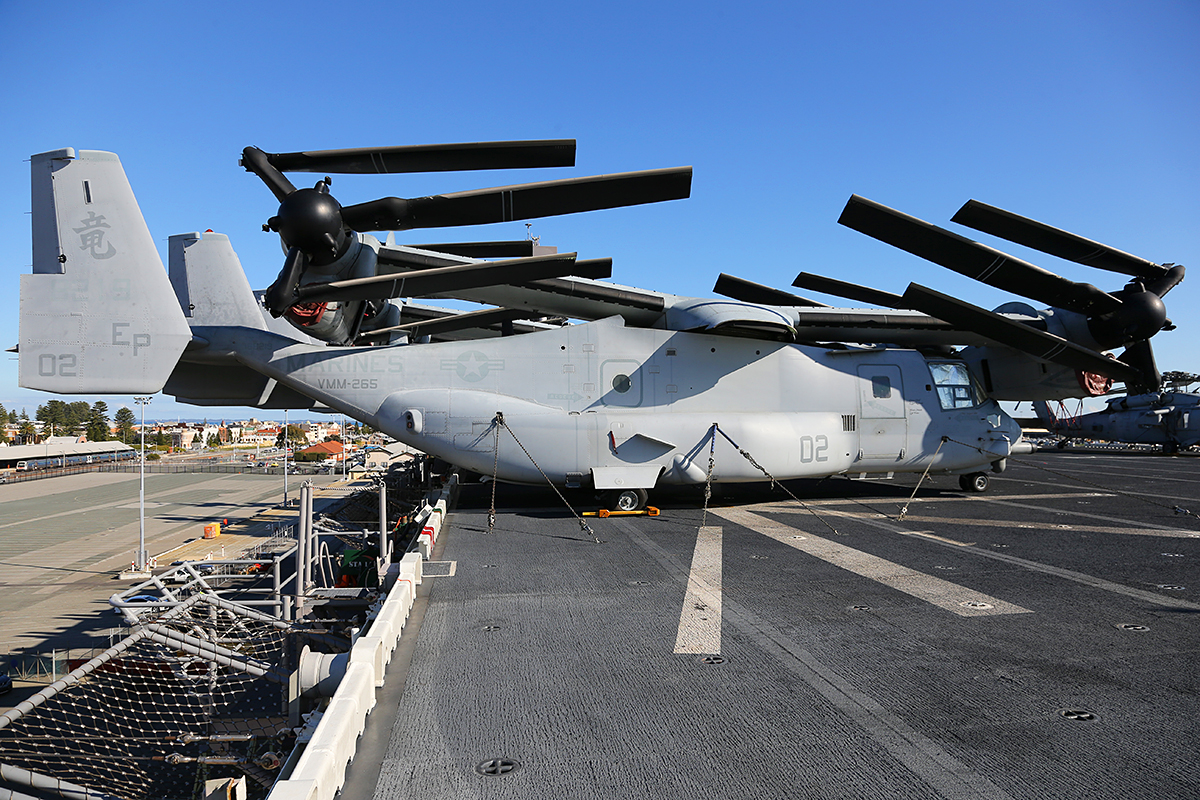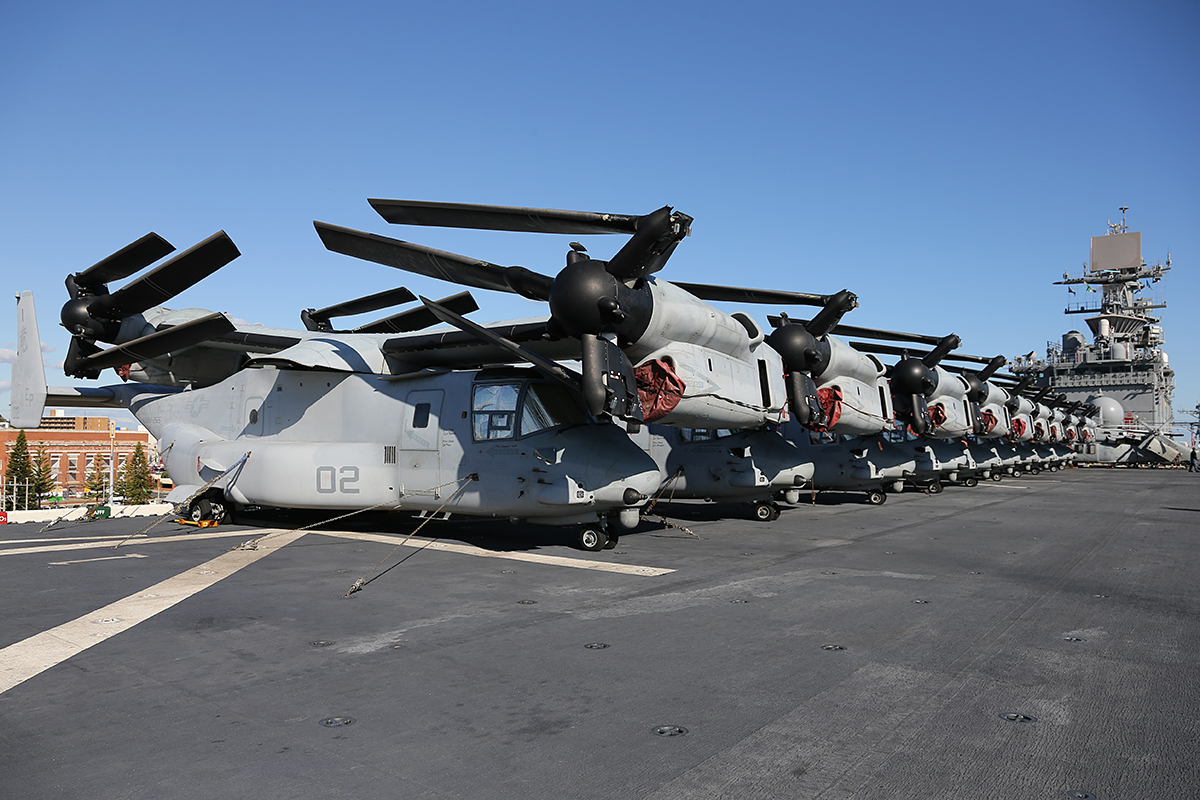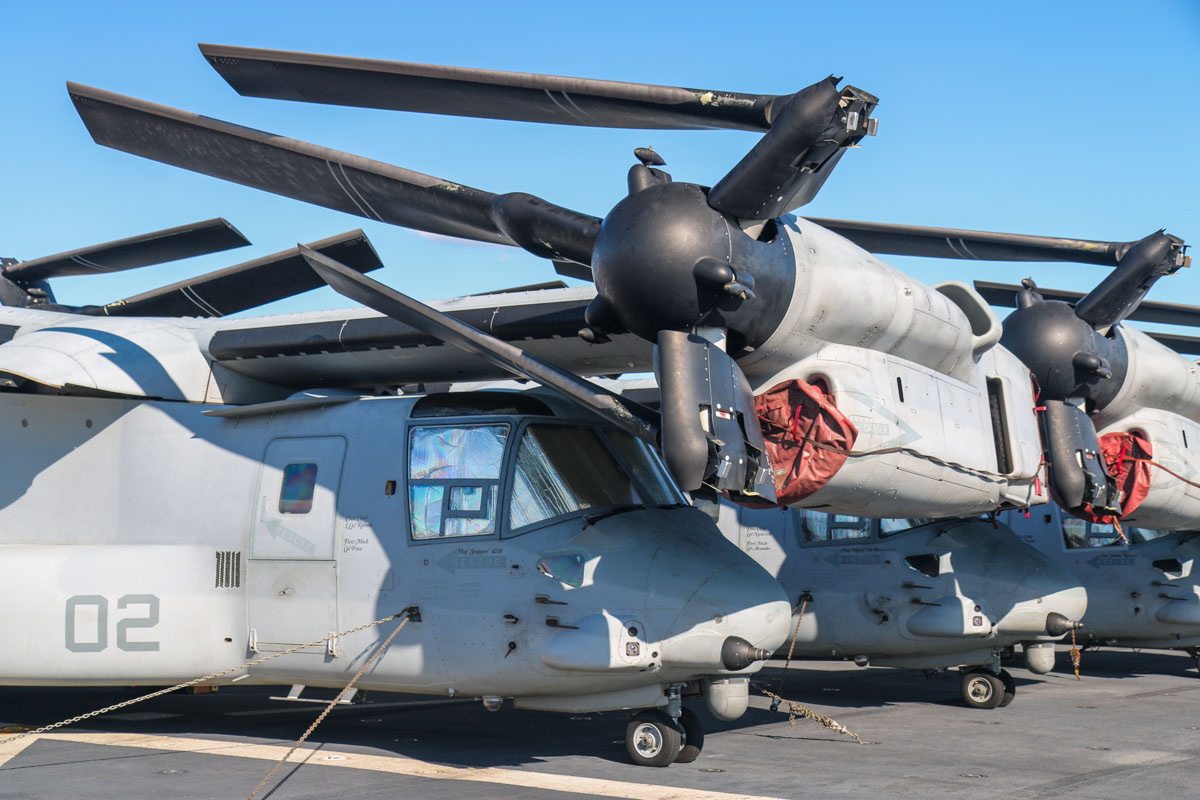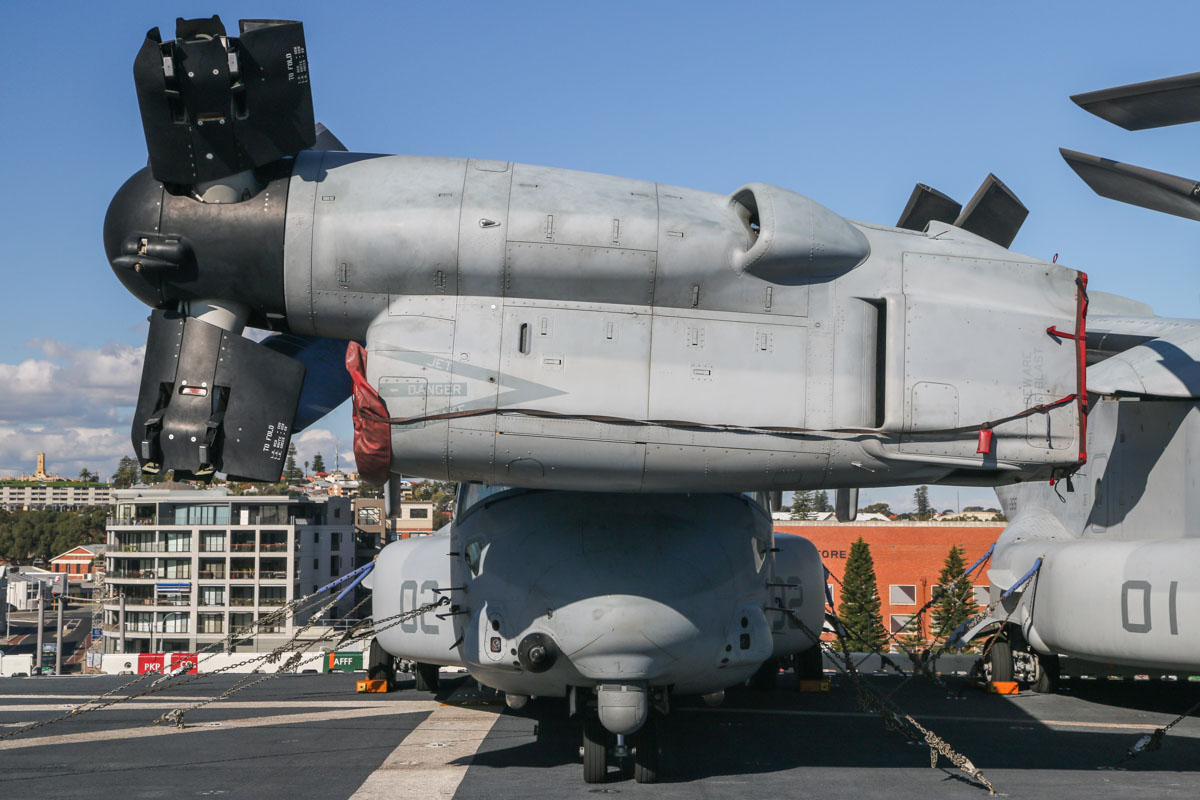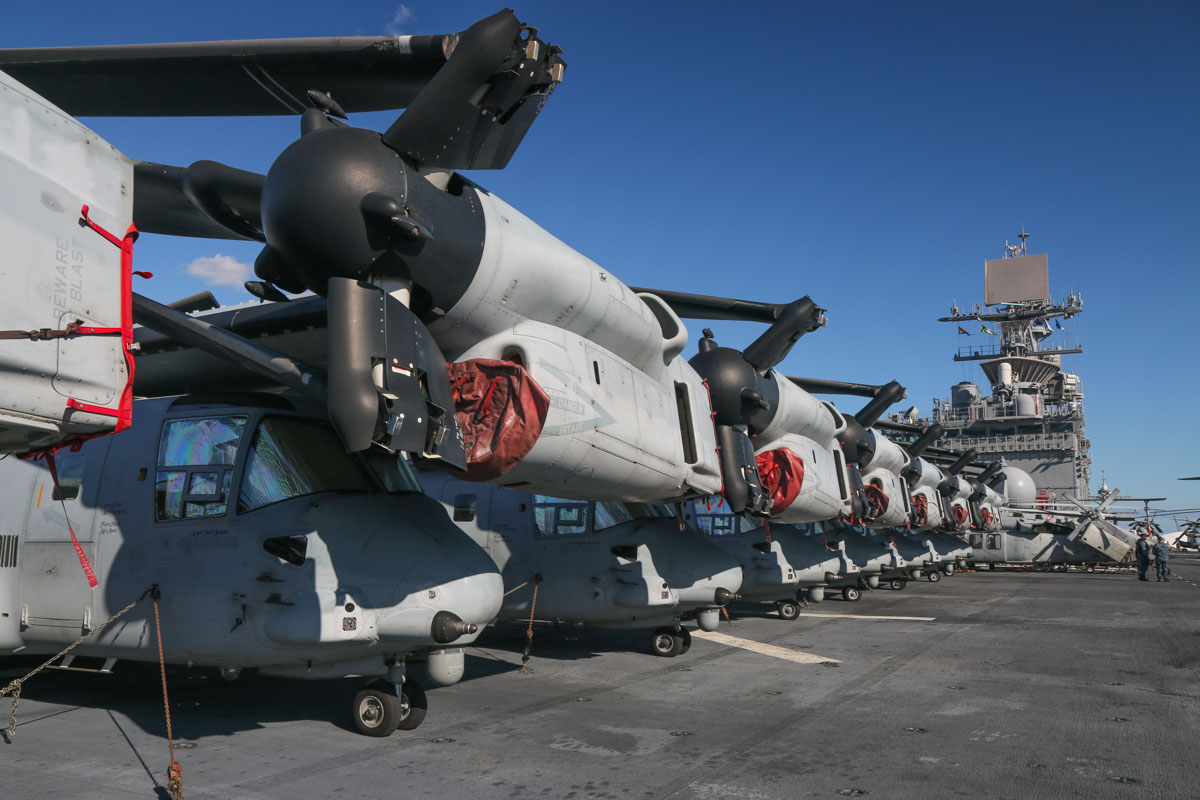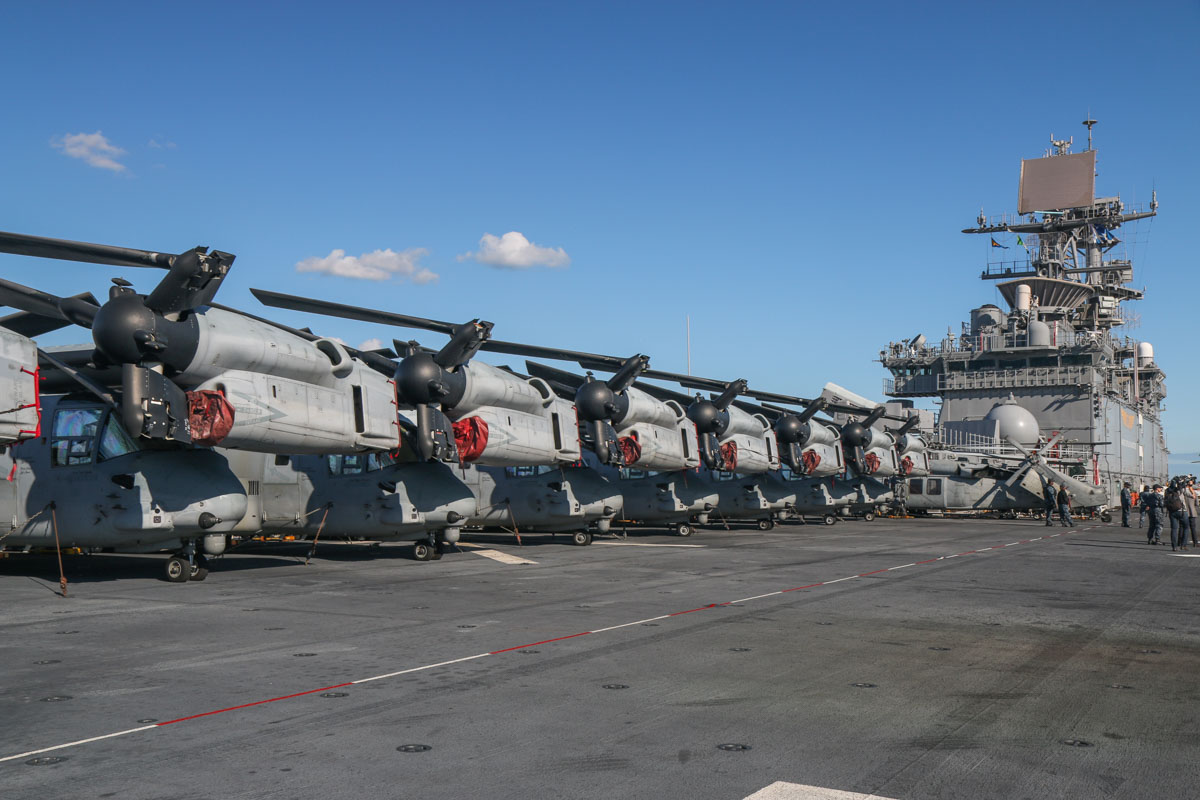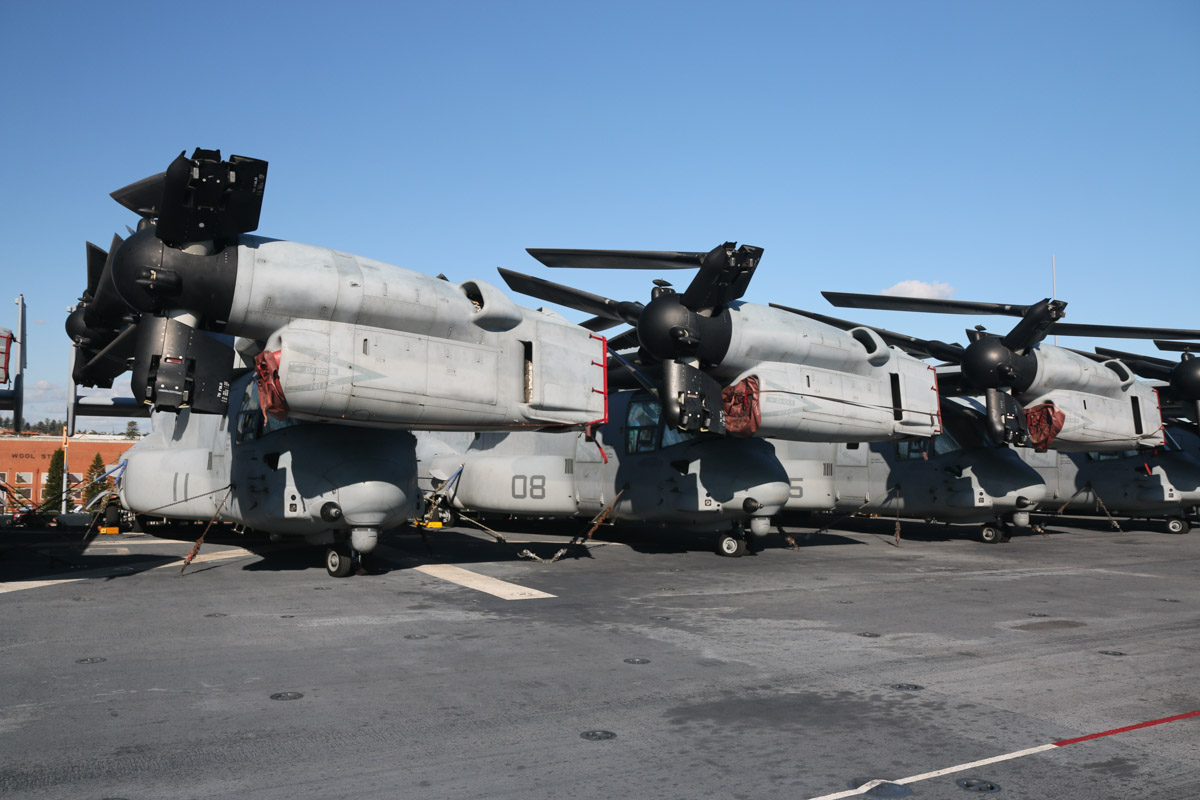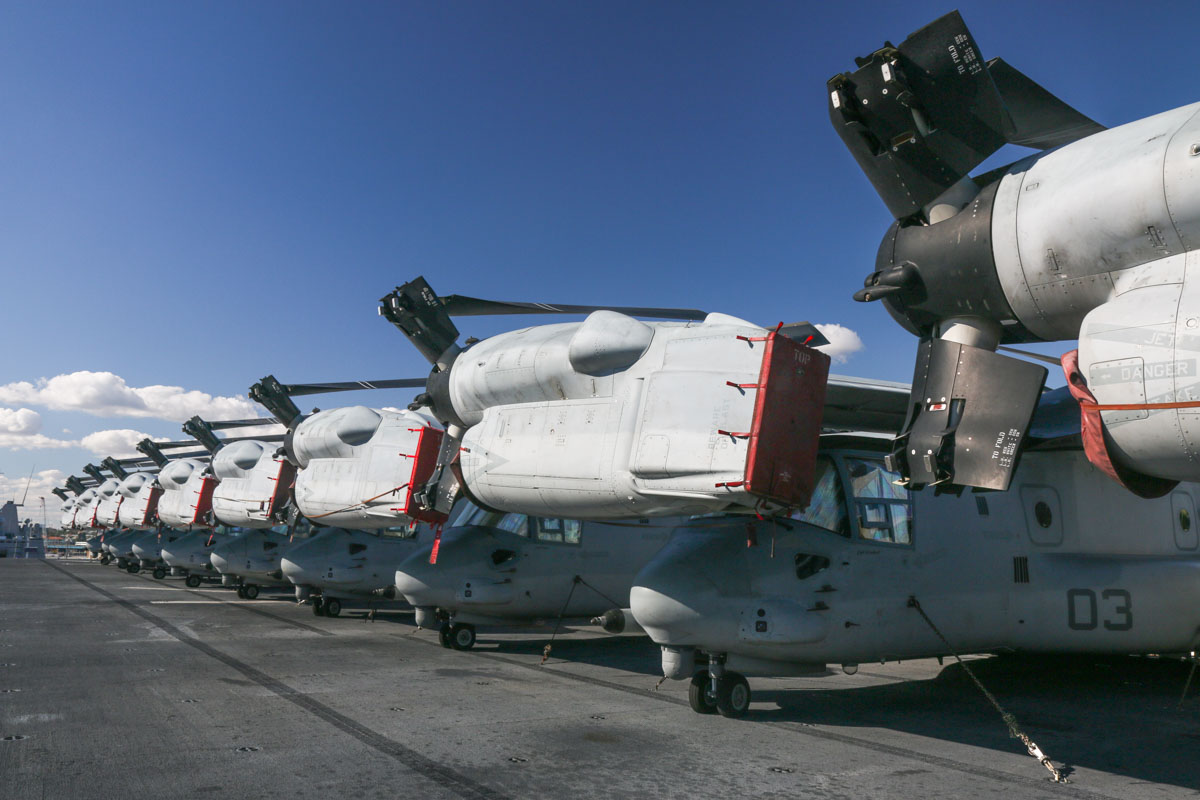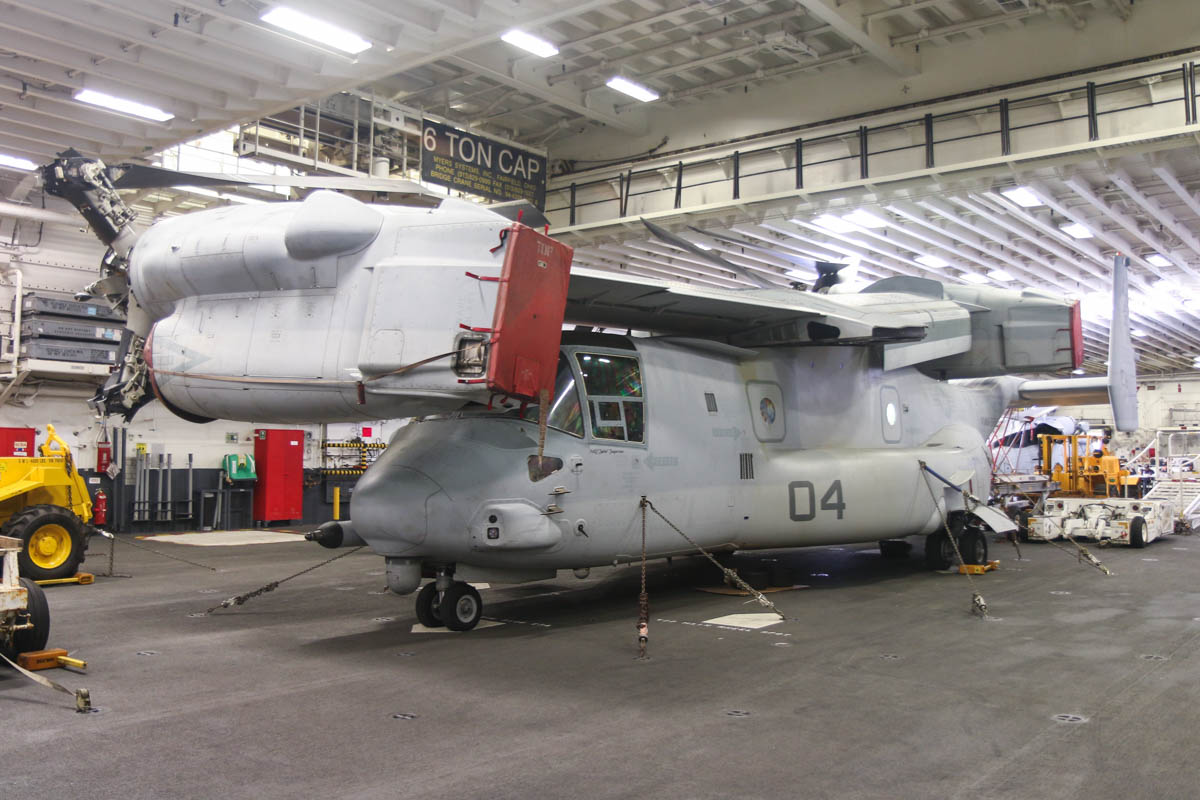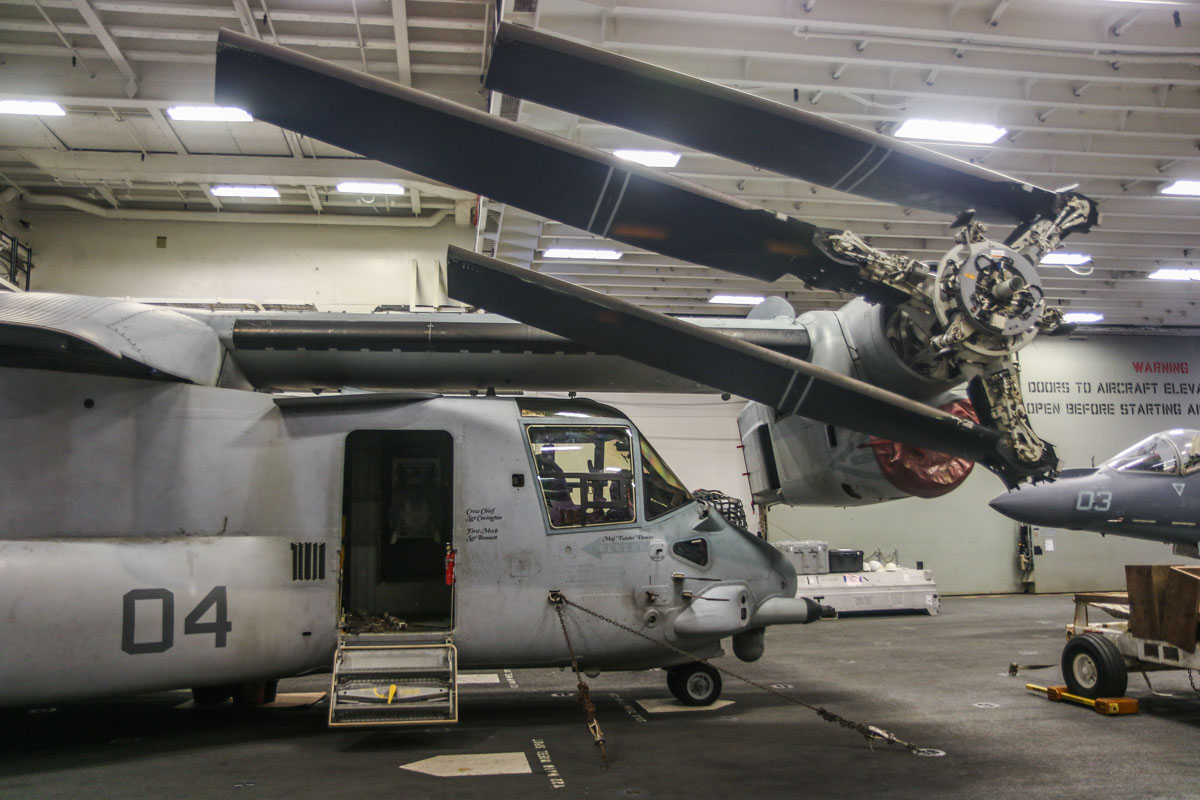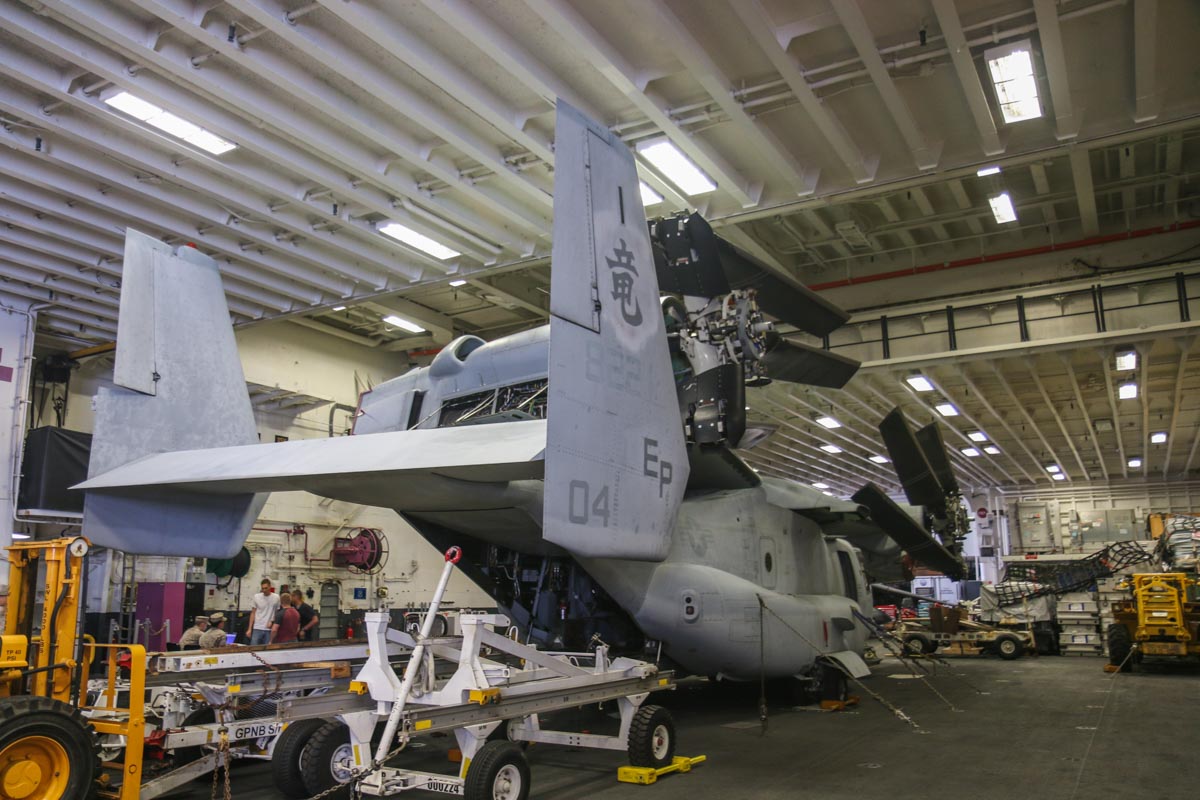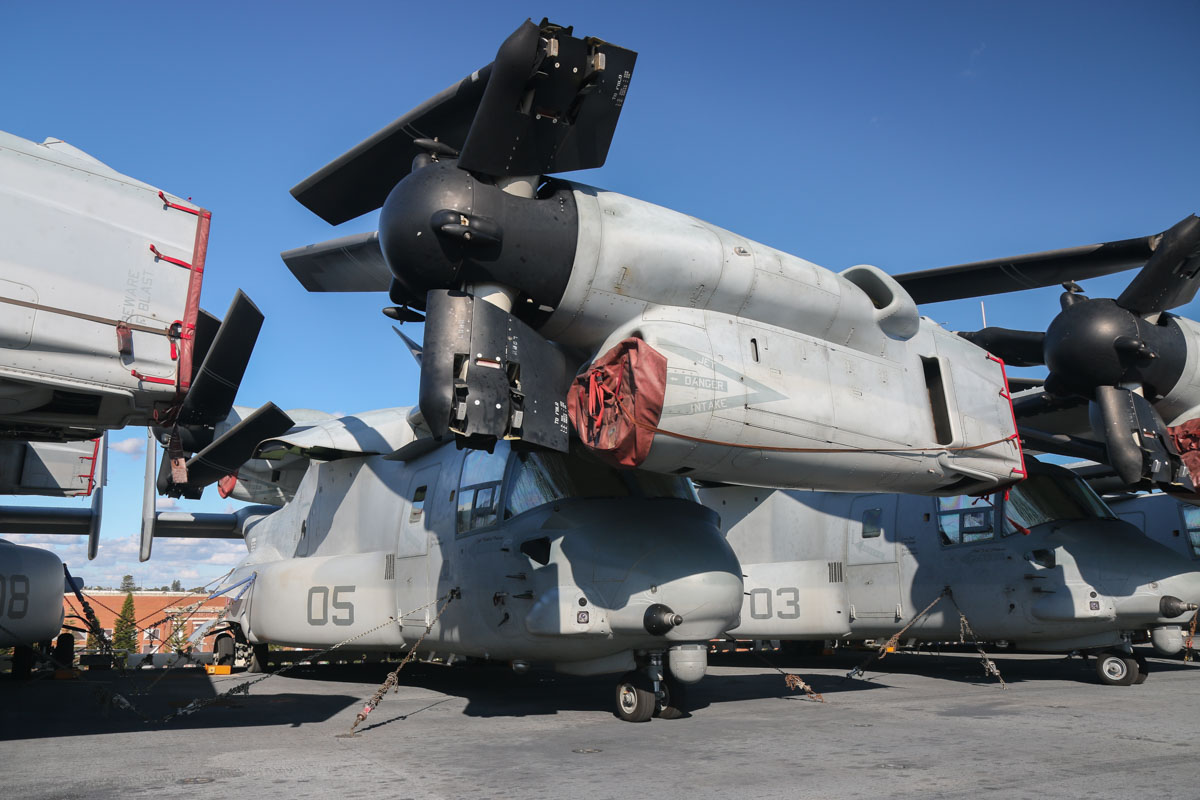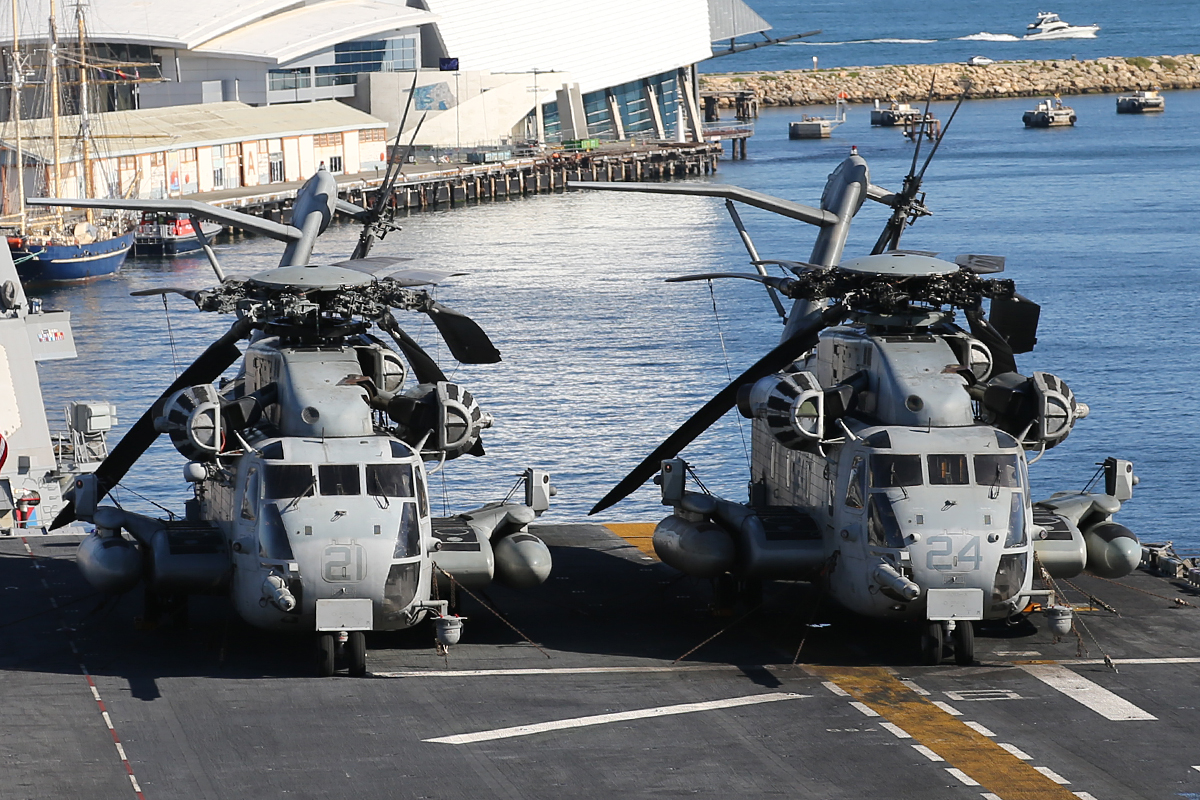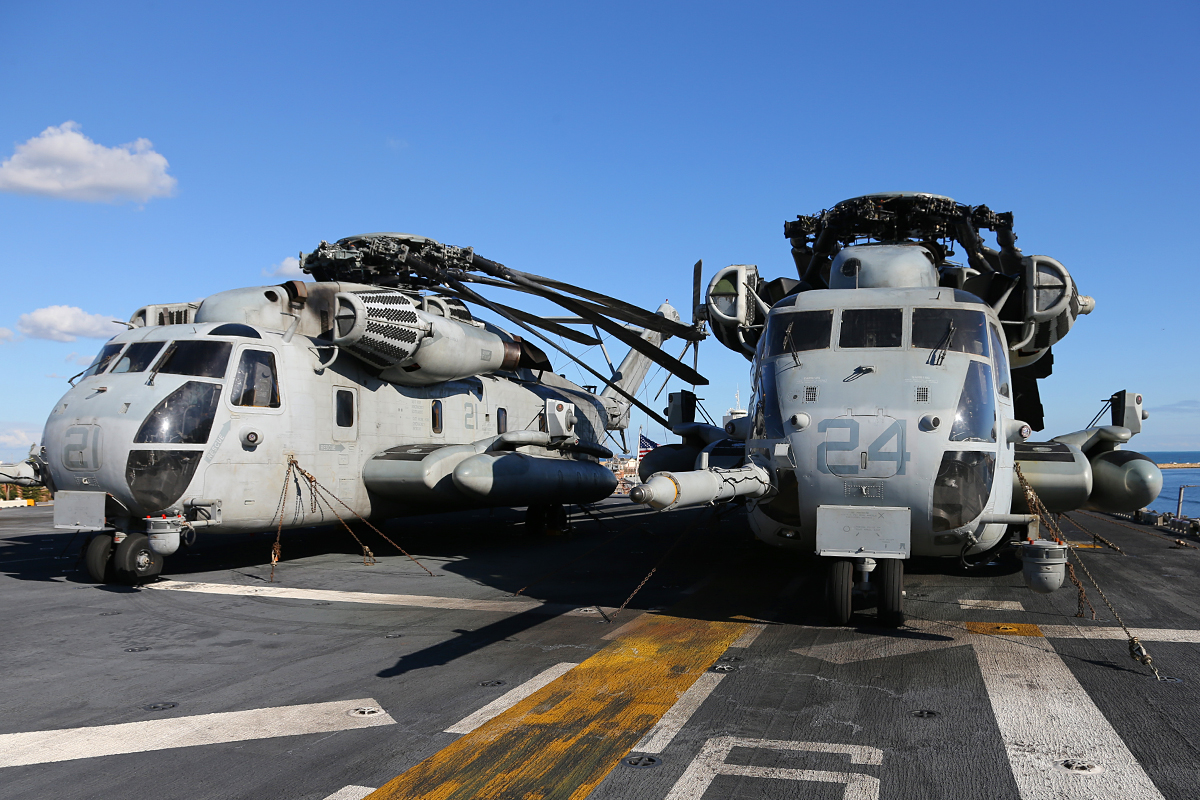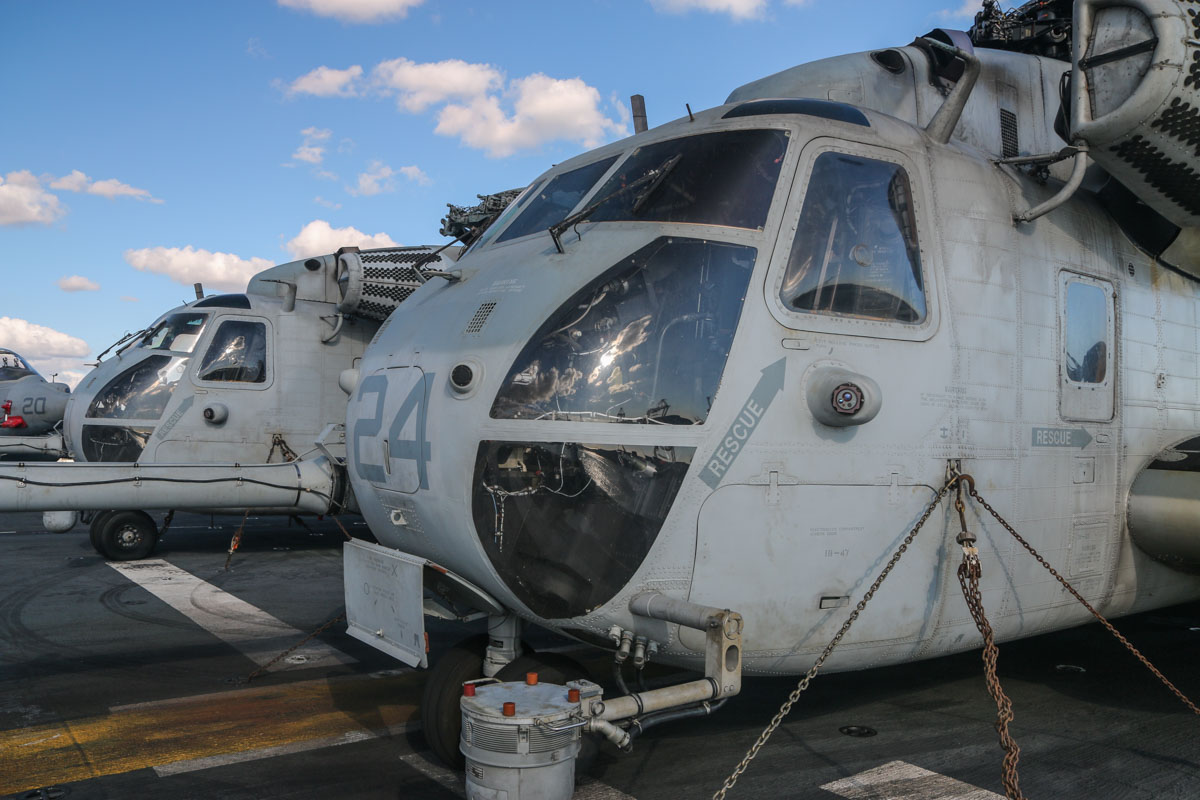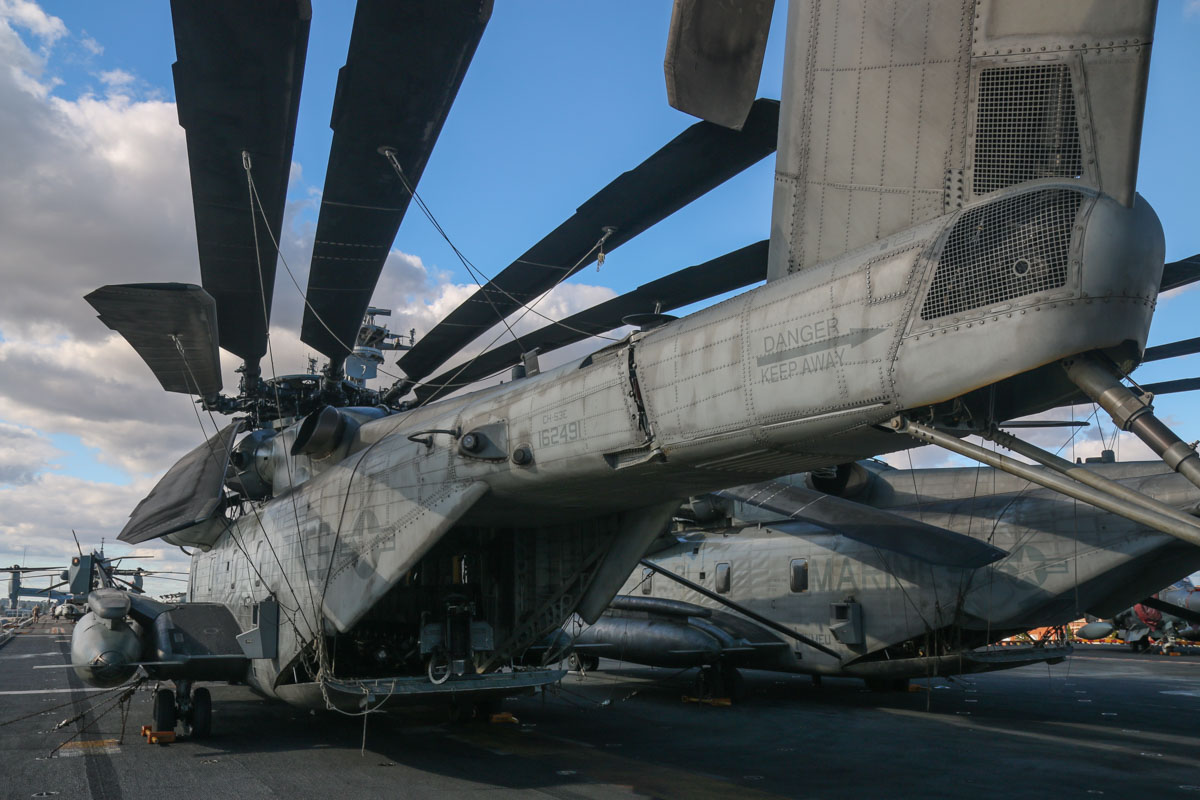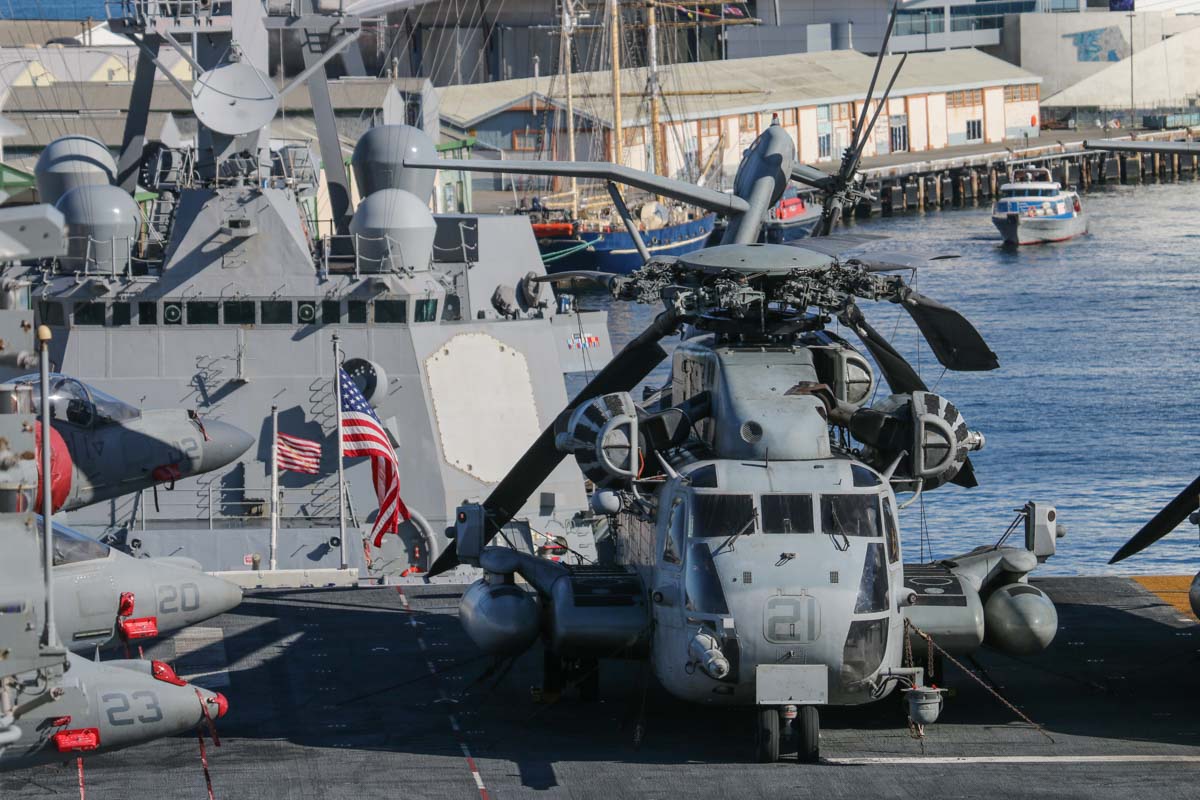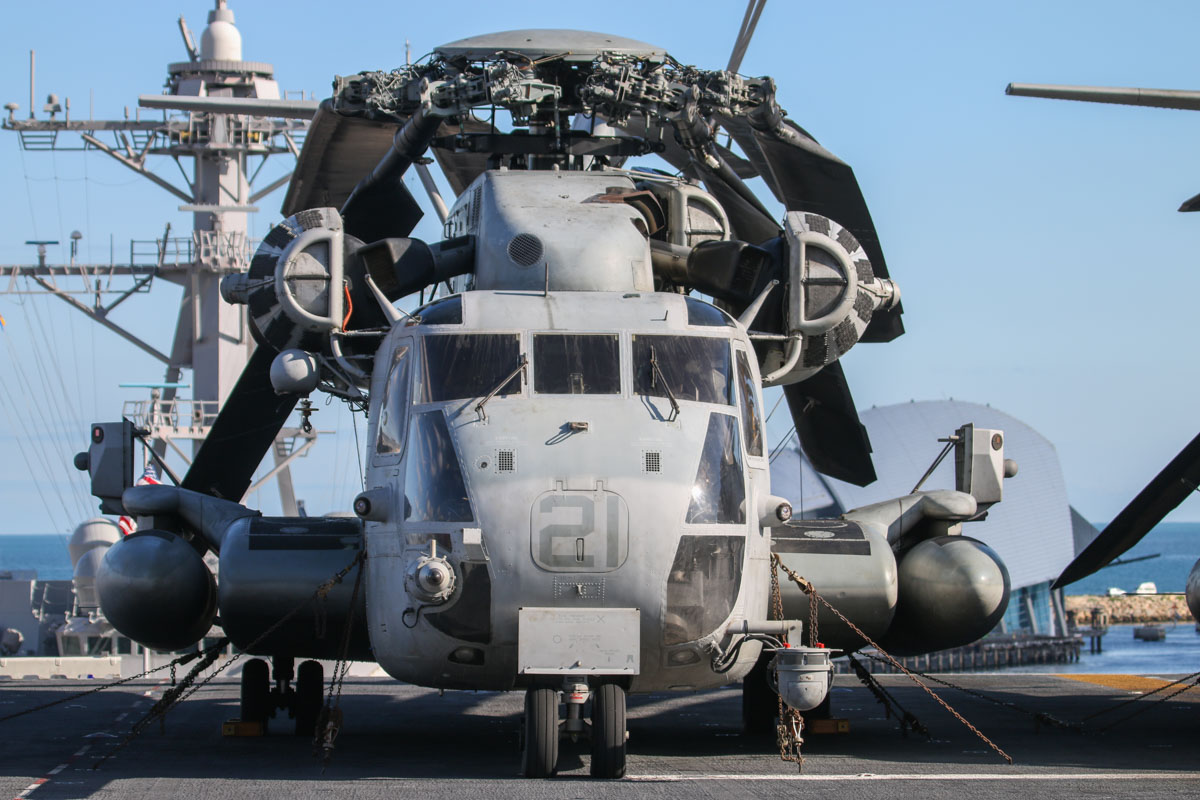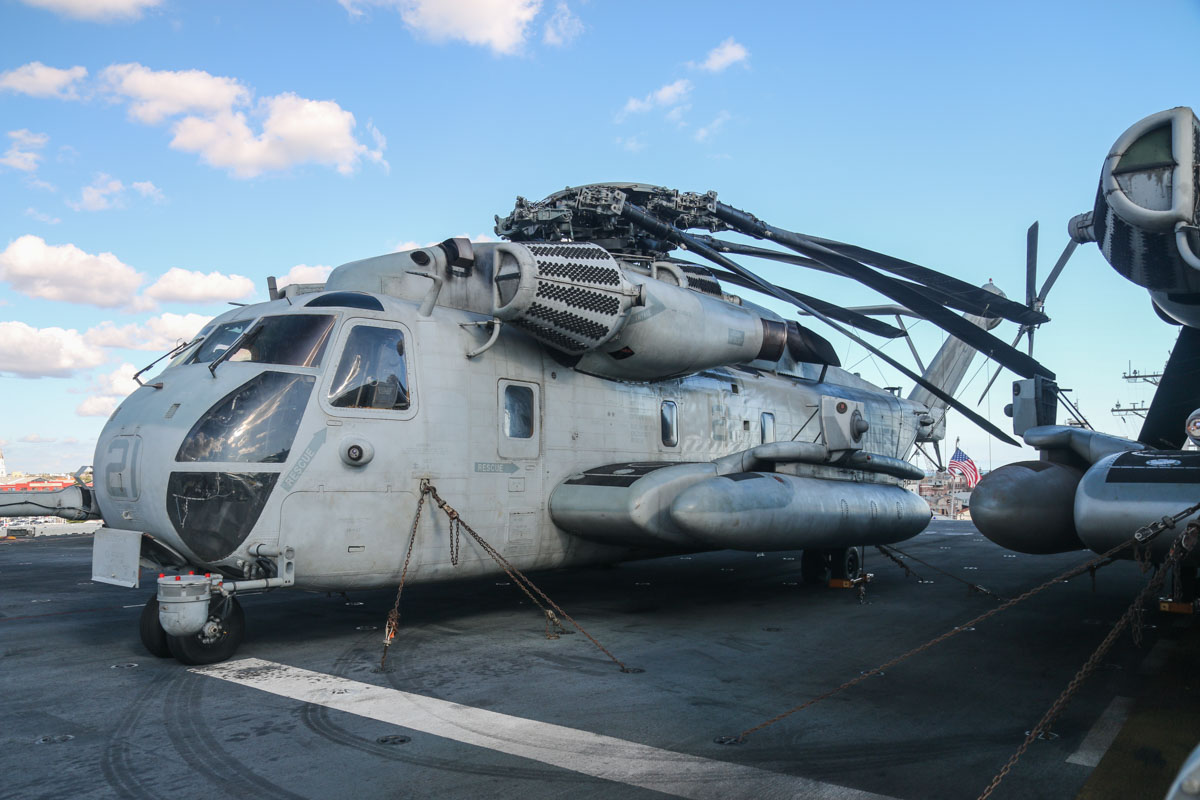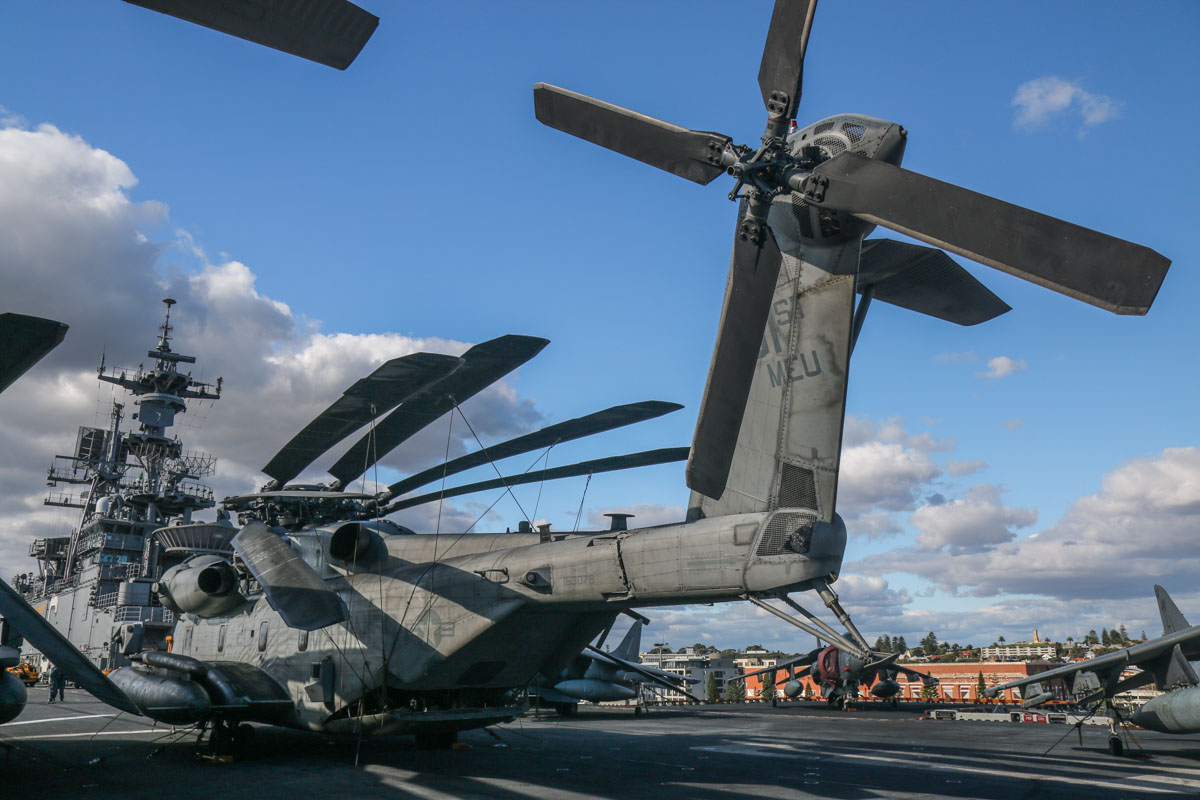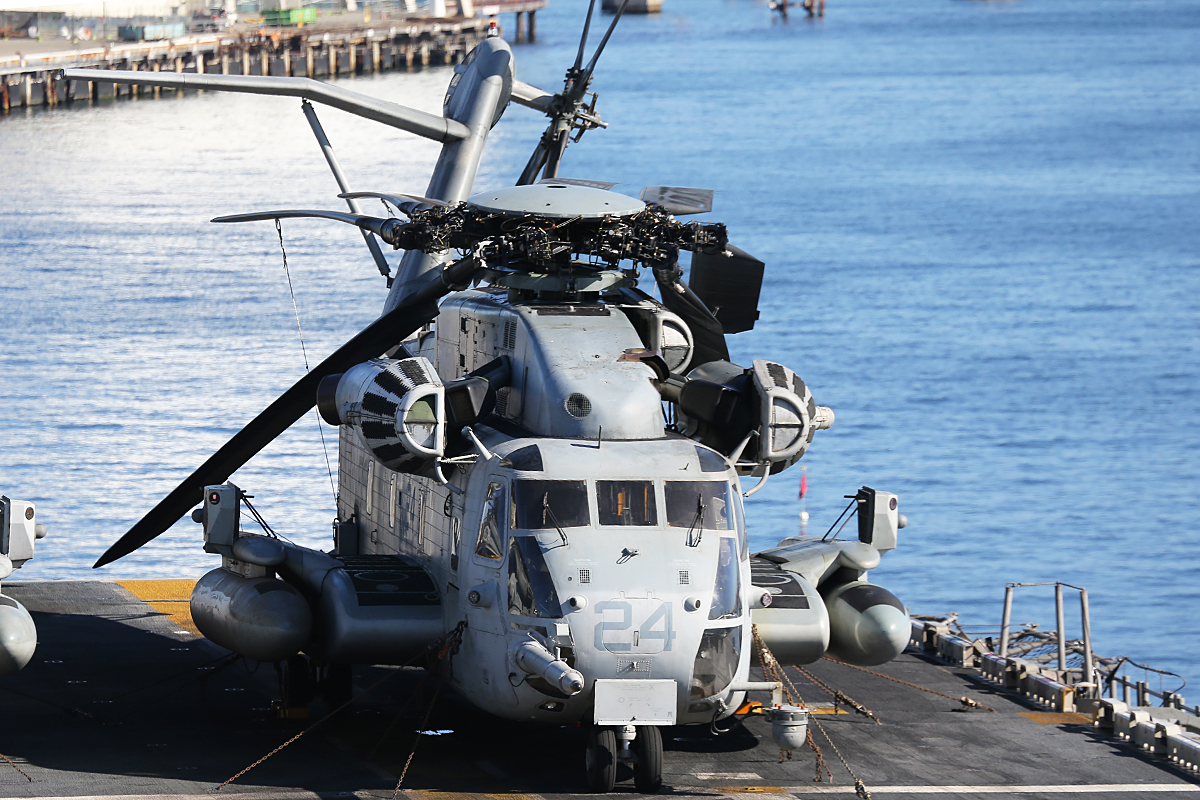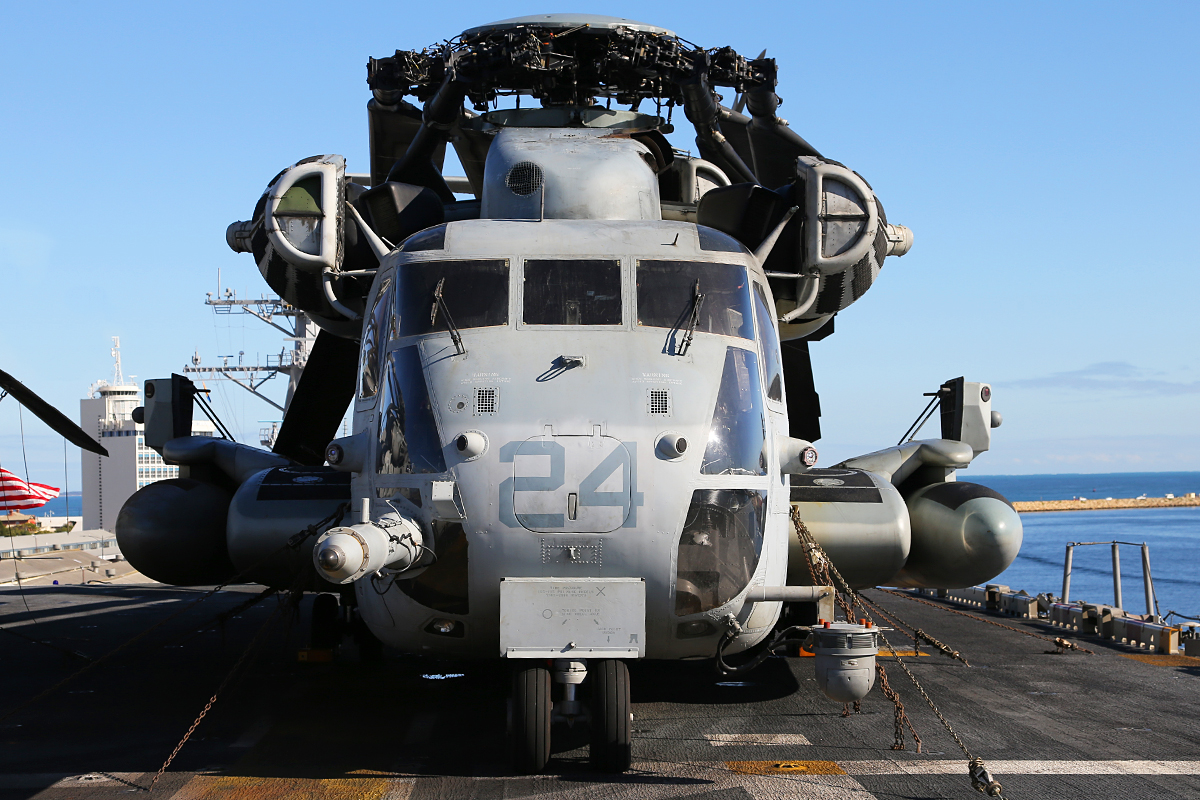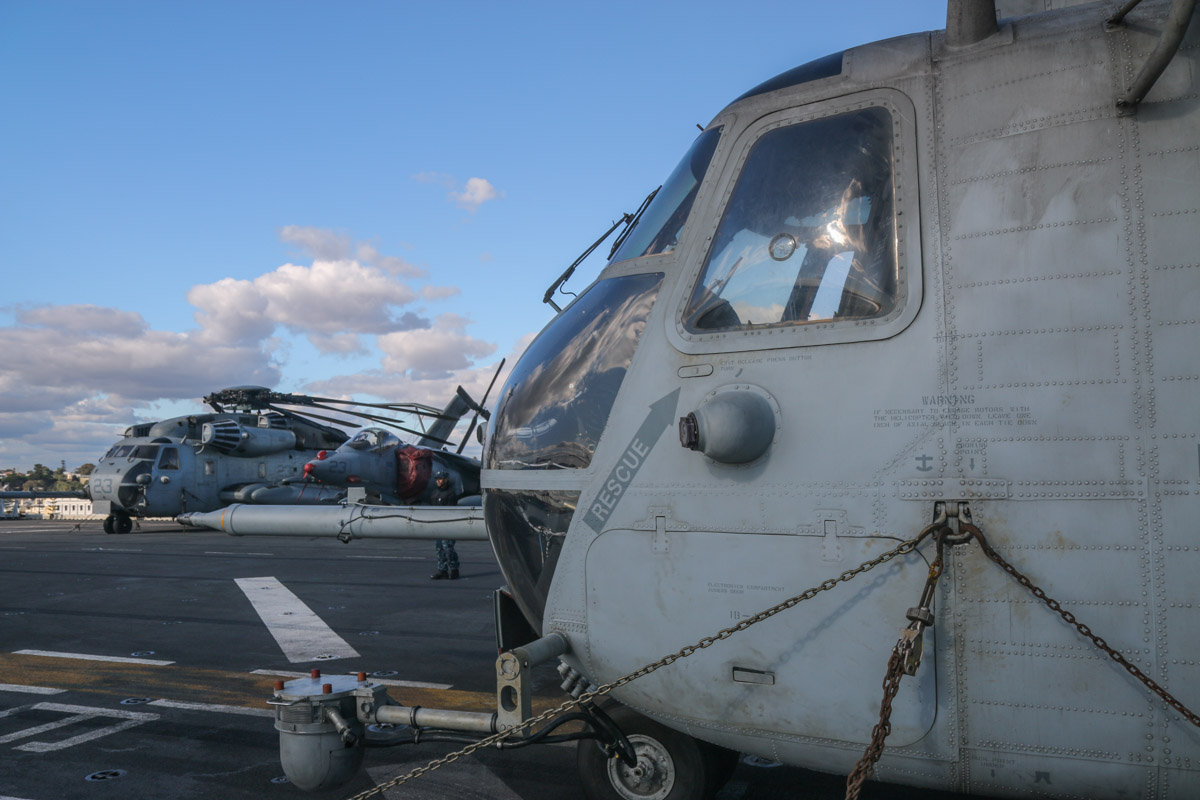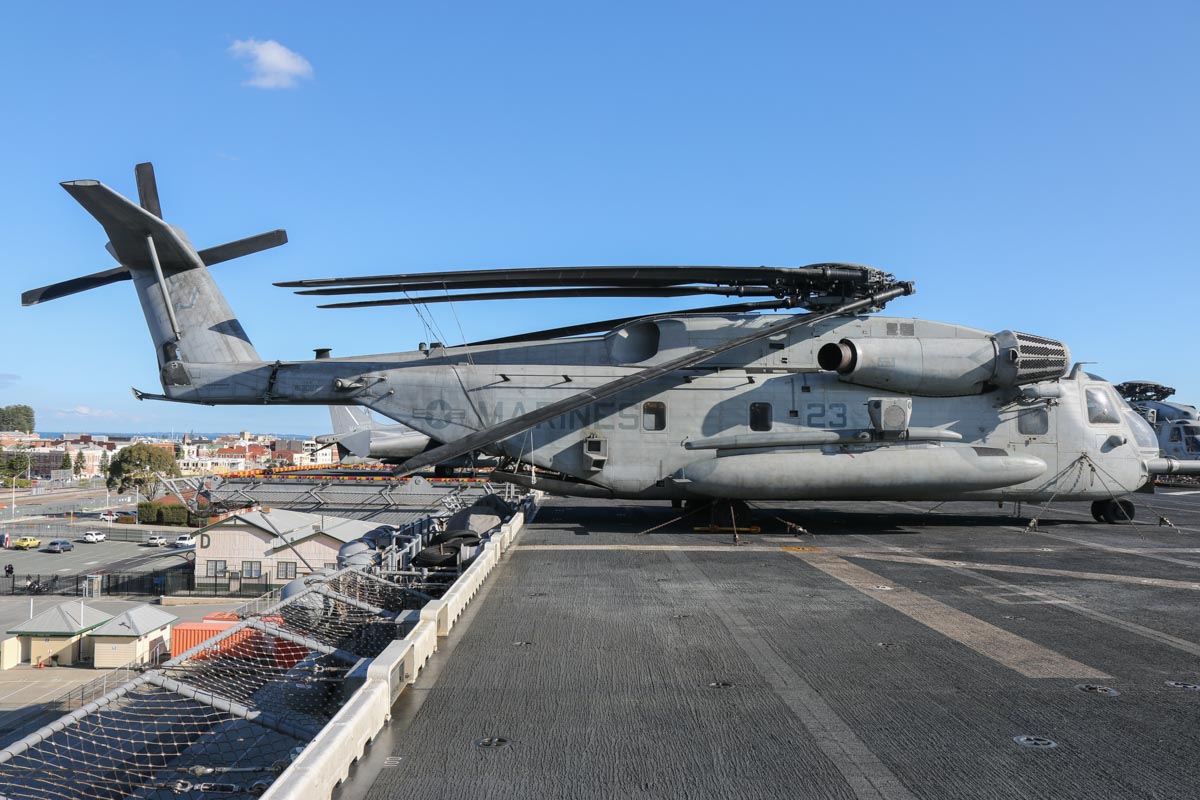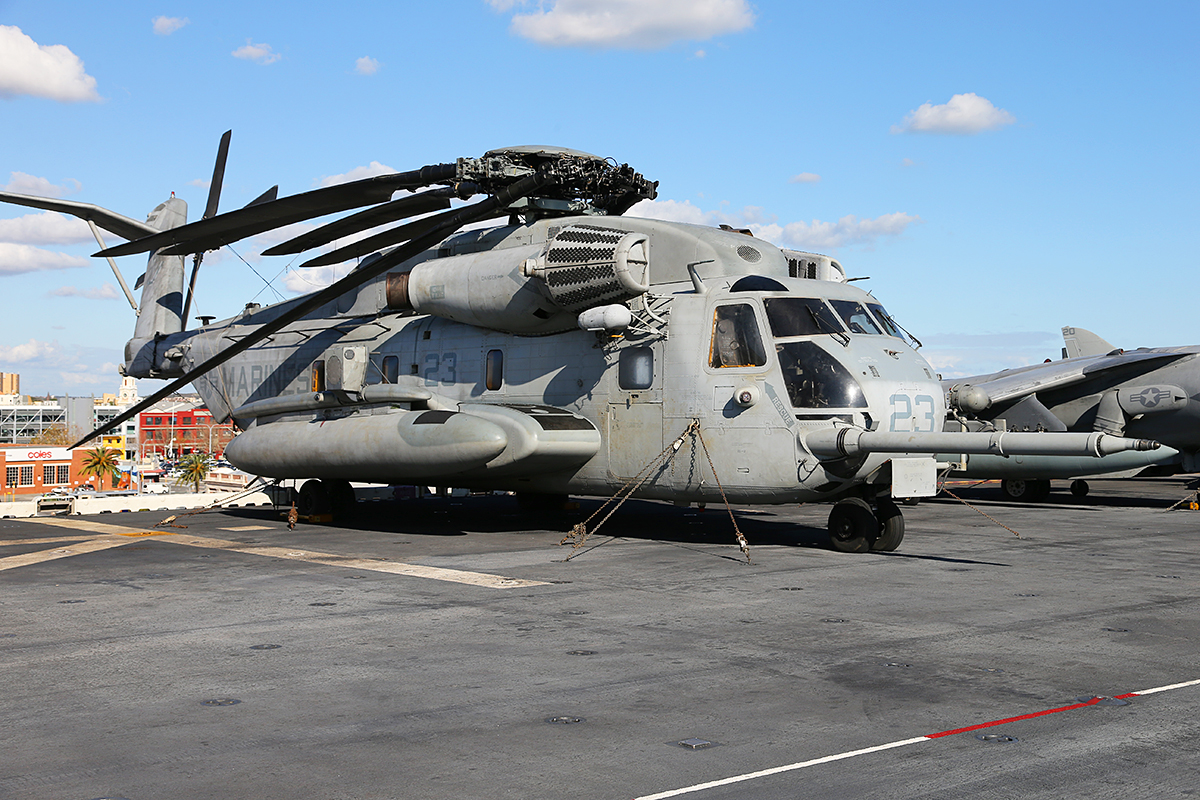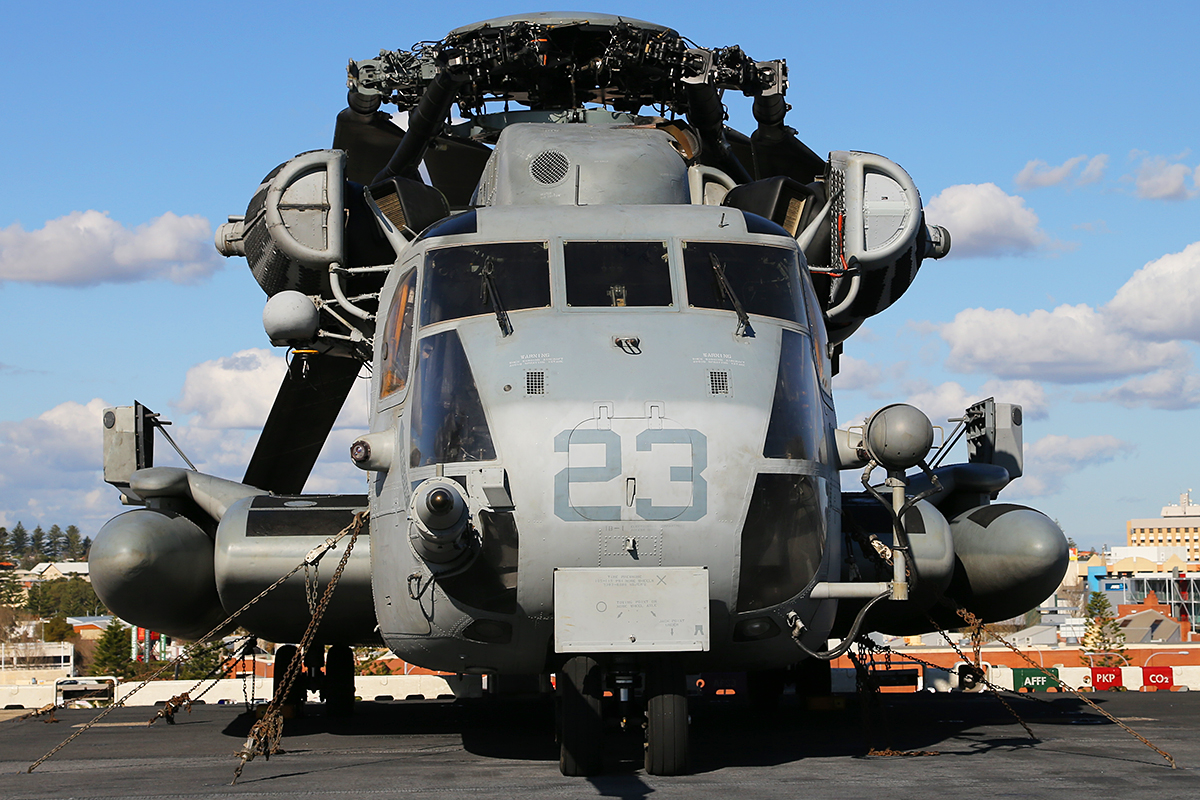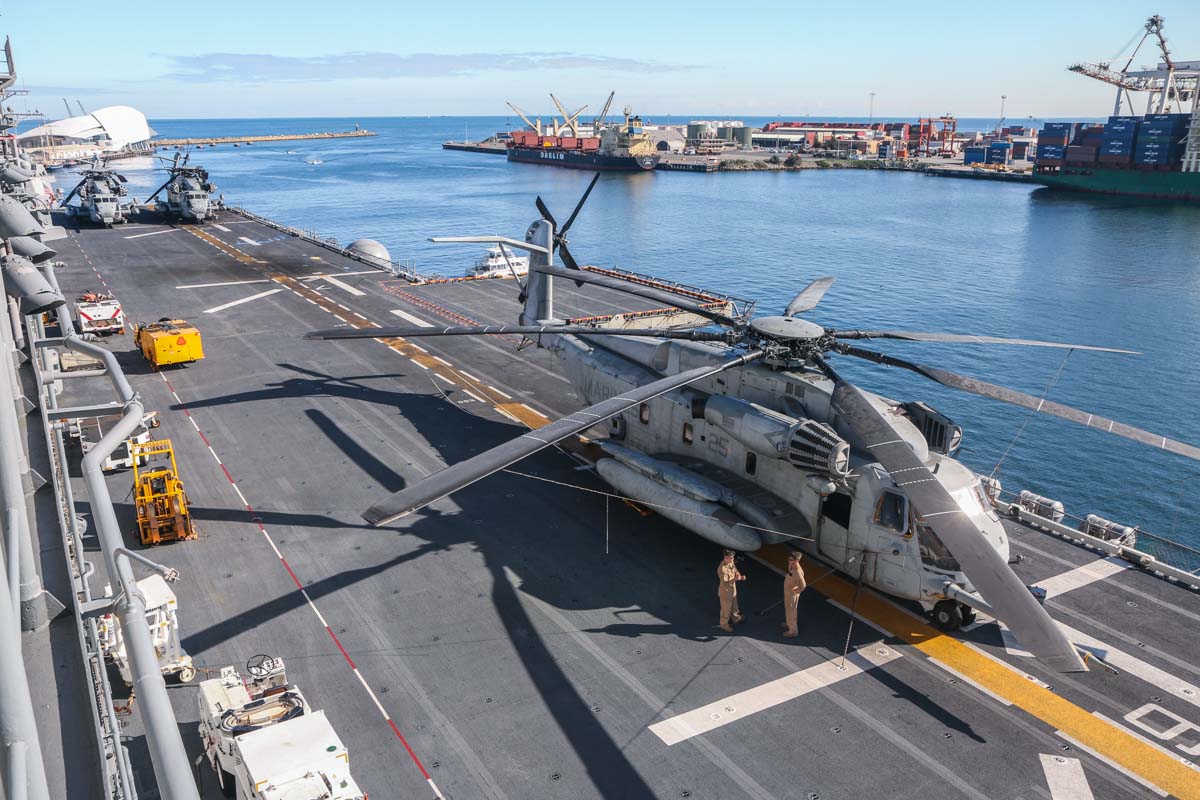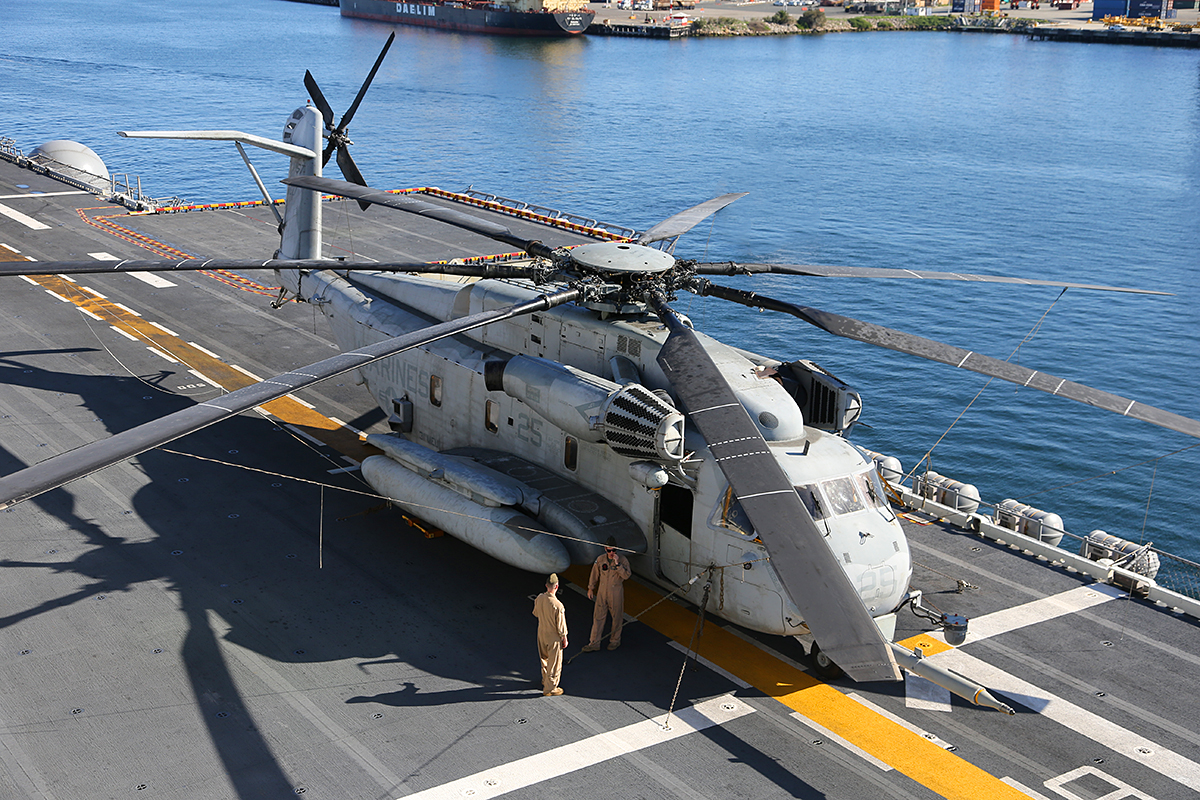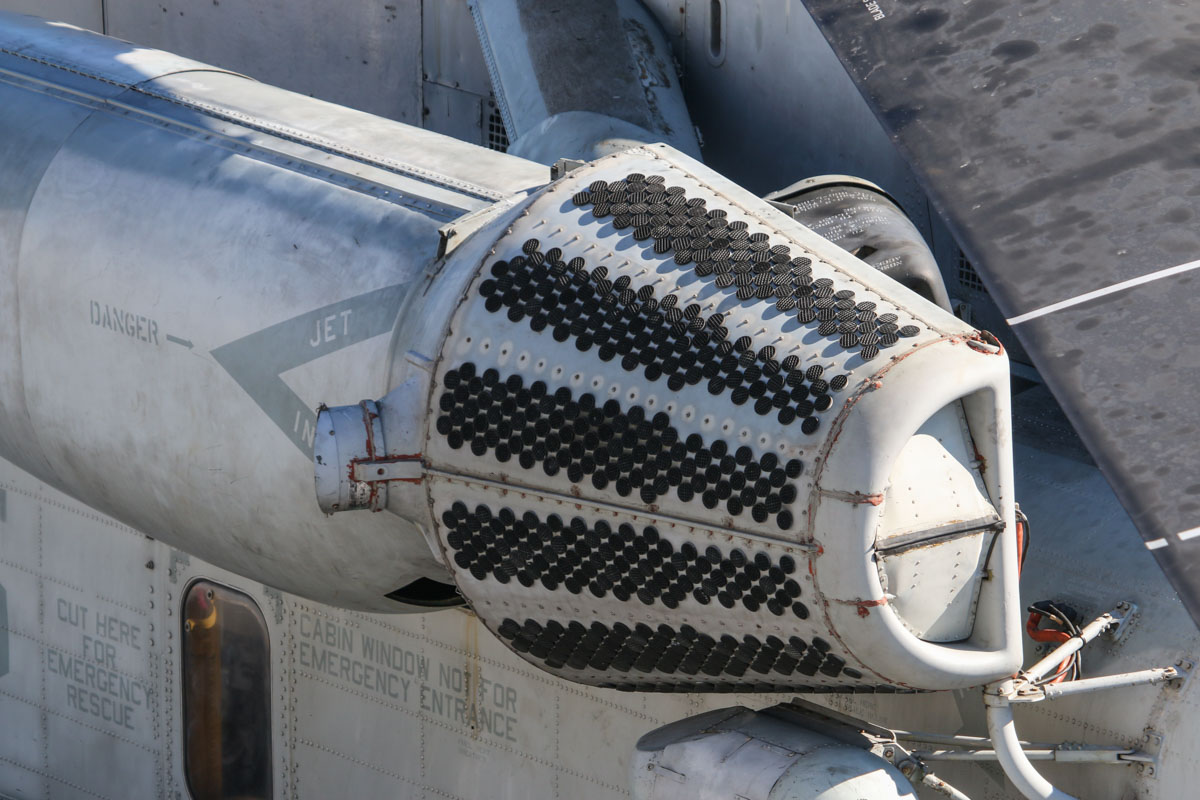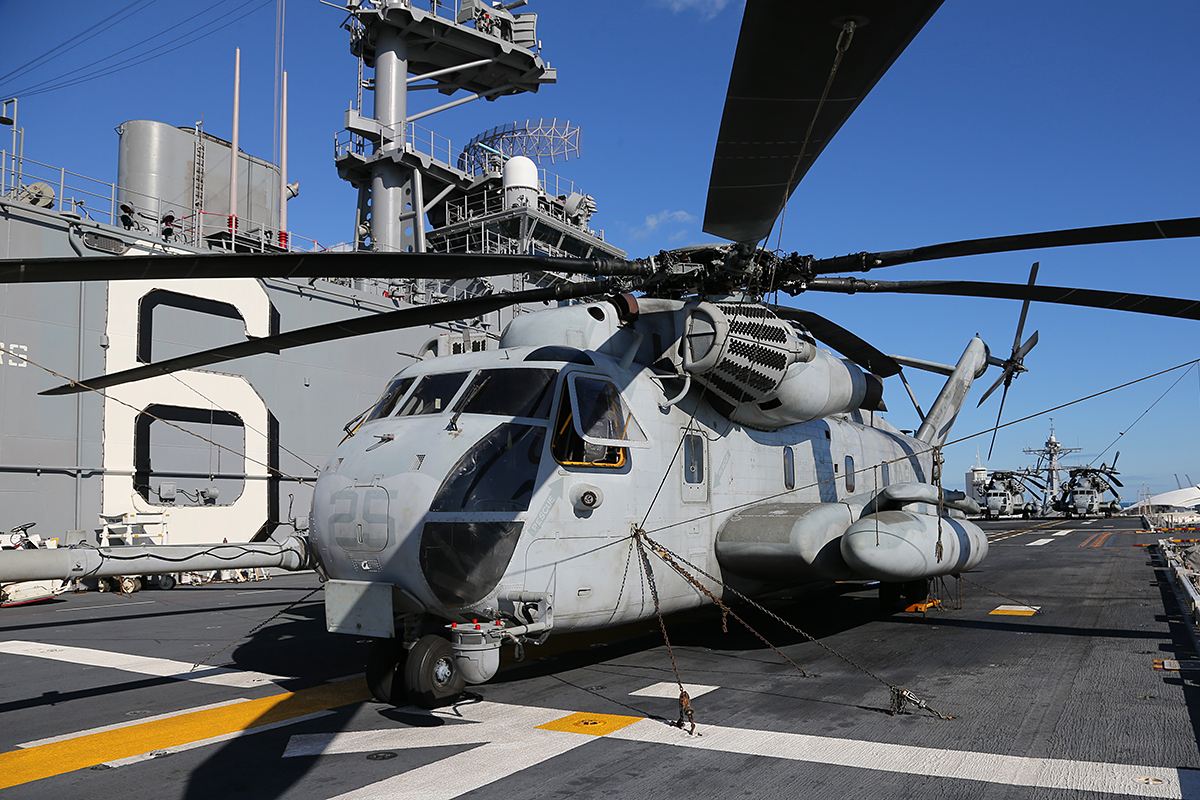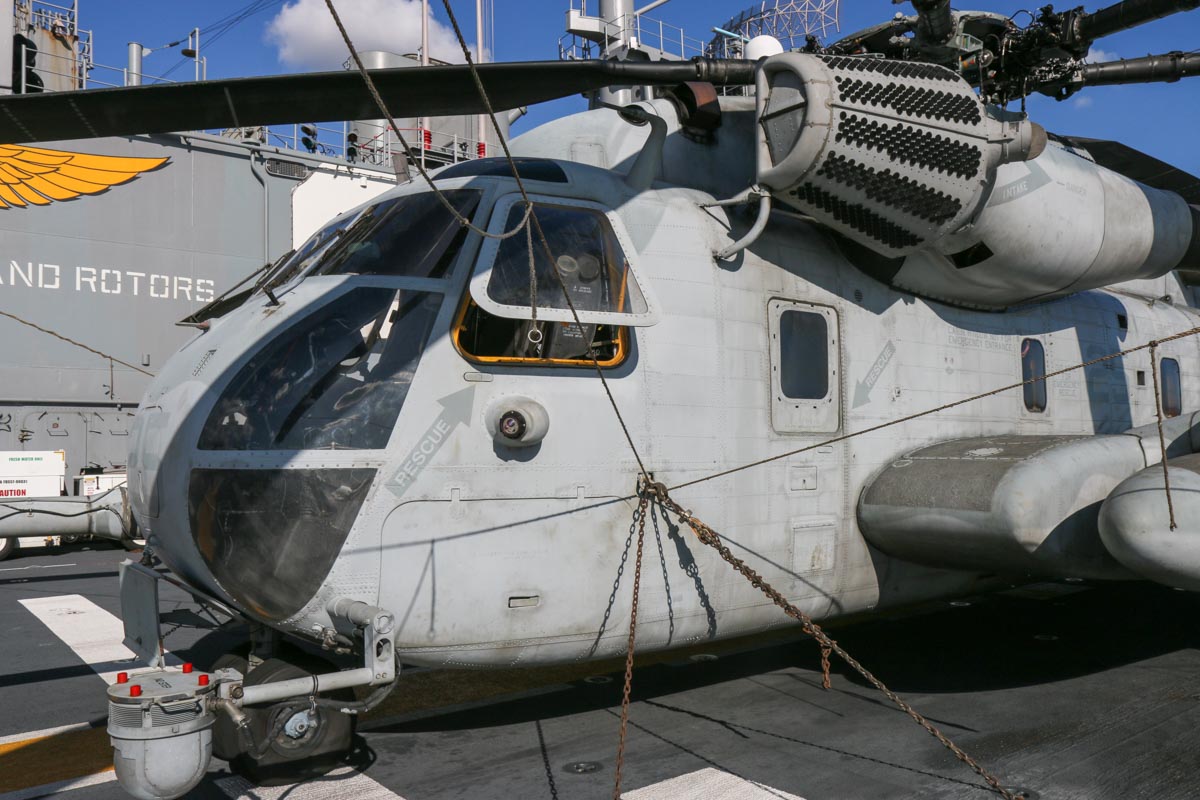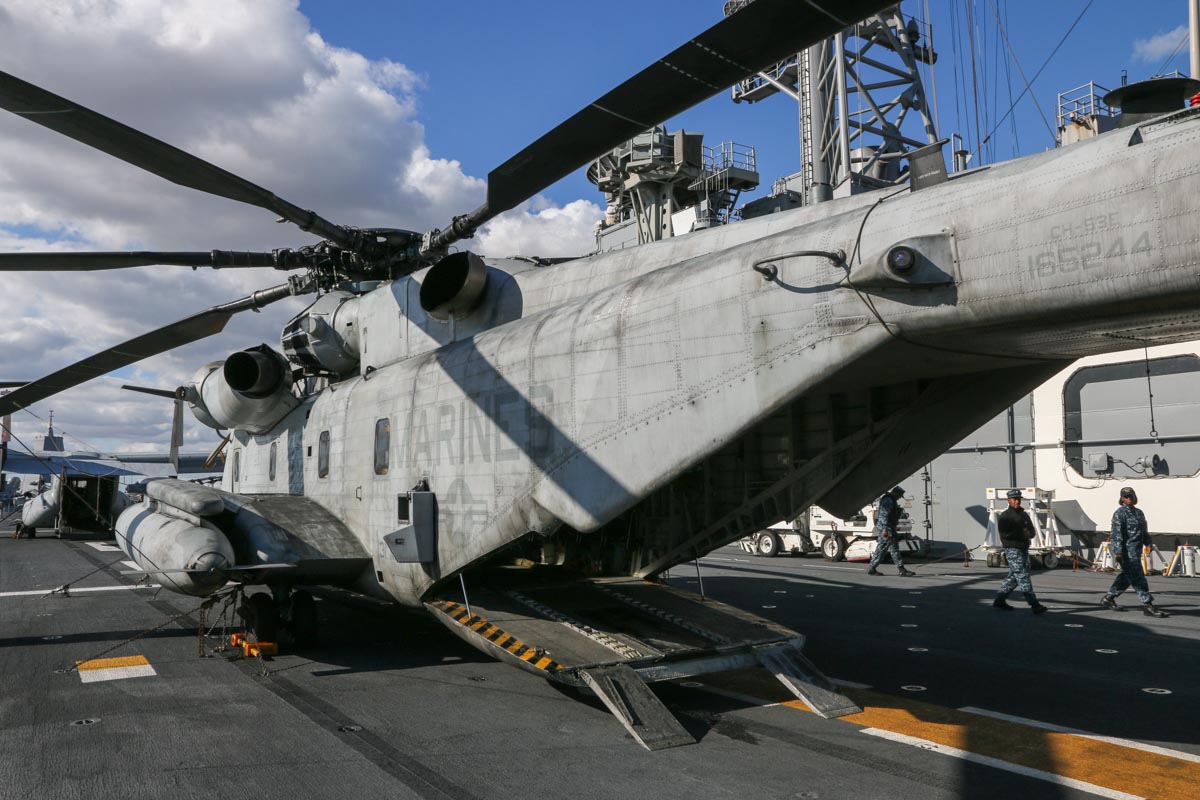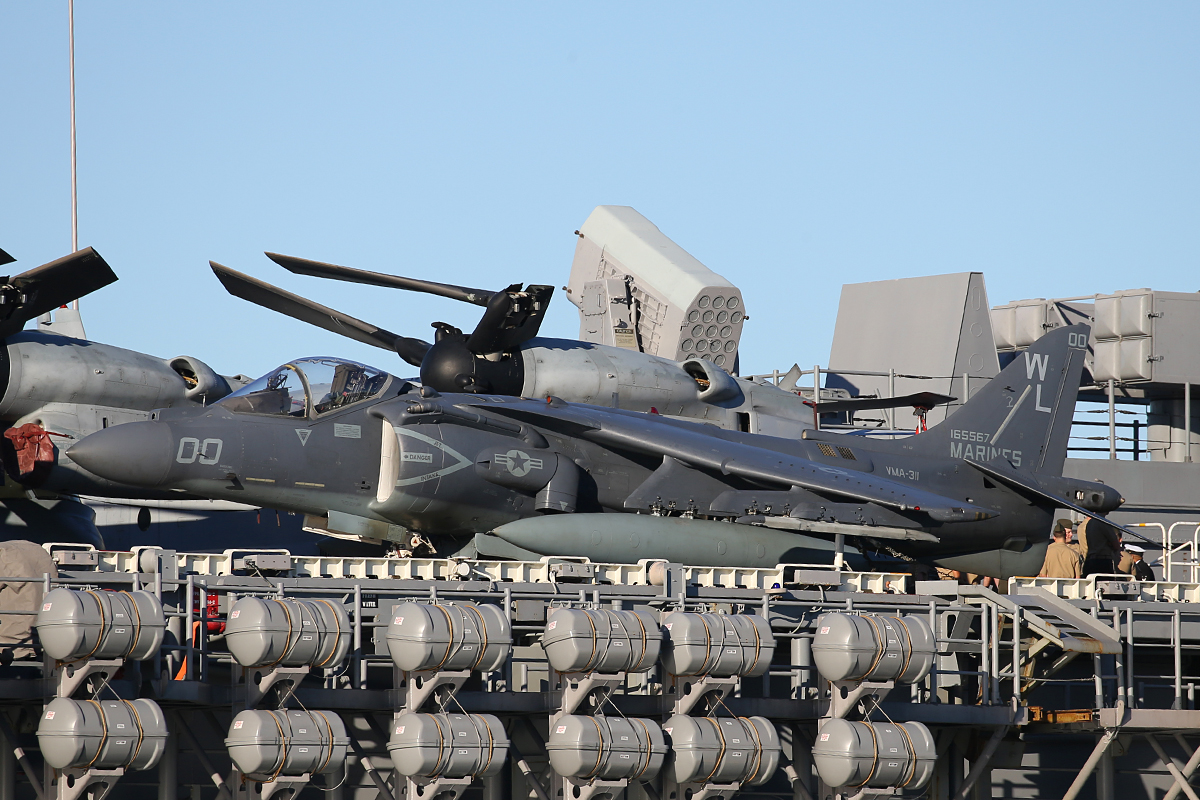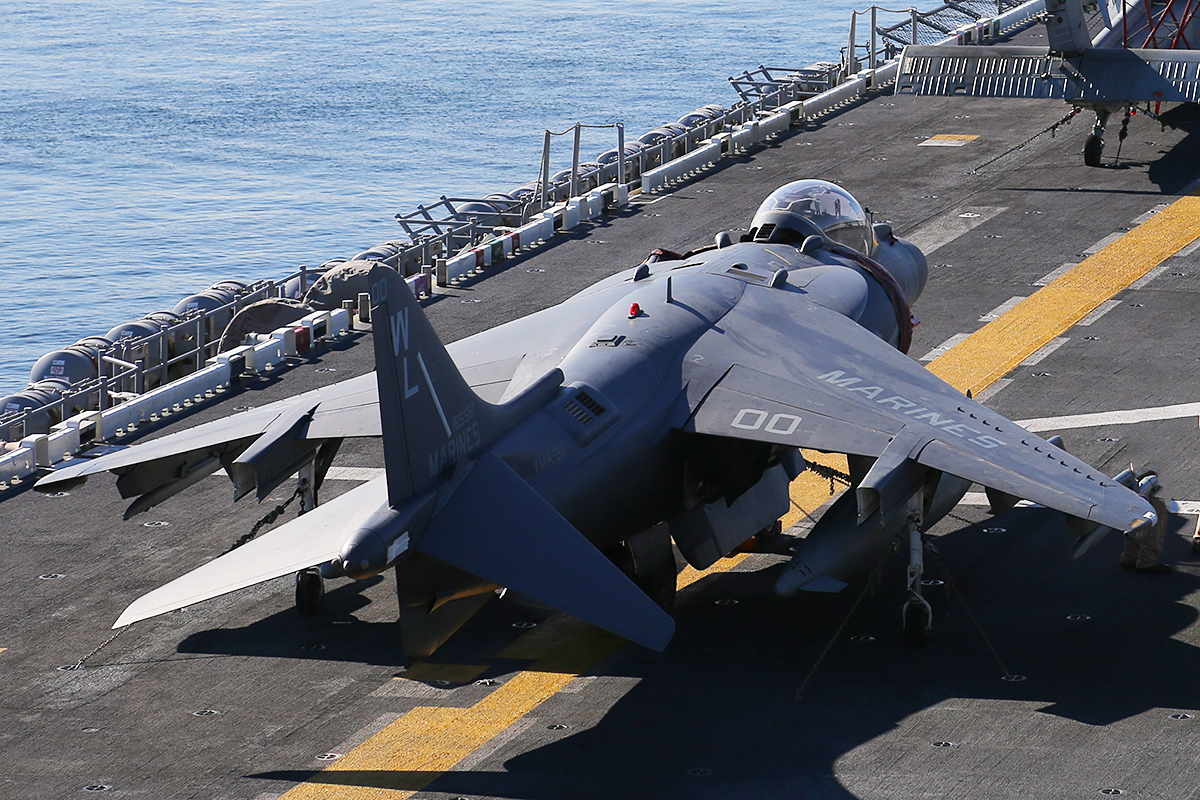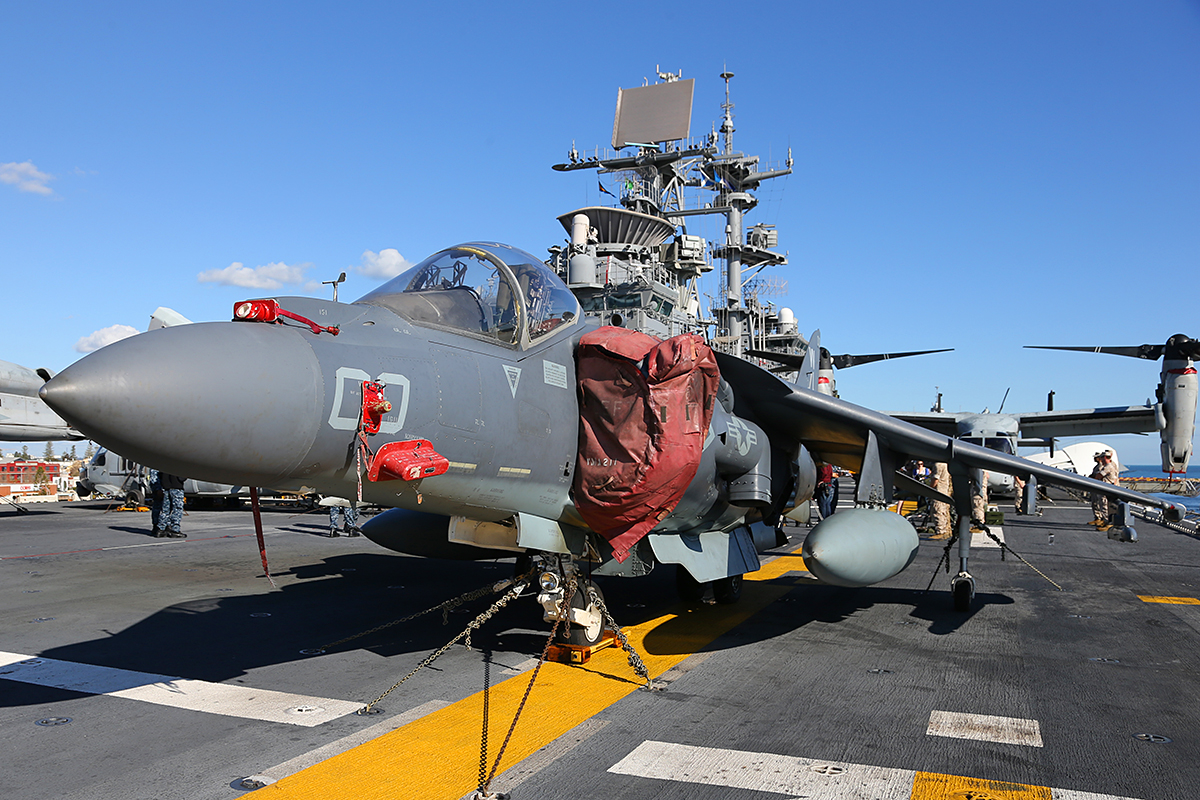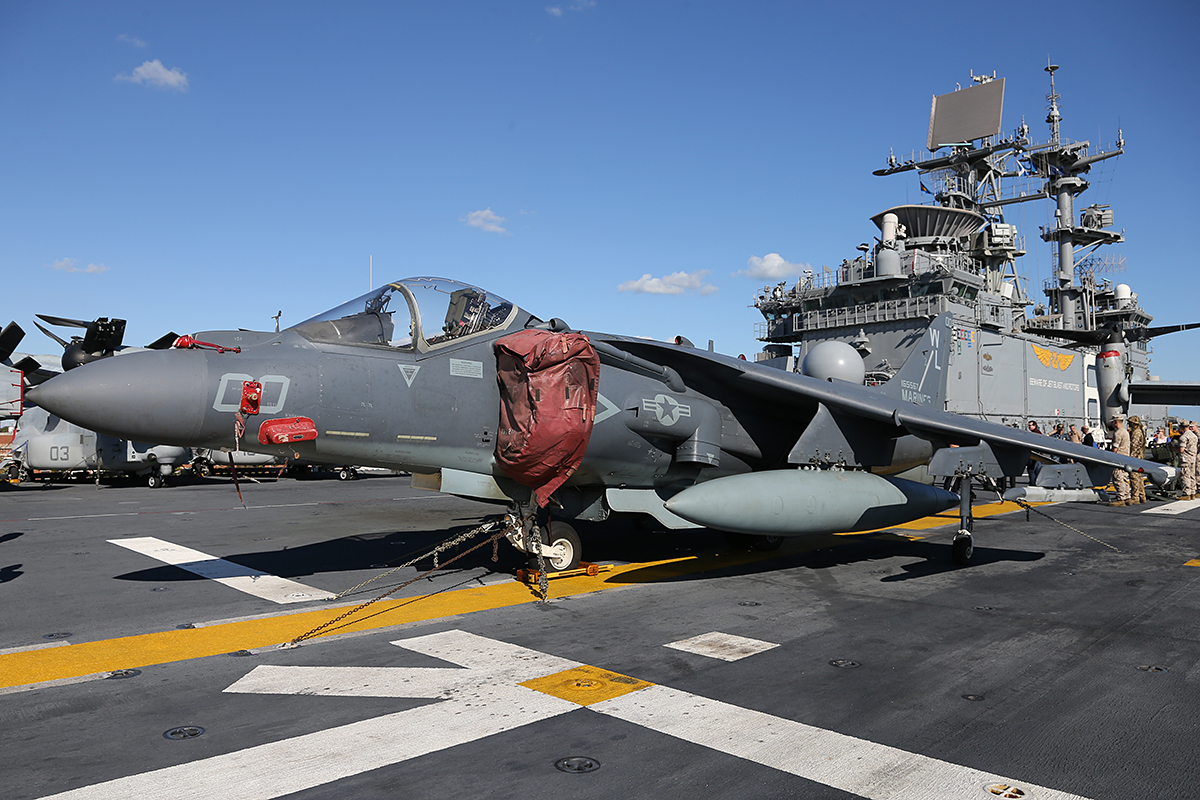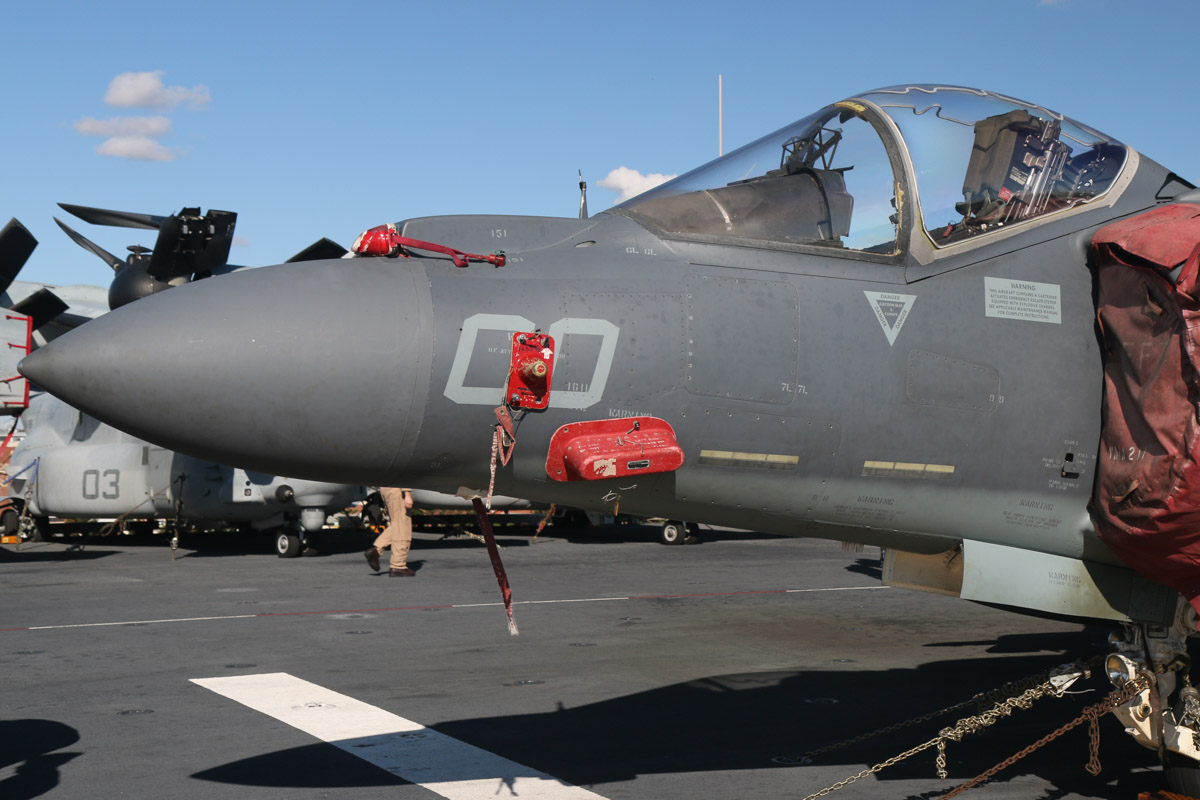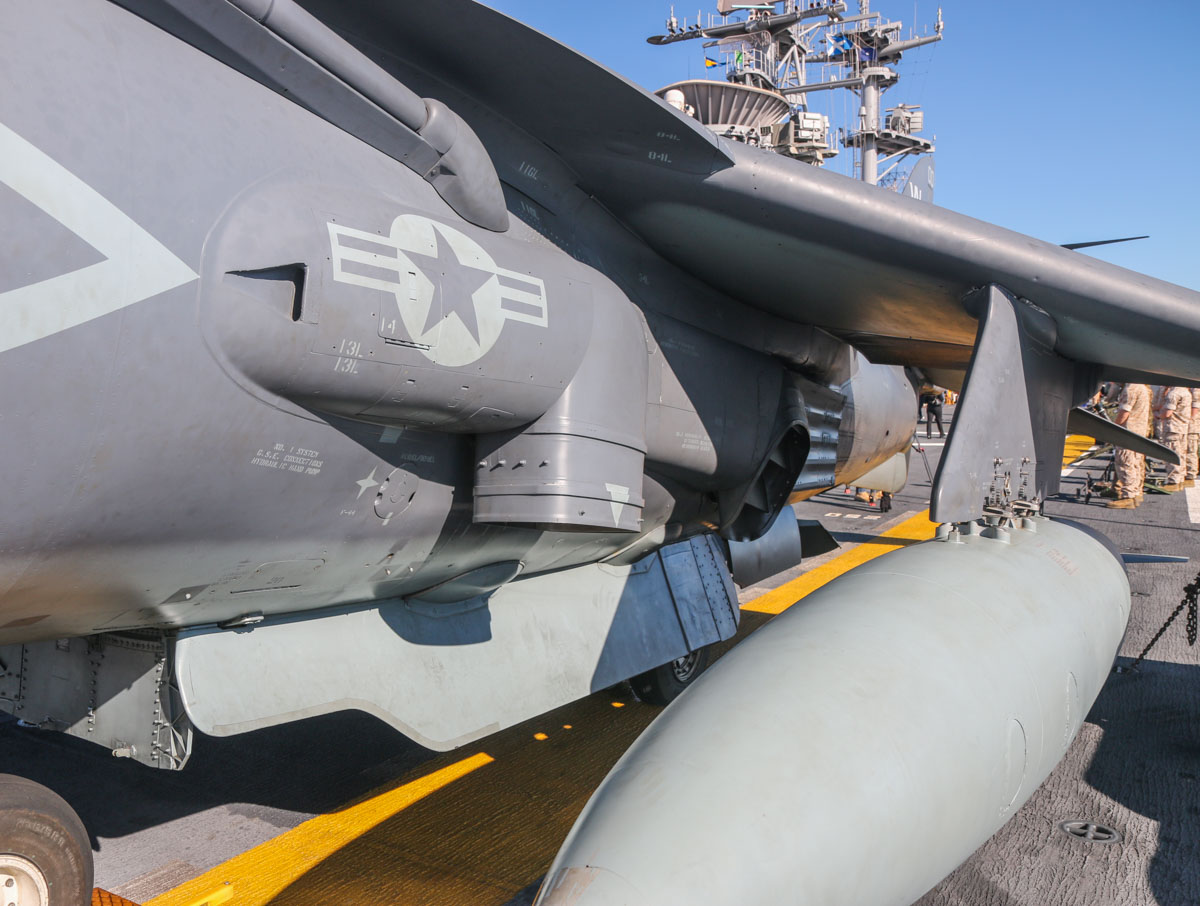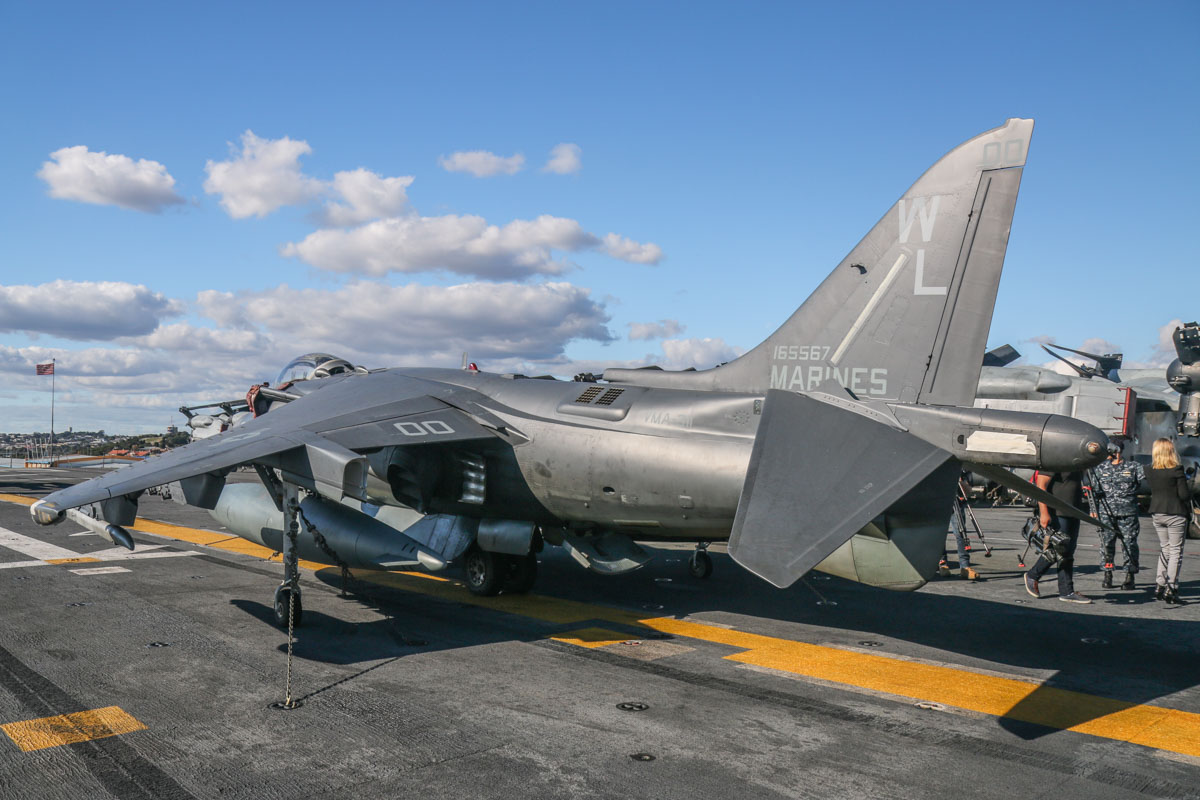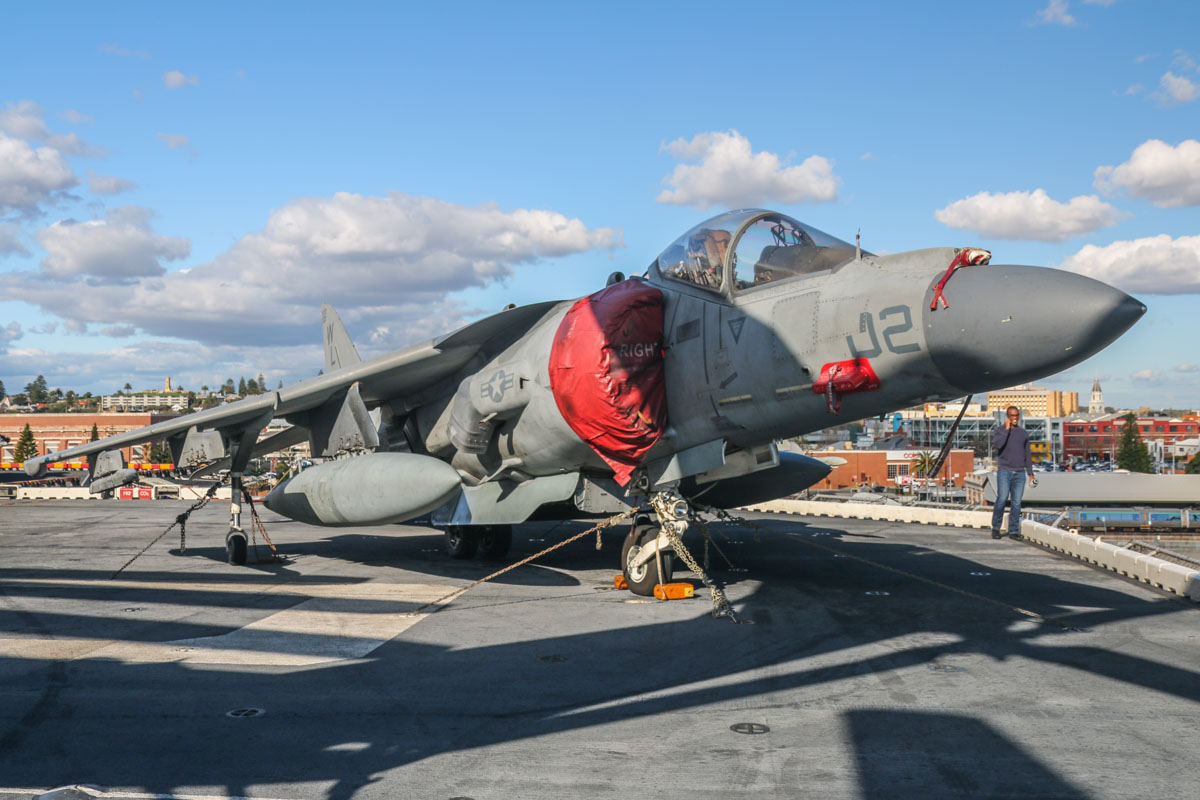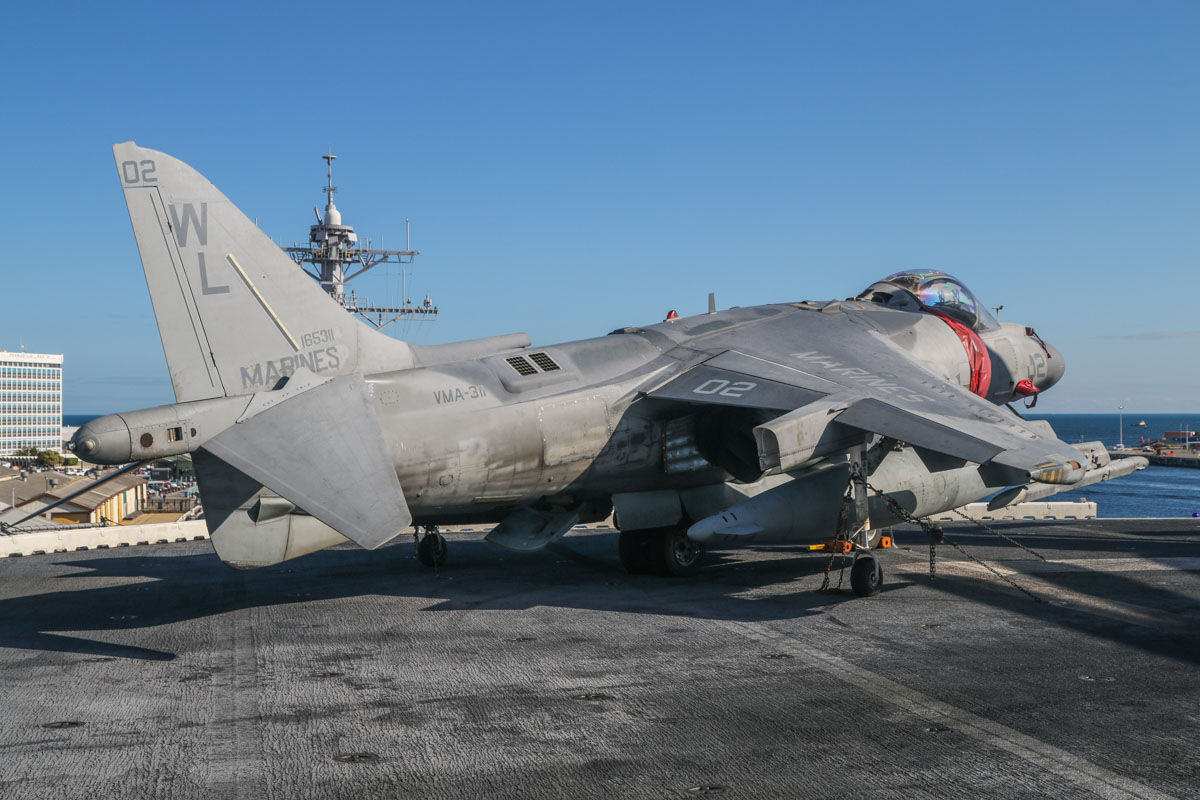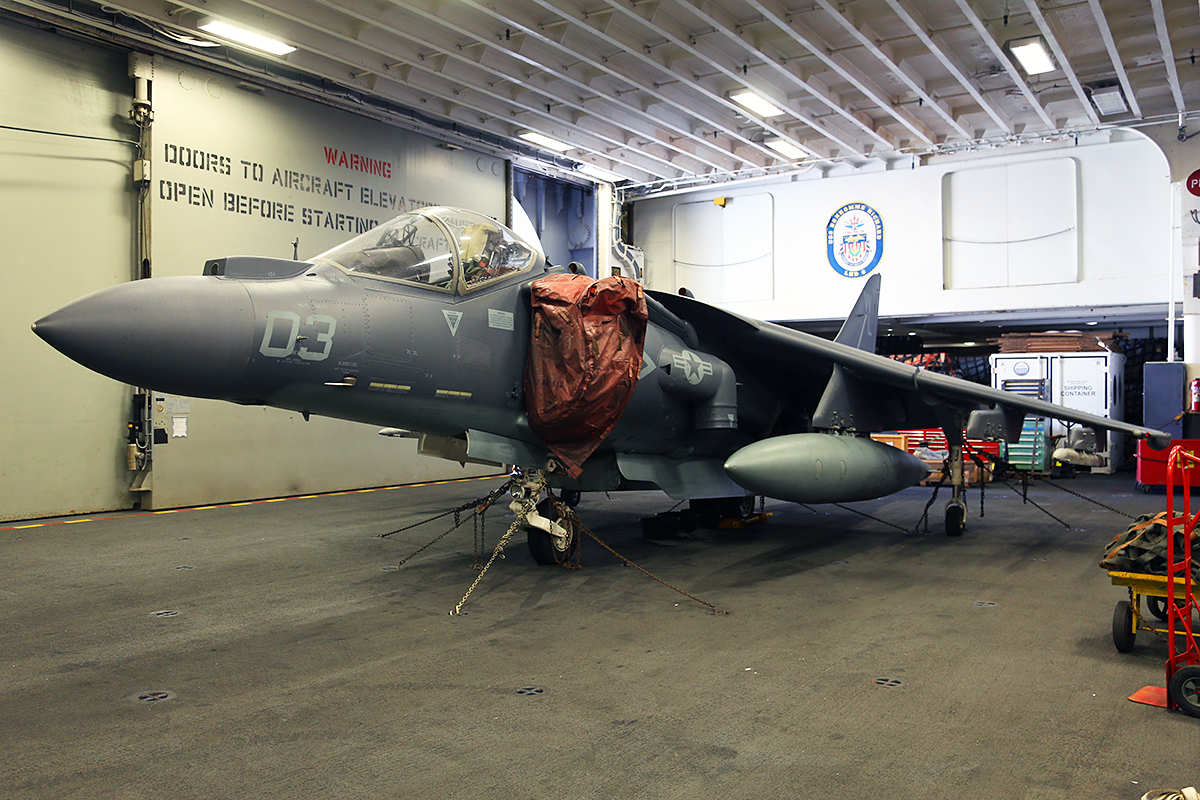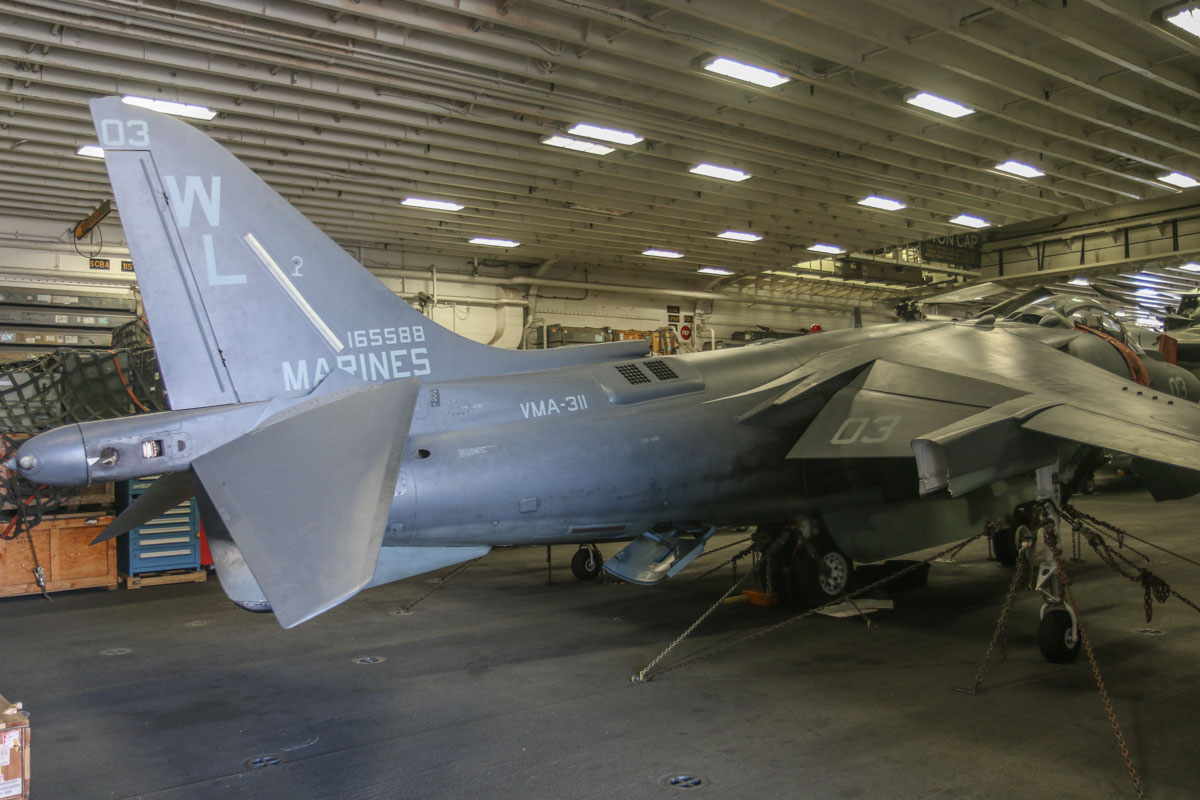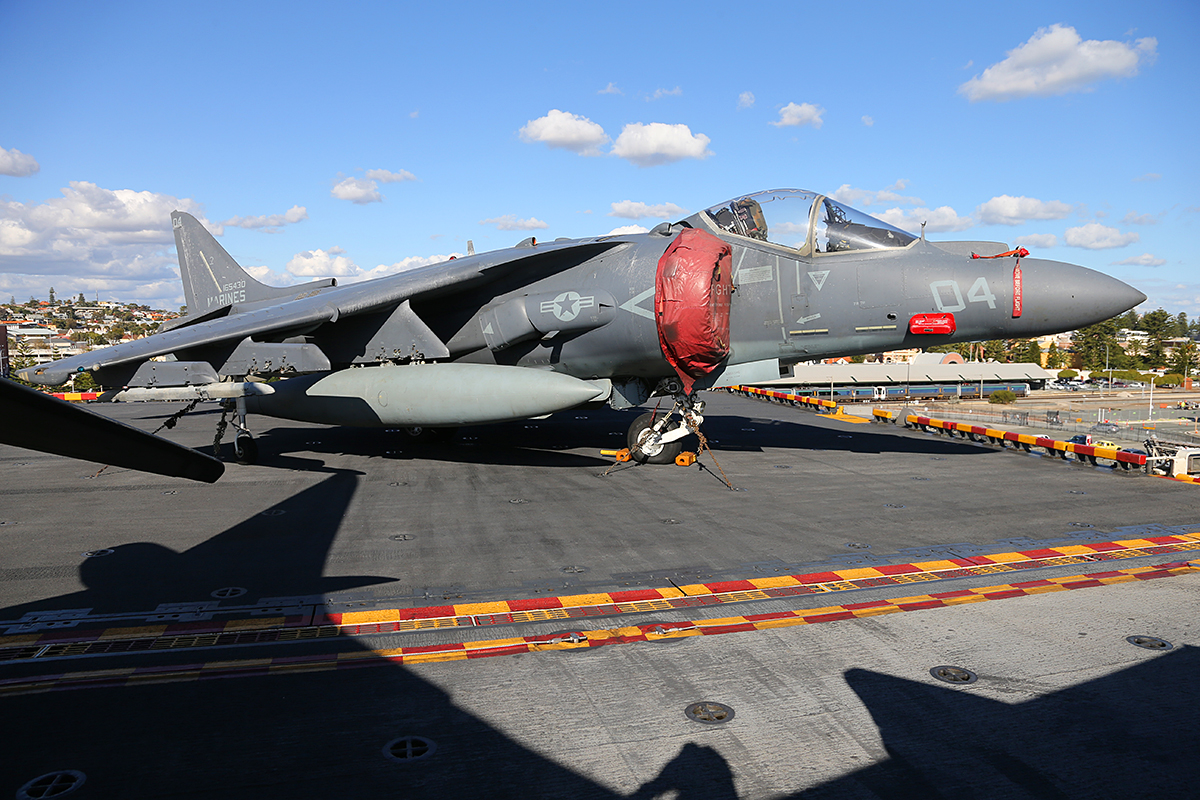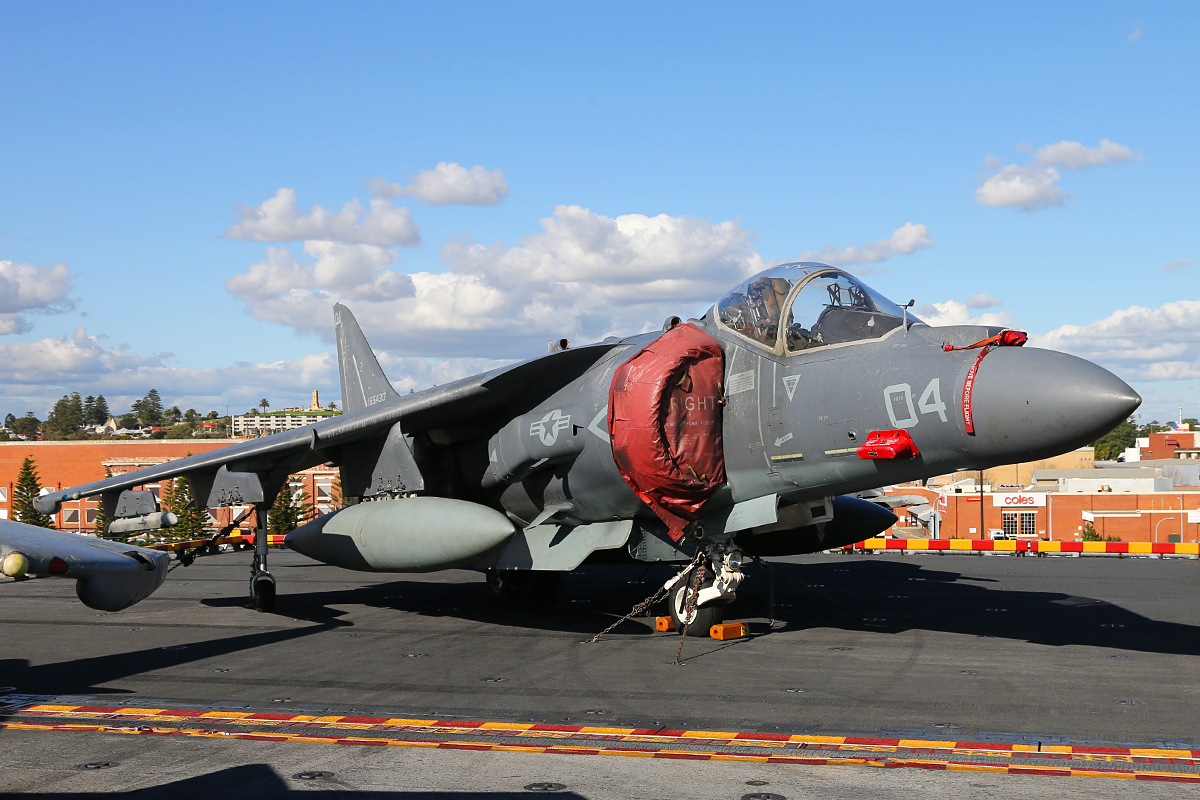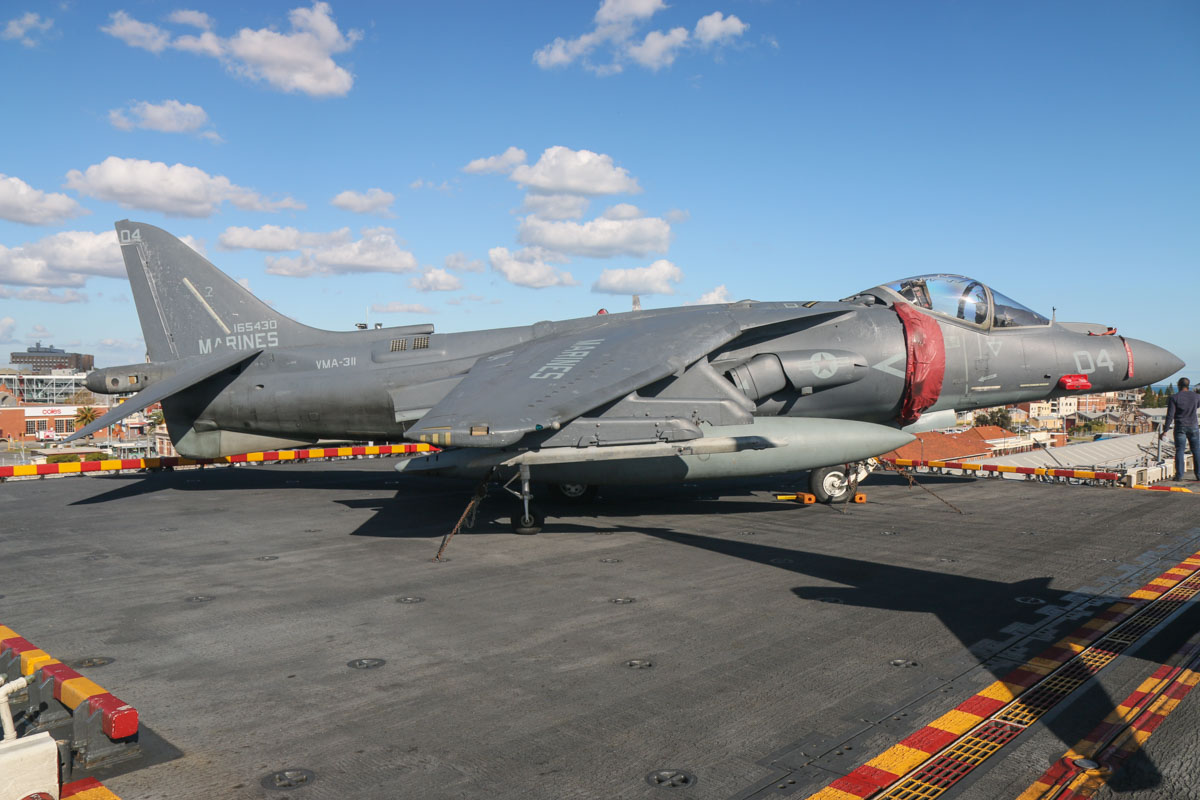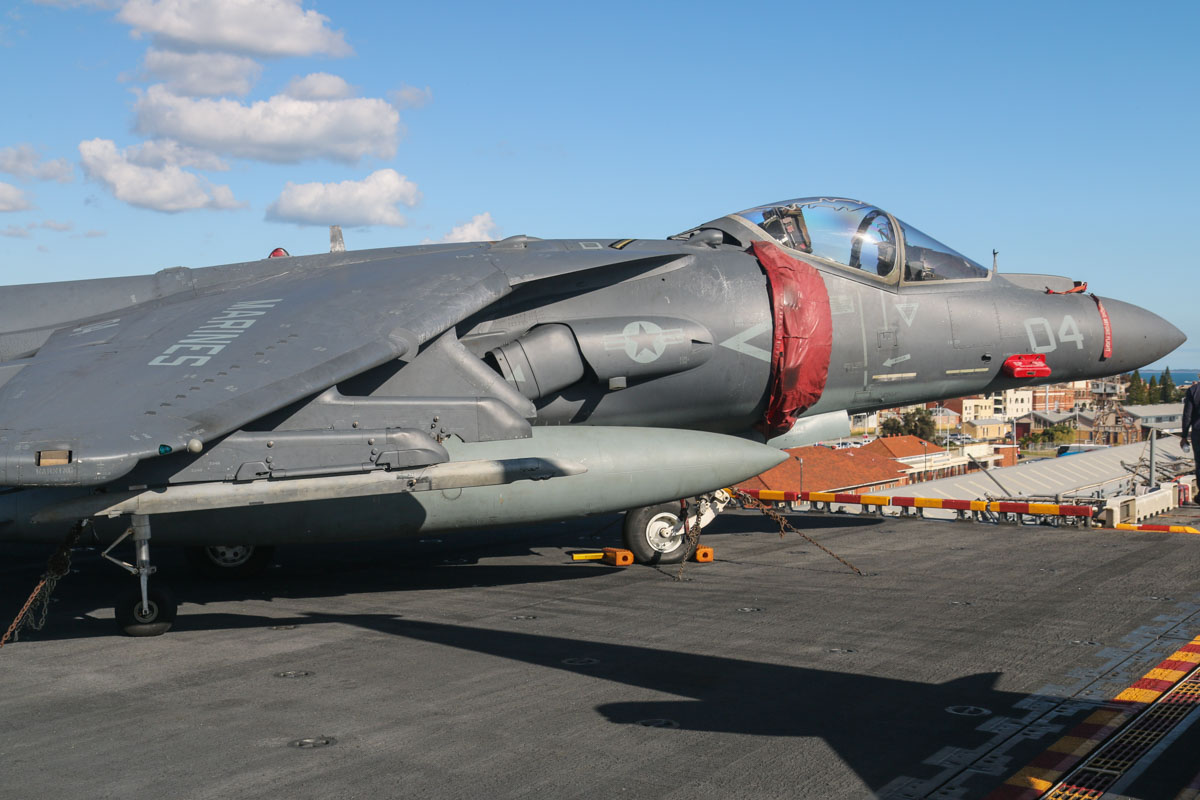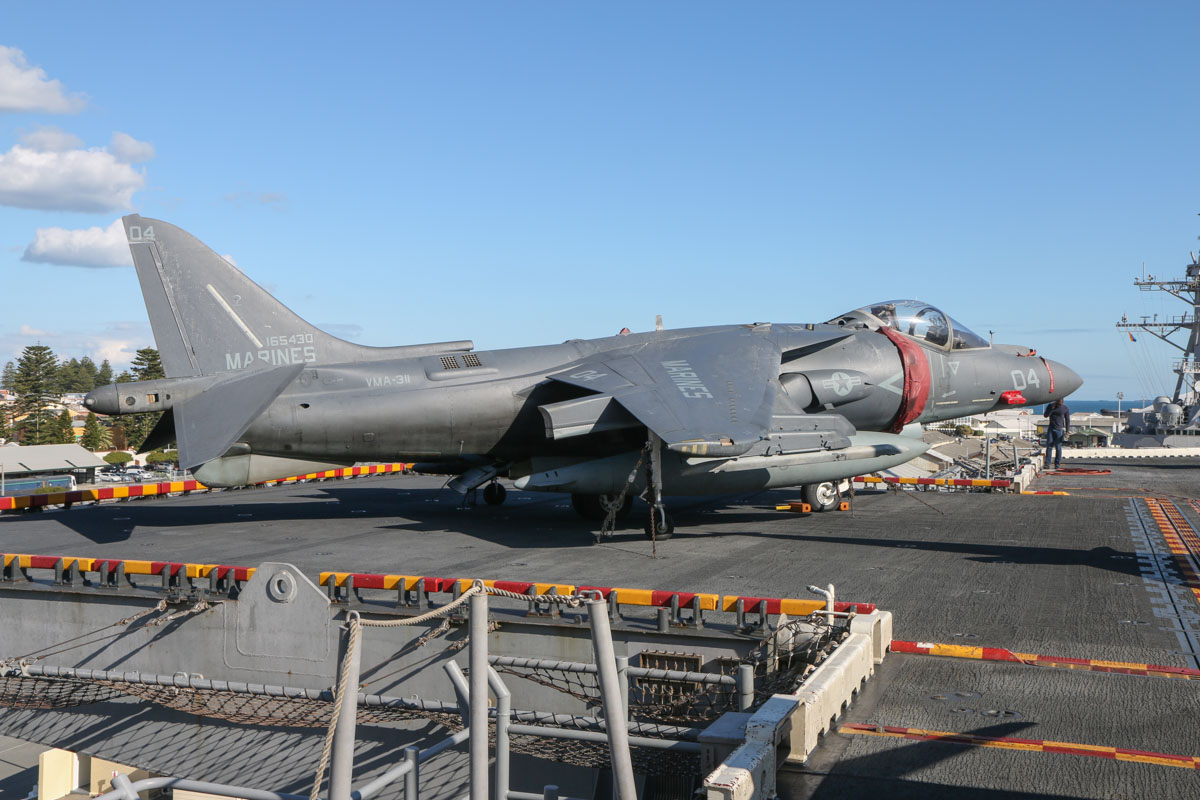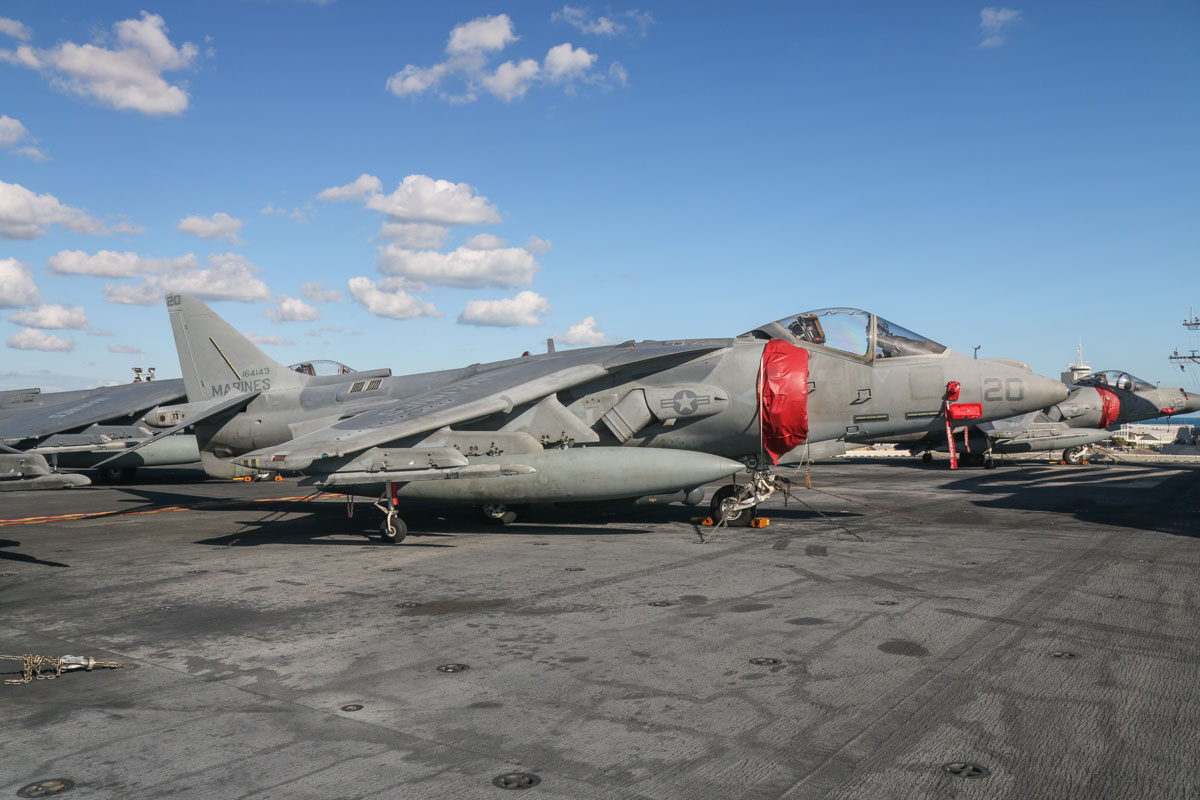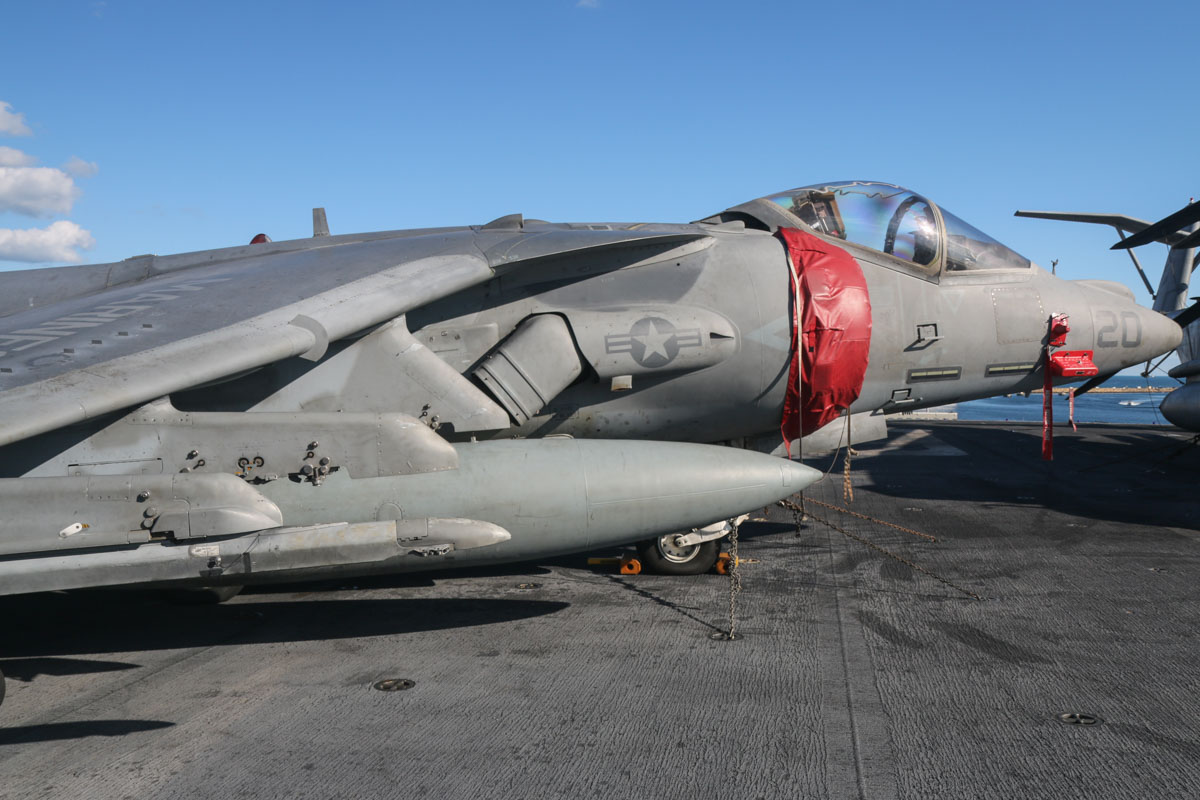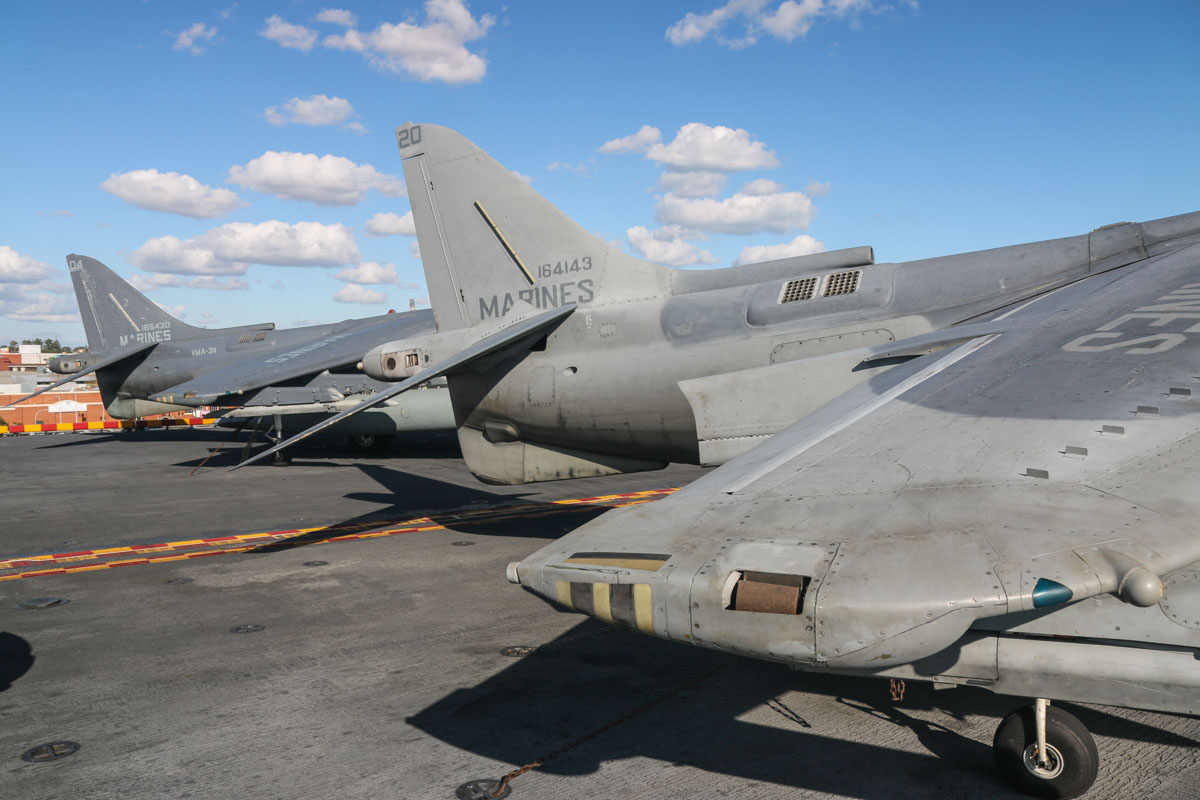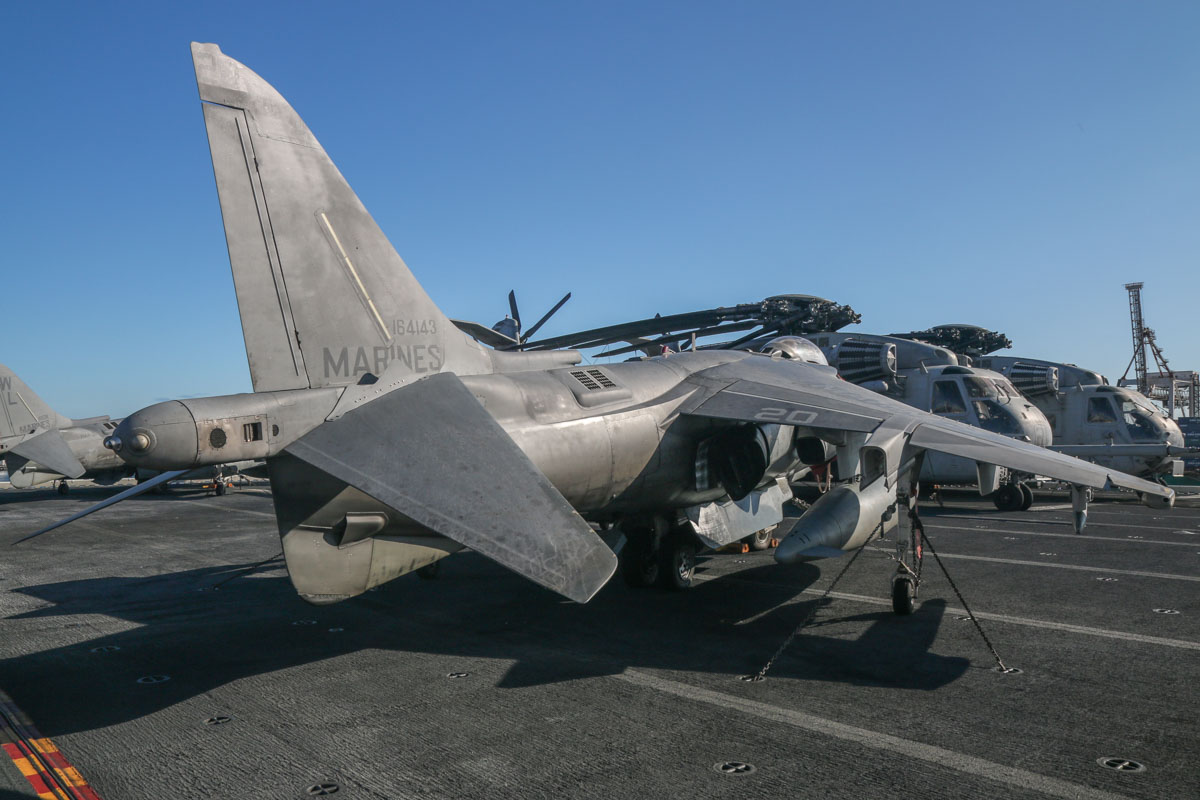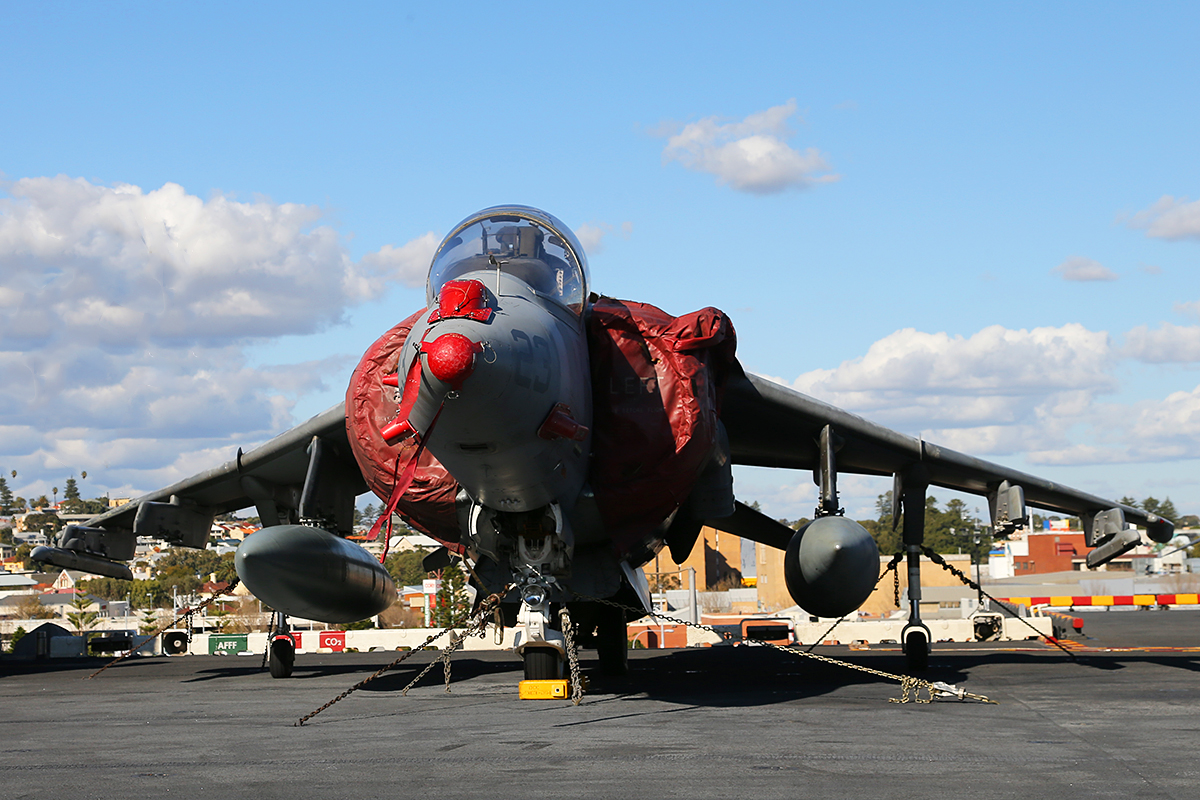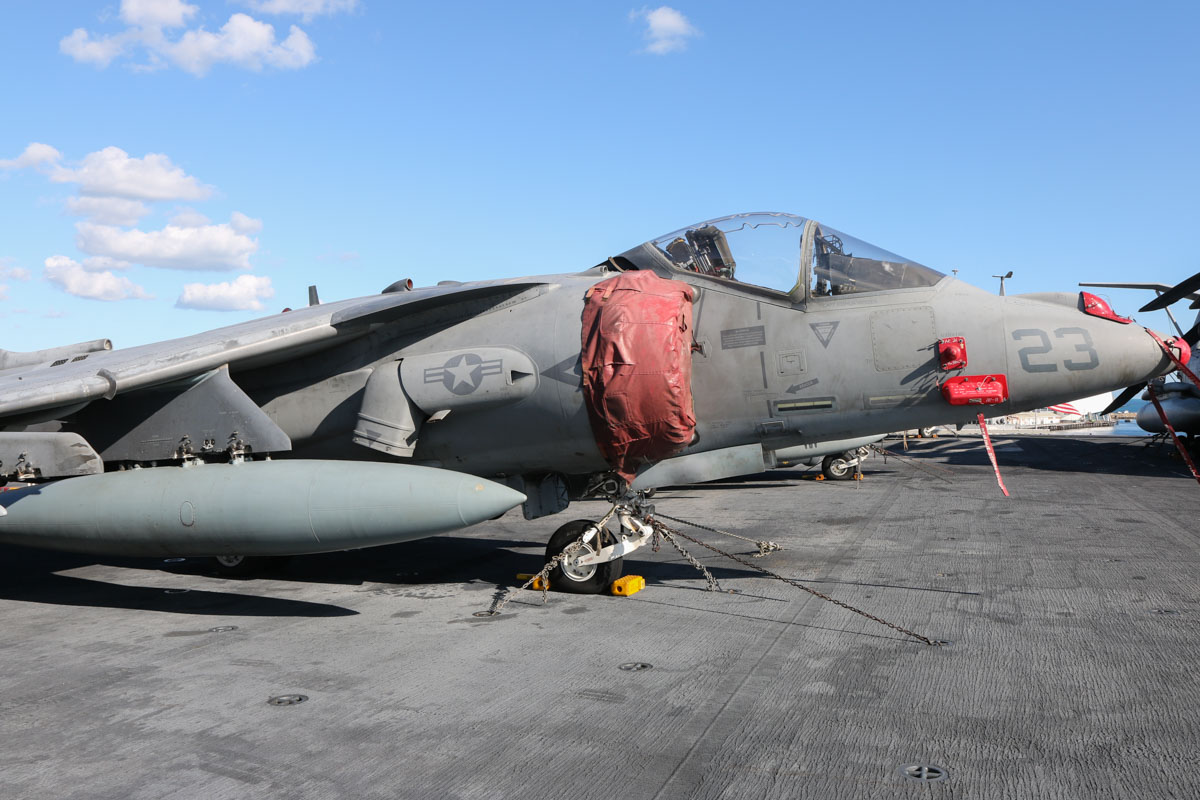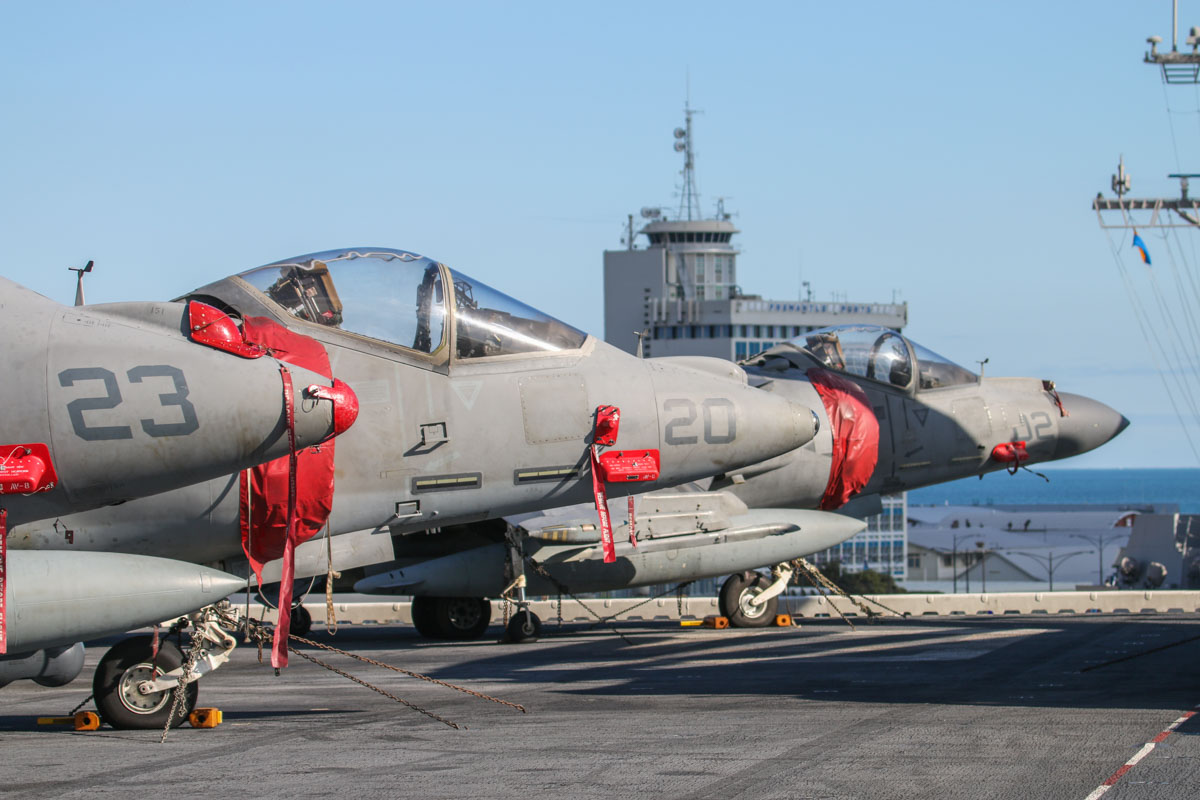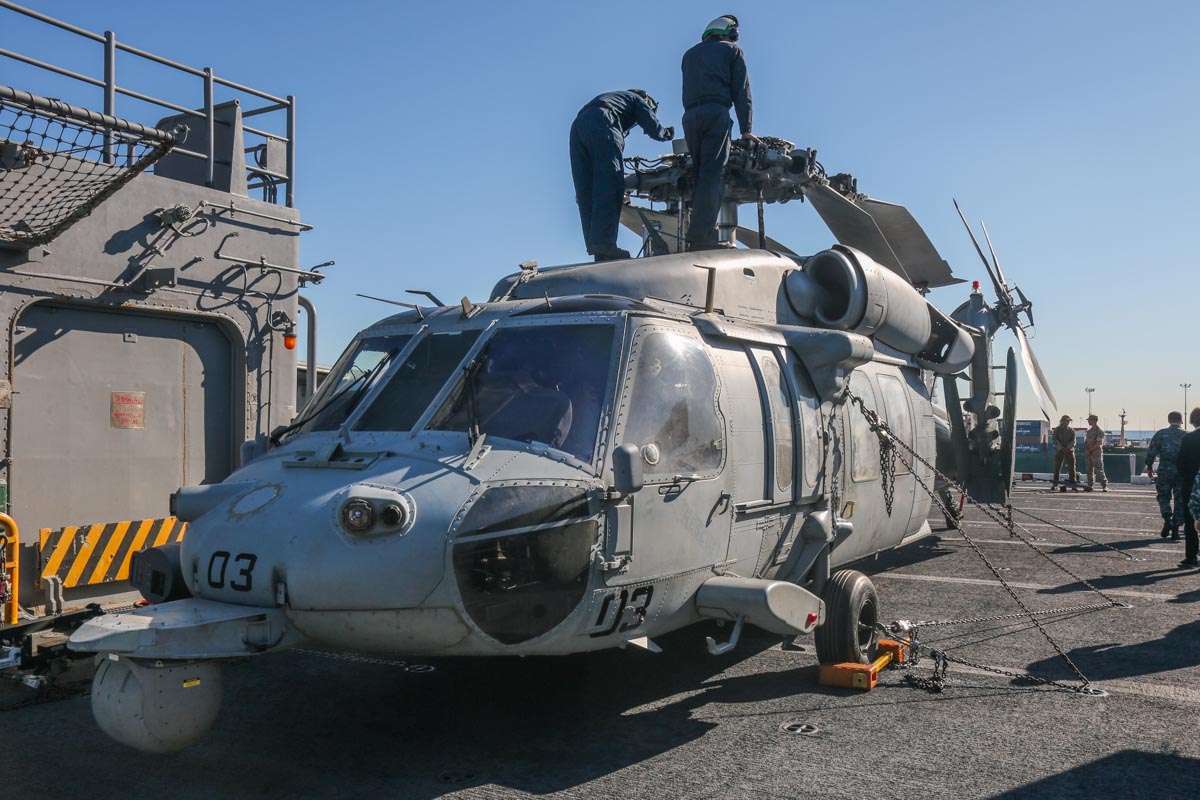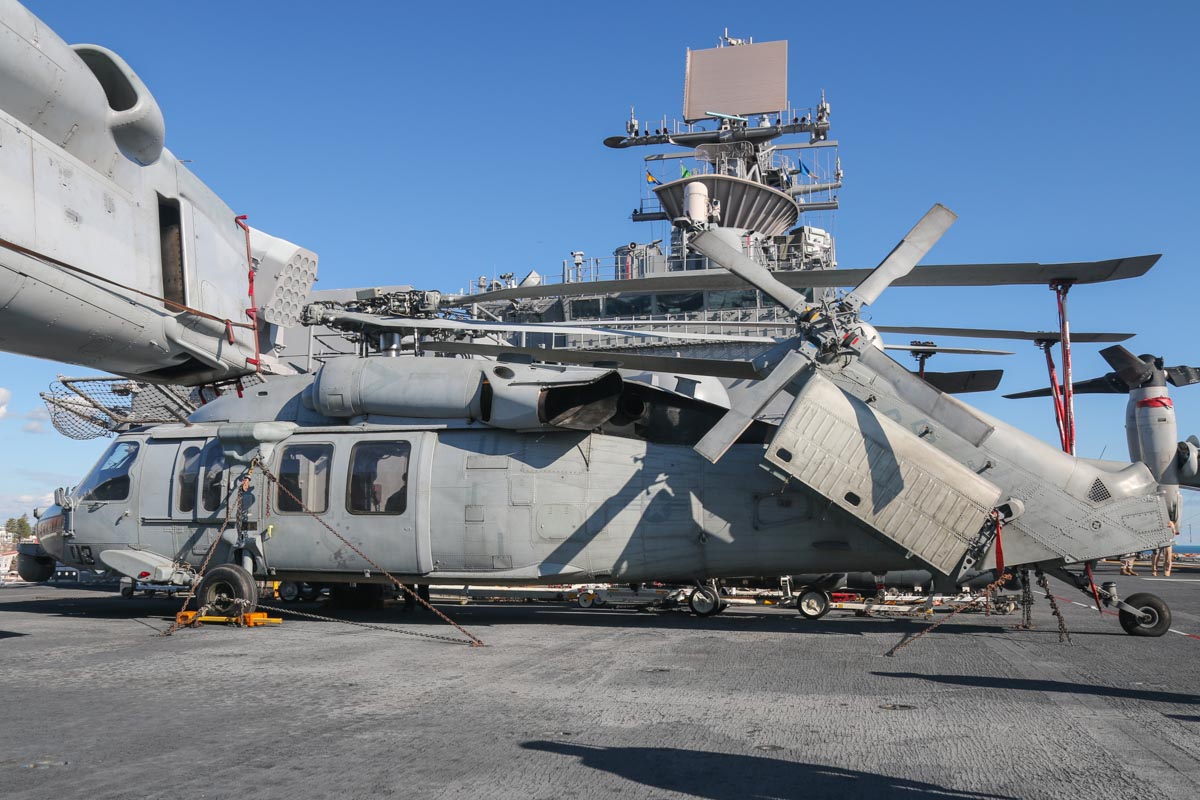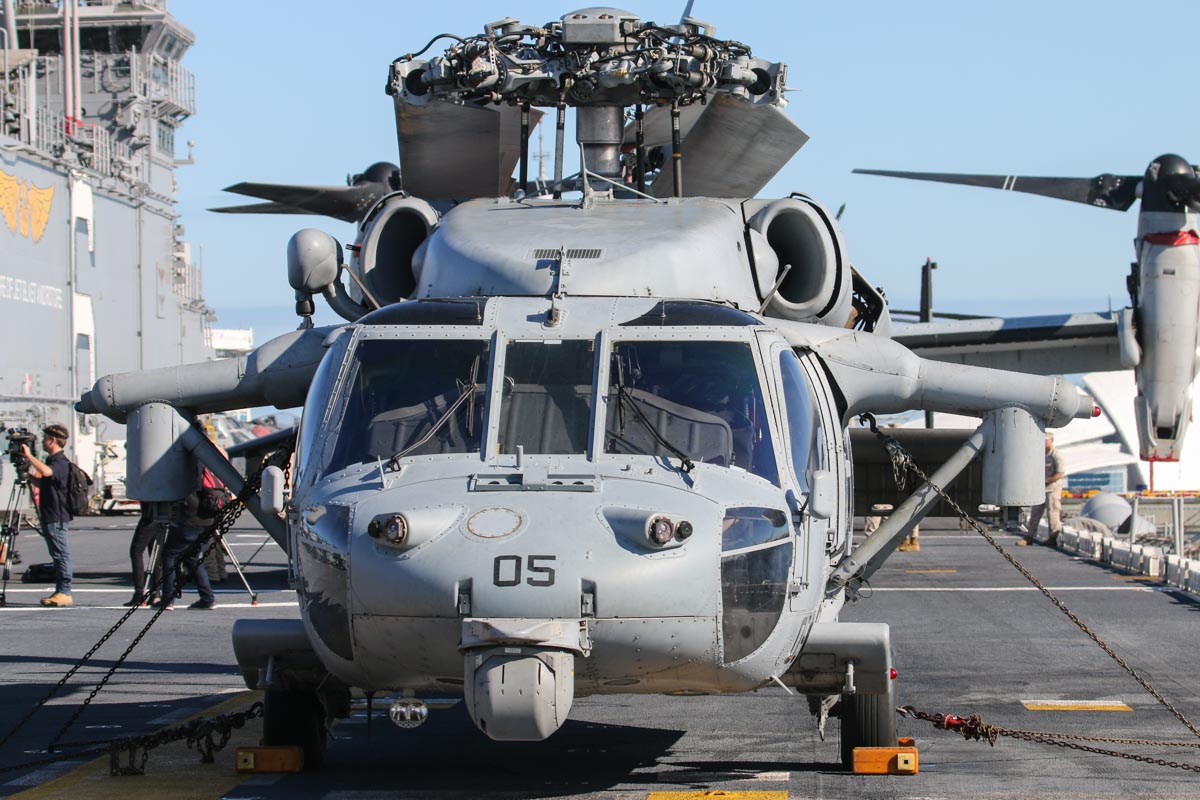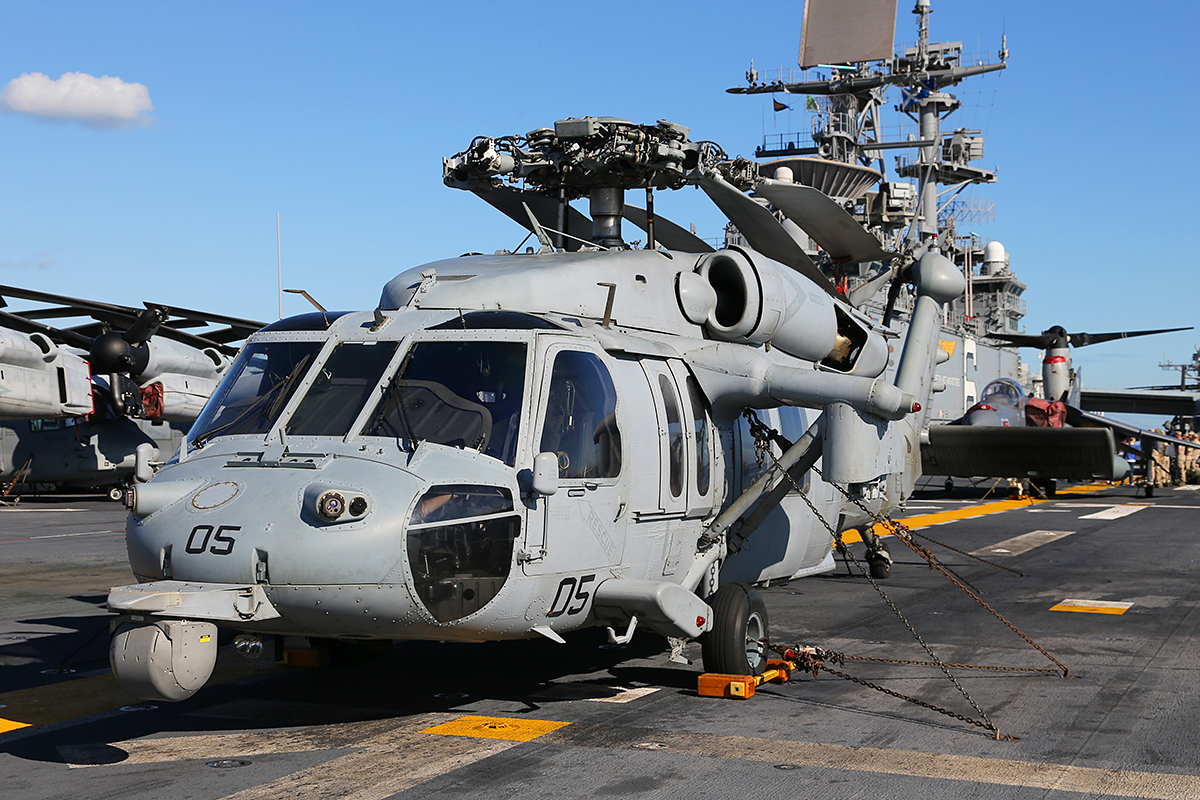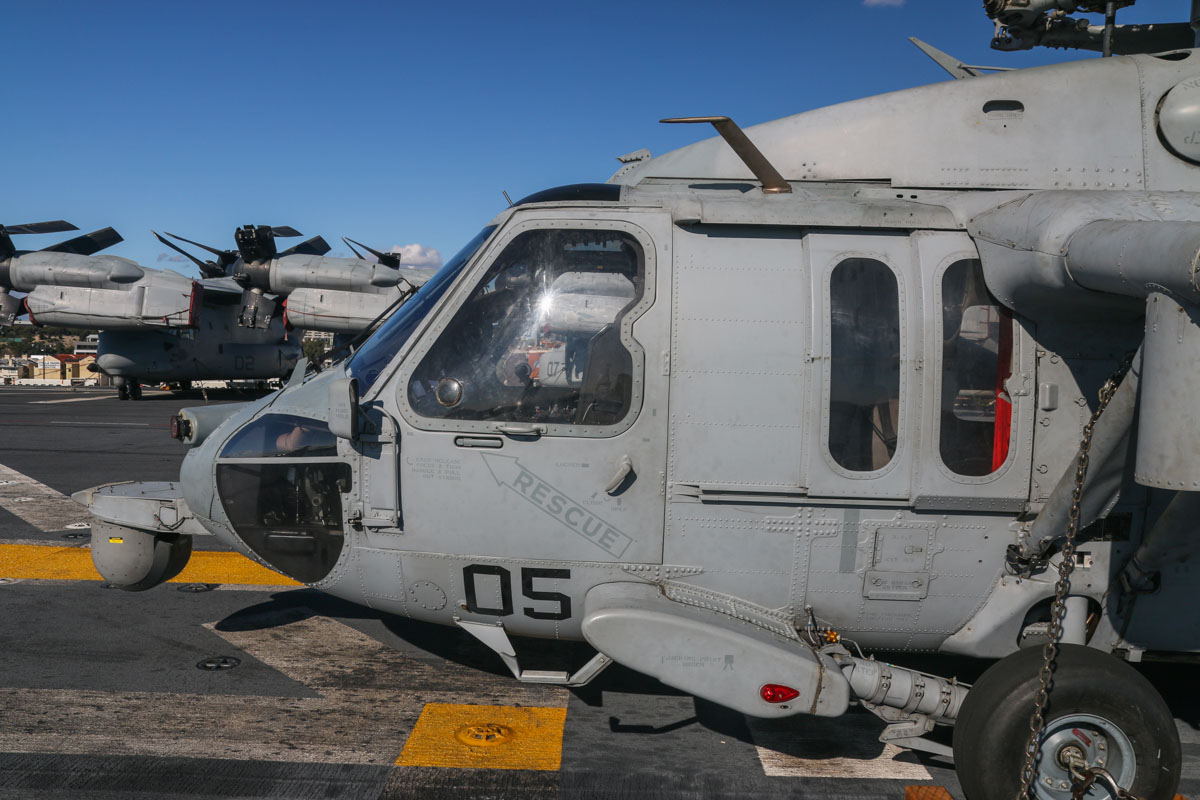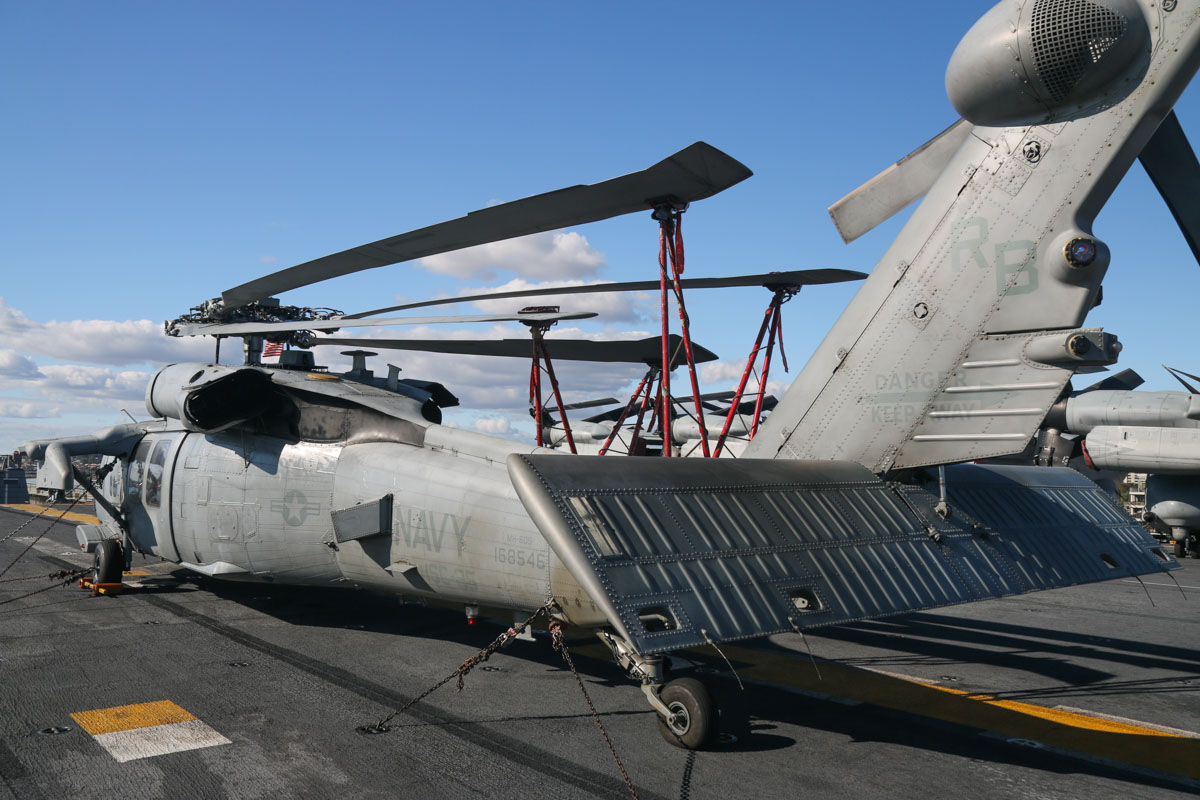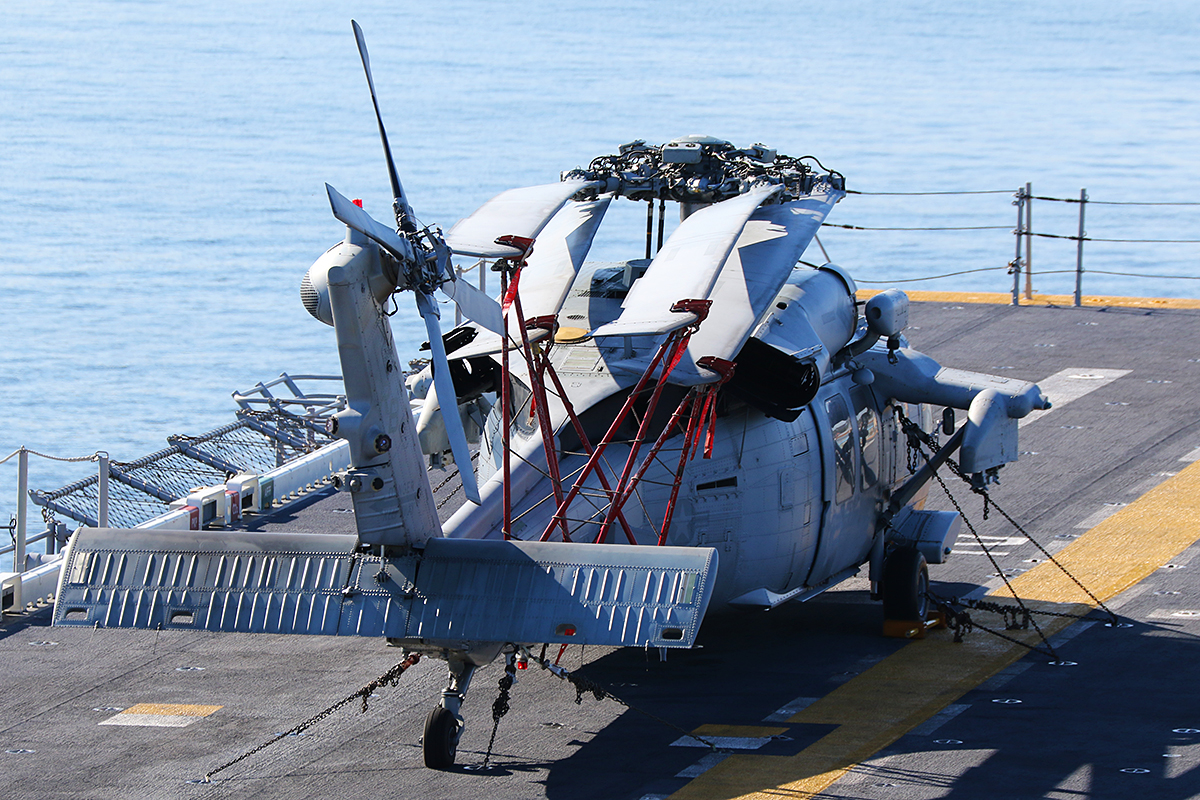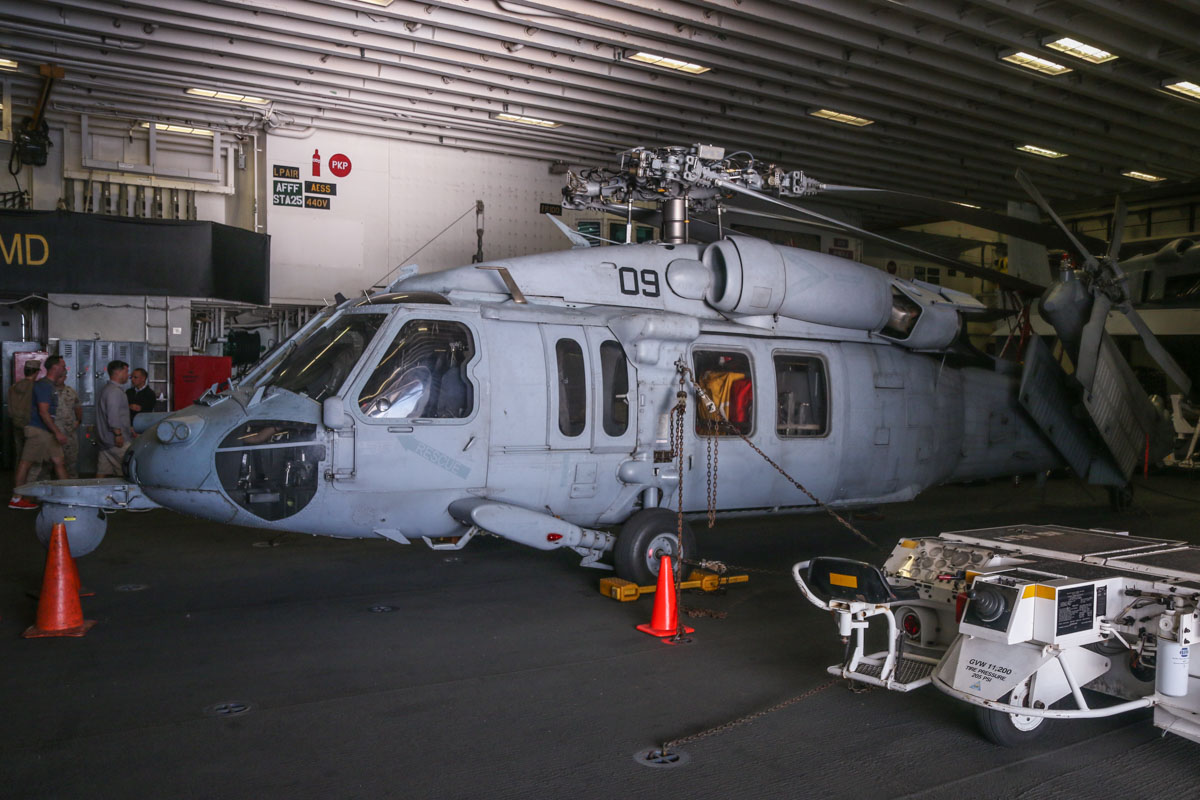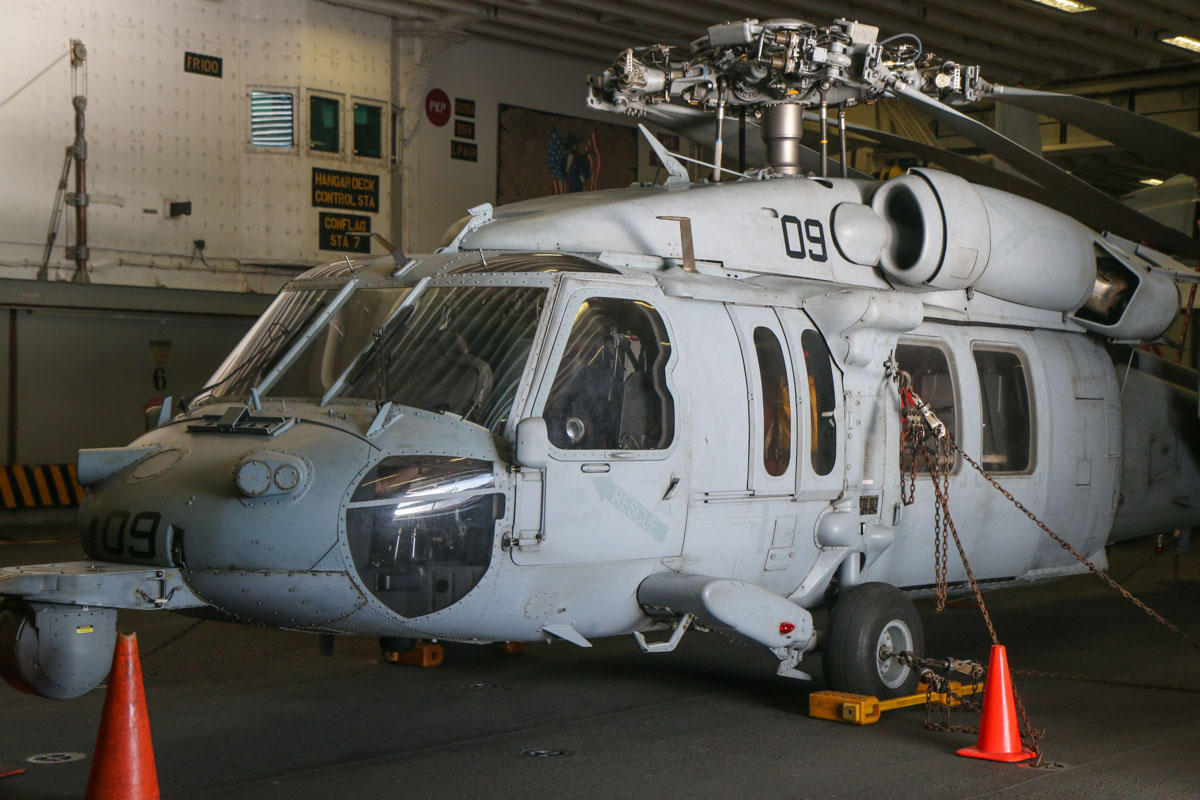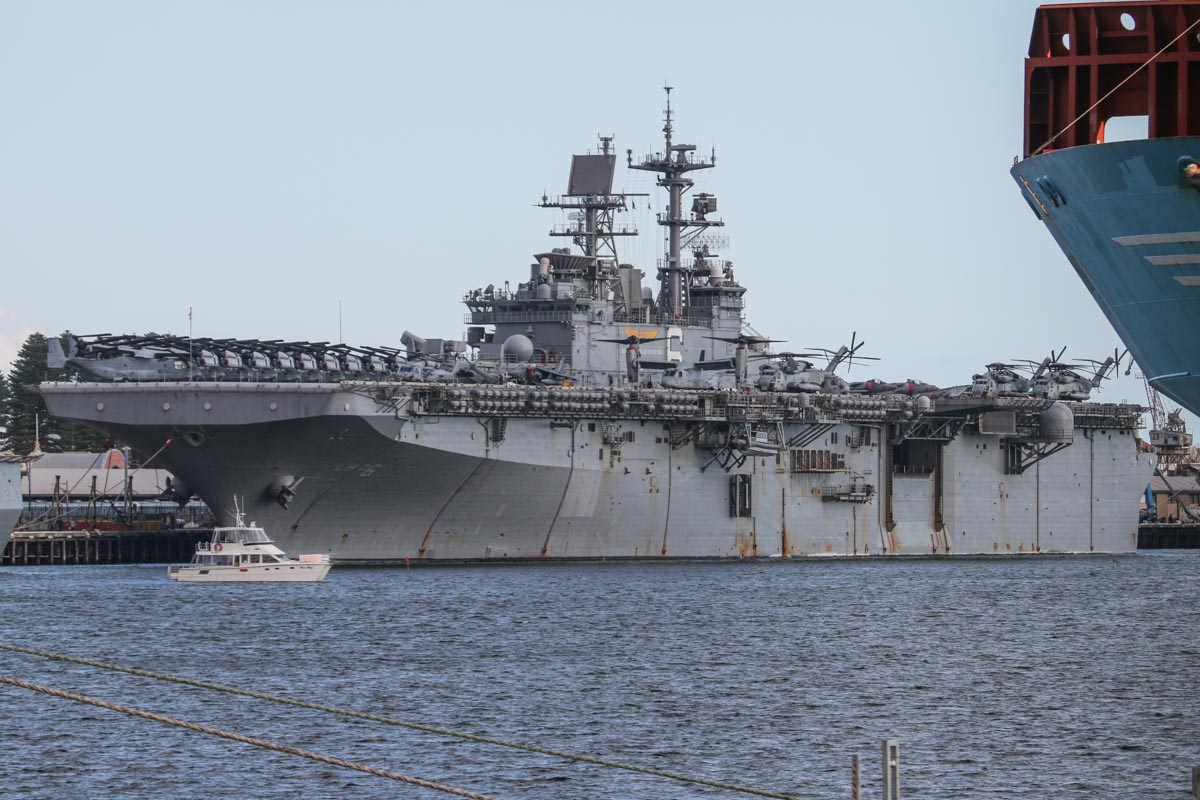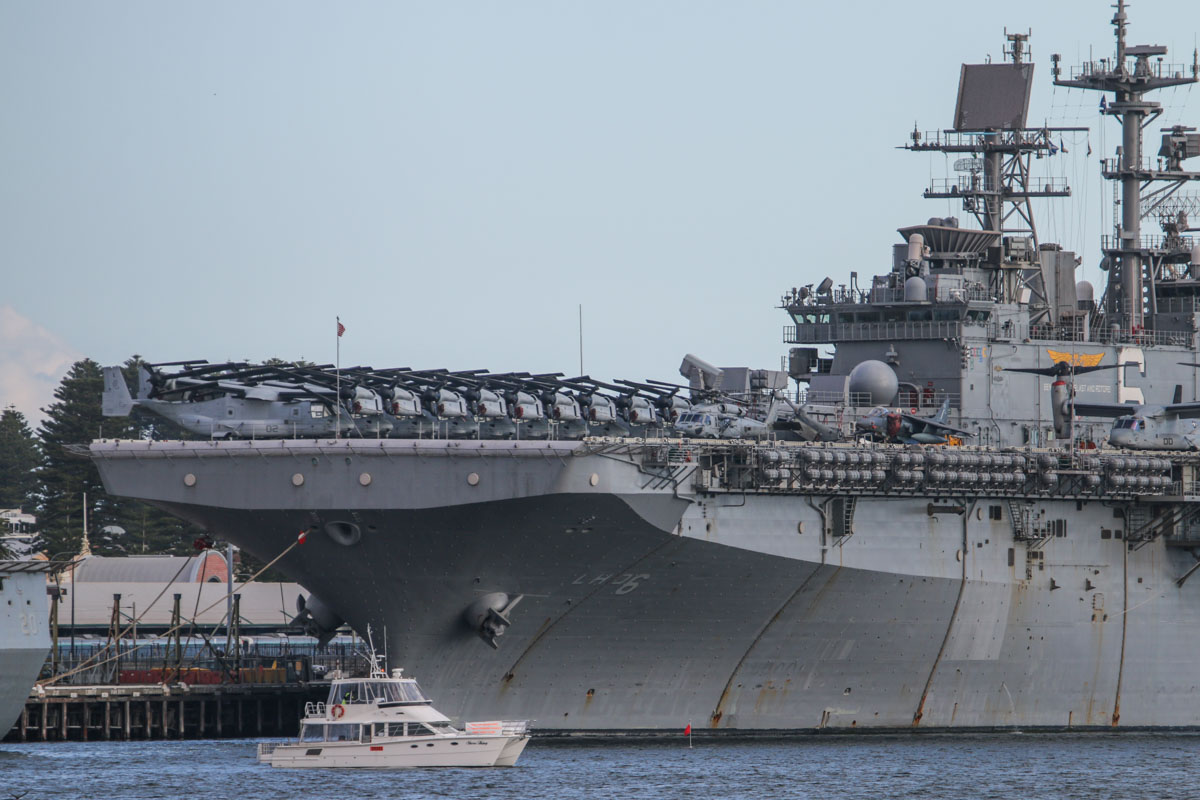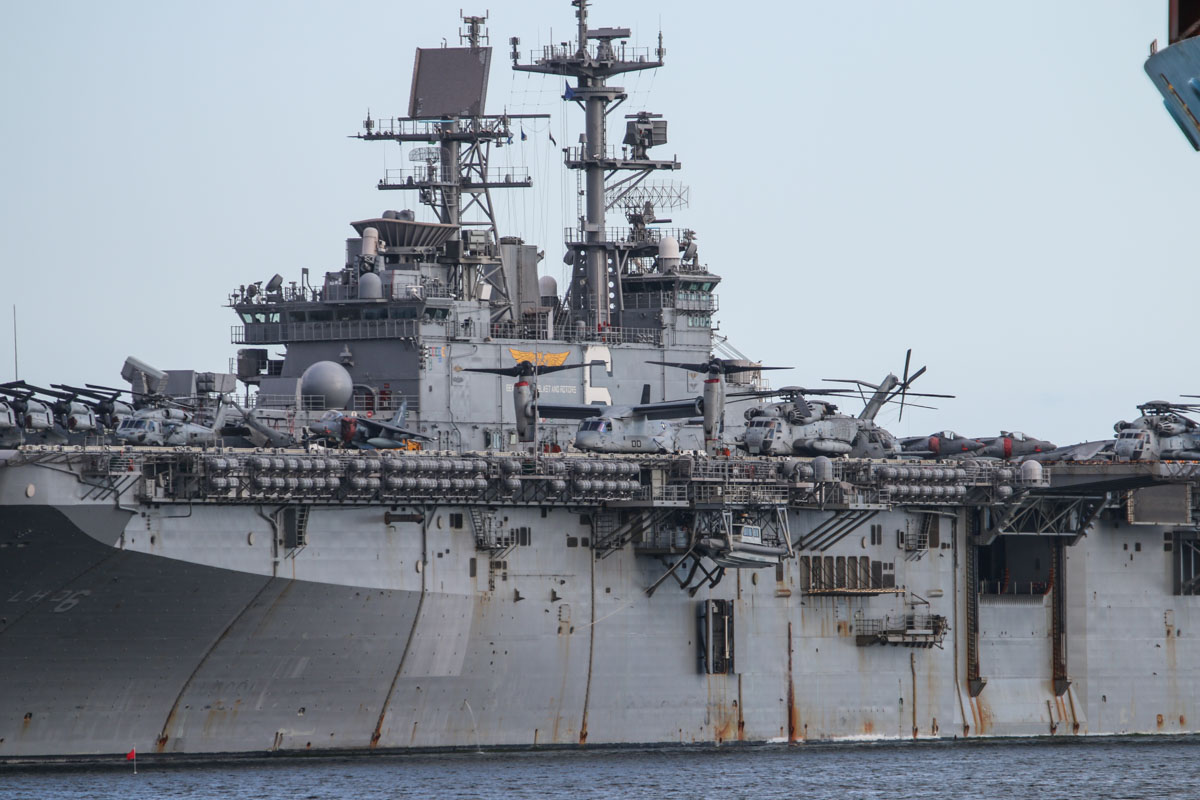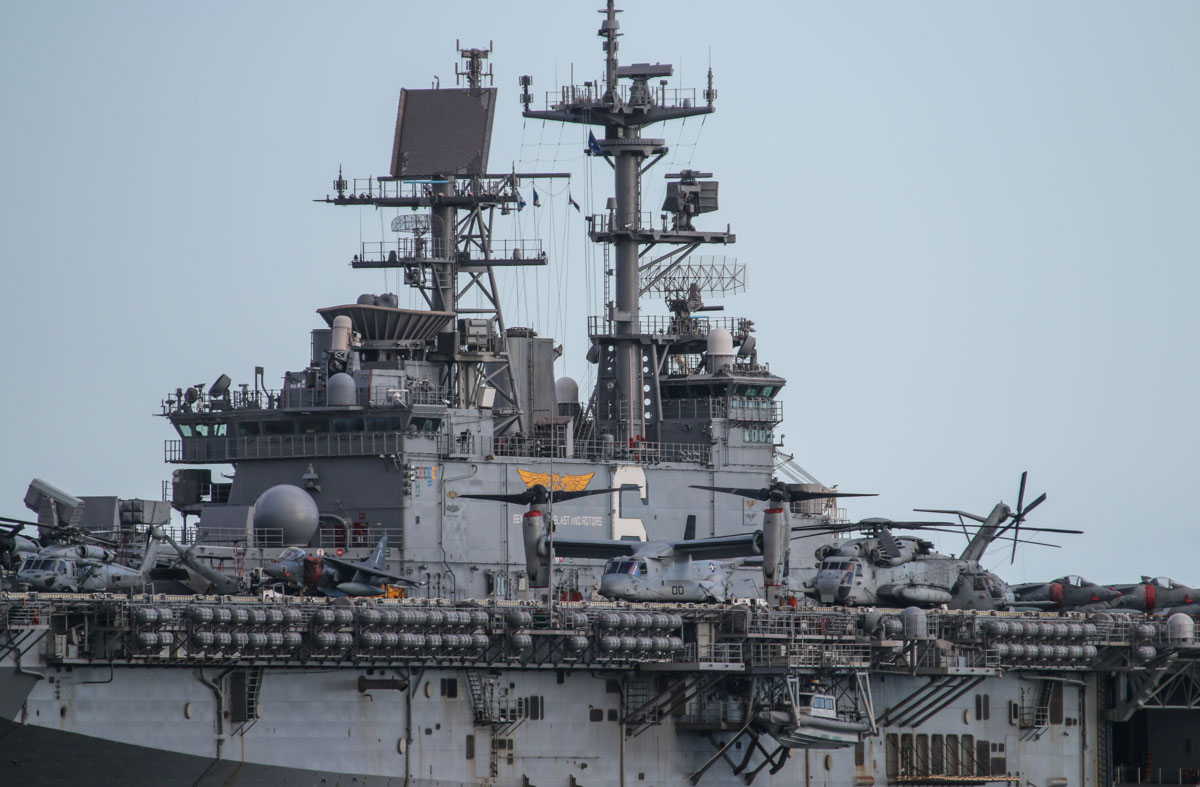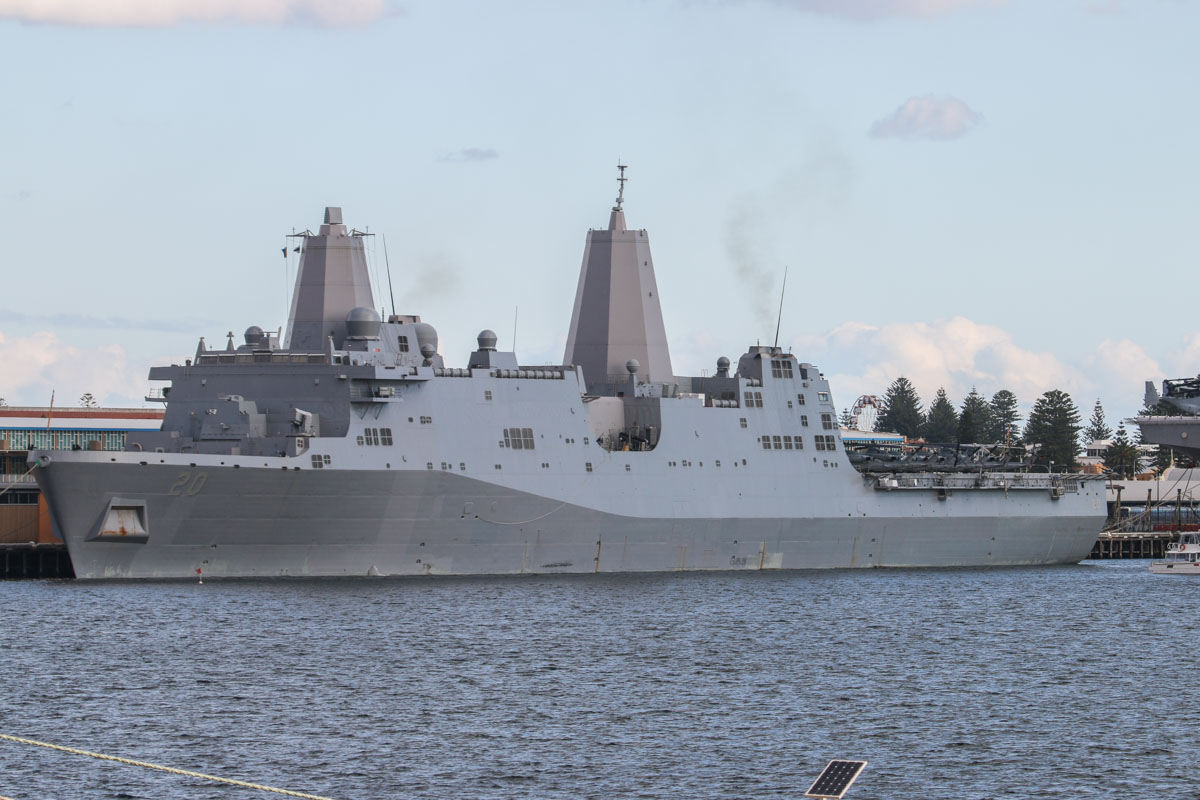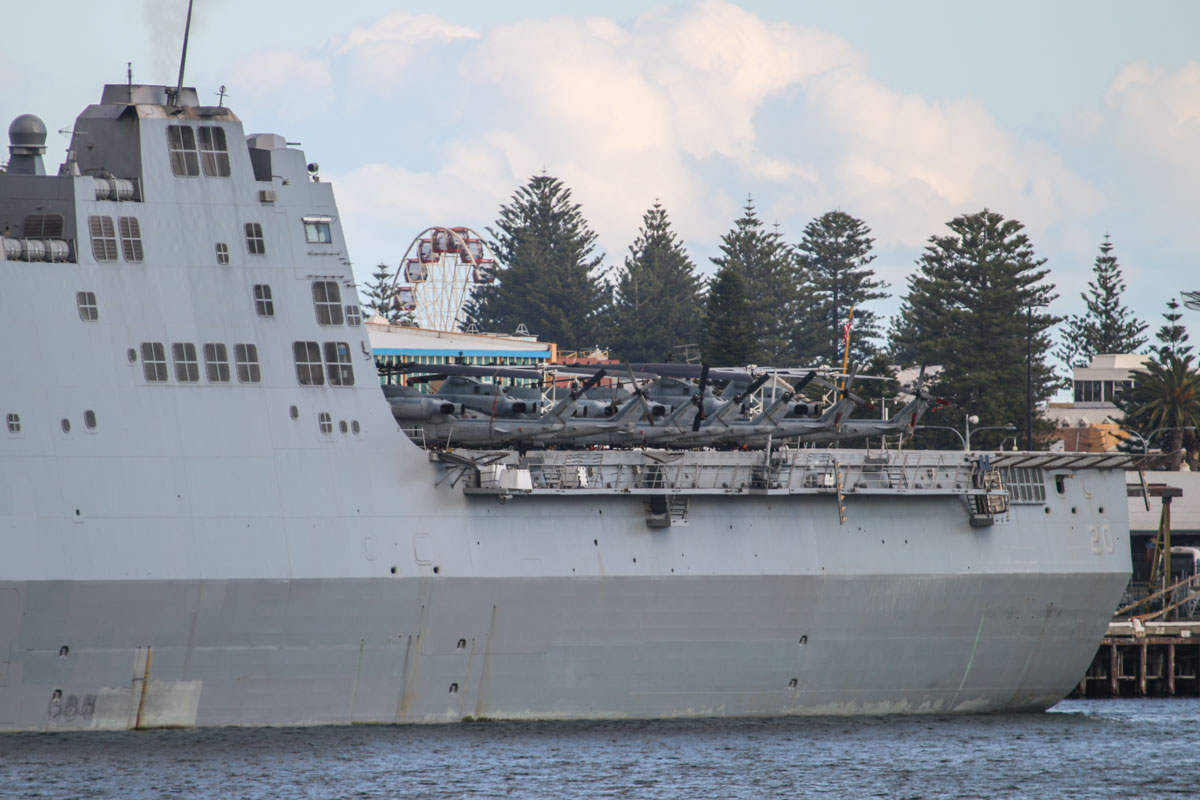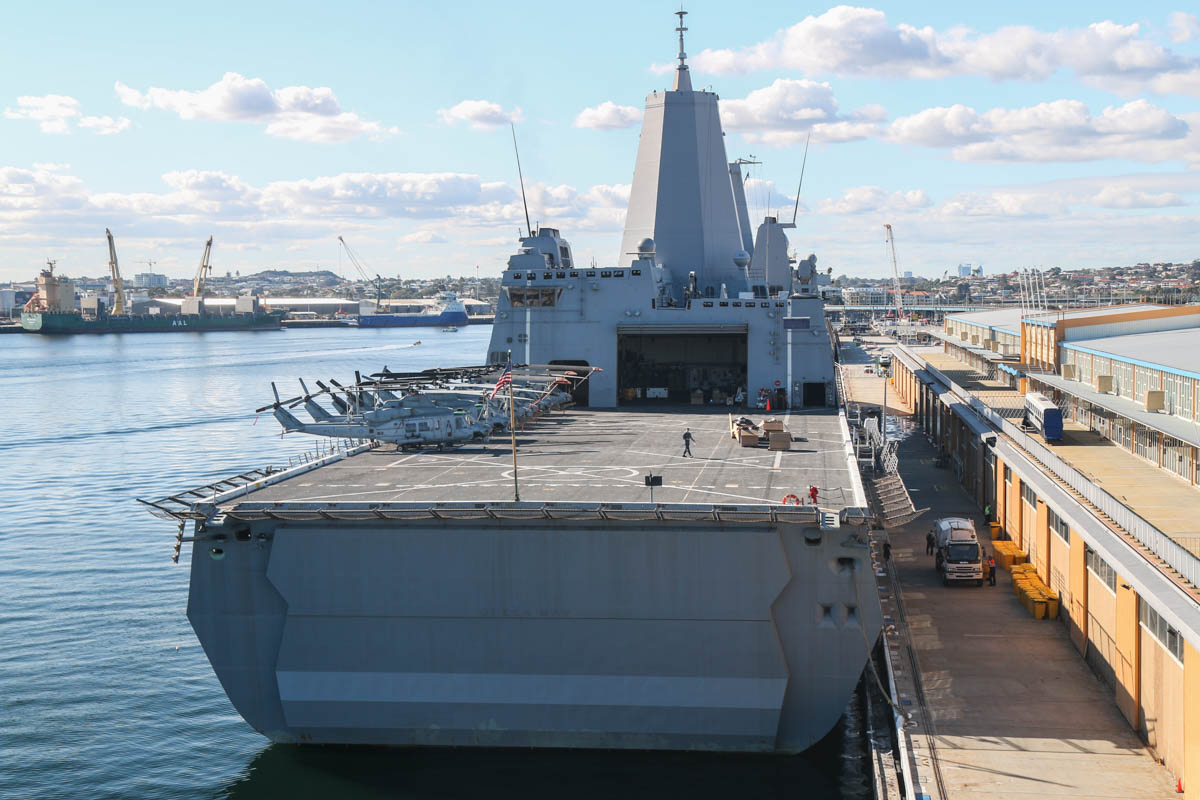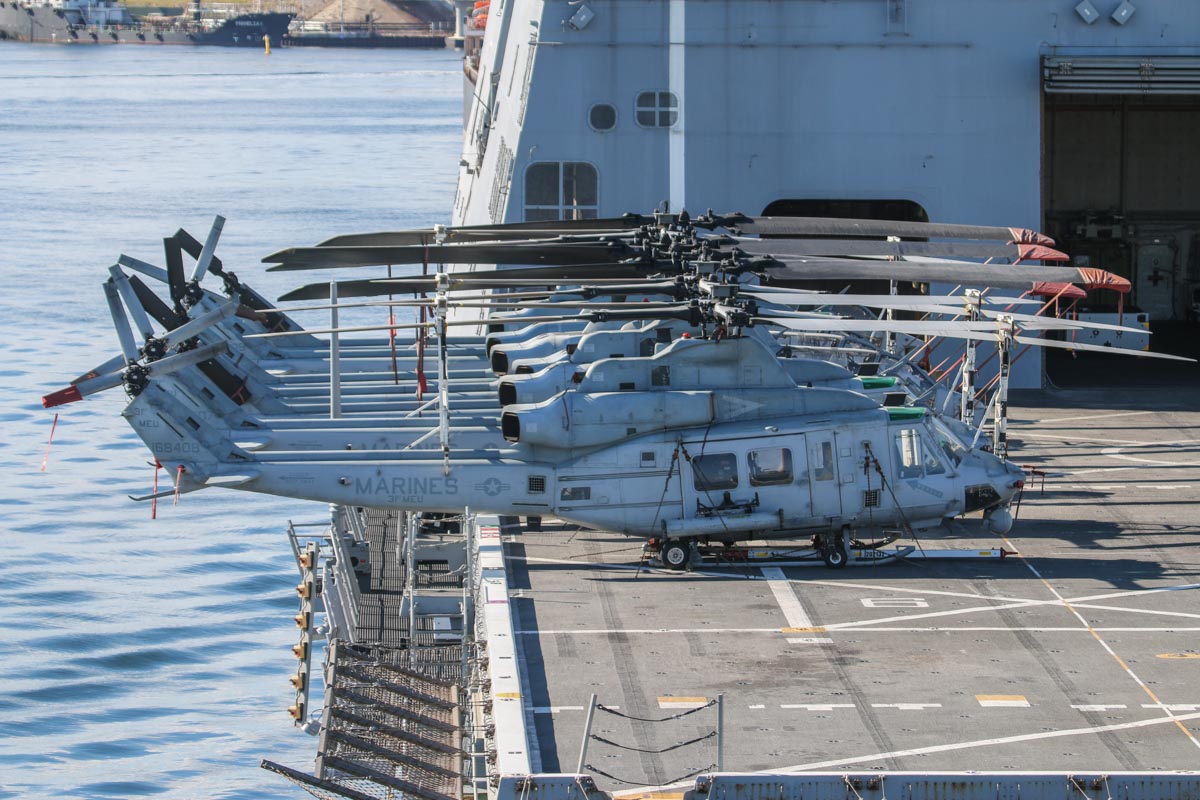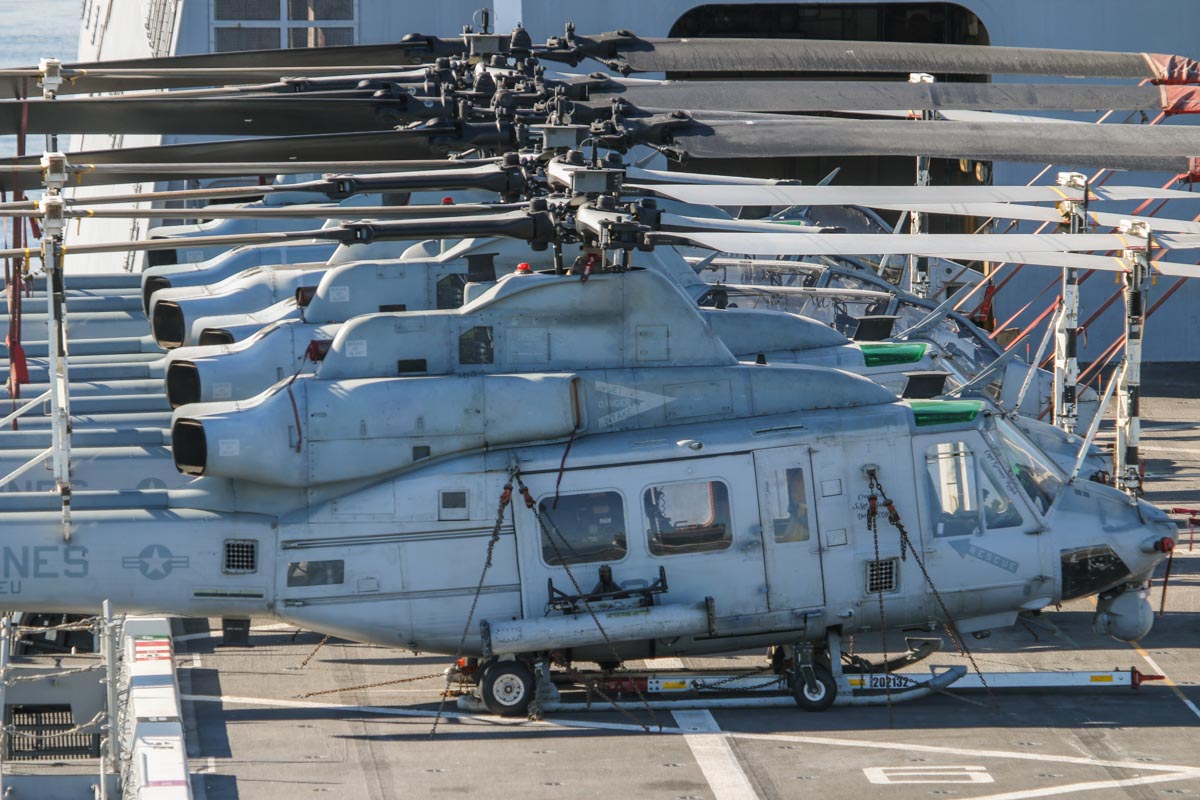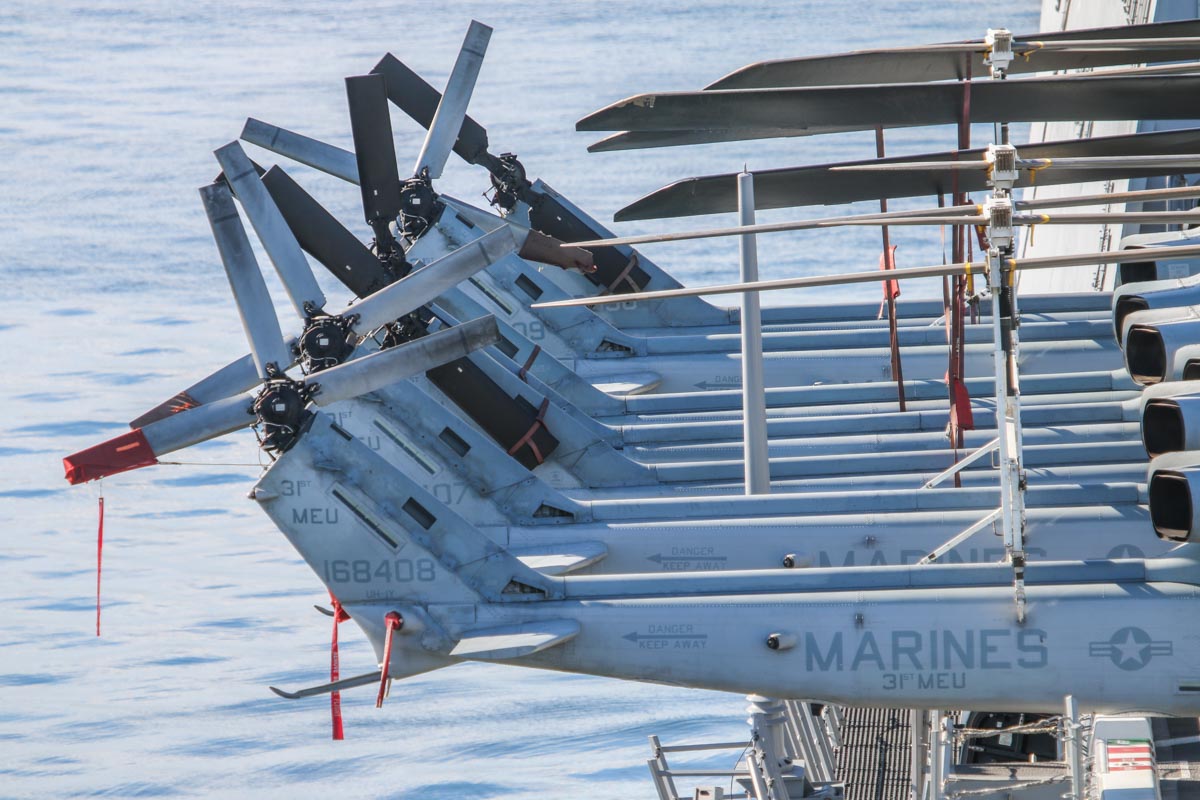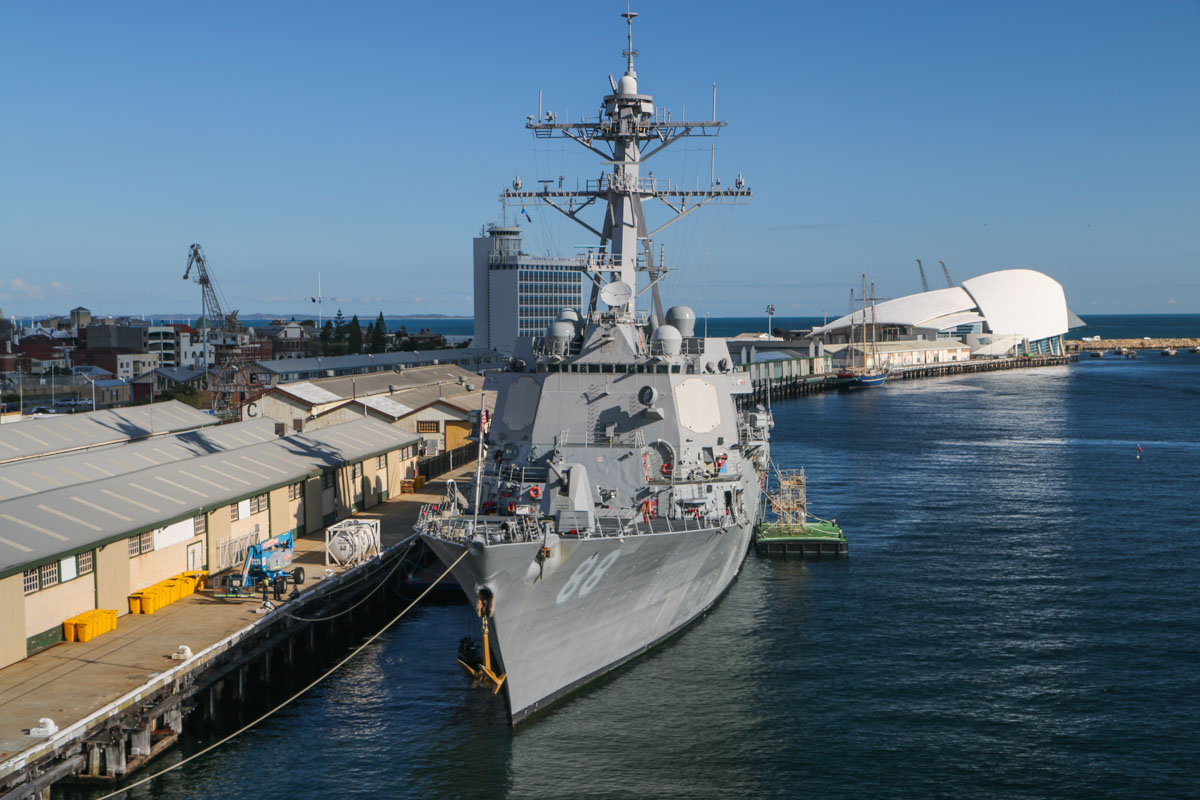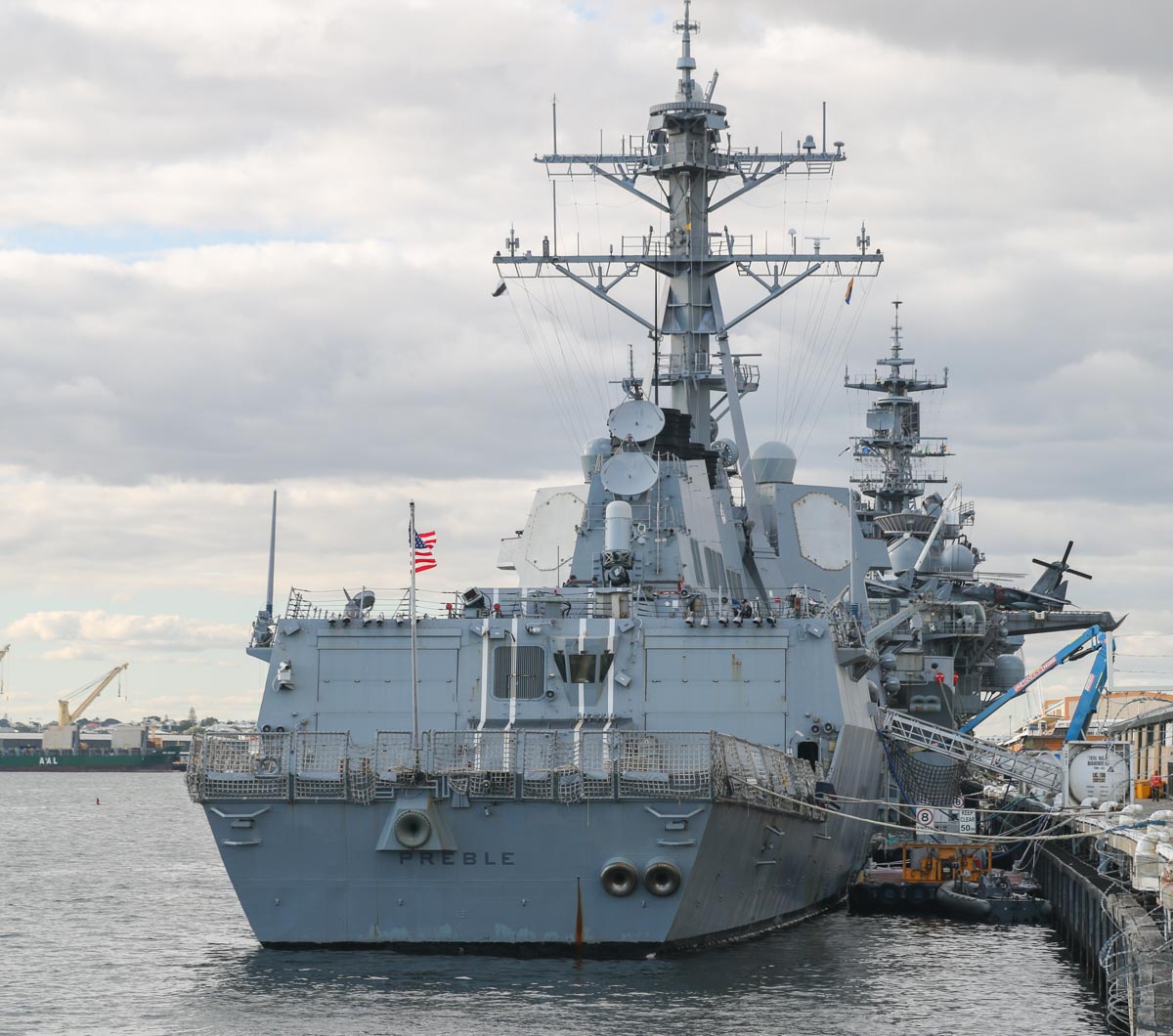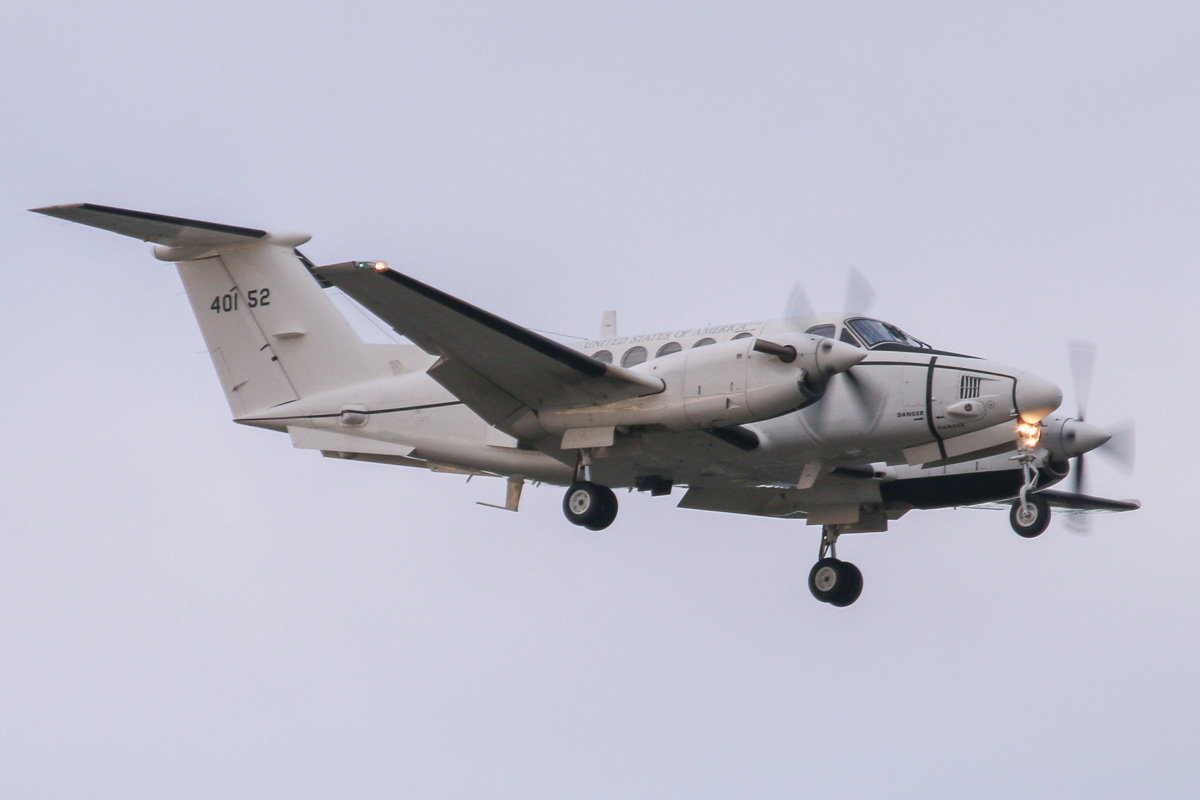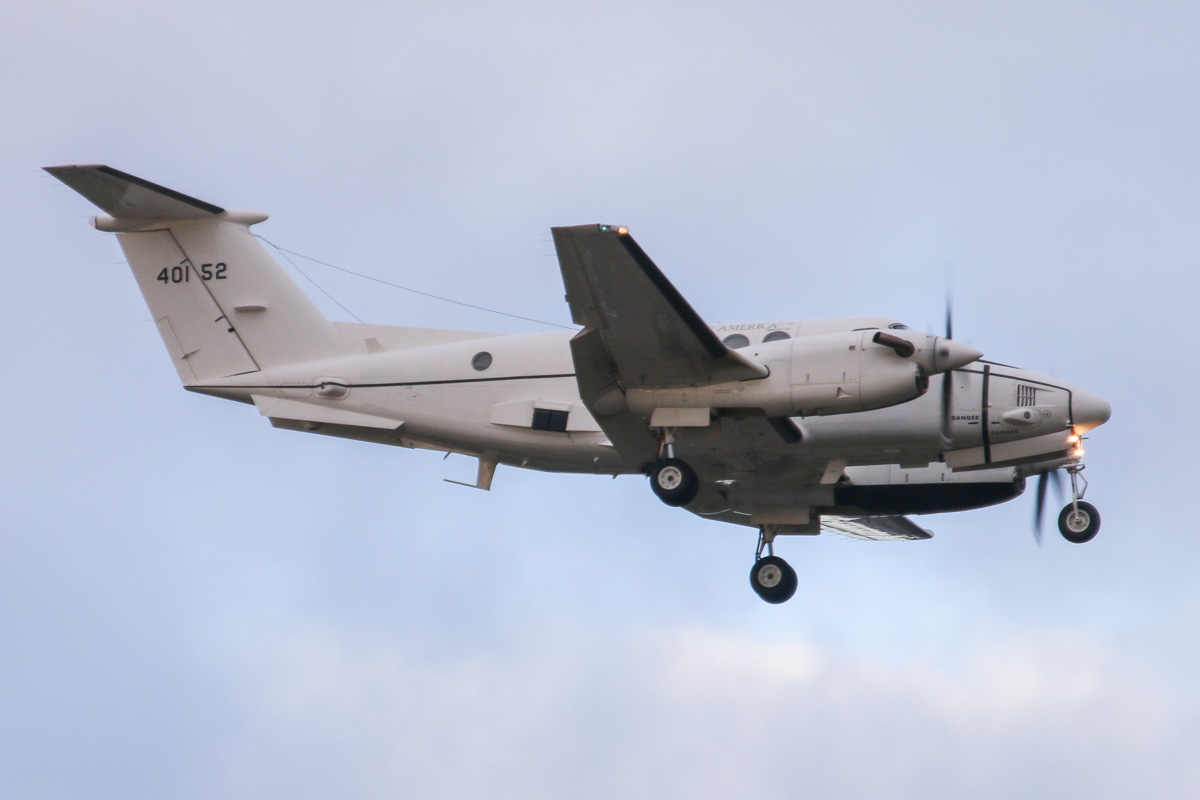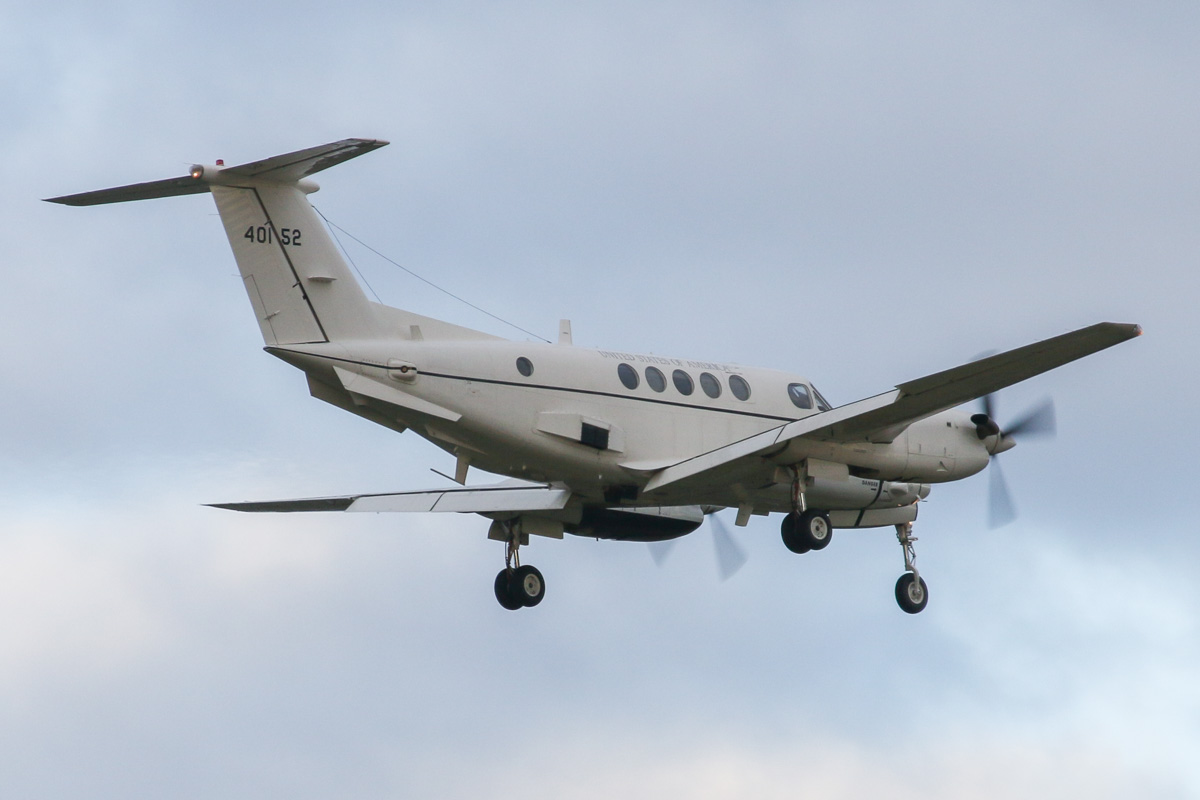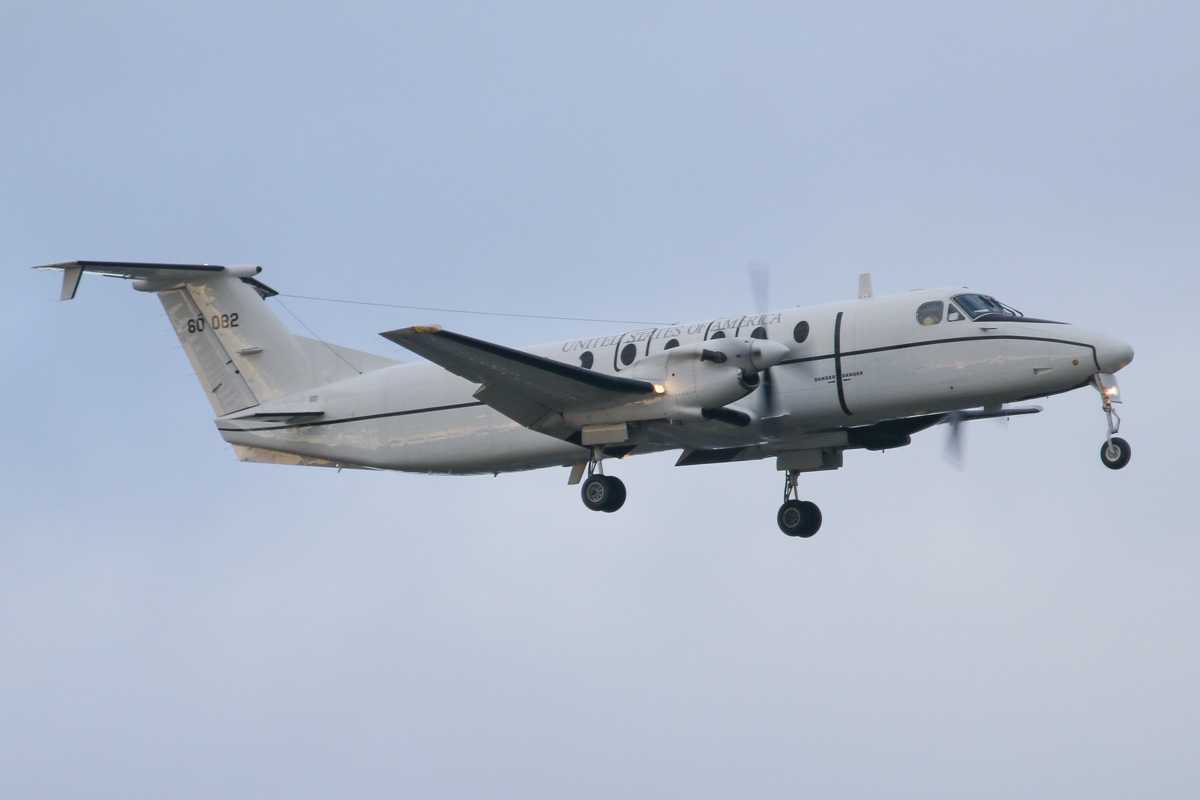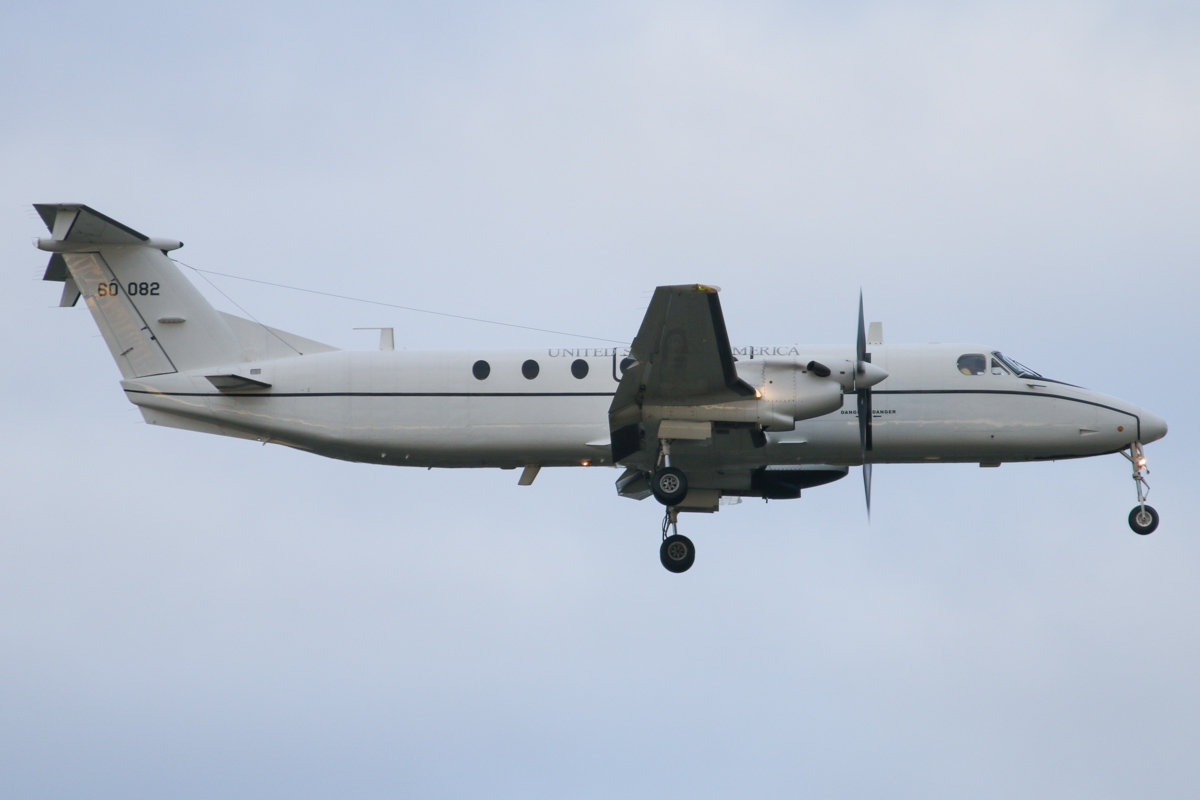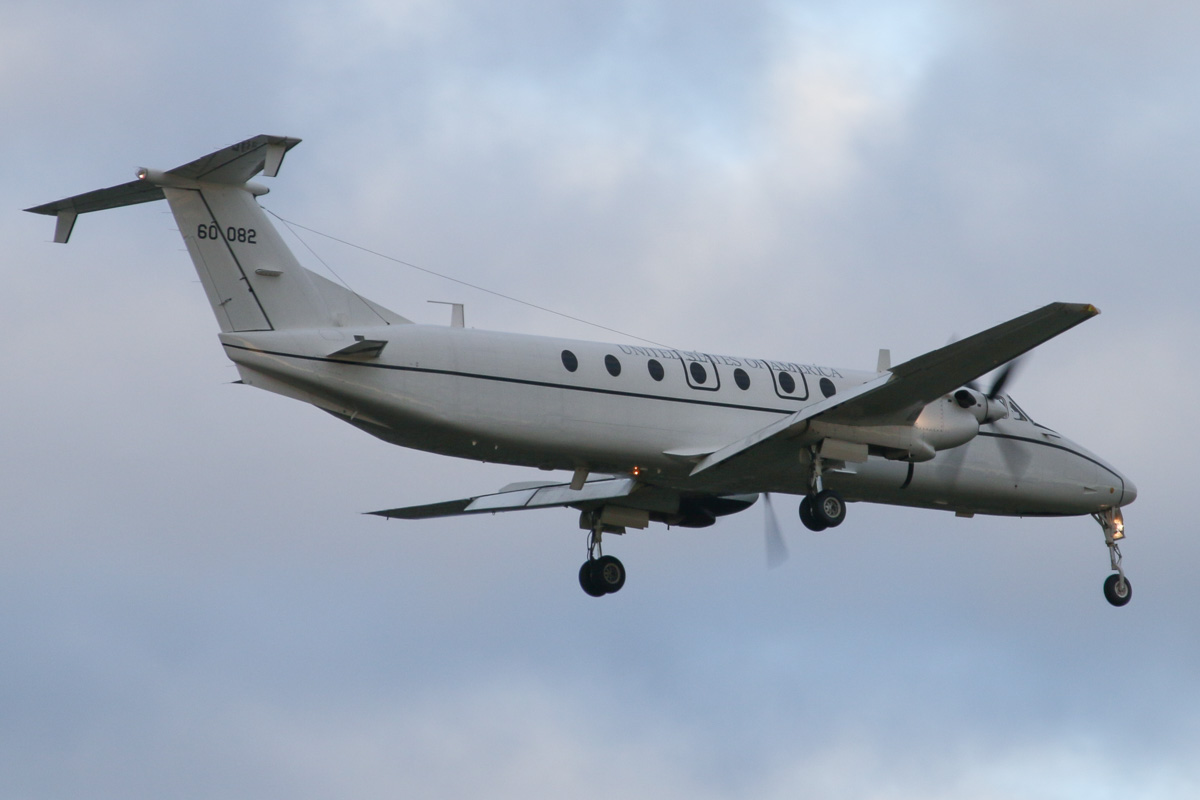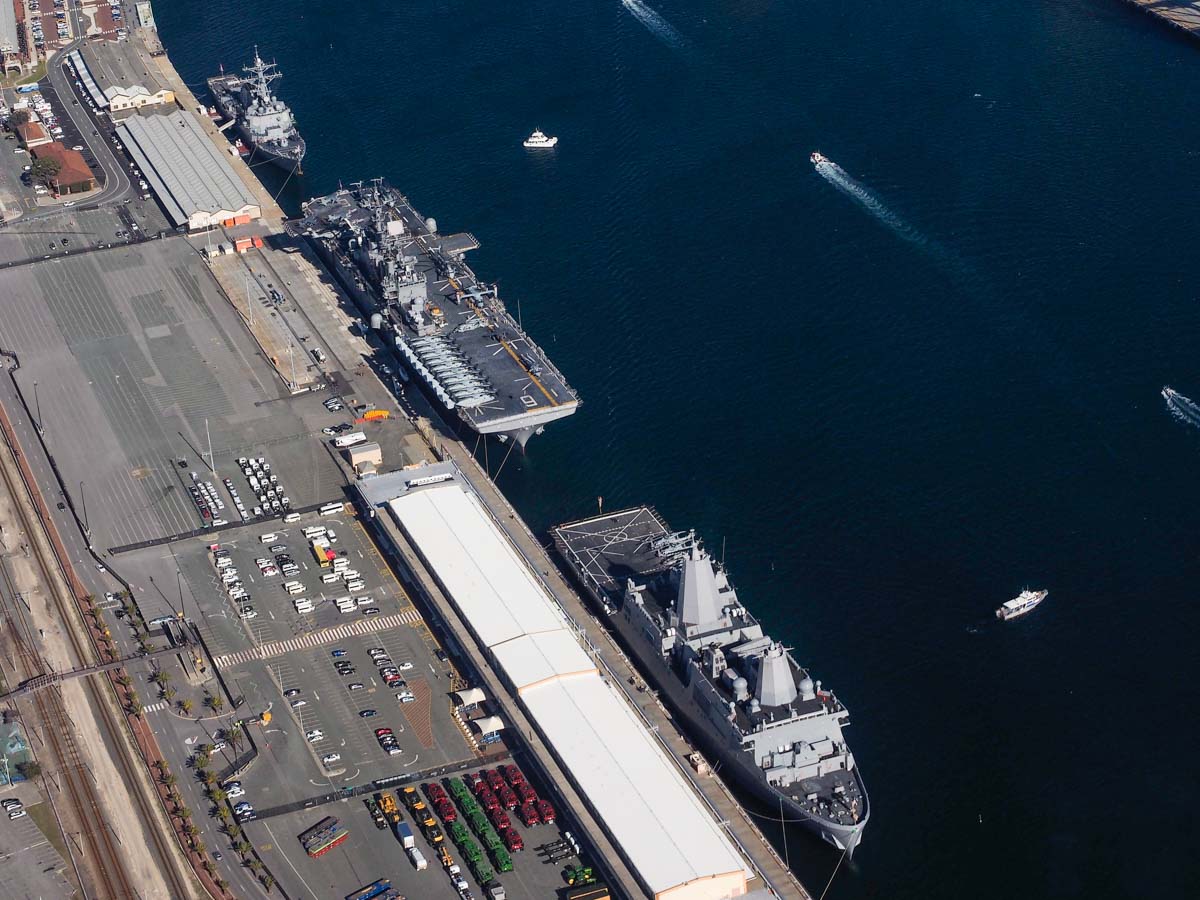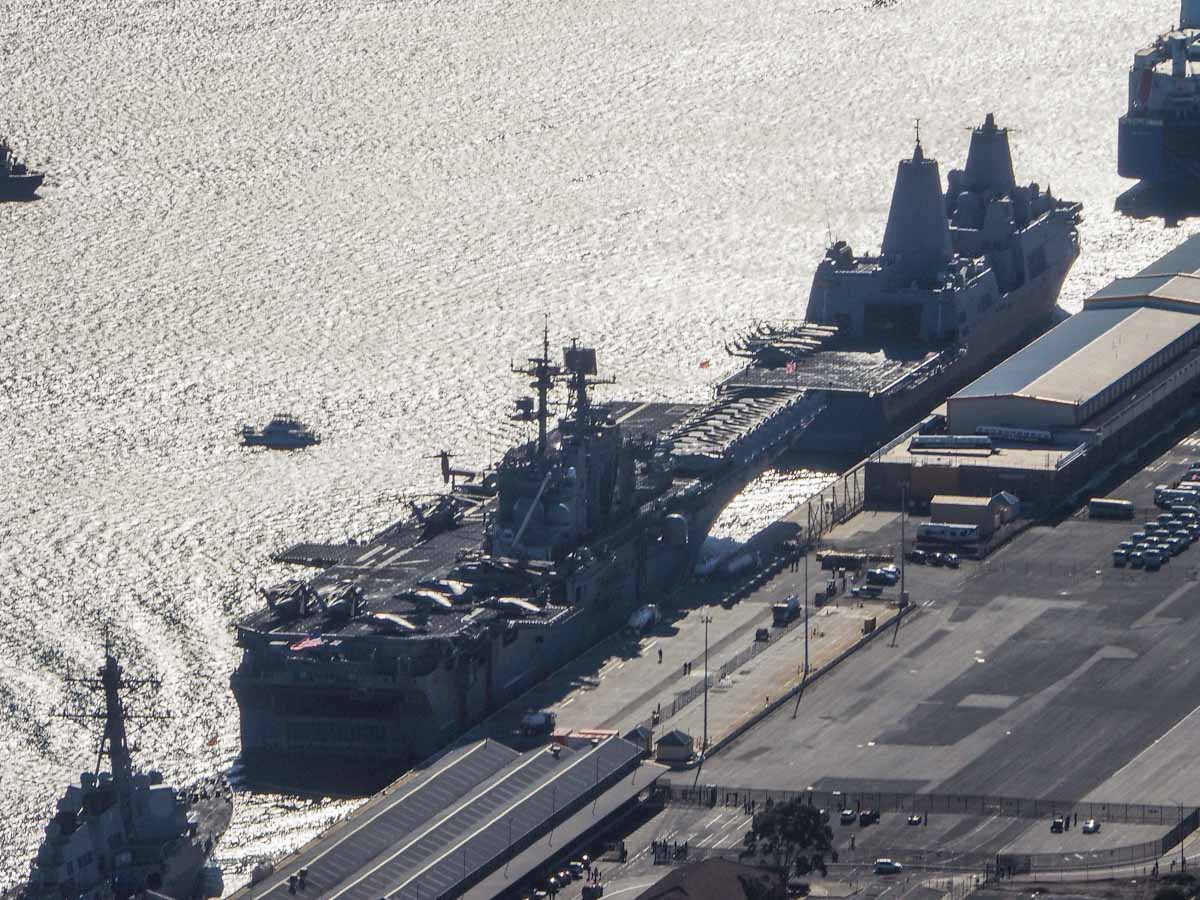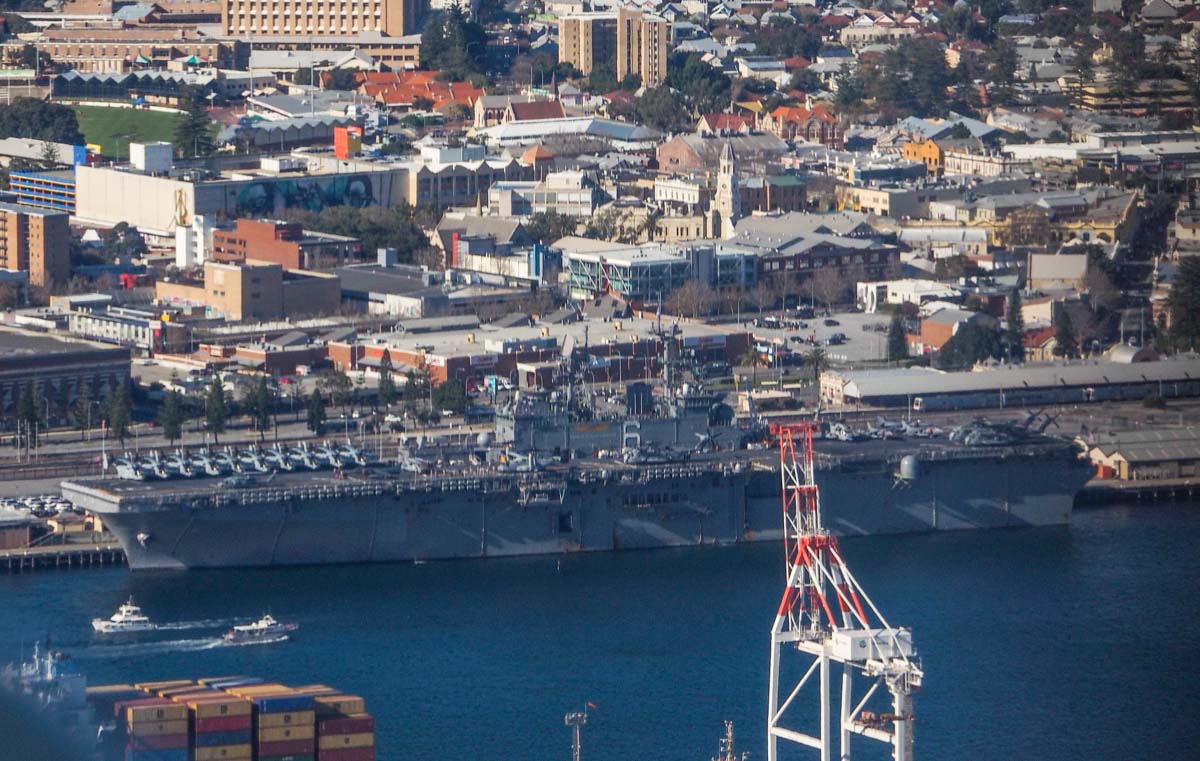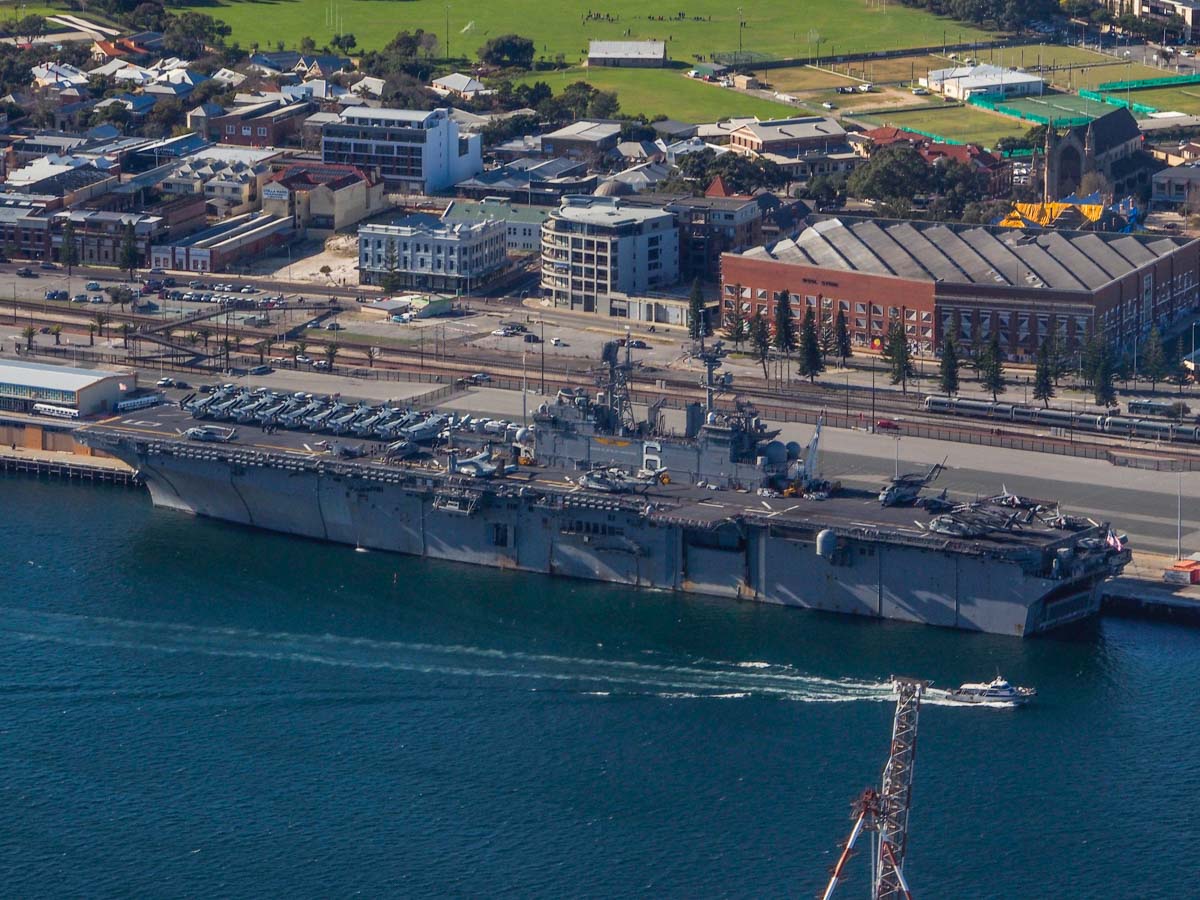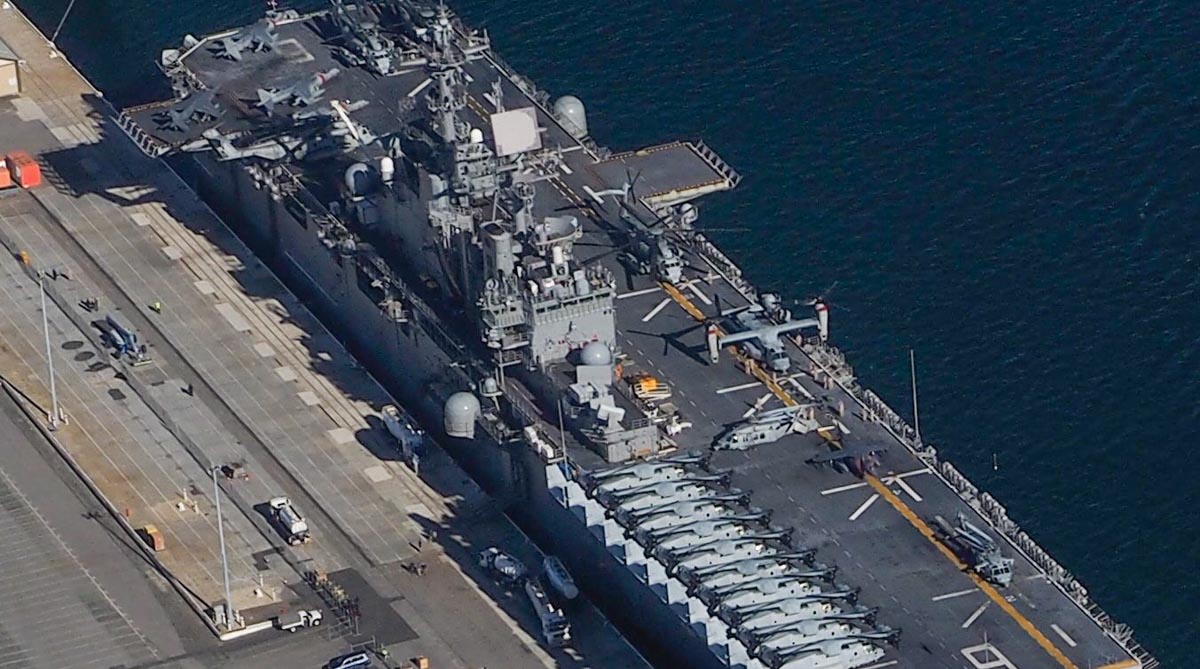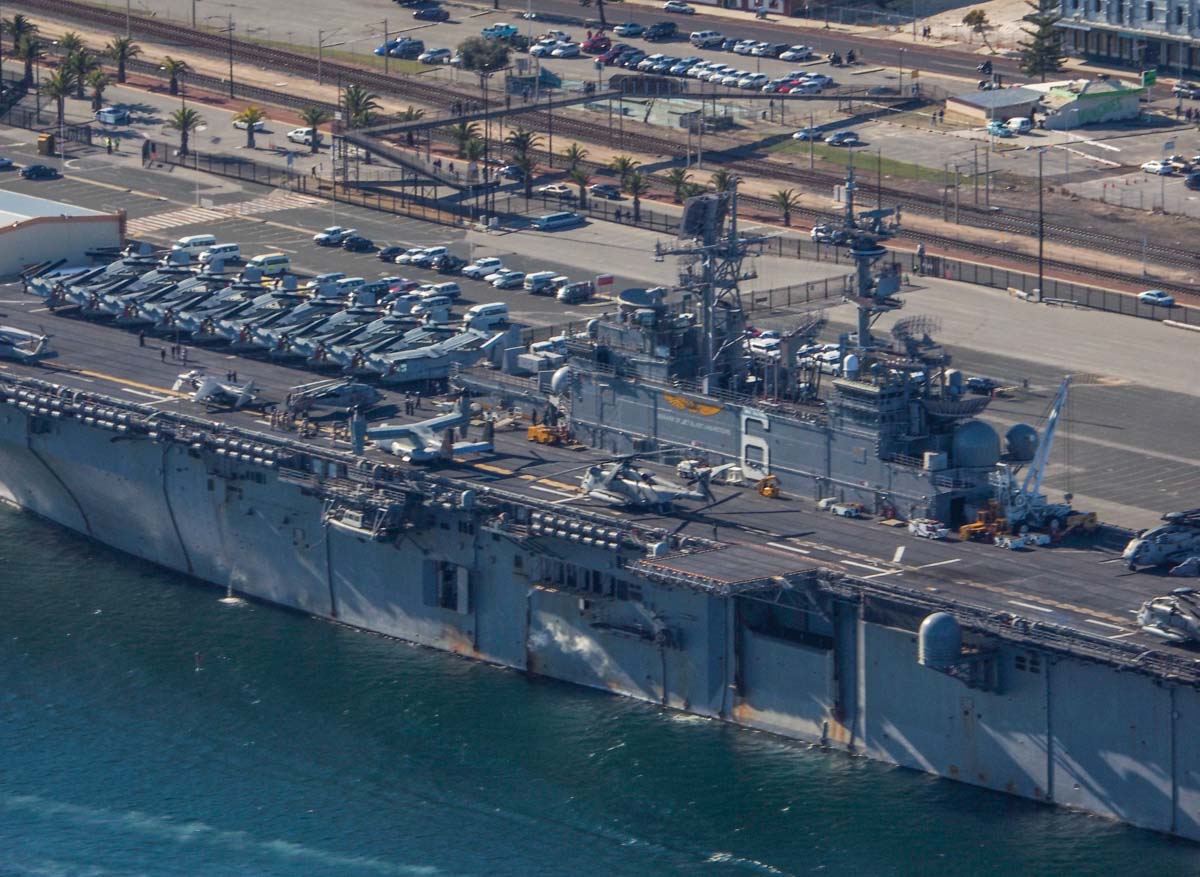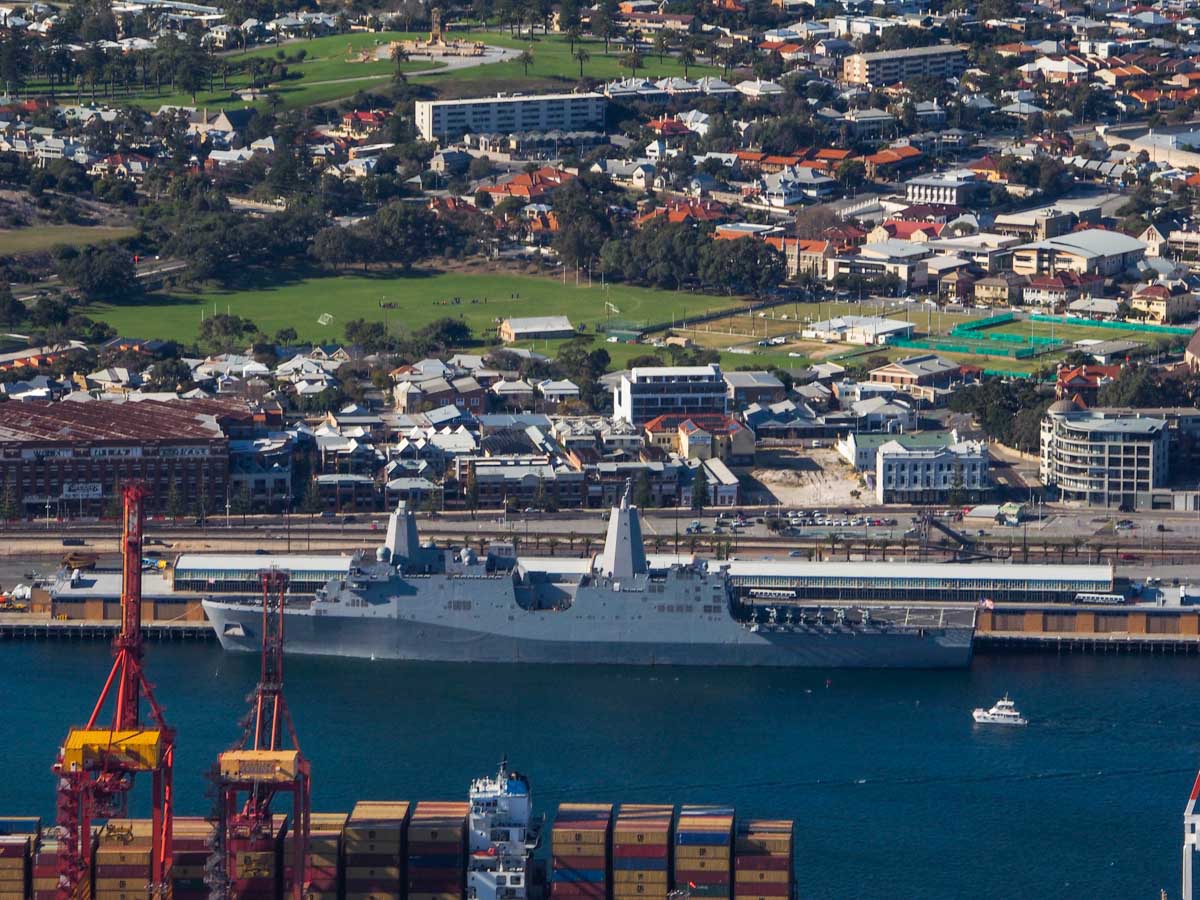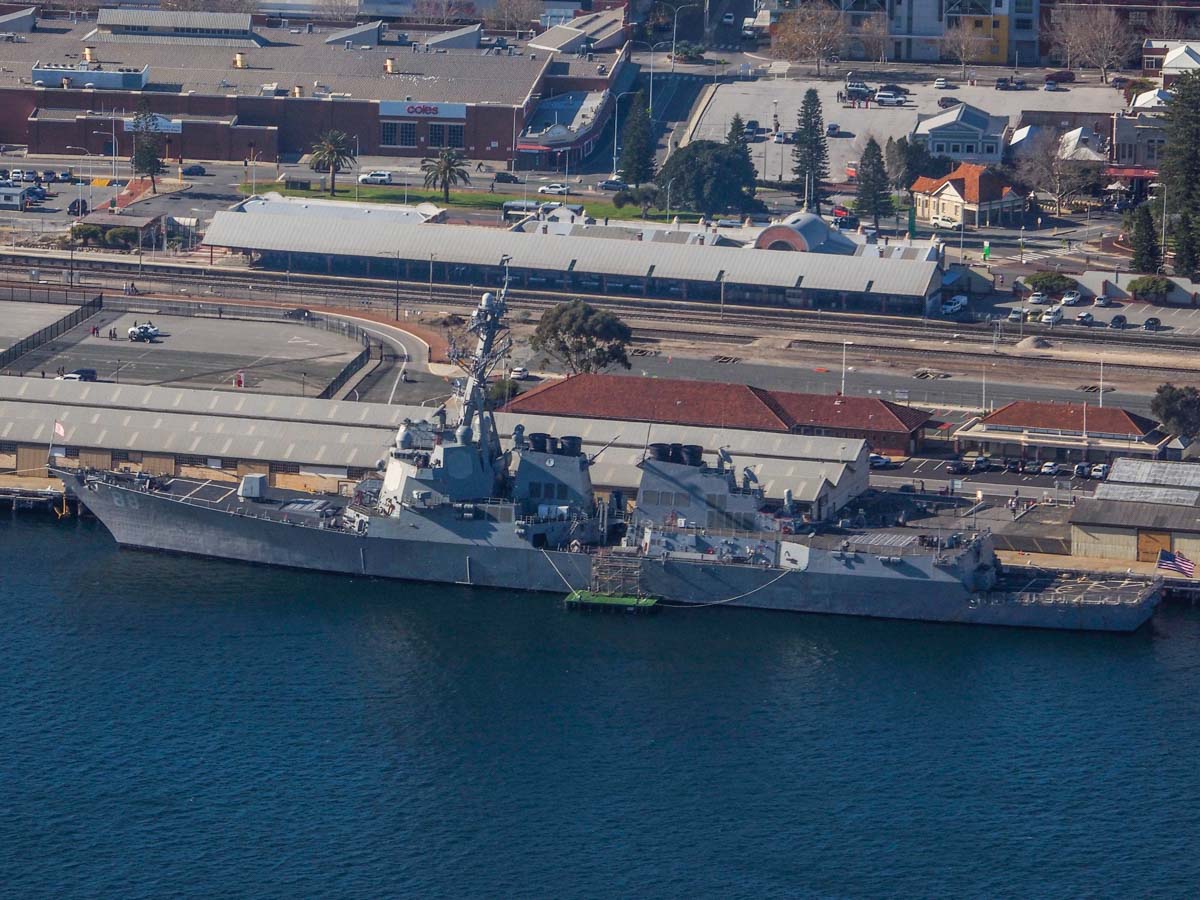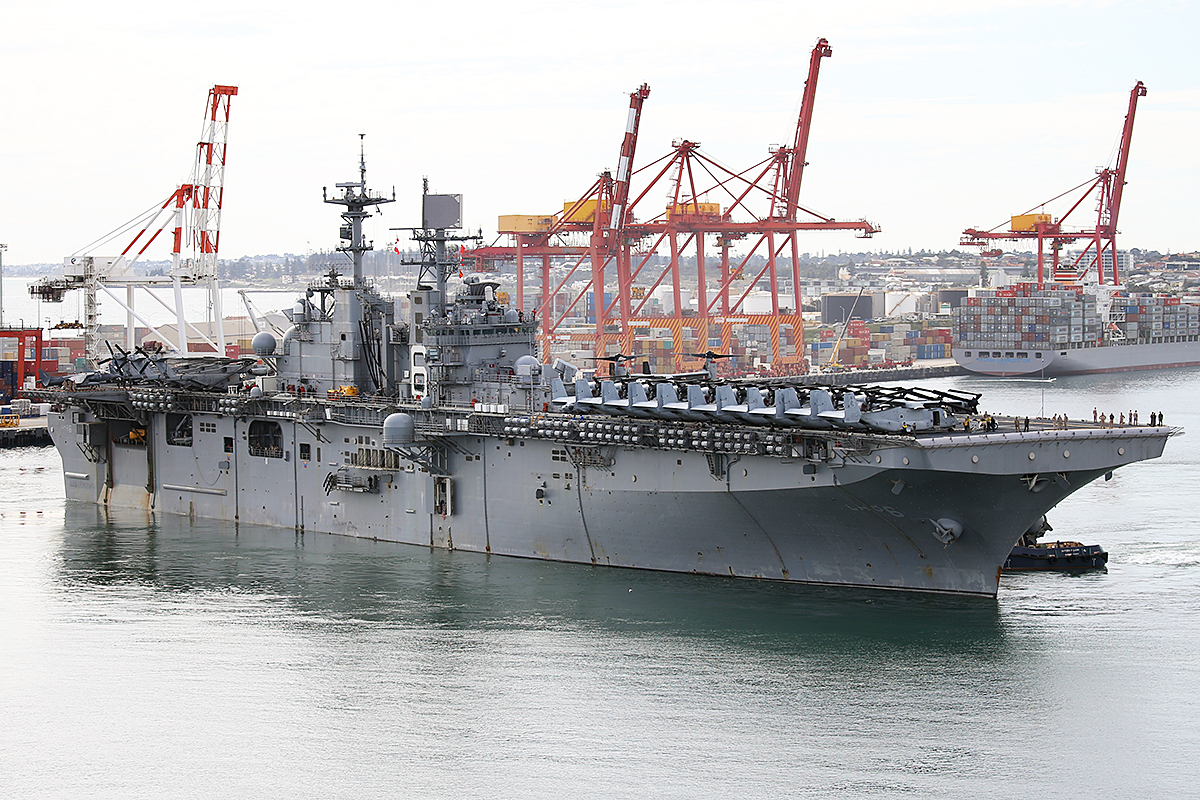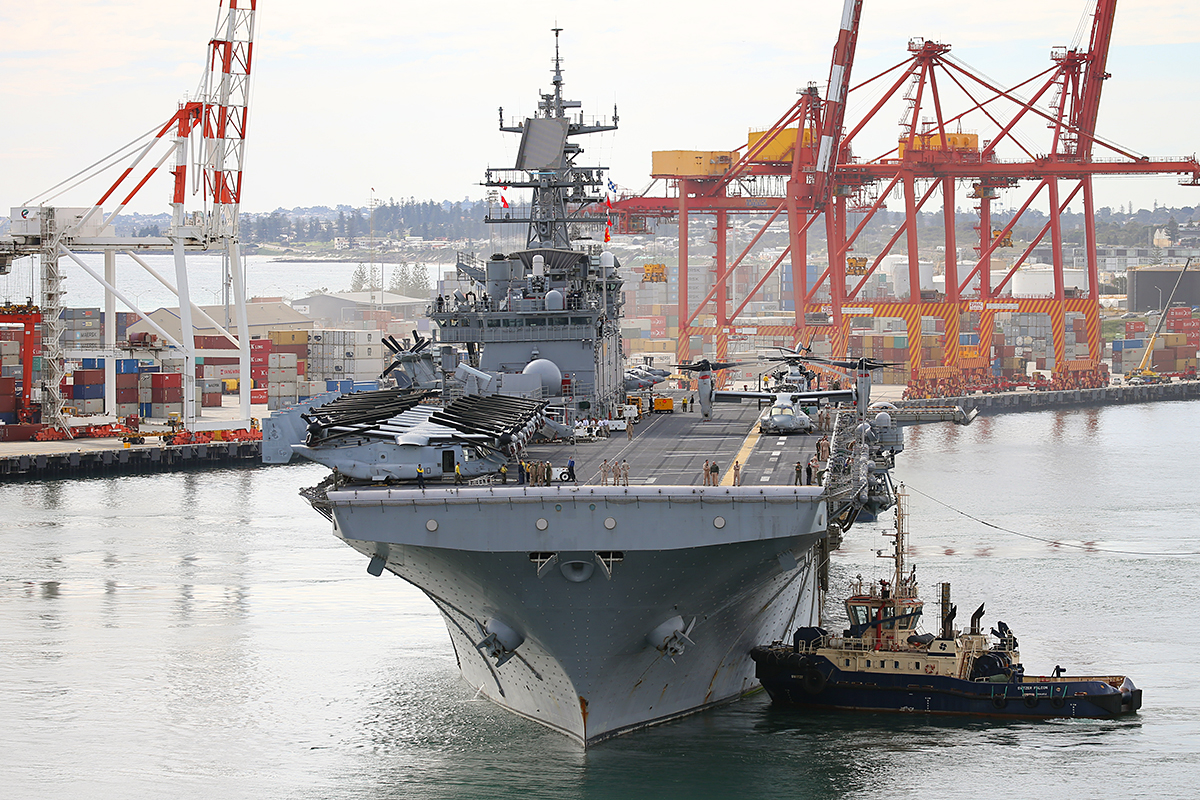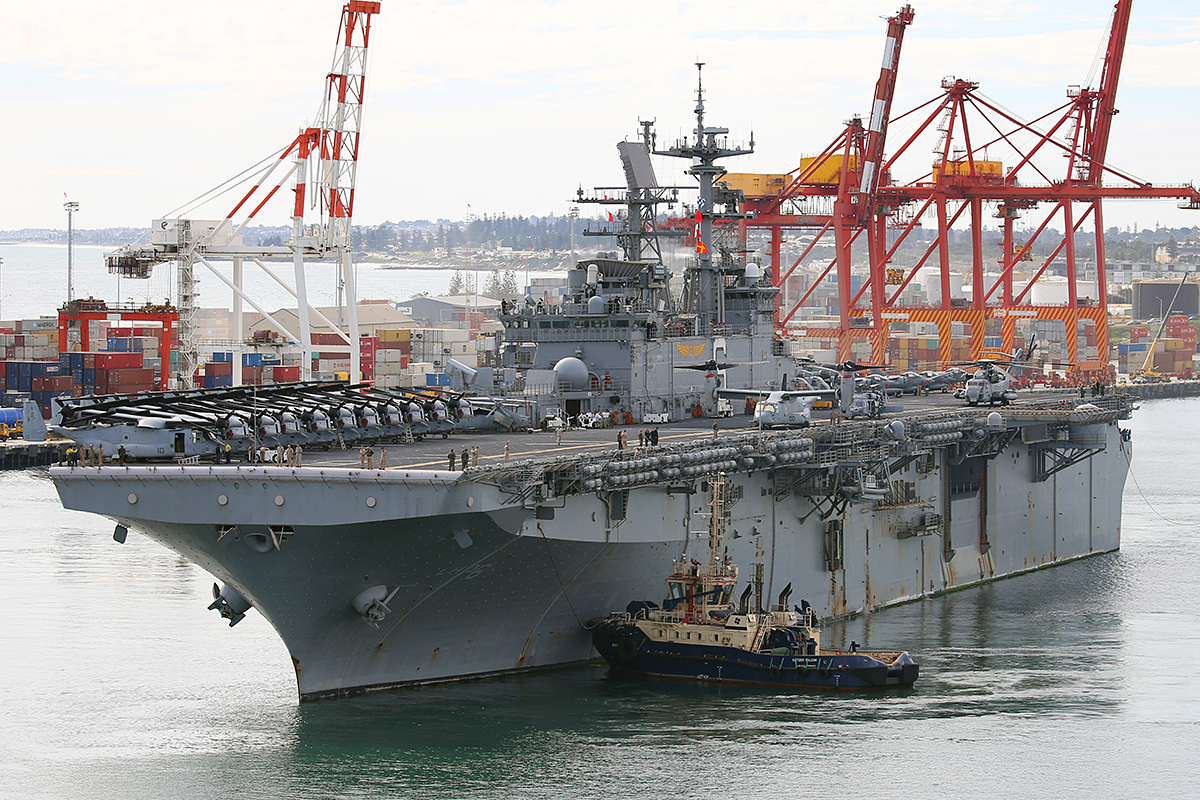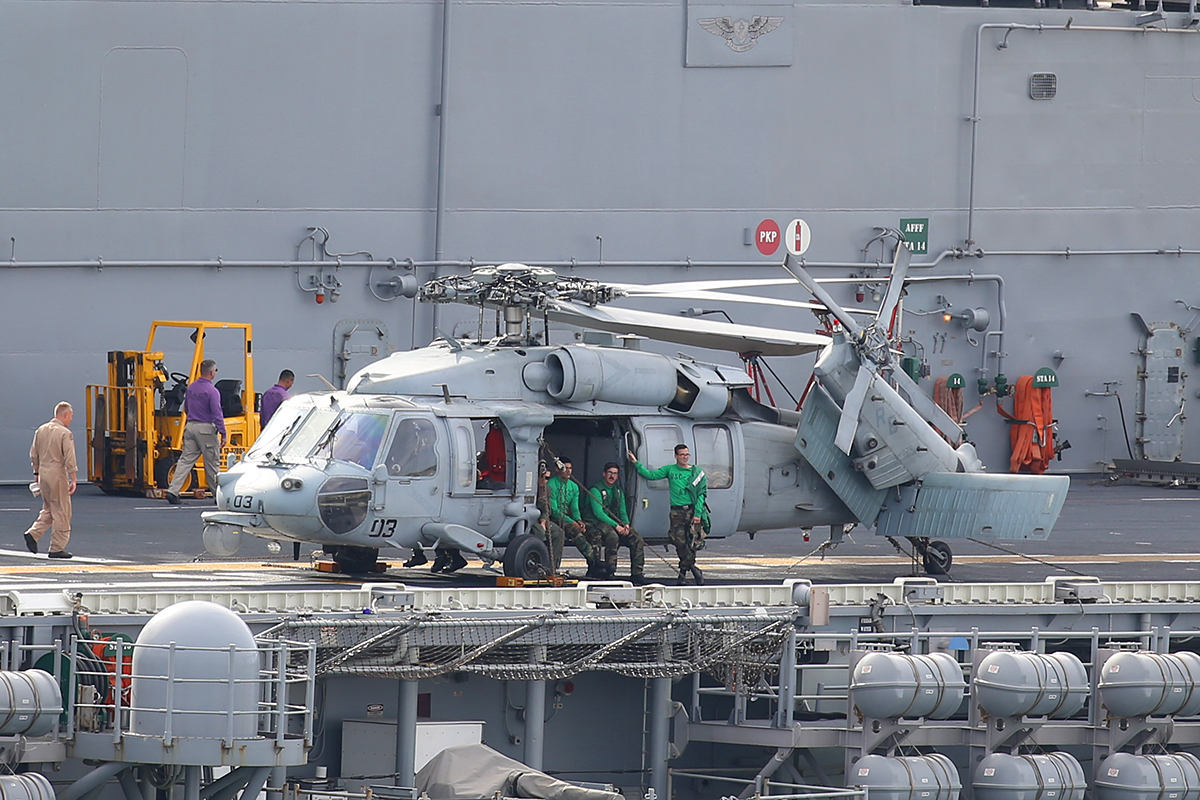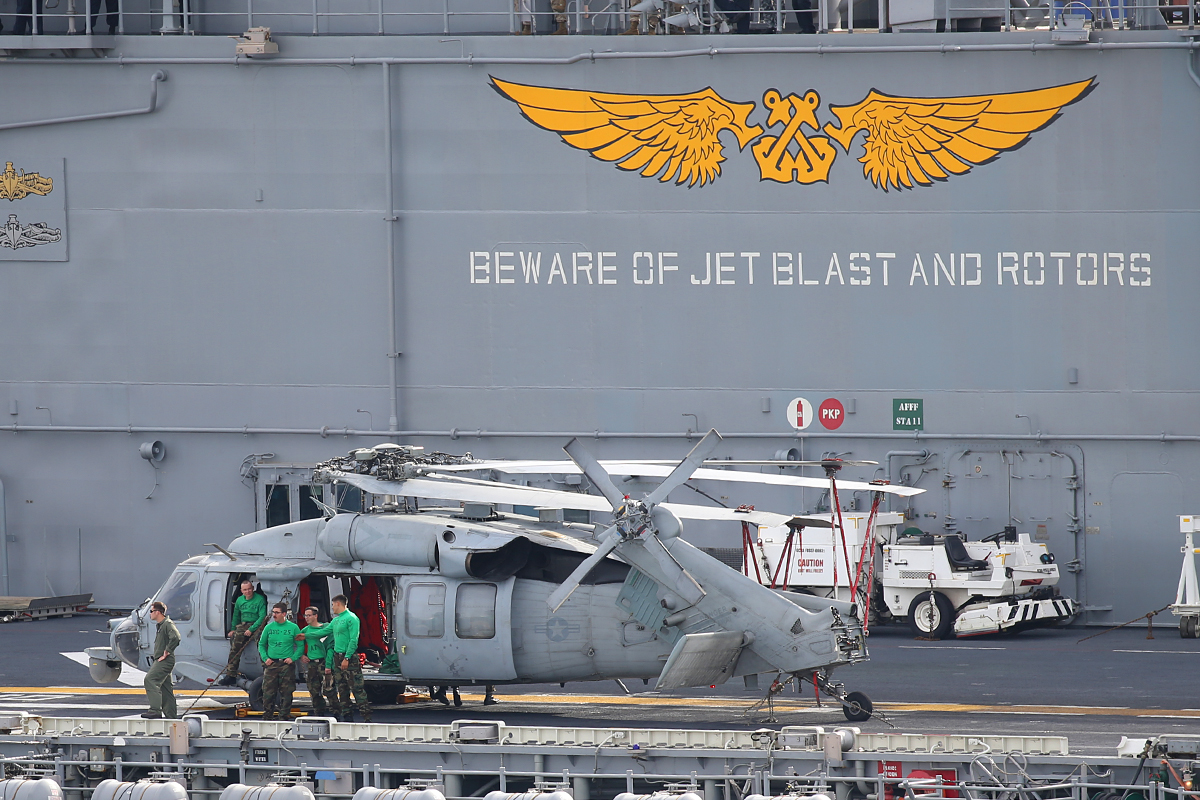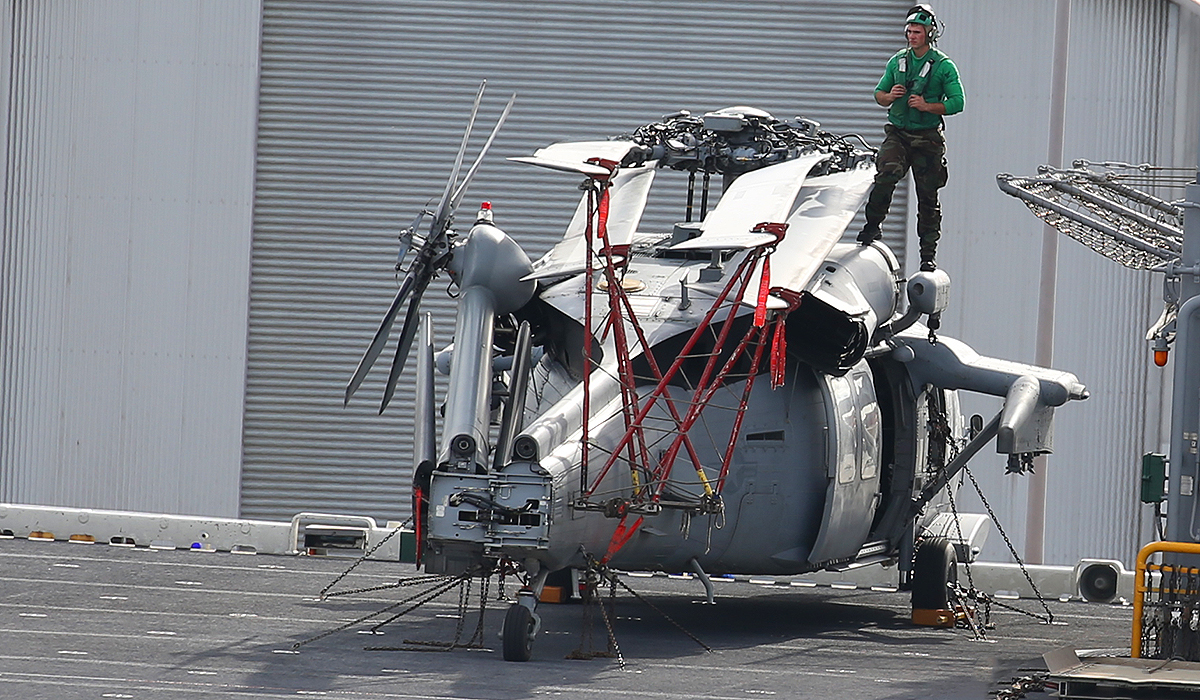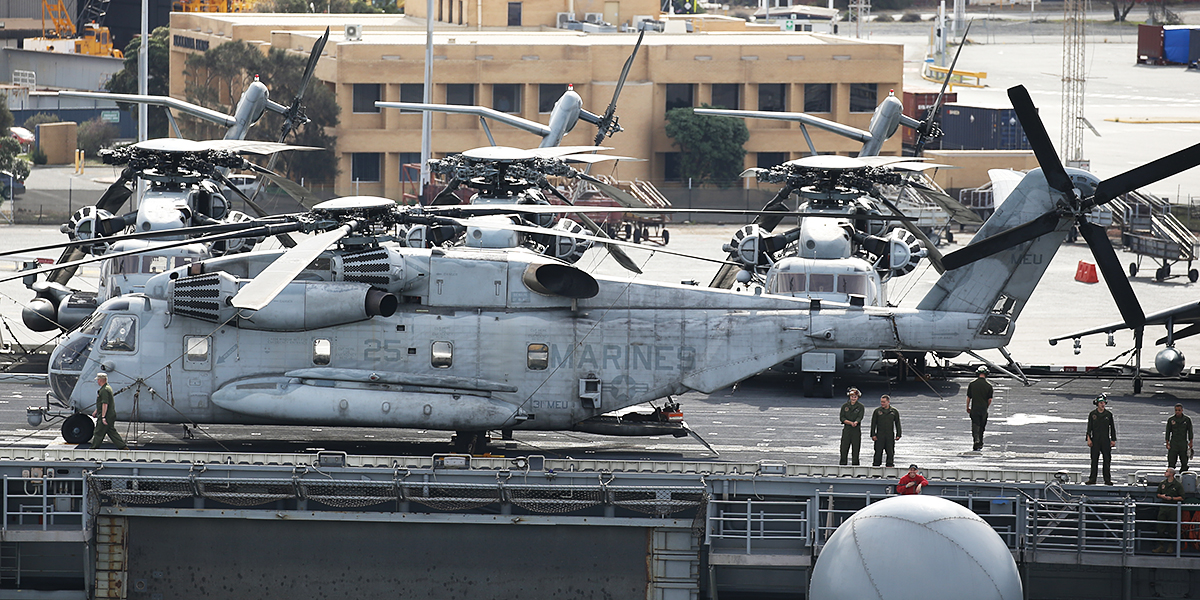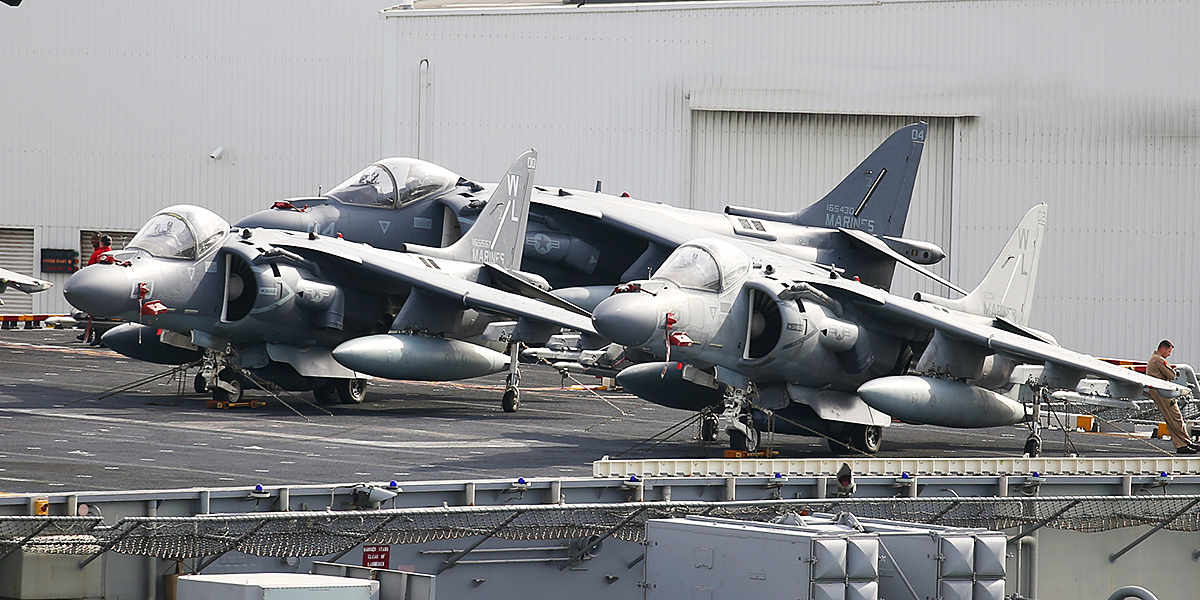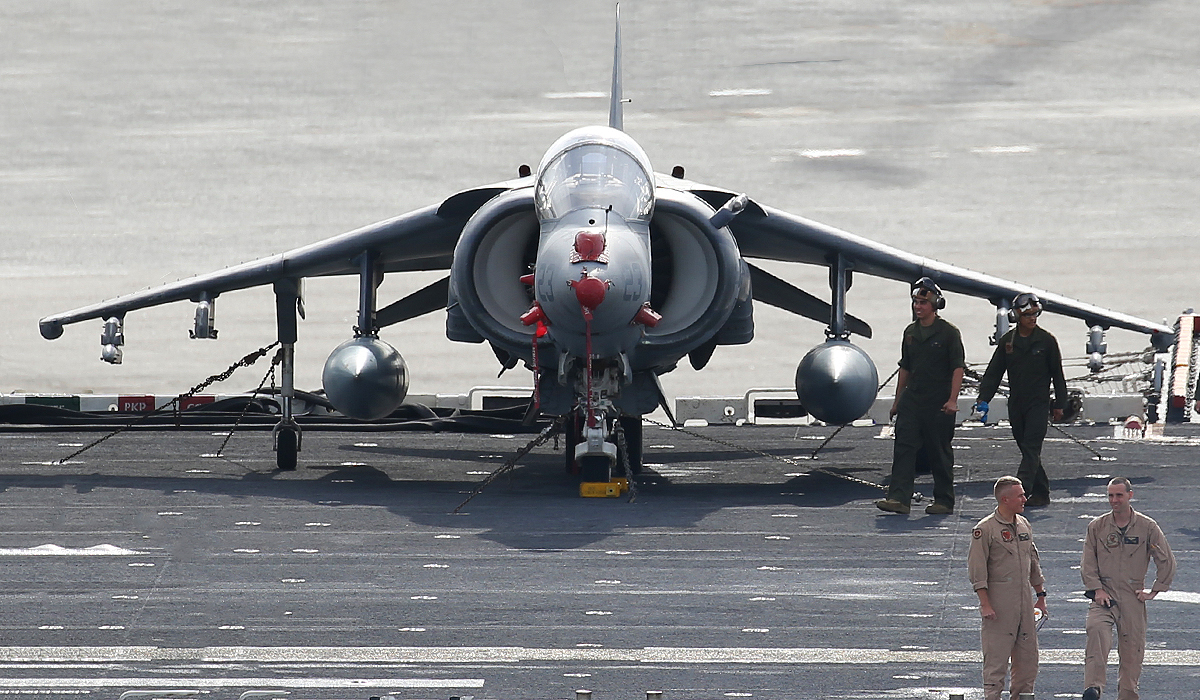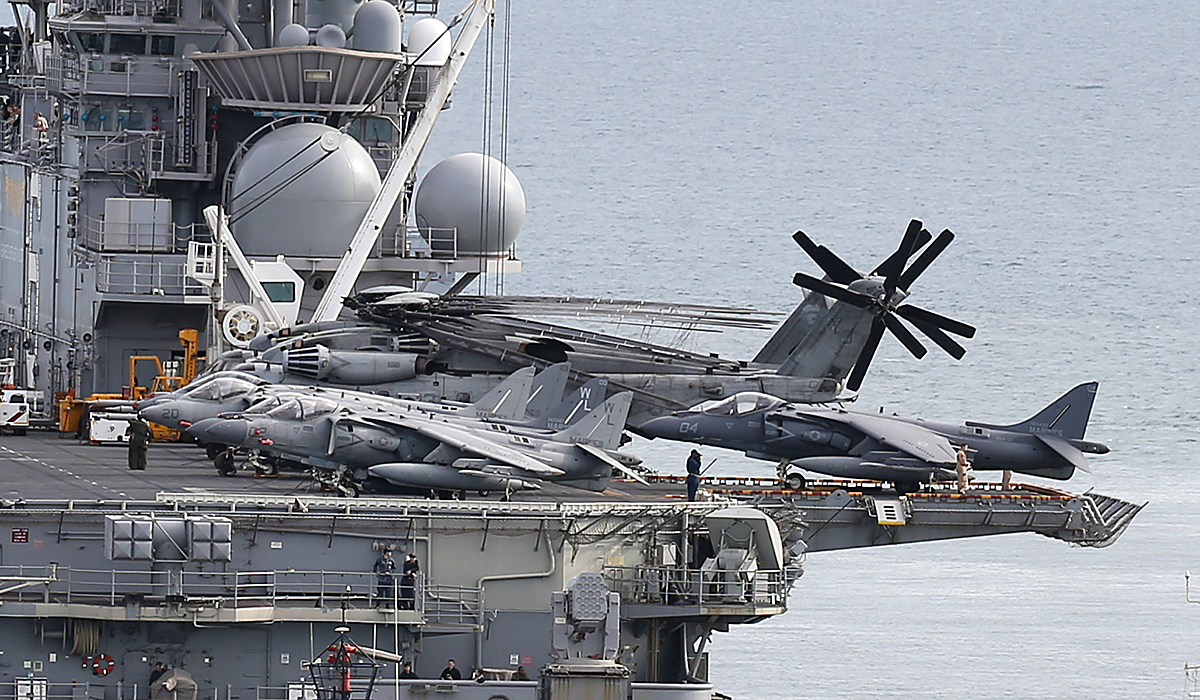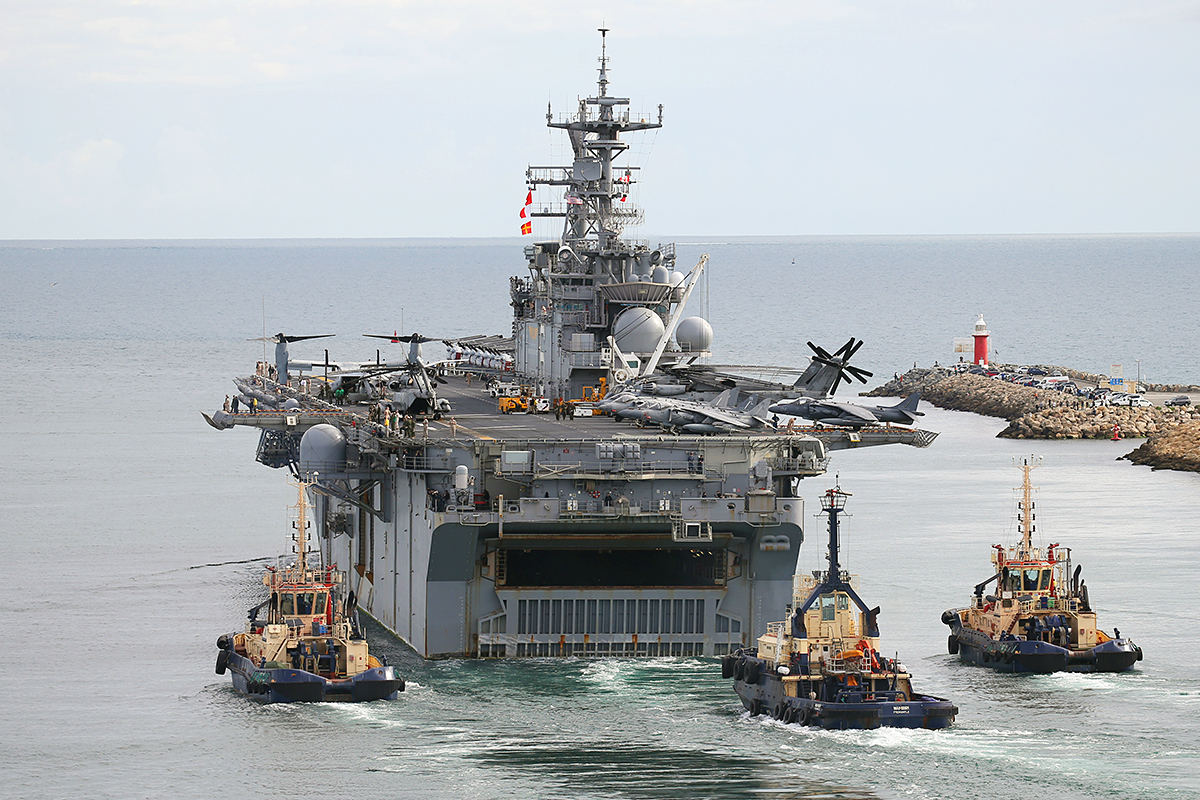 MEDEVAC FLIGHT – WED 1 JULY 2015
The day after the departure of the ships, two MV-22B Ospreys flew to Geraldton Airport just before 3pm, to drop off a sailor who was ill.
They did not refuel and departed with a few minutes of arrival, using callsigns DRAGON 01 and DRAGON 02. Photos courtesy of Alastair Urquhart.