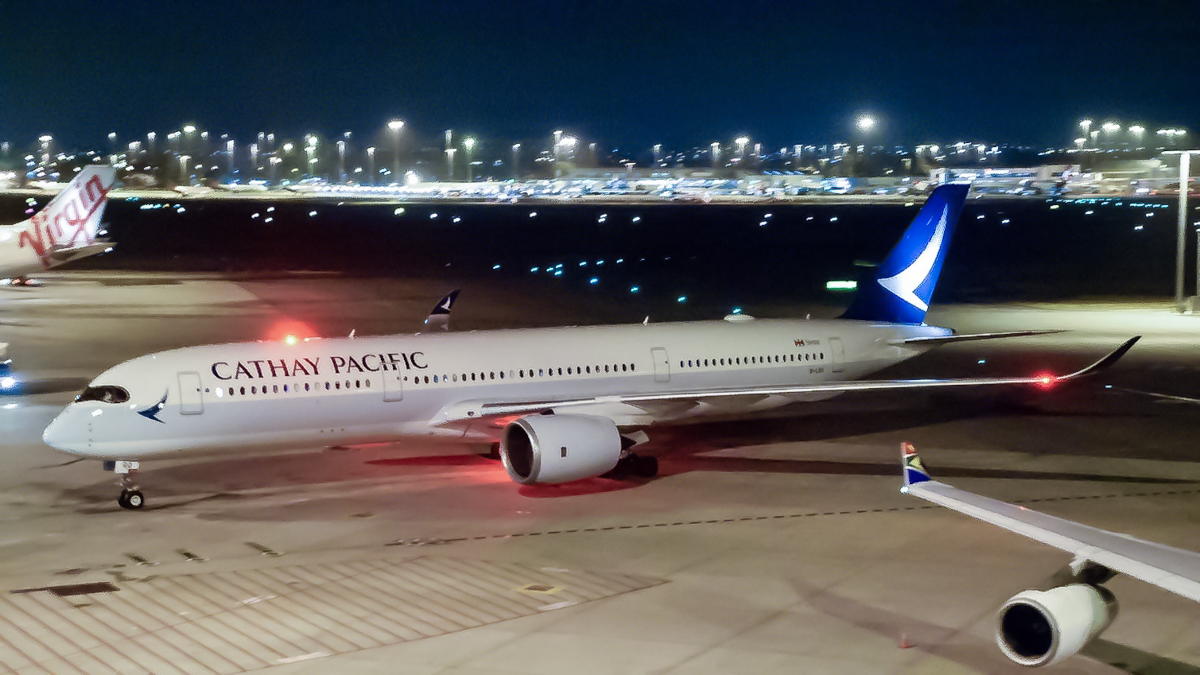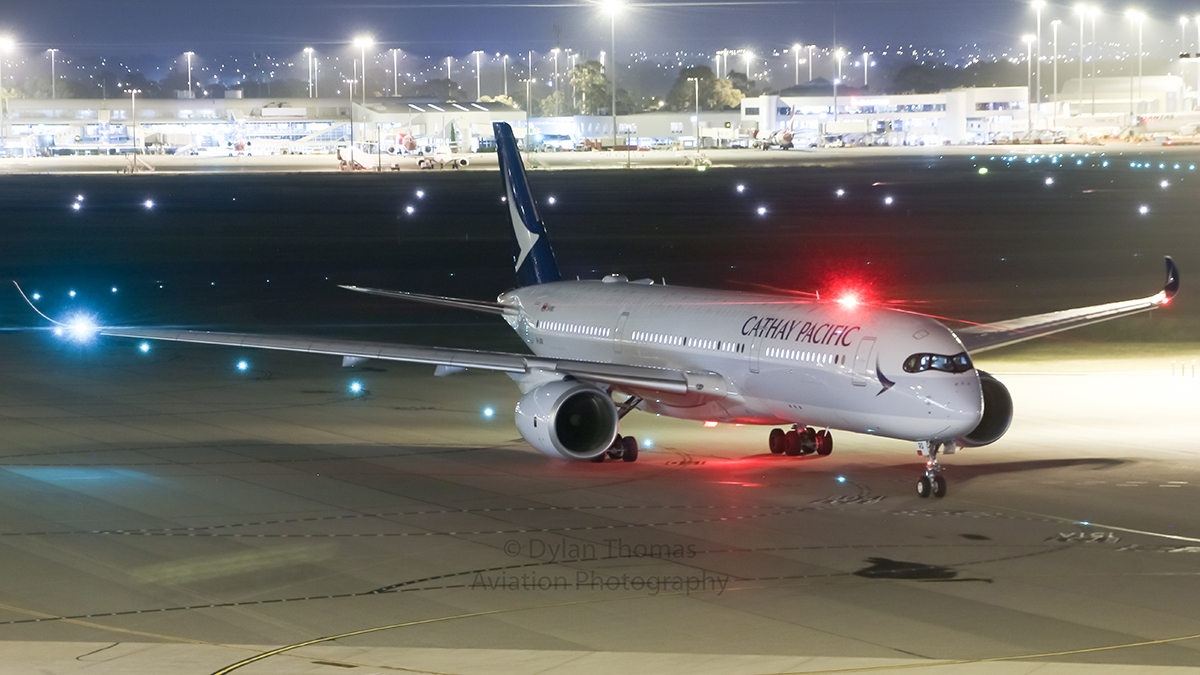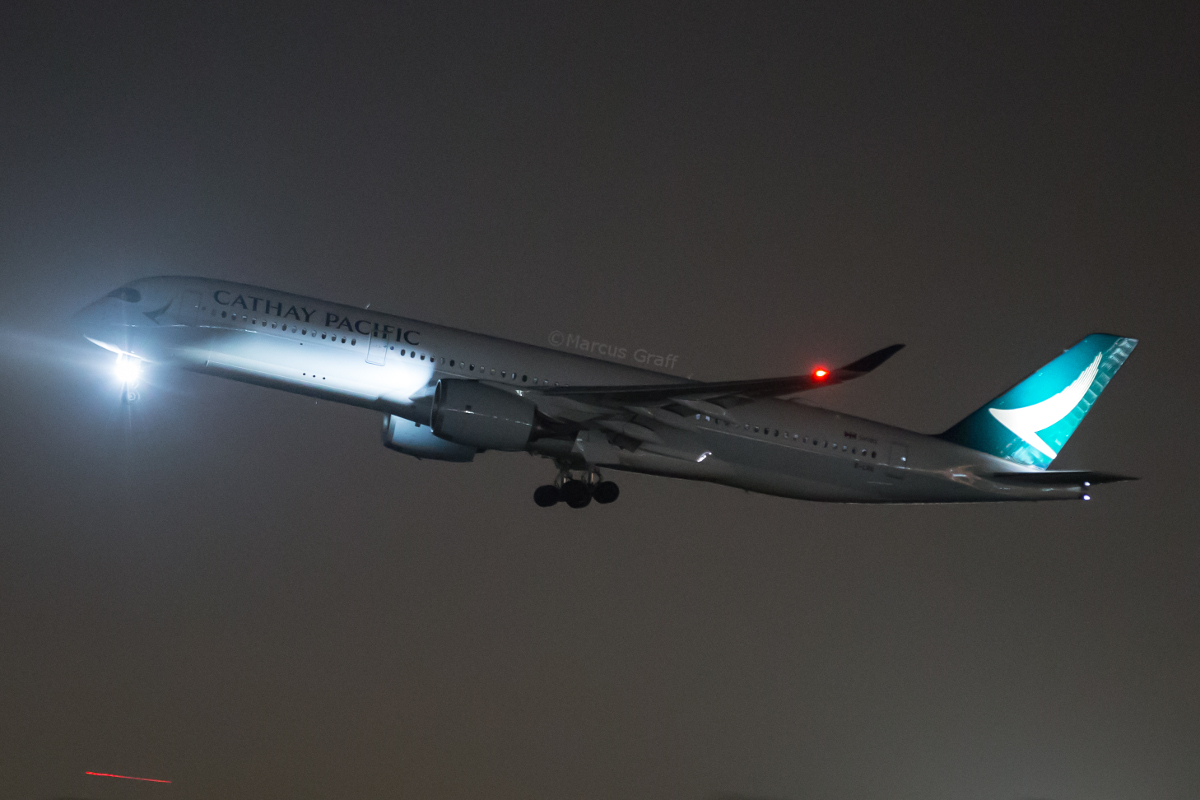 29 October 2017 © David Eyre
Cathay Pacific introduced the first regular Airbus A350 services from Perth today, replacing the previous Airbus A330-300 from 29 October 2017 on the daily CX171/CX170 night services between Perth and Hong Kong.
B-LRQ (MSN 109) departed Gate 47 at Hong Kong at 3:15pm, taking off from runway 07R at 3:35pm. It landed on Perth's runway 21 at 10:31pm, and parked at Bay 151 at 10:36pm, a total time of 7 hours 21 minutes.
The aircraft then departed Perth's bay 151 at 12:03am on 30 October, taking off from runway 21 at 12:19am and landing at Hong Kong's runway 07L at 7:33am and arriving at the gate at 7:37am, a total time of 7 hours 34 minutes.
The A350-900s have a total of 280 seats – 38 Business Class, 28 Premium Economy and 214 Economy, a six-way headrest to help passengers to sleep, on-board wifi and increased cargo capacity. The A330-300 previously used on CX171/170 services has 251 seats (39 Business, 21 Premium Economy and 191 Economy) and A330s are still used on the CX133/CX142 early morning services.
Cathay Pacific has 21 A350-900s in service currently, with one more on order and 26 larger A350-1000s on order.
History of Cathay Pacific's Perth services
Cathay Pacific has been operating services between Perth and Hong Kong since 1970.
Services began with the Convair CV-880, later switching to Boeing 707s, Lockheed TriStars and Boeing 747s, prior to the Airbus A330-300 and now the A350-900.
Previous Airbus A350 visits
The first Airbus A350 to visit was F-WWYB Airbus A350-941 (MSN 005) owned by Airbus, on 10 August 2014 as part of route proving flights by the manufacturer.
The first (unscheduled) A350 revenue passenger flight to visit Perth was 8 September 2016, when Qatar Airways A7-ALD (MSN 010), on flight QR915 from Adelaide to Doha, diverted to Perth due to a medical emergency with one of the passengers.
The first scheduled A350 revenue service to visit Perth occurred on 5 April 2017, when Singapore Airlines' A350-941 9V-SMK (MSN 084) made a one-off visit, operating flight SQ213 from Singapore to celebrate 50 years of Singapore Airlines services between Singapore and Perth. The aircraft was greeted with a water cannon salute upon arrival and departure, departing as SQ226 back to Singapore after a low (1500 feet) flypast over Perth.
Qatar Airways has previously announced it would use A350s on regular Perth services, but this did not eventuate.