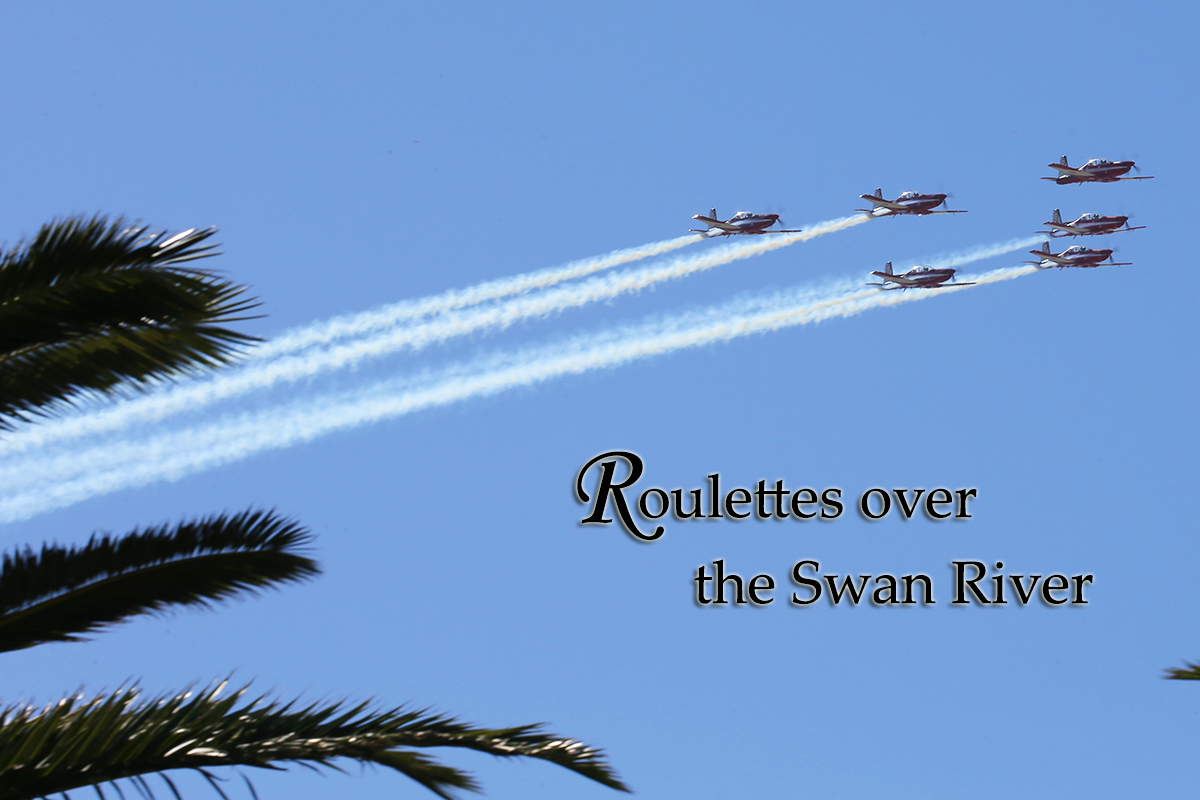 18 April 2015 article © David Eyre
The RAAF Aerobatic Team, the 'Roulettes' performed air displays and flypasts in Western Australia during April 2015, as part of a two-week, tri-State tour, which also included South Australia and the Northern Territory.
Sadly, the RAAF and the local media did not properly promote the visit. Local people were therefore either unaware of the Saturday display or found out on the day, so very few people attended. This was a shame, as the Roulettes put on a fantastic display.
It would have been better to time the visit to coincide with a local event, such as the Australia Day Air Show.
The Roulettes are based at the Central Flying School at RAAF Base East Sale, Victoria. The team includes seven members, with seven Pilatus PC-9/A trainer aircraft – six aircraft flying the display and one aircraft as an operational spare. The pilot of Roulette Seven stays on the ground to provide commentary during the display.
During the aerobatic display, the aircraft are only 3 metres from each other, reaching speeds of up to 550 kilometres per hour and and flying down to 200 feet (60 metres) above the ground.
The team arrived at Pearce from Kalgoorlie on the morning of 15 April 2015.
At 11am on Saturday 18 April, the team conducted a display  over the Swan River, Perth, near Langley Park. Aircraft in the display were A23-046, A23-050, A23-051, A23-058, A23-060 and A23-061.
ANZAC Day – 25 April 2015 Flypasts in South West WA
The Roulettes will perform eight separate flypasts to commemorate ANZAC Day Centenary.
Flypasts will be flown over Yarloop, Bunbury, Busselton, Nannup, Bridgetown, Walpole, Mount Barker and Albany.
Following the flypasts, the team will return to the Eastern States.
COPYRIGHT NOTICE: All photographs and videos displayed on this website are copyright protected and may not be used, sold, copied or reproduced without express written permission of the individual photographers. If you wish to obtain or use a photo, please email AviationWA@gmail.com.