2 November 2017 copyright © David Eyre
Perth was the destination of the first revenue passenger service by Qantas' new Boeing 787-9 Dreamliner aircraft, with the visit of VH-ZNA 'Great Southern Land' on 1-2 November 2017.
Qantas has ordered an initial batch of eight 787-9s, configured to carry 42 Business class seats (1-2-1 across), 28 Premium Economy (2-3-2 across) and 166 in economy (3-3-3 across).
VH-ZNA took off on its first flight from Boeing's Seattle Paine Field at 11:20am local time on 28 September 2017 as flight BOE269, and landed at Moses Lake about 90 minutes later, spending 20 minutes on the ground before making a 35-minute return flight to Paine Field.
Following a series of test flights, VH-ZNA was delivered from Seattle Paine Field to Honolulu on 17 October 2017 and Honolulu to Sydney on 18-20 October 2017 (skipped a day due to crossing the International Date Line).
On 27 October 2017, the aircraft was flown from Sydney to Melbourne in preparation of entry to service.
The aircraft first entered service on the Qantas domestic flights to build operational experience with the aircraft, before it used on Melbourne-Los Angeles flights in December 2017 and the historic nonstop Perth-London flights from 24 March 2018.
Qantas 787 first revenue flight and first visit to Perth: 1 November 2017

VH-ZNA operated flight QF481 from Melbourne to Perth. It pushed back from gate 23 at Melbourne's Tullamarine Airport at 5:44pm Melbourne time (2:44pm Perth time), and took off from runway 27 at 5:55pm Melbourne time (2:55pm Perth time).
Heading West North West, it reached its cruise altitude of 40,000 feet over the Grampian Mountains in Victoria at 6:16pm Melbourne time, about 20 minutes after take off. The aircraft flew at a cruise speed of around 800 kilometres per hour.
It passed over the South Australian coast and flew south of Kangaroo Island and across Great Australian Bight, crossing the Western Australian coast east of Esperance, then continued northwest.
VH-ZNA commenced its descent at 6:07pm Perth time, when located east of Kondinin, WA.
Turning left over the Swan Valley, flight QF481 landed on Perth's runway 21 at 6:36pm and parked at Gate 14, Terminal 4 at 1846, being manually marshalled in.
Total duration of the flight was 4 hours 2 minutes.
The aircraft stayed at Gate 14 until departure the next morning, to train Qantas staff in Boeing 787 operations.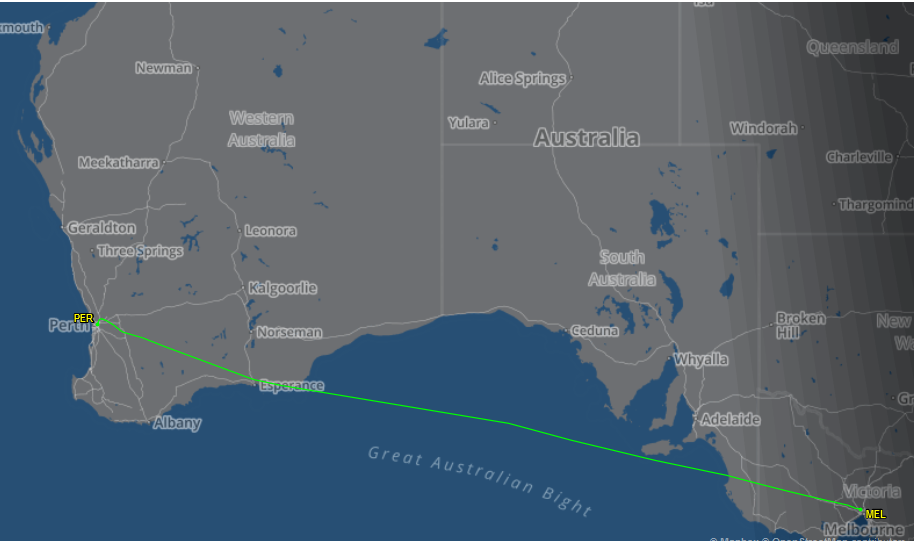 COPYRIGHT NOTICE: All photographs and videos displayed on this website are copyright protected and may not be used, sold, copied or reproduced without express written permission of the individual photographers. If you wish to obtain or use a photo, please email AviationWA@gmail.com.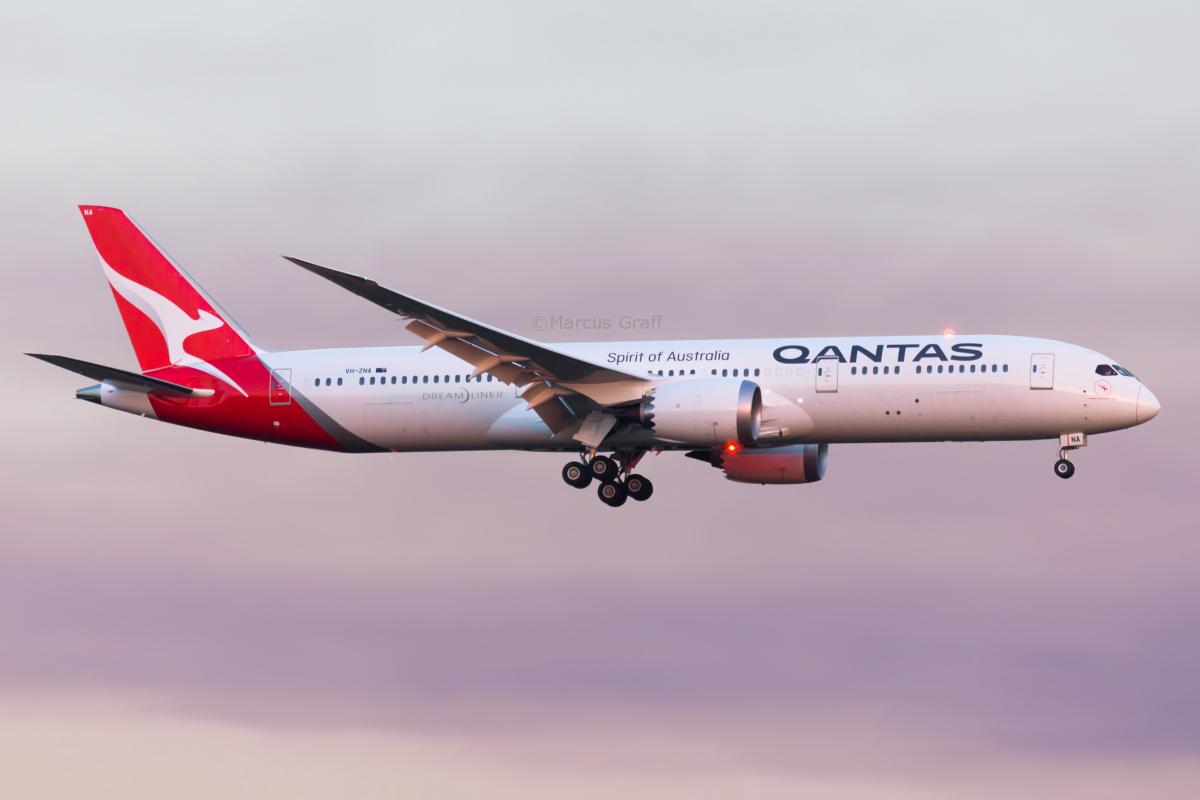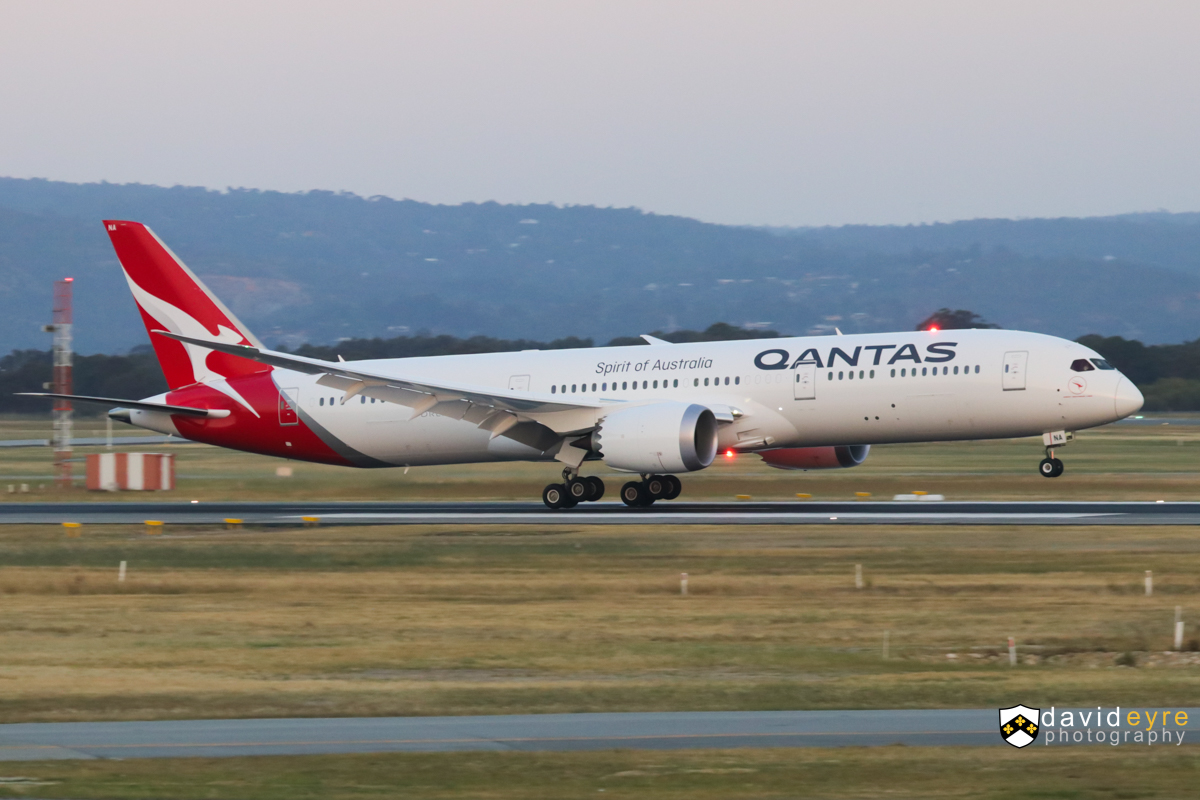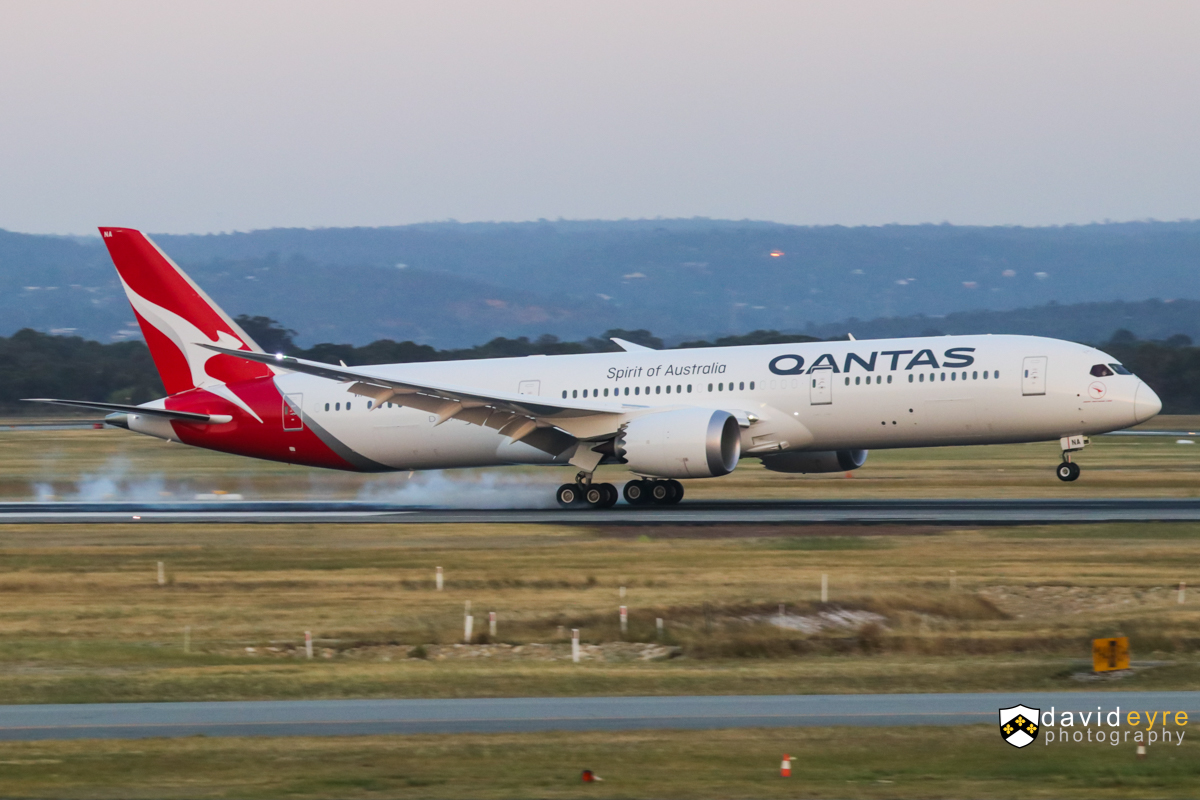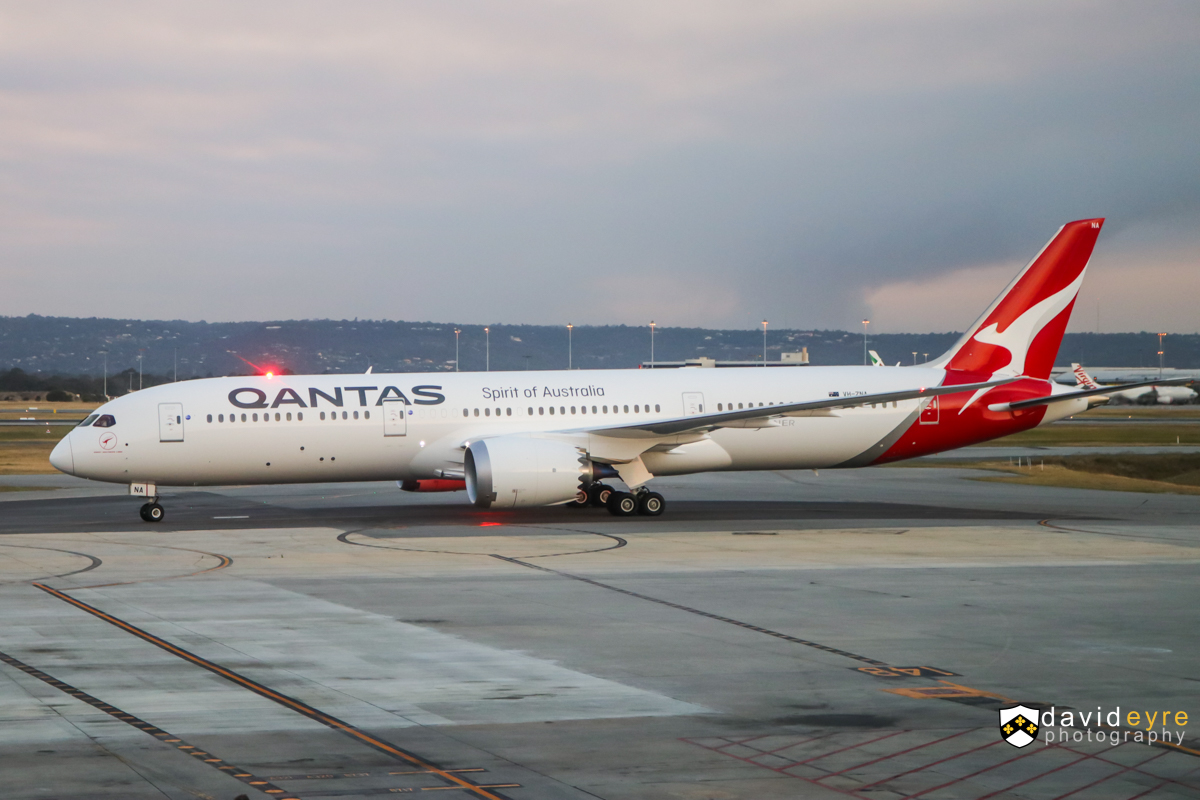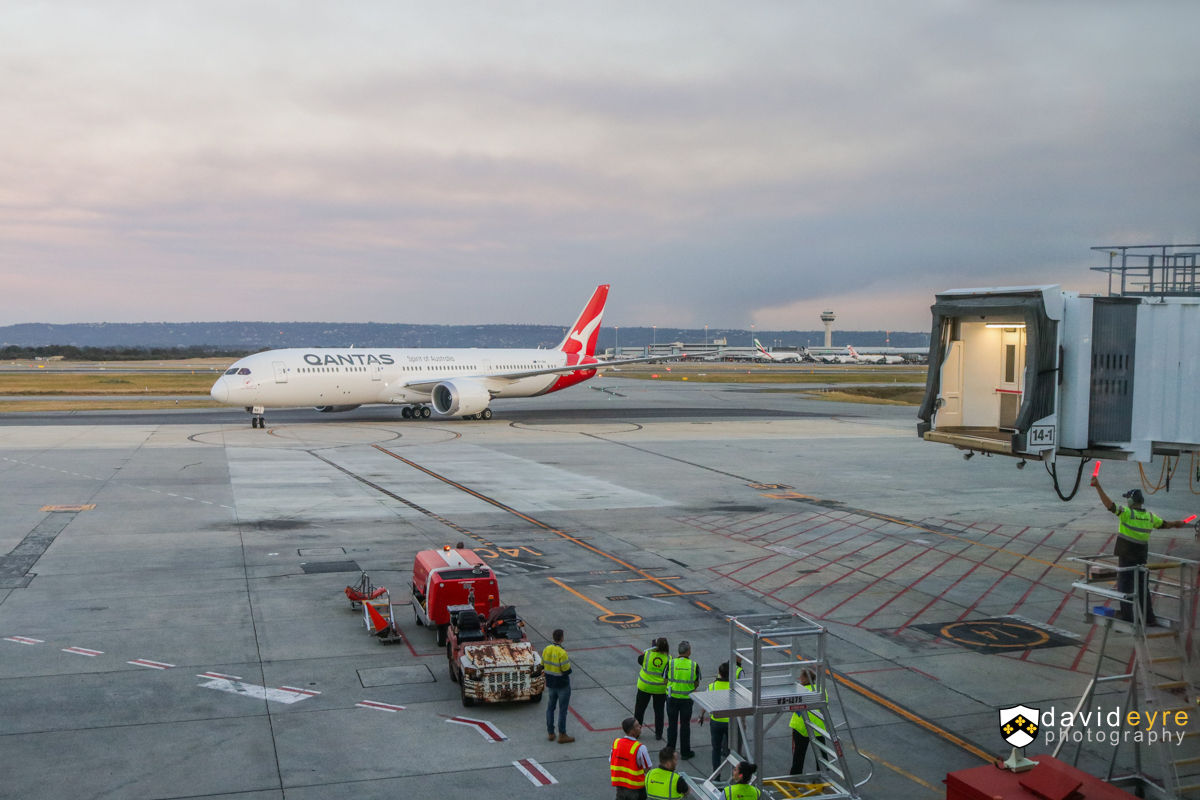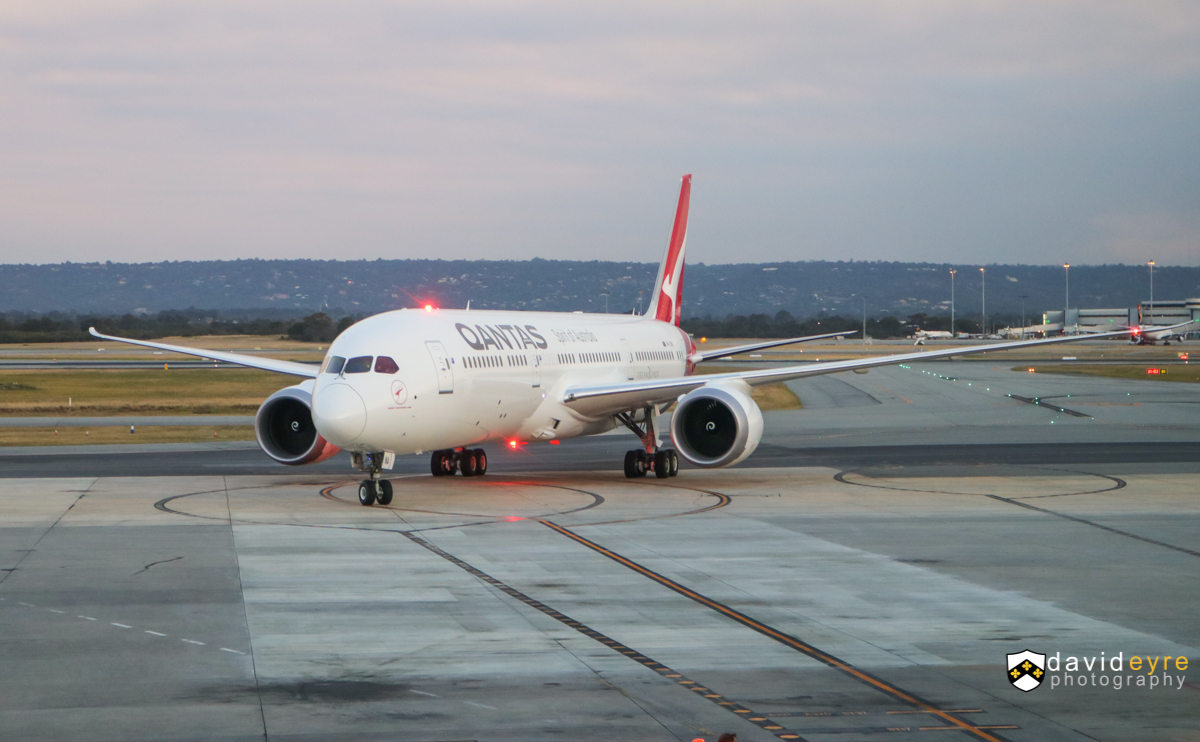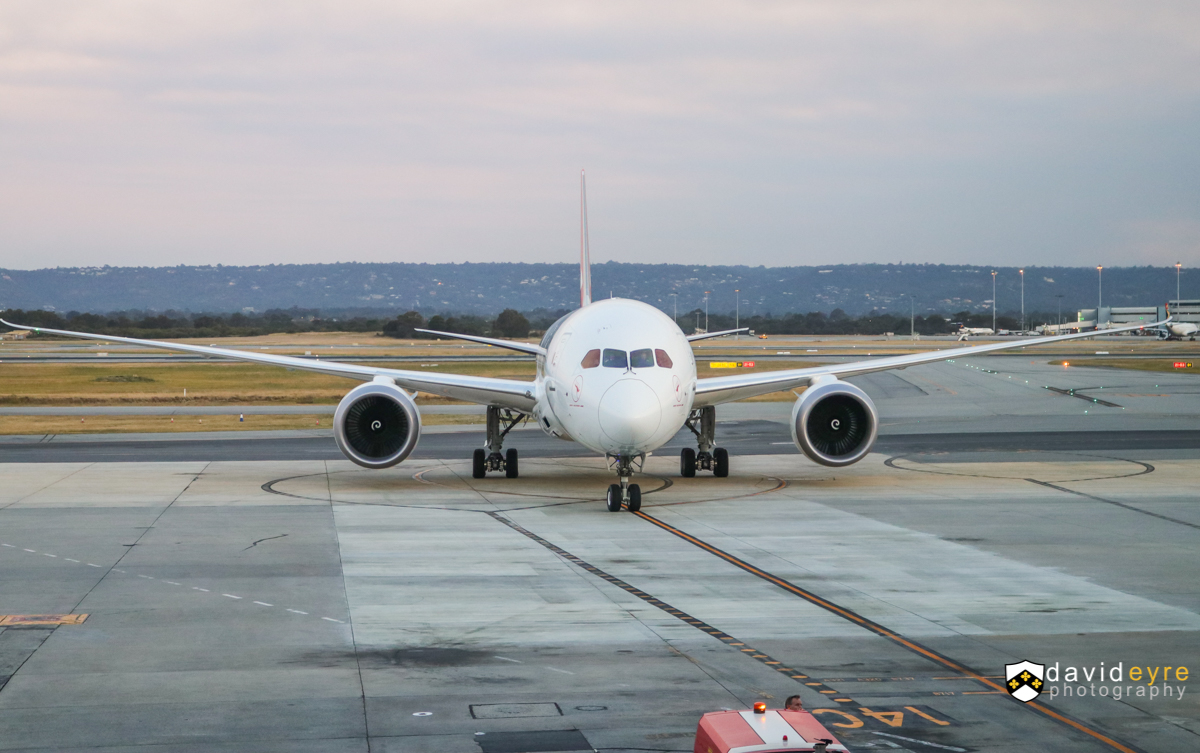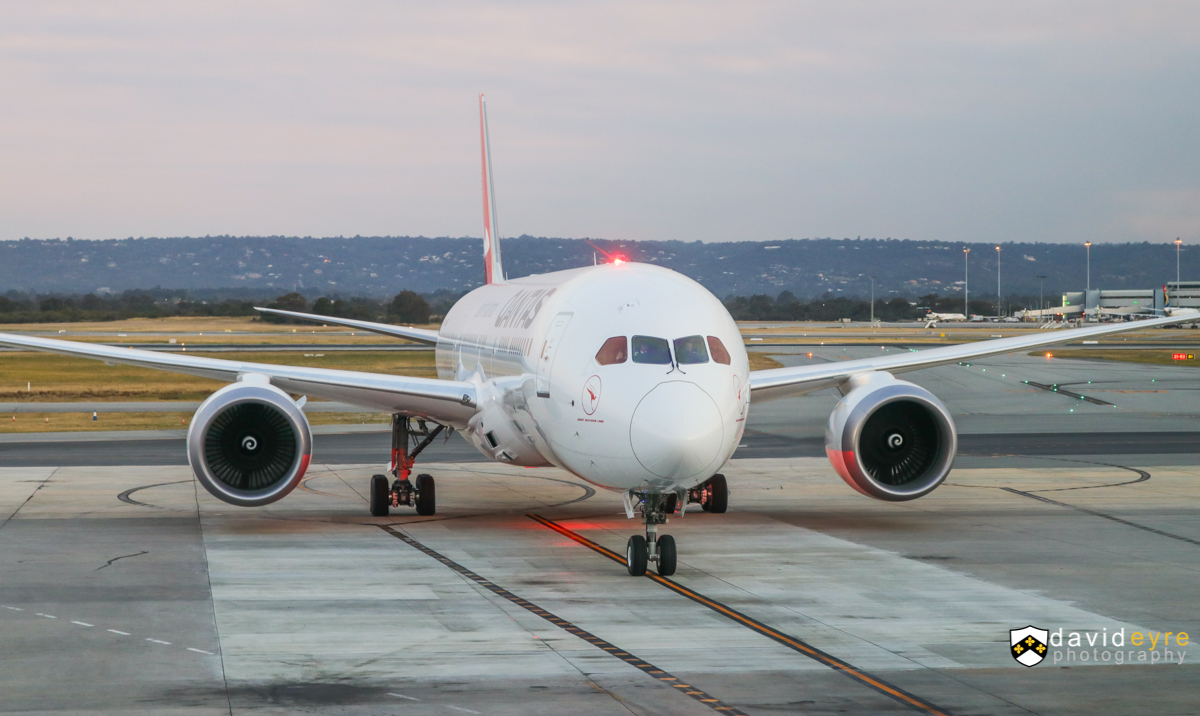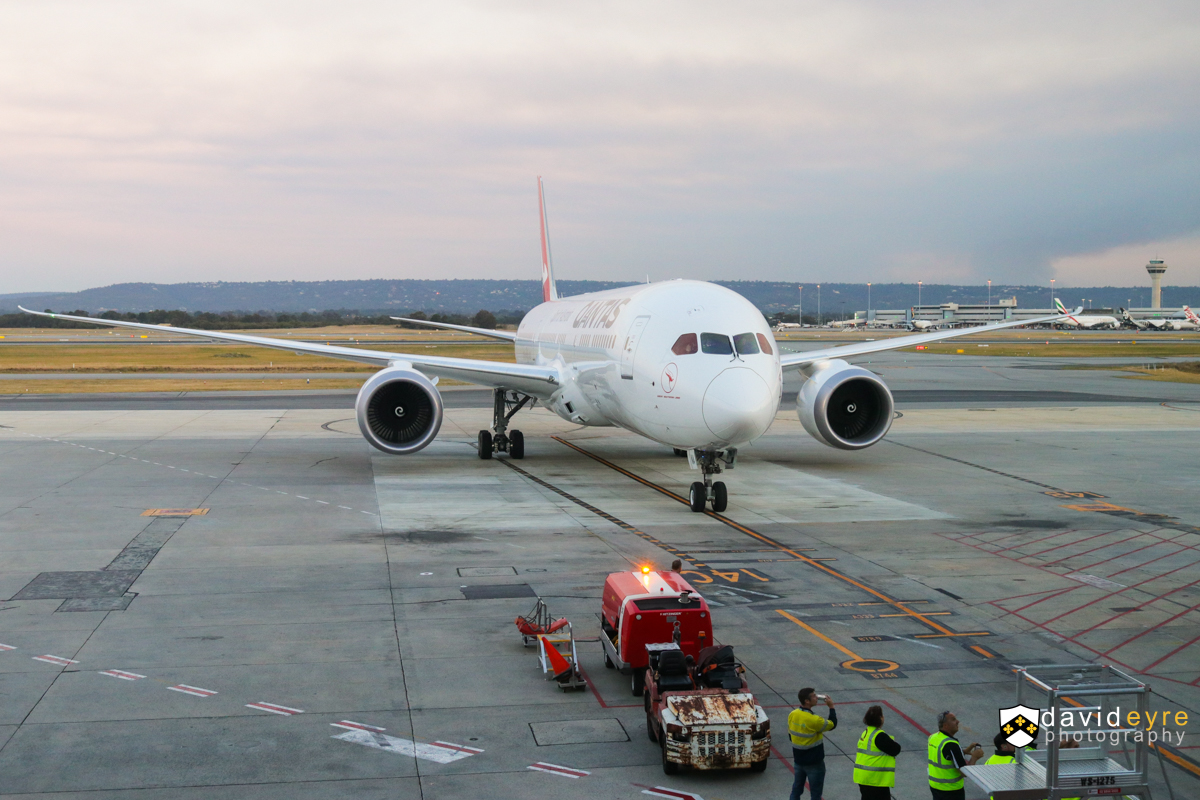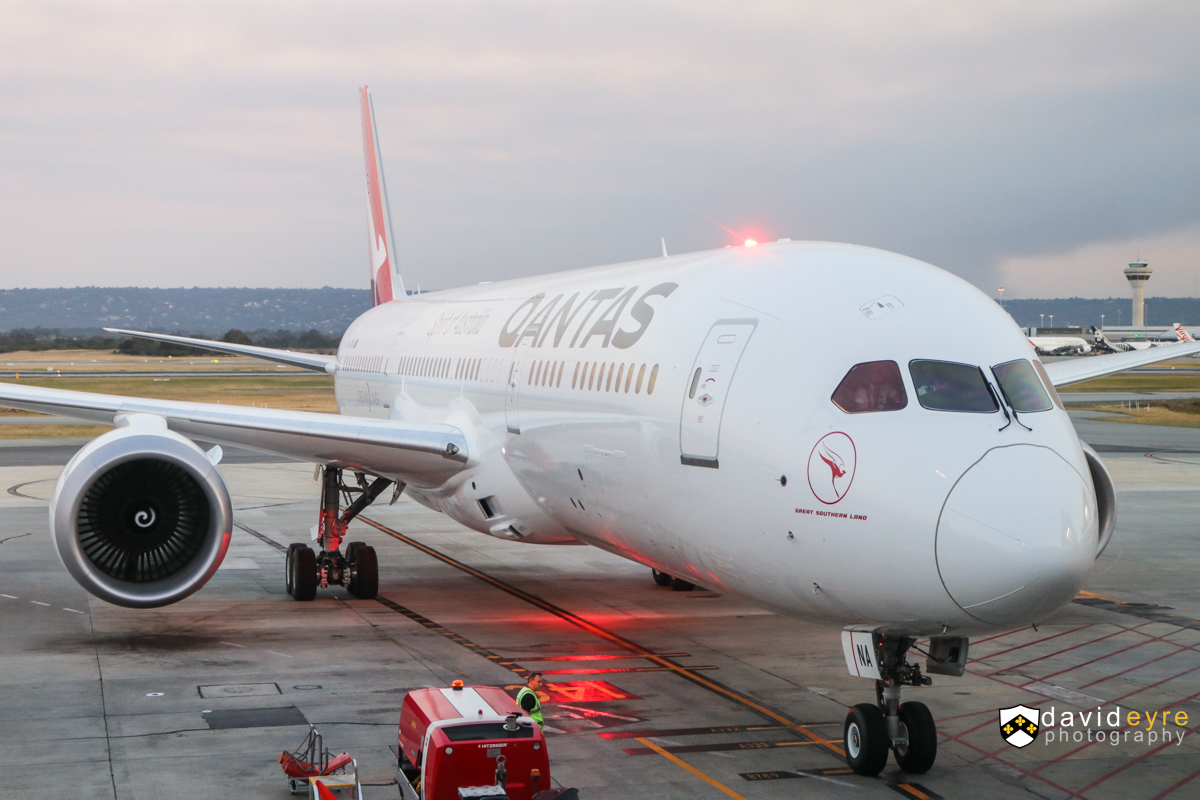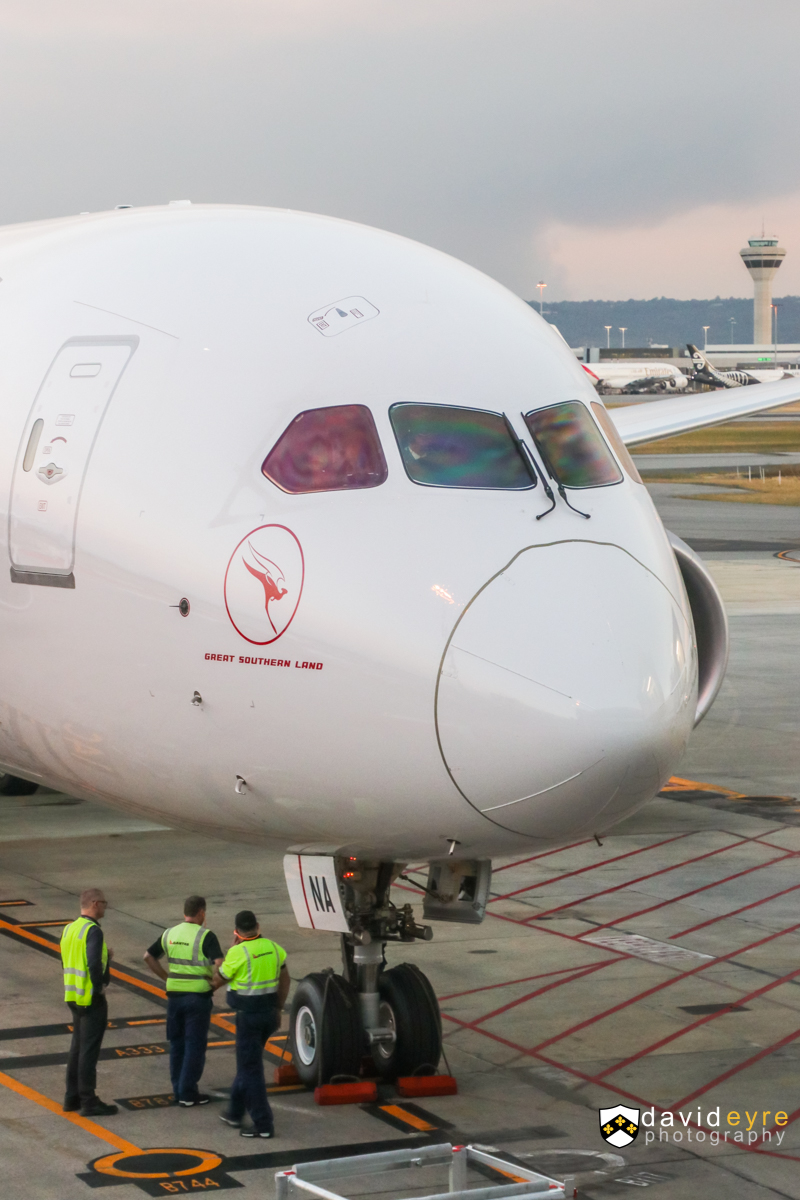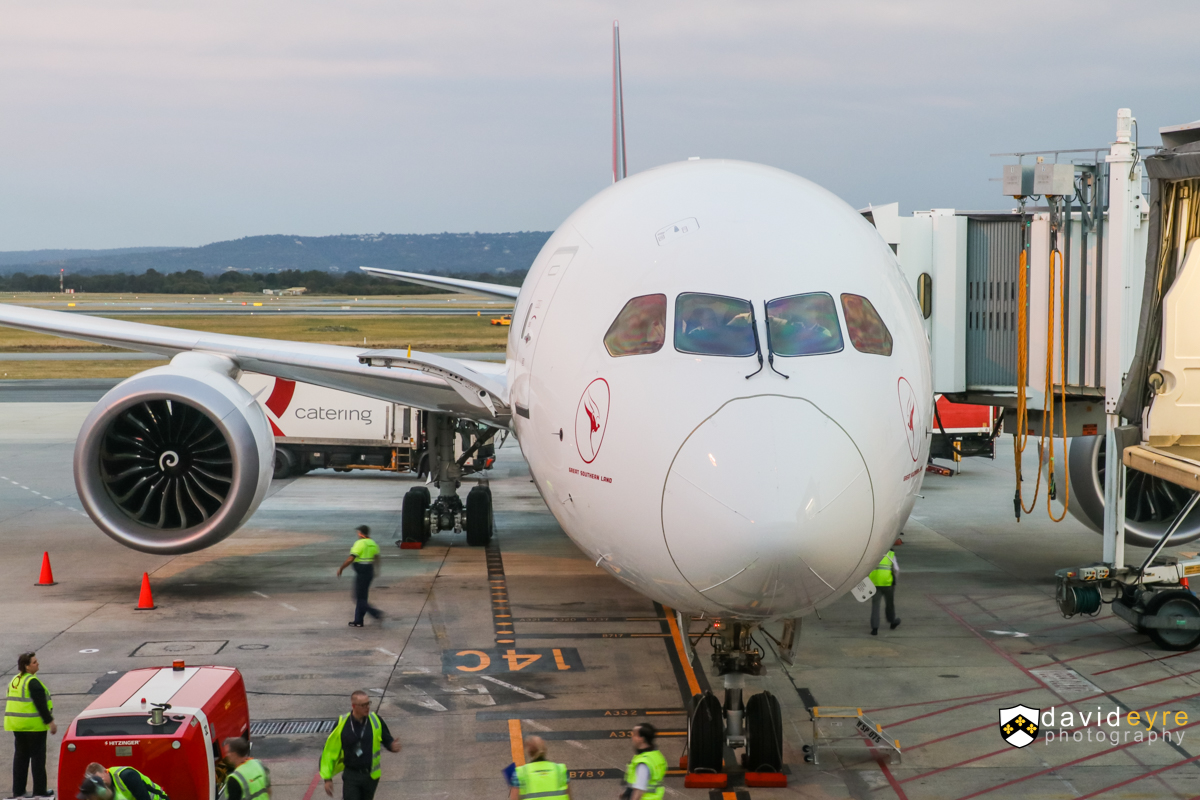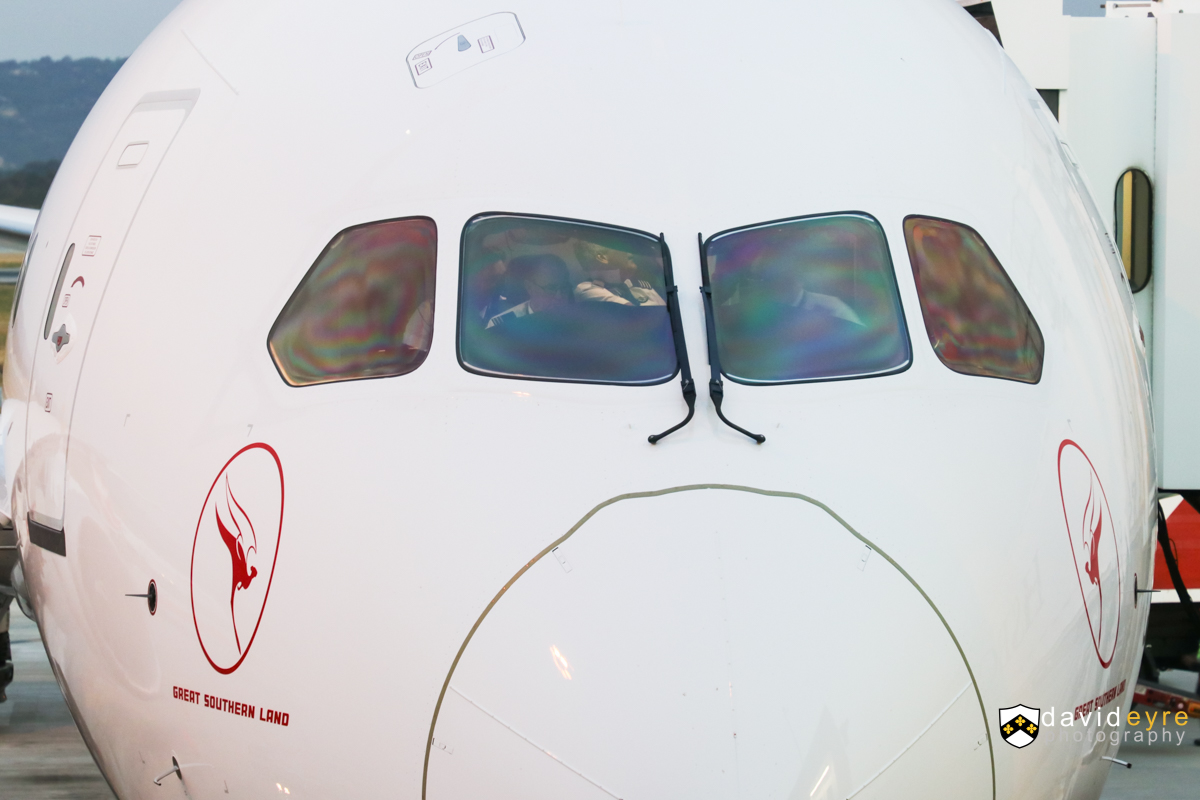 Qantas 787 first departure from Perth and 2nd revenue flight: 2 November 2017
VH-ZNA operated return flight QF762 to Melbourne, its second revenue service and first Qantas 787 departure from Perth.
The aircraft pushed back from Gate 14 at Terminal 4 at 8:14am, and began taxying out at 8:20am and received a water cannon salute at 8:21am as it passed Gate 20, and taxied out to runway 03.
VH-ZNA took off from runway 03 at 8:26am and headed west at 2,400 feet, crossing out over the west coast at Scarborough, turned south over the ocean and crossed the coast again at Cottesloe Beach. It then headed northeast up the Swan River at 2,000 feet with a speed of around 340-390kmh, passing over South Perth and Langley Park in Perth city at 8:35am, turning sharply left over North Perth, Subiaco and Kings Park.
Turning right over the Swan River, it climbed rapidly and headed southwest over Attadale then west over the coast again at North Fremantle at over 6,000 feet at 8:37am. VH-ZNA turned right again and back in the opposite direction, crossing the coast at Swanbourne, then over the city centre at 12,000 feet and 655kmh, directly over Perth Airport at 14,000 feet at 8:42am.
VH-ZNA reached its initial cruise altitude of 39,000 feet at 8:55am, when located north of Kondinin, Western Australia. It crossed the south coast of Western Australia to the east of Esperance and crossed the Great Australian Bight. Later it climbed to 41,000 feet and passed over the southern tip of the Eyre Peninsula in South Australia.
Commencing its descent at 11:03am Perth time (2:03pm Melbourne time) near Nhill, Victoria, VH-ZNA landed on Melbourne's runway 16 at 2:34pm (11:34 Perth time).
The author would like to thank Perth Airport and Qantas for kindly approving airside access for the photos below.