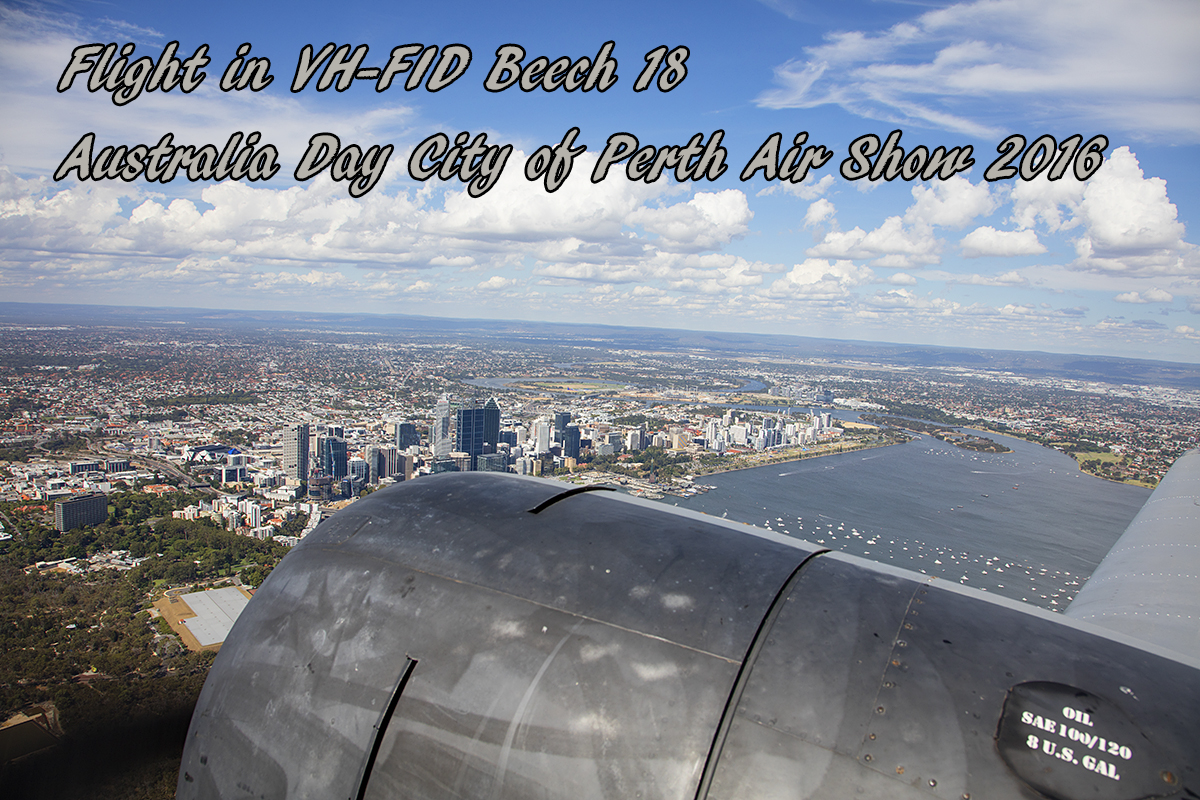 Keith Anderson © 2016.
I was lucky enough to join the flight crew in this fabulous Beech 18 (built in 1948, same age as myself) as a lookout while they participated in the "Oldtimers Formation" Fly-by for the Australia Day City of Perth Air Show.
On board at 2:50 pm, with pilot Stuart Adamson at the helm, pre-flight checks are done, engines are started and we taxi down past the central apron following 3 Stearman, VH-YDF,YND and URC, Jungman VH-KIL, Cessna 170 VH- LJN, Chipmunk VH-XBS, Great Lakes VH-WQW and Waco VH-YRB. We give the other aircraft about 20 seconds head start and we are off, We lift off at 95 knots at 3:15 pm.
I swap seats into the co-pilots position for the flight, we catch and pass the slower bi-planes and head down towards Fremantle, flying over the port a short time later. Heading up the coast and over the western suburbs, we then fly up the river towards the City, passing the formation, I manage to get a few air to air photos as we do so.
Flying over the Narrows Bridge, we continue over West Perth and around the northern side of the city, down to the Causeway where we sweep around over Heirisson Island and drop down to 500 feet to fly past the city centre and Langley Park where people are starting to gather, to wait for the fireworks later that evening. There is a fair amount of turbulence down that low and we fly past the new Elizabeth Quay development then climb back up to 1000 feet to do the circuit a second time. This time we catch the formation of Stearman and Jungman and I get off a couple more photos as we pass them.
The Tiger Moth formation is now on its way up the river towards Perth so we go out to meet them, once again flying past the formation for a good photo opportunity. We continue on to do another circuit of the city before heading back to Jandakot.  We touch down on Jandakots runway 24R at 4:06 pm after a flying time of 52 minutes.
What a fantastic experience.
I would like to thank Stuart and his wife for the opportunity of a lifetime and Archie Dudgeon for arranging it.
Photographed using Canon Cameras and lenses
COPYRIGHT NOTICE: All photographs and videos displayed on this website are copyright protected and may not be used, sold, copied or reproduced without express written permission of the individual photographers. If you wish to obtain or use a photo, please email AviationWA@gmail.com.