Pilatus PC-21 selected for RAAF pilot training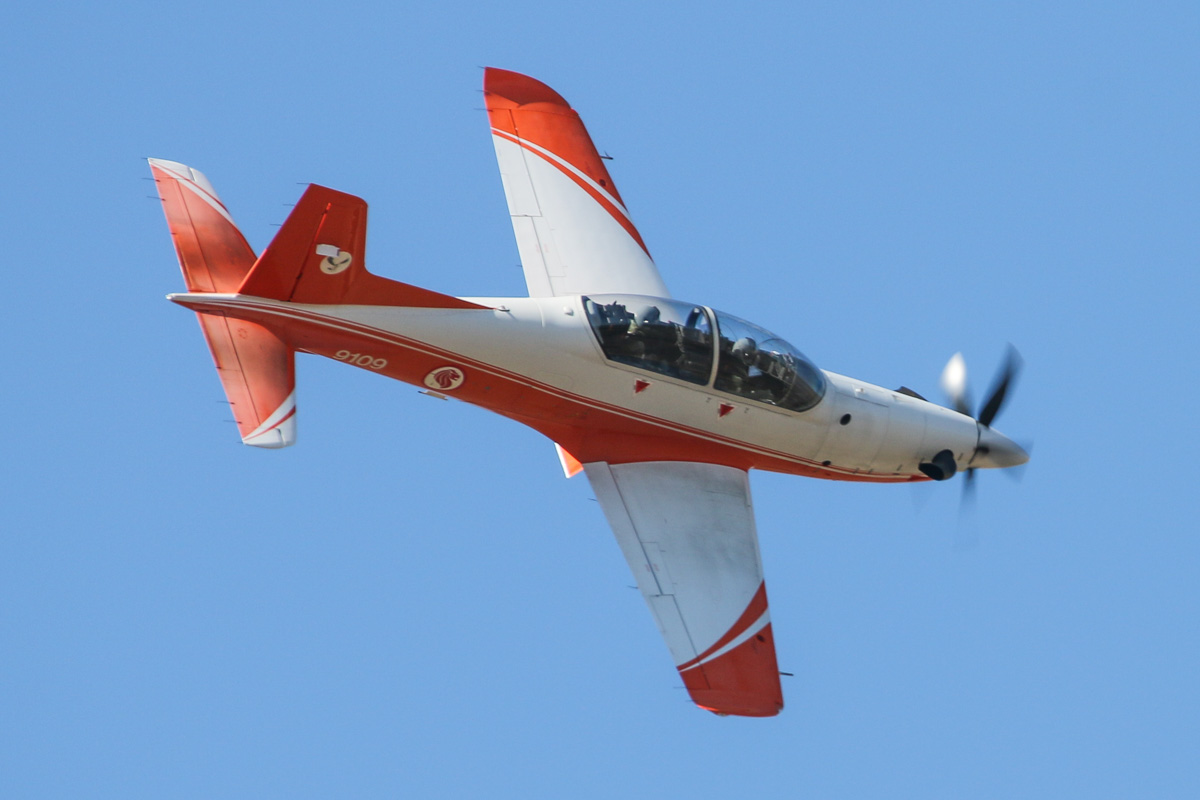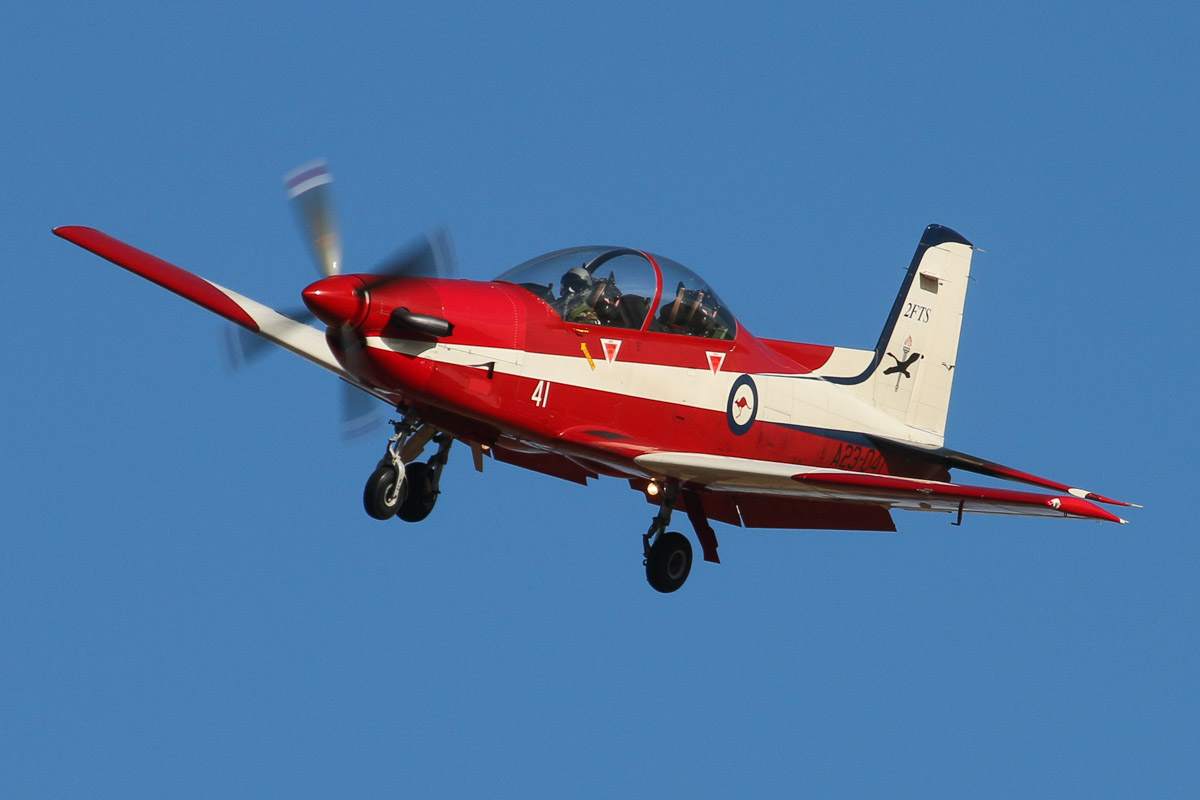 6 September 2015 – copyright © David Eyre
Minister for Defence Kevin Andrews MP announced the selection of the 'Team 21′ consortium of Lockheed Martin, Pilatus and Hawker Pacific as the preferred tenderer for Project AIR 5428, the new Australian Defence Force Pilot Training System, using 49 Pilatus PC-21 turboprop training aircraft from 2019.
The announcement was made at a ceremony on 6 September 2015 on the flight line of RAAF Base East Sale, where the Minister was joined by Parliamentary Secretary for Defence Darren Chester, Chief of Air Force Air Marshal Leo Davies, and government and community officials.
It was widely expected that the PC-21 would be preferred for the RAAF. The Republic of Singapore Air Force already operates the PC-21 at RAAF Base Pearce, so there may be operational and maintenance synergies in having a common type at Pearce, and Lockheed Martin has several years' of PC-21 operational experience under its belt.
The losing bidder was a consortium of BAE Systems, CAE Australia and Beechcraft, which had offered the Beech T-6C based at Tamworth, with West Sale as an alternative. BAE will continue to provide pilot training for the ADF at Tamworth until the end of 2019. It also provides military flight training for Brunei, Papua New Guinea and Singapore, but the Singapore contract also ends in 2019.
Current ADF flight training
Currently, the military flying training of 88 weeks duration is conducted in two phases.
Basic Military Flying Training (25 weeks) is conducted at British Aerospace Flight Training Australia at Basic Flying Training School (BFTS), in Tamworth, NSW on the CT4B.
Advanced Flying Training (37 weeks) is conducted at RAAF Base Pearce, Western Australia. During this training, they fly 130 hours in the PC-9/A. Upon successful completion, graduates are awarded their wings and posted to a flying squadron.
New Pilot Training System
The new Pilot Training System will take pilots from flight screening through basic and advanced flying training, with an increased emphasis on flight simulator training that can be adapted to student needs, allowing them to progress through training faster.
Despite having fewer aircraft, more efficient training will see an increase in the number of pilots graduated, rising from the current 77 per year to 105, selected from an annual intake of 165 trainee pilots. The ADF said that the deal represented the best value for money over 25 years.
The 49 PC-21s will replace 30 CT4s and most of the 63 remaining PC-9/A aircraft (from 67 delivered – four were written off in crashes). It is unclear at this stage what will happen with the four modified PC-9/A Forward Air Control aircraft with 4 Squadron at RAAF Base Williamtown, which are fitted with smoke grenade dispensers for target marking. These are used to train ADF Joint Terminal Attack Controllers (JTACs, formerly forward air controllers) who coordinate air support to troops on the ground. Presumably the CFS and the Roulettes will use some of the East Sale-based PC-21s.
Basic Flying training will move from Tamworth to RAAF Base East Sale in Victoria, with 22 of the 49 Pilatus PC-21 aircraft to be based at East Sale. Relocating basic training to East Sale means that both Officer Training and Basic Flying Training will be located there. East Sale also houses the RAAF's Central Flying School, which currently uses PC-9/A aircraft to teach qualified RAAF pilots to become flying instructors, who are then eligible to fly with the RAAF Roulettes aerobatic team.
Advanced training will continue to be conducted from RAAF Base Pearce with 2 Flying Training School (2FTS), which is presumably where the remaining 27 PC-21 aircraft will be based.
The decision will see replacement of the PAC CT4B and Pilatus PC-9/A trainer aircraft with the new Pilatus PC-21.
History of the CT4B in RAAF service
The CT/4 was developed in 1972 by New Zealand Aerospace Industries from the Australian-designed and built Victa Aircruiser, which was based on the 1960s Victa Airtourer.
Ironically, in 1967 Victa had to sell the manufacturing rights to AESL (later NZAI) in New Zealand due to lack of Australian Government support. Then in 1975, the RAAF ordered 51 CT/4A aircraft as a primary trainer.
Following withdrawal of the CT4A aircraft in the early 1990s, British Aerospace/Ansett Flying College (later BAE Systems) at Tamworth, NSW won the contract to provide the RAAF with pilot selection and basic flight training.
The Pacific Aerospace Corporation CT4B aircraft was selected and in 1991 the production line in New Zealand was re-opened.
The initial batch consisted of 12 new-build aircraft delivered in 1991-1992.
Additional CT4B aircraft were acquired through the a purchase of 14 ex-RNZAF aircraft, which were delivered in 1999. Four ex-civilian CT4 aircraft were also purchased in 2011.
History of the PC-9 in RAAF service
The RAAF began looking for a new trainer to replace both the Macchi MB-326H jet and NZAI CT-4A Airtrainer from about 1979.
The evaluation considered the Embraer Tucano, Norman Turbo Firecracker, Pilatus PC-7 and PC-9, CT-4 variants, locally-designed AAC Wamira and others. In December 1985, the Pilatus PC-9 turboprop was selected.
The requirements for the trainer changed, as it was decided that RAAF pilots would start on the CT-4, earn their wings on the PC-9 and go onto lead in fighter training on the MB-326 (the MB-326 was later replaced by the BAE Hawk).
The initial order was for 69 PC-9s, but this was reduced to 67. The RAAF version was designated PC-9/A, as it was to be assembled under licence in Australia. Aerospace Technologies of Australia (ASTA, formerly GAF) supplied the fuselages and tailplane, the wings were built by Hawker de Havilland Victoria (HDH, formerly Commonwealth Aircraft Corporation – CAC), Dunlop Aerospace supplied the undercarriage and HDH at Bankstown was responsible for final assembly and flight testing.
The first two aircraft (A23-001 and 002) were fully assembled by Pilatus in Switzerland. The next six (A23-003 to 008) were assembled in Australia by Hawker de Havilland at Bankstown from imported components. Major components for a further 11 (A23-009 to 019) were supplied by Pilatus and the final 48 aircraft (A23-020 to 067) were completely been built in Australia.
A23-001 was displayed at the 1987 Paris Air Show. A23-001 and 002 were delivered to Australia in October 1987 and handed over to the RAAF in November 1987. A23-003 first flew in November 1987 and production slowly ramped up.
Pilot training on the PC-9 commenced in 1989, with 2FTS at RAAF Pearce. The PC-9 also joined the Central Flying School and the Roulettes aerobatic team in 1990. The last RAAF PC-9 was delivered in March 1992.
Compared to the Macchi, the PC-9 was slower but was better in terms of maneuverability, rate of climb, operating costs and efficiency.
PC-9s began to replace CAC Winjeels in the Forward Air Control training role at Williamtown NSW from April 1994, with a total of four in use with 4 Squadron. One was also used by the Aerospace Operational Support Group at RAAF Edinburgh in South Australia.
Four PC-9/A aircraft were lost in crashes: A23-029 (21 Jan 2005); A23-035 (5 Aug 1991); A23-039 (18 May 2011) and A23-055 (21 Mar 1992).
By 2008, the RAAF's PC-9 fleet had flown over 375,000 hours. The Pilatus PC-9/A fleet was intended to be withdrawn in 2008, but the aircraft is robust and well-maintained, so its life was extended to 2019 and may be extended further if required.
Pilatus PC-21
Development of the PC-21 started in 1999 and the aircraft made its first flight in 2002.
The PC-21 was certified in December 2004 and limited production began in 2005.
The first order for the PC-21 was received in 2007 from the Republic of Singapore Air Force, for a total of 19 to replace its SIAI-Marchetti S-211 jet trainers, based at RAAF Base Pearce in Western Australia. All of the RSAFs PC-21s were delivered during 2008.
The PC-21 has accrued more than 60,000 flying hours with the air forces of Singapore, Switzerland and the UAE. It is also entering service with Qatar and Saudi Arabia.
Comparison: PC-9 versus PC-21
| | | |
| --- | --- | --- |
| | PC-9 | PC-21 |
| Wing span | 10.12 m | 9.11 m |
| Length | 10.17 m | 11.23 m |
| Height | 3.26 m | 3.75 m |
| Empty weight | 1,701 kg | 2,250kg |
| Max take off weight | 2, 250 kg (aerobatic) / 3,200 kg (with stores) | 3,100kg (aerobatic) / 4,250 kg (with stores) |
| Max weight of stores | 950 kg | 1,150 kg |
| Engine | One 950shp Pratt & Whitney Canada PT6A-62 turboprop | One 1600shp Pratt & Whitney Canada PT6A-68B |
| Max speed | 300kt (556km/h) | 370 kt (Mach 0.72) |
| Cruise speed | 271 kt | 337 kt |
| Stall speed | 69 kt | 81 kt (gear / flaps down) |
| Initial climb: | (aerobatic weight) 4,090 ft (1,247m)/min | 4,250 ft/min |
| Service Ceiling | 38,000ft (11,582m) | 38,000 feet (11,580 m) |
| Range | 887nm (1,642km) | 1295 km |