Etihad commences daily Abu Dhabi – Perth services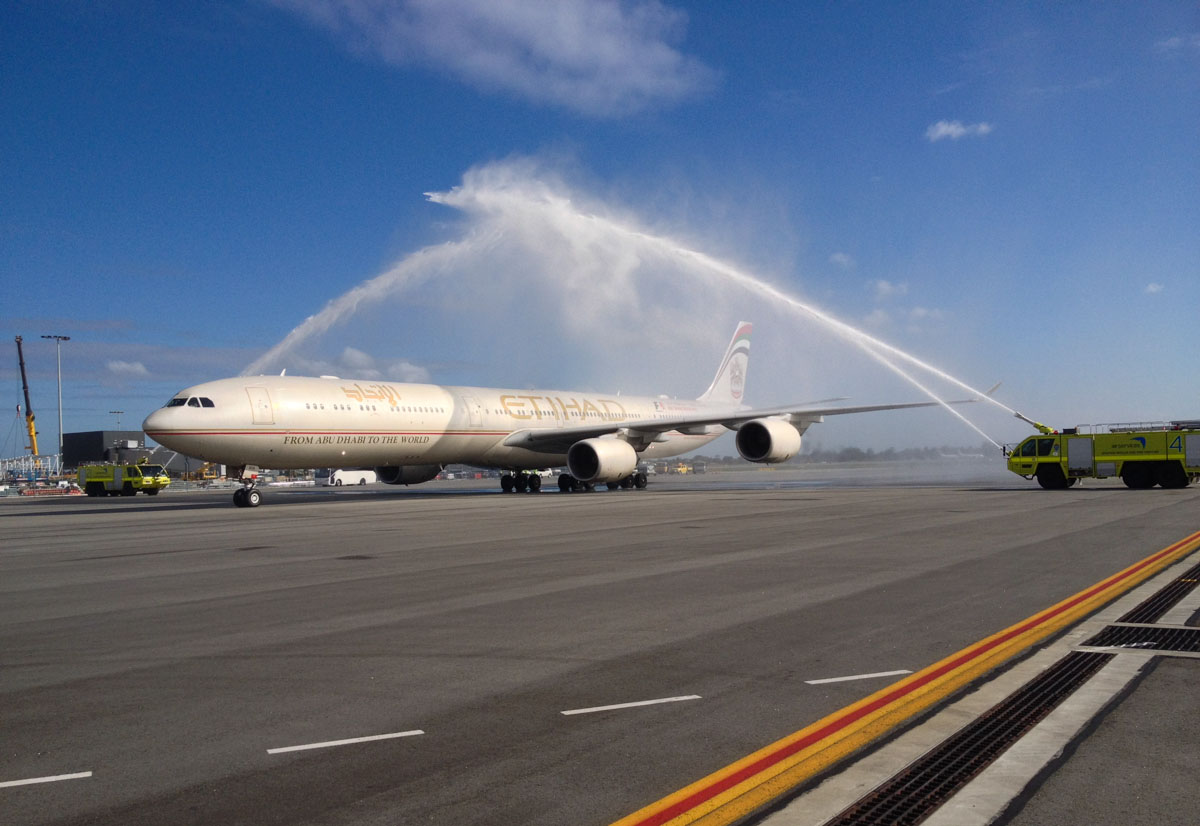 16 July 2014 © David Eyre
Etihad Airways commenced its new daily service between Perth and Abu Dhabi on Wednesday 16 July 2014, with the first service operated by Airbus A340-600 A6-EHH.
Flight EY486 departed Abu Dhabi 45 minutes late and landed on runway 21 at Perth at 13:41 local (scheduled to be at the gate by 13:10), after a flight of 10 hours 45 minutes from Abu Dhabi.
Upon arrival, the aircraft was greeted by a water cannon salute by two fire trucks of the Airport Rescue and Fire Fighting Service, before it parked at Bay 51 at Terminal 1.
The return flight EY487 took off from runway 21 at 16:44 (scheduled departure from the gate was 15:55), landing at Abu Dhabi 10 hours 28 minutes later.
Perth is the Etihad's fourth Australian destination after Brisbane, Melbourne and Sydney. Etihad is a stakeholder in Virgin Australia and codeshares on Virgin flights to 13 Australian airports. The two airlines will both eventually operate from the new Domestic Pier at Terminal 1, when it opens in 2015.
The new Etihad service marks international option for WA travellers since Qantas all but abandonded the capital and putting 30 destinations within a one-stop reach.
The daily service will be normally operated by Etihad's A330-200 aircraft, which have 22 Business and 240 Economy Class seats.
Etihad is the third Middle Eastern airline to operate Perth services, along with Qatar Airways (to Doha) and Emirates (to Dubai) with fast connections through to the UK and Europe.
Etihad has also announced its intention to use Boeing 787 Dreamliners on Perth services, sometime in 2016/2017.