Perth couple chase adventure of a lifetime!
Perth pilot Archie Dudgeon, his wife Mo and their beautiful red Waco YMF-5C hope for the adventure of a lifetime in South America.
Archie's Waco has previously featured on this website and is a regular participant at events around Western Australia. Now he is in the midst of a competitive application process for one of fifteen places on the Ushuaia2USA Rally, organized by VintageAirRally.
This epic adventure, "The Vintage Air Rally Ushuaia2USA" will take off from Ushuaia, the southern-most tip of Argentina, dubbed 'The End of the World' in March 2018.  Over the next six weeks, the 9,200 mile journey will cover 19 countries, touching down in treacherous terrains such as the windswept expanse of Patagonia, the peaks of the Andes, the swamplands of Paraguay and
the jungles of Peru.
The Rally will also take in the wilds of the Amazon rainforest, fly low down the spectacular Panama Canal and over the volcanoes of El Salvador, offering pilots and passengers the chance to discover the rich and varied culture of South and Central America.
The penultimate stop on the rally will be Cuba, where a cigar party will be held in Havana to celebrate the pilots' endeavours, before the final procession into Florida (a flight that was impossible for over four decades) where the coveted Vintage Air Rally trophy will be presented at a gala dinner.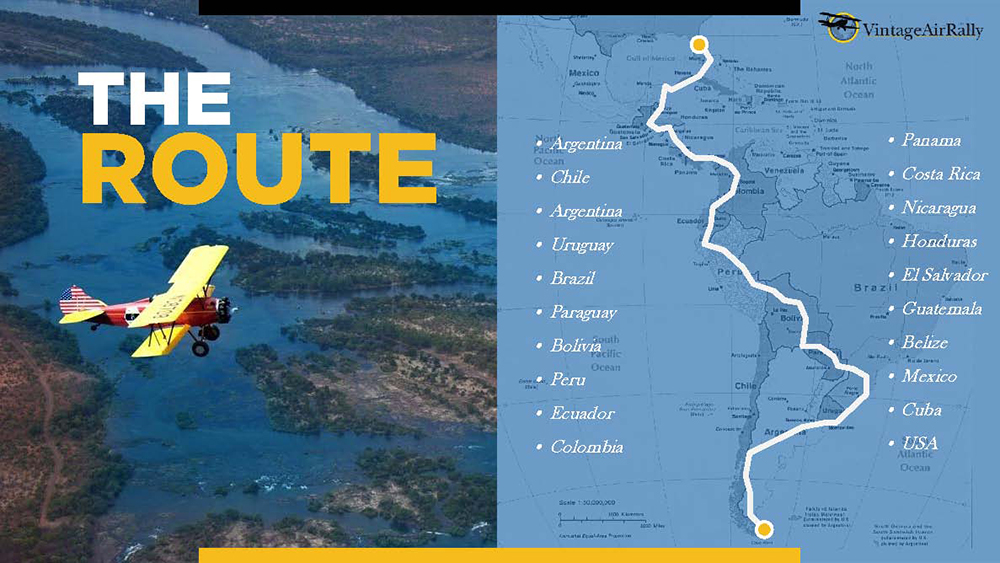 Additionally, the most exemplary team will be awarded the "Spirit of the Rally" Trophy following a vote amongst the teams.
The organisers received 675 applicants for places on the rally; Archie and Mo have successfully navigated the first stage and made a shortlist of 60, from which the best 15 teams will be selected.
For the next stage, Archie and Mo are currently providing more info, making another video and seeking celebrity endorsements supporting their application.
If you are on Facebook, take a look at the Vintage Air Rally page and help Archie's application by 'liking' and "sharing' the page. Also, look out for Archie on Facebook and 'like and share' his posts – you will be helping to get a very familiar local pilot on to this adventure – the world's greatest air rally !
The Vintage Air Rally is a brilliant organization – take a look at their Facebook page : https://www.facebook.com/VintageAirRally/