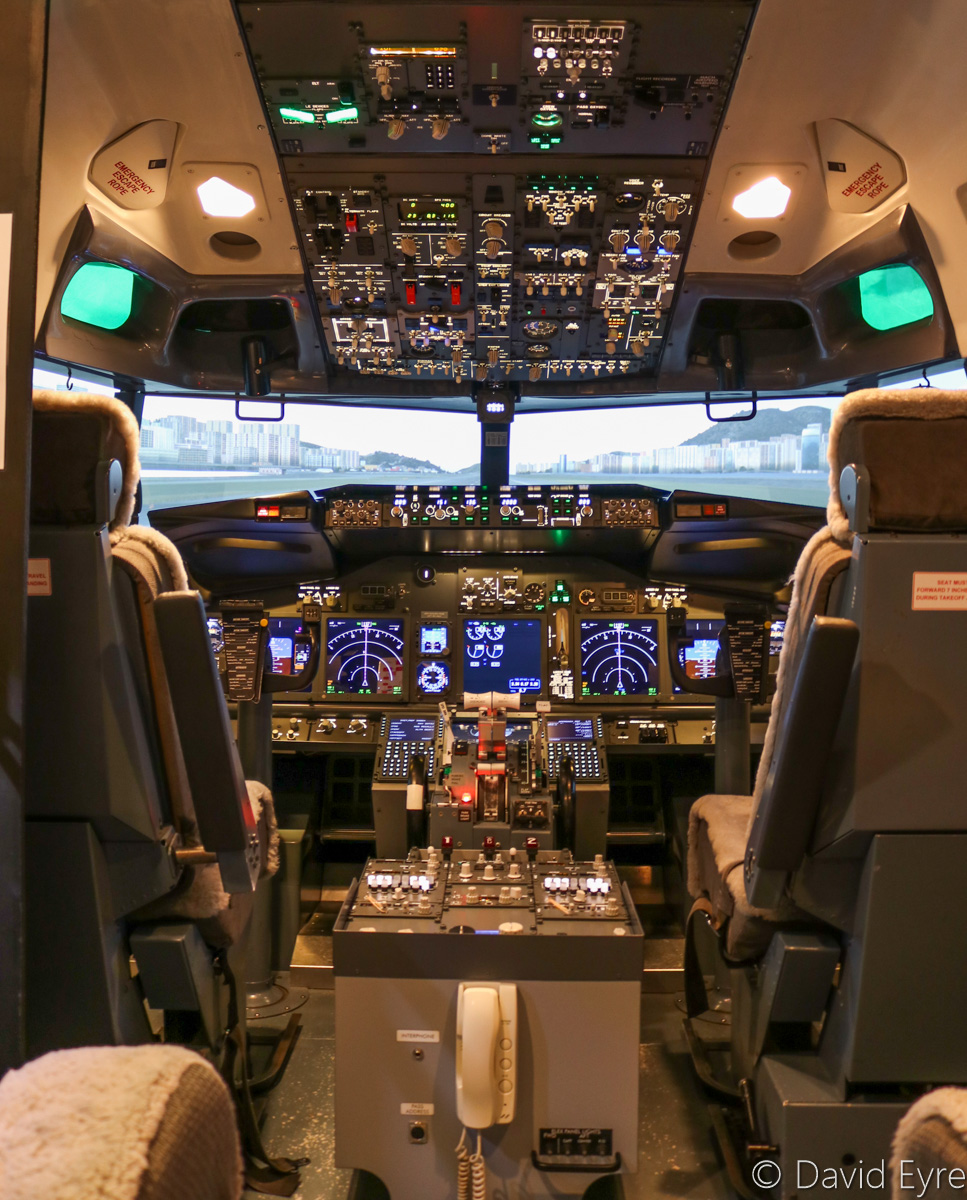 31 March 2017 © David Eyre
I am at the controls of a Boeing 737, descending and turning very low over the skyscrapers and alleyways of Hong Kong, on the famous Runway 13 Checkerboard approach to Kai Tak Airport.
Even though I have no Airline Transport Pilots Licence and no experience on the Boeing 737-800, we landed safely. No lives were in danger and the aircraft was not damaged.
I had a highly-experienced airline pilot supervising me from the right hand seat.
We were not actually over Hong Kong, but in a Boeing 737-800 flight simulator at Flight Experience Perth.
Flight Experience Perth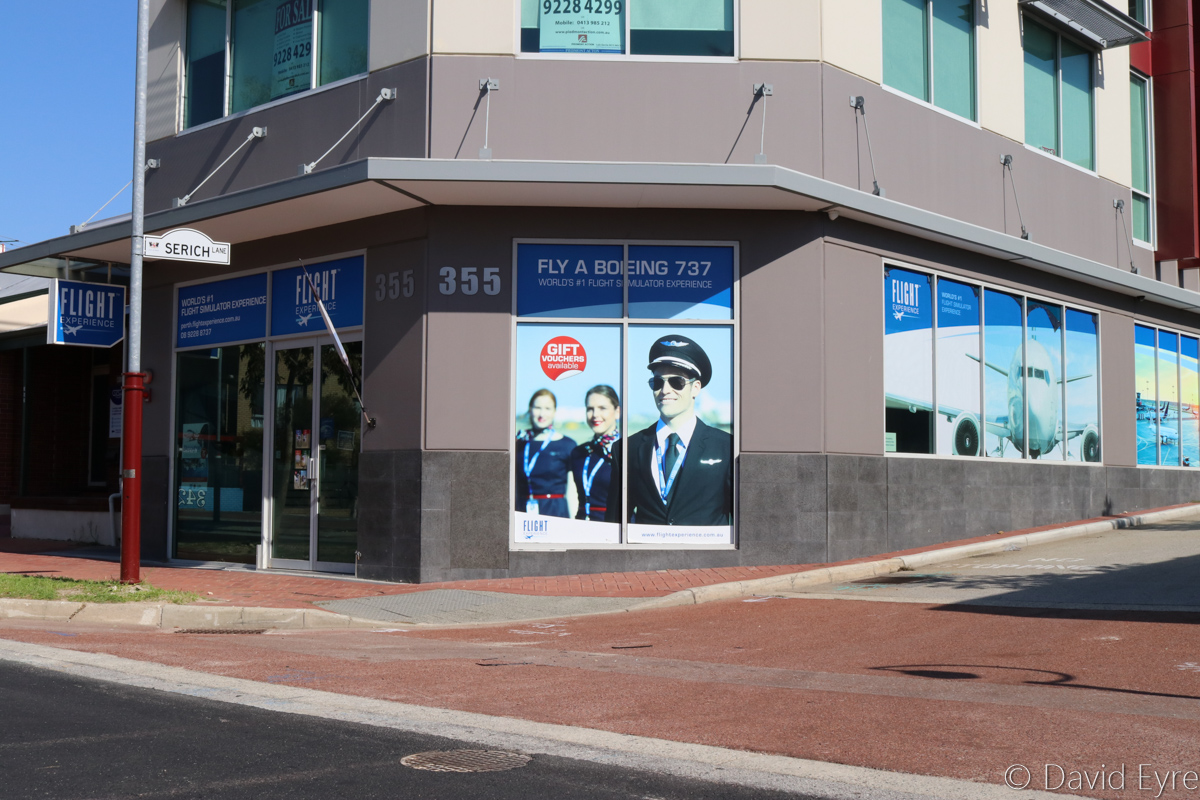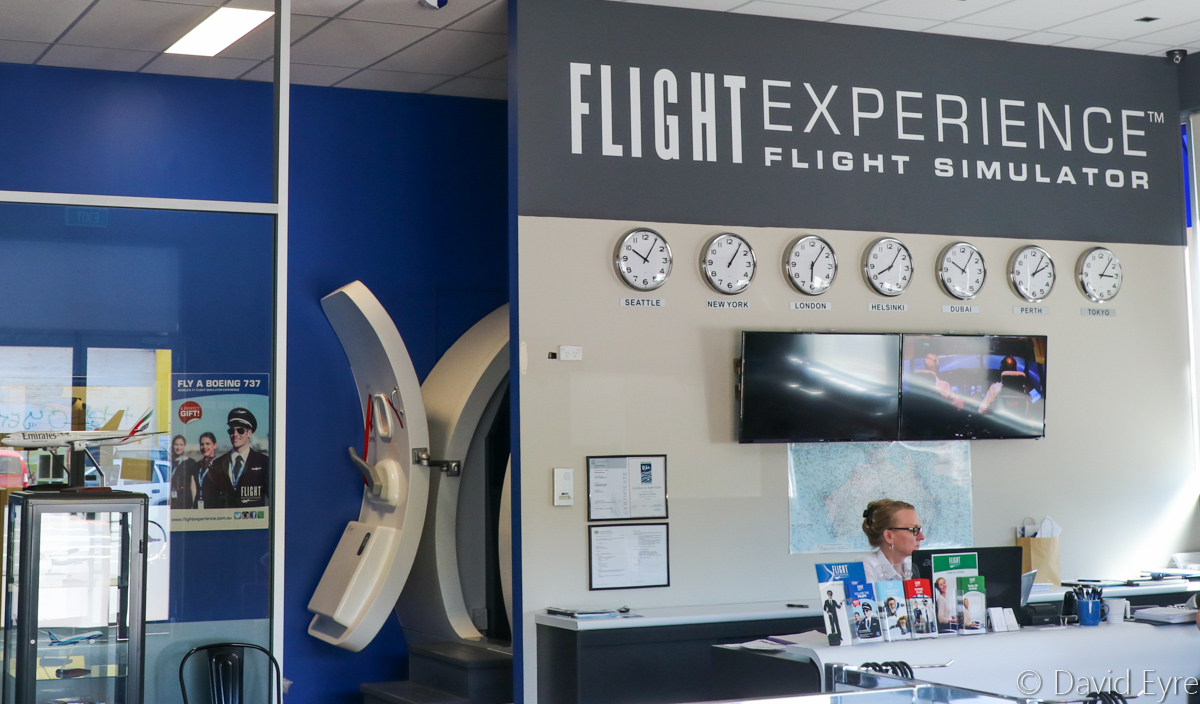 Flight Experience Perth is located on Newcastle Street in Northbridge, close to Perth's city centre.
You 'check in' for your flight with the friendly staff in the reception area, which has a variety of genuine Boeing Store memorabilia on sale.
A large TV shows the view in the simulator flight deck, so friends or family can watch the flying. Two of your friends or family members can also sit in the simulator to watch at no extra cost.
You can also arrange to have your flight recorded on video and photographs, for an additional fee.
Piloting experience is not necessary and the pilot briefing is not technical.
The recommended minimum age is 10, but younger children must be supervised by a parent or guardian. There is no maximum age.
There are a range of flight packages available, starting at $97 for a 30-minute flight.
Your 'First Officer/Co-pilot'
Before the flight, you meet your 'First Officer' – actually an experienced airline pilot.
The First Officer will assess your level of expertise and help you choose appropriate flight conditions and destinations, to ensure your flight is an enjoyable experience. People who have not flown an aircraft before will use less challenging airports, easier weather and more support from the First Officer.
My First Officer was Captain Peter Chin, who originally did his flight training in the 1980s at Jandakot Airport, starting in the Piper Tomahawk (like the author).
Peter has an impressive 29 years' previous airline experience – 16 years with Emirates (Boeing 777) and 13 years with Qantas (Boeing 747-200/300, 767 and 747-400). He has over 18,000 hours total flying time.
Most of the instructors at Flight Experience Perth have a Commercial Pilot's Licence and around 200-400 hours total time, and some have an Instructor Rating.
The simulator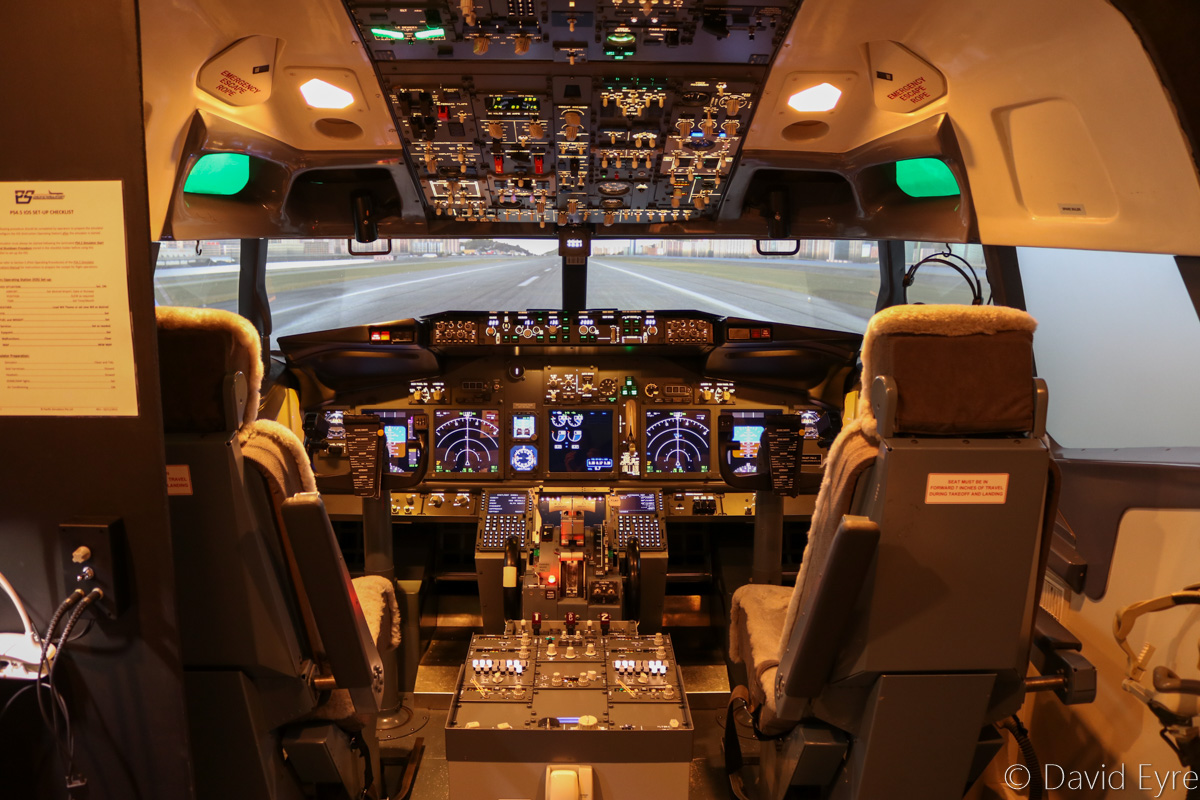 Flight Experience Perth use a fixed-base flight simulator, based on the Boeing 737-800.
The simulator is approved by Boeing and is even certified for use as a synthetic trainer by a number of aviation safety regulators, including CASA (Australia), FAA (USA), CAA (NZ) and DCA (Thailand). Pilots are able to log a certain amount of ground simulator time. In due course, Flight Experience Perth will be able to offer Multi-crew Cooperation and Jet Orientation Courses.
This simulator is not mounted on jacks and does not move, so you will not suffer from motion sickness whilst flying it. However, it is still a convincing representation of the 737-800 flight deck.
Everything in the cockpit looks real – it even uses a number of real 737 cockpit controls, throttle quadrant, trim wheels and instrumentation.
The instrument panel has displays and systems much like the real thing, such as Flight Management Computers (FMC), Autopilot Flight Director System (AFDS), Terrain Collision Avoidance System (TCAS), weather radar, and Enhanced Ground Proximity Warning System (EGPWS).
The simulator can display scenery for more than 24,000 airports and cities. It also has a surround stereo sound system with seat shakers, to provide more realism and vibrations.
If you wish, you can follow real checklists and talk with Air Traffic Control, so it feels even more authentic.
My 'flight'
Whilst waiting for the 'flight', I chatted to another guest waiting to go flying. She is a fully-licensed commercial pilot and was carefully studying airport charts before going for her training flight, as she wanted it to be a realistic as possible.
There was an announcement stating that my flight was ready to depart.
I have a private pilots licence, but haven't flown for a long time, and my piloting experience was flying simple, light aircraft – not a complicated airliner.
Entry to the simulator is somewhat similar to a Boeing 737 fuselage – you enter the cabin door and turn left to enter the flight deck.
I was immediately impressed by the realism of the simulator's flight deck.
We were a little pressed for time, so I concentrated on aviating and navigating, not communicating. I avoided having to communicate with Air Traffic Control.
There is a 180-degree view screen, which depicted a view as if parked at Perth Airport's Terminal 1 International. It even showed the occasional airport vehicle driving past and some rain falling!
I asked Peter which airport is most commonly requested, and was not surprised when he said Hong Kong's old Kai Tak airport and its Runway 13 approach – that was what I decided to fly. Landing over the beach on the island of St Maarten, or in the valley at Innsbruck (Austria), London-Heathrow, Singapore-Changi and Sydney are also popular airports.
We strapped in and Peter started the engines, the same way you would in a real 737. He demonstrated how the auto throttle works – it is simply a matter of setting the thrust to 40% and tapping the auto throttle button on the throttle levers.
We changed our start point to Hong Kong's current Chek Lap Kok airport, which replaced Kai Tak Airport in 1998. The scenery outside changed and we were lined up on the runway at Chek Lap Kok, ready to take-off. Weather had been set to rain, so we changed it to good weather – sunny with a few clouds.
Peter changed a few settings on the autopilot panel and then we were ready to go!
We took off from Chek Lap Kok (the current Hong Kong airport) using runway 07R.
After take-off, I climbed at an angle of attack of 15 degrees, retracted the gear and climbed to 2000ft.
My first officer, Peter Chin, managed the flaps and autothrottle, whilst I lowered the landing gear and armed the spoilers.
The feel of the controls is realistic and I adjusted trim using a couple of buttons on the control column to ease the amount of control force required.
We tracked to intercept the IGS (instrument guidance system) for runway 13 at Kai Tak towards the checker board, then made a right hand descending turn to line up with the runway at 300 feet.
I managed to land without breaking anything, and performed a 'touch and go', taking off immediately after landing.
We made a right hand circuit to land again on runway 13, and I successfully landed.
Although I never got to experience a landing at real Hong Kong Kai Tak before it closed, this was the next best thing and it was thoroughly enjoyable!
AviationWA would like to thank Captain Peter Chin and Flight Experience Perth for their assistance in preparing this article.