First two RAAF Pilatus PC-21s commence delivery flight to Australia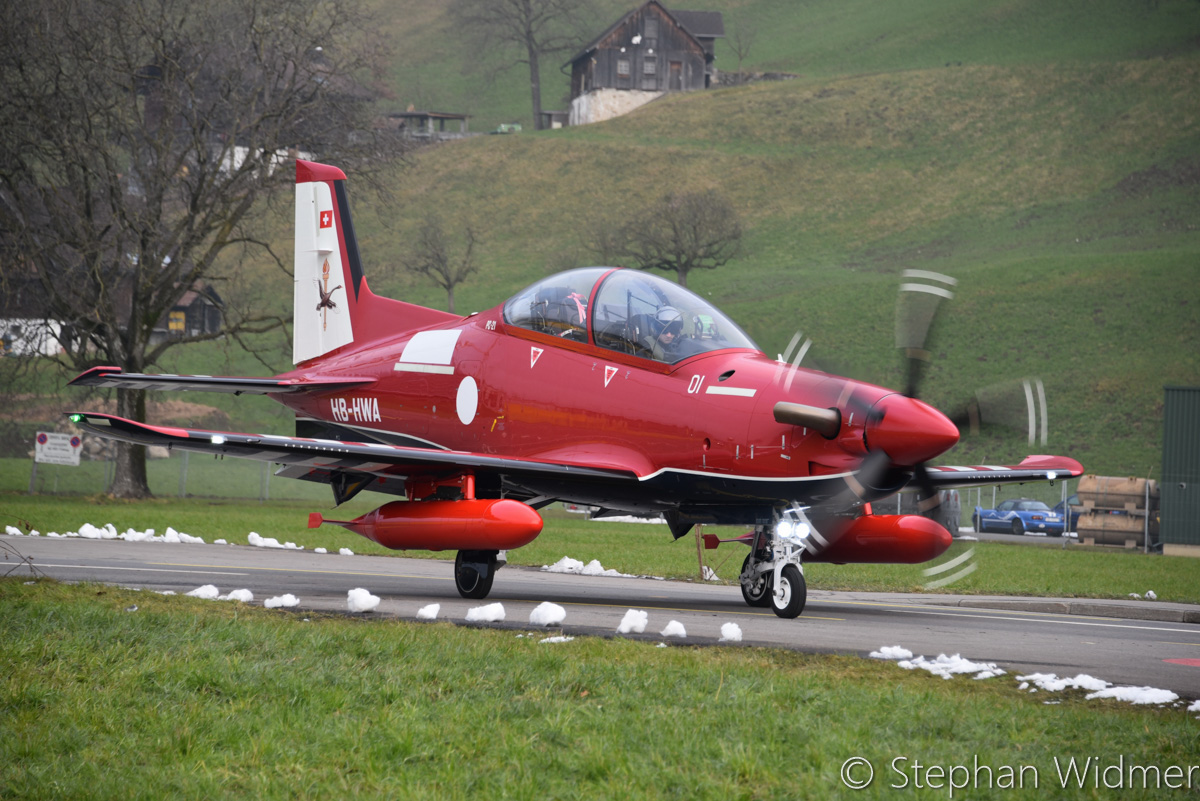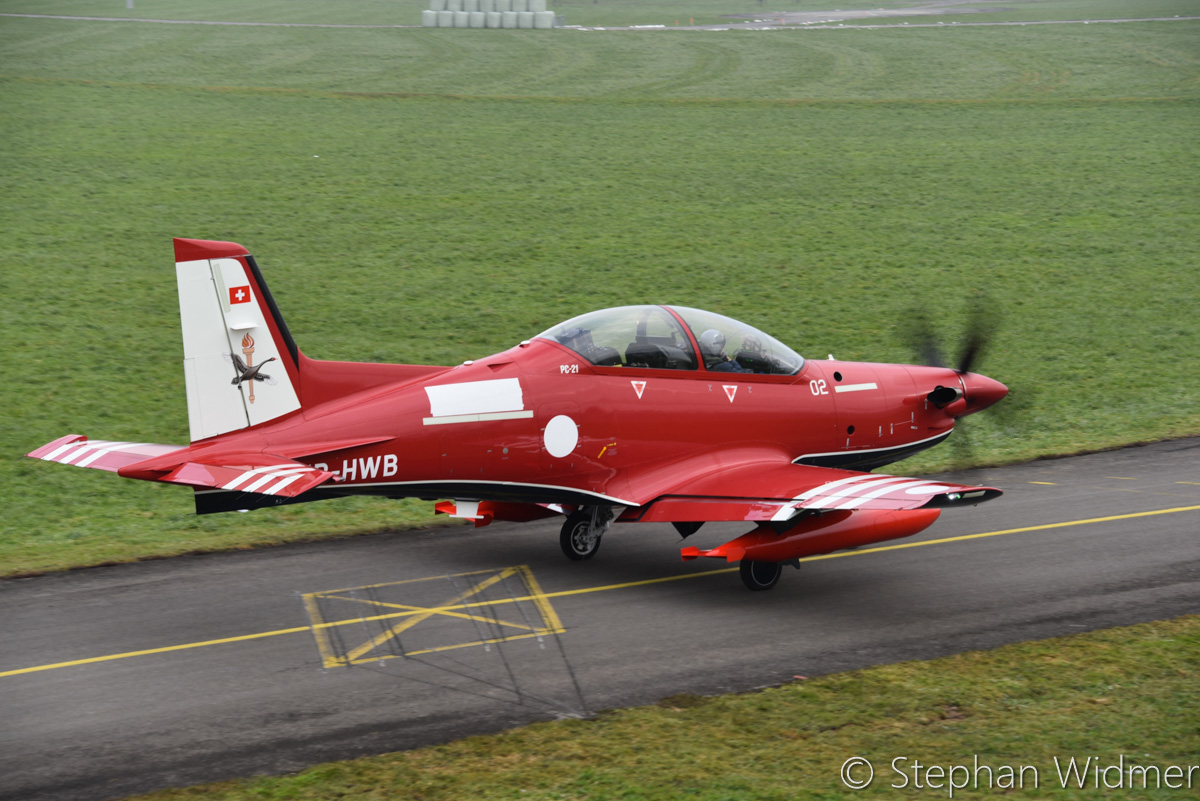 10 February 2017 © David Eyre (Photo © Stephan Widmer) (UPDATED 20 February 2017 with delivery route)
The first two of 49 Pilatus PC-21 turboprop training aircraft for the Royal Australian Air Force (RAAF) today commenced their delivery flight to Australia from the manufacturer's facility in Stans, Switzerland.
The first aircraft, bearing Swiss test registration HB-HWA (MSN 234) with RAAF serial A54-001 taped over, departed Stans with HB-HWB (MSN 235) serial A54-002 on a foggy morning.
They wore the tail markings of wearing tail markings of 2 FTS (2 Flying Training School), which is based at RAAF Pearce, north of Perth, Western Australia.
Delivery Route
Buochs/Stans (Switzerland) – Bari (Italy) – Heraklion (Greece) – Luxor (Egypt) – Riyadh (Saudi Arabia) – Fujairah (UAE) – Ahmedabad (India) – Varanasi (India) – Chittagong (Bangladesh) – Bangkok Don Mueang (Thailand) – Seletar (Singapore) – Denpasar, Bali (Indonesia) – Kupang (Indonesia) – Darwin (Australia) – Mount Isa – Brisbane – (overflew Canberra) – RAAF Base East Sale.

The flight took a total of 39 hours and 5 minutes of flying over 10 days, including a rest day.
Progress update
HB-HWA/A54-001 made its first flight on 21 July 2016, whilst HB-HWB/A54-002 first flew on 8 August 2016.
A number of RAAF instructors are undergoing training on the type in Switzerland (see photo below, with RAAF pilot in the front seat).
Currently, RAAF PC-21s A54-003 through to A54-006 are flying in Switzerland, with A54-007 and A54-008 in final assembly.
The PC-21 will start flying operations at RAAF Base East Sale in mid-2017 with the first pilots course to start in early 2019.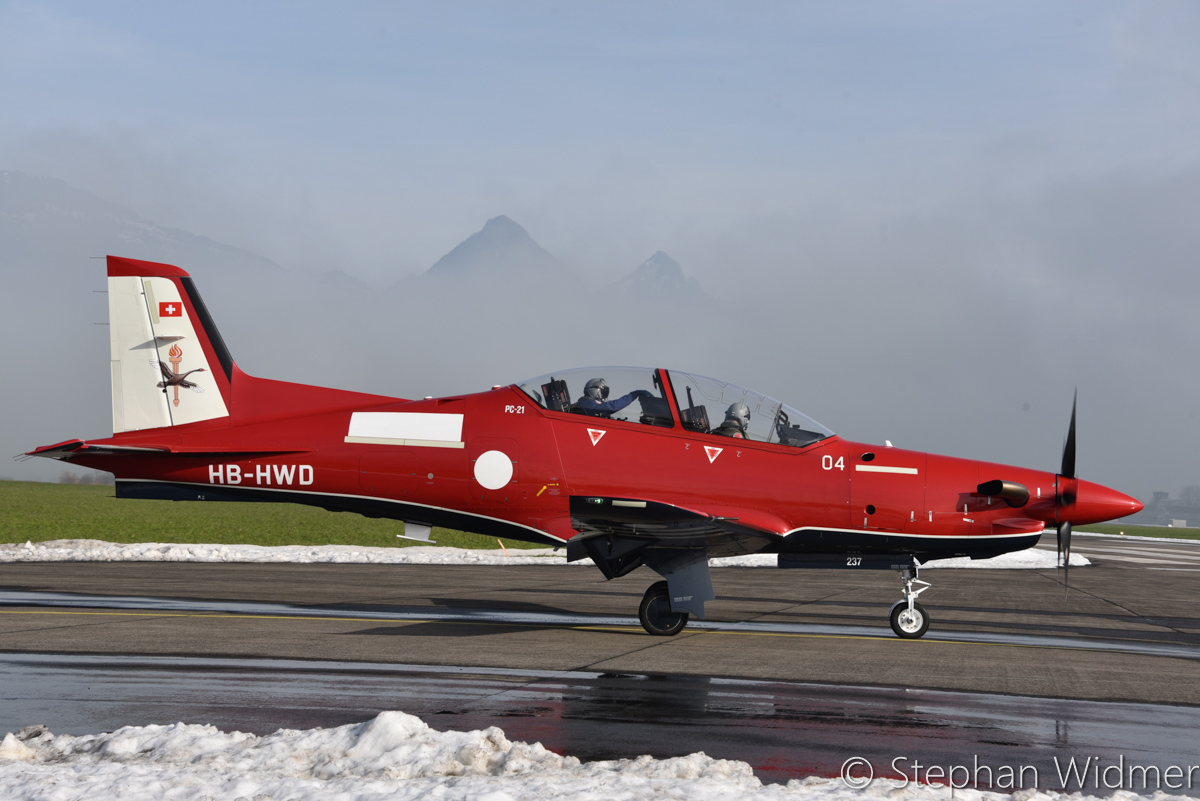 Replacement for Pilatus PC-9/A
As part of the AIR 5428 Pilot Training System project, the PC-21 will replace the RAAF's current Pilatus PC-9/A and Pacific Aerospace CT-4B aircraft.
42 of the PC-21 aircraft will be used as trainers at RAAF Base East Sale in Victoria and RAAF Base Pearce in Western Australia. Three PC-21s are being acquired for the Aircraft Research and Development Unit (ARDU) based at RAAF Edinburgh, South Australia, and four Forward Air Control variants for 4 Squadron, which currently operates the PC-9/A Forward Air Control variant from RAAF Base Williamtown in New South Wales. Seven simulators will also be acquired.
In November 2015, the first Australian pilots to undertake conversion training on the Pilatus PC-21 arrived in Switzerland. These pilots will establish the transition team responsible for developing the new training curriculum.
The PC-21 covers a broad training spectrum, from elementary flying training through to bridging the gap between the PC-9/A turboprop trainers and Hawk lead-in fighters.
The PC-21 is capable of sustained low-level speeds in excess of 320 knots and handles similarly to a fighter, with hydraulically-assisted ailerons and roll spoilers, which can roll rates of over 200 degrees per second.
Two aircraft were shortlisted for the AIR 5428 project, the PC-21 and the Hawker Beechcraft T-6C Texan II, itself derived from the PC-9/A. The contract was awarded to the Lockheed Martin "Team 21" consortium in December 2015, in a deal worth A$1.2 billion (US$900 million).
The contract for the RAAF PC-21s was signed in December 2015, with the first aircraft A54-001 due to be handed over to the RAAF at East Sale, Victoria in June 2017, and the first pilots course scheduled to start in early-2019.
The current RAAF PC-9/A fleet has been in service since 1988, and was originally intended to be withdrawn after 20 years, but is due to be extended until 2019. A total of 67 PC-9s were purchased.