Swan River Seaplanes launch seaplane day tours from Perth to Margaret River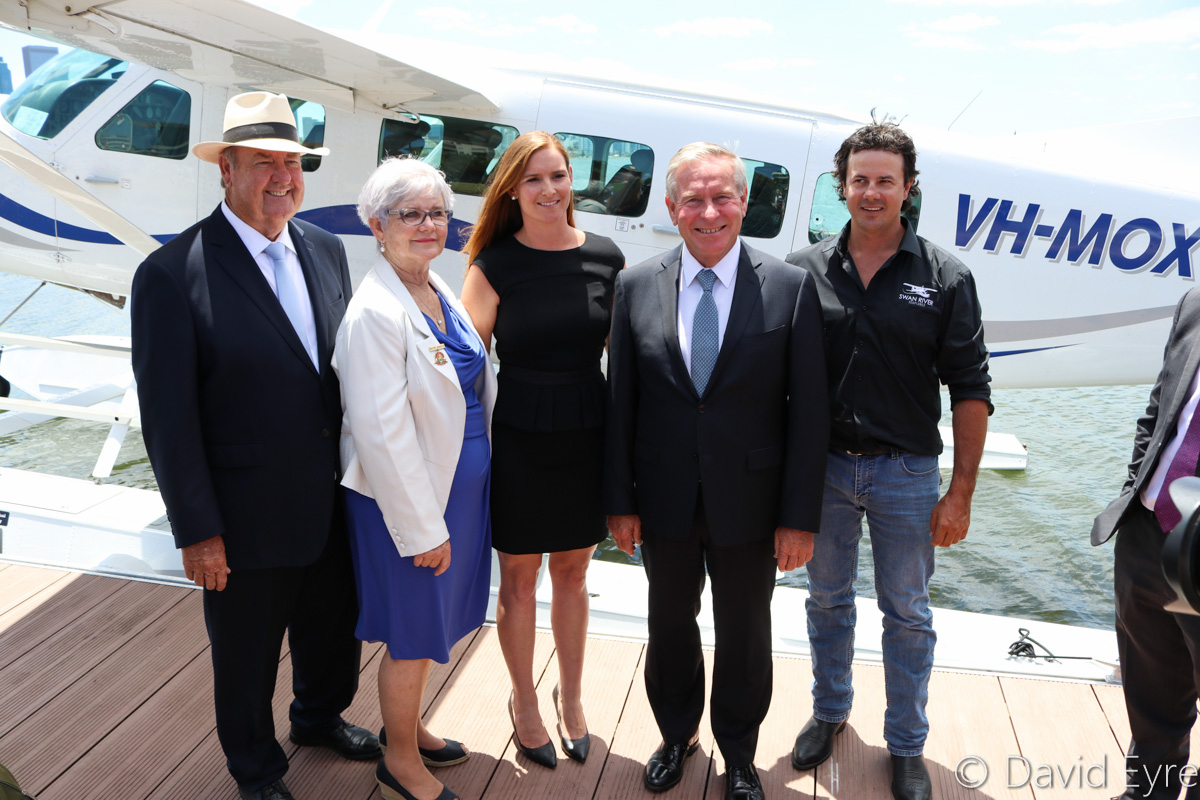 23 January 2017 © David Eyre
Today saw the official launch of day tours from Perth's Swan River to Margaret River by Swan River Seaplanes, on a six-month trial until June 2017.
The new tourism service begins from Friday 27 January 2017, using a Cessna 208 Caravan amphibious seaplane (VH-MOX).
The flights depart on Thursdays to Sundays from a new pontoon on Queen Street Jetty on the South Perth Foreshore at 9am, taking off from the Swan River and enjoying excellent views of the city and Western Australia's coastline, before landing at arriving at Margaret River Airstrip (on land) an hour later at 10am. The same journey by car takes three times as long.
The price includes a day tour to the Margaret River wineries before the aircraft departs Margaret River at 3pm, arriving landing on the Swan River and returning to Queen Street Jetty at 4pm.
The seaplane can seat 12 passengers and the round trip flights, including wineries tours, will cost $795 per person.
The idea was conceived by One Eighty Marketing director Kristy Bailey and Horizontal Falls Seaplane Adventures owner Troy Thomas as a means for time-poor tourists in Perth to be able to visit the famous Margaret River wine region in the South West.
At the official launch were Western Australian Premier and Tourism Minister Colin Barnett, Tourism Council CEO Evan Hall, City of South Perth Mayor Sue Doherty, Member for South Perth John McGrath MLA, Kristy Bailey and Troy Thomas of Swan River Seaplanes, and a large media contingent.
Cessna Caravan VH-MOX departed at 12:08pm with a group of passengers, including City of South Perth Mayor Sue Doherty, and was airborne at 12:16pm. It completed an orbit over the Swan River, before heading to Margaret River.
Swan River Seaplanes joins Red Baron Seaplanes, which launched scenic flights from the Swan River from its base at Barrack Street Jetty in 2016, using a Grumman SeaCat (AgCat seaplane). Red Baron Seaplanes will also operate flights from the Swan River to Rottnest, a 12-minute flight.
Perth's Swan River has had a long standing aviation history with seaplanes dating back to the 1920s. Perhaps most famous was the operation of military and civilian (Qantas) Consolidated Catalina aircraft from Pelican Point and Matilda Bay in Crawley during World War Two. Qantas operated Catalinas on the longest non-stop airline service, from Perth to Ceylon (later renamed Sri Lanka), with flights sometimes lasting 32 hours.