VH-NMO Grumman Albatross leaves Perth, heading for Avalon in Victoria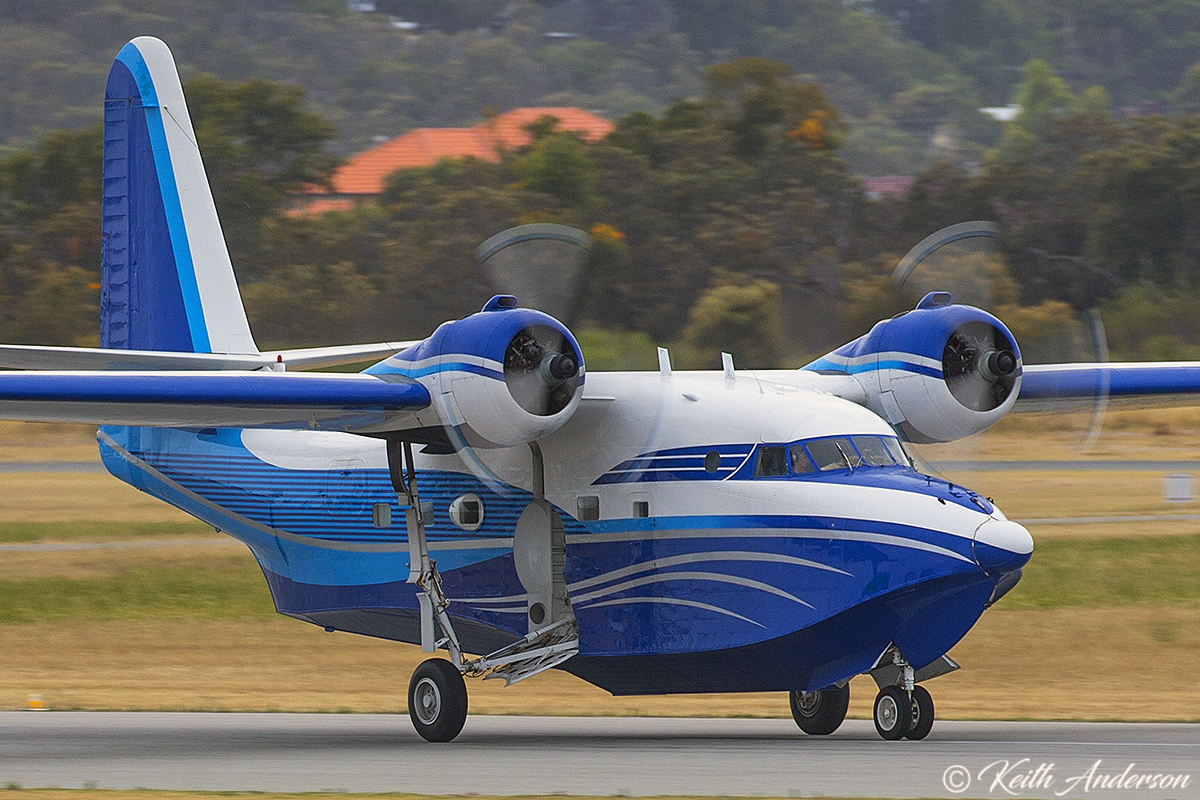 22 December 2016 © Keith Anderson and David Eyre
Grumman G-111 Albatross VH-NMO of Catalina Airlines made its first flight in three years, and perhaps its last flight in Western Australia, when it departed Jandakot Airport today, to fly to Avalon, Victoria.
A total of 466 Grumman Albatross seaplanes were built between 1947 and 1961, and VH-NMO was the last one built.
Red tape
The aircraft arrived at Jandakot Airport in April 2012, registered N42MY and had remained on the ground as the owner reportedly battled State Government red tape, trying to launch large seaplane operations from the Swan River in Perth.
The airline's owner, Mack McCormack, initially planned to base the Albatross in Broome and use the aircraft to fly tourist and charter flights in and around the Kimberley region of Western Australia. He later changed plans and announced that he intended to begin seaplane flights from Perth's Swan River to the Abrolhos Islands, off the coast of Geraldton, starting from April 2013. Operations were to be expanded into the Kimberley region later.
Besides the battle to obtain Government approval to operate from the Swan River, the Albatross' maximum take-off weight of 13,882kg exceeded the weight limit for regular operations from Jandakot, so the aircraft's owner had to apply for special dispensation to have it parked there.
Despite some promotional flights from Geraldton to the Abrolhos Islands in February 2013, the aircraft remained parked at Jandakot Airport since its arrival.
Due to WA Government red tape, Mr McCormack eventually gave up trying to launch Albatross operations in Western Australia and decided to relocate the aircraft to the Eastern States.
McCormack has now focused his efforts on operating smaller seaplanes from the Swan River, under the name of Red Baron Seaplanes.
Departure
VH-NMO was recently moved next to Casair's hangar at Jandakot, to be prepared for its first flight in three years.
The plan was to have the aircraft take-off at 5.00 am, before the day warmed up too much. However, there was a slight delay and the aircraft lifted off at approximately 6.20 am and headed for its first stop at Kalgoorlie, before heading to Ceduna in South Australia and onwards to Avalon in Victoria.
Many thanks to Mack McCormack and the team from Casair for allowing us to have a look inside this beautiful aircraft and to be on the tarmac for the start up. Great stuff indeed.
History of VH-NMO
Built as a military Grumman UF-2 Albatross under the Military Aid Program (MAP), as the last of six ordered for the Japan Maritime Self Defense Force (JMSDF), and the last of 466 Albatross aircraft produced.
For contractual purposes, it was allocated US Navy serial number 148329.
It was delivered to the JMSDF on 5 May 1961, and allocated the JMSDF serial number 9056 – it also wore the US Navy serial 148329 on the rear fuselage. After 1962, it was re-designated as a Grumman HU-16D Albatross. See photo of the aircraft with the JMSDF in 1976: http://www.gonavy.jp/bbs1/img/2770.jpg
In the late 1970s/early 1980s, Grumman bought 57 ex-military Albatrosses for conversion to civil G-111 Albatross configuration, certified to conduct airline and charter operations. Around 1980, 9056/148329 was sold and registered N88999 – see 1980s photo: http://www.gonavy.jp/bbs1/img/2831.jpg .
In 1981, it was rebuilt by Grumman as a civilian G-111 Albatross, at a cost of US$1.2 million. Although Grumman thought that there was a market for 200 G-111s, only 13 were converted – 12 for Resorts International and one (this aircraft) for Conoco Oil/ Pelita Air Service. It can seat 23 but is certified to carry up to 28 people.
The aircraft was registered in Indonesia as PK-PAM with Pelita Air Service, flying on behalf of the Conoco oil company. It was based in Singapore, and used in support of offshore drilling in a 28-seat configuration.
On 6 March 1992, the aircraft was registered N26PR to Paragon Ranch, Broomfield, Colorado. By 1996, N26PR was owned by Mirabella Yachts Inc, Palm Beach, Florida – Sep 1996 photo: http://www.abpic.co.uk/photo/1064553/
On 8 December 1997, Mirabella Yachts reregistered the aircraft as N42MY. It was based at Fort Lauderdale Executive Airport, Florida and at Fort Pierce Airport, Florida. Here is a 2003 photo: http://www.airliners.net/photo/Grumman-G-111-Albatross/0457395/L/&sid=aac86aa3f09e8f84dbe6e378e17e8e90
On 21 January 2009, N42MY was registered to Sherman Aircraft Sales and advertised for sale – initially at $995,000, and later at US$795,000, based at West Palm Beach Airport, Florida, with a total of 4,433 flying hours.
In March 2012, N42MY was acquired by Australian businessman Mack McCormack, but registered to the Bank of Utah as trustee. It was flown to Salt Lake City, Utah, for inspections and repainting. It then flew to North County Airport in West Palm Beach, Florida and on 25 March 2012, it flew to the Port of Palm Beach at Lake Worth Inlet to be loaded onto the ship MV Suomigracht for transport to Australia. Photos of N42MY being loaded aboard: http://www.superyacht-australia.com/wp-content/uploads/2012/03/Sevenstar.png ).
It was shipped to Newcastle, NSW, arriving on 20 April 2012, and was flown to Newcastle Airport. On 23 April 2012, the aircraft flew from Bankstown to Sydney Harbour, where it landed and water-taxied past the Opera House to the former flying boat base at Rose Bay, before taking off again and returning to Bankstown.
On 25-26 April 2012, it flew across to Perth Airport. On 27 April 2012, N42MY took off from Perth Airport, flew along the Swan River, and ten minutes later landed and took off in Matilda Bay. Matilda Bay was once the base for US Navy and RAAF Catalina flying boats during World War Two. N42MY then flew to Rottnest Island and landed in Thompson Bay, then took off and flew to RAAF Base Pearce.
Mr McCormack planned to base the Albatross in Broome and use the aircraft to fly tourist and charter flights in and around the Kimberley region of Western Australia, including the Horizontal Waterfalls, Montgomery Reef, Prince Region and off the coast at Rowley Shoals.
In February 2013, it was reported in the Geraldton Guardian newspaper that Catalina Airlines was to begin flying boat flights departing from Perth's Swan River to the Abrolhos Islands off the coast of Geraldton commencing from April 2013. Costing was estimated to be around A$1000 per person, and operations were to be expanded into the Kimberley region later. The aircraft conducted some promotional flights from Geraldton to the Abrolhos Islands in February 2013.
On 16 April 2013, it was registered as VH-NMO to Catalina Airlines Pty Ltd.
However, since then the aircraft has been parked at Jandakot Airport, as take-off weight restrictions at Jandakot Airport prevented it being flown from there on a regular basis. There were reportedly a number of regulatory hurdles preventing its operation in Western Australia.
In 2016, the owner gave up battling the red tape and prepared the aircraft to fly to the Eastern States.
On 22 December 2016, VH-NMO took off from Jandakot Airport to Kalgoorlie and Ceduna, before arriving in Avalon, Victoria.