Perth Airport Terminal 1 celebrates 30 years: 25 October 2016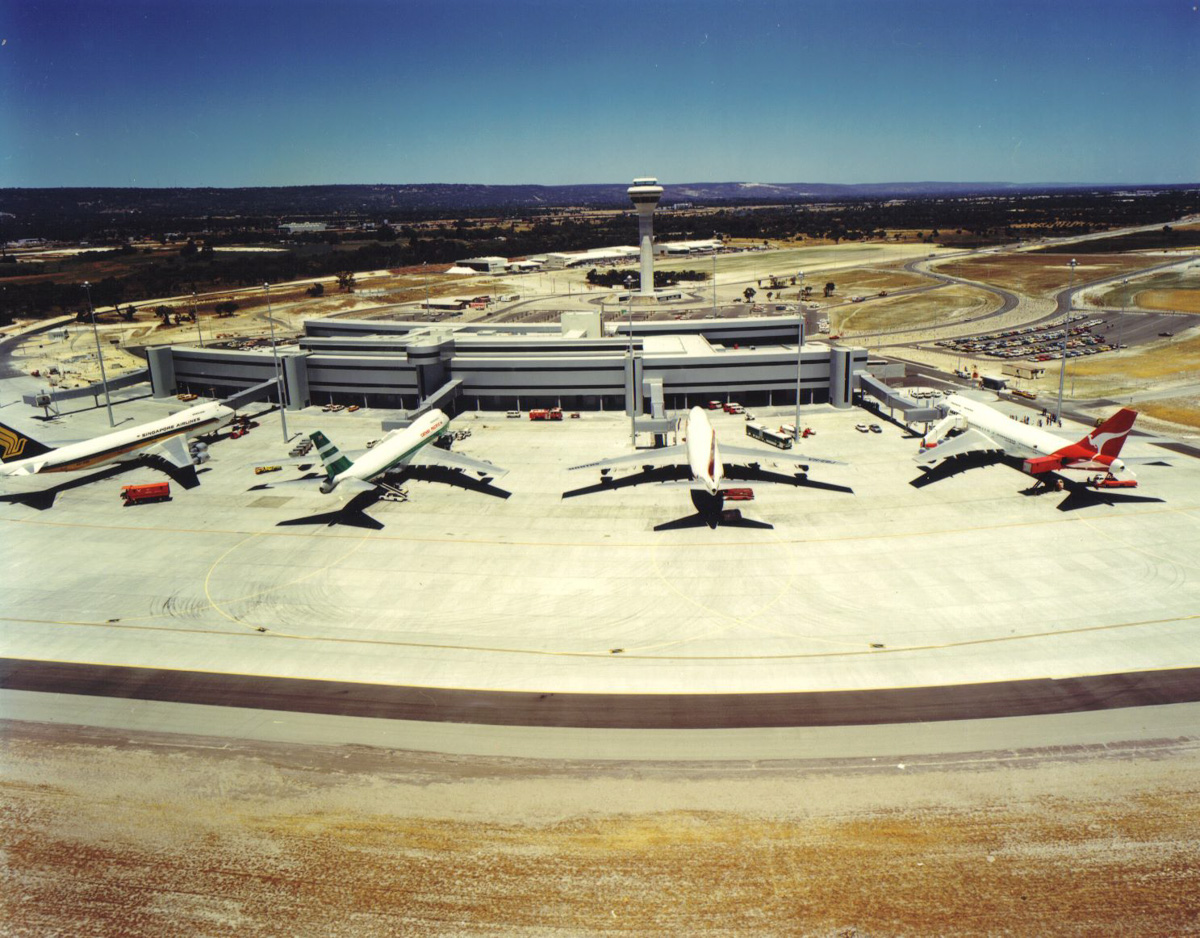 25 October 2016 © David Eyre
Perth Airport today celebrated 30 years since the official opening of Terminal 1 (T1) International.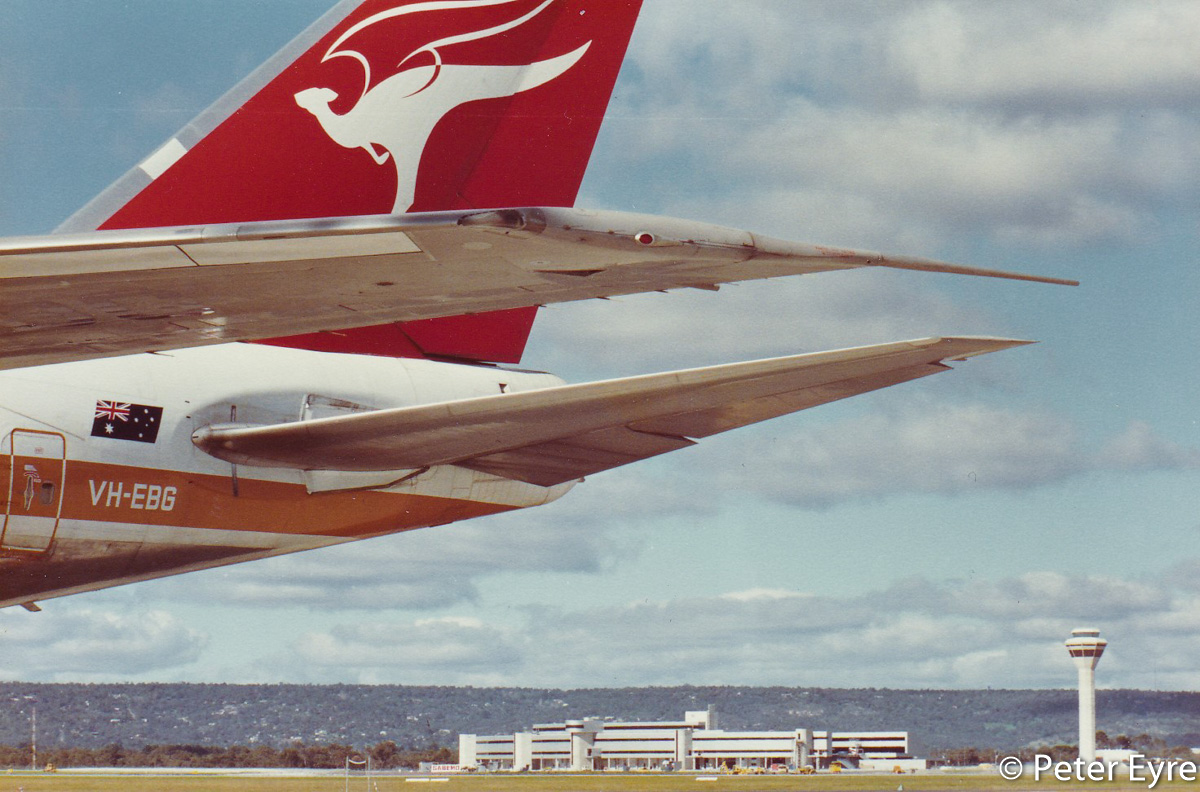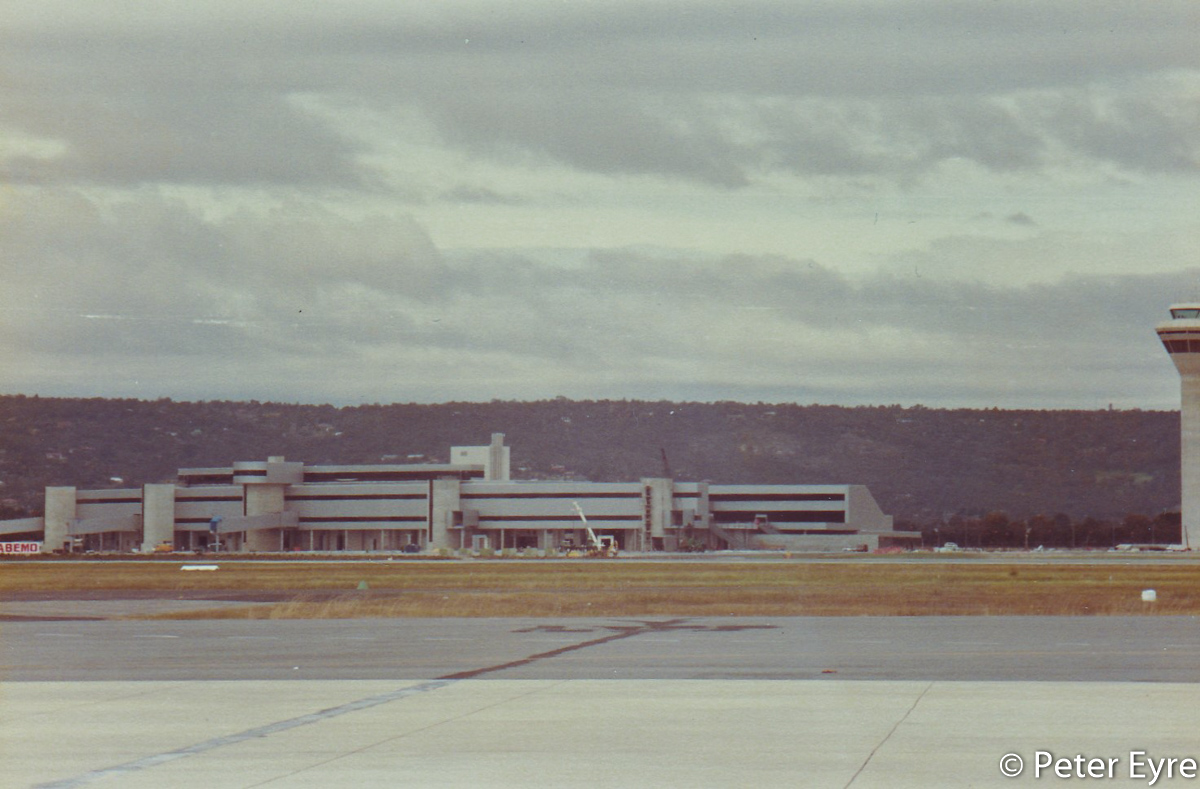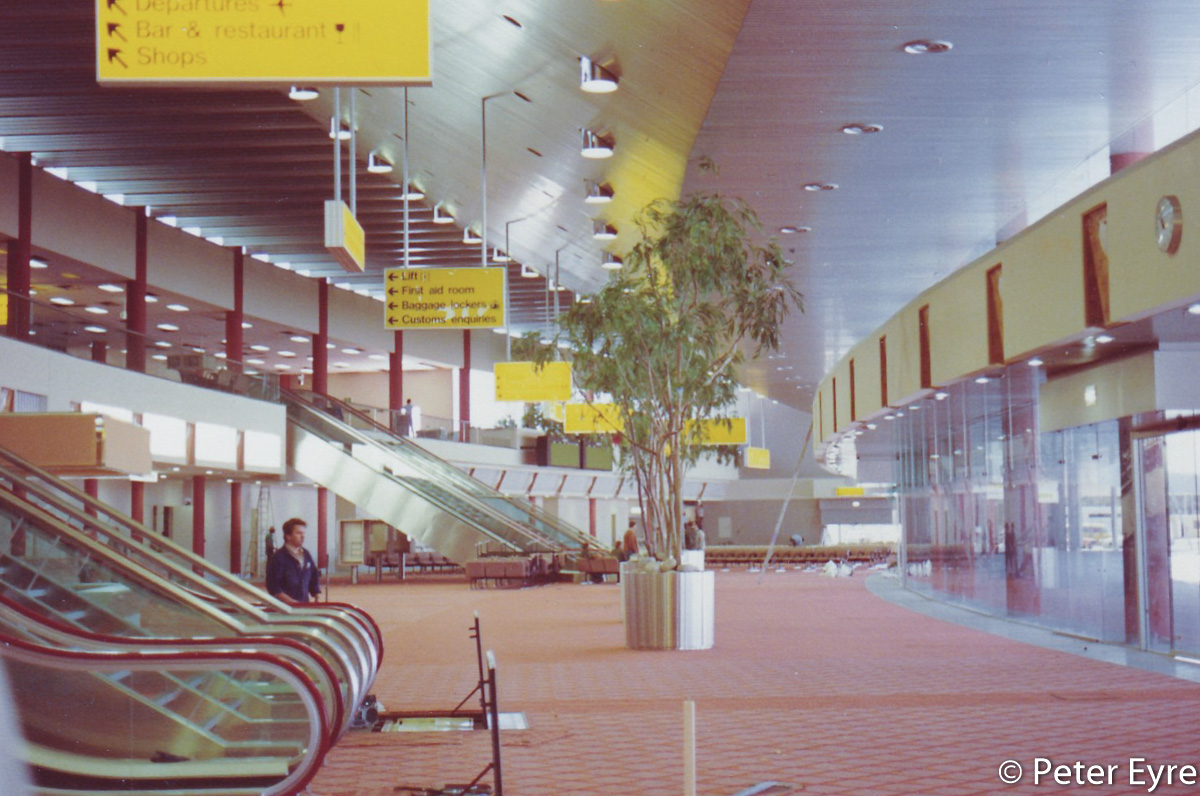 Official opening: 25 October 1986
On Saturday 25 October 1986, Prime Minister Bob Hawke unveiled the then-new International Terminal and control tower, on the east side of the airport.
This replaced the old international terminal (later revamped to become Terminal 3) on the west side of the airport, that was built from second-hand wartime materials for the 1962 British Empire and Commonwealth Games.
Operations commence: 27 October 1986
Operations at the International Terminal commenced on Monday 27 October 1986.
On that date, British Airways Boeing 747-236B G-BDXG 'City of Oxford' operating flight BA9 was delayed departing London and didn't arrive at Perth until 4:20am. It taxied onto the new International Apron by mistake, but was instructed to go to the old international terminal on the west side of the airport, because Qantas wanted to be the first to use the new terminal.
G-BDXG therefore operated the last international flight to use the old international terminal. This delayed arrival caused a problem, as some of the Qantas staff who provided ground handling services to British Airways as well as security personnel, had to remain at the old terminal, with the rest relocated to the new terminal to await the first aircraft. G-BDXG departed as BA9 to Brisbane and Auckland at 5:40am.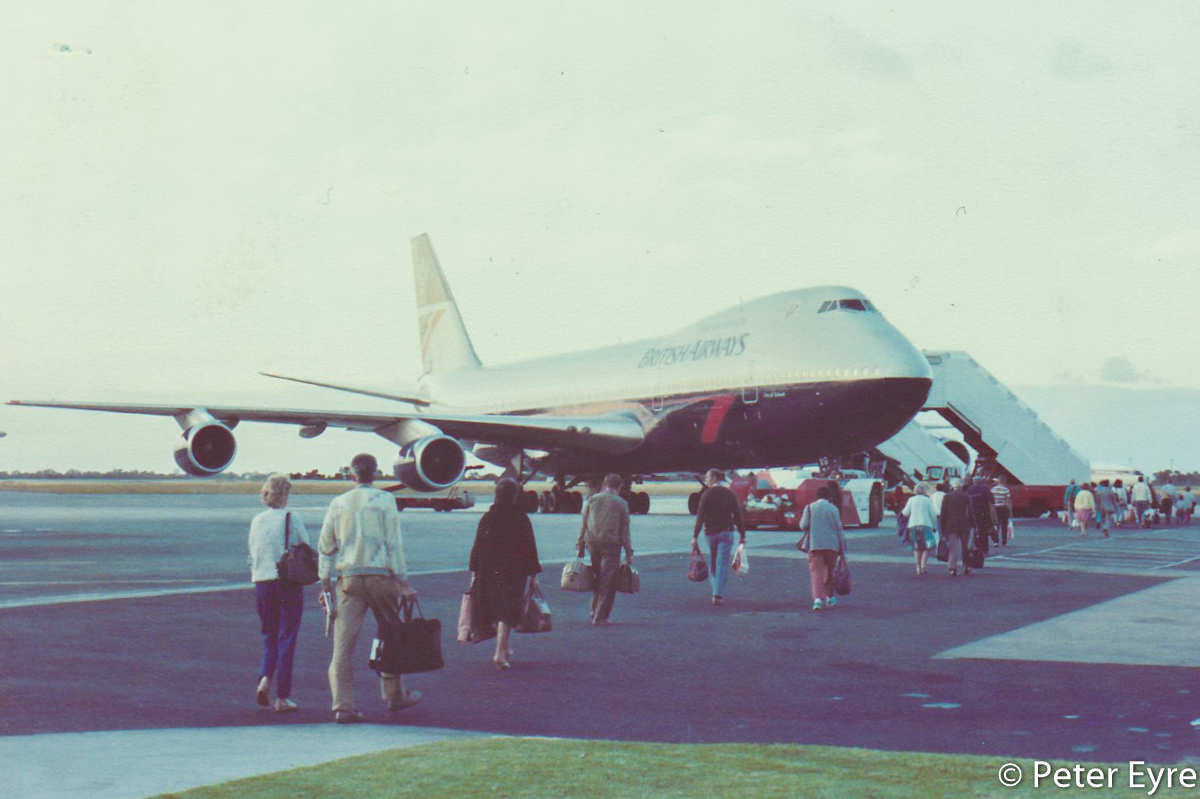 The honour of operating the first service to the International Terminal was given to Qantas, with Boeing 747-238B VH-EBG 'City of Fremantle' arriving at 6:20am as QF78 from Hong Kong, parking at Gate 3 (Bay 53, later Bay 153). The 382 passengers aboard only took 20 minutes to pass through Customs and collect their baggage!
This same aircraft then operated the first departure from the new Terminal, flight QF75 to Denpasar (Bali) at 9:30am.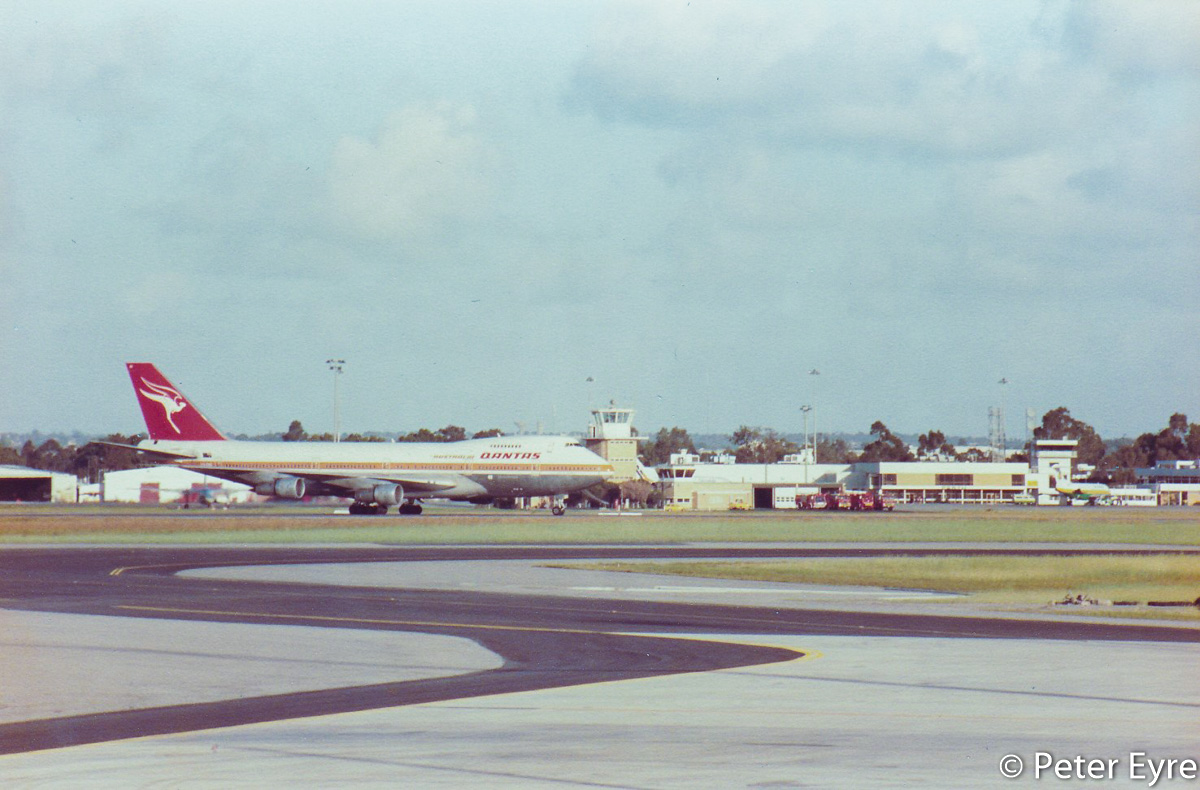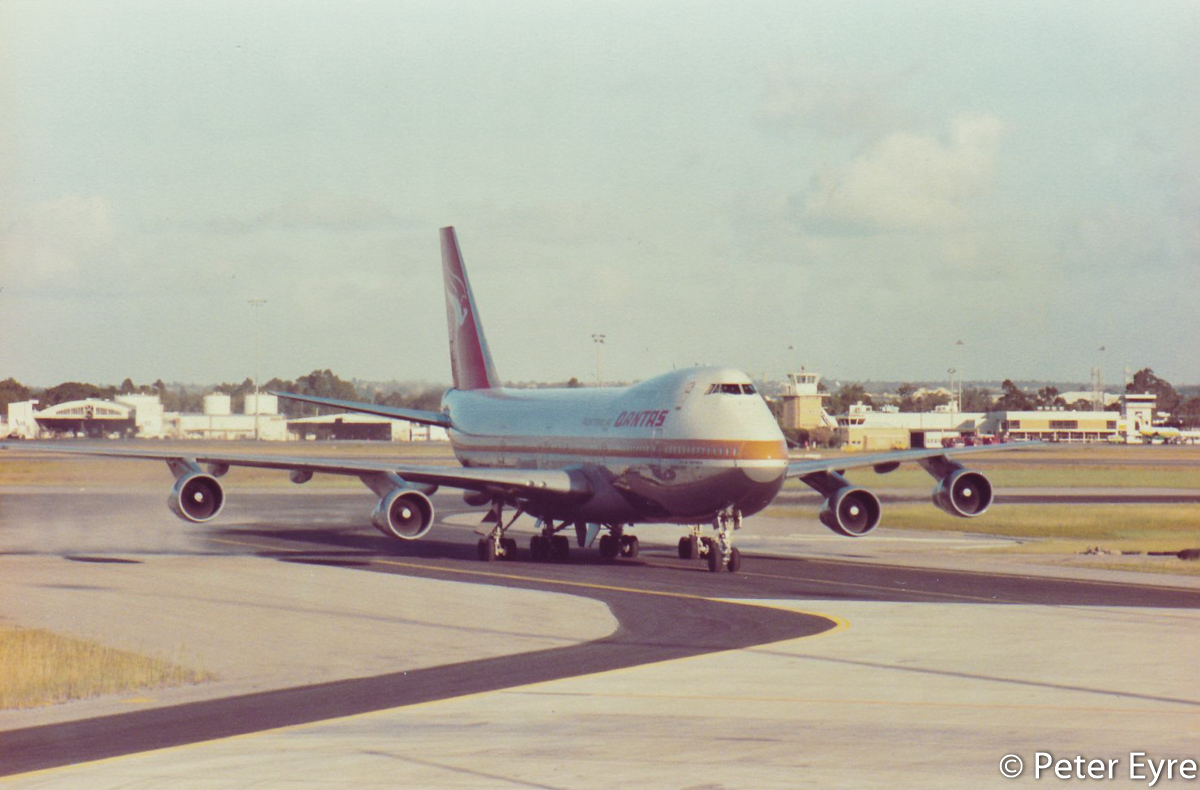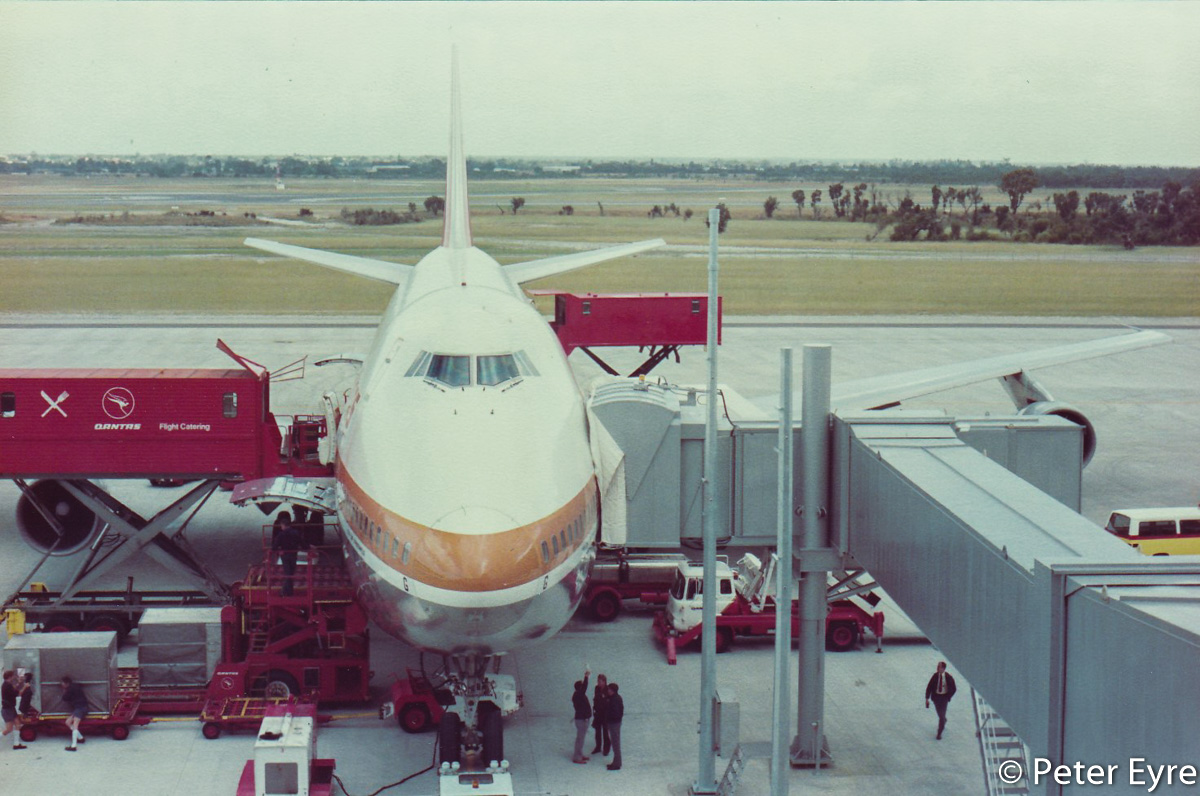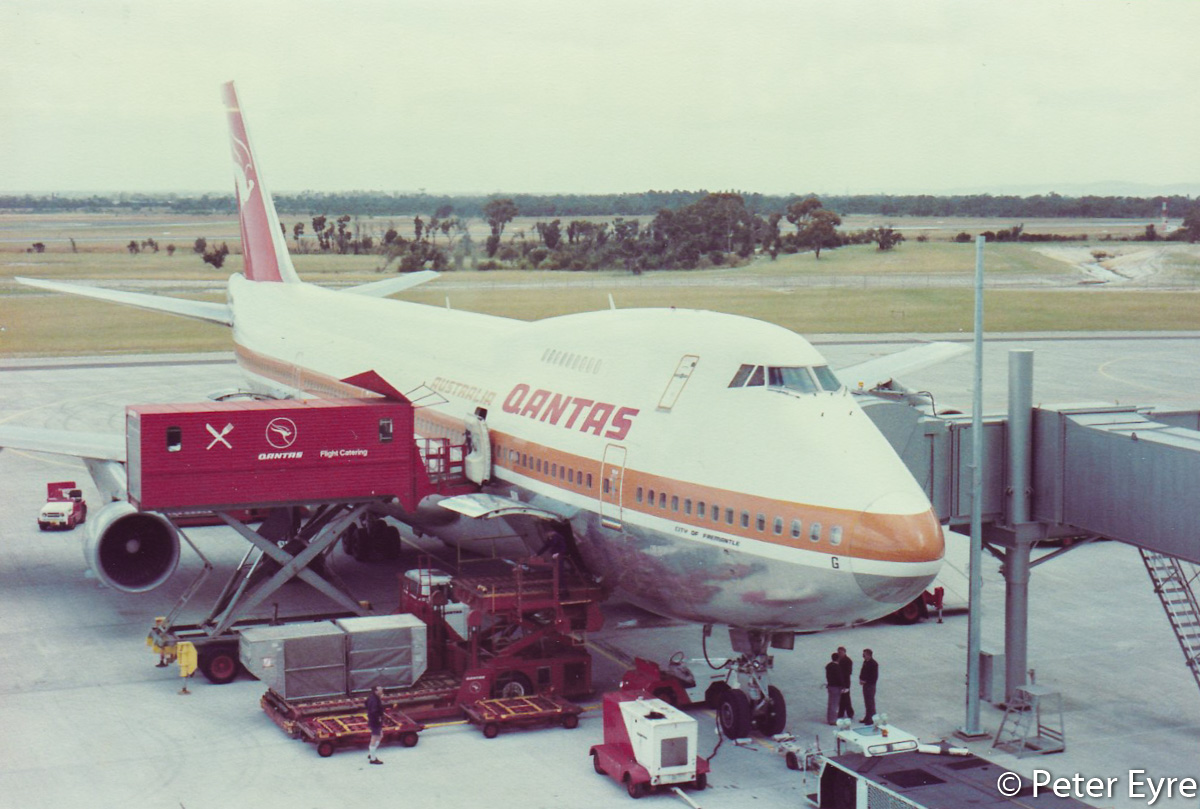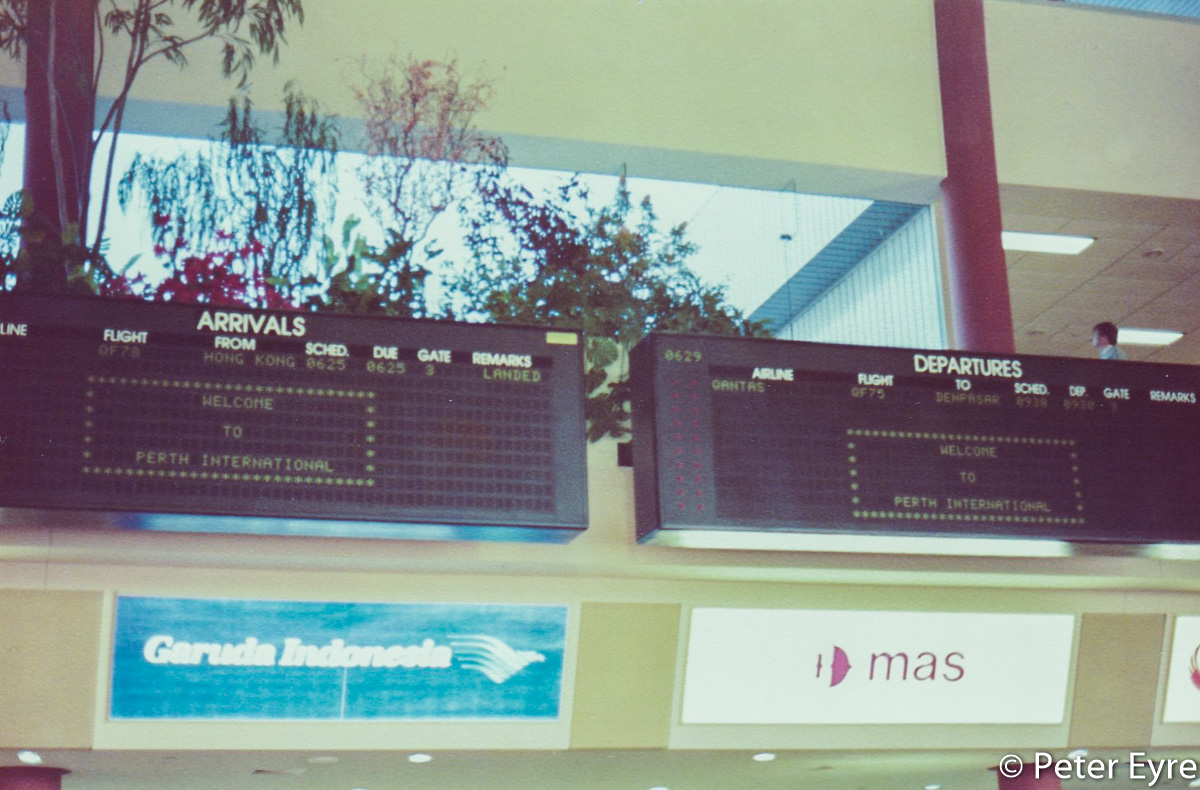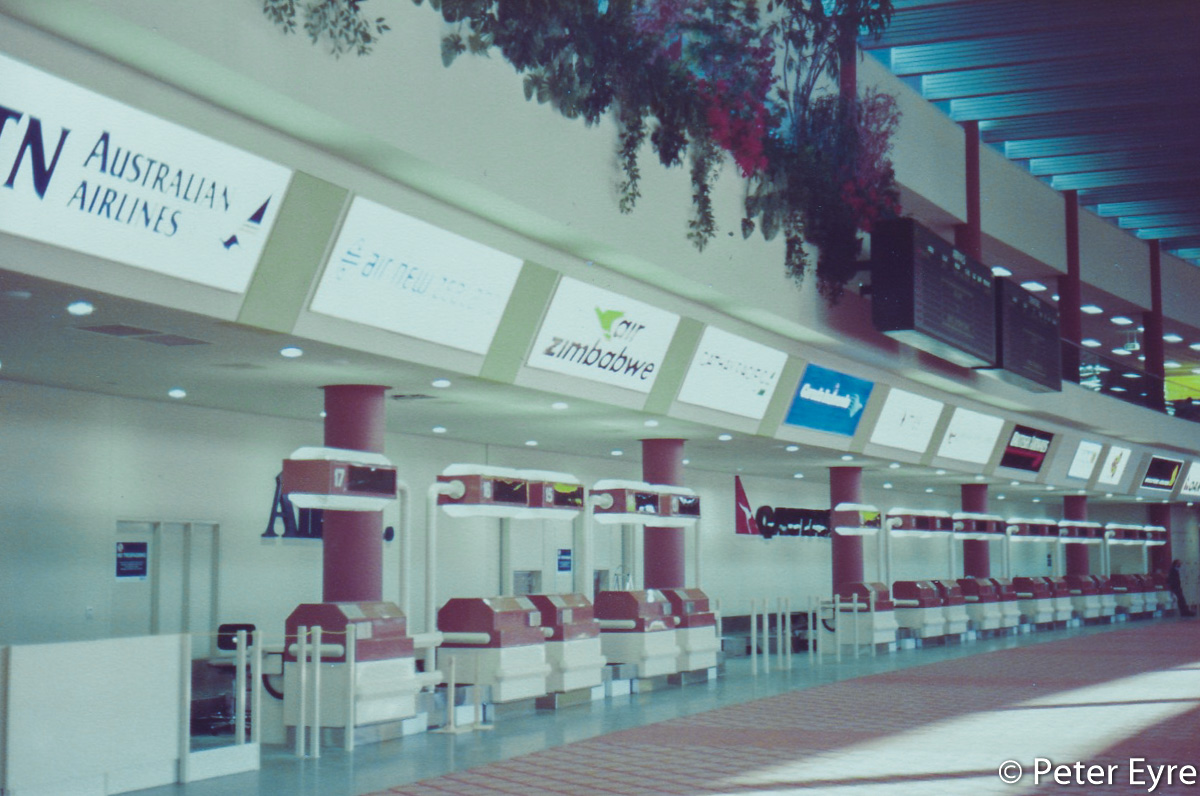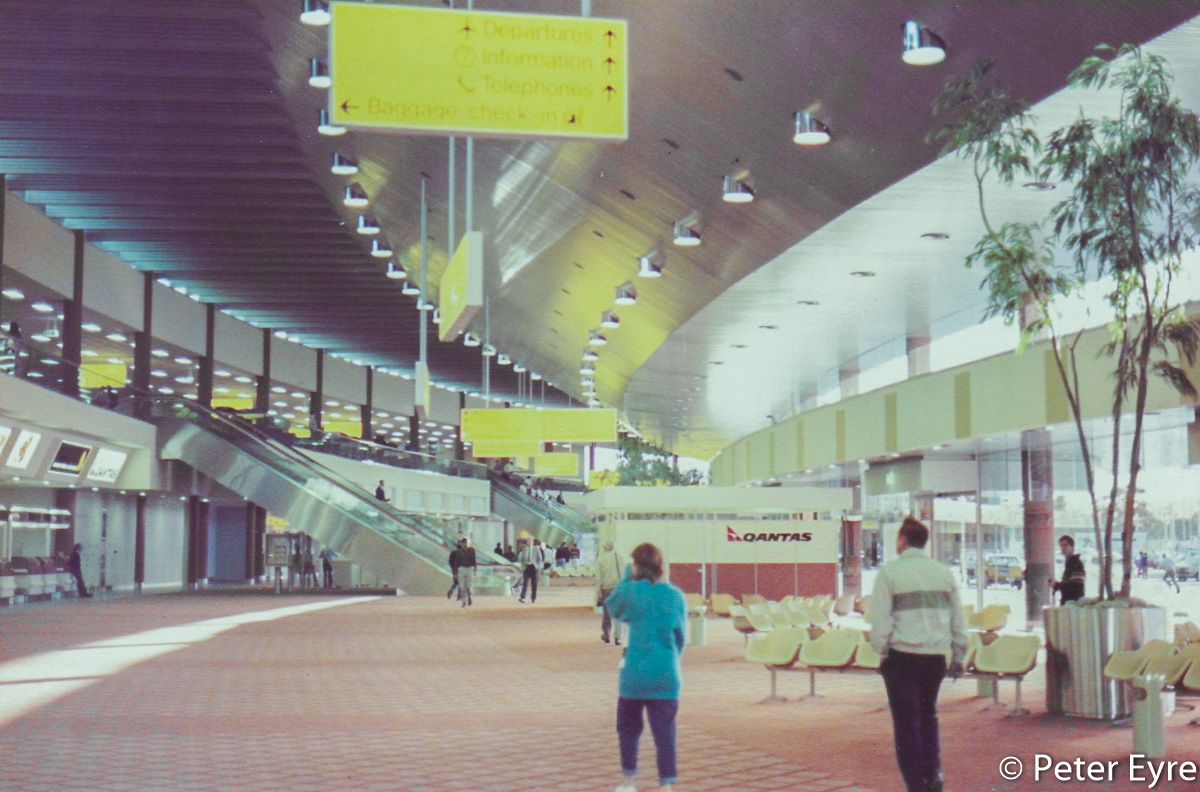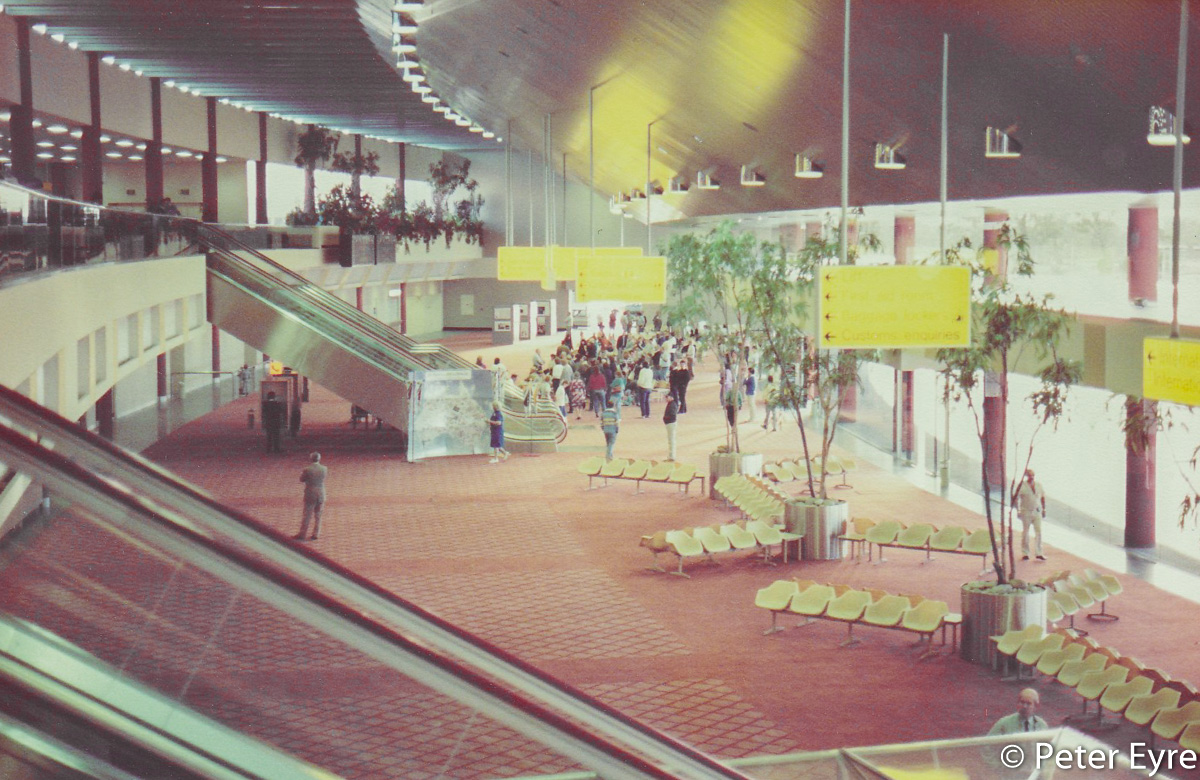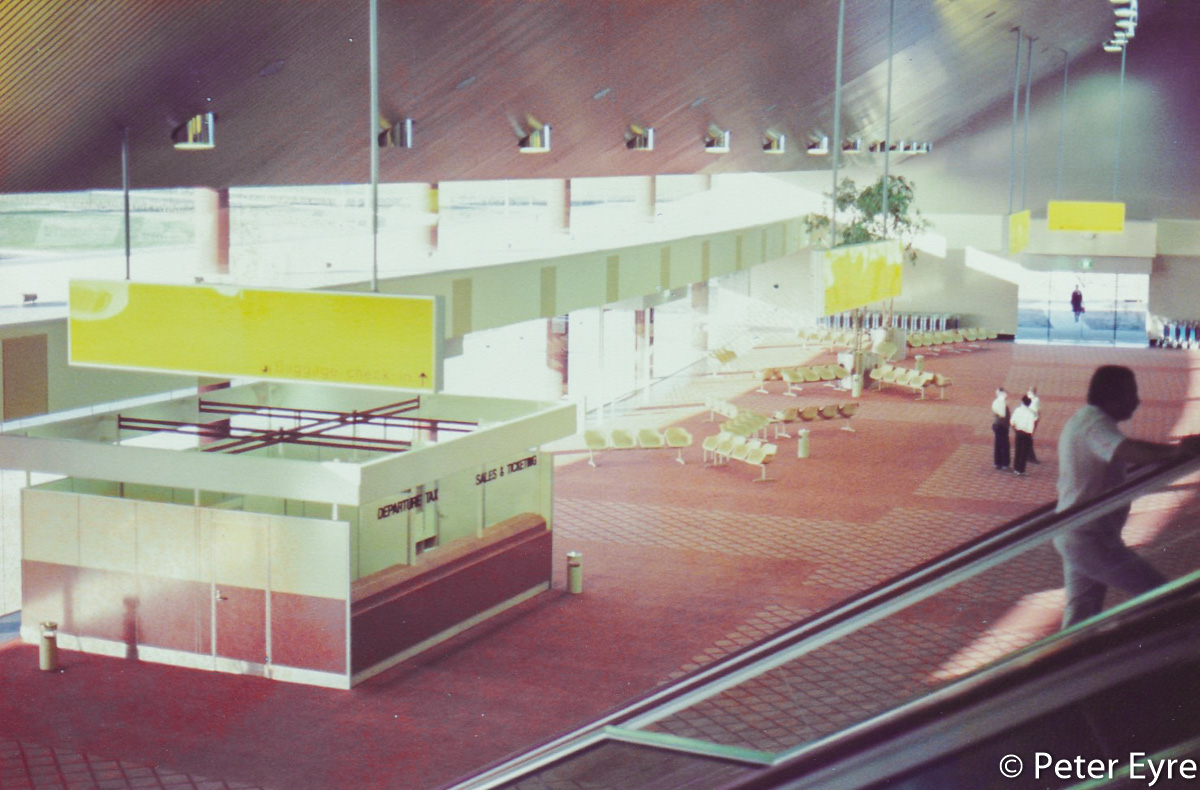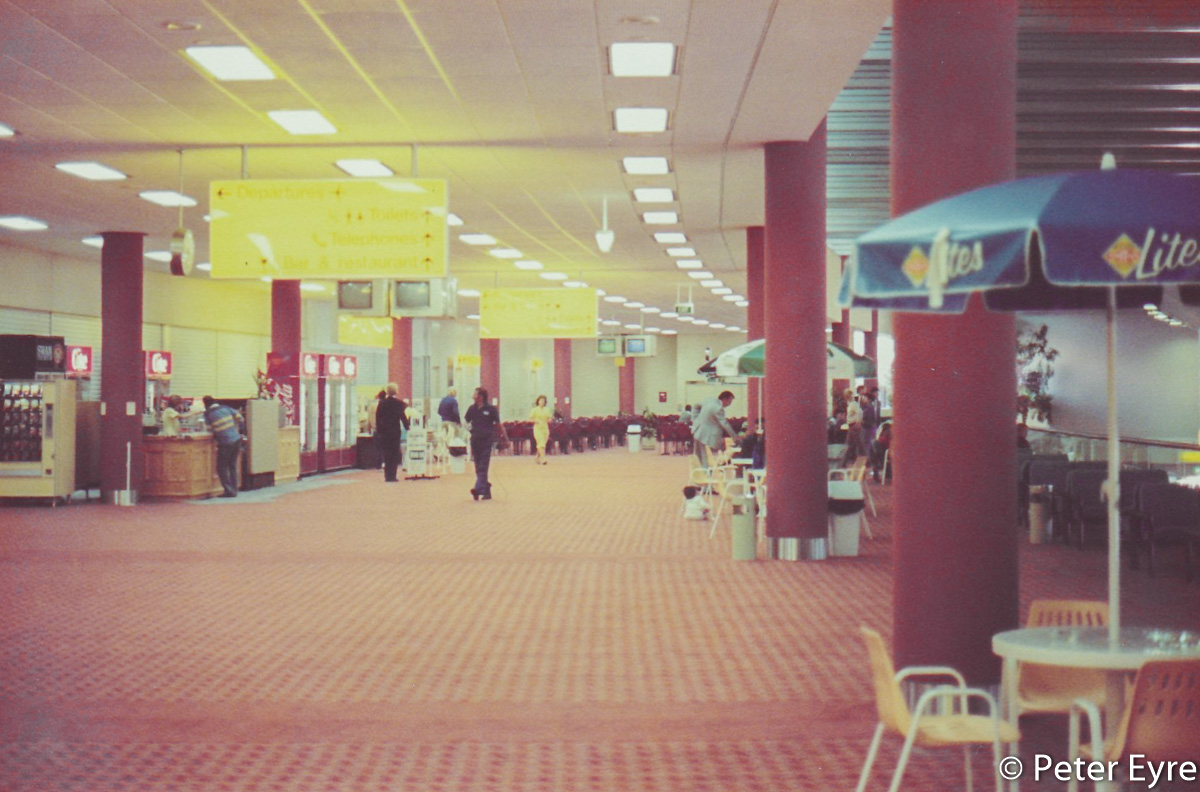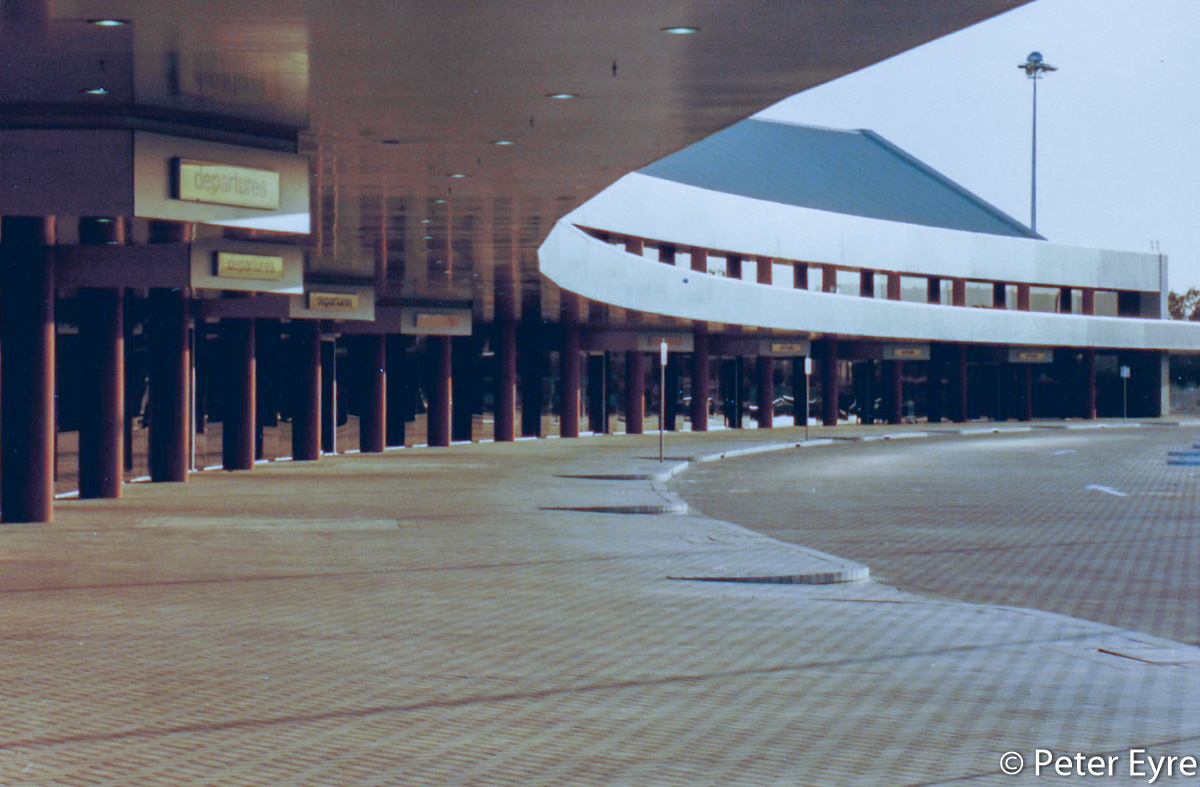 Terminal 1 in 2016
Perth Airport said that "Since opening, the international terminal has welcomed millions of passengers, growing from 500,000 passengers a year in 1986 to more than 4.2 million passengers last financial year."
The airport has undergone a $1 billion redevelopment, with all terminal facilities expanded, upgraded or constructed to provide a more enjoyable customer experience. Work is still underway at Terminal 1, with a revamped forecourt, road and short-term car park expansion opening later in 2016.
On 22 November, the airport celebrates the first anniversary of T1 Domestic, which is mainly used by Virgin Australia for domestic services, but also has an international gate at Bay 150.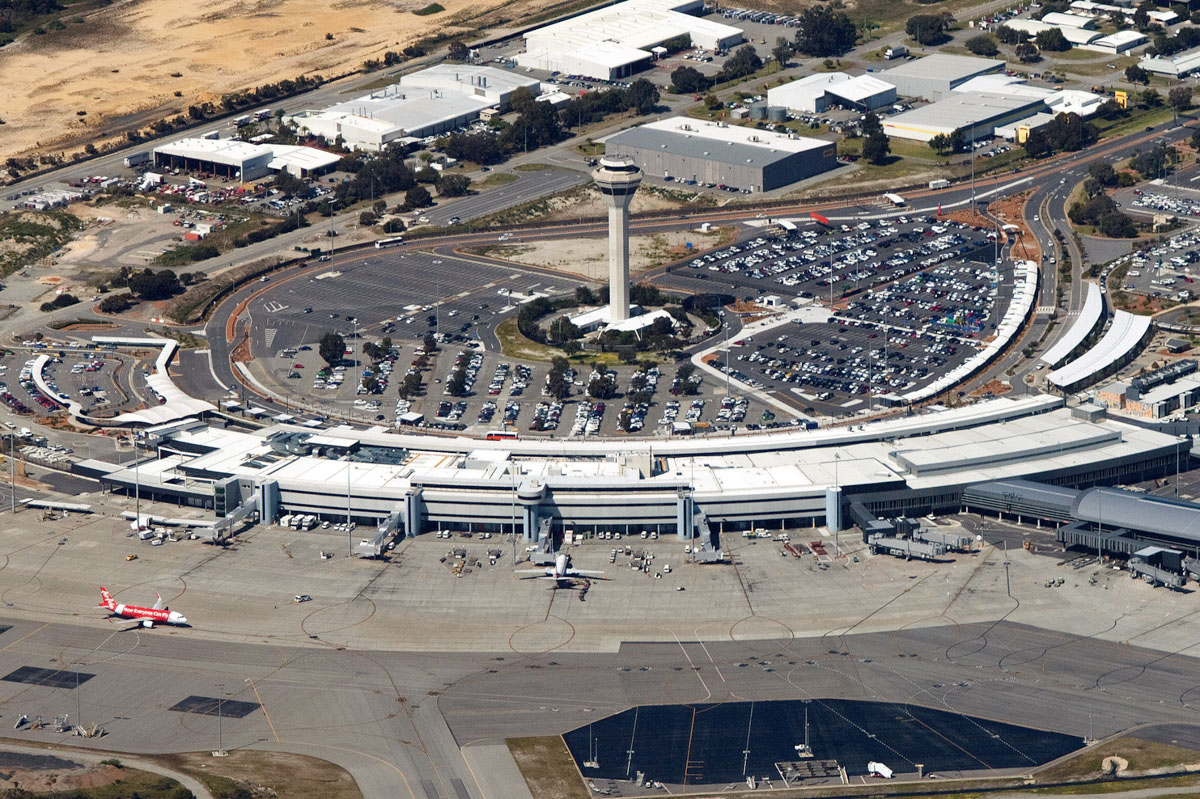 Terminal 1 history
November 1980: the Federal Transport Minister, Ralph Hunt, advised that a new international terminal building would be built at a cost of $26 million.
26 March 1982: the Perth Airport Master Plan was released, and included four options:
building the international terminal to the north of the existing main runway;
putting the new international and domestic terminals on the east side of the main runway;
building a parallel runway, with the international terminal as per option 1; and
providing a parallel runway with the two terminals located between the two runways.
1982: Design of the new International Terminal commenced, allowing for easy future expansion. The project called for the construction of a new terminal, apron, airside roads, access roads, car parks and other passenger facilities.
March 1984: Construction of the International Terminal commenced.
August 1984: Construction of the new 70-metre control tower at Perth was commenced, making it the tallest in Australia. It was completed in late June 1986, at a cost of $3.2 million, but did not enter service until 22 April 1987.
25 October 1986: Perth's new $60 million International Terminal was officially opened by Prime Minister Bob Hawke.
27 October 1986: Perth International Terminal commenced operations. Qantas flight QF78 arrived from Hong Kong at 6.25am, operated by Boeing 747-238B VH-EBG "City of Fremantle", was the first to use the new terminal.
1988: The Federal Airports Corporation (FAC) was formed to manage the larger Australian airports as self-funding commercial entities. FAC implemented a major enhancement of retail outlets at the International Terminal.
26 June 1991: Perth International Terminal wins the prestigious Sir David Brand Award for tourism services.
1 July 1997: The Federal Government leased Perth Airport for 99 years to Airstralia Development Group which assumed the operation and control of the airport, under the name of Westralia Airports Corporation Pty Ltd.
2003 to 2004: International terminal underwent major internal refurbishments to provide an increased array of passenger services, including increased space for duty-free stores and food and beverage concession stands.
2005 to 2006: Further upgrades valued at $25 million (2006) were made to the terminal, including an additional 2,500 m² of floor space, additional check-in counters, and an improved baggage handling and screening system.
2008 to 2009: Departures lounge was refurbished, including improved retail offerings. Pedestrian and vehicle facilities at the front of the International Terminal were redeveloped. Australian Customs and Border Protection Service introduced their SmartGate technology for electronic processing of passports.
2009 to 2010: Remodelling of the International Terminal (Terminal 1) forecourt was completed, providing improved pick-up and drop-off facilities. Work to expand and enhance the Arrivals area were significantly advanced. This project involved the relocation and expansion of the customs and immigration processing area to the first floor of the building, adjacent to a much enlarged arrivals duty free store.
25 November 2010: Perth Airport announced a $500 million, three year program which started in 2011, to build new terminals and begin the consolidation of international and domestic flights at the site of the International Terminal. The plan included:
A new joint international/domestic pier (later named Terminal 1 Domestic) will be built on the south end of the current International Terminal, able to accommodate the Airbus A330-200s which Virgin Blue will receive in 2011 for use on eastern states services.
Two A380-capable air bridges. (The runways and taxiways are already A380-capable).
International Terminal will be modified to triple the size of the customs, quarantine and baggage reclaim areas.
International Terminal car park to eventually have a multi-storey parking area.
2010 to 2011: The first stage of works to improve the Arrivals area commenced, with upgrades include new flooring and ceilings in the Departures lounge as well as new flooring in the Arrivals concourse and immigration processing area. On the ground floor, works included the expansion of the quarantine, customs inspection and baggage reclaim areas. The detailed design for subsequent phases was completed.
June 2012: Expansion of the International Arrivals area commenced.
2012 to 2013: Perth Airport fully committed to its privately funded $750 million redevelopment program. The $80 million expansion and transformation of the International Arrivals
area was well underway. Work also commenced on the $45 million upgrade of the international landside Departures Area, which included a new retail and dining area and new outbound passport control and security screening areas.
November 2013: The first phase of the $80 million International Arrivals Expansion project was completed.  This extended the existing terminal building by nearly 60 metres to the east to create the new area for inbound Immigration on level one, next to a new, larger walk-through Duty Free store. Completion of this area, which was twice the size of the previous area on the ground floor, allowed for expansion of the baggage reclaim and Biosecurity (Quarantine) inspection areas on the ground floor.
December 2013: As part of Perth Airport's $1 billion redevelopment, an Airbus A380 capable gate was commissioned at Bay 151.
26 June 2014: Perth Airport releases their Master Plan 2014 for comment – it was approved in January 2015. In relation to Terminal 1, it included:
new terminals, centralised around Terminal 1 (International)
a new international pier extending north from Terminal 1 (in 2016-18);
an airport rail link (2019-20)
an airport hotel (2016-17)
2014 to 2015: Contract for two new projects to improve access and parking around Terminal 1 were awarded; one for T1 forecourt road realignment and the other for expansion of the short term car park.
Early 2015: $80 million Terminal 1 International Arrivals expansion completed, with the baggage reclaim and secondary examination (Biosecurity) areas expanded to more than twice their original sizes.
13 April 2015: Airport Drive, Perth Airport's new 1.6-kilometre access road to Terminals 1 and 2 opened today, several months ahead of schedule.
1 May 2015: Regular Airbus A380 services commence with Emirates.
June 2015: Terminal 1 International Departures Upgrade Project – opening of the new Outbound Customs Processing and Security Screening areas. The expanded screening area provided a more spacious and customer friendly environment for passengers, incorporating new equipment and technology.
1 July 2015: Perth Airport calls for Expressions of Interest to select a suitable hotel operator for the first hotel development on the airport estate, near Terminals 1 and 2.
20 August 2015: Work commenced on the new Terminal 1 (T1) forecourt and retail hub, at a cost of $54 million. This includes a landscaped plaza with two new food and beverage outlets that can be accessed from both inside and outside the terminal, as well as a range of specialty stores.
12 October 2015: New Departures lounge area opened, as part of the $145 million expansion and refurbishment of the T1 International Departures area which includes a greater range of retail and dining choices along with expanded and improved check-in, outbound Immigration and security screening areas.
15 December 2015: Completion of a new 760 square metre food and beverage area at Terminal 1 (T1) International.