CANCELLED: Langley Park Fly-in: 15 October 2016
8 October 2016 © David Eyre (UPDATED 13 October 2016)
UPDATE: Heritage Perth has advised that the event is CANCELLED:
"A site inspection at Langley Park has revealed recent and unseasonal heavy rains have rendered the ground unsafe to use as a landing strip.
Heritage Perth therefore regretfully had no alternative but to cancel the Fly In and other 'Working Langley Park' events on Saturday 15 October."
Up to nineteen vintage aircraft will fly in to Langley Park, in the city of Perth, on Saturday 15 October 2016, from 1pm.
The aircraft will land at Langley from 1pm (subject to weather and air traffic) and will be on static display from 1.30pm-2.30pm. The pilots will be there to answer questions.
The aircraft will then take off and depart to Jandakot Airport and Serpentine Airfield.
The event is being held as part of Perth Heritage Days, organised by Heritage Perth and the theme this year is 'Perth – The Way We Worked'.
Australian Flying Corps commemorated
The fly-in at Langley Park will honour the men who served in the Australian Flying Corps (AFC). The AFC was established in 1912 as the branch of the Australian Army responsible for operating aircraft, though it was not until 1914 that it began flight training.
One hundred years ago in 1916, the AFC was declared operational and fought in Europe during World War One. The four operational squadrons of the AFC were (listed with AFC designation and British Royal Flying Corps designation):
No.1 Squadron AFC / No. 67 (Australian) Squadron RFC: Established 1 January 1916 (Palestine)
No.2 Squadron AFC / No. 68 (Australian) Squadron RFC: Established 20 September 1916(Western Front)
No.3 Squadron AFC / No. 69 (Australian) Squadron RFC: Established 19 September 1916(Western Front)
No.4 Squadron AFC / No. 71 (Australian) Squadron RFC: Established 16 October 1916(Western Front)
In 1921, the AFC became the Royal Australian Air Force (RAAF).
There will also be a talk by aviation and military historian Glen Darlington, titled 'Rags Sticks and Wire in War', a tribute to the Western Australian men and machines of the Australian Flying Corp 1916–2016.
Many of the men in the AFC came from Perth, or from rural towns and farms throughout WA. Some pilots were also from Western Australia's10th Light Horse Regiment, which is still active today. A re-enactment Troop from this regiment will present a display in authentic uniforms and saddlery from the period. There will also be a display of veteran and vintage cars and motorcycles, including a restored World War I Ford Model A, dressed as a vehicle of the Australian Flying Corps.
Norman Brearley's airline, Western Australian Airways (WAA), began the first airline  operations in Australia in 1921 (a year before Qantas), initially based at Langley Park.
With the construction of Elizabeth Quay and its proposed high-rise buildings to be built in the flight path, the days of Langley Park being used as an airstrip are numbered.
Aircraft
Details and photos of all participating aircraft are below.
COPYRIGHT NOTICE: All photographs and videos displayed on this website are copyright protected and may not be used, sold, copied or reproduced by anyone, including the media, without express written permission of the individual photographers. If you wish to obtain or use a photo, please email AviationWA@gmail.com.
The Boeing Stearman was used as a military trainer aircraft during the 1930s and 1940s – at least 10,626 were built in the USA.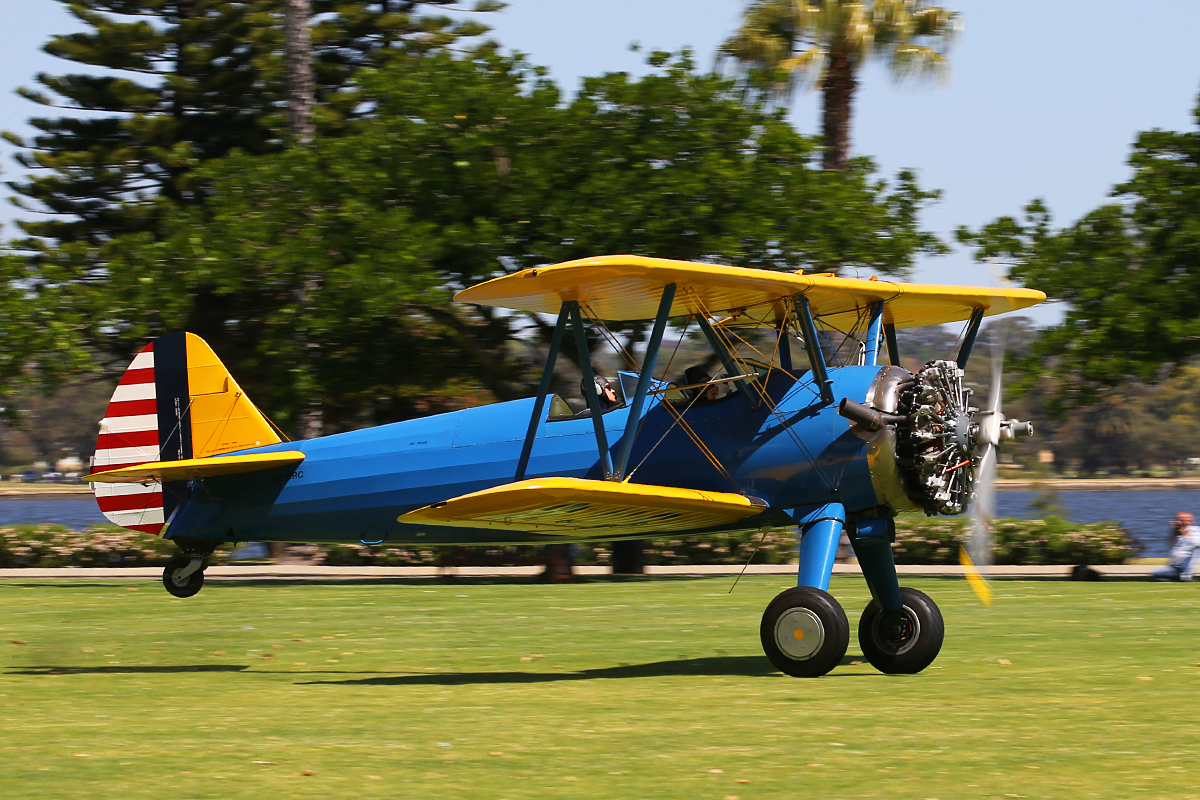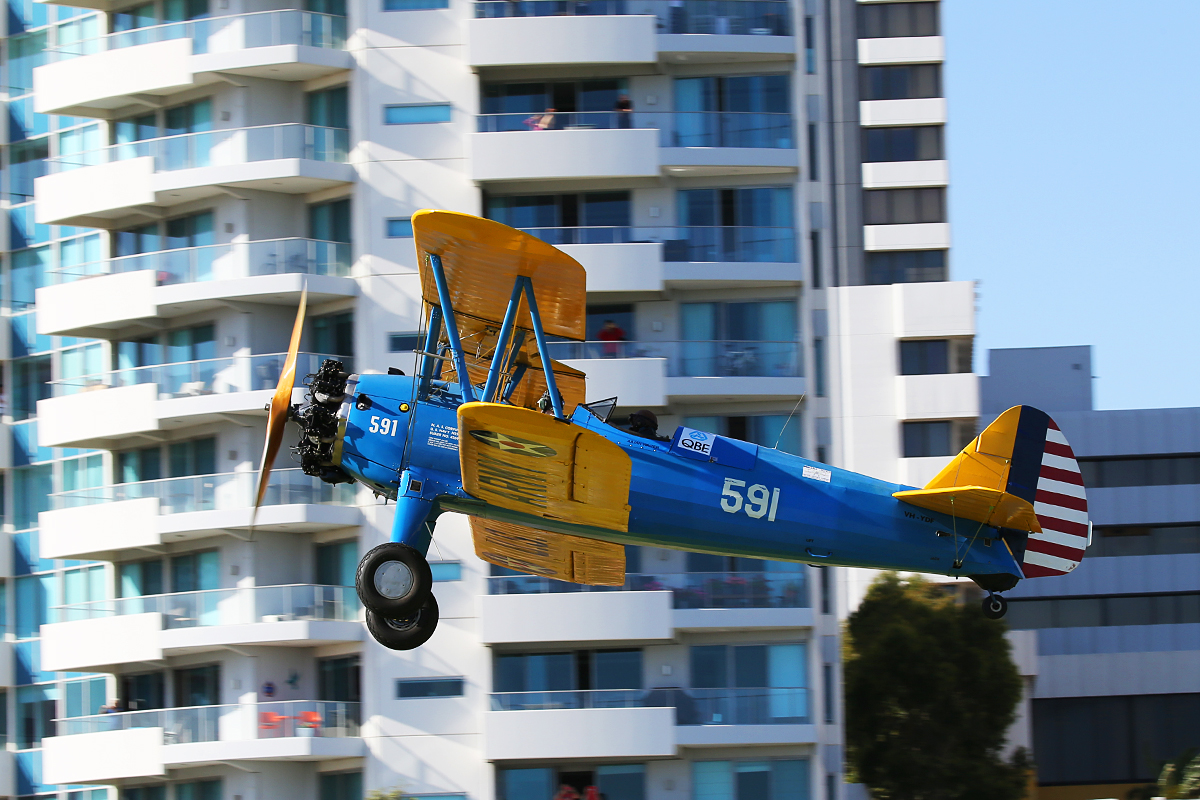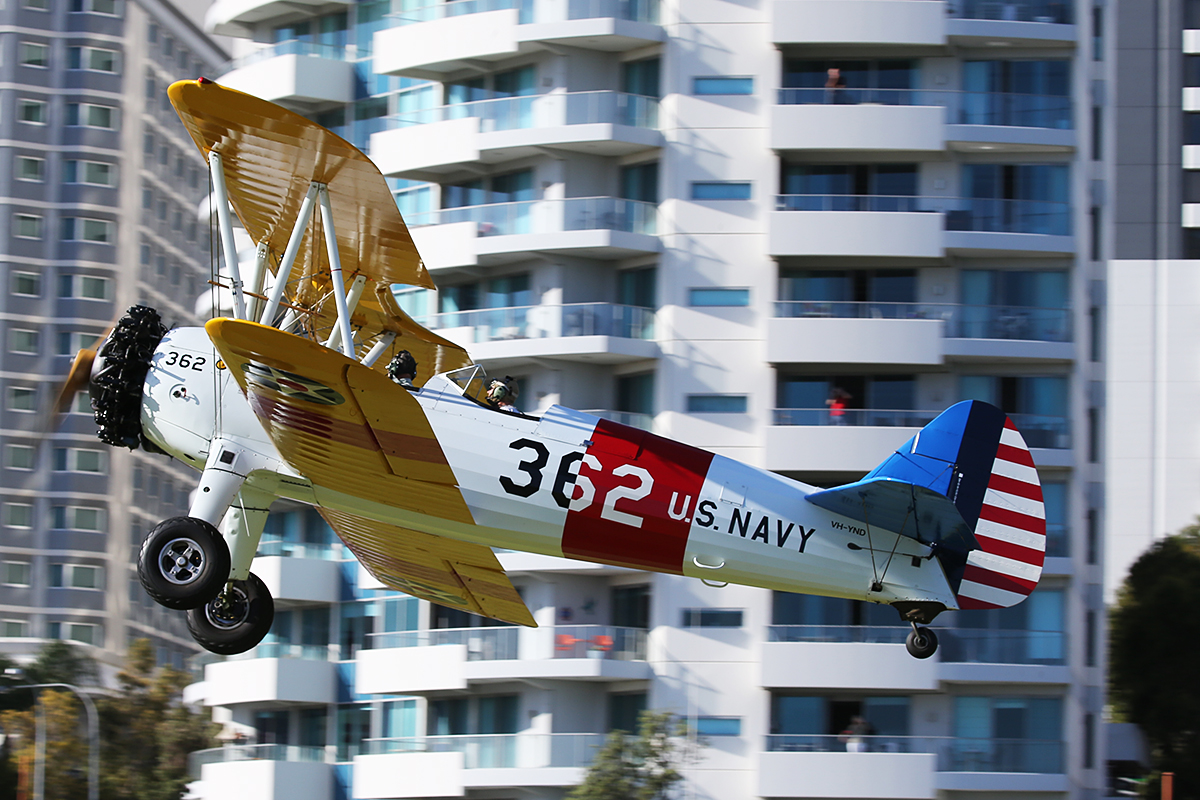 The Culp Special is a two-seat American aerobatic aircraft, intended to resemble aircraft of the 1930s. It can be supplied as a kit or scratch-built using plans for amateur construction. The one on display was scratch-built and first flew in 2007.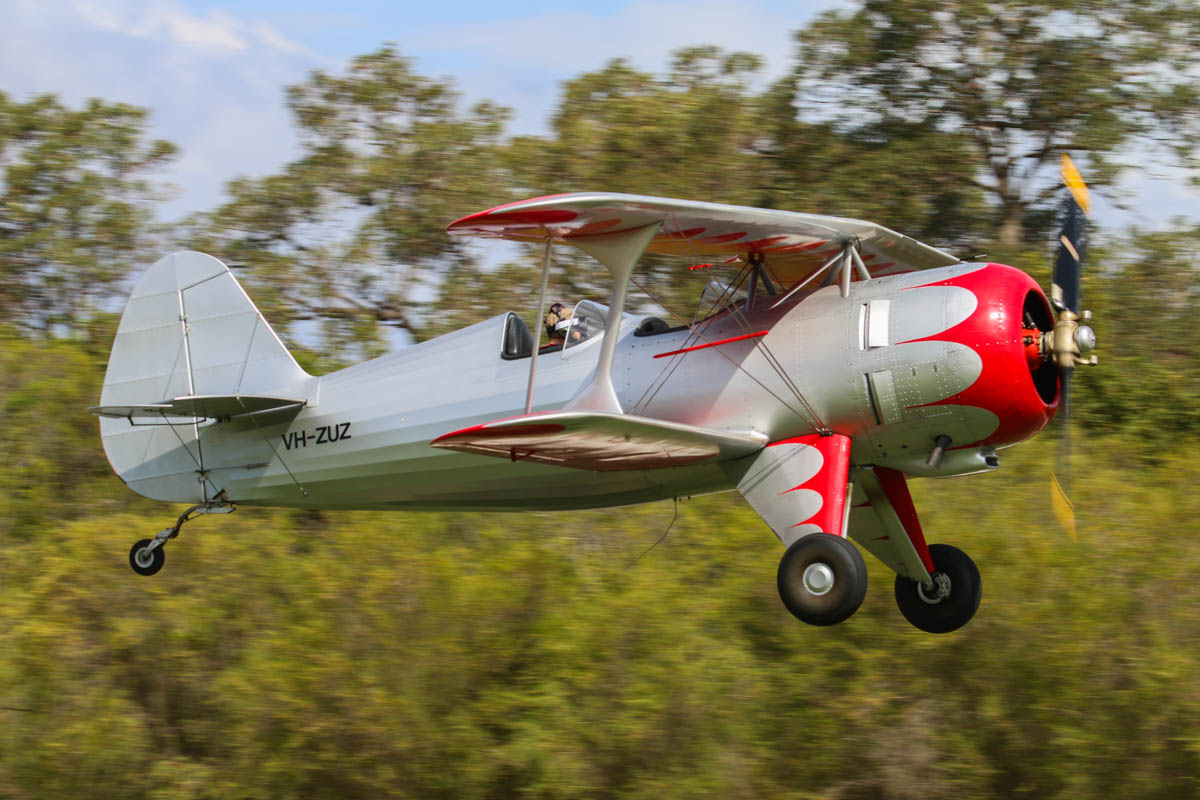 The British De Havilland DH-82A Tiger Moth was first flown in 1931 and over 8,800 were built, until production ended in 1944. Many were used as training aircraft during and after World War Two.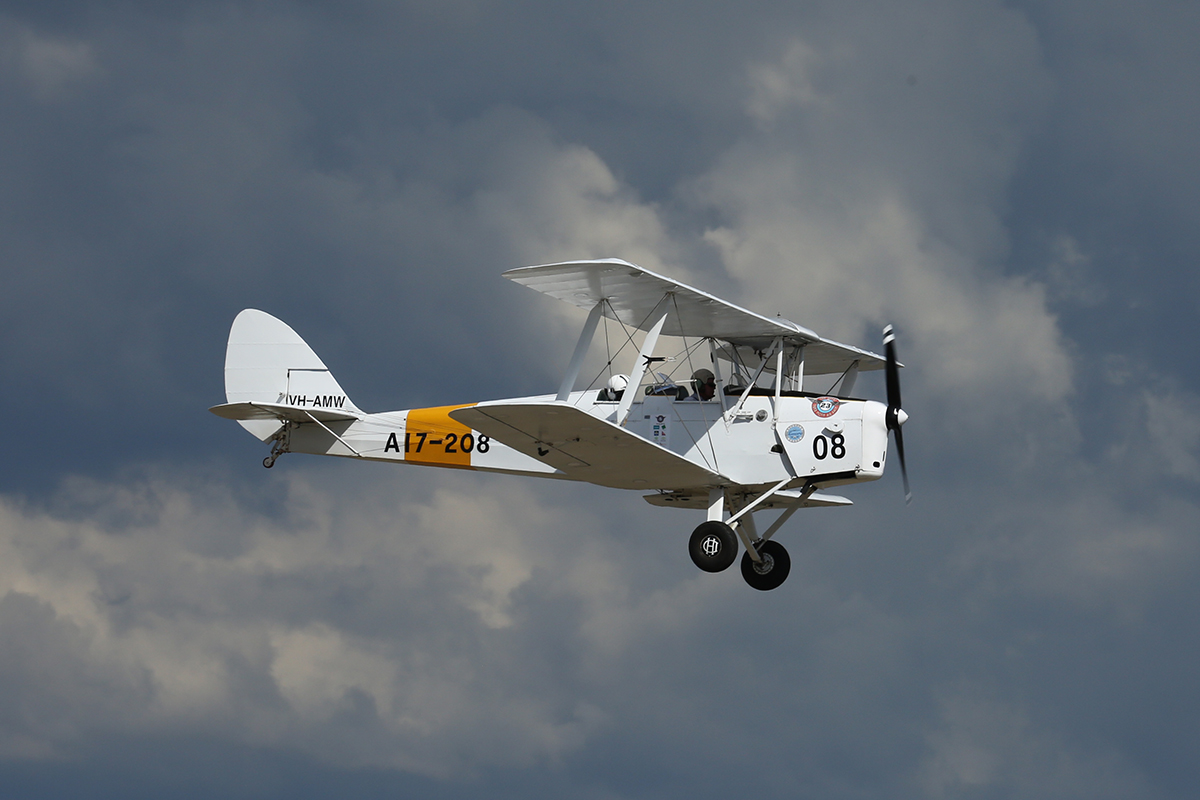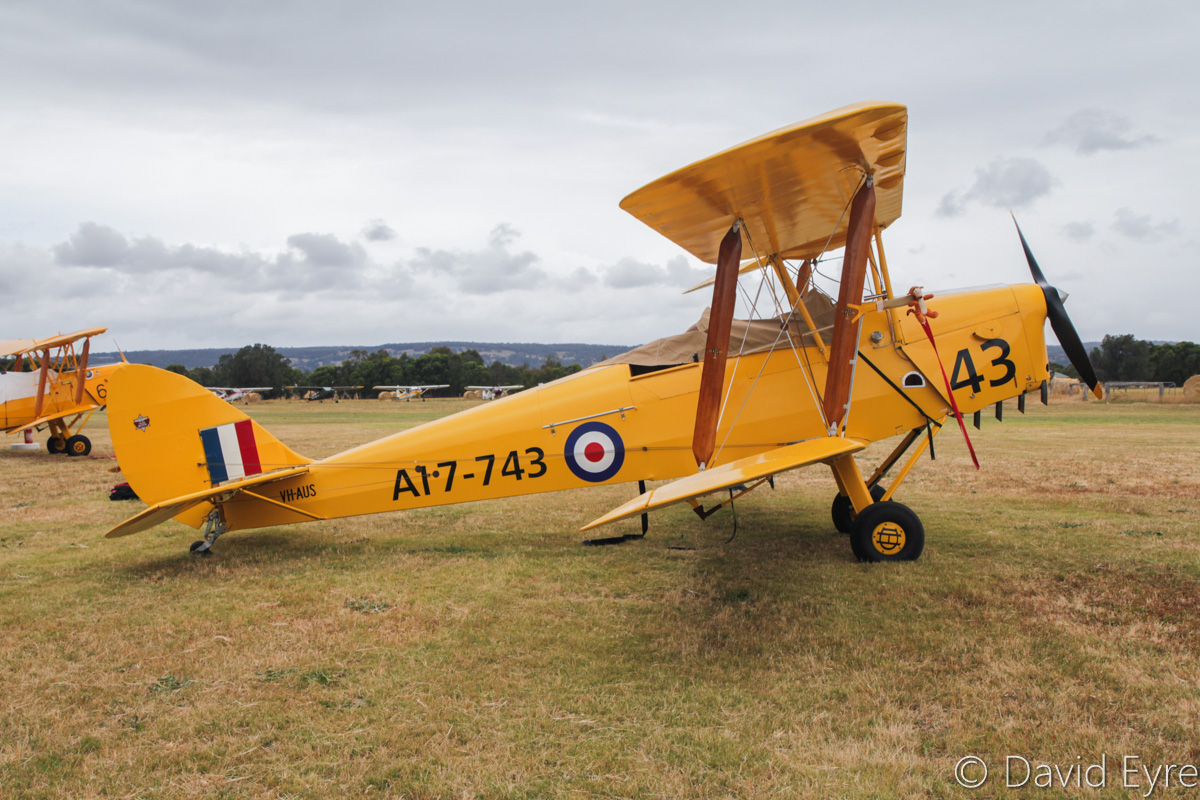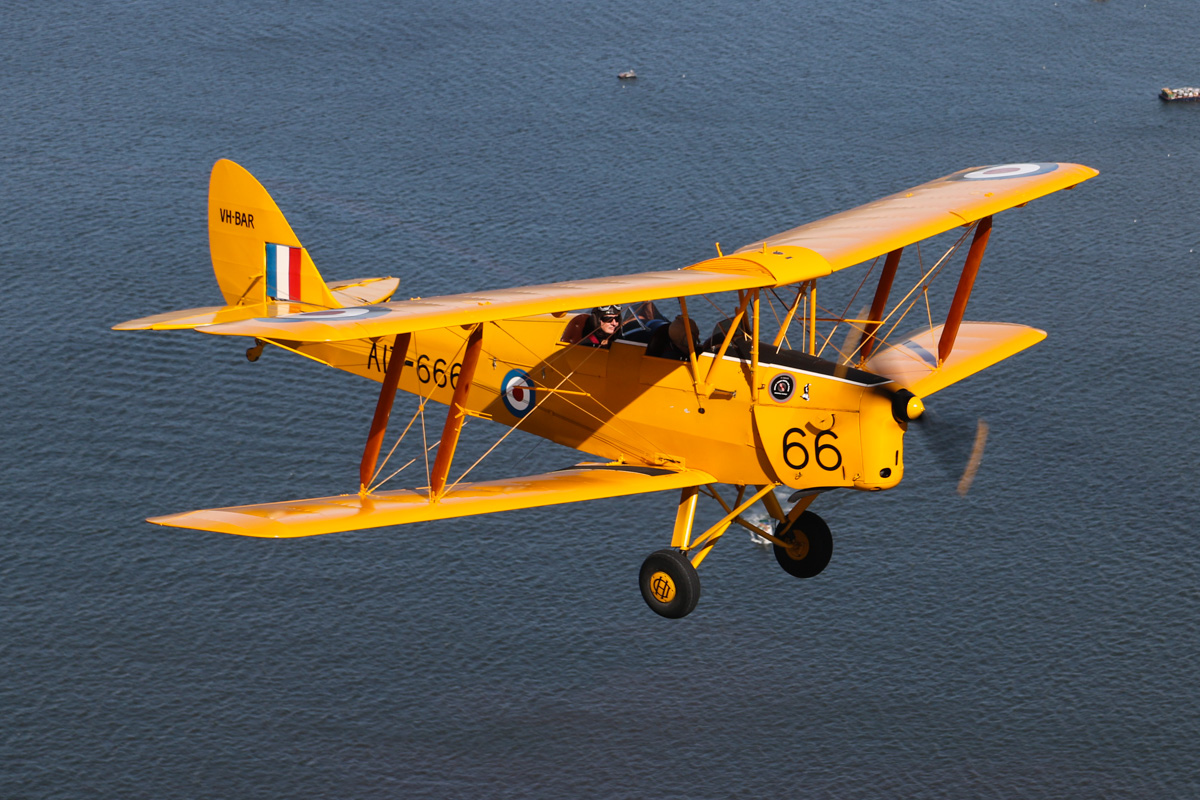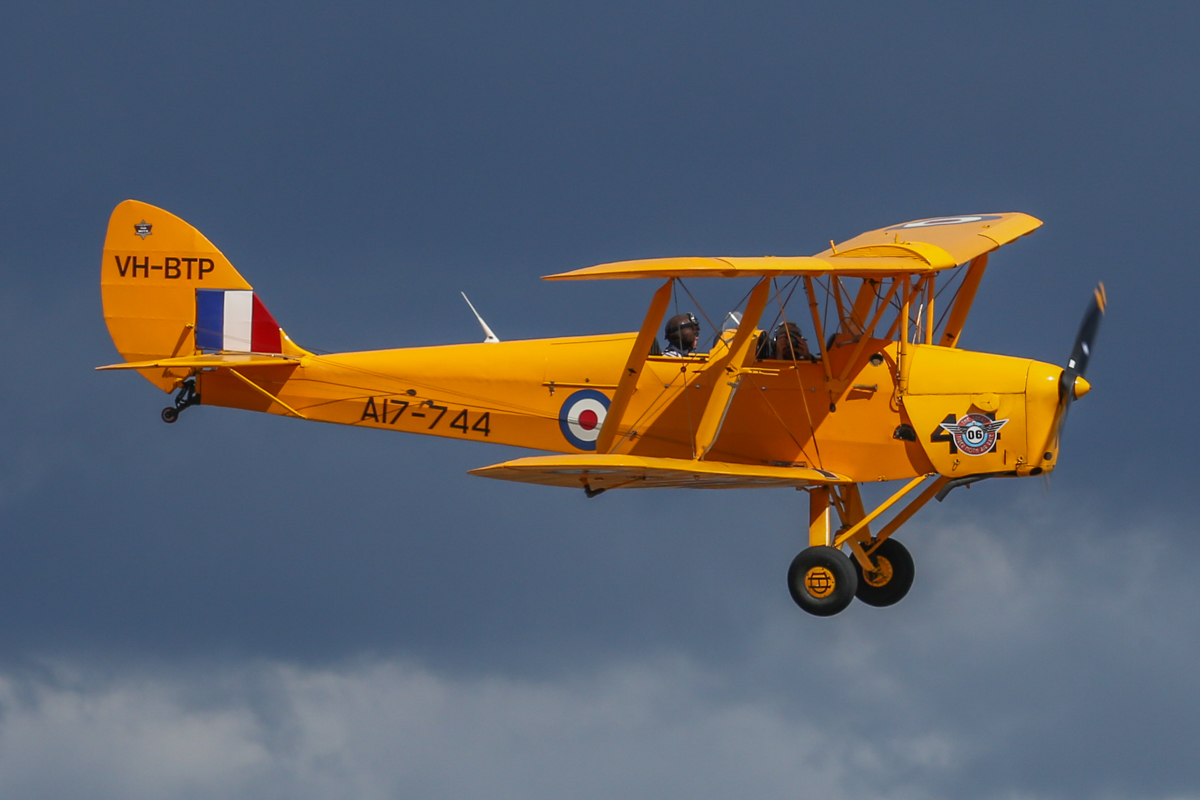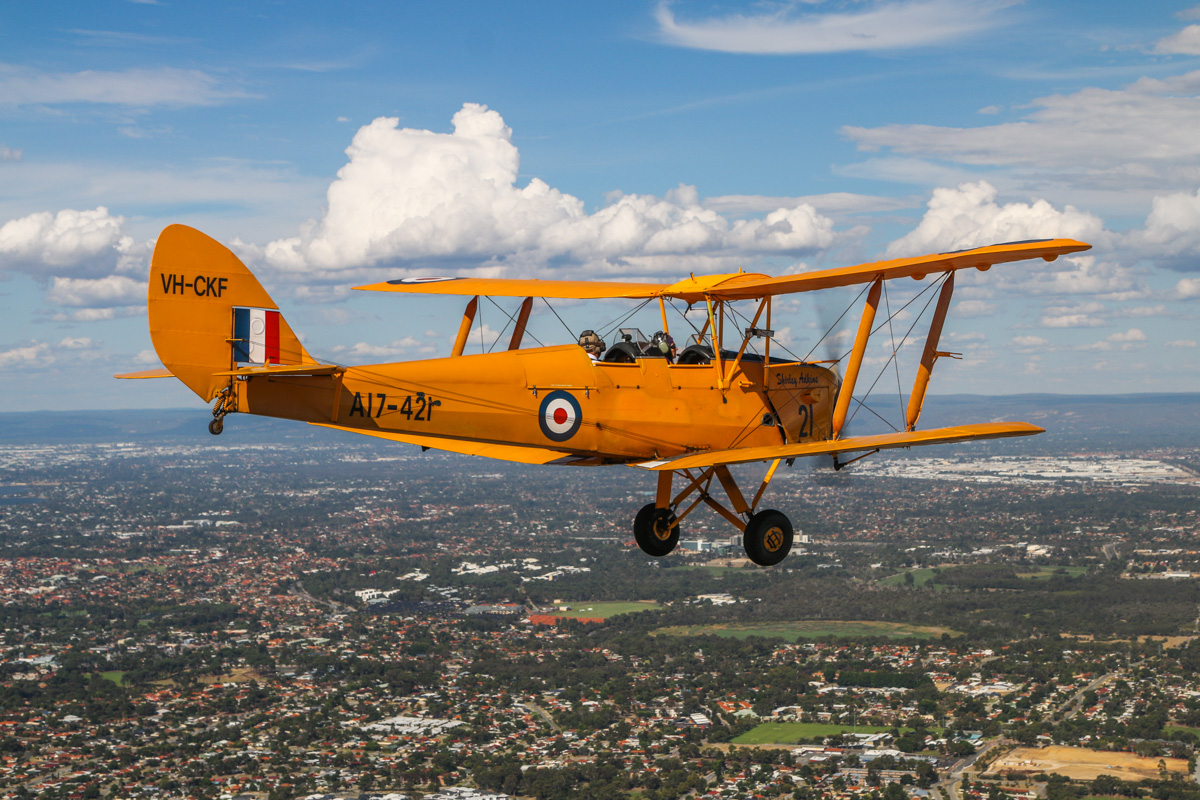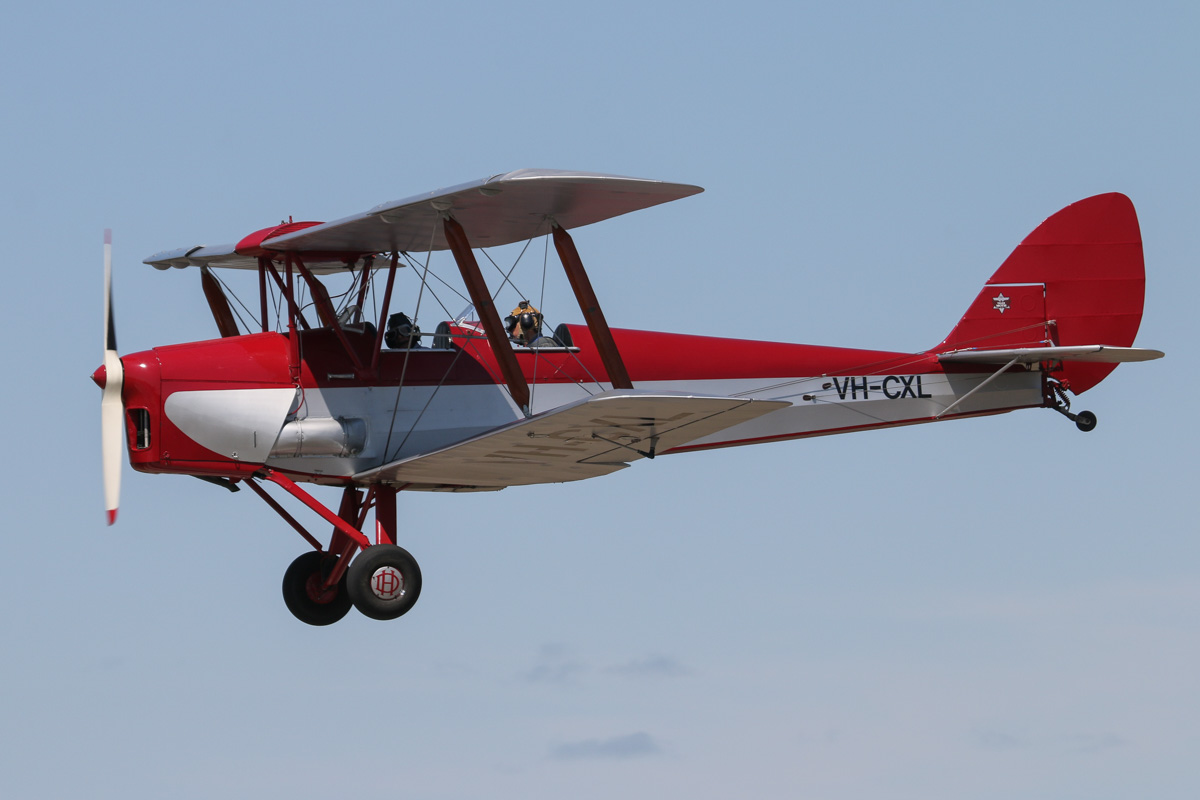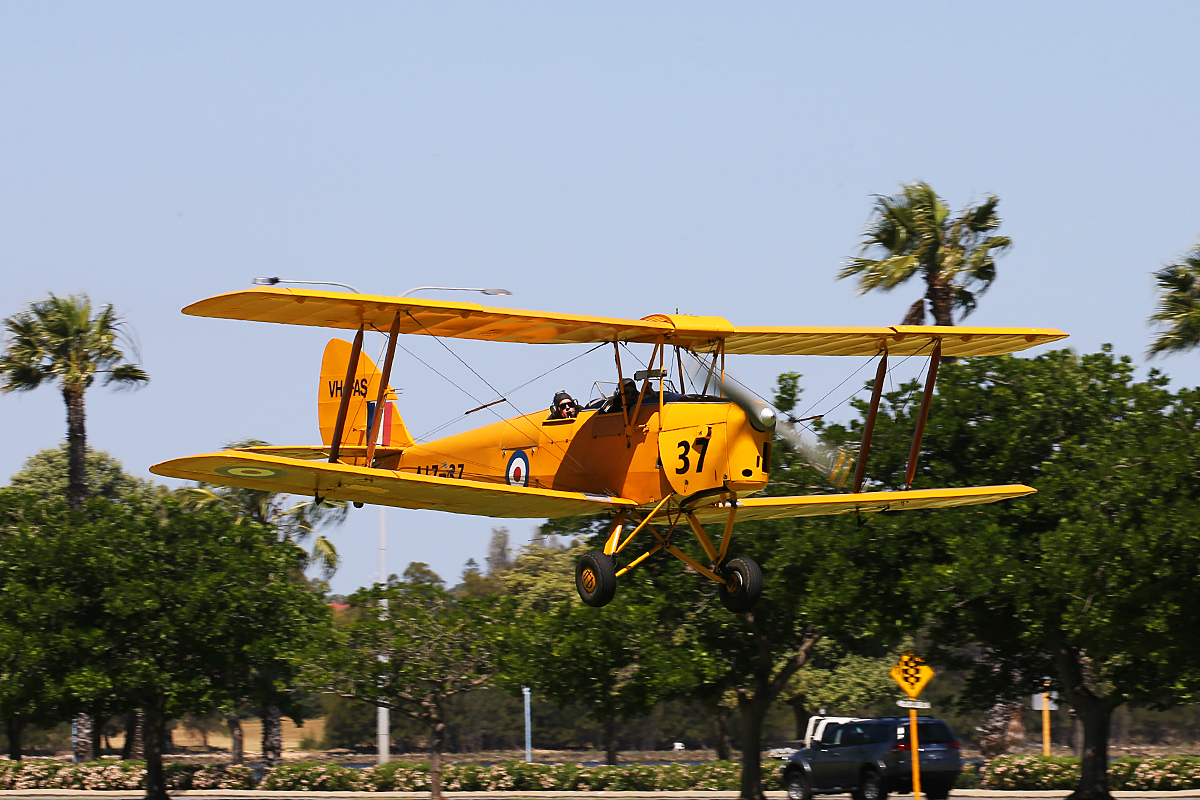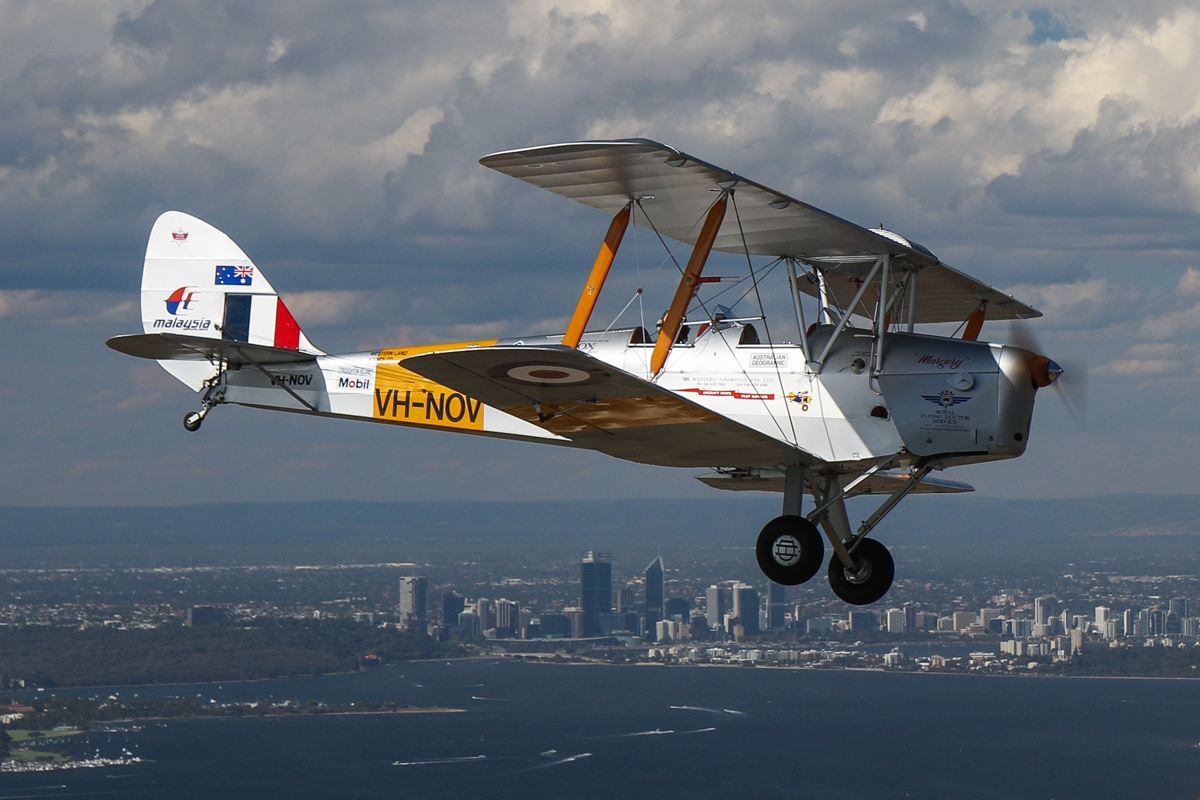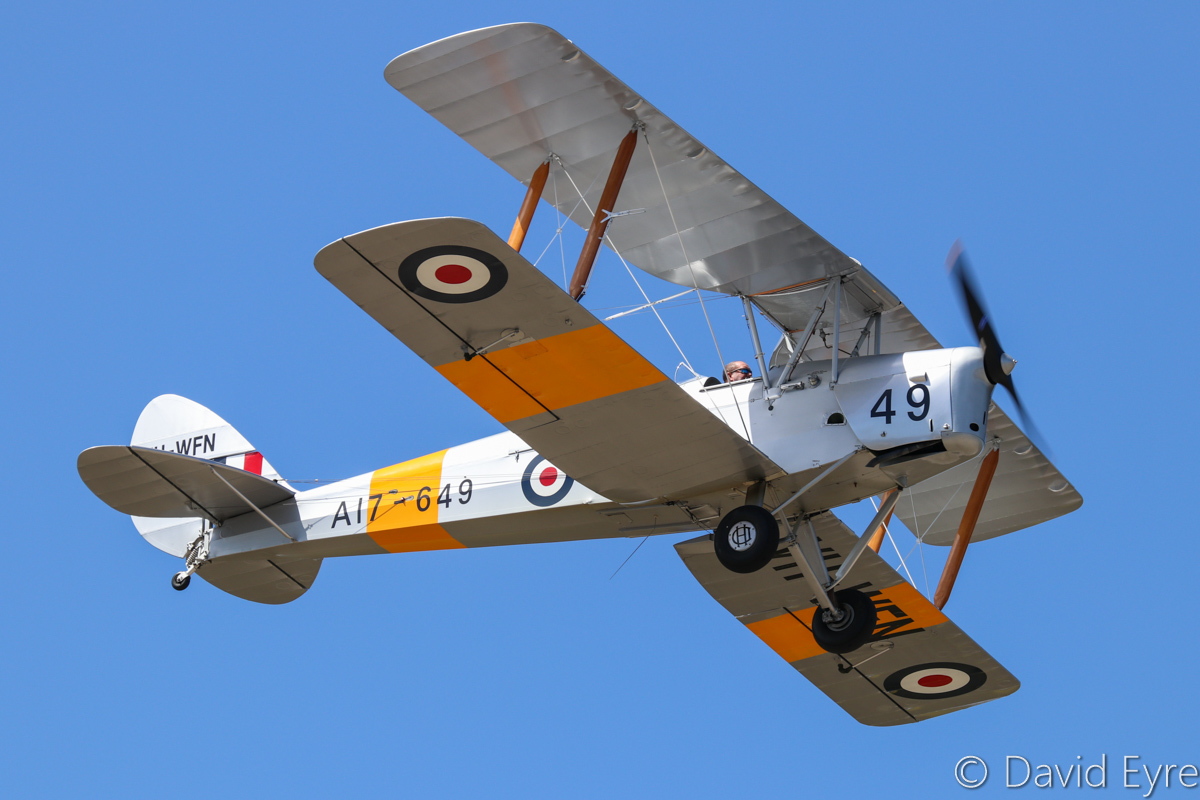 The De Havilland DH-83 Fox Moth was used as a small passenger aircraft from the 1930s. 154 were built from 1931 to just after World War Two. It uses the same engine, tailplane, fin, rudder and wings as the De Havilland DH-82 Tiger Moth. The pilot sits in a raised cockpit behind the small enclosed passenger cabin, which has three seats and windows. The Fox Moth on display was used by the Flying Doctor Service.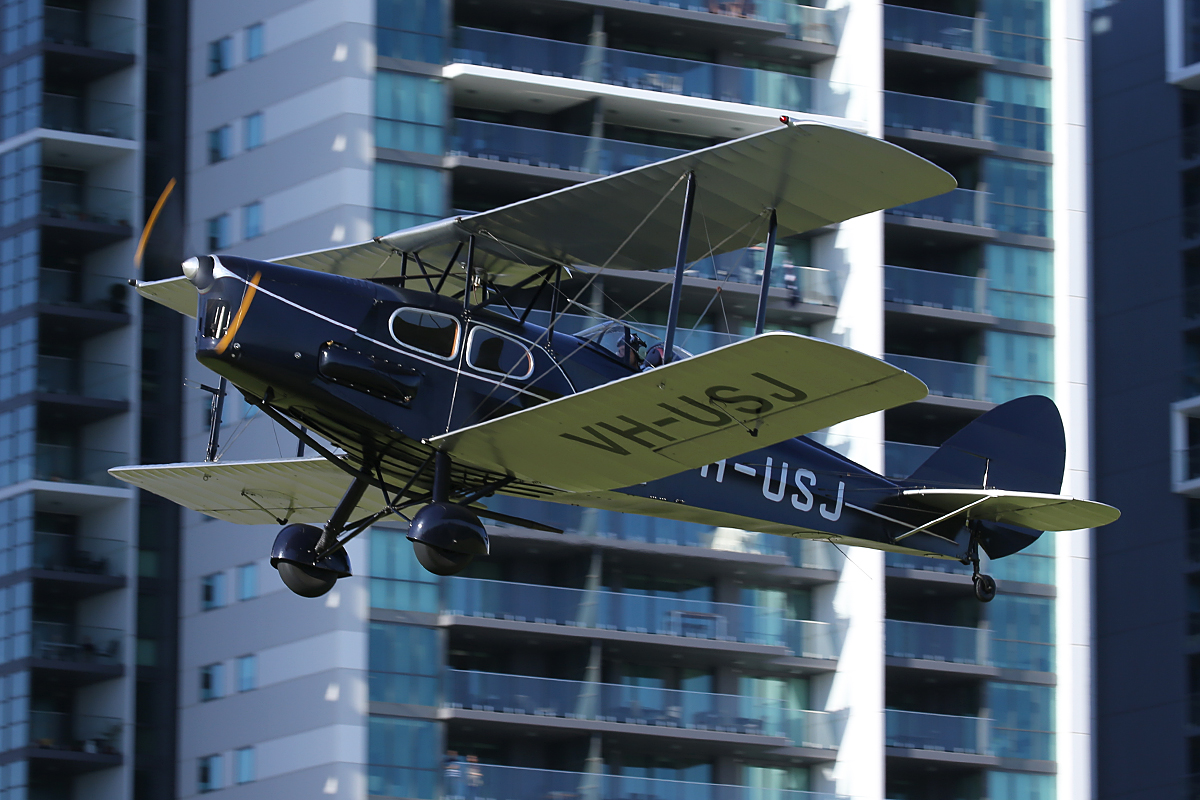 The De Havilland DHC-1 Chipmunk is a two-seat training aircraft, designed to replace the de Havilland Tiger Moth biplane trainer. It was designed by a Polish designer for the Canadian arm of the British De Havilland company and first flew at Toronto, Canada in 1946. The aircraft is all-metal, apart from the fabric-covered control surfaces. 1,283 were built in Canada, the UK and Portugal between 1947 and 1956, with over 500 still flying. The one on display today was built in the UK and operated by the Royal Air Force.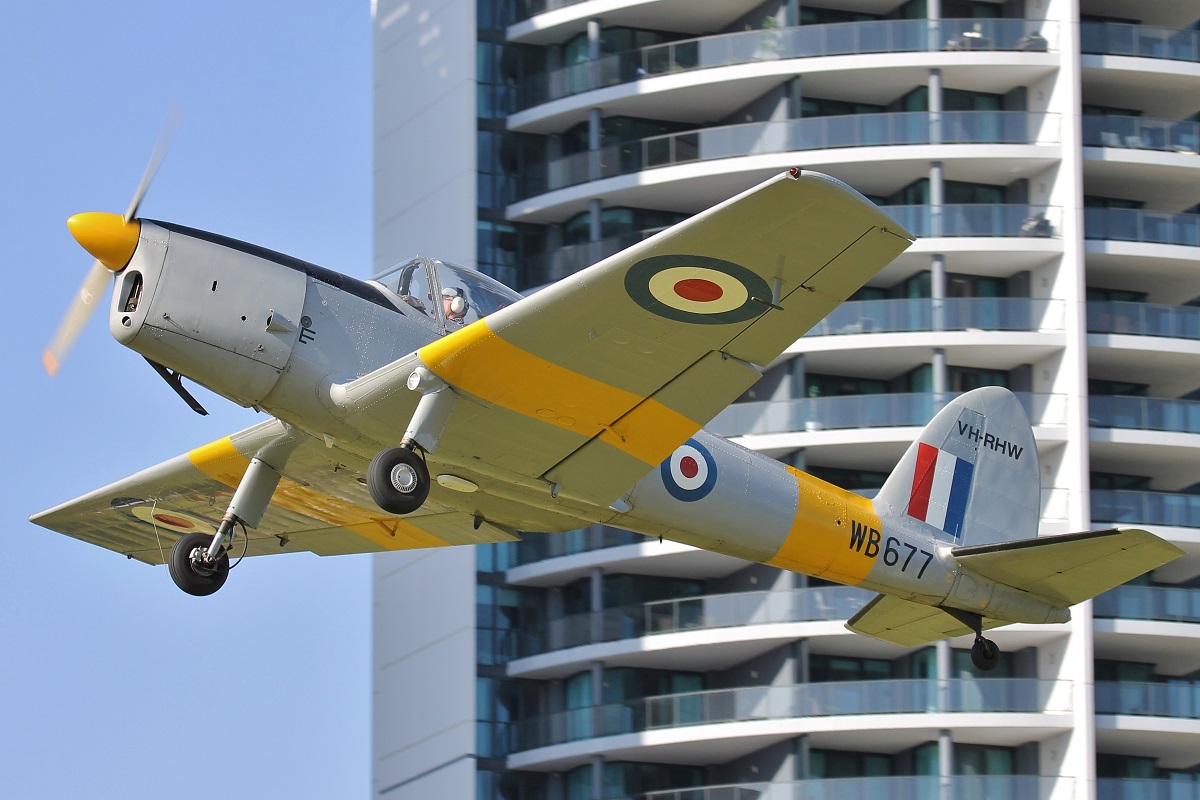 The Great Lakes 2T-1A-2 Sport Trainer was originally designed by Great Lakes Aircraft Corporation of Cleveland, Ohio in 1929 and was very popular as a two-seat biplane aerobatic aircraft. Since the 1960s to today, various companies have either produced the aircraft or sold plans. The one on display was built in 2001.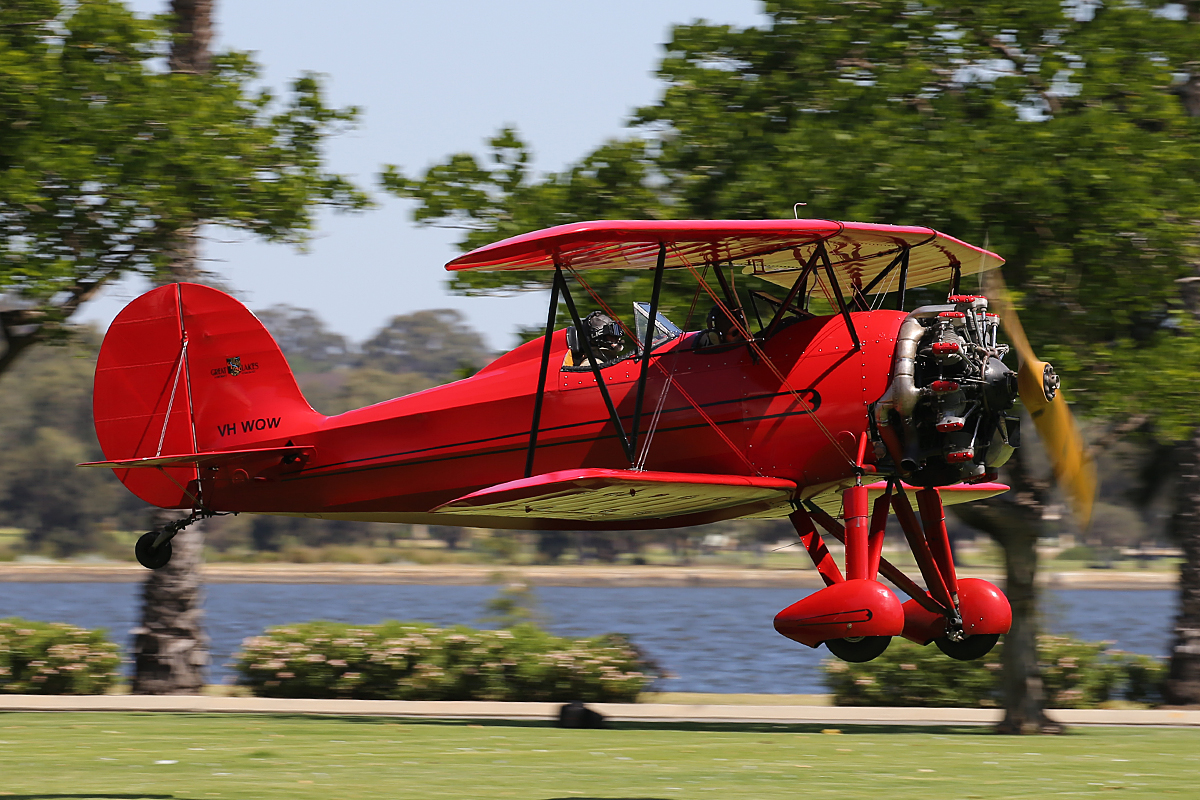 The Sopwith Pup was a British single-seat fighter built from 1916 to 1918, and a total of 1,770 were produced. It entered service in late 1916. When it was later outclassed by newer fighters, the Pup was used for training. Almost all of the parts in VH-NHD are original, but only the windshield and joystick are actually from B-1727 and for that reason it had to be registered as a 'replica'.
** If the wind is too strong, then the Sopwith Pup will not fly and will be replaced with another of Bert Filippi's vintage aircraft.
The WACO Classic Aircraft YMF-5C is a modified version of the 1930s WACO YMF three-seat  aerobatic biplane, built to meet current safety standards. This aircraft seats two passengers side-by-side in front, with the pilot behind.