Antonov An-225 Mriya – World's largest aircraft, to visit Perth (UPDATED WITH LATEST INFO)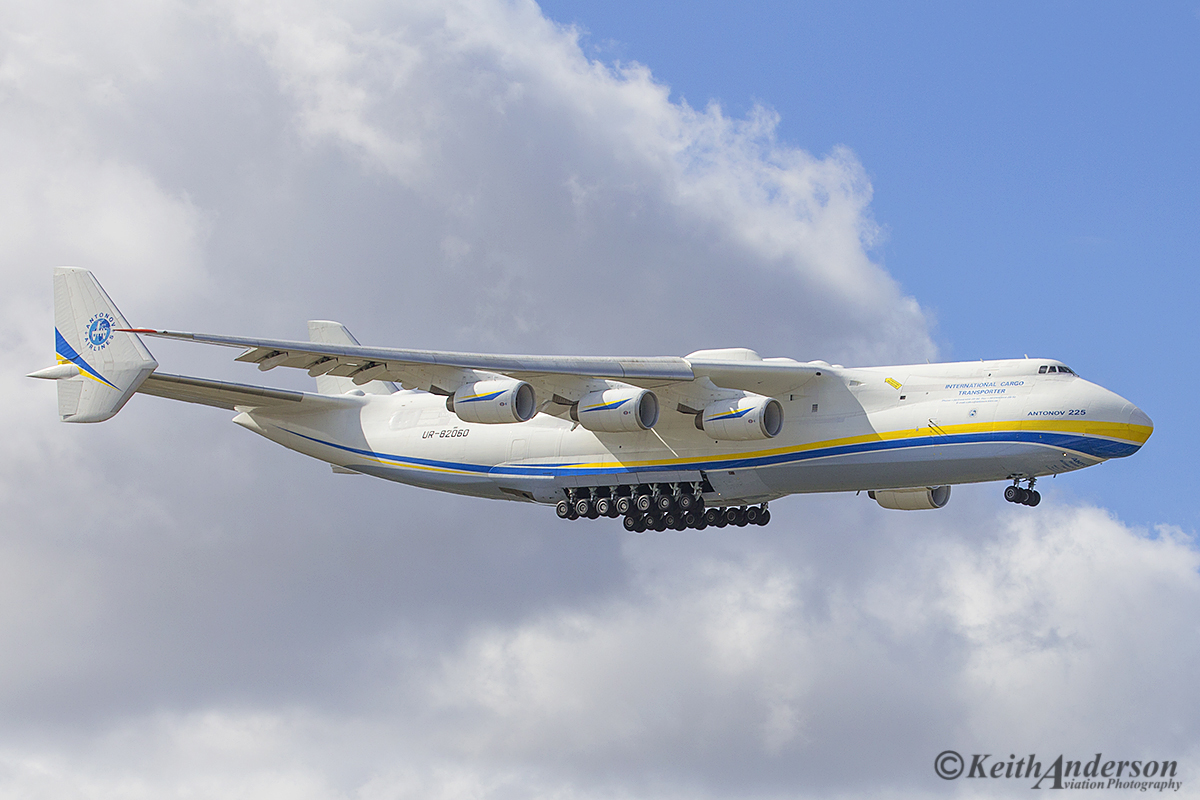 20 February 2016 © David Eyre (UPDATED 23 March 2016, 8 April 2016, 23 April 2016, 7 May 2016, 10 May 2016, 12 May 2016, 13 May 2016, 14 May 2016, 15 May 2016, 16 May 2016, 17 May 2016)
The mighty six-engined Antonov An-225 Mriya ('Dream'), arrived in Perth on 15 May 2016, arriving staying for two days – dates and times (SUBJECT TO CHANGE):
Sun 15 May 2016: Arrived 11.52AM


Tue 17 May 2016:

Departing 5:30AM, taking off at 5:40AM

(UPDATED 17 May 2016: see comments below)
UPDATE Tuesday 17 May 2016: The An-225 is scheduled to depart on Tuesday 17 May 2016 at 5:30am and take off at 5:40am, as flight number ADB3655. It will be flying direct to Dubai World Centre Airport (Al Maktoum) in the United Arab Emirates, then Milan (Italy), and later to Leipzig (Germany), Cairo (Egypt), then Abu Dhabi (UAE).
At the time of writing (4am Tuesday) Runway 03 is in use, so the An-225 will start the take-off run at southern end, and be airborne by north end. The Public Viewing Area on Dunreath Drive and Terminal 1 (International) Observation Deck on Level 3 are already open.
Forecast winds for the departure time are light (NNW at 5 knots).

NOTE: Take-off direction is subject to change, dependent on winds at the time of departure. AviationWA recommends checking FlightRadar24.com or Planefinder.com (or their phone apps) to see which runway the aircraft are using.

Sunday 15 May 2016: Kuala Lumpur air traffic delays caused the An-225 to depart late, at 6:11AM Malaysian time. It arrived in Perth at 11:52am on runway 21 (north end), as we predicted.  The aircraft then continued along the full length of the runway to slowly taxy past the Antonov Special Zone, on the southeast side of the runway. Spectators at the Dunreath Drive Public Viewing Area also had a good view.

Saturday 14 May 2016: The An-225 departed Hyderabad, India and arrived at Kuala Lumpur.
Friday 13 May 2016: The An-225 departed Turkmenbashi, Turkmenistan and arrived at Hyderabad, India. On Saturday, it departs for Kuala Lumpur.

Thursday 12 May 2016: The An-225 departed Prague with the power generator aboard. Whilst en-route there appears to have been was a technical issue, as two sets of main wheels were not retracted. The aircraft reached its planned destination of Turkmenbashi, Turkmenistan, where the undercarriage problem was fixed and the aircraft refuelled whilst the crew rested.
Wednesday 11 May 2016: The Brush power generator was loaded aboard the aircraft by international logistics company DB Schenker.
Tuesday 10 May 2016: The An-225 departed its home base at Gostomel (near Kiev), Ukraine and has arrived at Prague, Czech Republic, where it will be loaded with the massive 117-tonne generator.
The An-225 is the longest and heaviest aircraft ever built, with a maximum takeoff weight of 640 tonnes, and has the largest wingspan of any aircraft in operational service. It was designed and developed in the 1980s as a derivative of the An-124, to carry the Russian 'Buran' space shuttle above the fuselage.
Deutsche Welle TV, a German television broadcaster, is creating a documentary depicting the journey of the generator and will travel on board the plane all the way from Prague to Perth.
Flight updates
Spectator arrangements (for 15 May)
Spectators are visiting from various parts of Australia, specifically to see this aircraft.
The aircraft will land against the wind.
The spectator arrangements have been made on the assumption that on 15 May, it will land on the main runway (Runway 21), approaching from the north. However, if the winds are from the north or east, it will approach from the south.
If it lands on the north end of the main runway, it will continue rolling to the southern end before turning off the runway and onto taxiway C11, and will slowly taxy north, past the special 'Antonov Event Zone' – some vacant land between the taxiway and Airport Drive.
The Antonov Event Zone opens at 7:00AM. It is sandy/muddy and not paved, so please dress appropriately (closed in shoes) for the conditions. Amenities such as toilets and food vans will be on site. This is a no smoking event and no pets are allowed on site. Parking is free of charge in Long Term Car Parks G and K (see map below). Standard parking fees will apply in all other car parks.
The aircraft will park opposite the International Terminal on a remote parking bay.
The Observation Deck in Terminal 1 International has limited capacity and is expected to be full early, with long queues of spectators and long wait times. Perth Airport will therefore impose time restrictions and clear all visitors every 30 minutes.
There is restricted viewing in the other terminals (T1 Domestic, T3 and T4), and they are not recommended vantage points.
The Public Viewing Area on Dunreath Drive will be open from 7:30AM, but only has capacity for 400 people and is also expected to fill up very quickly. The gates will be closed when the car park is full.
Perth Airport will provide updates via twitter @perthairport
The cargo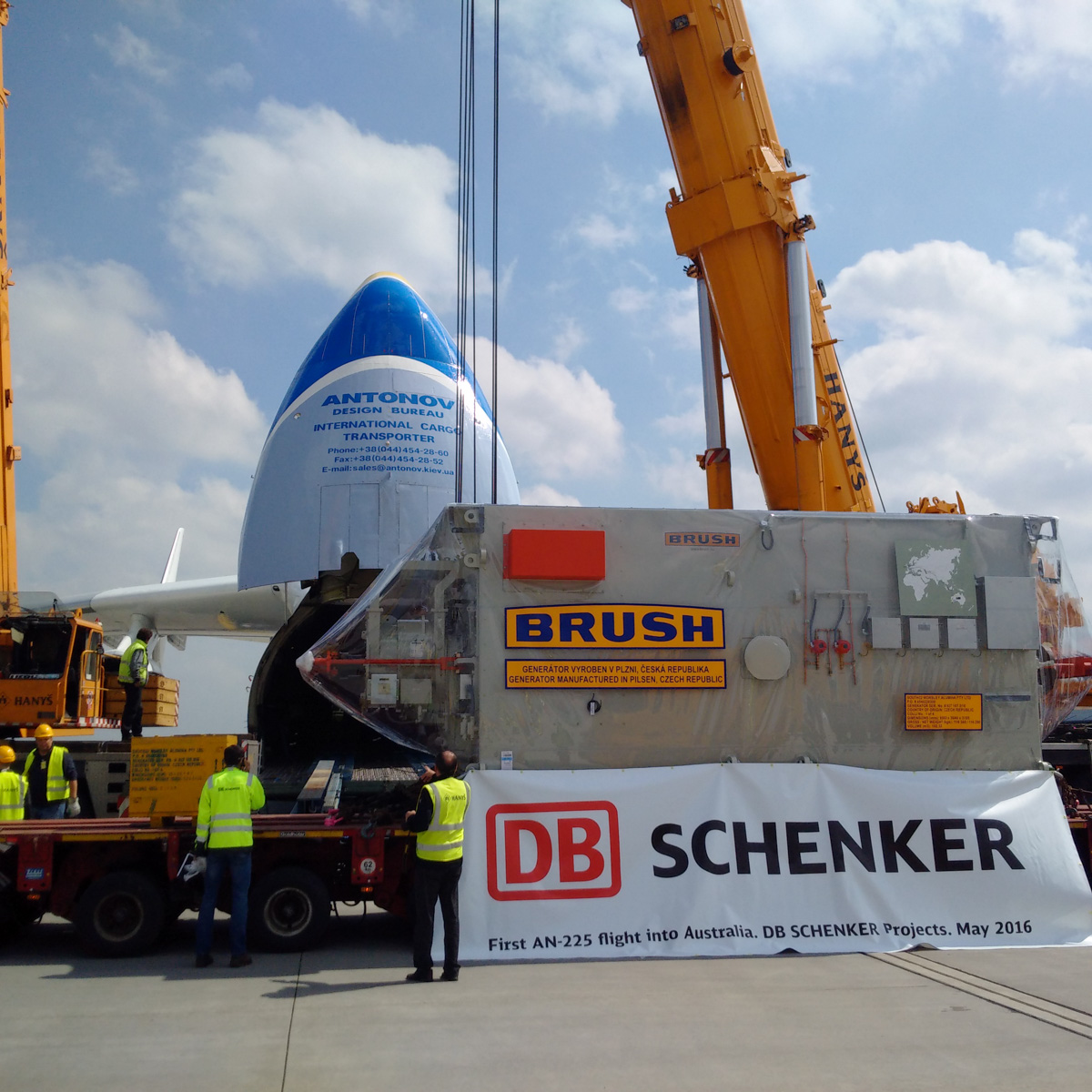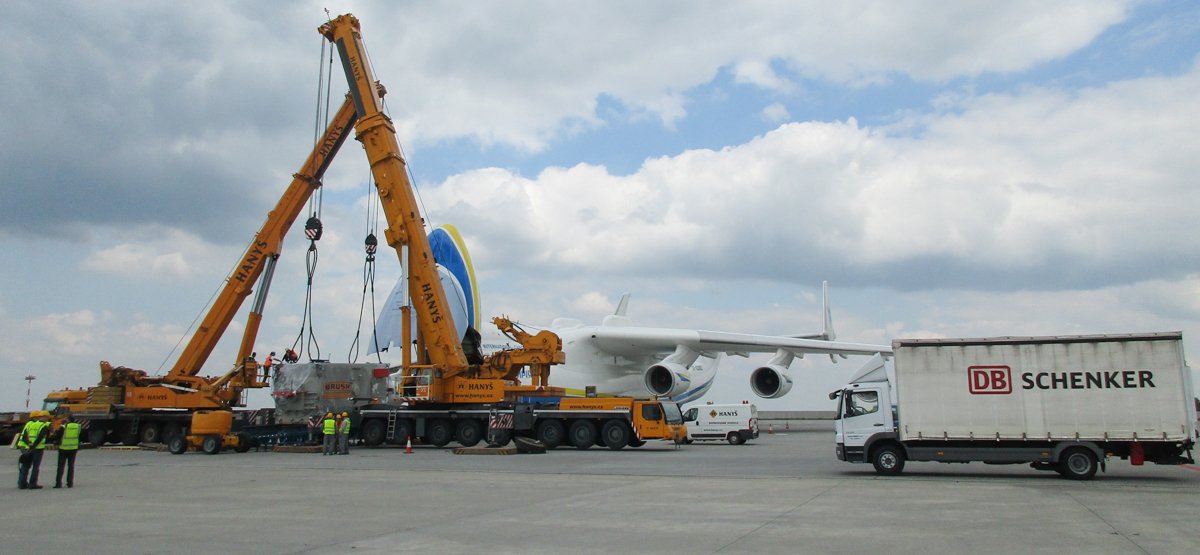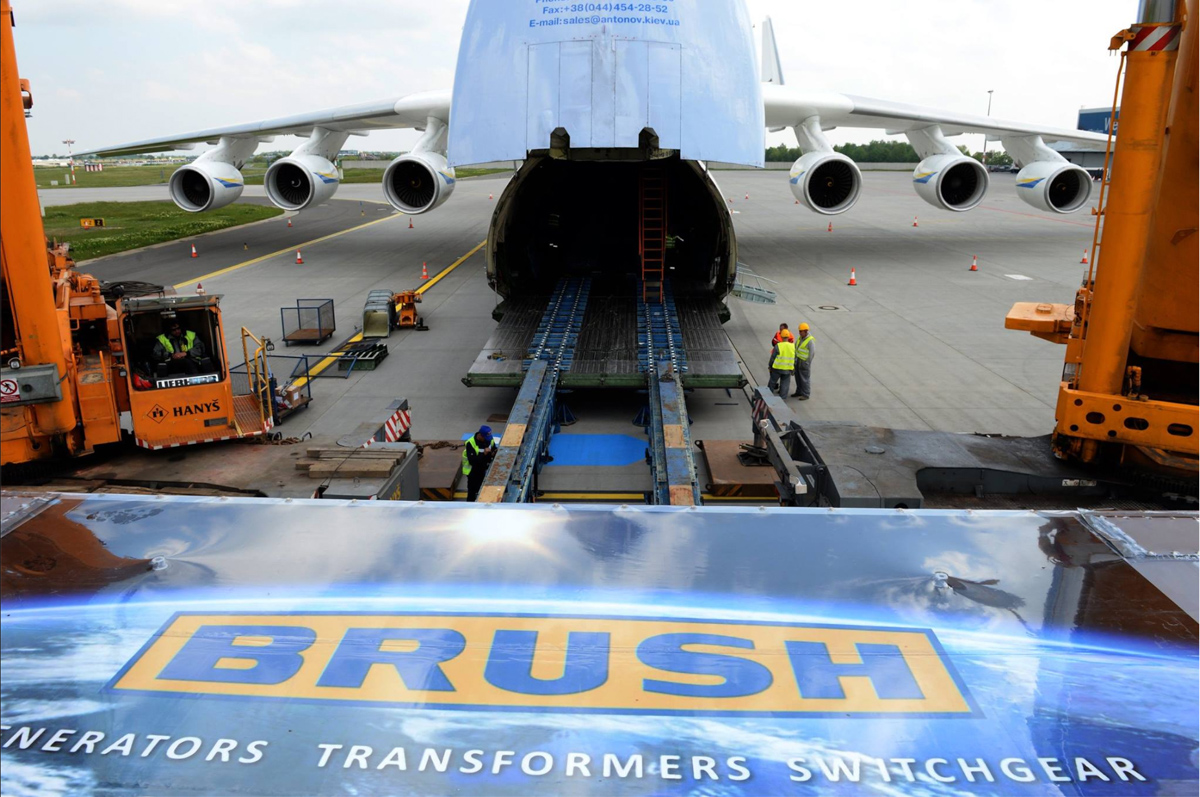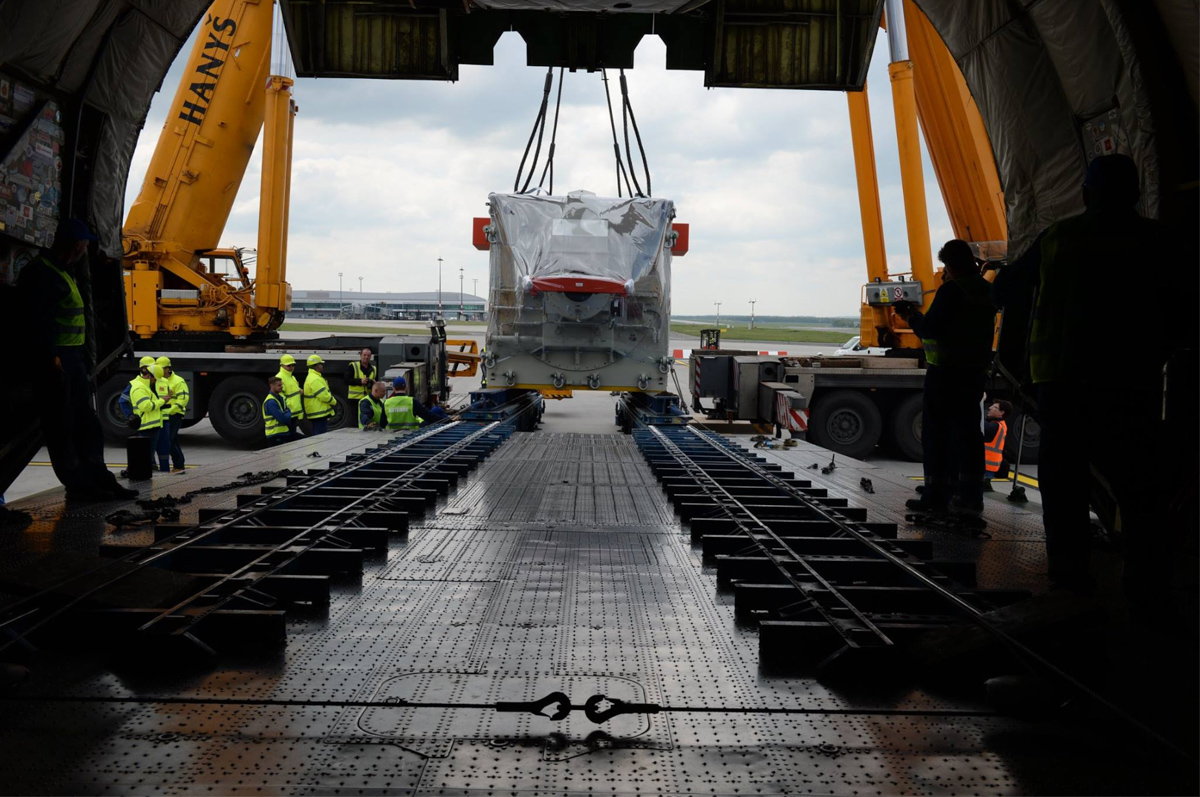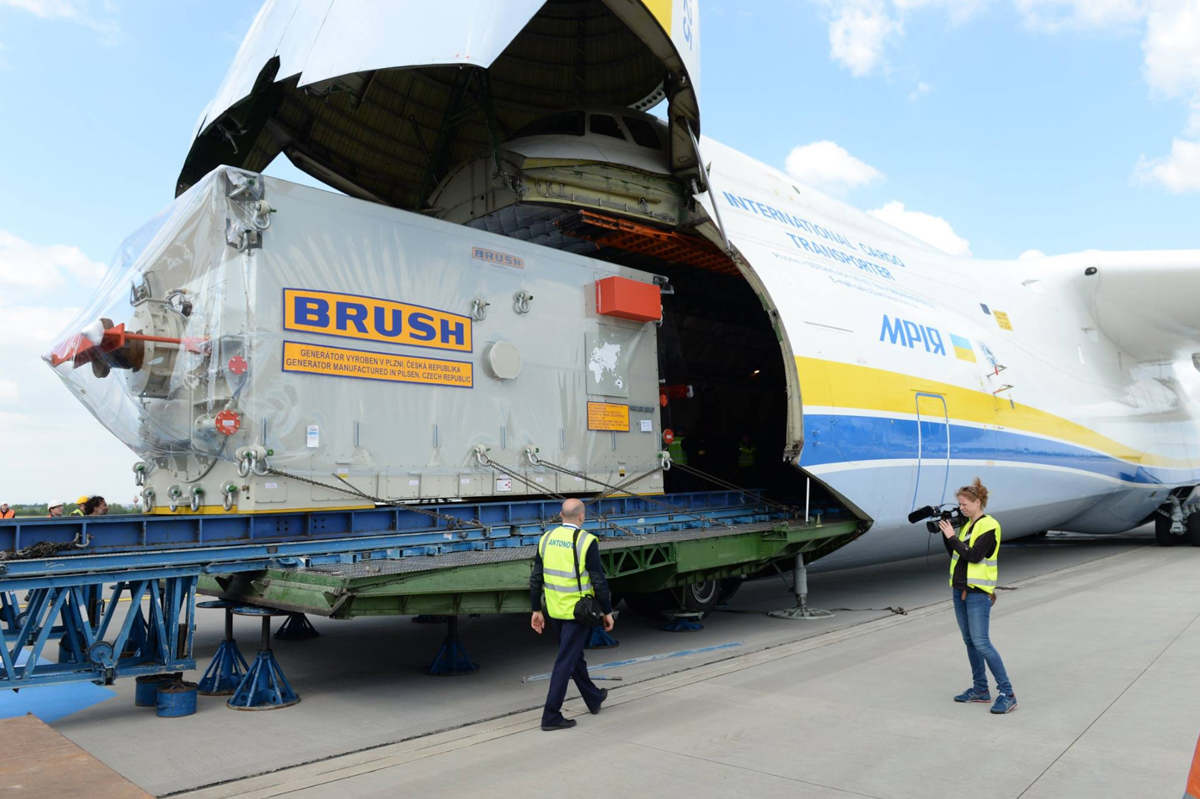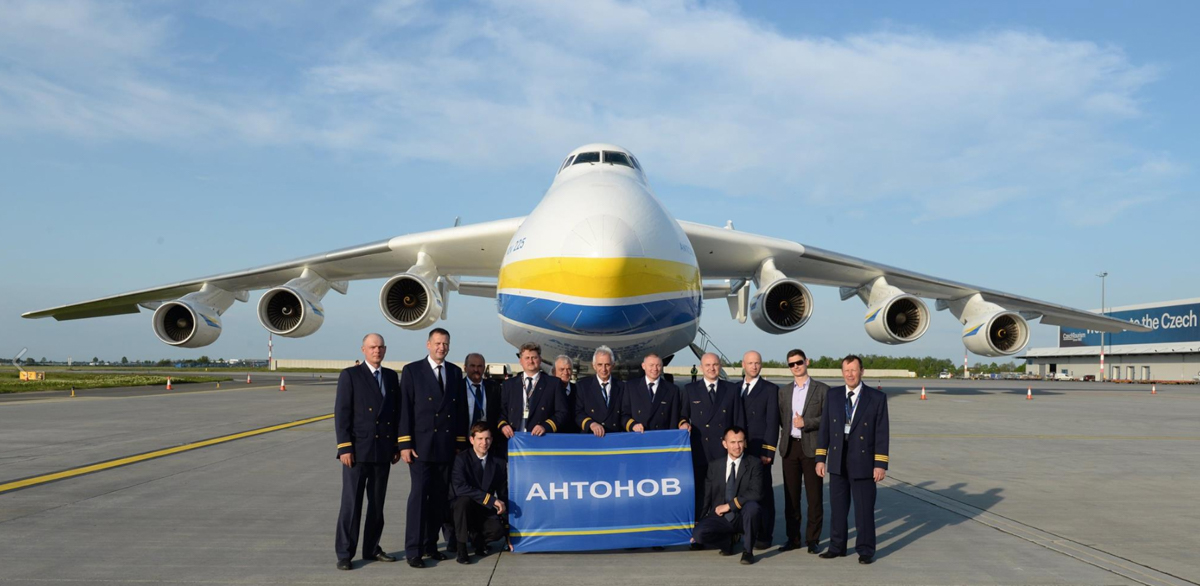 The flight was arranged by the Australian arm of the international transport and logistics company DB Schenker, which has a extensive experience in handling challenging and difficult shipments for some of the world's largest resources projects.The company employs 990 people in Australia and 65,000 employees in 130 countries around the world.
"Organising airfreight via an Antonov 225 is a particular highlight because it's a unique challenge with a very special aircraft", says Frank Vogel, Director – Projects / Oil and Gas, AU / NZ, DB Schenker.
The aircraft will be delivering an ultra-heavy 117-Tonne power generator for a mining company, flying from Prague in the Czech Republic, with several refuelling stops en-route across Eurasia and South East Asia before it finally reaches Perth.
The Project Management and execution of this challenging shipment will be handled by DB Schenker's Adelaide and Perth Offices, working in conjunction with the supplier in Europe and the Western Australian site to ensure a safe and smooth delivery of the equipment.
Antonov An-225: Interesting Facts and Specifications
The An-225 is the world's largest operational heavier-than-air aircraft in terms of length and wingspan (see diagram below).
It has set 240 world records, including heaviest cargo load (253.8 tons) and longest cargo (two 42.1-metre wind turbine blades).
The aircraft has six engines, which generate 140 tons of thrust at take-off. The aircraft burns 24 tonnes of fuel per hour and cruises at 800 km/hour.
An-225 was built to carry outsized cargo inside the fuselage (up to 250 tonnes – equivalent to 50 cars) or externally on top of the fuselage (up to 200 tonnes), such as the Buran space shuttle.
The twin tails were to allow it to carry external cargo loads on its back.
The nose cone hinges upwards to allow cargo to be loaded.
The cargo hold is 43 metres long, 6.4 metres wide and 4.4 metres tall.

The cargo hold has a four-point lifting crane which can carry up to 30 tonnes. The crane can move along rails on the roof to ease loading and unloading.

Fully loaded, the aircraft weighs 640 tonnes and would require 3.2 kilometres of runway to take off.

32 wheels spread the weight of the aircraft when it is on the ground.

The An-225 has nosegear designed to kneel down, so cargo can be more easily loaded and unloaded. There are 20 steerable wheels: four in the nose gear and 16 at the rear of the 28-wheel main gear, to help maneuver on the ground.

Only one An-225 was completed; a second An-225 was partly built, but stored – it would cost over $300 million to complete it.

An even bigger aircraft was planned, the 8-engined An-325, but this never got off the drawing board.
An-225 was designed and built in the Ukraine, and is based at Gostomel Airport, Ukraine.
An-225 is based on the smaller An-124 (also a large aircraft), with 90% parts commonality, but the An-225 has a different tail and no rear loading ramp. 55 An-124s were built and these have visit Western Australia occasionally.
First flew in 1988. Was stored for 7 years (1994 – 2001) and stripped of spare parts, following the end of the Buran space shuttle program in 1991. Was refurbished during 2000-2001 and re-entered service.

With no cargo aboard, it can take 355 tonnes of fuel – enough to stay airborne for 18 hours or 14,000 km.
The aircraft has 19 crew members for this flight. There are six seats in the cockpit; two pilots, two flight engineers, a navigator and a radio operator. A relief navigator and relief radio operator sit in the front crew compartment. In addition, there are 11 technicians in the crew; a Load master/Senior engineer, two engineers, fuel and fire fighting technicians, two hydraulics and landing gear technicians, an airframe and controls technician, a pneumatics and air con technician, an electrician, an instrument technician, a radio technician, a test systems technician and a flight manager.
Half of the crew and the passengers (including a German TV documentary crew for this flight) stay in the rear crew compartment, in the upper rear fuselage. There is no access between the front and rear compartments during flight, as the cargo hold is not pressurised.
The An-225 is expensive to operate – it is reportedly cheaper to use two An-124s.
The An-225 has performed humanitarian flights, delivering supplies and equipment to disaster zones. 
The aircraft has two auxillary power units (APUs) – miniature gas turbine engines – to generate its own electrical power when on the ground.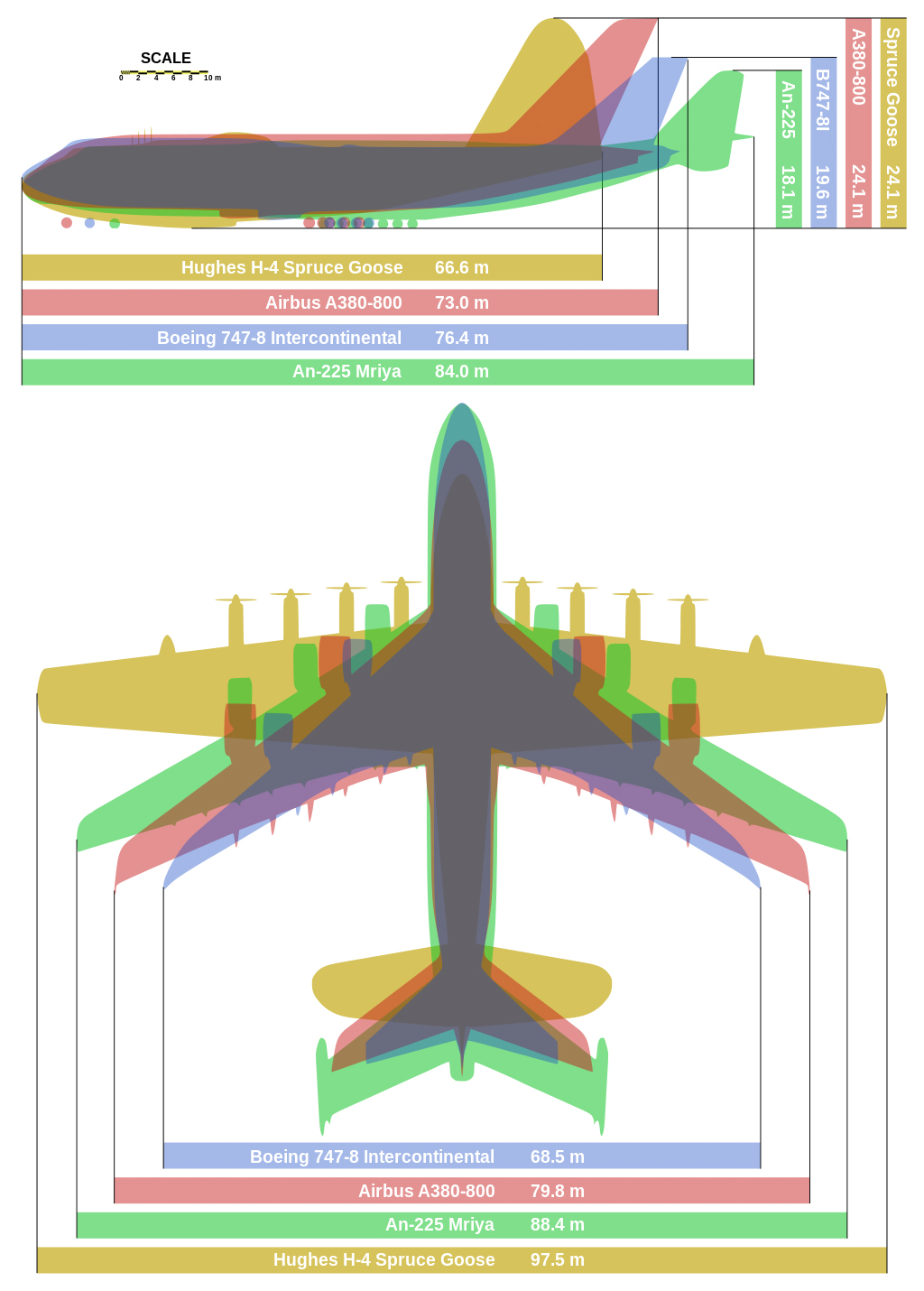 | | |
| --- | --- |
| Crew: 6 | Empty weight: (zero-fuel-weight) 175 tonnes |
| Length: 84 m | Max take-off weight: 600 tonnes |
| Wingspan: 88.4 m | Cargo hold – volume 1,225 cbm (L 43.35m, W 6.4m, H 4.4m) |
| Height: 18.1 m | Power plant: 6 × ZMKB Progress D-18 turbofans, 229.5 kNeach |
| Wing Area: 905 sq m | Flight range with 200 tonne payload: 4,000 km |
Design and differences to the An-124
Registered UR-82060 and owned by Antonov Airlines (Antonov Design Bureau), the An-225 was designed and built by the Antonov Design Bureau in the 1980s in Ukraine when it was part of the Soviet Union. It is the only flying example.
The An-225 is reportedly expensive to operate, so it is only used to transport extremely large and heavy cargo loads that cannot be carried by the An-124.
The An-225 was developed by enlarging the An-124 – fuselage barrel extensions were added in front of and behind the wings, which were also enlarged to increase span. Two more Progress D-18T turbofan engines were added to the larger wing, bringing the total to six. Stronger landing gear with 32 wheels was added, and some of these wheels can be steered to enable the massive aircraft to turn within a 60-metre wide runway. It is not designed for short runway operations.
It also differs to the smaller An-124 by not having a rear cargo door and ramp – these were deleted to reduce weight. The tail was redesigned from a single vertical fin to have twin tails on a widened tailplane – this was necessary to allow the aircraft to carry outsized loads externally, such as the Russian Buran space shuttle.
History of UR-82060
Completed on 21 December 1988 at Gostomel, Ukraine, registered CCCP-480182.
Displayed at the Paris Air Show in June 1989, now registered CCCP-82060, carrying the 60-tonne Buran space shuttle on top.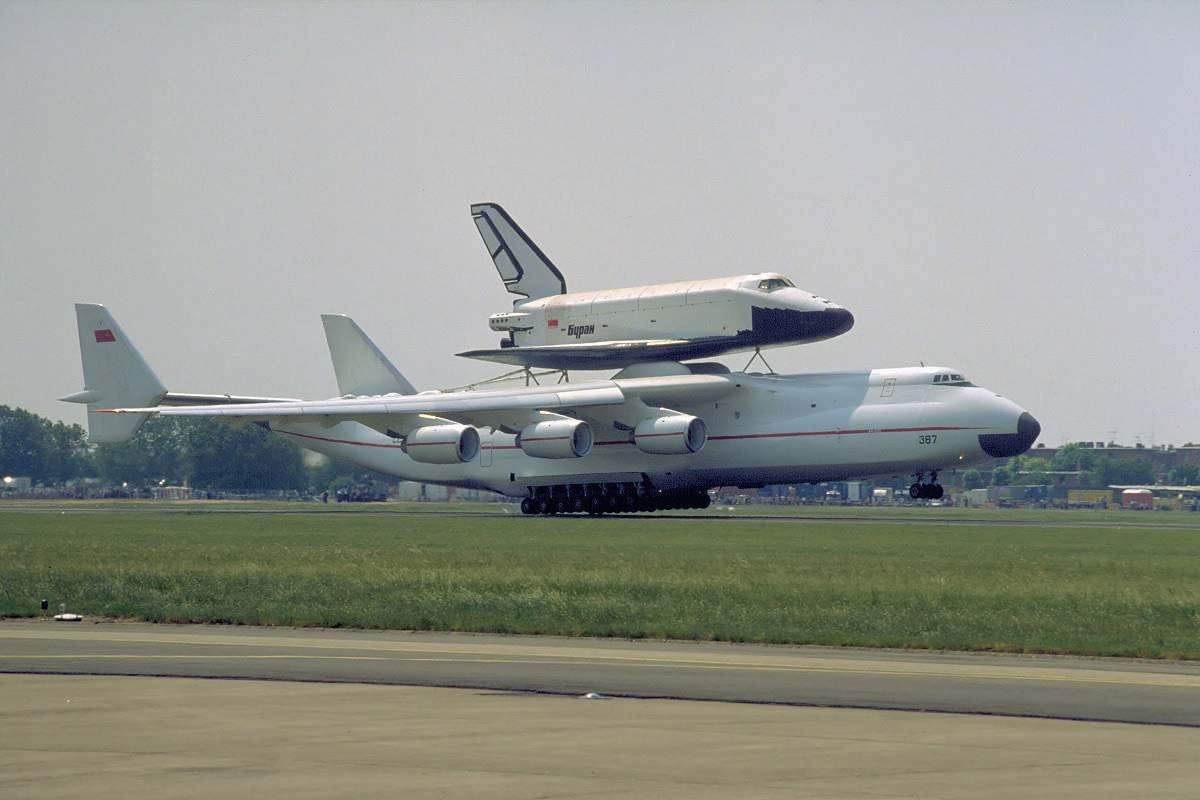 It was given the Ukrainian registration UR-82060 in 1993.
After the Buran space shuttle program was cancelled, the An-225 was withdrawn from use at Gostomel, in April 1994, with a total flying time of 671 hours and 339 flights. It was stripped of spare parts for use on Antonov Airlines' An-124 fleet – the six engines were removed for use on An-124s.
Antonov realised that there was a need for an aircraft capable of carrying larger and heavier loads than the An-124. UR-82060 was refurbished in 2000 at a cost of $20 million, with a new cockpit, avionics and safety systems, new passenger cabin on the upper deck, reinforced fuselage to carry heavier payloads and Stage III hush kits on the engines. It made its first flight on 7 May 2001, after 7 years on the ground.
UR-82060 holds the absolute world records for an airlifted single item payload of 189,980 kilograms (418,834 pounds) and an airlifted total payload of 253,820 kilograms (559,577 pounds). It has also transported a payload of 247,000 kilograms (545,000 pounds) on a commercial flight.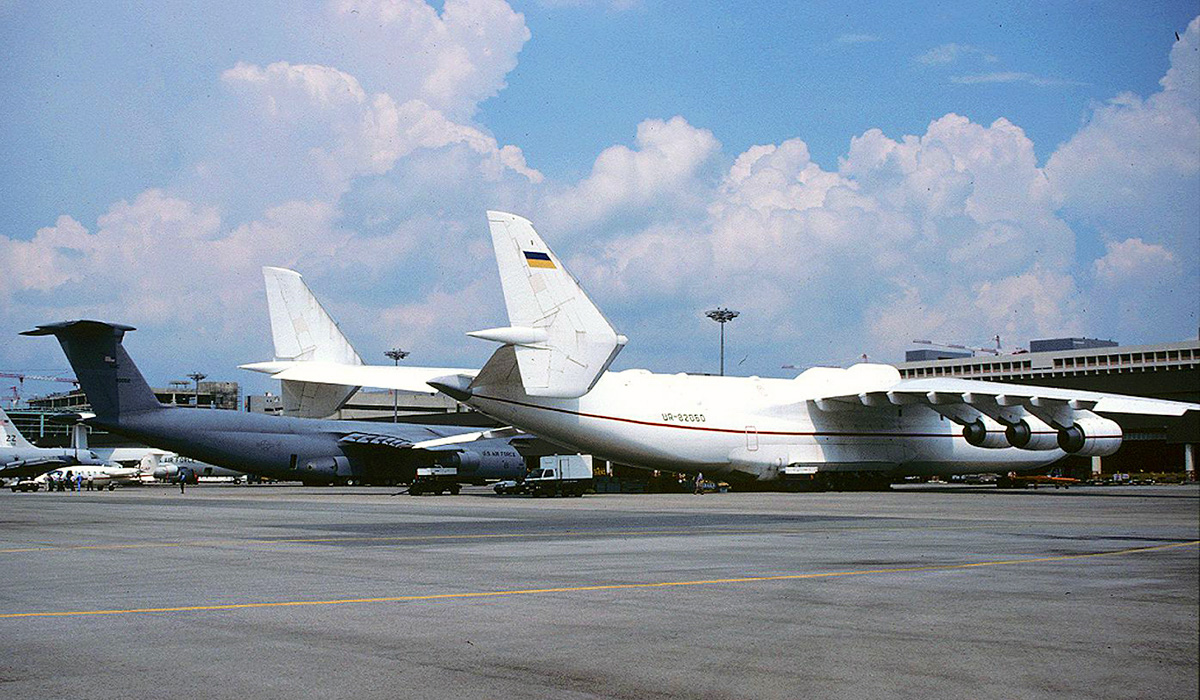 Second An-225 and the even larger An-325
Construction of a second An-225 was started in the late 1980s, but after the collapse of the Soviet Union and due to lack of funds, construction ceased in 1994 and it was placed in storage at Kiev.
In September 2006, Antonov announced that it would complete the second An-225 by 2008, but this was then delayed.
By August 2009, the aircraft was about 60-70% complete when work was stopped due to lack of funds. Completion requires at least $300 million and three years.
In April 2013, the Russian government announced plans to revive air launched spacecraft, using a modified An-225 as a mid-air launchpad, but the Ukraine/Russia conflict ended these plans.
Antonov had plans to build an even larger An-325 with eight engines, but this did not make it off the drawing board.