Australia Day Air Show 2016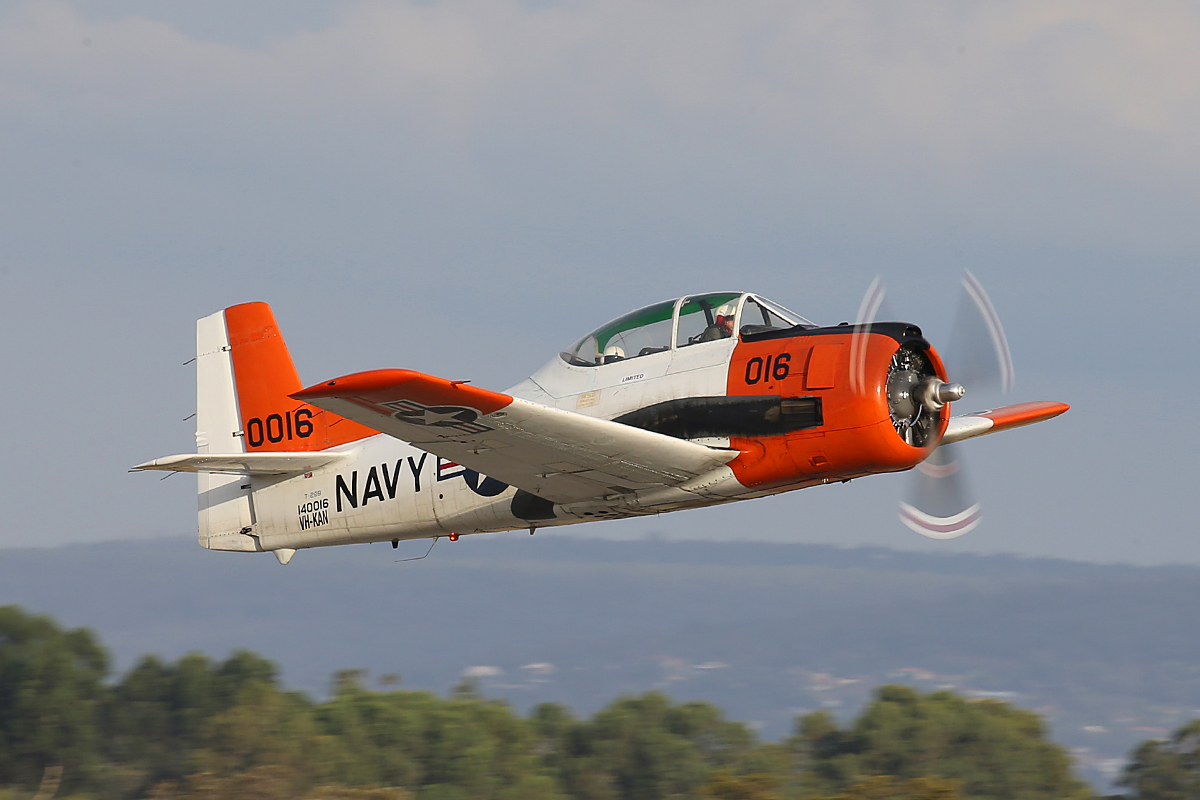 23 January 2016 © David Eyre
The annual City of Perth Australia Day Air Show 2016 was held over the Swan River in Perth on Tuesday 26 January 2016.
AAWA Vice President Keith Anderson was aboard Beech 18 VH-FID as an operational lookout – his photos and article can be viewed under AIRCRAFT PHOTOS in the menu.
AAWA President David Eyre was aboard Tiger Moth VH-BTP/A17-744 (these photos will be uploaded soon).
The display schedule and participating aircraft are listed below, where known.
TIME
EVENT
DETAIL
15:35
Oldtimer Fly By
Vintage aircraft display (9 aircraft planned)

VH-YDF / 4269 / 591

Boeing B75N1 (N2S-3) Stearman

US Army Air Corps markings

Werner Buhlmann
VH-YND /

"42–755362 / 362"

Boeing E75 (N2S-5)

Stearman

US Navy markings

Carl Ende
VH-URC

Boeing A75N1 Stearman (PT-17 Kaydet)

US Army Air Corps markings

Rod Edwards
VH-KIL / "14"

CASA 1-131E Jungmann

Painted to represent a Kokusai Ki-86 i

n Imperial Japanese Army Air Service

Bert Filippi
VH-LJN
Cessna 170
Gail Neylan
VH-XBS

De Havilland DHC-1 Chipmunk T.20

Warren Reynolds
VH-WQW

Great Lakes 2T-1A-2 Sport Trainer

Franc Smit
VH-YRB

WACO Aircraft YMF-F5C

Archie Dudgeon
VH-FID

Beech D18S Expeditor

"Dinky Di" – RAAF markings
Stuart Adamson

15:45
Seven Above
Helicopter towing Channel 7 flag
16:00
Beautiful Biplanes
Biggest gathering of biplane aircraft in WA

VH-CKF / A17-421
De Havilland DH-82A Tiger Moth
RAAF markings
Trevor Jones
VH-BTP / A17-744
De Havilland DH-82A Tiger Moth
RAAF markings
Clark Rees
VH-NOV
De Havilland DH-82A Tiger Moth
RAAF markings
Barry Markham
VH-BAR / A17-666
De Havilland DH-82A Tiger Moth
RAAF markings
Kevin Bailey
VH-KIL / "14"

CASA 1-131E Jungmann

Painted to represent a Kokusai Ki-86 i

n Imperial Japanese Army Air Service

Bert Filippi
VH-USJ

De Havilland DH-83 Fox Moth

Phil Smith
VH-AMW / A17-208
De Havilland DH-82A Tiger Moth
RAAF markings
Chris Shine

VH-YDF / 4269 / 591

Boeing B75N1 (N2S-3) Stearman

US Army Air Corps markings

Werner Buhlmann
VH-YND /

"42–755362 / 362"

Boeing E75 (N2S-5)

Stearman

US Navy markings

Carl Ende
VH-URC

Boeing A75N1 Stearman (PT-17 Kaydet)

US Army Air Corps markings

Rod Edwards
VH-YRB

WACO Aircraft YMF-F5C

Archie Dudgeon
VH-WQW

Great Lakes 2T-1A-2 Sport Trainer

Franc Smit
VH-BQO

Christen Eagle II

Adam Gibbs
VH-VLF

Steen Skybolt

Roberto Franco
VH-ZUZ

Culp Special

Peter Cash

16:15
Flying Circuit
Fixed wing aircraft and helicopter with smoke:

| | | | |
| --- | --- | --- | --- |
| VH-MRI | Victa Airtourer 115 | | Sue Clark |
| VH-JHM | Robinson R22 | | Adrian Thomas |

16:30
Mix On High
Eurocopter AS350 Squirrel helicopter towing MIX 94.5 flag
16:45
Speed & Stealth
Large and fast aircraft handling display:

| | | | |
| --- | --- | --- | --- |
| VH-??? | Fokker 100 | Virgin Australia Regional Airlines, callsign "Virgin 9999" | Greg Meechan |

17:00
RACWA Formation
Formation flying display with a variety of high wing aircraft: Cessna A152 Aerobats and Cessna 172s of Royal Aero Club of Western Australia

| | | | |
| --- | --- | --- | --- |
| VH-FWM | Cessna A152 Aerobat | Royal Aero Club of Western Australia | Trevor Jones |
| VH-UWC | Cessna A152 Aerobat | Royal Aero Club of Western Australia | Jake Sanders |
| VH-BFT | Cessna A152 Aerobat | Royal Aero Club of Western Australia | James Roberts |
| VH-RWY | Cessna A152 Aerobat | Royal Aero Club of Western Australia | Marco Surace |
| VH-RWJ | Cessna A152 Aerobat | Royal Aero Club of Western Australia | Martin Granville |
| VH-RWQ | Cessna A152 Aerobat | Royal Aero Club of Western Australia | Michael Chlopek |
| VH-IBP | Cessna A152 Aerobat | Royal Aero Club of Western Australia | Michael Stenson |
| VH-RCF | Cessna A152 Aerobat | Royal Aero Club of Western Australia | Michael Thomas |
| VH-TNO | Cessna A152 Aerobat | Royal Aero Club of Western Australia | Mike Watts |
| VH-JBX | Cessna A152 Aerobat | Royal Aero Club of Western Australia | Mitchell Wells |
| VH-EWC | Cessna 172S Skyhawk SP | Royal Aero Club of Western Australia | Robert Van Hamersveld |
| VH-EEN | Cessna 172S Skyhawk SP | Royal Aero Club of Western Australia | Andrew Eldridge |
| VH-EEP | Cessna 172S Skyhawk SP | Royal Aero Club of Western Australia | Brad Gilchrist |
| VH-ZDR | Cessna 172S Skyhawk SP | Royal Aero Club of Western Australia | Adam Gibbs |
| VH-BOF | Cessna 172P Skyhawk II | Royal Aero Club of Western Australia | Mick Harcourt |
| VH-CAR | Cessna 172R Skyhawk | Royal Aero Club of Western Australia | David Rockich |
| VH-TQO | Americam Champion 8KCAB Decathlon | Royal Aero Club of Western Australia | Gary Evans |

17:15
Australia Day Salute
Helicopter towing large Aussie flag
17:30
David & Goliath
Formation Aerobatics in Harmony:

| | | | |
| --- | --- | --- | --- |
| VH-MRI | Victa Airtourer 115 | | Sue Clark |
| VH-BQO | Christen Eagle II | | Adrian Thomas |

17:45
Colourful Canopies
Skydiving display over Langley Park with Perth Skydiving Display Team

| | | | |
| --- | --- | --- | --- |
| VH-CYY | Piper PA-31-310 Navajo B | Air Australia International | Megan Gray |

18:00
Smoky Chopper / Seven Above
Special effects chopper / helicopter towing Channel 7 flag

| | | | |
| --- | --- | --- | --- |
| VH-JHM | Robinson R22 Beta II | | Werner Buhlmann |
| VH-RLO | Robinson R22 Beta II | | Newton Pellatt |

18:10
Perth Air Race
High performance aircraft match up

VH-KAN / 140016

North American T-28B Trojan

US Navy markings
Stephen Robinson
VH-MAN /

232003 / 85

Nanchang CJ-6A

Chinese Air Force (PLAAF)

markings
Chris Robinson
VH-WWA / 106 / A

North American AT-6D Texan

US Navy markings
Adrian Thomas
VH-FUC

Pitts S-1D

Painted in Italian Schneider Trophy race livery of the 1920s
Carl Ende
VH-FID

Beech D18S Expeditor

"Dinky Di" – RAAF markings
Stuart Adamson

18:20
Aerorescue / RFDS
VH-PPG Dornier 328 of Aerorescue and Pilatus PC-12s of the Royal Flying Doctor Service

| | | | |
| --- | --- | --- | --- |
| VH-PPF | Dornier 328-100 | Aerorescue | Andrew Jackson & Matt Day |
| VH-??? | Pilatus PC-12-47E | Royal Flying Doctor Service (Western Operations) | Michael Blues |
| VH-??? | Pilatus PC-12-47E | Royal Flying Doctor Service (Western Operations) | Matt Granger |

18:30
RAAF Hawk Jets
Flying in formation with solo aerobatics: BAE Systems Hawk 127 of 79 Squadron, RAAF

| | | | |
| --- | --- | --- | --- |
| A27-10 | BAE Systems Hawk 127 | RAAF, 79 Squadron, RAAF Pearce – callsign RAPTOR 1 | |
| A27-16 | BAE Systems Hawk 127 | RAAF, 79 Squadron, RAAF Pearce – callsign RAPTOR 2 | |
| A27-30 | BAE Systems Hawk 127 | RAAF, 79 Squadron, RAAF Pearce – callsign RAPTOR 3 | |

18:40
Rotorvation / Mix On High
Rotor display, including one helicopter towing MIX 94.5 flag

| | | | |
| --- | --- | --- | --- |
| VH-JHM | Robinson R22 Beta II | Adrian Thomas | Werner Buhlmann |
| VH-RLO | Robinson R22 Beta II | Rotorvation Helicopters | Newton Pellatt |
| VH-RAS | Robinson R22 Beta II | Rotorvation Helicopters | Sean Marais |
| VH-RTQ | Robinson R44 Raven I | Rotorvation Helicopters | Troy Shier |
| VH-IDW | Robinson R44 Raven II | Robi44 Investments Pty Ltd | James Gralton |
| VH-NFL | Robinson R44 II | DSL Contracting Pty Ltd | Graydn Doak |
| VH-EDP | Eurocopter EC120B | Roesner Pty Ltd | Nick Stielow |

18:50
T6 Stunts

| | | | |
| --- | --- | --- | --- |
| VH-WWA / 106 / A | North American AT-6D Texan | US Navy markings | Adrian Thomas |

18:55
Mile High Message
Skywriting PERTH @ 10,000 feet above

| | | | |
| --- | --- | --- | --- |
| VH-FUC | Pitts S-1D | Painted in Italian Schneider Trophy race livery of the 1920s | Carl Ende |

19:00
DFES Aerial Fleet
Firefighting water drop demonstration (subject to change):

| | | | |
| --- | --- | --- | --- |
| VH-DUA / BOMBER 608 | Air Tractor AT-802 | Dunn Aviation | Phil Dunn |
| VH-DUN / BOMBER 604 | Air Tractor AT-802A | Dunn Aviation | Neville Dunn |
| VH-EOG / BOMBER 602 | Air Tractor AT-802 | Dunn Aviation | Nicolas Long |
| VH-NID / BOMBER 612 | Air Tractor AT-802AF | Dunn Aviation | Scott Powell |
| | | | |
| N154AC / HELITACK 739 | Sikorsky S-64E Skycrane | "Georgia Peach" Erickson Air Crane, USA | Benjamin Lessard & Ross McGuigan |
| | | | |
| VH-SMI / HELITACK 418 | Bell 214B-1 BigLifter | McDermott Aviation | Jason White |
| C-FXNI / HELITACK 677 | Bell 214B-1 BigLifter | McDermott Aviation | Clifford White |
| N49732 / HELITACK 672 | Bell 214B-1 BigLifter | McDermott Aviation | Kevin McCormick |
| N234PH / HELITACK 673 | Bell 214B-1 BigLifter | McDermott Aviation | Michael Lacy |
| P2-MBH / HELITACK 671 | Bell 214B-1 BigLifter | McDermott Aviation | Ronald Batty |
| P2-MLJ / HELITACK 674 | Bell 214B-1 BigLifter | McDermott Aviation | Taniie McCromick |
| N217PJ / HELITACK 415 | Bell 214B-1 BigLifter | McDermott Aviation | Wade Young |
| P2-MSA / HELITACK 676 | Bell 214B-1 BigLifter | McDermott Aviation | John Rocks |
| | | | |
| VH-XRQ/FIREBIRD 625 | Eurocopter Canada (MBB) Bo-105LS A-3 | Heliwest | Elaine Cadzow |

19:10
Spiraling Angles
Aircraft trailing smoke

| | | | |
| --- | --- | --- | --- |
| VH-JHM | Robinson R22 Beta II | Adrian Thomas | Werner Buhlmann |
| VH-CKF / A17-421 | De Havilland DH-82A Tiger Moth | Royal Aero Club of Western Australia "Shirley Adkins" | Mick Harcourt |
| VH-URC | Boeing A75N1 Stearman (PT-17 Kaydet) | US Army Air Corps markings | Rod Edwards |
| VH-MRI | Victa Airtourer 115 | | Sue Clark |
| VH-BQO | Christen Eagle II | | Adam Gibbs |
| VH-WWA | North American AT-6D Texan | US Navy markings | Adrian Thomas |

19:20
Aerobatic Stunts
Tumble & Turn & Twist

| | | | |
| --- | --- | --- | --- |
| VH-WFX | Extra EA 300L | Bill Waterton | Bill Waterton |

19:30
Australia Day Salute
Helicopter towing large Aussie flag
19:40
Night Lights
High performance piston aircraft formation fly past

| | | | |
| --- | --- | --- | --- |
| VH-PNT | Partenavia P.68B | Royal Aero Club of Western Australia | Trevor Jones |
| VH-IXE | Partenavia P.68B | Royal Aero Club of Western Australia | Marco Surace |
| VH-WZG | Partenavia P.68B | Ross Campbell | Andrew Eldridge |
| VH-JXC | Mooney M20J 205 | Royal Aero Club of Western Australia | Brad Gilchrist |
| VH-AKF | Mooney M20J 201 | Royal Aero Club of Western Australia | Mitchell Wells |
| VH-DJU | Mooney M20J 201 | James Sturrock | Jake Saunders |

19:50
Lighting the Way
Emergency rescue helicopter: VH-EWA Bell 412EP "RAC Rescue"

Police Helicopter with lights: VH-WPX / POLAIR 62  Eurocopter AS365N3+ Dauphin 2