Perth Airport flight paths to change, following noise complaints
8 March 2015
From May 2015, Airservices Australia will commence a 12-month trial of new flight paths for aircraft using Perth Airport, to shift aircraft noise to less populated suburbs of Perth.
Three noise improvement schemes are being implemented in 2015. The changes have been developed in consultation with airlines and the community, and are subject to environmental approvals.
Preferred runways
Noise Abatement Procedures are used by pilots and air traffic control to reduce noise impacts on residential areas, specifying which runways and flight paths are preferred for arriving and departing aircraft.
Under the proposed change (which does not apply on weekdays from 5am-9pm), the mix of arrivals and departures may change, and Cannington may have a noticeable noise reduction. Implementation is scheduled for May 2015.
Current 

Proposed
(no change to runway use on weekdays from 5 am to 9 pm)

Arrivals:
Runway 21 (arriving over Guildford) and Runway 24 (over Greenmount) are equally preferred.
Runway 06 (over Redcliffe) least preferred due to residential areas close to southern end of the runway.
Arrivals:
Equal preference to Runway 21 (over Guildford), Runway 24 (over Greenmount) and Runway 03 (over Queens Park).
Runway 06 (over Redcliffe) continue to be least preferred due to residential areas close to southern end of the runway.
Departures:
Runway 21 (departing over Queens Park) is the only runway preferred for departures.
Departures from Runway 24 (over Redcliffe) are least-preferred due to residential areas close to the southern end of the runway
Departures:
Equal preference would be given to Runway 21 (over Queens Park), Runway 03 (over Guildford) and Runway 06 (over Greenmount).
Departures from Runway 24 (over Redcliffe) continue to be least-preferred due to residential areas close to the southern end of the runway
Smart Tracking
Aircraft arriving from the north and east of Perth to land on Runway 03 (southern end of the main runway) usually perform a visual turn near Carmel and Bickley in the hills area, east of Perth. If visibility is poor, a longer 10 nm ILS approach is used.
A visual approach requires to use a stepped descent, with the aircraft repeatedly descends and then levels out. This descent generates more noise than a continuous descent.
Under Smart Tracking, pilots can use GPS-assisted navigation to perform a quieter, continuous descent over the Perth Hills further away to the southeast of the airport. The visual approach will also be moved to the same flight path corridor as shown in the maps below.
This change, which will be implemented from May 2015, will move flight paths further east over less populated areas in the Perth Hills. There will be very few arrivals over Bickley and Carmel, and less low-level night flights for suburbs between Canning Vale and Casuarina.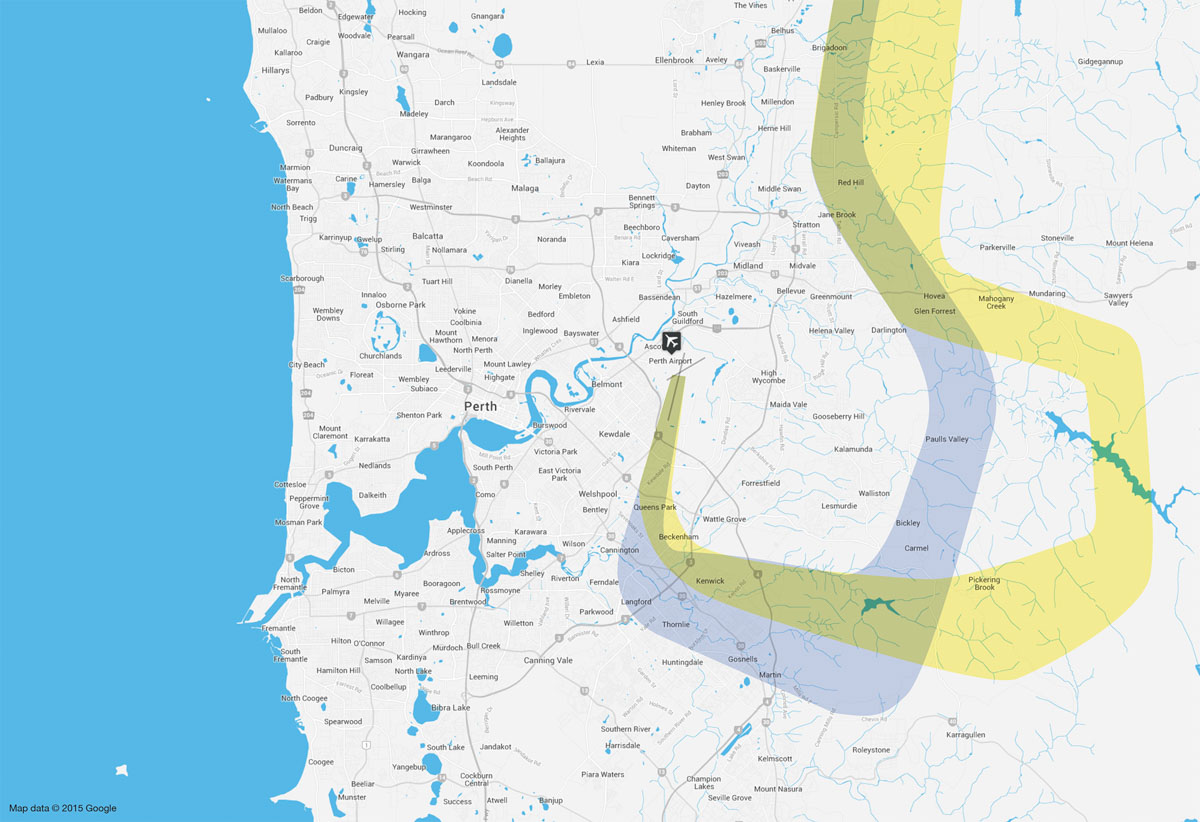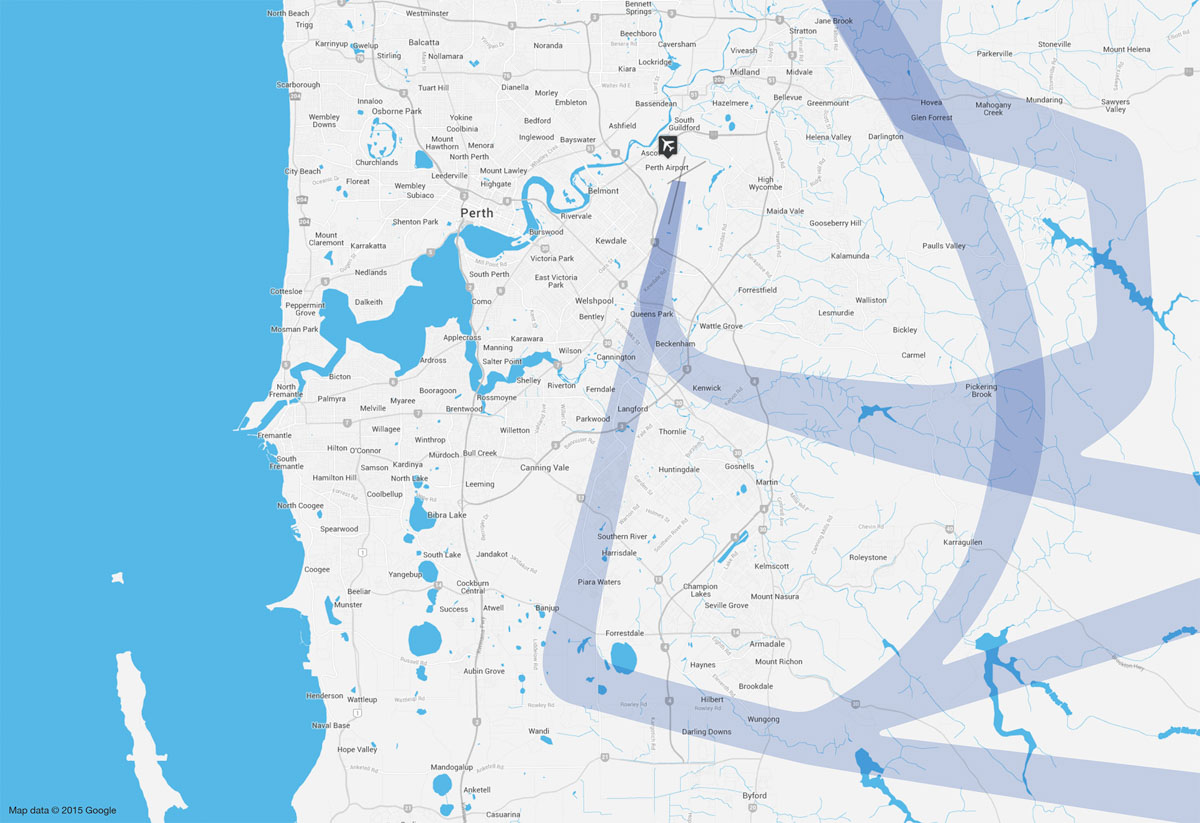 Night-time respite
Aircraft taking off from Runway 21 on northbound flights from Perth currently fly over suburbs bordering the Swan River, southwest of the airport before turning north. Use of this flight path has tripled since 2007.
Under the night time respite, when Runway 21 is used between 10 pm and 5 am for northbound flights (eastbound flights are unchanged), aircraft will continue flying on runway heading southwards for longer after takeoff. When they are adjacent to Jandakot Airport, they will turn towards the southwest until they reach 8000 feet, at which point pilots may turn to the north. This flight path takes aircraft over less-populated, non-residential land.
Perth Airport's peak period for departures commences at 5 am on weekday mornings, with aircraft taking-off every two to three minutes.
Proposed implementation of a 12-month trial will start in August or November 2015.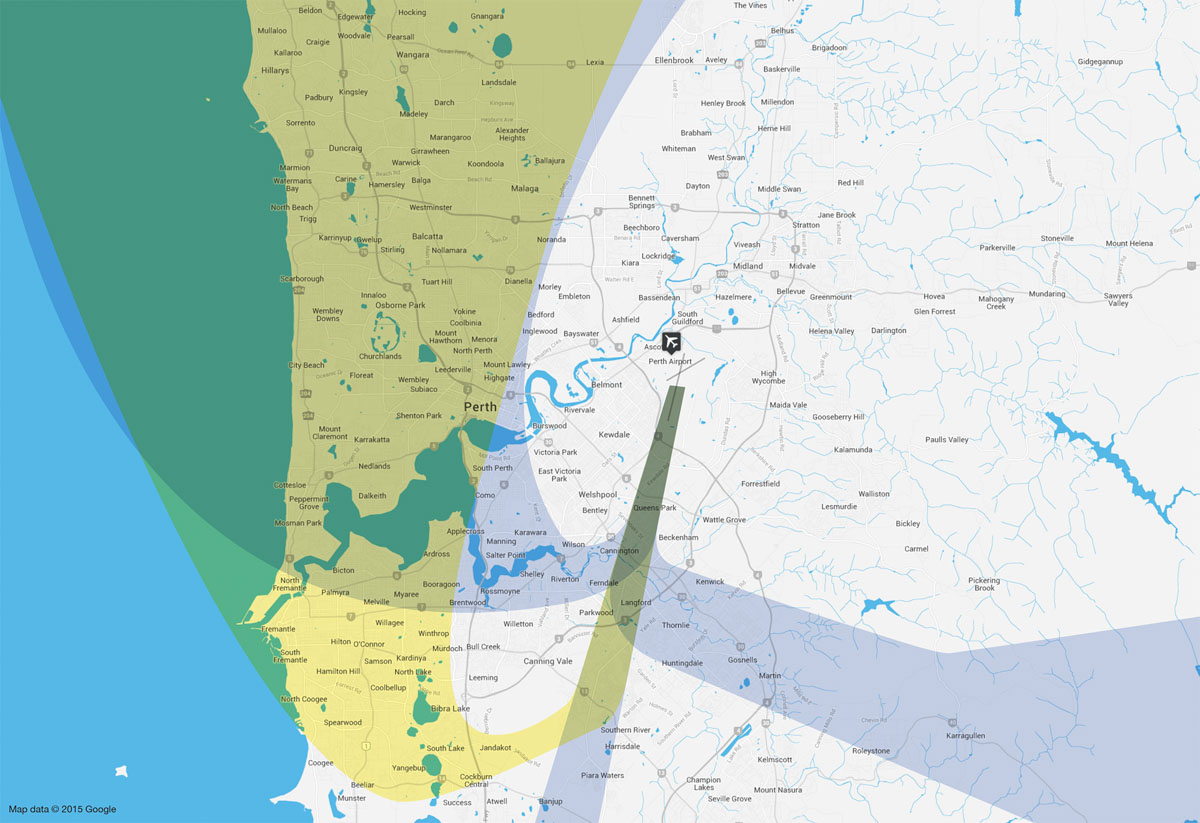 Interesting Facts:
There are three airports operating in the Perth area (Perth Airport, Jandakot Airport and RAAF Base Pearce).
Perth Airport is Australia's fourth-largest in terms of passenger numbers and operates 24-hours-a-day, seven-days-a-week.
Over the past 50 years, and despite six major economic downturns, Perth Airport traffic has increased on average nine percent a year. More recently (since 2007), the airport has had consistent years of 12 to 15 per cent growth
Western Australia is now an important resources centre for the world and contributes forty per cent of Australia's export income.
About thirty per cent of flights to and from Perth Airport are transporting fly-in, fly-out workers to mining and gas facilities in the north and southeast of the State.
Additionally, the airport was a gateway for 807 000 international visitors in 2014, contributing some $2.3 billion tourism dollars to the State's economy.
Airservices' first priority is safety, but must also balance the traffic growth with noise impacts.
Between 2010 and 2014, Airservices considered 21 possible noise improvement opportunities for the Perth area – some have been implemented and others rejected for safety reasons.