Final Qantas Boeing 767 flights from Perth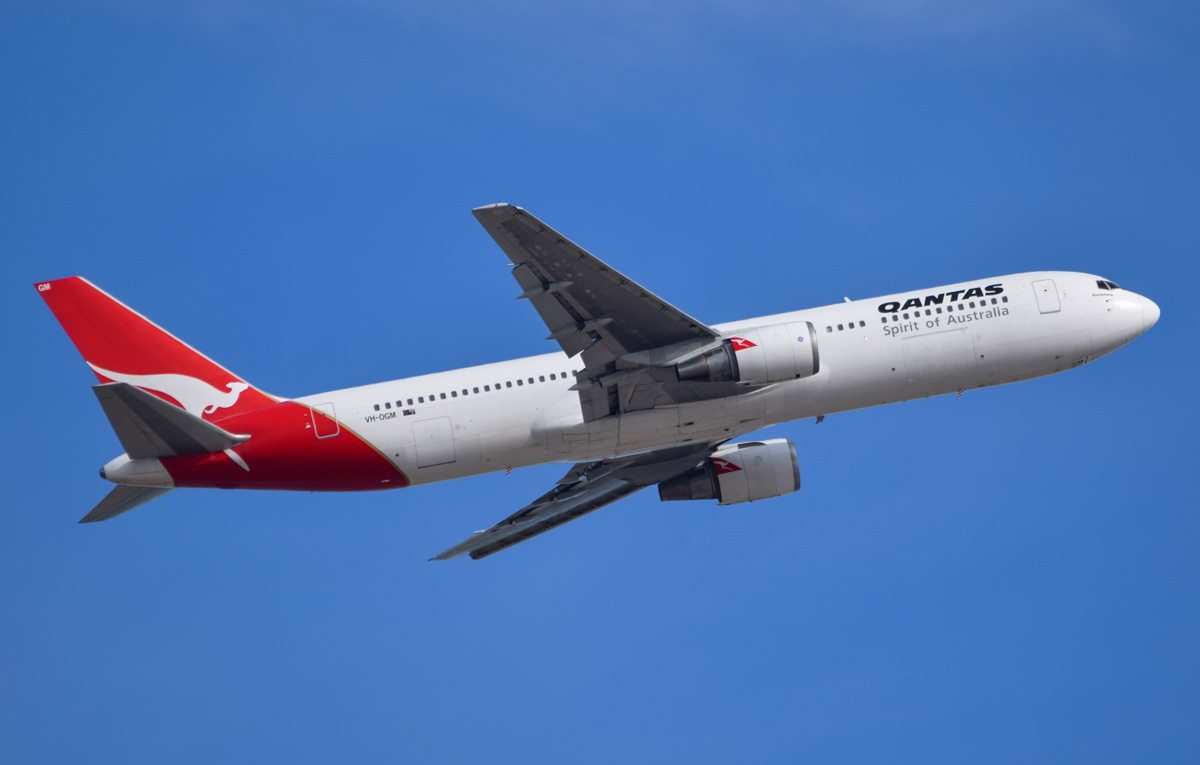 26 December 2014 © David Eyre (UPDATED 28 December 2014)
Official 'final' Qantas 767 visit to Perth
The Boeing 767 seemed to defy attempts to retire it from the Qantas fleet, as a number of flights were made after the officially announced 'final' flight.
On 17 November 2014, VH-OGL operated flight QF651 from Brisbane. The aircraft parked on Bay 15 at Terminal 4 and Qantas crews posed in front of the aircraft for what they thought was the final flight.
One Qantas worker didn't believe this was the final Qantas 767 visit to Perth. She said "They have said that before, but the 767s are still operating." She went away to check and another staff member confirmed it. She lamented "That's so sad! I love the 767s! They have done such a wonderful job." A few more Qantas staff paused at the window for a 'last look' at the 767 parked outside, before resuming their duties.
VH-OGL pushed back for departure as QF718 to Canberra and Qantas staff announced on the PA system that this was the final 767 service from Perth and that there would be a water cannon salute by the airport fire crews. Things didn't quite go to plan, as only one of the fire trucks activated its water cannon as the aircraft taxied out to runway 21 and took off.
More 'final' flights
However, it wasn't the final Qantas 767 flight:
VH-OGM was substituted on the QF475 service from Melbourne on 24 November 2014 and arrived in Perth at 2.37pm, after an Airbus A330 reportedly suffered a lightning strike and couldn't operate the service. VH-OGM departed back to Melbourne at 3.48pm as QF476.
VH-OGO arrived at Perth as QF653 from Melbourne at 11:14pm on 24 November. Departed at 1.03pm on 25 November back to Melbourne as QF476.
VH-OGU arrived at Perth as QF653 from Melbourne at 10.32pm on 30 November. Departed at 3.25pm on 1 December to Sydney as QF566.
VH-OGU arrived at Perth as QF569 from Sydney at 6.34pm on 3 December. Departed at 7.26am on 4 December as QF576 back to Sydney.
VH-OGM arrived at Perth as QF653 from Melbourne at 9:18pm on 21 December 2014. Departed 10.00am on 22 December as QF576 to Sydney.
FINAL QANTAS 767 flight to/from Perth: VH-OGM arrived at Perth as QF569 from Sydney at 7:17pm on 22 December 2014. Departed at 7:50am on 23 December 2014 as QF576 to Sydney.
The very last Qantas 767 services
The final Qantas 767 international service was flown by VH-OGU from Honolulu to Sydney on 13 September 2014.
Qantas' final Boeing 767 service will operate from Melbourne to Sydney on December 27 as the 5pm QF452 flight, which as a tribute has been renumbered as flight QF767, arriving in Sydney at 6.25pm to a water cannon salute.
The final flight was originally supposed to be QF490, and a large number of aviation enthusiasts had booked that flight to be on the 767's final revenue service with Qantas. Qantas kindly allowed QF490 passengers to rebook onto 'QF767' at no charge.
On 27 December 2014, the final day of Qantas 767 services, there were four aircraft operating. VH-OGL operating Sydney-Brisbane-Sydney-Melbourne-Sydney; VH-OGO Sydney-Brisbane; VH-OGM Melbourne-Sydney-Melbourne-Sydney; VH-OGU Brisbane-Sydney-Melbourne-Sydney-Brisbane.
The final 767 passenger revenue flight was QF452 which was renumbered as 'QF767' on this occasion. VH-OGL, flown by Captain Mike Galvin and First Officer Kirrily Zupp, departed Melbourne at 5:59pm with 254 passengers (mostly aviation enthusiasts) and landed Sydney at 6:57pm, after making a number of orbits over Sydney CBD and Harbour.

Qantas 767 retirement
The 767s are being retired nine months earlier than originally planned, as part of the 'Qantas transformation program' to stem mounting losses.
Qantas' 767s were refurbished only two years ago at a cost of millions of dollars, with leather seats in business class and iPads for use as inflight entertainment via the 'Q Streaming' WiFi system. The Qantas 767s were quite popular with passengers as it had a comfortable 2-3-2 configuration, which made it quicker to board and exit, with seats that were comfortably wide. Unfortunately, the 767's increasing maintenance costs and higher fuel consumption with a need to reduce the number of different types in the fleet led to the withdrawal of the type from passenger services. The airline still has a 767-300F freighter, which will continue in service between Sydney and Auckland.
Qantas originally ordered up to 115 Boeing 787 Dreamliners for delivery between 2008 and 2020 to replace the 767s and A330s, and develop new international routes. However, Qantas Group management instead decided to divert the initial 787s to Jetstar, and return Jetstar's leased A330-200s back to Qantas as 767 replacements.