Emirates Airbus A380 services to Perth from 1 May 2015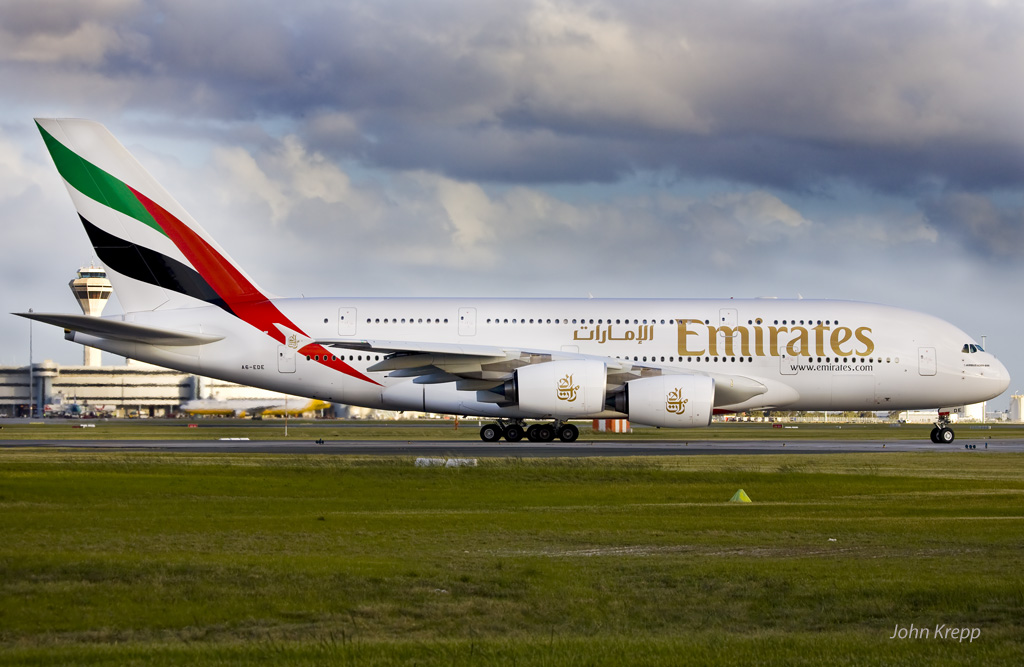 16 December 2014
Emirates has today formally announced the planned introduction of the Airbus A380 on services between Dubai and Perth, with the aircraft replacing Boeing 777-300ER aircraft on the evening EK420/421 service from 1 May 2015.
The EK424/425 early morning service and midday EK422/423 service will continue to use a mix of Boeing 777-200LR and 777-300ER aircraft.
The A380 will provide an additional 1,834 seats on the route each week, less than 12 months since Qantas ceased providing regular international services from Perth.
The A380 is popular with passengers, who prefer its quieter and more spacious interior. The A380 has a 10-abreast seating configuration as used in the Boeing 777, but the 777 is narrower, making it somewhat less comfortable. The A380 features private first class suites, fully flat beds for business class (compared to the angled lie-flat seats in the Boeing 777), inflight showers and a bar (for first and business class passengers).
EK420 departs Dubai at 2:55am local time, arriving at Perth by 5:35pm. It then departs Perth as EK421 at 10:10pm, arriving in Dubai at 5:25am the following morning.
Perth Airport's runway and taxiways have been capable of taking A380s for a number of years. Emirates had been waiting for progress on Perth Airport's $700 million redevelopment program, including the construction of A380-capable dual split-level aerobridges, upgrades to the arrival and departure facilities and a new Emirates Lounge.
The first of the A380 aerobridges was constructed at Bay 51, at the southern end of Terminal 1 (International). It was planned to be completed in June 2013, but delays during construction and technical issues postponed its opening until December 2013.  A second A380 aerobridge is also being constructed on the new Virgin Australia International/Domestic Pier, which is currently under construction for completion in January 2015.
Emirates is also building a new, much larger lounge at Perth, located under Emirates' current lounge. Construction will start in January 2015, for completion by 31 May 2015.
The first A380 to visit Perth was a special promotional (non-revenue) flight by Qantas' A380 VH-OQA on 14 October 2008.  A number of A380s have visited since then, but only because of medical emergency diversions – six from Emirates (A6-EDE, A6-EDA, A6-EEH, A6-EEO, A6-EDP and A6-EEU) and two from Qantas (VH-OQB and VH-OQG). These aircraft were all headed to or from Eastern States cities.
Media reports in June 2013 stated that the start date was to be March 2014, and air traffic slot allocations showed a start date of 29 March 2014. However, Emirates made no official announcement at that time. Emirates crews were being advised of a potential 1 July 2014 start date, but this too did not eventuate, even when the midday EK422/423 service was temporarily suspended due to runway works at Dubai.
Emirates has 56 A380s in service, with another 84 on order. The airline is pushing Airbus to develop new versions of the aircraft, with newer, more fuel efficient engines, as well as a larger version.