UPDATE: Airbus A350 development aircraft F-WWYB (MSN 005) to visit Perth on 10 August 2014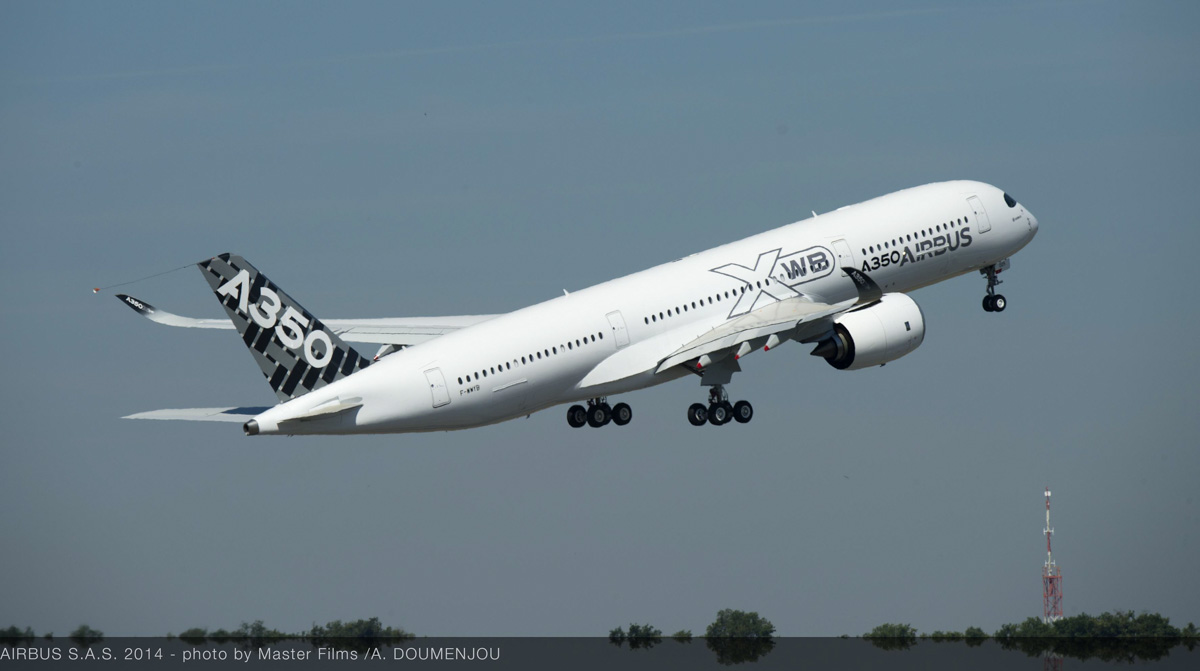 18 July 2014 (UPDATED 7 August 2014)
Airbus will fly F-WWYB, the fifth of its new Airbus A350-900 development aircraft, from Doha, Qatar to Perth and return, as part of a series of route proving flights all over the world.
The A350 is scheduled to arrive in Perth from Doha at 3pm on 10 August 2014, departing back to Doha at 11pm.
This will be the first visit of this new type to Western Australia, and the second visit by the type to Australia – the same aircraft visited Sydney on 4 August 2014.
F-WWYB is one of five test aircraft and one of two (the other is F-WWCF, MSN 002) with a fully functional passenger cabin, containing 42 business class and 223 economy class seats. The A350 will be operated by Airbus flight crews, with European Aviation Safety Agency (EASA) pilots aboard as observers.
The flight test programme has already completed over 540 flights and 2,250 flight hours. Type Certification is scheduled for the third quarter of 2014.
Launch customer Qatar Airways will take the first delivery, in late 2014. Qatar Airways has ordered the 80 A350s (43 A350-900 and 37 A350-1000), and their CEO, Akbar Al-Baker, has declared that the A350 will be used on Perth services from early-2015. Qatar Airways had previously intended to use the Boeing 787-8 Dreamliner on Perth services from 1 February 2013, but electrical problems grounded the 787. Although the 787 grounding was later lifted, the airline decided that Perth is at the extreme end of the Boeing 787-8's capabilities when flown from Doha. Currently, Qatar uses Boeing 777-300ER and 777-200LR on Doha-Perth services.
F-WWYB took off from Toulouse on the morning of 24 July 2014 on the first of the Route Proving test flights. Airbus says "The tests will demonstrate readiness for airline operations and will include high airfield performance, auto-landing trials, and airport turnaround and handling services. Some flights will have passengers on board. The A350 world tour itinerary includes 14 major airports worldwide and one route via the North Pole."
The route proving trials include four trips over a period of three weeks, as follows:
Trip one: Toulouse-Iqualuit-Frankfurt-Toulouse
Trip two: Toulouse-Hong-Kong-Singapore-Hong-Kong-Toulouse (Hong Kong to Singapore several times)
Trip three: Toulouse-Johannesburg-Sydney-Auckland-Santiago de Chile-Sao Paulo-Toulouse
Trip four: Toulouse-Doha-Perth-Doha-Moscow-Helsinki-Toulouse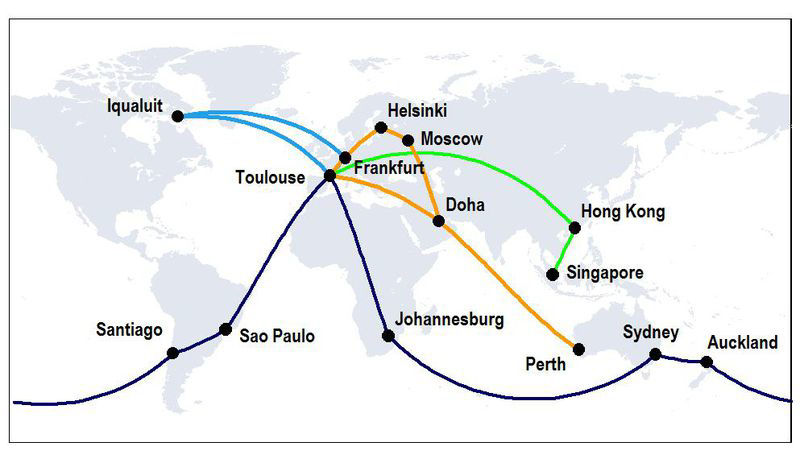 NOTE: This information could be subject to change.