Qantas 737s new liveries: VH-XZJ 'Mendoowoorrji' Aboriginal art; VH-VZO with moustache for 'Movember'; VH-VXA "Now it's on our turf" cricket livery
31 October 2013 (UPDATED 8 NOVEMBER 2013)
VH-XZJ 'Mendoowoorrji' in new Aboriginal art livery
Qantas has painted its newest Boeing 737-800 VH-XZJ in a special Aboriginal art colour scheme, called "Mendoowoorrji", believed to be based on the work of the late Aboriginal artist Paddy Bedford.
The aircraft will be  officially unveiled in early November 2013, when the airline takes delivery of the aircraft.
This article on Airchive blog shows the best photos of the aircraft, whilst it was undergoing pre-delivery testflights at Boeing's factory in Seattle and includes a Qantas video.
It is the fifth Qantas aircraft to wear an indigenous art colour scheme, though there were actually only four designs:
VH-VXB Boeing 737-800 "Yananyi Dreaming" – it still wears these colours, though they are considerably faded now.
VH-EBU Boeing 747-338 "Nalanji Dreaming" – this aircraft was retired at Avalon and cannibalised for spare parts.
VH-OJB Boeing 747-438 "Wunala Dreaming" – this aircraft was retired.
VH-OEJ Boeing 747-438ER was painted as the new "Wunala Dreaming", upon retirement of VH-OJB. This livery has since been removed from VH-OEJ, but it still wears a small logo near the cockpit to denote that it once wore the livery.
VH-VZO painted with moustache during 'Movember'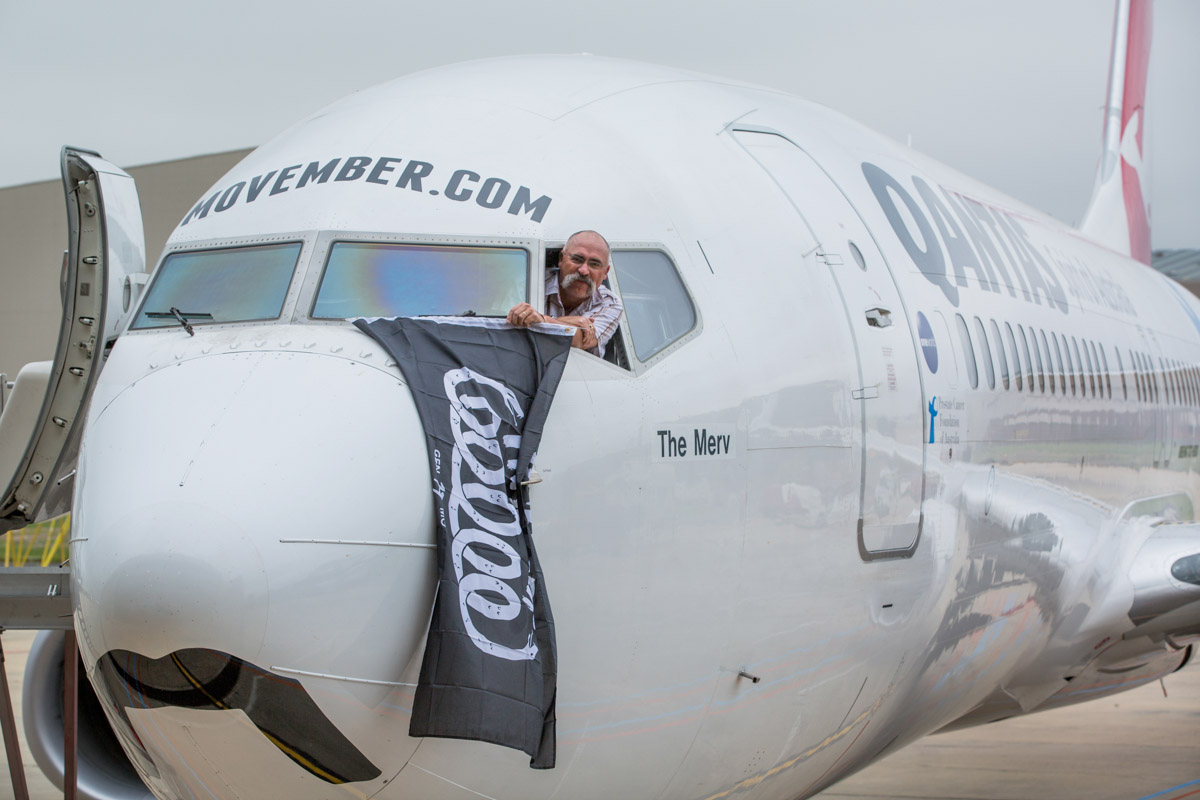 On 21 October 2013, retired cricket player and Movember Mo Mentor, Merv Hughes, teamed with Qantas during 'Movember' to promote men's health.
Hughes, who is also famous for his distinctive moustache, will be flying around the country during November 2013.
Qantas Boeing 737-838 VH-VZO, which already bears a special "Prostate Cancer Foundation of Australia" decal and ribbon aft of the fuselage, will temporarily wear the name 'The Merv' on its nose, and MOVEMBER above the flight deck windows during November 2013.
Merv Hughes said "I like the idea that my moustache will effectively be flying around the country for the month in the name of men's health. As someone who has enjoyed sporting a moustache for most of my life, I'd like to encourage all men this Movember to give it a go. Life is good with a moustache and by signing up for Movember, you can have fun, while doing some good."
Qantas Chief Executive Officer and prostate cancer survivor Alan Joyce said this is the third year Qantas has supported the men's health movement.
Movember runs awareness campaigns in 21 countries and, to date, has raised over $440 million for men's health.
VH-VXA painted with "Now it's on our turf" livery
On 8 November 2013, Qantas unveiled another special livery on VH-VXA, depicting a cricket ball knocking the wickets off stumps and the titles "Now it's on our turf", to promote The Ashes cricket tournament in Australia's summer.