Virgin Australia takeover of Skywest now official; Skywest Fokker 100 repainted in Virgin Australia colours arrives in Perth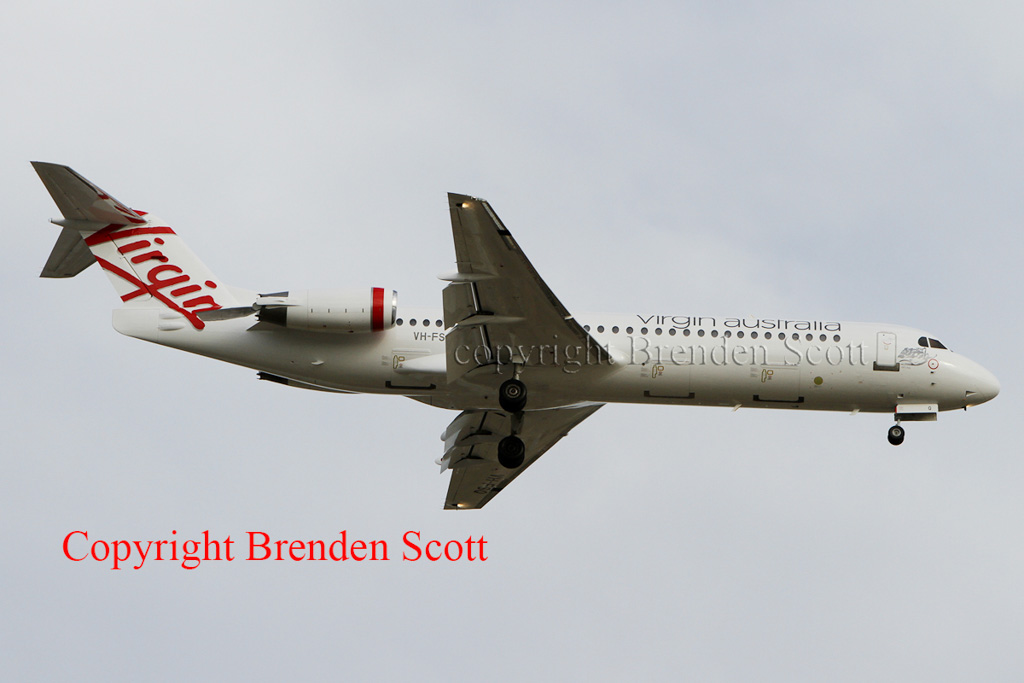 11 April 2013 © David Eyre
Virgin Australia officially completed the takeover of Skywest today, with the airline becoming Virgin Australia Regional Airlines.
Virgin Australia also announced that Ms Merren McArthur would become the new Group Executive, Virgin Australia Regional Airlines. Ms McArthur held senior roles in Virgin Australia and Rio Tinto prior to this appointment, and will be responsible for integrating Skywest into the Virgin Australia Group and growing their regional and resources charter (FIFO) business.
The Skywest branding will disappear under the takeover deal, although the company will continue to operate with its own management team in Perth.
The first Skywest-branded aircraft to be repainted into Virgin Australia Regional colours arrived at Perth yesterday (10 April 2013).
Fokker 100 VH-FSQ had been flown from Port Hedland to Seletar (Singapore) on 26 December 2012 for a lengthy overhaul. On 16 March 2013, it was flown Seletar – Port Hedland – Townsville, for repainting in full Virgin Australia colours, and named "Bill's Bay". Today, VH-FSQ flew Townsville – Alice Springs – Perth, arriving at 16:25 on Runway 24 at Perth Airport.
History of the Skywest takeover:
10 January 2011: Virgin Blue Group and Skywest airlines signed a 10-year strategic alliance to service regional Australia, with Skywest operating up to 18 new Virgin Blue-branded turbo prop aircraft to a number of existing and new destinations around Australia. The agreement included the airlines codesharing on some of each other's flights and continuing to be able to earn and redeem frequent flyer points on each other's networks.
23 February 2011: Skywest confirms that Virgin-branded turboprops are to be ATR72-500 and -600 aircraft. The ATR72 uses one-third less fuel than the Embraer 170 and 20% – 30% less than the Bombardier Dash 8-Q400, as well as having a wider cabin.
4 May 2011: Virgin Blue rebranded as Virgin Australia
28 July 2011: Virgin Australia announces that from 17 October 2011, Virgin Australia will start services with Skywest ATR72s on the following routes:

Brisbane to Gladstone – two services daily from 17 Oct 2011;
Brisbane to Port Macquarie – one daily return service from 19 Oct 2011;
Sydney to Canberra – up to six daiy return services (extra services) from 30 Oct 2011;
Sydney to Port Macquarie – two services daily; (ATR72s replacing the current Embraer E170s) from 19 Oct 2011.

11 August 2011: First Virgin Australia-branded ATR72-500, VH-FVH, handed over to Skywest at Toulouse.
18 August 2011: First Virgin Australia-branded ATR72, VH-FVH, delivered to Skywest in Brisbane. This was also the  first ATR 72 aircraft to be registered in Australia. It was followed on 25 August by VH-FVI which also flew into Brisbane. The aircraft commenced route proving flights soon after.
17 October 2011: First Skywest/Virgin Australia regional services commence with ATR72 aircraft, initially between Brisbane and Gladstone in Queensland.
10 April 2012: Virgin Australia takes 10% stake in Skywest Airlines, worth around $8 million.
30 October 2012: Virgin Australia announced that it had made a $98.7 million takeover offer for WA-based  regional and FIFO airline, Skywest Airlines, subject to approval from regulators and shareholders.
6 December 2012: approval was received from the Securities Industry Council of Singapore.
31 January 2013: approval received from the ACCC (Australian Competition and Consumer Commission).
26 February 2013: shareholders were provided with details of the takeover scheme, including notice of  a shareholders meeting on 13 March 2013.
13 March 2013: shareholder approval was received.
27 March 2013: Singapore High Court gave its approval – the last remaining regulatory approval required for the takeover to proceed.
10 April 2013: Fokker 100 VH-FSQ, the first Skywest-branded aircraft to be repainted in Virgin Australia Regional colours, arrives in Perth after repainting in Townsville, Queensland.
11 April 2013: Takeover became effective.