Rio Tinto Life Flight aeromedical jet funded for a further four years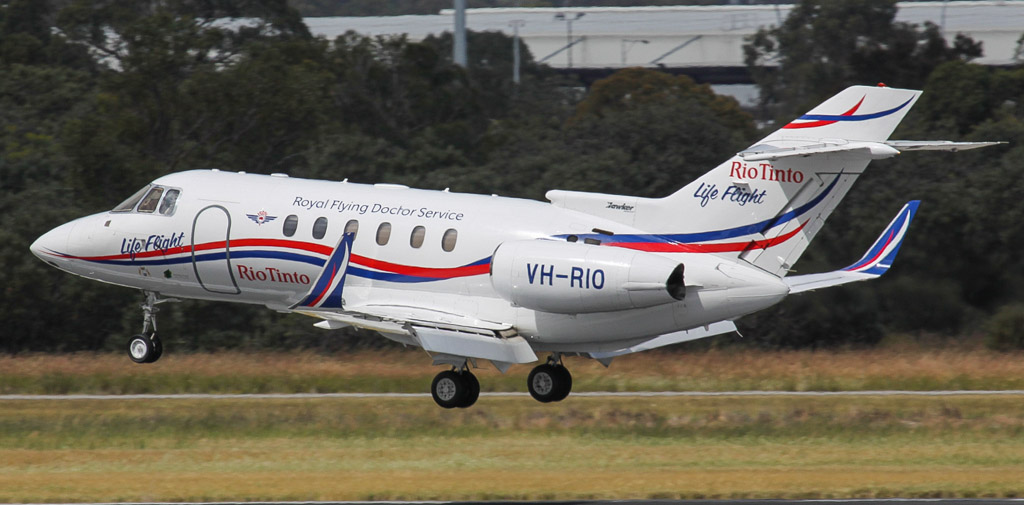 20 February 2013 © David Eyre
Rio Tinto has committed $6 million to fund the Rio Tinto  Life Flight Hawker 800XP, VH-RIO, for an additional four years.
The jet was originally purchased in the USA in 2009, and  outfitted with a customised Lifeport PLUS aeromedical configuration. It completed its first mission for the RFDS in October  2009.
Since then, the aircraft has transported 867  patients. 54% of these patients came from the Kimberley region and 20% from the  Pilbara, and the jet has accumulated 2,115 flying hours. Many lives have been saved as a direct result of the jet.
The Victorian Section of the RFDS contributed $3 million  over three years towards the purchase of the jet. The original medical fit-out  and operations were also supported by funding from the RFDS Flying 1000  fundraising group, and the WA State Government's "Royalties for Regions"  program supplied $1 million per year towards operating costs in its first three  years of operation. Rio Tinto originally contributed $5 million over the first  three years, in addition to the latest $6 million for the next four years.
It is the only permanently configured aeromedical jet   in Australia which can carry three stretcher patients and  up to three clinical staff at once. The jet's size has enabled the RFDS to transport two critically ill patients at  the same time, each with their own critical care doctor and nurse team – the first time this has been possible. The  RFDS said that this would normally have required two aircraft and a  significantly longer flight time using the usual turboprop aircraft in their fleet. The jet can also transport seriously ill babies using the special Mansell Neocots used by Princess Margaret  Hospital.
VH-RIO  has a  normal cruise speed of 440 knots, a range of 2,600 nautical miles and a ceiling  of 41,000 ft. It can fly non-stop from any location in Western  Australia to Perth within three hours,  as well as transporting patients to/from interstate or the Australian territories of Cocos and Christmas  Islands.
RFDS transfers are  free of charge to the patient, and prioritised according to  medical needs.