RAC pushing for second rescue helicopter, to be based in South West of WA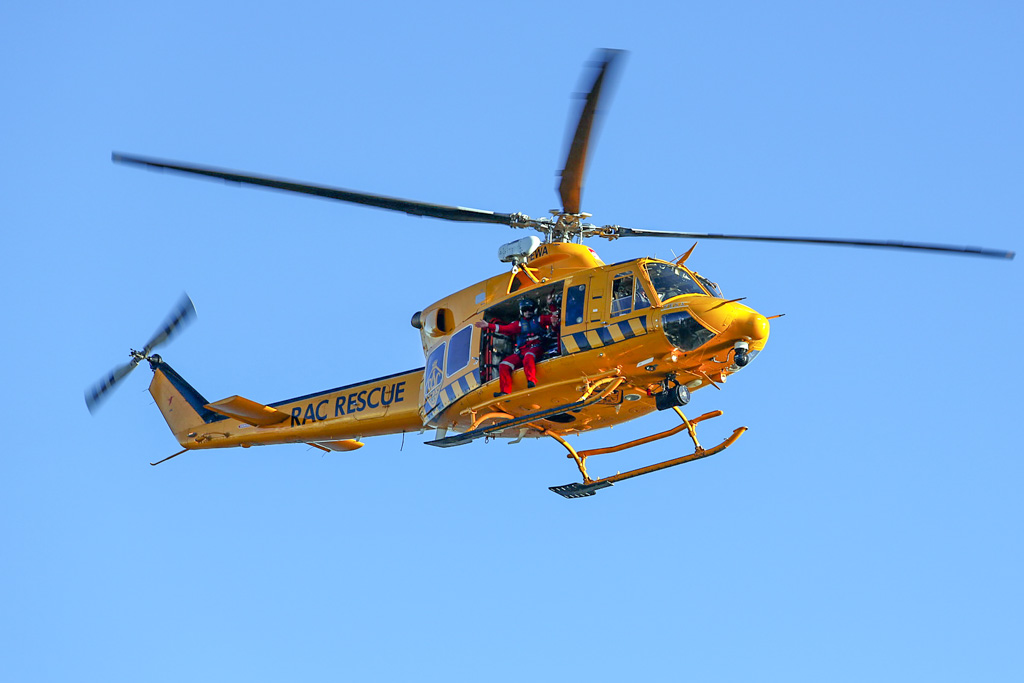 5 February 2013 © David Eyre
The Royal Automobile Club of Western Australia is lobbying  the political parties in the lead up to the State Election to acquire a second  rescue helicopter for the South West of WA.
The current Jandakot-based rescue helicopter, Bell 412EP VH-EWA  "RAC Rescue", is managed by the WA Department of Fire and Emergency Services  (DFES), and is partly funded by the WA State Government with RAC as the  principal sponsor and CHC Helicopters providing the helicopter and flight crew.
It is WA's only dedicated emergency rescue helicopter  service and  can operate up to 200 kilometres from Perth, covering 90 percent of  WA's population.
Basing a second rescue helicopter in the South West will  help to reduce the number of deaths on country roads. RAC Head of Advocacy Matt  Brown said "Given Western Australia's poor record of road crashes on  country roads, a second helicopter is urgently needed to service the State's  South West region. This will increase survival rates of road crash victims and  allow them to receive hospital-based treatment within the so-called 'golden  hour' of survival. The second helicopter would also provide timely medical  support and rescue assistance in a range of other emergency situations."
RAC Rescue's primary role is to fly paramedics directly to  an incident and then transport the injured patients directly to hospital. Its  secondary role is to provide essential hospital transfers. It also undertakes  ship to shore rescues, and responds to Emergency Position Radio Beacons  (EPIRBs). The crew includes a pilot, air crew officer and St John Ambulance  critical care paramedic. During critical hospital transfers, a doctor may also  be on board.
RAC Rescue has to be ready to respond 24 hours a day, seven  days a week, 365 days a year, and flights can be airborne within 15 minutes of  receiving a call. The helicopter is able to reach areas which are inaccessible  to ambulances, and often halves response times.
Since the service was established in August 2003, RAC Rescue  has undertaken almost 3000 missions, saving the lives  of several hundred people – mainly responding to major traffic  crashes, but also undertaking searches, cliff and sea rescues.