Malaysia Airlines joins Oneworld airline alliance – Airbus A330-300 9M-MTE now has Oneworld titles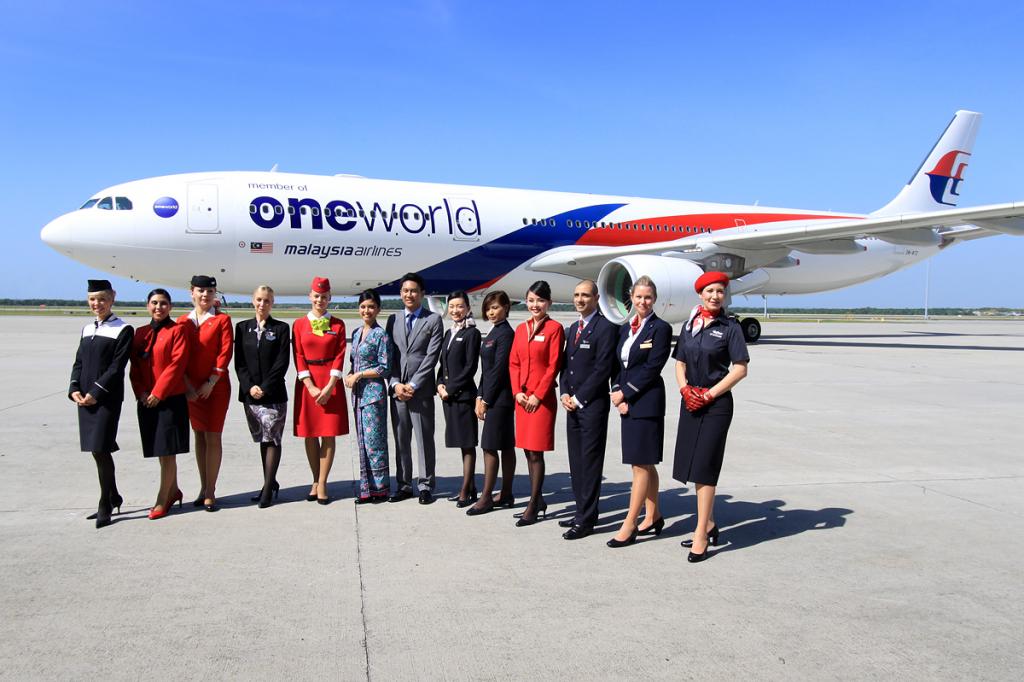 1 February 2013 © David Eyre
Malaysia Airlines today joined the Oneworld airline alliance at midnight on the night of 31 January/1 February 2013.
At a ceremony at Kuala Lumpur International Airport yesterday morning (31 January), Malaysia Airlines Airbus A330-300 9M-MTE was rolled out   in the  Oneworld alliance colours. Oneworld requires all member airlines to decorate some  of their aircraft in Oneworld alliance livery as part of promotional activities. The special alliance livery features "oneworld"  in two metre high blue letters on the forward fuselage.
A formal joining ceremony and  press conference was held later that   afternoon with  Malaysia Airlines' Group CEO  Ahmad Jauhari Yahya, Oneworld  CEO Bruce Ashby and Qantas Group CEO  Alan  Joyce –  Qantas sponsored Malaysia Airlines joining the  alliance and provided support during the process.
9M-MTE performed its first service in the new livery as flight MH129 from Kuala Lumpur to Melbourne.
Airbus A380 9M-MND and Boeing 737-800 9M-MXB  will be decorated in Oneworld titles   in the the next few  months. All of the rest of the Malaysia Airlines fleet will have a 30 centimetre diameter Oneworld logo placed on the forward fuselage next to the main passenger entry door overnight after the end of operations. Ahmad Jauhari Yahya, Bruce Ashby and Alan Joyce placed  the first of those logos on the side of 9M-MXB at the joining ceremonies.