New WA Police Dauphin 2 helicopter (VH-WPX) to enter service on 31 July 2012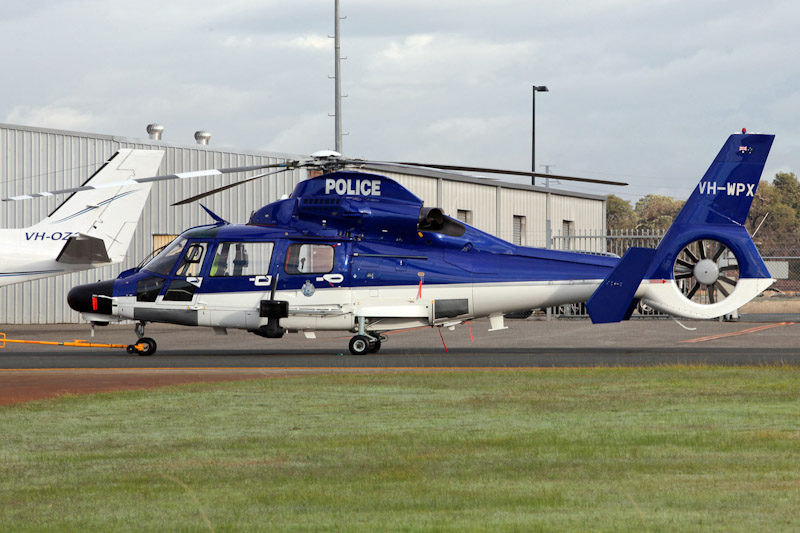 30 July  2012 © David Eyre
WA Police have announced that their long-delayed new  $24 million  helicopter – Eurocopter AS365N3+ Dauphin 2 VH-WPX, is officially to enter service on 31 July 2012.
The helicopter order was announced in May 2009 and it was delivered to Jandakot on 22 September  2011.
It was hoped that the Dauphin 2 would be ready for the Commonwealth Heads of Government Meeting (CHOGM) which was held in Perth during October 2011, but fitting out the helicopter with   equipment and pilot training took much longer than expected. The WA Police had to rely on helicopters from Victoria and New South Wales Police to assist in surveillance during CHOGM.
On 15 May 2012 Police Minister Rob Johnson and Police Commissioner Karl O'Callaghan attended the official unveiling ceremony. It was announced at the time that the helicopter would enter service by the end of May 2012, but that was not to be.The helicopter has flown a total of only 43 hours since arriving in Australia almost 11 months ago.
Engineers have spent over 5,000 hours on designing and integrating various systems, including  communications, sensors, a forward-looking infra-red (FLIR) camera,   Tasking and Dispatch Information Systems (TADIS), special lighting, a rescue winch and other  equipment.
The Dauphin 2 will be able to access security camera footage and can carry up to 10 passengers, three more than the current BK-117 helicopter. Maximum speed is 150 knots (287 kmh), and cruise speed is 145 knots (269 kmh).