AVWest Viking Air DHC-6 Twin Otter Series 400 (VH-ZZH) – not delivered; sold to Zimex Aviation (Switzerland) as HB-LPY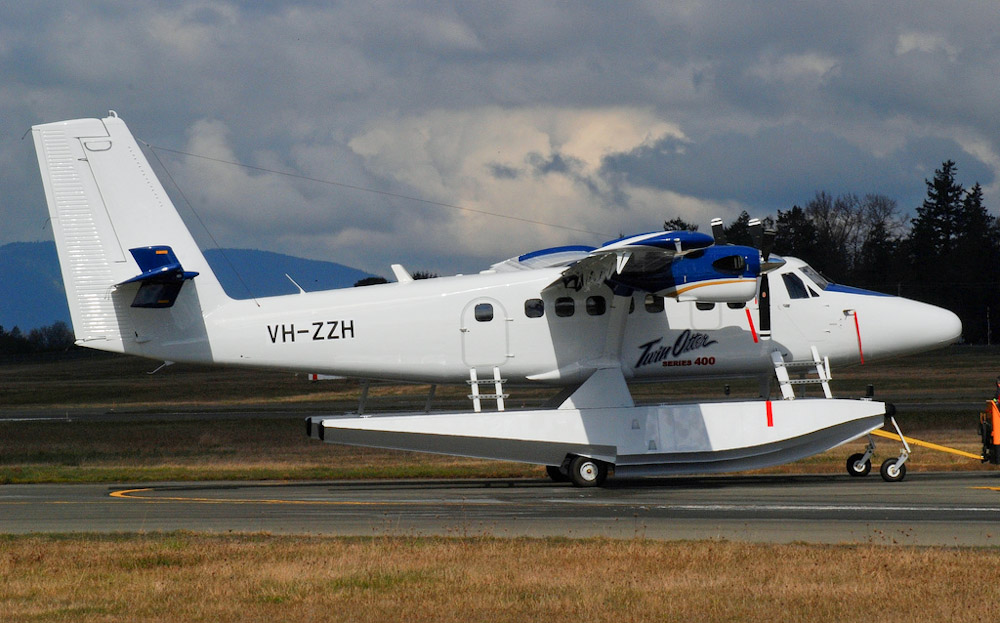 © David Eyre – UPDATED 29 July 2012:
As reported on AviationWA on 25 November 2011, Perth-based aviation company AVWest was expected to  take delivery of its new Viking Air DHC-6 Twin Otter 400 floatplane, VH-ZZH (construction number 851, test reg C-FUVA, C-FTRO), and the aircraft was photographed in Canada  wearing its Australian registration.
However, it was never  delivered to AVWest in Australia. Registration VH-ZZH was cancelled on 20 Jun 2012, and it was registered as HB-LPY to Zimex Aviation Ltd, Glattbrugg, Switzerland on 21-Jun-2012. It was converted back to normal wheeled undercarriage, and was displayed at the Farnborough Air Show in July 2012.
Earlier history of this aircraft:
The aircraft was ordered by AVWest on 15 April 2010, and it was announced that the aircraft would be delivered in amphibious floatplane configuration
Initially test flown at Victoria Airport, Canada unpainted with wheeled landing gear in early July 2011 as C-FUVA (PHOTO).
Fitted with amphibious floats and painted in September 2011, still temporarily registered C-FUVA (PHOTO).
Reregistered C-FTRO to Viking Air on 4 October 2011 (PHOTO)
C-FTRO appeared in the static display at NBAA Convention, Henderson Airport, Las Vegas during 10-12 October 2011 (PHOTO 1, PHOTO 2)
C-FTRO flew to Boeing Field, Seattle, USA on 25 October 2011 (PHOTO)
C-FTRO cancelled from the Canadian aircraft register on 15 November 2011.
Registered VH-ZZH to AVWest Pty Ltd on the Australian aircraft register on 17 November 2011.
VH-ZZH photographed at Victoria Airport, British Columbia, Canada on 25 January 2012 (PHOTO)
VH-ZZH photographed at Victoria Airport, British Columbia, Canada on 23 March 2012 (PHOTO ABOVE)
The DHC-6 Twin Otter was originally designed and built by De Havilland Canada as a larger, twin-engined replacement for the 11-seat De Havilland DHC-3 Otter. The Otter was powered by a single Pratt & Whitney R-1340 radial piston engine, and two engines were preferred for increased safety and performance.
Development of the Twin Otter started  in 1964, using two Pratt and Whitney Canada PT6A-20 turboprop engines of 550shp (410kW). The prototype DHC-6 Twin Otter first flew on 20 May 1965, and was immediately popular with bush operators due to its excellent STOL performance,  reliability and solid construction. The Twin Otter carries 19 passengers and can land on an airstrip only 366 metres long. The Twin Otter  was sold to operators all over the world, operating in all kinds of extreme conditions.
During the 1980s, the Canadian government decided to sell   De Havilland Canada, and in 1986, DHC was sold to  Boeing. Boeing allegedly used this purchase in an attempt  to win an Air Canada airliner order.  Boeing guaranteed the Canadian Government that it would not cease production of any DHC products, but within two years had ceased production of the DHC-6 Twin Otter and the DHC-7 Dash 7. Only the DHC-8 Dash 8 continued in production. Production of the   De Havilland DHC-6-300 Twin Otter Series 300 ended in 1988, even though the aircraft was still successful, after the 844th aircraft was delivered. When the Air Canada order went to Airbus in 1988, Boeing immediately decided to sell De Havilland Canada, and the company was sold to Bombardier in 1992.
Viking Air, based at Victoria, British Columbia,  Canada had been refurbishing Twin Otters for over 36 years. In 2005, Viking Air  purchased from Bombardier  the  production tooling for the DHC-1 Chipmunk, DHC-2 Beaver, DHC-3 Otter, DHC-4 Caribou, DHC-5 Buffalo, DHC-6 Twin Otter, and DHC-7 Dash 7. All of these types were no longer in production.  On February 24, 2006 Viking purchased the type certificates for all of these types – this gave them the rights  to build new aircraft.
Whilst Viking could have designed a new aircraft, it would have cost three times as much as modernising the Twin Otter. After refining the design to use more powerful Pratt & Whitney Canada PT6A-34 (or -35 engines), and modern avionics, on 2 April 2007, Viking announced that it had obtained 27 orders and options, and was restarting production of the Twin Otter.
Viking converted a DHC-6-300 to be the Twin Otter 400 Technology Demonstrator, and this made its first  flight  on 1 October 2008 at Victoria International Airport. On 16 February 2010, the first new production Twin Otter Series 400 (cn 845) made its first flight – this was delivered to Zimex Aviation of Switzerland .
The Twin Otter is still popular with its operators –  around 600 of the 844 built are still in service, and the second-hand Twin Otters are still worth almost as much as a new production aircraft ($4.5 million). The new Twin Otter 400 is also popular, with orders for 55 aircraft received by September 2011,  and a production backlog through to 2016. Viking has built 10 new aircraft, and delivered 7, and is increasing  production rate to an initial 18 aircraft per year, and later to 24 per year.