UPDATE: South African Airways disposal of Airbus A340-200s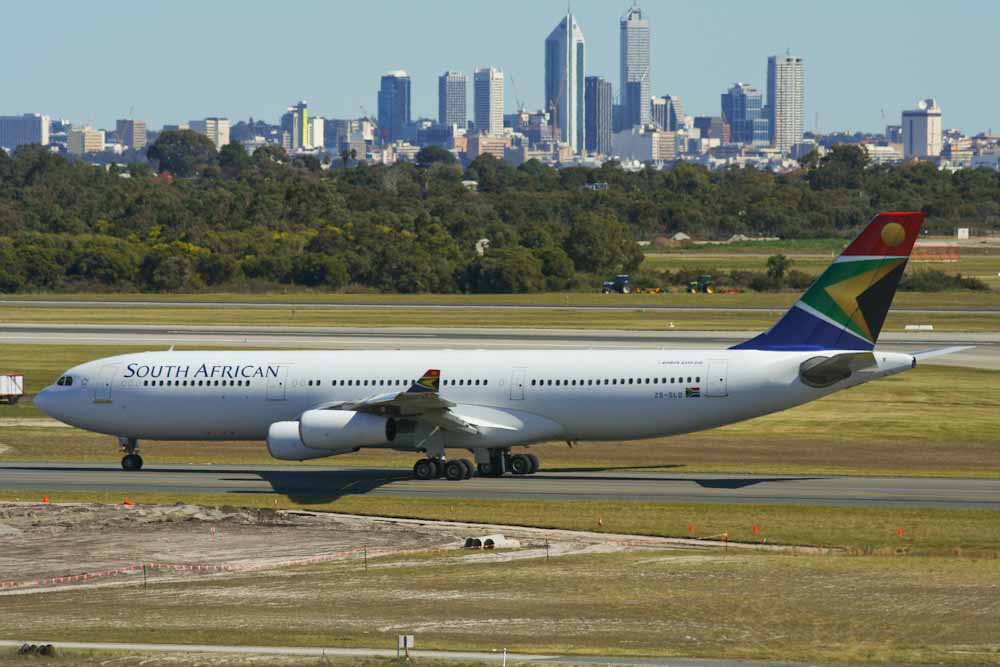 24 November 2011 (Updated 14 March 2012):
As we reported in November 2011, South African Airways' fleet of Airbus A340-200  aircraft are being disposed of, as the airline takes delivery of new A330-200s.
SAA's A340-200s were the predominant type on Perth services from  Johannesburg.  A340-300s and A340-600s were also used at times, but are now the main types used by SAA. The Perth-Johannesburg service is SAA's only service to Australia, apart from code sharing on Qantas flights.
The A340-200s were leased from GMT Global  Republic Aviation and began being retired from April 2011, with the last one now due to leave the fleet in  mid-2012 – this is also the oldest A340-200 still in airline service in the world.
The fleet consists of early-production A340 aircraft which were all formerly operated by Lufthansa. ZS-SLA through ZS-SLE were all delivered to SAA during 2003, and ZS-SLF was delivered in 2004.
Only 28 A340-200 aircraft were produced by Airbus.
Current status is as follows (including links to recent photos where possible – including some of the A340s stored/scrapped at Tarbes-Lourdes):
| Registration | CN | Comments | Photo Link |
| --- | --- | --- | --- |
| ZS-SLA | 008 | Withdrawn from service with SAA in June 2011.                   Initially stored at Johannesburg Airport, South Africa.                   It is now to be used for cabin crew training, and during January 2012, it was moved onto the grass next to the SAA Technical run-up bay at Johannesburg Airport. It is standing on cement pads and will reportedly be fixed in place. | Photo HERE |
| ZS-SLB | 011 | Withdrawn from service with SAA in August 2011.                   Flown from Johannesburg to Tarbes-Lourdes, France on 18-19 October 2011.                   Stored– painted all white, with no titles. | Photo HERE |
| ZS-SLC | 018 | Withdrawn from service with SAA in  January 2012.                   Now painted  all white, awaiting ferry flight to another airport (possibly Tarbes-Lourdes), where it will be scrapped . | Photo HERE |
| ZS-SLD | 019 | Withdrawn from service with SAA in October 2011.                   Flown from Johannesburg to Tarbes-Lourdes, France on  15-16 November 2011                   Stored– painted all white, with no titles | Photo HERE |
| ZS-SLE | 021 | Withdrawn from service with SAA on 5 April 2011.                   Flown from Johannesburg to Tarbes-Lourdes, France on  30 April 2011                   Initially stored – painted all white, with no titles.                   SCRAPPING COMMENCED. | Photo HERE |
| ZS-SLF | 006 | Reportedly being used by SAA as a standby aircraft until mid-2012.                   It has been active during March 2012.                   ** OLDEST A340-200                   STILL IN SERVICE ** | Photo HERE |