First Perth-based QantasLink Dash 8-Q400 delivered; services commence 21 Nov 2011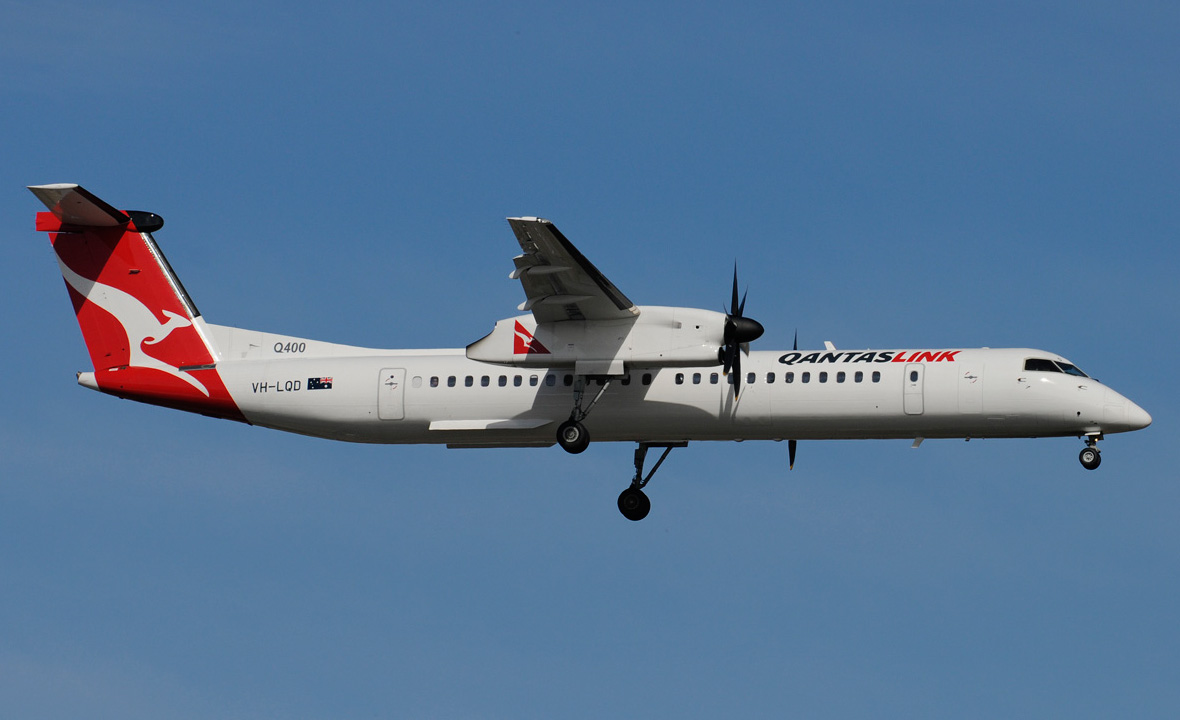 Perth, 10 November  2011
Following on from our earlier news articles in April and August 2011, QantasLink (Sunstate Airlines) Perth division has taken delivery of the first of its  Dash 8-Q400 aircraft.
The Dash 8-Q400 services begin with Perth – Geraldton services and Perth – Learmonth services from 21   November 2011.
The Geraldton service will compete against Skywest's Fokker 50 services, on  twice daily services Monday to   Friday and one service per day on Saturday and Sunday.
Dash 8-Q400 aircraft will also be added to the Perth – Learmonth (Exmouth) route twice per week on Mondays and   Wednesdays. This will add to existing Boeing 717 services on the route, which operate on Fridays and Sundays.
An initial two Dash 8-Q400 aircraft are  to be used, with the aircraft coming from Sunstate Airlines and pilots coming from Eastern Australia Airlines in Sydney. However, the company has been advertising for crew numbers which indicate that up to four aircraft may eventually be operated.
The aircraft will be operated using the Sunstate Airlines AOC (Air Operators Certificate). Maintenance will be carried out at Perth by Network Aviation, which is now a Qantas subsidiary. Network Aviation engineers have been sent to the Eastern states to  learn about maintaining the Q400. This operation will be independent of the Boeing 717s operated for QantasLink by Cobham.
QantasLink has 25  Dash 8-Q400   aircraft in service, with another three due within the next  18 months.
Qantas recently purchased Network   Aviation, and QantasLink is overseeing its operations. Network's fleet will grow with 10 additional Fokker 100s to be acquired.
Dash 8-Q400 schedules are as follows (confirmed from Qantas website as at 11 Aug 2011) – services commence 21 November 2011:
Perth – Geraldton
MON to SAT: QF2432 departs Perth 07:00 – arrives Geraldton 08:05  / QF2433 departs Geraldton 08:30 – arrives Perth at 09:30
MON to FRI & SUN: QF2438 departs Perth 16:35 – arrives Geraldton 17:40  /  QF2439 departs Geraldton 18:05 – arrives Perth at 19:05
Perth – Learmonth
MON & WED: QF2428 departs Perth 10:15 – arrives Learmonth at 12:35  / QF2429 departs Learmonth 13:05 – arrives Perth at 15:30