Tiger Airways Australia Grounded by CASA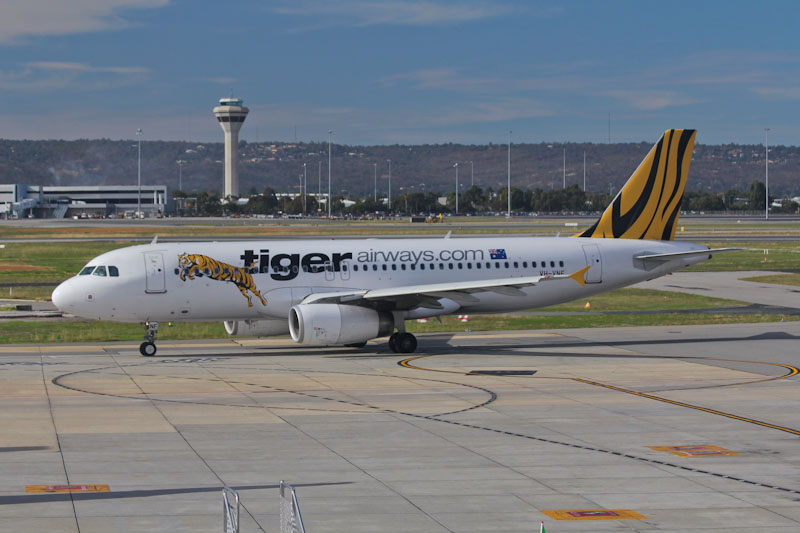 4 July 2011: The Civil Aviation Safety Authority grounded Tiger Airways Australia from midnight last Friday (1 July 2011), declaring that the airline posed a serious and imminent threat to safety, making it the first Australian airline in history to have its operations suspended for this reason.
The official statement from CASA reads:
"The Civil Aviation Safety Authority has suspended the operations of Tiger Airways Australia Pty Ltd with immediate effect from Saturday 2 July 2011.

This action has been taken because CASA believes permitting the airline to continue to fly poses a serious and imminent risk to air safety.

The suspension of Tiger Airways Australia follows the issue of a show cause notice to the airline in March 2011.

Taking Tiger Airways Australia's response to this show cause notice into account, CASA subsequently imposed a number of conditions on the airline's air operator's certificate.

These conditions required actions to improve the proficiency of Tiger Airways Australia's pilots, improvements to pilot training and checking processes, changes to fatigue management, improvements to maintenance control and ongoing airworthiness systems and ensuring appropriately qualified people fill management and operational positions.

CASA has been closely monitoring the operations of Tiger Airways Australia throughout 2011, with surveillance undertaken at a range of locations.

Since Tiger Airways Australia was served the show cause notice there have been further events raising concerns about the airline's ability to continue to conduct operations safely.

In the circumstances, CASA no longer has confidence in the ability of Tiger Airways Australia to satisfactorily address the safety issues that have been identified.

The suspension is in force immediately for an initial five working days, during which time CASA must apply to the Federal Court for an extension of the grounding. If the Federal Court supports CASA's application the court can continue the suspension for a period of time which will allow CASA to finalise investigations into the safety matters."
The grounding followed a whole series of safety deficiencies, incidents, flight cancellations and route cutbacksover a lengthy period of time:
18 May 2009: One of its A320s suffered an aileron problem which the airline did not report to the ATSB. The airline disputed which parts of the Australian regulations applied to its operations, and ATSB eventually accepted this, but CASA did not.
23 March 2011: CASA issued Tiger Airways Australia with a Show Cause Notice, the contents of which were not disclosed, but are reportedly linked to oversight of maintenance in Singapore. CASA also refused to approve any more A320s being added to Tiger's fleet until  deficiencies in pilot competency and maintenance oversight were resolved – Tiger had wanted to double its fleet of 10 A320s.
Tiger responded to CASA's notice within the 21 days allowed. CASA then began assessing the responses provided.
Early June 2011: Tiger announces that its Sydney-Sunshine Coast, Sydney-Brisbane, Melbourne-Mackay and Melbourne-Rockhampton services will end from August.
7 June 2011: A Brisbane – Melbourne (Tullamarine) flight descended 500 feet below the minimum safe altitude during the approach to Melbourne.
Mid June 2011: CASA imposed special conditions on Tiger's Air Operator Certificate giving the airline 60 days from mid June to complete instrument rating renewals for all of their pilots and pass proficiency checks in  flight simulators.
Late June 2011: Tiger said that it was cutting the Sydney-Adelaide route and was reviewing staffing at its second base in Adelaide, which was opened in 2008.
29 June 2011: A Perth – Melbourne flight had a navigation systems failure before re-establishing its location on ATC radar near Adelaide airport. However, instead of making a precautionary landing  at Adelaide, the aircraft continued on to Melbourne. ATSB was notified the following day.
30 June 2011: A Sydney – Avalon flight descended 900 feet below the minimum safe altitude during the approach to Avalon.
The airline was already receiving complaints about its flight cancellations, lengthy delays, and difficult ticketing practices. It had a 72% on-time performance last year. Some of these complaints  were aired on the Channel 7 TV show Airways.
Tiger's CEO, Tony Davis did not help the situation when he publicly refused to accept that  there were any immediate risks to to air safety. The Tiger Airways board in Singapore has ordered Mr Davis to personally work with CASA and the airline to address CASA's concerns   and recommence operations as soon as possible.
Jetstar and Virgin are providing extra flights to help  passengers stranded by the grounding. The Qantas engineers have also called off the industrial action they were planning for the week commencing 4 July 2011, in response to the Tiger grounding.
Tiger Airways Australia has never made a profit in Australia, and its shares dropped almost 16% in Singapore, whilst Australian airlines' shares gained. Analysts believe that Tiger Airways Australia would quickly run out of cash if the grounding continues, and would require financial support from its parent company in Singapore.
The South Australian Government provided Tiger with a $2.25million financial assistance package in 2008, as an incentive for the airliner to make Adelaide its second Australian base. However, Tiger's decision in late June to reduce services to Adelaide and review staffing at the Adelaide base means that Tiger would not meet its contractual obligations, and may be forced to return the $2.25 million to the SA Government.
Tiger Airways parent company in Singapore could make more money per aircraft using them in Asia compared with Australia.
Tiger Airways Australia has also raised the ire of the Australian Competition and Consumer Commission (ACCC).  The ACCC says that Tiger was selling tickets for flights that the airline knew would not take place, and this would be viewed as deceptive conduct. Even though Tiger has stopped selling tickets, the ACCC says that they took too long to do this.
CASA wants Tiger Airways Australia to  re-qualify all of its pilots in third-party simulators before  operations can restart, which could take a number of weeks to complete, in addition to changing management processes. Tiger Australia will have difficulty recovering even if it restarts operations, and may well be required by CASA to gradually return to service with a limited number of its aircraft.
UPDATE: Grounding extended to 1 August 2011