Skywest announces intent to acquire second Airbus A320 and another Fokker 100 by August 2011; also starting Geraldton – Bali, Geraldton – Melbourne services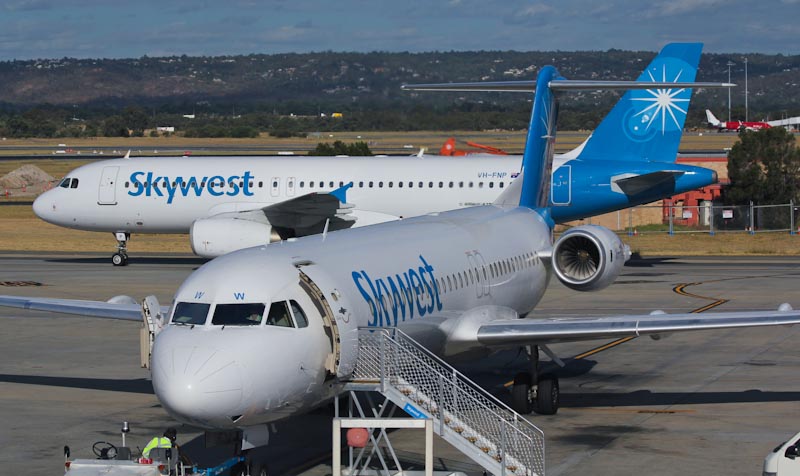 12 May 2011 © David Eyre
Skywest takes option on second A320 and letter of intent to buy another Fokker 100
In a 12 May 2011 stock exchange announcement, Skywest Airlines stated that the it has acquired an option to lease a second Airbus A320-231 from Avation PLC for 4 years, with delivery by August 2011. The second A320-231 is reported to be the "sister ship" to their existing A320-231 (VH-FNP) which is also leased from Avation PLC. The option on the A320 is valid until 30th June 2011, and the airline is making this option known to its contract charter clients. Their current A320 is used to fly between Perth and Cloudbreak Mine for Fortescue Metals Group (FMG).
Skywest has also signed a Letter of Intent to directly purchase another Fokker 100, which if it proceeds would also be delivered by August 2011.
Update on Skywest's Virgin Australia-branded ATR72s
The Skywest announcement provided an update on the Virgin Australia-branded ATR72-500s, stating that the first aircraft will be delivered new from the factory to Skywest on 30th June 2011, with entry into service by 29th August 2011. The inital two aircraft are reported elsewhere to be construction numbers 955 and 956, and they may be based in Brisbane – Skywest has already begun recruiting people to be based there.
Geraldton to get new routes to Bali and Melbourne
Skywest also announced it plans to offer a weekly service from Geraldton to Denpasar (Bali), with tickets for the route to go on sale from 22nd May 2011.
The airline also stated its intention to provide services from Geraldton to the Pilbara and Geraldton to Melbourne from July 2011.